Are you planning your Gili Trawangan itinerary and looking for the best things to do in the Gili Islands? You've come to the right place!
Gili Trawangan, otherwise known as Gili T, is the epitome of island vibes – I'm talking palm trees, soft sandy shores, turquoise waters filled with spectacular marine life and epic beach bars (of course)!
And while Gili Trawangan is technically part of Lombok, it's close enough to Bali if you're looking to escape the hustle and bustle of the mainland.
There are so many things to do in Gili Trawangan and this travel guide covers all the best attractions on the island as well as practical information so you can start planning your trip.
Where is Gili Trawangan
The Gilis are made up of 3 beautiful islands nestled off the coast of Lombok in Indonesia. They're not actually part of Bali, but they're so close that you can add them to your Bali itinerary.
The fastest and easiest way to get to Gili Trawangan is by fast boat which takes around 2 hours from Bali.
How to get to Gili Trawangan From Bali
To get to Gili Trawangan from Bali, you'll need to go to Padang Bai which is on the north-east of the island.
At Padang Bai, you'll hop on a speed boat that will take you to Gili T.
This journey from Bali to the Gili's is notoriously bumpy and rough, so if you suffer from seasickness (or if you happen to be hungover), you might not enjoy this part of your Gili Trawangan itinerary!
There are a number of boat companies to choose from all offering different prices and comfort levels. I personally used Eka Jaya and can recommend them.
Most hotels and backpackers can arrange your transfer from anywhere in Bali to Padang Bai, as well as your boat ticket. To save time and uncertainty of what boat company you'll use, it's best to prebook this fast boat ticket here.
Gili Air, Gili Meno, Gili Trawangan. Which island is best?
Gili Trawangan is the biggest and most developed of the three islands and is known as the party spot. Because of this, it attracts many backpackers and a wilder crowd. There are more things to do in Gili Trawangan compared to the other two islands below and despite the notion that it's a party island, I didn't find it to be as extreme as others would make you believe.
Gili Meno is the smallest and quietest of the three islands. Many people choose Gili Meno in search of peace and serenity and to escape the crowds that flock to Gili T. But it can be too relaxed and seem deserted as opposed to secluded.
Gili Air is a compromise for those people who want a more relaxed party scene than Gili T, with the tranquil atmosphere that Gili Meno is known for. With plenty of restaurants and beach bars, Gili Air hasn't quite reached the crazy party scene of Gili Trawangan.
Things to do in Gili Trawangan
Here are the best things to add to your itinerary for Gili Trawangan.
Relax and unwind on one of the many beaches
Bali is filled with tourists left, right and center which can be quite overwhelming. After visiting the beaches in Uluwatu, Seminyak and Canggu, I began to lose hope that I would find the tropical paradise I was looking for… but then I discovered Gili Trawangan.
With its calm waters, stunning views and rustic beach huts, it's the perfect place to lay low and relax. And for as little as $10, you can get a massage on the beach! It doesn't get better than this.
I personally preferred the beaches on the north-east side of the island which were surprisingly quiet.
But I must warn you, although the water may be a sparkling turquoise color, the surface is not as I had expected. There is a lot of coral and rocks so rather stay afloat if you decide to take a dip.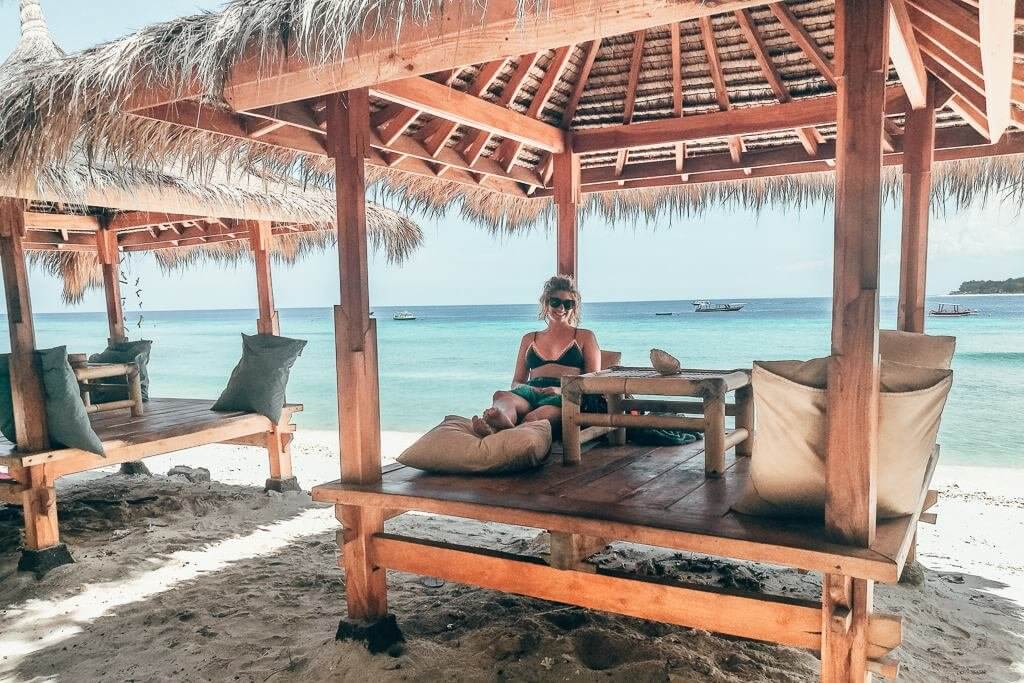 Cycle around Gili Trawangan island
There are no cars and no motorbikes on the Gili Islands and the only way to get around is on foot or by bicycle. And with tiny paths leading to many untouched corners of the island, Gili Trawangan is best explored by bike.
I spent a few hours cycling under palm trees, passing many local houses and following countless paths that lead to beautiful, quiet beaches.
Full-day bike rental will cost you $5-$8 and it should take about an hour to cycle around the entire island (if you don't get lost, that is!)
Find turtles at Turtle Point
If you're looking for the best thing to do in Gili Trawanagan, head over to the eastern part of the island and you're sure to feast your eyes on a variety of tropical marine life.
Here is where you'll find Turtle Point which is known to attract many turtles close to the shoreline. You don't even need to go on a snorkeling tour – simply hire snorkeling equipment from one of the many shops on the island and you're good to go.
Go on a Gili T snorkeling tour and find underwater statues
If you want to head a bit further out from Gili Trawangan and discover the famous underwater statues, you should definitely book a Gili Islands snorkeling tour.
This is also a great option for those who don't feel comfortable snorkeling alone or if you're a solo traveler wanting to make some friends.
The underwater statues are without a doubt the biggest attraction on these tours. The 48 life-size human sculptures are located just off the shore of Gili Meno and are a popular photo location for Instagrammers.
Another popular stop is the Gili Trawangan Shipwreck site where you'll be able to see the old Japanese WW2 shipwreck from the surface.
You can book a Gili Trawangan snorkeling tour from just about anywhere on the island.
A seat on a public tour boat costs 100 000 IDR ($7) per person and a private boat tour will set you back 250 000 IDR ($17) per person.
Watch the sunsets on the west side of the island
Indonesia is known for its incredible sunsets – and the best place to end your day is Sunset Beach which is on the western side of Gili Trawangan.
The beach bars are often bustling with tourists and offer live music so there's no better place to watch the sunset!
Get a snap of the Gili T Sunset Swings
The Gili Islands rose to fame become of the thousands of images floating around Instagram of overwater swings at sunset. You'll now find these iconic swings on just about every Gili Trawangan itinerary.
And getting THIS picture in front of a vibrant sunset backdrop was on my "to-do" list of things to do in Gili Trawangan. So, I got on my bike in search of THAT swing.
When I arrived on the western side of the island, I saw one swing, then another, and another! Scores of tourists lined the beach waiting for their chance to take a picture on the swings.
Is that picture really worth it?
I had a 30-minute window to see and admire the sunset. Standing in a long queue to get that picture, and working myself up because people are taking their sweet time swinging back and forth, is not exactly my idea of a good time.
So instead, I decided to take advantage of the happy hour specials and found myself a prime spot overlooking the sea. Yes, my view may have been hampered by the queues of people waiting at the swings, but I was quite content lounging on my beanbag whilst sipping on cocktails.
Regardless of whether you want the picture or not, heading to the western side of the island to watch the sunset should definitely be on your list of things to do in Gili Trawangan.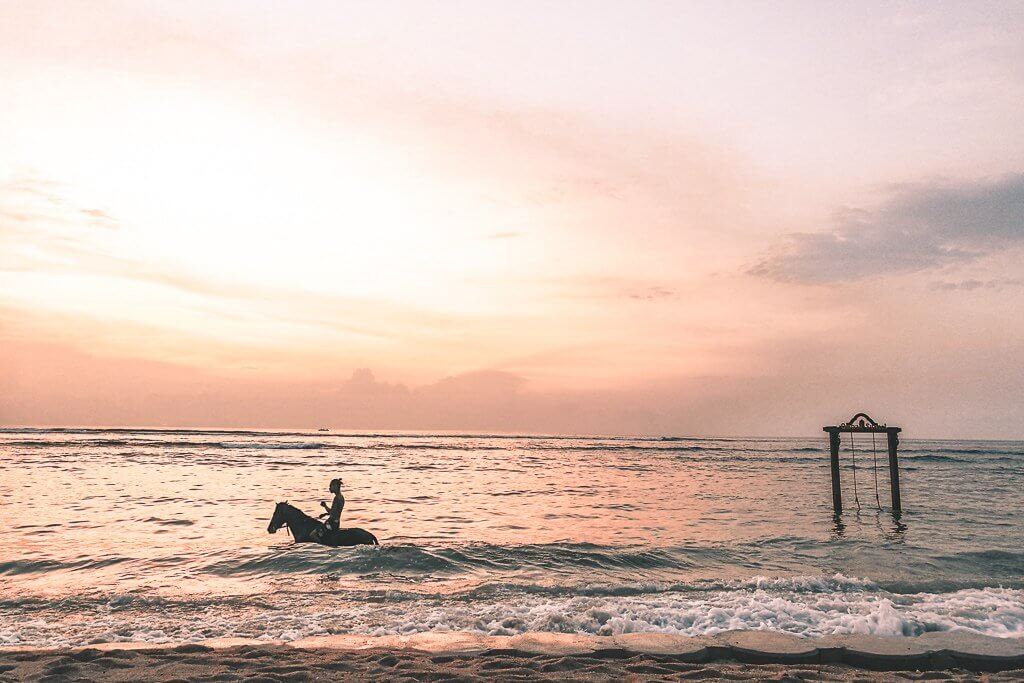 Go island hopping to Gili Meno and Gili Air
Gili Meno and Gili Air are both a short 15 min boat trip from Gili Trawangan. You can spend the day soaking up the sun on one of their many beaches or exploring the island by bike.
Local boats leave from Gili Trawangan every morning and you can buy tickets from the harbor.
READ MORE: INCREDIBLE PLACES TO STAY IN ULUWATU, BALI
Go diving in Gili Trawangan
Indonesia is a tropical diving mecca! Diving with sharks and manta rays in the Komodo Islands was a highlight for me and has set the bar very high for all my future dives.
The Gili's are too known for their vibrant underwater life which attracts beginner and experienced divers alike. With over 20 dive sites, great visibility and turtles galore, scuba diving is one of the best things to do in Gili Trawangan.
The best dive center in Gili T
There is a pricing agreement between all the dive centers in the Gilis. Because of this, you don't need to shop around for a bargain as their costs are very much the same ($35 per dive).
Each dive shop has a weekly schedule with all the dive sites they will be visiting. It's best to look around and choose a dive company that's visiting the sites you want to go to.
I booked my first dive through Trawangan Dive and the second with Gili Divers. Both were great and I would recommend diving with either of them.
Diving spots around Gili Trawangan
Bounty Wreck
My first dive site was Bounty Wreck just off the coast of Gili Trawangan.
It's a floating platform that was abandoned many years ago and has since sunk into the ocean and is now fully covered in coral. It was a great dive where I saw plenty of tropical fish as well as turtles.
The current was quite strong during my dive, but the visibility was clear and the ocean was spotlessly clean.
Shark Point
Shark Point is one of the most popular dive sites in Gili Trawangan and you're bound to see reef sharks and stingrays.
And while sharks are my ultimate fear, I was ready to take them on.
After psyching myself up and mentally preparing to come face to face with this creature, I was left disappointed after only seeing a few turtles. However, it was a beautiful dive, with great visibility in the crystal clear water.
Enjoy cocktails at the Trawangan Dive pool bar
I stayed at Trawangan Dive Resort and the biggest drawcard was their pool bar. Sitting here with a drink in one hand and a book in the other was definitely one of my favorite things to do in Gili Trawangan.
My afternoons were spent alternating between swimming and drinking (or doing both at the same time) whilst saying hi to just about everyone who walked past the dive center.
This pool bar is open to the public, so if you have some time, pop over and have a drink!
Enjoy a Gili Trawangan Booze cruise
There are two famous Gili Trawangan Booze Cruise's: The Jiggy Boat Party and Gili Mansion Party Boat.
They operate on certain days and generally start at 2 pm. If you're backpacking Gili Trawangan, this has to be on your travel itinerary! With swim stops, a DJ on board, sunset views and great vibes, it's a Gili T must-do.
I joined the Jiggy Boat Party which was next level! The crowd was great, and the music even better. The catamaran made its way toward Lombok where we stopped and took a dip in the water. After appreciating yet another beautiful sunset, we headed back to Gili Trawangan.
Visit the night market at the market square
This night market in Gili Trawangan is located just off the main road near the harbor.
It's popular among locals as well as tourists. You'll be spoiled for choice with a variety of Indonesian street food as well as meat skewers and fresh fish on offer.
The food is absolutely delicious, and great value for money. The market is open daily from 6-10 pm so be sure to include it in your Gili Trawangan itinerary.
Partying on Gili Trawangan
Gili Trawangan is bustling with backpackers all excited to spend a few days disconnecting from the outside world and finding pleasure in many of the local beers (and other substances) on offer.
The hostels in Gili T are notorious for attracting a devout partying crowd and if you stay at one of them, it could quite possibly lead to you switching between being intoxicated and hungover your entire trip.
There's a different party each night – Monday (Blue Marlin), Tuesday (Jiggy Bar), Wednesday (Irish bar), Friday (Sand Bar), Saturday (Sama Sama) and Sunday (Evolution).
Most of the nightlife activities happened on the eastern side of the island so if that's what you're here for, be sure to book your accommodation near the Gili Trawangan harbor.
Is Gili Trawangan all about partying?
Having said that, this is not the Gili T I came to know. If you want to party, it's there. But if you choose to spend your days catching a tan, diving and relaxing, then you're able to do this as well.
Many people have said it's overrun with drunken backpackers, but I don't agree with this. Yes, if you stay at a backpackers then this could be true, so rather find yourself a quieter spot on the western side of the island, away from the crowds.
Other things to do in Gili Trawangan
Listen to live music at Gili Sands Beach Club or Sama Sama Reggae Bar
Watch a movie on the beach at Villa Ombak or Sunset Beach Resort
Go surfing between April and June – Although Gili Trawangan is not the best surfing destination in Indonesia
Do yoga at one of the many yoga schools
Gili Trawangan Accommodation
While Gili T is a small island, there is plenty of accommodation options available, from epic party hostels, to secluded and romantic villas.
Luxury: Kuno Villas offer a variety of luxury accommodation in Gili Trawangan. My favorite is Tenda Villa which boasts a stunning private pool and outdoor bath. With its traditional design and wooden interiors, it's perfect for a romantic escape.
Mid-range: Trawangan Dive Resort is awesome for its prime location, swim-up bar and simplistic room designs. I stayed here and loved the chilled atmosphere. It's on the east of the island and so it's close enough to all the attractions, yet not in the thick of it.
Budget: If you're looking for an affordable place to stay (that's not a hostel), check out Absolute Villa. Their private rooms are complete with air conditioning and a terrace and there's even an outdoor pool on the property. The location is also great!
Hostel: If you're planning your Gili Trawangan backpacking itinerary and you want to stay at a party hostel, check out My Mates's Place. It's one of the biggest hostels on the island and has a constant buzzing atmosphere where you're guaranteed to meet people from all over the world!
My overall thoughts of Gili Trawangan
Gili Trawangan is a balance of everything. It's crazy-partying meets relaxed-beaching, so don't be put off from visiting this island if drinking isn't your main priority.
When I first arrived in Gili T I was expecting an island with a similar vibe to Phi Phi in Thailand and was pleasantly surprised when it wasn't.
However, I think the severe hangovers were a reason for the lack of human presence during the day, as the night-time was buzzing!
I wouldn't say Gili Trawangan is a hidden gem in Bali, but it's certainly off the beaten track and well worth including on your Bali itinerary.
Practical Information
How to get there: Take a 2-hour ferry from Padang Bai in Bali to Gili Trawangan.
What to expect: A small island getaway with beautiful beaches, weak wi-fi, no motorized vehicles and an overall relaxed atmosphere.
How many days you need: 3 days.
What to pack: Check out my Bali packing list
---
Looking for more Indonesia travel information? Check out my other posts!
As an Amazon Affiliate, I earn from qualifying purchases at no cost to you. As always, views are my own!
---
Pin this!