The small fishing village of Riung in Flores, Indonesia is home to the 17 Islands Marine Park. The remote and rustic atmosphere coupled with spectacular marine life makes Riung one of the best places to visit in Flores.
But it's well off the tourist track and is recommended only for those who have the time (and patience) to travel slow.
This comprehensive guide to Riung, Flores, covers everything you need to know for planning your trip, from the best way to get there and how to book your snorkeling tour to 17 Islands Marine Park.
Where is Riung in Flores
Riung, or Pulau Tujuhbelas, is a small fishing village on the northeast of Flores Island in Indonesia. It's a 5-hour drive from either Bajawa or Ende.
Riung is quiet and peaceful and has not yet felt the effects of over-tourism. Palm trees line the fields and one small road leads to the Riung pier – the gateway to 17 Islands Marine Park.
Pro tip: If you're planning your Flores itinerary, I recommend that you add Riung as a stop after you visit Bajawa and before Moni (Kelimutu Lakes)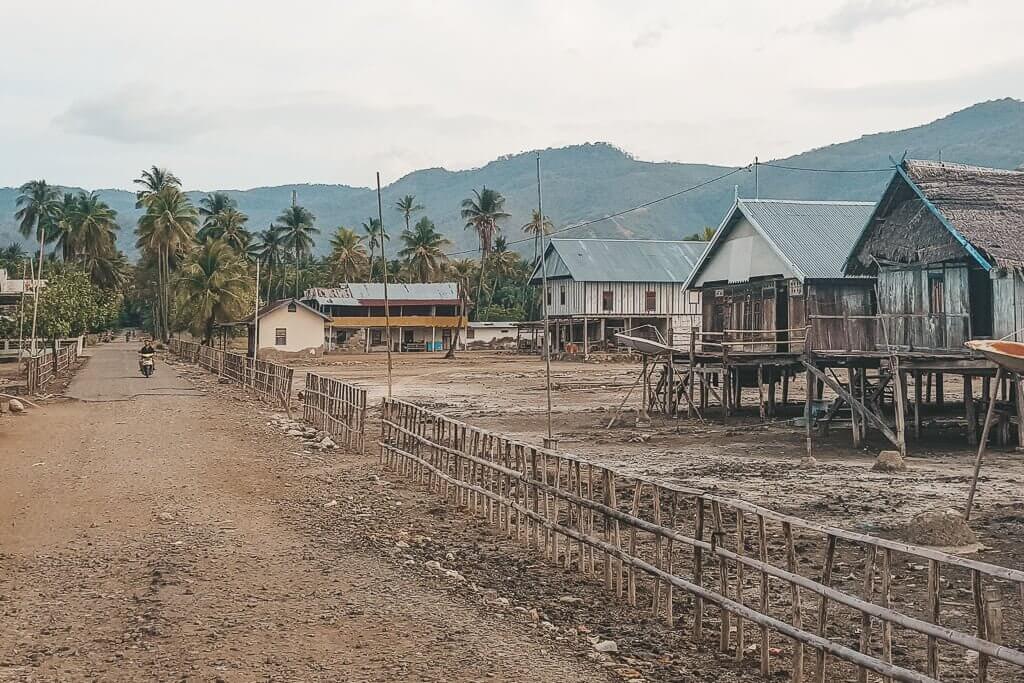 Travel Tips for Riung, Flores
Allow 2 nights in Riung. There isn't much else to do in the area, besides visit 17 Islands Marine Park
There is one ATM machine in Riung, but it's recommended that you draw cash before you arrive
Take loads of water and sun cream along with you on your boat trip to 17 Islands Marine Park
Hang around the pier and you're sure to meet other travelers who you can book your boat trip with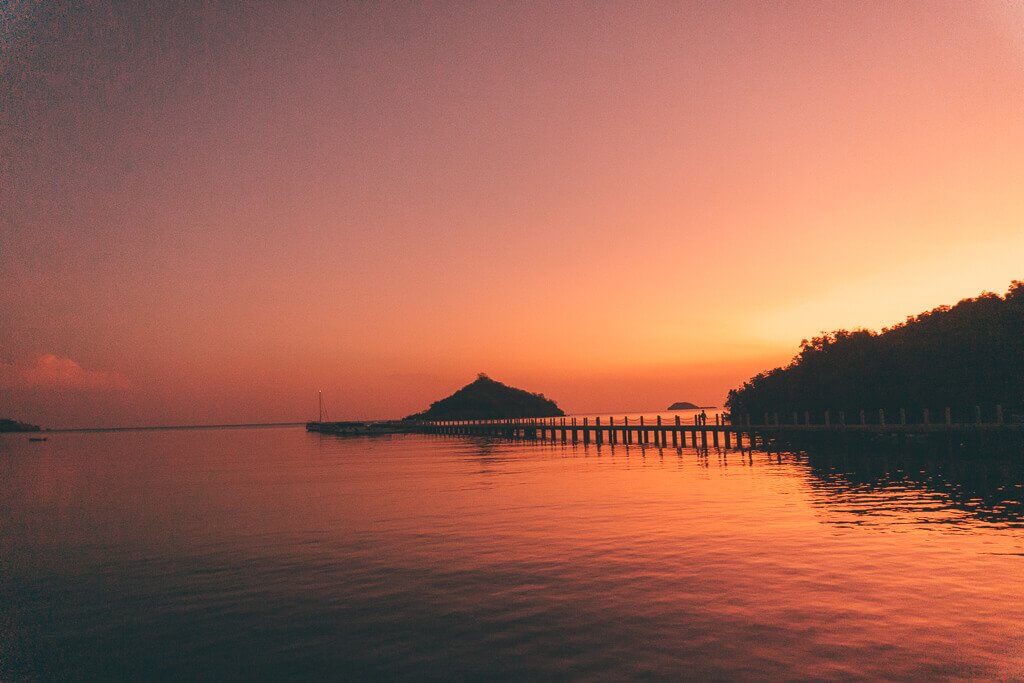 17 Islands Marine Park, Riung
The village of Riung does not have a beach and you'll need to take a small boat to reach the turquoise waters. These islands within 17 Islands National Park are all located near each other, so you don't spend hours boating between them.
Despite the name, 17 Islands Marine Park is made up of over 20 small islands. It is said that 17 Islands was named by the local people to commemorate Indonesian Independence Day which falls on 17 August.
However, some believe otherwise. Rumor has it that the name refers to the personification of a beautiful 17-year-old girl who once lived in Riung.
Island Hopping in Riung, Flores
Most 17 Islands day trips take you on a full-day island hopping tour.
You'll explore 4 or 5 spots including Bat Island, Rutong Island (with the viewpoint), Tembang Island and Tiga Island.
Along the way, you'll stop off at a few shallow reefs which offer great snorkeling opportunities. Lunch is a delicious fish BBQ prepared right on the water's edge and at 4pm the boat will make its way back to Riung pier.
Unlike islands hopping tours in the Philippines, the boats in Riung aren't overcrowded and the beaches are empty.
This was the main attraction for me and the reason I decided to go island hopping in Riung. Below are the popular attractions in 17 Islands Marine Park.
Bat Island
One of the most popular locations in 17 Islands National Park is Bat Island – an island that's home to a massive colony of fruit bats.
Here, thousands of bats come to rest. When one wakes up, they all do!
The sight of thousands of bats rushing into the sky is quite remarkable.
Snorkeling in the crystal-clear waters of Riung, Flores
From Bat Island, you'll move to a shallow reef where you will spend the next hour snorkeling.
There are many species of fish including clown fish, parrot fish, starfish, and even poisonous lionfish. The coral here is vibrant in some areas and damaged in others.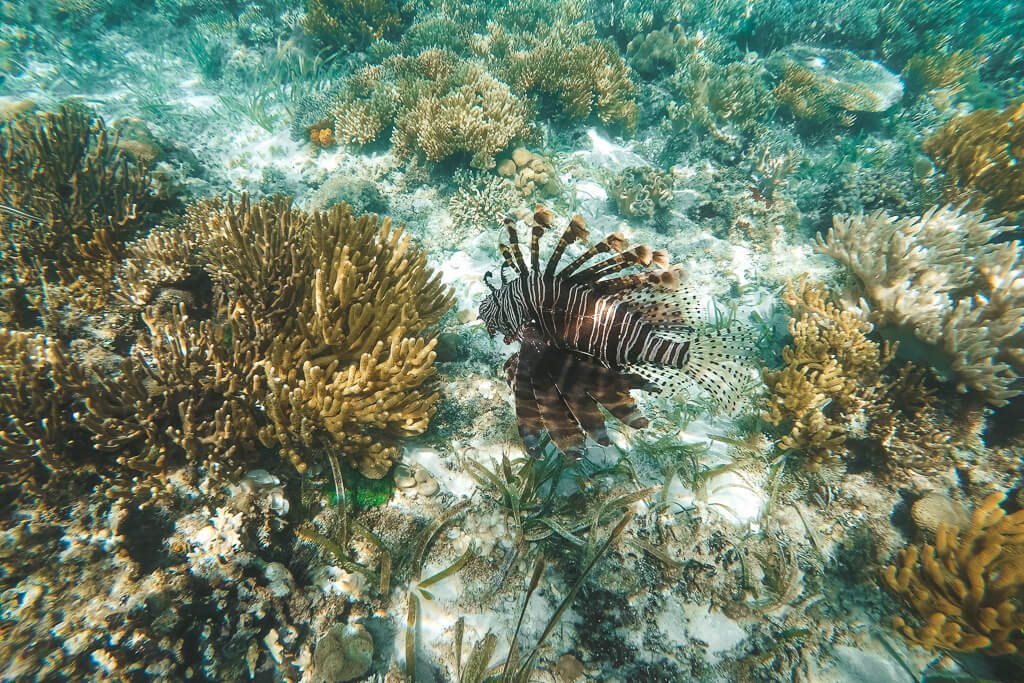 Beaches in 17 Islands Marine Park, Riung
After an hour of snorkeling, you'll head to a nearby beach which will be your lunch stop for the day.
Here you can snorkel off the coast, explore the beach or spend a good hour lazing in the sun.
The beaches are deserted with no resorts or infrastructure which is quite refreshing if you've become accustomed to crowds in Indonesia.
Deer, hedgehogs, and monkeys roam these islands and you may even come across the illusive Biuwak Mbou. This animal is the smaller cousin of the Komodo Dragon but is rarely seen.
Costs of island hopping in 17 Islands Marine Park, Riung
The costs for an island-hopping trip around 17 Islands Marine Park in Flores is dependant on the number of people on your boat.
Many tourists arrive late at night and book through their accommodation. However, it's cheaper to walk 10 minutes to the Riung pier where you'll find many captains who are open to negotiating prices.
We paid 350 000 IDR ($25) per person with 4 people on the boat. This included fins and snorkeling gear as well as a delicious fish barbeque on the beach. 100 000 IDR ($7) park fees were supposedly included as well.
17 Islands Marine Park in Riung vs Komodo Islands
Flores Island is home to 2 magnificent island-hopping destinations – 17 Islands Marine Park in Riung and the Komodo Islands near Labuan Bajo.
If you have limited time on the island, you may be weighing up the pros and cons of each destination. I had already planned a scuba diving liveaboard to Komodo Islands and so I was on the fence about going to 17 Islands Marine Park.
But, I ended up doing both and here's the verdict!
The water in Riung is crystal clear but the coral is slightly damaged. A few years back, the marine life surrounding 17 Islands may have been very much alive and flourishing. But sadly it's deteriorating every year.
Scuba diving is not available in Riung and whilst I absolutely loved my time at 17 Islands Marine Park, nothing quite compares to what I saw around Komodo National Park.
Environmental conservation
One negative I have from 17 Islands Marine Park is how reckless our captain was in the way he treated the coral. He proceeded to moor our boat onto a reef, and anchor on the coral.
This is unacceptable, and when he noticed our anger, he quickly moved the boat – but the damage had already been done.
Perhaps because Riung is so detached from everything, the locals don't realize the impact they have on the environment, and how their small acts can have a ripple effect in the years to come.
Park fees are generally included in your costs to explore 17 Islands, but sadly I am not sure if this ends up in the right hands.
READ MORE: THE ULTIMATE PACKING GUIDE FOR INDONESIA
Accommodation near 17 Islands Marine Park in Riung, Flores
Riung is a small fishing village with a handful of humble cottages and homestays options available. Don't expect much as facilities are limited.
I stayed at Zon Pelo which you cannot miss as it's right on the pier – I'm talking front row seats! A nights stay will cost 150 000 IDR ($11) for a double room and cold showers.
The wooden homestay offers a far more rustic feel when compared to the below options. The rooms are not soundproof, but you're right on the water's edge which makes it the best place to stay in Riung.
Unfortunately, Zon Pelo is not registered with any booking platforms. My advice is to arrive in Riung with no accommodation booked and head straight to Zon Pelo next to Riung pier.
Here are few alternatives that would suit any budget:
Budget: Sangrila Lodge Riung is one of the most affordable places to stay in Riung and offers all the basics you need at a great price.
Mid-Range: Riung Guesthouse is great value for money and the owners will go out of their way to ensure you have a great experience in Riung. It's clean and the rooms are air conditioned.
Where to eat in Riung
Cafe Del Mar: The fresh fish here is absolutely delicious
Cafe Rico Rico: Located right on the pier, Cafe Rico Rico is the perfect place for an ice cold Bintang after your snorkeling tour around 17 Islands Marine Park.
How to get to 17 Islands Marine Park, Riung, Flores
Note: Patience is required!
The road from Bajawa to Riung is bad, horrendous in fact!
The bus ride, terrible.
The time to get to Riung, long!
But the experience is once in a lifetime.
The route takes you through long, windy roads, where you must cross rivers and make unexpected detours into local villages. All of this with chickens clacking away in the background, children crying, and an entire bus filled with smokers puffing away every few minutes.
The doors are generally open throughout the ride with locals hopping on and off as and when they please. After arriving in Riung 5 hours later, I was pleasantly surprised that my backpack made it intact.
Yes, it was that bad and the drive is not for the faint-hearted! Perhaps this is why many people leave Riung off their Flores itinerary.
READ MORE: THE PERFECT INDONESIA ITINERARY
How to get to Riung from Bajawa and Ende
If you're venturing to 17 Islands Marine Park in Riung, you'll either depart from Bajawa or Ende on Flores Island.
Tip: Hike Mount Inerie just outside Bajawa and visit the Kelimutu Lakes near Moni as these are two of the best things to do in Flores.
Bus from Bajawa to Riung
There is a bus leaving from Bajawa to Riung at 13:00 daily.
This costs 40 000 per person ($3) and will take about 4 hours and 45 min. Ask your homestay owner to contact the bus and they will fetch you directly from your hostel.
Bus from Moni to Ende to Riung
To get from Kelimutu Lakes in Moni to Riung, you will first need to take a bus from Moni to Ende.
This will cost 60 000 IDR ($4). The trip from Moni to Ende took 3 hours as our bus broke down twice and there were roadworks along the route.
Once you arrive at Ende West Bus Station, you will hop on a different bus to Riung. This bus leaves at 14:00 so make sure you arrive before that. This trip costs 75 000 IDR ($5) per person.
Whilst the road isn't as bad as the one from Bajawa to Riung, the amount of long, drawn-out stops made it equally as painful! The bus ride from Ende to Riung takes 4.5 hours.
Final thoughts on 17 Islands Marine Park and Riung
I was on the fence as to whether I should go to Riung or not. I had time on my side and I'm so glad I went for it.
The highlight for me wasn't island-hopping around 17 Islands Marine Park, but the other travelers we met along the route. Because Riung is off the tourist path, there are few backpackers and you will most likely run into everyone in town.
Riung is a remote community so if you're looking for undiscovered island life make sure you don't give it a skip.
---
Looking for more Indonesia travel information? Check out my other posts!
---
Pin this!