Indonesia: It's the one place I keep coming back to! There's an adventure around every corner and it's a backpacker's dream destination.
If you're considering backpacking Indonesia, don't wait! Book your flights and get over here.
Indonesia is the ultimate place to explore as a solo traveler or a first-time backpacker. It makes for the perfect girlfriend's getaway or adventurous diving trip with friends. It's a honeymoon destination yet can also be a place for self-discovery and reflection.
And once you step off the tourist track, you'll realize that there's so much more to Indonesia travel than what meets the eye!
So, here are 26 things I've discovered after spending over 4 months backpacking Indonesia and includes the best place to visit, my budget breakdown and more!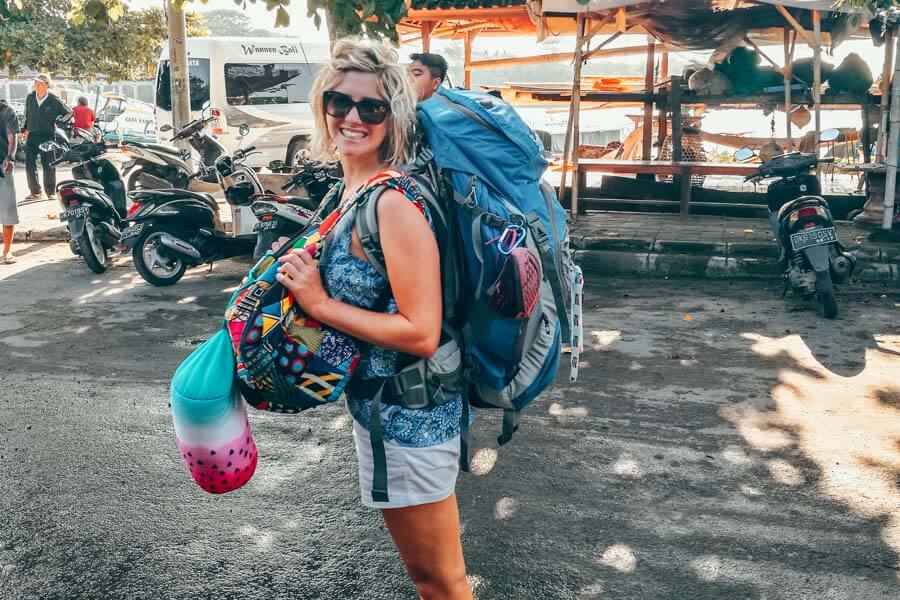 You can't do everything
There is so much to do and see in Indonesia. And I wanted to do everything!
But with over 17 000 islands, it just isn't possible.
Before you leave for your trip, decide what kind of travel you want to do.
Slow and or fast-paced? Do you want to go off the beaten track? Are you happy with basic accommodation? It's also best to research famous Indonesian landmarks and create your itinerary based on the places you want to visit.
Some of the best experiences I had whilst backpacking Indonesia came from the connections I made and the people I met along the way.
There's SO much more to Indonesia than just Bali
I have a love/hate relationship with Bali!
On my first visit in 2016, I absolutely loved it. The beach clubs are insane, the landscape is gorgeous, the locals are friendly, and accommodation is super cheap.
Back then, Bali was the only Indonesian island on my radar and the furthest I wanted to venture were the Gili Islands.
I didn't realize that there were so many other incredible places to see in Indonesia.
A few years later I returned to Bali and noticed a change. The attractions were too busy, the traffic was crazy, and the quiet streets and warungs I'd loved so much had disappeared and were replaced with trendy cafes.
But, it's so easy to escape this chaos. Follow my perfect Indonesia itinerary to see a side of the country that I absolutely loved!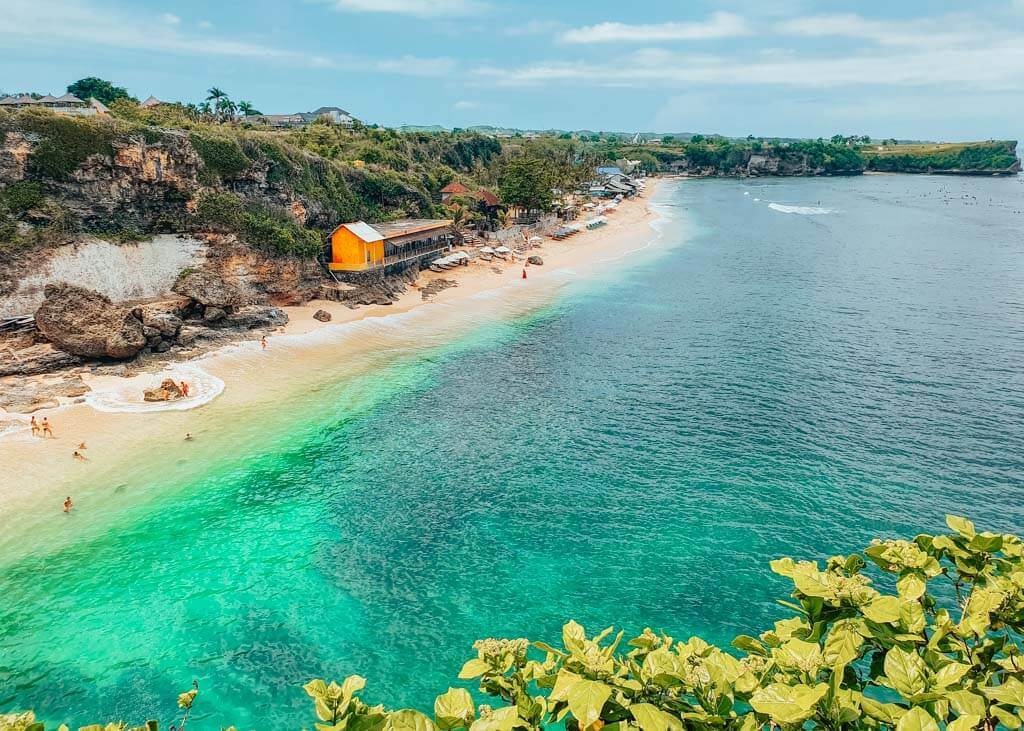 Destinations for Indonesia Backpacking Itineraries
On my second trip, I only spent 4 days in Bali, and 54 days exploring the other islands. Here are a few of my top destinations that should be part of your Indonesia backpacking route.
Flores Island: This is my favorite island in all of Indonesia. It has a bit of everything from diving the Komodo Islands, to hiking the tri-colored Kelimutu Lakes and island hopping in Riung.
Lombok: Lombok is an adventure island east of Bali and has some of the most amazing beaches I've seen. It's also home to impressive waterfalls and volcano hiking trails. Given its close proximity to Bali, Lombok is an easy addition to any Indonesia itinerary.
Other destinations: I was also so impressed with Red Island in Java. This sleepy village has an incredible beach and a great coastline. Oh, and Lakey Peak in Sumbawa. Man – this place is awesome (and I didn't even surf here!)
Know how to ride a scooter in Indonesia
If you're backpacking Indonesia, make sure you know how to ride a scooter.
You can get away without one, but it makes life so much easier! There's also the option to hire a car and driver, but if you're on a tight Indonesia backpacking budget, this isn't really an option.
But you're probably wondering: "What about public transport?"
Bali and Lombok don't have the best public transportation systems (if any at all!) But other Indonesian islands such as Java, Sumbawa, and Flores boast a pretty impressive network of buses and even trains.
These public buses are super cheap and run frequently but they are slow, there are detours, and they get crowded!
Whilst using buses between towns and cities is great, you still need to hire a car or scooter to get around the village and explore the nearby attractions.
You may not feel comfortable riding a scooter in Bali, and I don't blame you – the traffic is a nightmare. But the other islands are far quieter, and the roads aren't as busy.
Remember to carry your international driver's license with you. I've been stopped several times in Bali and asked to show mine.
Your car, scooter or bus will break down
This happened to me countless times and if you're backpacking Indonesia, it's only a matter of time before it happens to you!
My rental scooter got not one, but three flat tires while I was exploring Lombok. Our bus overheated on the way to Kelimutu Lakes in Flores and my entire scooter fell apart on Sumba island!
This would normally frustrate me, I'd get worked up and irritated, especially after the 3rd flat tire in 2 days, but the island vibes will get to you!
Just be patient and wait for the kind folk nearby to help. Before you know it, you'll be on your way (and hoping it doesn't happen again)!
Know when to plan your Indonesia backpacking trip
I've spent over 12 months in Indonesia, and the best time to visit is without a doubt between July and October. The days are sunny and hot, (but not humid) with no rain.
This makes it easy to travel overland and those crowded buses, long hikes, and days out exploring are far more enjoyable.
Oh, and you'll save cash as you don't need to book accommodation with aircon (which is needed in January or February).
The wet season is unpleasant
Now let's talk about the wet season: December to March!
I'm currently sitting in Bali (it's February) in my air-conditioned room near Balangan Beach in Uluwatu, and I don't want to leave (even to get food).
It's so humid and it rained for 2 hours yesterday. If I was backpacking Indonesia now, my experience would have been a lot different from what it was in August.
But, if you're used to humid conditions and you don't mind a few thundershowers here and there, then backpacking Indo during the wet season shouldn't be a problem.
But if, like me, the heat and rain will get to you, then rather choose to visit during the dry, cooler season.
Homestays are the best (and cheapest) places to stay for backpackers in Indonesia
Staying at a backpackers or hostel is always sociable and a great way to meet people. But they tend to be more expensive and many remote destinations in Indonesia don't even have hostels available.
Enter homestays, my new favorite way to travel!
This is when you stay on a family's property, perhaps even in their house! You connect with the people on a more personal level and you get to know the community.
It seems to be the new form of hostel, especially for travelers who aren't just looking for a big party!
Most homestays advertise their properties on Booking.com, and you can also find them by chatting to a local on the bus who'll introduce you to his friend, whose other friend has a cousin brother with a room available!
Backpacking Indonesia 101: Don't book accommodation in advance
When planning my Indonesia backpacking trip, I did as much research as humanly possible!
I searched for the best places to go (without the crowds), the best hidden gems in Bali, the easiest way to get from A-B, the cheapest places to stay… the list goes on!
I didn't want to miss a thing!
But, no matter how much planning goes into your backpacking trip, there will ALWAYS be something you've missed and some diversions to your schedule.
I wish I didn't pre-book accommodation in Sumba because I found an absolute gem of a place and didn't want to leave, but I couldn't cancel my next stop.
Luckily, I learned very fast and by the time we hit Flores Island, my schedule was an open book! I was able to change all my plans and divert to a small village, Riung, which I'd never even heard of before.
There will always be a place to stay – It might not be the best spot or most social hostel, but at least you'll have the freedom to alter your itinerary as you go along.
Hot water & flushing toilets can be a luxury if you go off the beaten track
This is not relevant for those who are following the standard Indonesia backpacking itinerary, but rather for those adventure travelers who get a thrill from escaping the crowds and checking out regions that are not often visited by tourists… such as Sumba Island, or Riung in Flores.
I went for 2 weeks with no hot water and several days with bucket toilets – so if you're planning a trip to Indonesia, make sure you read your property descriptions properly!
This became the norm, and whilst hot water and flushing toilets were available, these luxurious accommodation options did not fit my backpacker budget and so I had to make do with what I could afford.
Manage your expectations for backpacking in Indonesia
We're all guilty of this! You see a photo or read a blog, and you immediately take it at face value.
It describes the waterfall as "uncrowded" or the rice terrace as "untouched" or that Volcano hike as "incredibly scenic".
You travel there with the hope of experiencing the same seclusion and tranquillity of the person who captured the image.
But it won't always be like this.
What you don't see is the 4 am wake-up call to get to the destination before the crowds arrive, or the litter that has been photoshopped out of the image.
The things that I was most impressed with were those that I had little expectations of such as Munduk in Bali or Mount Inerie in Flores.
And those that I was most disappointed in, I initially thought would be the highlights of my trip!
Don't expect everything to live up to your expectations. And that's ok.
You can get a 1 or 2 month visa
Most backpackers in Indonesia get a 1 month visa on arrival. This costs IDR 500 000 ($35) and allows you to tailor your backpacking route for 1 month in Indonesia.
But, if you plan ahead, you can get a 2 month visa, which is what I did. You'll need proof of flights and a rough itinerary, but it's so worth it to be able to spend 8 weeks exploring incredible places in Indonesia.
Indonesia is safe for backpackers
If you're backpacking Indonesia, you'll be pleased to know that it's incredibly safe and violent crime is unheard. The locals are some of the most generous people I've met and we can all learn a lot from them.
Sadly, there have been more instances of petty theft so keep an eye on your valuables, but overall it's a great destination for solo backpackers and people embarking on their first international trips.
Indonesia backpacking budget breakdown
If you're backpacking Indonesia, you can get by with $40 per day, which excludes flights.
Here's a breakdown of costs to expect. (Prices in USD)
Food at a local warung or restaurant: $2-4
Food at a cafe, beach club, or non-local restaurant: $8-$15
Local beer at a convenience store or bar: $2-$5
Cocktail or glass of wine: $8
Shared dorm room in a hostel: $15-$25
Private room in homestay: $10-$20
Scooter rental per day: $20
READ MORE: The Ultimate 3 Week Bali Itinerary
There are lots of free things to do
Hiking trails. Lush forests. Towering waterfalls. Stunning rice paddies. Quaint villages. Local interactions.
You can see all of these, and more, without spending a cent.
While there are many activities you have to pay for, such as scuba diving trips, Instagrammable hotspots, or cultural performances, there's still plenty to do and see if you're traveling Indonesia on a budget.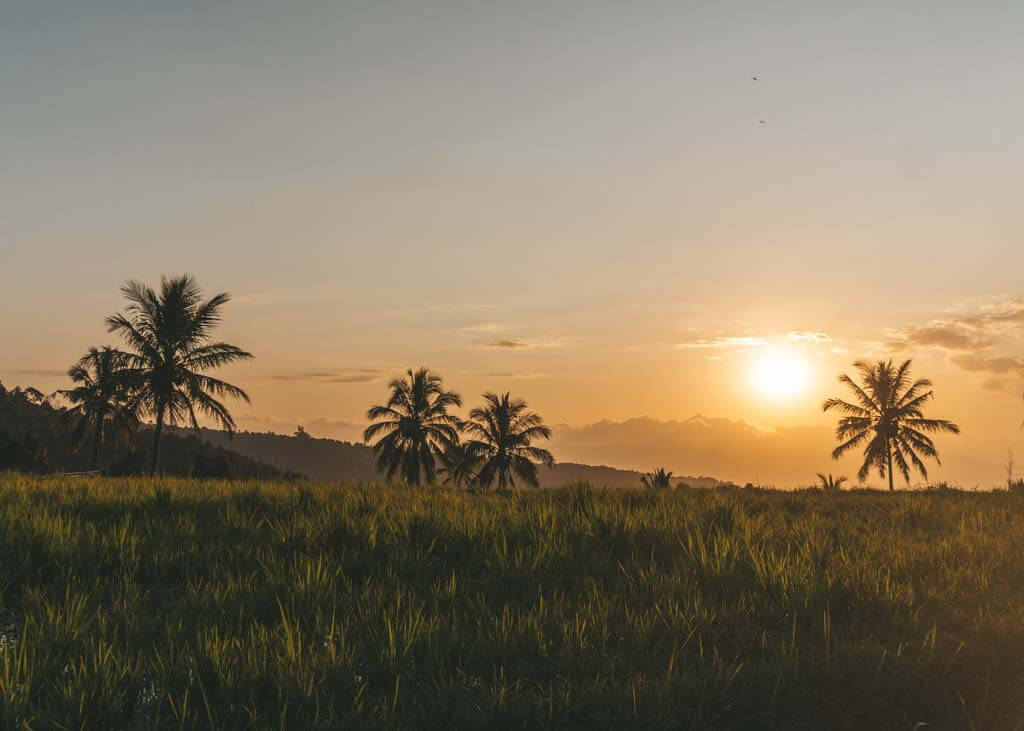 But going off the beaten track can be expensive
Indonesia is cheap, right? Um…
When I was planning my second Indonesian backpacking trip, I wanted to get as far away from Bali as possible. I'd been to the island before and seen most of the sites.
I wanted to experience something different and see a more authentic part of Indonesia that wasn't driven by mass tourism.
So, I immediately began searching for remote islands in Indonesia that have untouched beaches and great surfing conditions, yet little infrastructure and few tourists.
Sumba Island was the first place I found, and I immediately booked my flights.
Backpacking remote islands in Indonesia
I then started planning my Sumba itinerary. I searched for hours but couldn't find much information online.
The more research I did, the more I realized just how remote Sumba was – This made me even more excited!
All I wanted was to explore the coastline, but then I realized that the roads to get there were barely usable, there were no warungs (local restaurants), and the motorbikes on the island were old and not really roadworthy!
On top of this, you need to stay in a homestay that will provide you with all meals (because you can't get elsewhere) and they have free reign to charge what they want as there are only a handful of options available.
Oh, and you need to pay for expensive private transfers as the local buses don't reach the coast. Also, the time it takes to get from one side to the other is double what Google maps will tell you thanks to the conditions of the roads and the size of the island.
As a result, most tourists pre-book an all-inclusive trip to Sumba with day trips to the sights and beaches. They don't backpack across the island!
But I was adamant that I was going to do it my way and not with an organized tour. Spoiler alert: I did, and it was absolutely incredible!
We spent two weeks on Sumba Island, and it was the most expensive place we visited in the whole of Indonesia. After we left, I went into complete money-saving mode! But I have zero regrets.
If you're planning your Indonesia backpacking trip, I highly recommend that you choose one destination that's off the beaten track. But only one or else you'll run out of money very quickly!
Expect the unexpected
This is unfortunately true for any long-term travel and is guaranteed to happen while you're backpacking Indonesia. Don't expect everything to go as you planned.
You will get sick at the worst time (like on a 5-day scuba diving liveaboard!)
You'll break your ribs at the start of your 2-week surf trip!
And then you'll plan a trip to Java to hike the Injen volcano, but 2 days prior, you'll trip down a flight of stairs and twist your ankle, deeming you bedridden for the next couple of days
Yes, all of the above happened to me during my 2-month backpacking trip! It sucks. But it's life.
The vegetarian food is delicious
I'm not a vegetarian, but after 1 month backpacking Indonesia, I was quite happy to skip the meat!
I never thought I'd choose a veg curry over a chicken one, or a cap cay over a chicken burger, but surprisingly the veg options here are always my first pick when it comes to ordering food.
There are so many delicious and flavorful choices including mie goreng veg, cap cay, nasi goreng, tempeh curries, and gado gado.
Eating local, vegetarian food is also better suited for travelers on a backpacker's budget. You can easily find a meal for only 30 000 IDR ($2) and the flavors will beat any western food (in my opinion)!
Beer will be your staple alcohol
When I was planning my Indonesia backpacking trip, I had visions of me sipping on cocktails all day (and night).
There are two reasons why this dream didn't become a reality.
Firstly, booze is expensive and if you're on a backpacker's budget, you'll soon be broke if you're out drinking every night.
Here's how I see it. A local meal cost about 20 000-30 000 IDR ($2). A large beer will set you back 50 000 IDR ($3.50), and a cocktail around 100 000 IDR ($7)!
So, I reasoned that for every beer I drank, I could buy two meals. TWO!
Secondly, if your Indonesia backpacking itinerary includes travel to remote islands, alcohol becomes limited. Bintang is often the only option if you're looking for a drink, and you'll be lucky if it's served chilled!
Indonesia is incredibly polluted
When you think of Indonesia, you probably picture crystal clear waters, soft golden sand, beaches lined with palm trees, and of course the incredible marine life including turtles and manta rays.
Picture perfect. Island vibes. Unspoiled Paradise.
Well, I hate to break it to you, but pollution and single-use plastic is a major problem in Indonesia.
The pollution here is unreal as there is no waste management system in place. Around every corner, you can smell the fumes of burning plastic as the locals try their best to get rid of the excess waste on the islands.
I actually found that Bali "appears" cleaner than other islands, but if you take a closer look and explore destinations that are off the beaten track in Indonesia, you'll soon realize the extent of the pollution problem.
I didn't become the surfer I had hoped to
I had big dreams. When planning my trip to Indonesia, I gave myself 2 months to explore some of the best surfing spots in the country and I was committed to surfing all day, every day.
I got off to a good start in Canggu, Bali but that was the extent of surfing during my 2-month Indonesia backpacking trip!
Little did I know that most surf spots in Indo, including Sumba Island, Lakey Peak and Lombok are for experienced surfers.
With huge swell, gnarly reef breaks and strong currents, I didn't get as much time in the water as I'd hoped to!
If you're backpacking in Indonesia, leave your make-up at home
Before my Indonesia backpacking trip, I'd been teaching English in South Korea. Beauty is a huge industry in the country with ladies walking around looking on point at all times.
Enter Indonesia: I was running between beaches, hopping on buses and scooters, swimming, hiking, diving. I had no mirror and at times no light. Ain't nobody got time for makeup!
And the best part – I wasn't the only one. Yes, some destinations and tourist hot spots attract influencers and couples looking their best. But from my experience, there's no judgment if you don't.
I returned home with my makeup bag still full, and half my products not even opened!
The internet is so good
This one took me by surprise! I was expecting days with no connection, especially on the remote Indonesian islands.
But no, my Telkomsel sim card worked everywhere and I was able to send messages, watch YouTube videos, and make calls throughout my Indonesia backpacking trip.
The Wi-fi in homestays or guesthouses is questionable though, so make sure you get a local sim. I paid 150 000 IDR ($10) at the airport for a sim card that had 8 gigs of data.
I'd be wearing the same clothes every day
I had packed well for my Indonesia backpacking trip. I had a few trendy outfits for those beach clubs and date nights, warmer clothes in case it got chilly, several bikini options and a pair of cute sandals to go with most outfits.
The worst part, I had so much stuff, but I literally wore the same clothes day in and day out!
My bikini, a t-shirt and a comfy pair of shorts. And the same flip flops. Every. Single. Day. Sometimes I just stayed in my bikini and sarong all day long.
So, no make-up and the same clothes. You might think that I was letting myself go, but I've never felt freer in my life! If you're planning your trip, check out my packing list for Indonesia.
Indonesia backpacking bucket list
Hike a volcano in Lombok or Flores
Visit the rice fields in Bali
Go snorkeling or scuba diving with manta rays
Go trekking with orangutans in Sumatra!
Watch the surfers in Uluwatu or Lakey Peak
Swim under one of the many spectacular waterfalls
READ MORE: Exploring Bajawa (My Favorite Village in Flores)
Earthquakes are scary AF
The only downside of backpacking Indonesia between July and November is that this is peak earthquake season.
Indonesia is situated on the Pacific ring of fire meaning there is a constant risk of earthquakes, volcanic eruptions as well as tsunamis, and flooding. This has resulted in complete destruction over the past few years with many people losing their homes and even their lives.
So, if you choose to backpack Indonesia during August as I did, you have to prepare to experience an earthquake.
During my second night in Bali, at about 9 pm, the clothes hanging in my cupboard suddenly began swaying from side to side. It's as if time froze. I just stared, confused as to what was happening.
Then it hit me. It was an earthquake!
My heart dropped and I ran outside. Luckily it was small in comparison to others before it, but it was still one of the scariest moments of my Indonesia backpacking trip.
I don't want to frighten you, but you have to be realistic!
Make sure you know where to go. Stay away from buildings and run to open land or higher ground as tsunamis could occur.
Also, have proper travel insurance so that you're covered if you get injured or if there are changes to your itinerary.
Scared? Don't be. If you're afraid, you'll never travel anywhere in your life! (Like seriously, there's so much going on in every single country at the moment).
Final thoughts on backpacking Indonesia
Indonesia will always have my heart and I love everything about the country. From the beaches to the food, the people to the culture, it's a bucket list destination worthy of a visit.
If you're planning your Indonesia backpacking itinerary, try to give yourself at least 4 weeks to explore. Regardless, I know you'll be back (as I will).
---
Psst… Looking for more Indonesia travel information? Check out my other posts.
Pin This!