Korean BBQ. Soju. Karaoke. These are 3 words synonymous with backpacking Korea.
And while Seoul certainly is a backpacker's hotspot, the rest of the country is equally as impressive. With its bright lights and electric atmosphere, amazing street food, and even better transportation network, Korea is one of the best destinations to visit in Asia.
I spent a few weeks backpacking Korea before I eventually moved here. Although it wasn't quite how I imagined it to be, the unique experiences made it a trip of a lifetime!
I've put together this massively detailed post of everything you should know before backpacking Korea – the good and the bad. From cultural etiquette, places to visit, and bucket list things to do (even on a budget), here are 29 Korea travel tips for backpackers.
A Soju hangover is the worst hangover you will ever have
Soju is Korea's unofficial national alcohol. It's a distilled, vodka-like, rice liquor that's taken neat in a shot glass.
And it's cheap. At less than $2 a bottle, it's a winner if you're traveling to Korea on a budget.
The side effects include but are not limited to, a sudden rise in energy levels with an increased sense of self-confidence which will have you dancing in no time. It's no wonder it's so popular with backpackers in Korea!
Other effects that have led to my love/hate relationship with the infamous beverage include memory loss, confusion, and quite possibly the worst hangover you will ever experience in your entire life.
So, why do we still drink it? Well, it's fun and festive, and tradition in Korea.
Manage your expectations
Seoul – the city that never sleeps. It's vibrant, lively, bright, and exhilarating.
There's always something happening in the sprawling metropolis, and it's on every backpacker's itinerary for Korea.
But it's very different from other cities in the country so if you're expecting each one to be as awesome as Seoul, you may be disappointed.
Remember, Korea is a country with a rich history, unique culture, and natural beauty. While this is all on show in Seoul, you'll get a more authentic experience in those cities that are off the tourist track.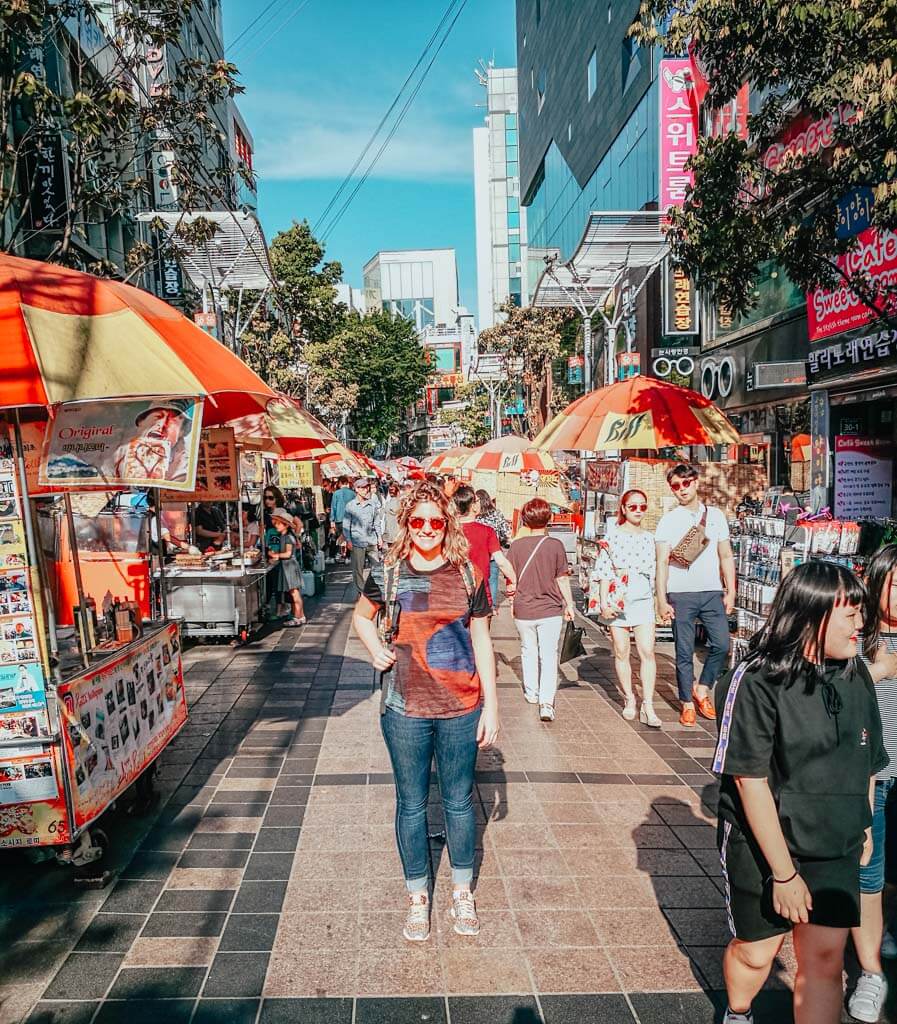 Popular Korea backpackers' itineraries
Here are the main destinations on most South Korean backpacking itineraries.
Seoul: Here's where you'll find ancient palaces sitting alongside slick skyscrapers. It's a sensory explosion and you'll need at least 5 days to explore the capital city.
Busan: Busan is Korea's second-largest city and home to some of the best beaches in the country. You can reach Busan in less than 3 hours on the KTX fast train so it's worth adding to your Korea travel route.
Jeju Island: The so-called Hawaii of Korea! This island is a popular vacation destination for locals and has recently been named one of the 7 New Wonders of Nature. Jeju Island is a hiker's mecca and offers some unique and quirky experiences.
The city comes alive at night
The mornings start late, and the nights turn into mornings!
Korea has a vibrate nighttime culture and you'll find people out and about until all hours of the morning.
This is because Koreans work late, often leaving the office after 10 pm. As a result, shops don't open before 10 am, even on weekends.
If you're backpacking Korea and expect to start your festivities in the afternoon, you're in for a surprise. The streets will be empty and the pubs, deserted.
As a rule of thumb, if you're going for a Korean BBQ or planning a night out on the town, make your reservation for 8 pm or later. If you go before, there'll be no vibe!
Jimjilbangs are incredible for backpacking Korea
Not only are they good for the soul, but they are also the best (and cheapest) place to stay – especially after a night out!
Never heard of a Jimjilbang? They're Korean bathhouses featuring various saunas, hot baths, and communal sleeping and meditation rooms. They're part of Korean culture and operate 24/7.
But a little secret for those backpacking Korea – you'll pay as little as $15 to enter which gives you unlimited time to enjoy all the facilities and also find a place to rest your head.
I mean, who doesn't like a sauna session and rejuvenating hot bath after a night out.
But I must warn you, it won't be the most comfortable sleep you've ever had! You'll get a thin mat to sleep on and a block that can double up as a pillow – but it will be an experience you'll never forget.
You'll always feel safe
If you're backpacking Korea, you'll be pleased to know that it's one of the safest countries in the world. Violent crime is unheard of, and you can walk the streets freely at night without having to watch your back.
It's a great destination for solo backpackers and people embarking on their first international trips.
But we need to talk about the elephant in the room: North Korea.
Many people fear South Korea's unstable and erratic neighbor – and I did too. But it's totally blown out of proportion by western media. The locals never talk about the north and they're used to the conflicts and threats as they have been happening for decades.
Their confidence in South Korea's safety, as well as the fact that they have many allies, including the USA, is reassuring. So don't stress about it!
Communication may be a struggle
Most Koreans can't speak English, especially the older generation. While the capital city, Seoul, may be the exception, you'll struggle to communicate with locals in other areas.
This makes everyday tasks, such as ordering food, booking train tickets, or trying to get directions, extremely challenging.
Getting local tips and advice is not easy if you can't communicate so keep this in mind if you're backpacking Korea without a plan.
My advice would be to learn a bit of the local language before you arrive. This is one of the many things you need to know before traveling to Korea (and most Asian countries for that matter).
Also, download Google Translate on your phone. Using the scanner feature, you can translate the hangul text into English. It's a game-changer!
Hostels are the best place for backpackers in Korea
The staff working at hostels are often fluent in English and there is always a relaxed, social atmosphere around the place.
Hostels are also a great place to meet other travelers, especially if you're backpacking Korea solo. If you're not keen on sharing a dorm with other people, you can opt for a private room instead.
Other common places to stay in Korea include pensions. These are guesthouses that offer all the basics, including a private room, and they're cheap.
No tipping
This is a favorite amongst backpackers in Korea. And the best part, you don't have to feel bad about it.
Koreans receive a good salary and tipping can actually be seen as an insult as it might suggest that you're looking down on the person you're giving the tip to.
The obsession with beauty may get to you
The Korean beauty culture is all the talk these days.
And one thing you'll notice the moment you get off the plane is that Koreans are fixated with how they look – whether it's hair, makeup, clothing, and even body features.
They dress smartly and conservatively, with coordinated outfits and well-groomed hair.
Your scruffy backpacker look may get a few stares. (You know what I'm talking about – worn leggings, dirty sneakers, baggy tops, hair in a bun, hungover)
Also, don't be surprised when people genuinely ask you if you're "sick" or "tired" because you're not wearing make-up. I got this all the time! It's best to just brush it off and smile.
Korea is not your typical backpacker's playground so keep that in mind and know what to pack before arriving in Korea.
You won't need a visa
For most travelers, you don't need to organize a tourist visa before arrival.
Visa-free entry is allowed for up to 90 days, making your backpacking planning for Korea so much easier. You can check whether this applies to you here.
Buy a sim card
You can find free wifi just about everywhere in Korea, but for convenience, I still recommend buying a sim card.
Navigating the subway system, translating something on the fly, or searching for things to do is made so much easier when you can just pick up your phone, knowing that you're connected.
And a tip for buying a sim card – it's not as easy as going to a cell store and picking one up.
You'll struggle to communicate with the staff, and they might offer you an expensive plan without even realizing it.
The easiest and most convenient way to get a sim card is to purchase one online. It's super affordable and will be waiting for you at the airport. This will save you hours – trust me!
You'll love the food
Korean BBQ is a backpacker's favorite and Dakgalbi, a marinated chicken and cheese dish, is to-die-for!
Each meal is served with a soup broth and unlimited side dishes, the most common being Kimchi.
My other favorites Korean foods include:
Bibimbap: a rice bowl with vegetables and spicey sauce
Bulgogi: marinated beef
Teokbokki: rice cakes with the yummiest sauce
Gimbap: Korean style sushi roll
Korean fried chicken: The name says it all
They're all super affordable so if you're backpacking Korea on a budget, you'll be eating lots of these dishes.
You'll need to find backpacking buddies
The eating culture in Korea is amazing. Not only is the food delicious, but it's also festive and fun.
While Korean BBQs and dakgalbi are world-famous, most restaurants serve a minimum of two diners per sitting. This makes it difficult if you're backpacking Korea solo and looking to grab a quick meal alone.
Some BBQ restaurants may be willing to serve one portion for a small additional fee, but it's best to buddy up with other backpackers at your hostel.
There are lots of free things to do in Korea
Hiking trails. Ancient palaces. Historic buildings. Towering waterfalls. Stunning parks. Quaint neighborhoods.
You can see all of these, and more, without spending a cent.
While there are many activities you have to pay for, such as DMZ tours or entrance to Nami Island, there's still plenty to do and see if you're traveling South Korea on a budget.
But you'll have to watch what you spend
Korea's cheap, right?
$2 for a bottle of soju, $4 for a beer, $2 for street food, and $5 for bibimbap. Not to mention there are many free things to do.
That's all you need to consider for your Korea backpacking budget, right?
Well, that's if you spend your money wisely!
But it's so easy to be tempted to splurge when you don't have to. If you get caught up in the shopping trap or decide to eat and drink at western restaurants, it will all add up.
And what could be a $40 night out on the town will end up costing you over $100. So, stick to local food, local drinks, and public transport and you'll be ok.
READ MORE: THE BEST PLACES TO STAY IN BUSAN
It won't be an island holiday
Korea ticks all the backpacker requirements. It's safe, it's affordable (if you spend your money carefully), the public transport is great, and the nightlife is incredible!
But your experience in Korea will be so different from other popular backpacking countries in Asia such as Bali or Sri Lanka.
It won't be an island holiday where you lie on the beach and sip on cocktails all day. You won't be partying all night, every night (unless you only visit Seoul). And if you go off the beaten track in Korea, you may not see tourists for days!
This is the reality of backpacking South Korea. However, the fact that it isn't your typical backpacking adventure is the reason why Korea is such a special place to visit.
There are so many opportunities for unique interactions and once in a lifetime experiences like cycling around Korea or staying in a temple!
Get to know the locals
When I first arrived in Korea, I thought the people were rude and abrupt.
Everyone was pushing to get on the escalators as saying "excuse me" is not a thing in Korea. I wasn't met with smiling, friendly faces, and I was horrified to see people spitting on the floor.
This was a big shock to me (along with these other things), but I was too quick to judge.
I soon discovered just how kind and caring Koreans are and I met so many people who would go out of their way to help me.
Keep in mind that Koreans generally keep to themselves. The immense pressure put on them and the fast-paced society has resulted in urgent movements as time is precious in Korea.
So, greet them in Korean, compliment the delicious food, and be open to learning more about their everyday life.
Remember, you're a visitor in their country and some of the best experiences you'll have are those with the locals.
Korea summers are unpleasant
A Korea travel tip for visiting in July – know what you're getting yourself into!
July is the hottest month in Korea. It's humid and sticky and you do not want to be outside during this time.
If you have the choice, rather plan your trip outside of July and the beginning of August.
Spring and autumn are best for your Korea backpacking trip
Unlike winter, where it's snowing, or summer, where it's unbearably hot, spring and autumn offer a good medium with beautiful weather allowing you to enjoy outdoor activities.
Spring (March-May): The Cherry Blossom season is massive in Korea with cherry blossoms lining the streets during the first weeks of April.
Autumn (September – November): It's a great time to be outside and the country is filled with bright orange and red leaves. Try to avoid backpacking Korea during Chuseok (Korea Thanksgiving) as many shops will be closed.
Korea is extremely quirky
Koreans are obsessed with selfies and Instagrammable photo opportunities.
This means you'll find bizarre sculptures, quirky food, and adorable themed cafes in every direction you look. I'm talking penis parks and poop cafes!
It's weird and wonderful and unique to Korea.
READ MORE: 18 THINGS I LOVE ABOUT SOUTH KOREA
Nuraebangs, bowling, and baseball are all the craze
Nuraebangs are Karaoke rooms – and they're awesome. You can buy beer, soju, and snacks and enjoy a few hours of dancing while singing your heart out. People generally go to Nuraebangs closer to midnight, after they've feasted on a Korean BBQ or Dalkgalbi.
Indoor bowling, baseball, and darts are also super popular so don't be surprised if you head to the local bar and find that there's more to do than just drink and dance.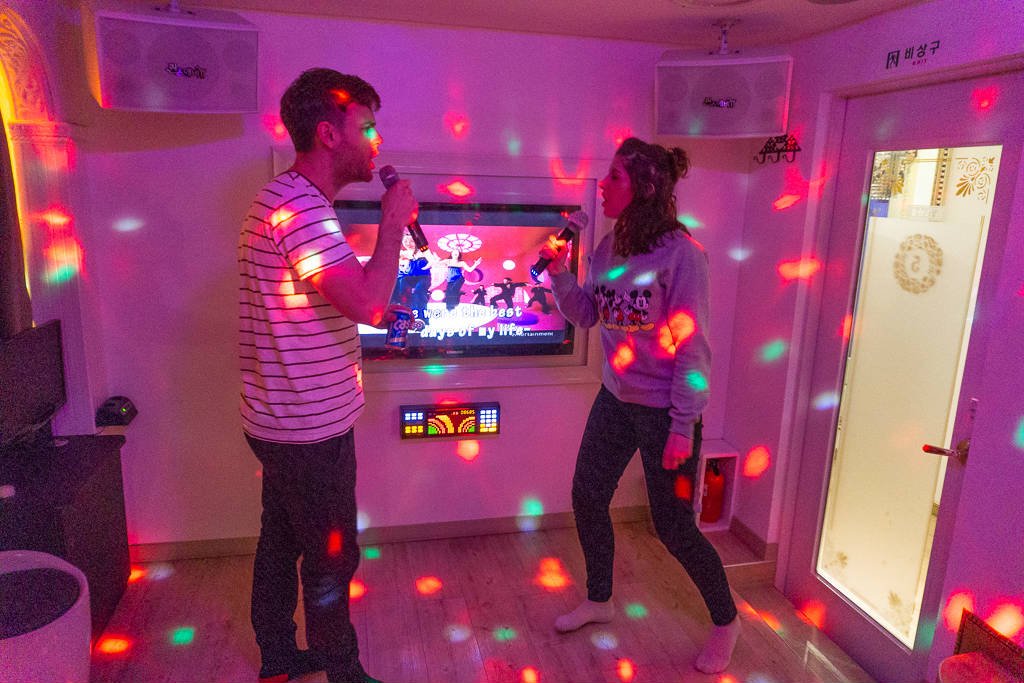 Stick to alcohol when backpacking Korea
Koreans are heavy drinkers, and their alcohol tolerance is impressive. And if you're backpacking Korea, you're free to join in on the fun!
But avoid any forms of drugs as the laws in Korea are very strict. Don't risk it by dabbling in any illegal activities. They will make an example out of you if you are caught and it's just not worth it.
Korea Travel Bucket list
Visit an ancient palace or temple
Feast on all the amazing Korean food
Spend the night in a Jimjilbang
Take a hike in one of the many national parks
Have an all-nighter in Seoul
Visit a market
You need travel insurance
When you're hiking mountains, partying all night, eating street food, and dodging traffic, you need to be covered for emergencies.
I personally used World Nomads for my South Korea itinerary as they cover everything from stolen luggage, missed flights, natural disasters as well as activities such as surfing and hiking.
Google Maps won't work
It's not that you can't access Google Maps, because you can. I'd often use it to pinpoint my location and it works if you're walking somewhere.
But the maps are not regularly updated and directions for public transport won't work.
Naver Maps and KakaoMap are better alternatives and are used by all Koreans.
READ MORE: ALL YOU NEED TO KNOW ABOUT TEACHING ENGLISH IN KOREA
Korea backpacking budget breakdown
If you're backpacking Korea on a budget, you can get by with $50 per day, which excludes flights.
Here's a breakdown of costs to expect. (Prices in USD)
Food per serving:
Street food: $1-$4
Food at a local restaurant: $4-$7
Korean BBQ: $10
Non-Korean food: $15-$25
Cappuccino: $3
Alcohol:
Drinks at a bar: $6-$10
Local beer at a convenience store: $3
Bottle of soju: $2
Accommodation per night:
Shared dorm room in a hostel: $15-$25
Private room in a hostel or pension: $30-$50
Transport:
Subway in Seoul: $1-$5 depending on where you go
Train/buses between cities: $8-$25
Learn key phrases
You don't need to learn Hangul (the Korean alphabet) or know how to speak Korean, but it would help if you knew how to say a few things.
Hello = Annyeong-ha-se-yo
Thank you = Gam-sa-ham-ni-da
Yes = Neh
No = Ah-nee-oh
Bathroom = Hwa-jang-shil
Local beer = Maekju
Other South Korea travel tips for backpackers
Get a T-Money Card: This is a transportation card that allows you to use all public transport throughout Korea. You can either purchase one here or buy yours from one of the many convenience stores.
You can get everywhere with public transport: This is one of the best things about backpacking Korea. You're never too far from other destinations in the country and you can easily travel from one side to the next in a few hours!
Take a bow: Bow when you're saying hello, goodbye, or thank you.
Don't wear shoes inside: Another thing to remember when backpacking Korea is that you don't wear shoes inside.
Go to the Boryeong Mud Festival: If you're planning your Korea backpacking vacation for July, try to get to the Boryeong Mud Festival in Daecheon Beach which is 2 hours from Seoul.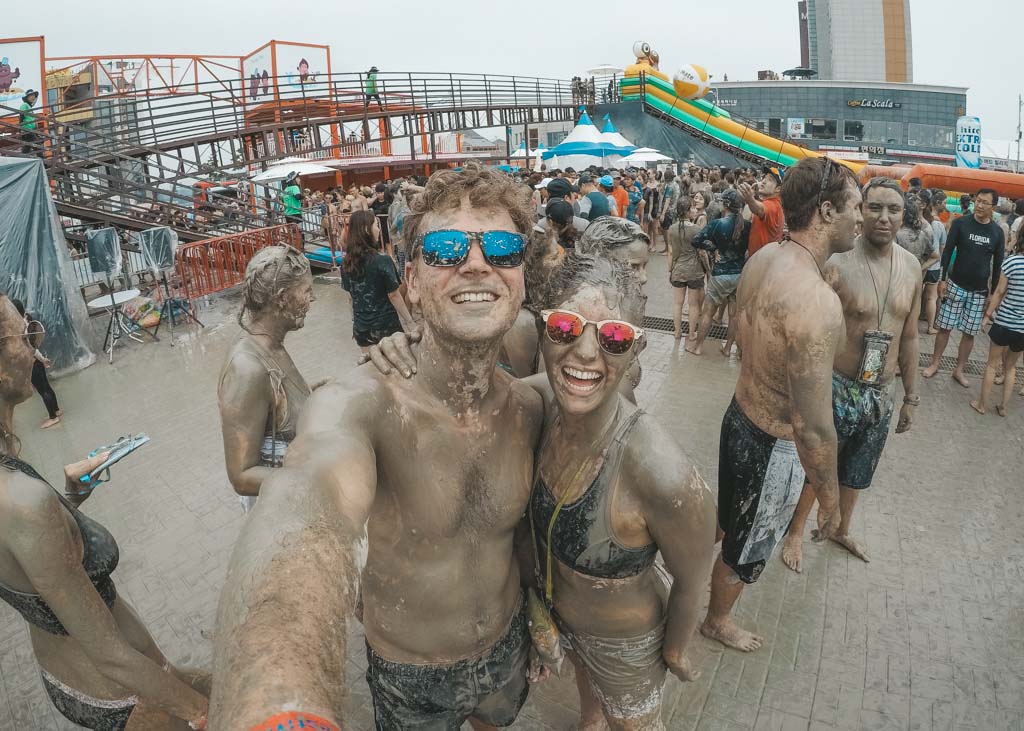 Final thoughts on backpacking Korea
If you're eager for an experience that will offer unique memories and excite your senses, then Korea is the perfect travel destination for you!
For backpackers, Korea is an easy country to travel. The transportation network is amazing, the culture is unique and it's safe.
---
Are you planning your Korea backpacking trip? Do you need more advice on the best places to go? Drop me a message in the comments section below!
Looking for more Korea travel inspiration? Check out my other posts!
Did you find this post helpful? Save it for later on Pinterest!
There is a really good chance that this post contains affiliate links. If you click one of them, I may receive a small commission at no extra cost to you. As always, views are my own!