The small, hillside village of Bajawa in Flores Island, Indonesia is one of the best places to visit if you're in search of a raw and authentic experience. With its hidden hot springs, remote hiking trails and rich culture, Bajawa is nothing short of spectacular.
After spending 3 days exploring Bajawa, I can safely say that it's one of the most unique places to visit and is well worth a stop if you're doing an overland trip from Labuan Bajo to Kelimutu Lakes in Moni.
Here's my complete guide to exploring Bajawa in Flores, Indonesia.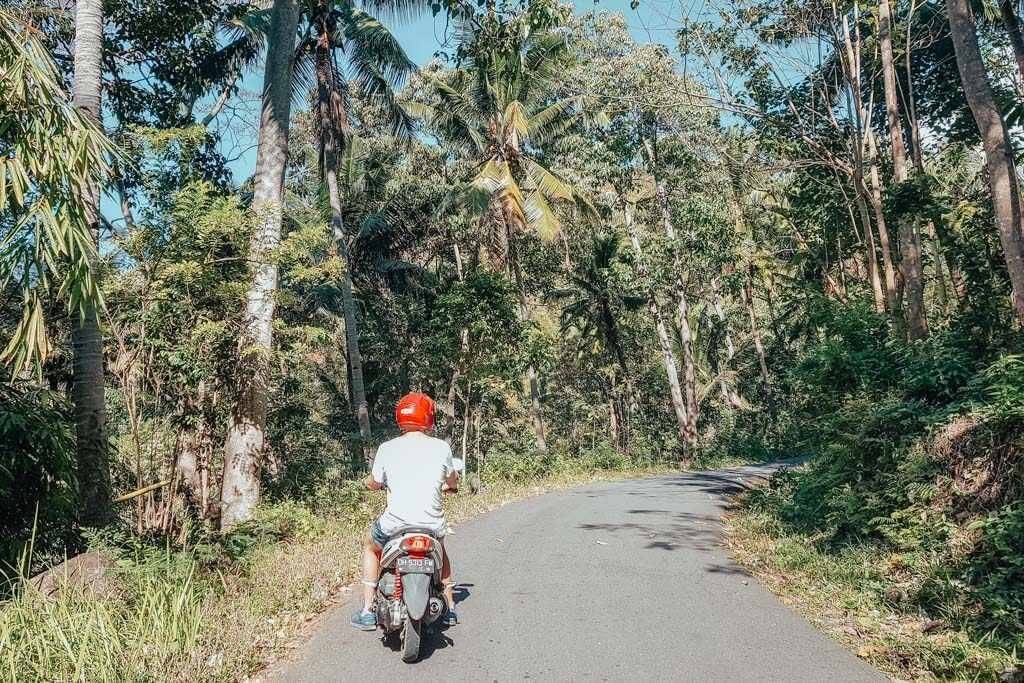 How to get to Bajawa
Bajawa is located in the middle of Flores Island in the East Nusa Tenggara province of Indonesia.
It's hidden in the mountains and tends to have a cooler climate than the rest of the island, so pack wisely if you plan on visiting Bajawa.
There is a small airport in Bajawa with daily flights from Labuan Bajo. However, most travelers prefer an overland trip instead of a flight.
If you're traveling across Flores using public transport, getting to Bajawa won't be a hassle. Public buses operate daily and you can also hop in a bemo if you're looking for a quicker trip.
Flores overland travel to Bajawa
Labuan Bajo to Bajawa: Labuan Bajo (Komodo Islands) are about 10 hours drive from Bajawa. If you're coming from here, add Ruteng as an overnight stop as it's half between Labuan Bajo and Bajawa.
Aimere to Bajawa: If you're arriving in Flores from Sumba Island, you'll get off at Aimere Port. Bajawa is 1.5 hours east of Aimere and the trip costs 50 000 IDR ($3) per person. Don't pay any more – we nearly got scammed into paying 150 000 IDR ($10) per person before a kind passenger told us we were being ripped off!
Riung to Bajawa: If Riung is a stop on your Flores itinerary (which it should be), you can get on a public bus between the two destinations. Whilst Riung is only 70 km from Bajawa, the trip takes over 4 hours as the road is in terrible condition and the buses make frequent stops and detours.
Moni to Bajawa: There are daily buses from Moni which is 4 hour's drive from Bajawa.
How many days to spend in Bajawa
Bajawa is a small village that holds a lot of charm. It's a refreshing escape from the mass tourism that other parts of Indonesia are known for and I recommend that you spend 2 nights here.
The best way to explore Bajawa is to rent a scooter for the duration of your stay which will cost 50 000 IDR ($3.5) per day. If you're not comfortable driving a scooter, you can get a scooter taxi (ojek) or hire a car and driver for the day.
What to do in Bajawa, Flores
1. Spend your morning at the Bajawa Hot Springs
Bajawa is home to not one, but two incredible hot springs namely Malanage Hot Springs (South of Bajawa) and Mangeruda Hot Springs (North of Bajawa).
Of the two, Malanage Hot Springs is said to be the best, although Mangeruda is worth a visit if you're looking to fill your day with activities.
Many locals use these hot springs to bathe in, and on weekends they can get quite busy (but more so with locals than international tourists).
Malanage Hot Springs
Time needed: 2-4 hours
Entrance fee: 10 000 IDR ($0.7)
Malanage Hot Springs, or Wae Bana Malanage as the locals call it, is a completely natural hot spring near Bajawa, Flores. The river is heated by the volcanic activity of Mount Inerie volcano which is nearby.
Two streams flow into the Malanage Hot Springs. The one is boiling hot and the other is freezing cold. Together they meet to form a river that makes the perfect temperature as you relax in the rock pool below.
This is one of the most incredible places I've ever visited and should definitely be on your Flores itinerary.
There is a 10 000 IDR ($0.7) entrance fee and 2 000 IDR ($0.2) parking fee to access the Malanage Hot Springs. Facilities are very basic with a rustic, small change room alongside the river.
I arrived at Malanage Hot Springs at the crack of dawn and spent about 5 hours in the stream. The owner offered us Bintangs for 50 000 IDR ($3) and our day was officially made!
Malanage Hot Springs is located in the Dariwali village, about 40 minutes south of Bajawa. It's easy to locate using Google maps.
Mangeruda Hot Springs
Entrance fee is 20 000 IDR ($1.5)
Mangeruda Hot Springs is a 40 minute drive north of Bajawa, just after the airport. Similarly to Malanage Hot Springs, Mangeruda is completely natural where warm water flows into a beautiful rock pool.
I only had time to visit one of the hot springs in Bajawa, and the locals recommended Malanage over Mangeruda.
2. Hike the highest volcano in Flores
Time needed: 7 hours
Guide fee: 300 000 IDR ($20) per person
Sitting at 2 245m, Mount Inerie is the highest volcano in Flores Island and dominates the skyline in Bajawa.
Getting to the top is a challenge but the views are spectacular and awe-inspiring. If you're up to it, hiking Mount Inerie is one of the best things to do in Bajawa, Flores.
The hike starts at 2:30 am so that you can reach the summit for an epic sunrise. The total hiking time is about 6 hours so many people skip this attraction in Bajawa due to time (and of course fitness levels).
A guide is needed to climb Mount Inerie as the path is not marked, there is loose volcanic rock everywhere, and it's extremely steep. For these reasons, it isn't a very popular hike and the route is not crowded.
This was the biggest attraction for me and I enjoyed the summit of Mount Inerie with only two other people.
3. Visit Bena Traditional Village in Bajawa, Flores
Time needed: 1 hour
Entrance fee: 25 000 IDR ($2)
Bena Traditional village is a beautiful local village home to the Ngada people and is situated among the mountains just outside of Bajawa.
The houses are made of thatch and bamboo, and they're surrounded by lush green forests.
Walking through Bena Village, you'll notice the locals cleaning rice, and the fruit and nuts drying outside. The women also sit on their doorsteps and weave ikat, a local textile used to make traditional garments. These can also be purchased from the village.
Bena Traditional Village is located en route to the Malanage Hot Springs, about 25 minutes south of Bajawa, so you can explore both on one trip.
Other traditional villages near Bajawa
Bajawa attracts many tourists who are looking to learn more about the history of Flores Island.
Whilst Bena Traditional Village is geared for tourists, there are many others traditional villages near Bajawa that are smaller, and perhaps more authentic.
These include Wogo Lama, Wogo Baru, or Tololela Traditional Village.
4. Check out Wolobobo Hill viewpoint
Time needed: 2 hours
Entrance fee: None (But I've heard they now charge 10 000 IDR ($1) per person)
Wolobobo Hill is 10 km south of Bajawa and offers the best views of Mount Inerie.
You'll need to walk 30 minutes to the photo spots and it's best to enjoy your sunset here.
5. Explore Air Terjun Ogi (Ogi Waterfall)
Time needed: 1 hour
Entrance fee: 20 000 IDR ($1.5)
Ogi Falls is a beautiful waterfall just 15 minutes outside of Bajawa, Flores.
These falls are easy to locate and don't get too crowded but unfortunately you're not able to swim in the pool below.
6. Find the Wawo Muda Lakes
Time needed: 3 hours
Entrance fee: free
The Wawo Muda Lakes, also known as "Mini Kelimutu", and are located 30 minutes north of Bajawa.
They were formed after a volcanic eruption in 2001 and whilst they are crater lakes, they aren't nearly as striking as Kelimutu Lakes in Moni.
During the dry season, the water evaporates and so the Wawo Muda Lakes may look more like an empty, muddy crate during this time.
The main attraction of the Wawo Muda Lakes is the journey it takes to get to them from Bajawa. It's an hour scenic trek through rugged paths alongside coffee plantations with spectacular views.
Going to Wawo Muda Lakes is a great alternative to hiking Mount Inerie for those who are looking for an activity in Bajawa that's less strenuous.
A guide is not necessary and the locals are happy to point you in the right direction if you lose your way.
Bajawa Restaurants
Lucas Restaurant for cheap, local food
Dito's for great chicken satay and curry
Emtry for live music and great Indonesian cuisine
Bajawa Accommodation
I stayed at Madja Edelweiss Homestay in Bajawa. It's in a prime location, just off the main road. The owner was so helpful, assisting with scooter rental and bus schedules.
We booked a double room for only 200 000 IDR ($14) with cold water (which we had done throughout Flores) but the weather in Bajawa can be rather chilly and the water, freezing so it's best to book a room with hot water.
Here are few alternatives that would suit any budget:
Budget: Cinnamon Guest House is a cosy and clean place to stay in the center of Bajawa. They serve up a delicious breakfast and the price is hard to beat.
Mid-Range: Wolokoro Ecotourism is situated a bit further from Bajawa, but the wooden cabins are set in the forest with unspoiled views of towering mountain in the distance.
Overall Thoughts on Bajawa, Flores
Stopping in Bajawa was a last-minute decision and I didn't have many expectations. I was quite happy to spend a day or two just "chilling" but I was pleasantly surprised with just how many things there are to do in Bajawa, Flores!
My highlights included the Bajawa hot springs and hiking Mount Inerie – make sure these are on your Flores itinerary!
---
Look for more Indonesia travel information? Check out my other posts!
---
Pin this!