Balangan Beach.
The one with the incredible sunset viewpoint? That beach, right?
Yes, that's it! And whilst it does offer one of the most picturesque spots in Bali, there is so much to love about Balangan Beach, aside from just the iconic Balangan viewpoint.
I spent 6 weeks in Balangan, lazing on the beach, learning to surf, and eating my way through all the local warungs in the area. It's my favorite place to stay in Uluwatu thanks to the uncrowded shores, the relaxed atmosphere, and the chilled vibes.
In an effort to show you just how amazing Balangan Beach is, I wrote this insider guide with everything you need to know before you visit!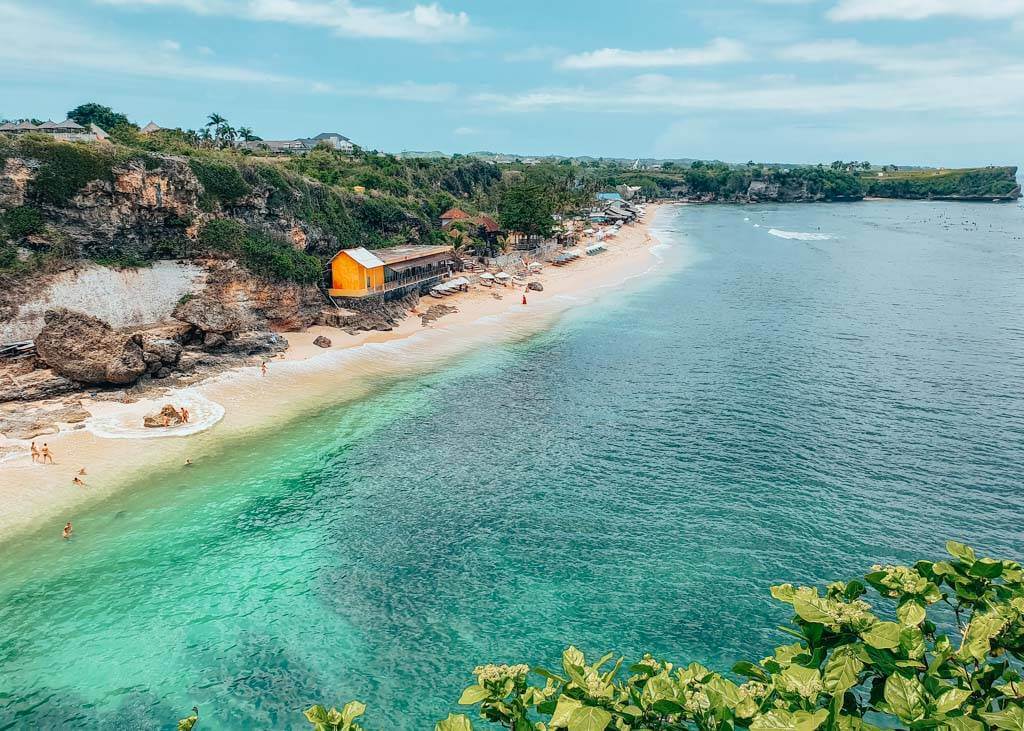 Where is Balangan Beach, Bali
Balangan Beach is found on the far east of Bali in the Bukit Peninsula, more commonly known as Uluwatu.
Famous for its gorgeous white sandy shores and towering cliffs, Balangan Beach sure lives up to the high reputation that this region is famous for.
Visiting Balangan Beach
Balangan Beach, otherwise known as Pantai Balangan, will always hold a special place in my heart. I first visited the area on a day trip a few years ago.
Back then, the road leading to Balangan Beach was not paved and there was no cell reception. There were no hotels and no convenience stores nearby.
Fast forward a few years and I returned to Balangan Beach – I hardly recognized the place!
And whilst the area around Balangan Beach is developing (much like the rest of Bali), it still has that authentic touch and isn't overrun with tourists – yet. Hence I still conder it a hidden gem in Bali!
There are cows roaming the fields, chickens running all over, and vast areas of land with no development. It isn't overcrowded and there are convenient stores dotted along the road. The local food here is some of the best I've had in Indonesia, and certainly the most affordable.
I love Balangan Beach and I hope this post convinces you to pop over to my favorite area in Bali and explore it for yourself.
Where to stay in Balangan Beach
When it comes to finding Balangan Beach accommodation, you can take your pick from a variety of choices no matter your budget. I do recommend having your own form of transport if you're staying here as the area is quite spread out.
Budget: Hill Dance Bali Hotel is the most budget-friendly place to stay in Balangan. The location couldn't be better as it's a short drive from the beach, shops, and restaurants. The rooms are spacious, comfortable, and clean and there's even a pool on the property!
Mid-Range: Mynah Villas Resort is situated slightly further from Balangan Beach itself, but the location offers a remote and secluded getaway. The modern rooms are tastefully decorated, and the hospitality of the owners is hard to beat.
Luxury: Cross Bali Breakers is luxury at its best. If you book a trip here, you won't want to leave! Everything from the picturesque villa design to the private plunge pool, to the spacious rooms surrounded by lush greenery, make this the best accommodation in Balangan.
Balangan Beach
Pantai Balangan tops my list of best beaches in Uluwatu. One of the main reasons for this is because it hasn't yet seen the drastic rise in development as you'll find with the more popular beaches in the Bukit Peninsula.
The sand is soft and white. It's a great swimming beach and is the perfect place to learn to surf. Check the tides before visiting though! Bali is notorious for its dramatic tides and if you head to Balangan Beach on a low tide, there won't be much of a swimming area to enjoy!
The Balangan Beach sunsets are also spectacular so try to hang around to witness them.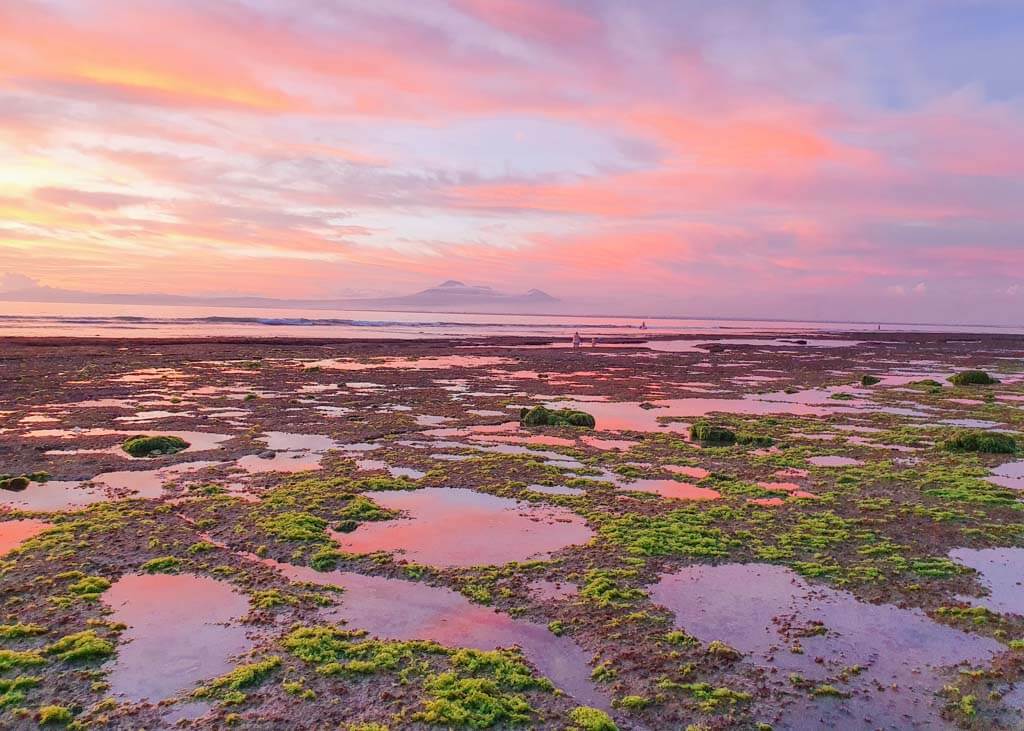 Balangan Beach Surf
I'm not a surfer, but I try! And after visiting all the beaches in Uluwatu, I can safely say that Balangan Beach offers the best break for beginners.
Many people seem to agree with me on this one as the sea is often lined with rows of beginners on their longboards, all vying to catch that perfect wave.
If you're learning to surf, only visit Balangan Beach when the swell and tides are right. Be sure to check this prior to arriving as you'll be disappointed when you get there only to find the exposed reef which can be extremely dangerous for beginners.
Toward the far end of Balangan Beach, on the opposite side of the viewpoint, is a long, left break that is better suited for more experienced surfers.
Surfboards can be rented for 50 000 IDR ($3) for 2 hours.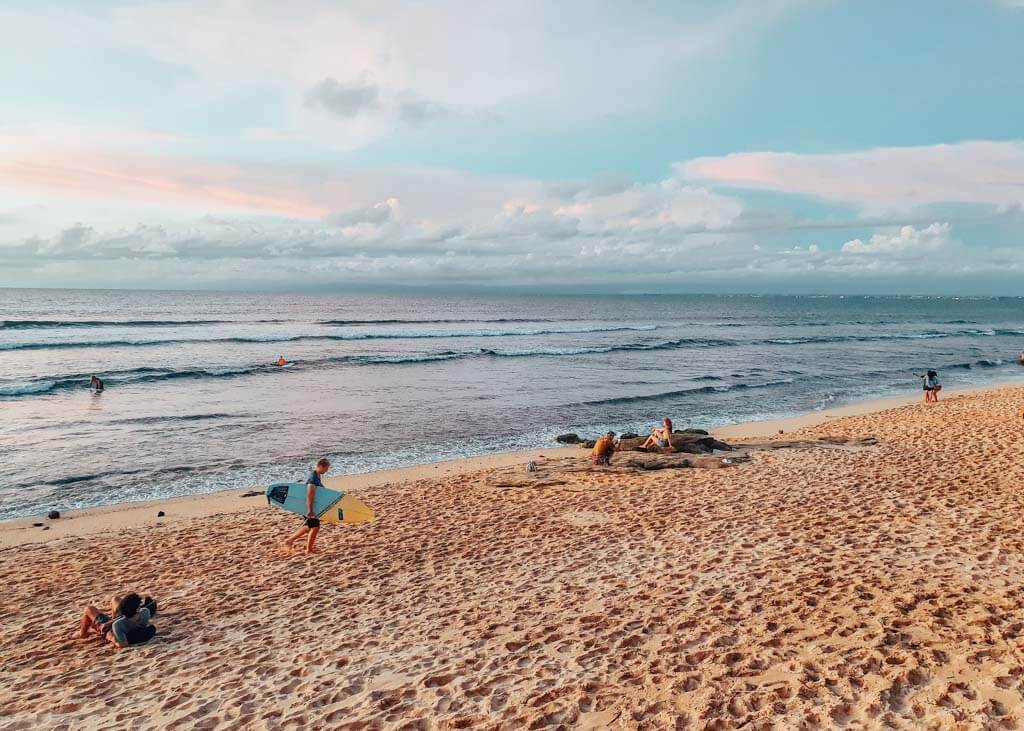 Balangan Viewpoint
Sunset is prime time for visiting Balangan Beach, especially if you want to check out the viewpoint. But this is also when the crowds arrive!
The Balangan viewpoint is a popular spot for wedding photoshoots, Instagrammers, models, and tourists who flock here in their numbers.
I suggest you visit the Balangan viewpoint in the morning or afternoon when you're almost guaranteed to have the spot all to yourself.
READ MORE: THE ULTIMATE BALI BACKPACKING ITINERARY
Beaching at Balangan
While travelers flock to Balangan Beach to catch a glimpse of the sunset, the best time to visit is during the day so that you can take full advantage of the gorgeous beach!
It's a long stretch of shoreline with plenty of space and never gets too crowded. Relax on a lounger under an umbrella, order a delicious nasi goreng and sip on a coconut (or Bintang) whilst watching the surfers or reading a book.
Better yet, arrive around 3 pm so that you can do all that, and enjoy the sunset as well. Day beds will set you back 50 000 IDR ($3) for a daily rental.
Looking for other beaches in Bali with the same laid-back island vibes as Balangan, check out Balian Beach on the west coast!
Where to eat in Balangan
One of the best things about the Balangan area is the wide variety of food options available to suit any budget. Below are my top picks!
Balangan Restaurants close to the beach
Art Cafe: This was my daily lunch spot, for 6 weeks straight! (Don't judge me – I lived right down the road). Art Cafe serves up the biggest variety of food you'll find in the area with a great choice of western cuisine, as well as Indonesian dishes. My all-time favorite is their vegetarian nasi goreng with tempeh! The chicken and cheese dish served with vegetables and potatoes is also delicious. The food is really well priced and ranges from 30 000 IDR for a local meal to 80 000 IDR for a western option.
Fin Roejas Homestay: This restaurant tops my list of places to eat in Balangan! It's cheap, like super cheap, their food is AMAZING, the portions are huge, and the staff are so friendly. My favorite here is their chicken satay, which I always order with a side of french fries. Their nasi goreng and mie goreng are equally as tasty and their gado gado is also a winner.
The Alchemist: The Alchemist is one of the more upmarket restaurants in Balangan Beach, serving a range of mouthwatering options. Their vegetarian stack is incredible and so are their tacos. It is on the pricier side so choose this if you're happy to spend more than 90 000 IDR on a meal.
READ MORE: 30+ FAMOUS INDONESIA LANDMARKS
Froggys Warung: Situated right on Balangan Beach, this is one of the best places to grab a beer and watch the sunset from Balangan Beach. Their spring rolls are delicious and their nasi goreng is super cheap.
Cafe La Passion: Saturdays at Cafe La Passion are the best! Not only do they have live music, but they have a pizza special as well. 50 000 IDR for a pizza of your choice and they're damn good! Their Mahi Mahia Tacos are also incredible, and so are their chicken wings. This spot is a great option for dinner.
Kafein Bali: Kafein is situated right next to Art Café in Balangan. If you're looking for a local meal, go to Art Cafe, but if you're looking for a good breakfast or a cappuccino, Kaffein is for you! Their banana pancakes with syrup are so good and while their coffee isn't the best, it sure is better than you'll find elsewhere in Balangan Beach.
La Rosin Warung: This is the orphanage I visited during my first trip to Balangan Beach! And yes, they now have a restaurant and all money goes to the upkeep of the orphanage and other costs for the kids. If you're looking for a cheap meal, this place is great. The food isn't the best I had in Balangan, but it's cheap and the portions are big.
Balangan Restaurants close to Ungasan
Mira's Warung: Another local favorite, Mira's is a great place to go and eat your heart out after a long day on Balangan Beach! They make a delicious mie goreng and spicy veg curry, and their burgers are great if you're looking for a western meal. The manager is extremely friendly, and the atmosphere is very relaxed.
Warung In Salt: Conveniently situated next to Nirmala Ungasan, Warung In Salt is hands down one of my favorite places to eat in Balangan. Their yellow curry is to die for and is packed with delicious vegetables, and their Nasi Campur is also one of the best I've had in Bali. The food is well-priced and it's a great place to go for lunch or dinner.
READ MORE: 60+ THINGS YOU NEED TO PACK FOR BALI
Warung Pipit: Warung Pipit is found on the main road close to Nirmala Ungasan. It's a great dinner spot as the vibe is awesome but it's also buzzing during the day! If you enjoy Indonesian food, be prepared for a feast here. Their wok bowls add flair to your standard vegetables and rice dish but my favorite is their "composed plate" where you choose your main food item from a variety of options and it comes with veggies and other delicious extras (go for the fish option – you won't regret it!). Everything here is delicious including their nasi goreng and mie goreng if you're looking for a cheap, easy meal.
Warung Satay Club: I found this spot by mistake, and it has since become one of my favorite restaurants near Balangan Beach. Warung Satay Club specializes in both local and western food and their menu is diverse. You've got to try their Aussie Burger. It's amazing and the best burger I've had since arriving in Uluwatu. It's also a great breakfast and lunch spot and they make a mean smoothie bowl and avo toast.
How to get to Balangan Beach
Getting to Balangan Beach is slightly out of the way when compared to other beaches in Uluwatu which are generally found just off the main road.
There are two entry points and parking areas leading to the beach, one on the far right near the viewpoint, the other on the far left near the Balangan surf break. You can walk between the two, so it doesn't really matter where you park.
As you get close to the beach, you'll notice a fork in the road, each leading to the above two locations.
If you only want to go to the Balangan viewpoint, take the road that goes right. Here, you'll pay 5 000 IDR to enter before making your way along a dirt path that leads to the viewpoint.
If you're looking to surf, then take the road that goes left. There is no parking fee here and you can access the beach through one of the many warungs.
As with all of Uluwatu, you need to either rent a scooter or organize private transportation to get around Balangan Beach. Here's my complete guide to renting a scooter in Bali – take a look at it before you go ahead and drive a scooter on the island.
Final thoughts on Balangan Beach
It's no secret that over-tourism is a pressing issue in Bali.
In an effort to escape the crowds, tourists are visiting areas such as Munduk and Sidemen instead of the popular Ubud, and like-wise, if you're looking for a beach vacation, Balangan Beach is a better option when compared to the likes of Padang Padang and Dreamland Beach in Uluwatu.
Psst… Planning your trip to Indonesia? These posts might help!
There is a really good chance that this post contains affiliate links. If you click one of them, I may receive a small commission at no extra cost to you. As always, views are my own!
---
Pin This!