Looking for the perfect Bali 3 week itinerary? You've come to the right place! The island has something for everything. From romantic escapes to fun family trips, girlfriends' getaways, to boozy bachelor parties.
But with so much to do, it can be overwhelming when planning exactly how to spend your 3 weeks in Bali.
I've visited this tropical paradise every year for the past 4 years, exploring different parts of the island and discovering hidden gems far off the tourist track.
But I also experienced the hustle and bustle, the notorious nightlife, the traffic, and pollution and got to see a side of Bali that didn't quite live up to the yoga, palm trees, and zen I was expecting.
So, I've put together this perfect Bali itinerary for 3 weeks so that you can plan your island getaway. It includes a bit of adventure, relaxation, and seaside goodness, and includes all the areas you should (and should not) visit.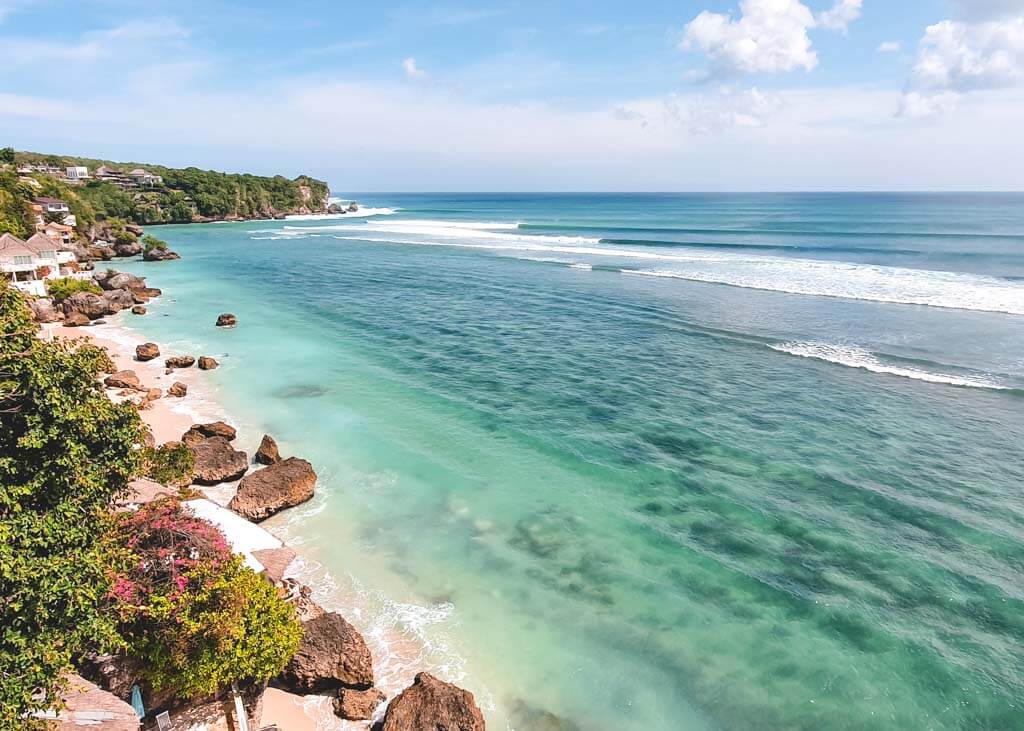 Planning Your Bali Itinerary For 3 weeks
3 weeks is the perfect amount of time to explore Bali without feeling too rushed. This Bali itinerary allows you to travel slowly and to connect with the people and places along the way.
It's a great mix of culture and beauty and takes you to the top attractions whilst also going off-the-beaten-track in Bali where you won't find many other tourists.
Truth be told, I initially had a love-hate relationship with Bali. Now, after living here for 6 months, I have a deep love and appreciation for the island.
Bali is said to be being too touristy and overly crowded. And it is – in certain areas. The key to having a truly unforgettable holiday is to get away from the crowded south and venture to the lesser-known areas which are equally as stunning – if not more!
So, if you follow my Bali itinerary, you'll fall in love with the island (and the people) just like I have, whilst also appreciating how tourism has had an impact, for both the good and the bad.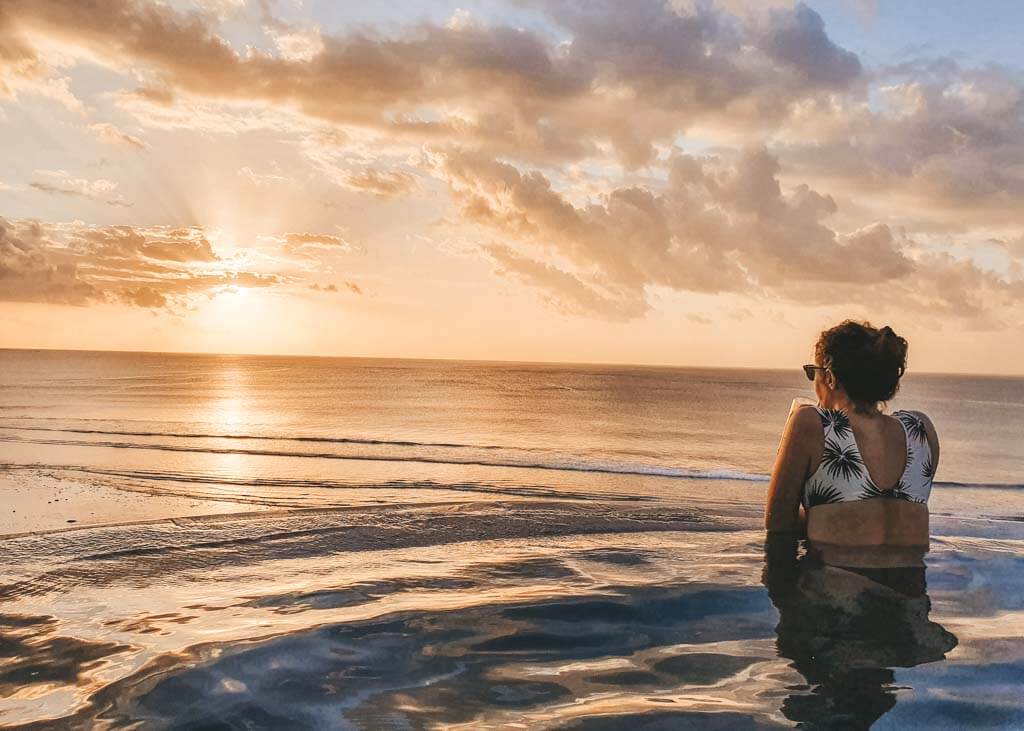 What You Need to Know Before Arriving in Bali
Bali is cheap. You don't need to break the bank to get luxurious accommodation and good food! Where else can you pay $50 per night for a private villa, $3 for a delicious meal, and $10 for a full body massage?
Purchase an N-Cell sim card from the airport. You'll need a local sim in Bali and it's easy and convenient to get yours at the airport. As you exit arrivals, head to the N-Cell booth where they will sort you out with a sim card and data for under $20.
Have a bit of flexibility to your Bali itinerary. If you prefer to have everything booked and confirmed before you arrive, that's all good. But, if you're spending 3 weeks in Bali, I recommend that you allow for some flexibility. You may visit a place and want to stay longer!
No visa needed. If you're visiting Bali for less than 30 days, you don't need a visa. Simply walk to the immigration counter after landing and they will give you a "Free Entry" stamp. Do not pay for the Visa on Arrival (VoA) which is also available. This is only for those looking to extend for more than 30 days.
You need travel insurance. When you're hiking volcanoes, driving scooters, eating street food, and dodging traffic, you need to be covered for emergency situations. I personally use World Nomads when traveling as they cover everything from stolen luggage, missed flights, natural disasters as well as activities such as surfing and scuba diving. You can get a quote here – it only takes a few minutes.
When to Plan Your Bali 3 Week Itinerary
The weather in Bali can be temperamental. Thanks tropical climate!
December – March (Rainy Season): It's hot, humid, sticky, and wet! I love Bali, but I'd avoid visiting during the rainy season if I could. The thunderstorms are intense, but they are short-lived (although the high humidity is consistent). If you have limited time off work and can only visit during this time, you will still have a fab holiday,
April – October (Dry Season): Visiting Bali during the dry season is a lot more pleasant. It's not as humid and the days are sunny and warm. From May to July the swell is really good so if you're looking to surf, this is the best time to visit.
Top tip: While July, August and December are considered the busiest times to visit Indonesia, the best months (in terms of weather and fewer tourists) are April, May, June, and September.
I've been to Bali every month of the year and I much prefer the dry season. But I also had an awesome girl's trip during December and January, despite the rainy weather.
How to Get Around Bali in 3 Weeks
Bali may seem like a small island (and it is) but traffic is horrendous. Seriously, it's a nightmare!
Driving 10km can take over an hour and a "quick" trip to the beach can see you spending half your day in bumper-to-bumper traffic.
And while driving a scooter is the quicker option, you're still subject to chaos on the roads.
So, if there's anything you take from this Bali travel guide, it's to choose your accommodation carefully and stay close to what you want to see and do so that you don't spend hours (and hours) commuting from one side of the island to the other.
Here are the best ways to get around Bali.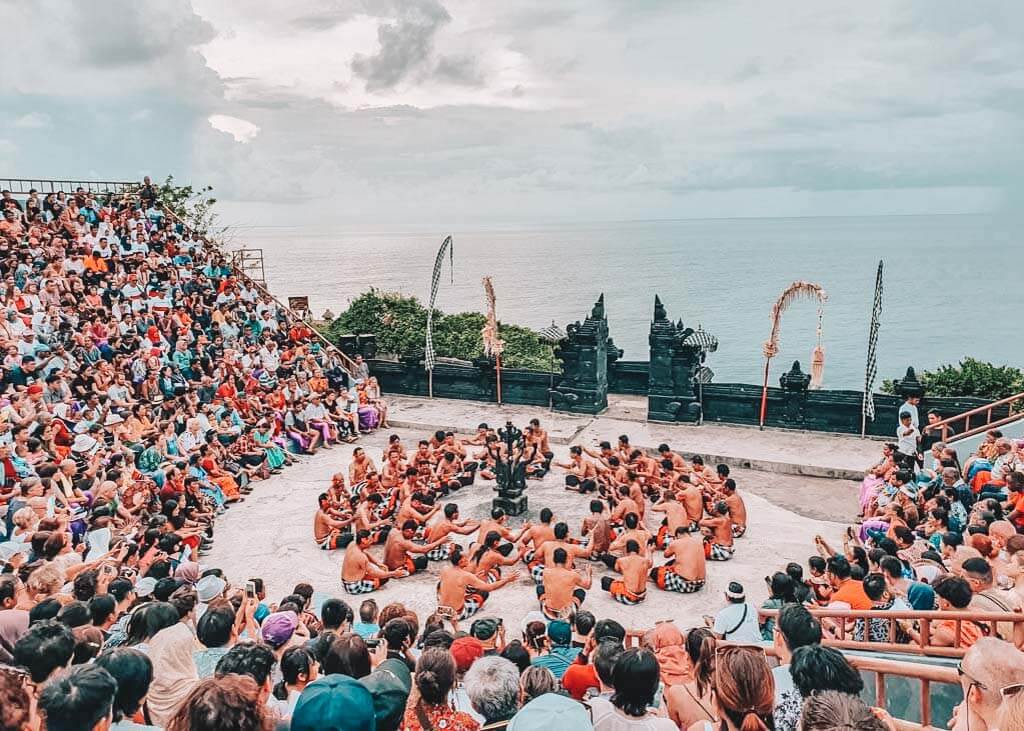 Hire a driver
You can get a private driver and car (with air conditioner) for only 700 000 IDR ($50) per day. How affordable is that!
I recommend exploring Bali this way as it allows you to choose your own itinerary. Your diver will also double up as a tour guide and photographer (but make sure you give him something extra for this).
So, how do you find these drivers?
Well, practically everyone in Bali is a private driver! I've found drivers through personal recommendations and reputable online platforms like this one.
Another great option is to ask your Grab or GoJek taxi driver. They'll be more than happy to drive you around for the day for a fixed price.
Rent a scooter
The quickest and most convenient way to travel around Bali is by renting a scooter. Costs range from 60 000 IDR – 100 000 IDR ($4-$8) per day and you can find rental shops all over the island.
But, it's also the most dangerous form of transport, especially if you're not familiar with driving a scooter. The roads are hectic with cars, trucks, scooters, and people coming out of nowhere.
While I'm all for driving scooters, Bali isn't the place to learn how to ride one!
I wrote this comprehensive guide on everything you need to know about renting a scooter in Bali. It highlights the licenses you need, safety tips, and why you should (and shouldn't) rent a scooter.
Grab and GoJek
This taxi service app operates like Uber and has cars and scooters available (Uber doesn't operate in Bali). All you need to do is download the app and book your trip.
This is an affordable option to travel around Bali and it's much cheaper than booking a normal taxi. However, in certain areas, like Canggu and Uluwatu, Grab and GoJek are not allowed to pick up tourists.
In that case, you'll need to get a local taxi or scooter ride from someone in the area. This will work out a lot more expensive, sometimes triple the price of GoJek, but it's the only option you have if you don't have your own private transport.
Top Tip: If you're traveling solo, you can join day tours like this which take you to beaches, waterfalls, temples, and more.
Bali Bucket List
Bali has risen to fame thanks to the hundreds of Instagrammable spots dotted all over the island showcasing incredible temples, mountains, waterfalls, and beaches.
You'll find them everywhere and while most people, including me, choose to avoid these tourist hotspots, there are certain things you just have to do if you have 3 weeks in Bali.
Here are a few of them!
Watch the surfers at Uluwatu Beach
Explore the rice fields in Ubud or Sidemen
Go snorkeling or diving in Nusa Penida or the Gili Islands
Get a Balinese massage
Do yoga (anytime, anywhere)
Find a waterfall and get lost on the way
Have a seafood BBQ on the beach
Eat Nasi Goreng, Nasi Campur and Gado-Gado
You can even do Instagram tours like this where you'll have a private driver and personal photographer who will take you to the most photographed locations in Bali.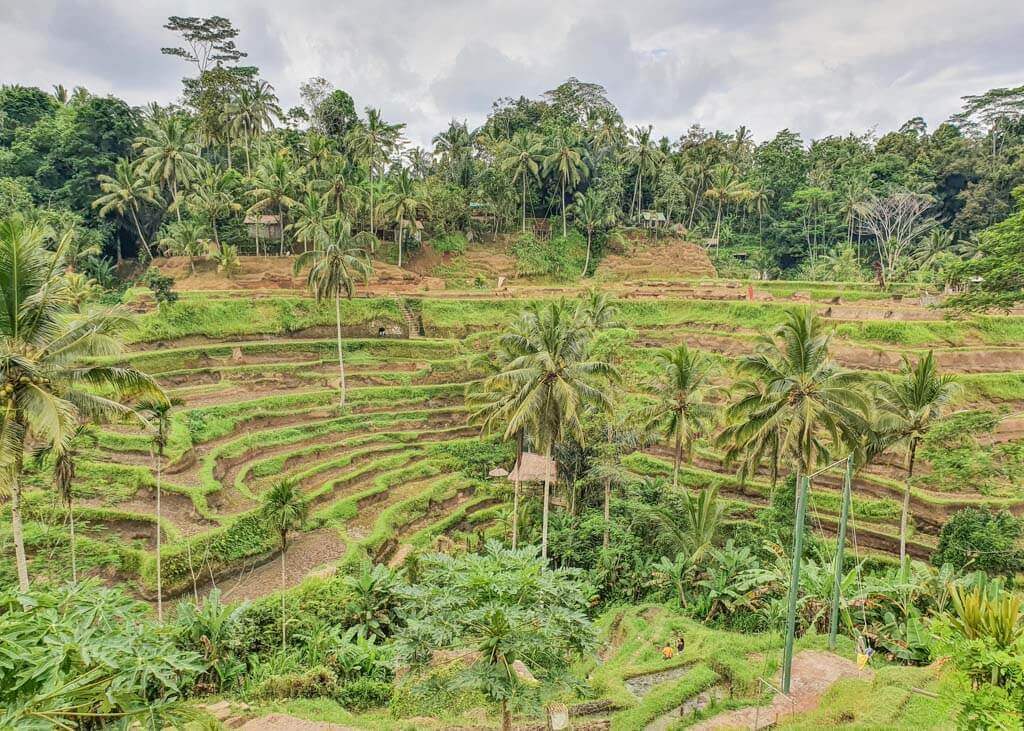 3 Week Bali Itinerary: Summary
This 3 week Bali itinerary includes a balance of everything – inspiring culture, beautiful beaches, lush greenery, and well-deserved relaxation time!
Day 1-4 Seminyak (3 Nights)
Seminyak is the ideal place to start your Bali itinerary as it's located close to the airport. It's also the party capital with fancy hotels and lavish restaurants.
Here's where you'll find the bright colored umbrellas lining the beach, scores of trendy clubs hosting international DJs, and beach bars serving up delicious cocktails.
Seminyak speaks Instagrammable cafes, shopping, and luxe living.
But it's busy and a far cry from the island escape you may have been looking for.
So, why have I included it on my 3 week Bali itinerary?
Because in 3 weeks, you'll have enough time to explore most of the island. So, spend a few days in Seminyak and you can decide for yourself whether it's worth the hype or not!
How to get to Seminyak
Bali Ngurah Rai International Airport is 9 km from Seminyak, but it can still take over 45 minutes to get to your accommodation with traffic.
You can pre-book a private transfer through your hotel which will cost around 300 000 IDR – 350 000 IDR ($25-$30) for a one-way transfer.
However, I always find it easier (and cheaper) to organize transport after arriving in Bali.
As you exit the airport, you'll notice hundreds of taxi drivers eagerly approaching potential customers. They'll start with a high price, but you will be able to negotiate them down to about 200 000 IDR ($15) for the transfer.
For an even cheaper option, download the GoJek or Grab apps after purchasing your N-Cell sim card. You can easily book a driver who will take you to Seminyak for under 150 000 IDR ($10).
Top tip: If you hate crowds, shopping, and drinking, don't visit Seminyak! If you're looking for a hipster place that's not as hectic as Seminyak, but still vibrant, Canggu will be a better option for you.
Where to stay in Seminyak
There are so many options for places to stay in Seminyak, most of which are close to the beach.
Luxury: Enjoy beachfront views and 5* service at W Bali Seminyak. This hotel is hard to beat and the location could not be better. If you're planning your honeymoon or romantic getaway, this should be in your Bali itinerary!
Mid-range: If you want personal space in your own private villa, look no further than Mayaloka Villas. Set amidst a lush tropical garden in the quieter side of Seminyak, you'll have your own pool and luxury open plan living.
Budget: Sleepwell Seminyak is a great place to stay if you're traveling on a budget. With large private rooms, air-conditioning, and breakfast included, you get a lot of bang for your buck when staying here.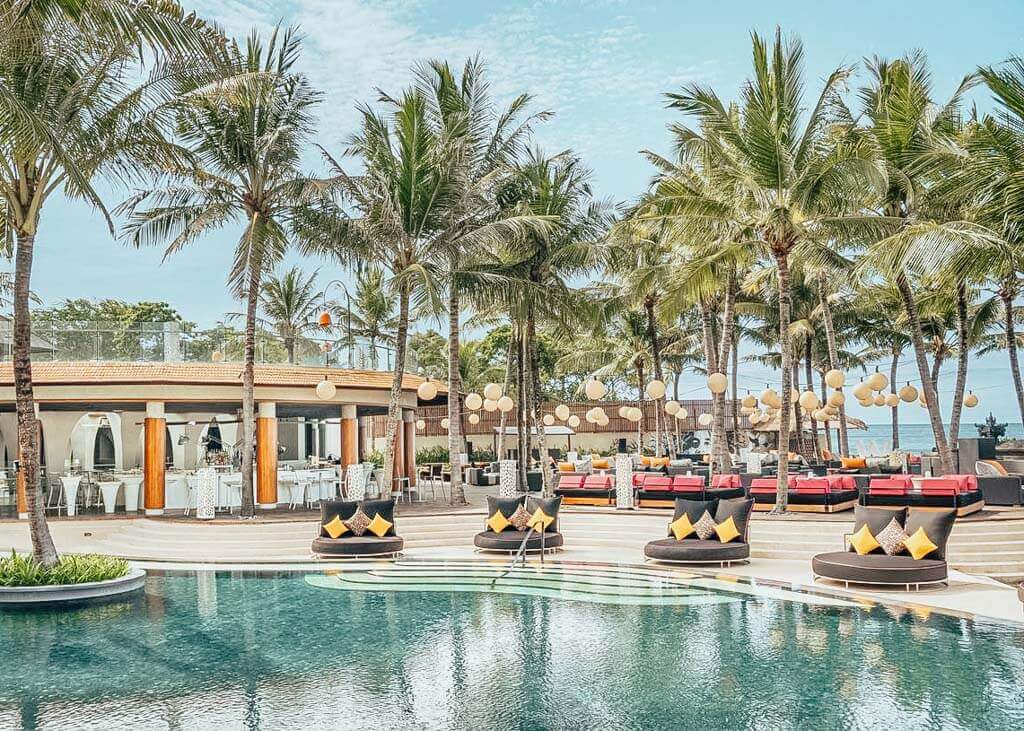 Things to do in Seminyak
Don't get too excited about experiencing authentic Balinese culture in Seminyak, because you won't! Save that for the other locations on this Bali 3 week itinerary.
Dinner at Motel Mexicola. This has to be one of the most popular spots in all of Bali. With its funky lights, vibrant atmosphere, and classic tunes, Motel Mexicola makes for an awesome night out if you're celebrating a birthday or anniversary.
Go shopping. You'll be spoiled for choice when it comes to local and international brands. You can also pick up a lot of souvenirs and Bali branded clothes in Seminyak.
Sunset at La Plancha. La Plancha is the Instagrammable bar on Double Six Beach, known for its colorful bean bags, great music, and even better cocktails! It's the best spot to close off your day and take in the Seminyak sunsets.
Hit a beach club. I loved Finns Beach Club! With a swim-up bar in a pool overlooking the ocean, there's no better place to celebrate a birthday (or just life). Other popular beach clubs include Potato Head Beach Club and Ku De Ta.
Eat your heart out. Seminyak is a foodie's heaven and boasts some of the most delicious Balinese inspired dishes, smoothie bowls, and vegan delights that will leave you wanting more.
Day trip to Canggu. Just 30 minutes from Seminyak is the digital nomad capital of Bali, Canggu! It's a great place to learn to surf and enjoy a seafood lunch at one of the many beachside restaurants.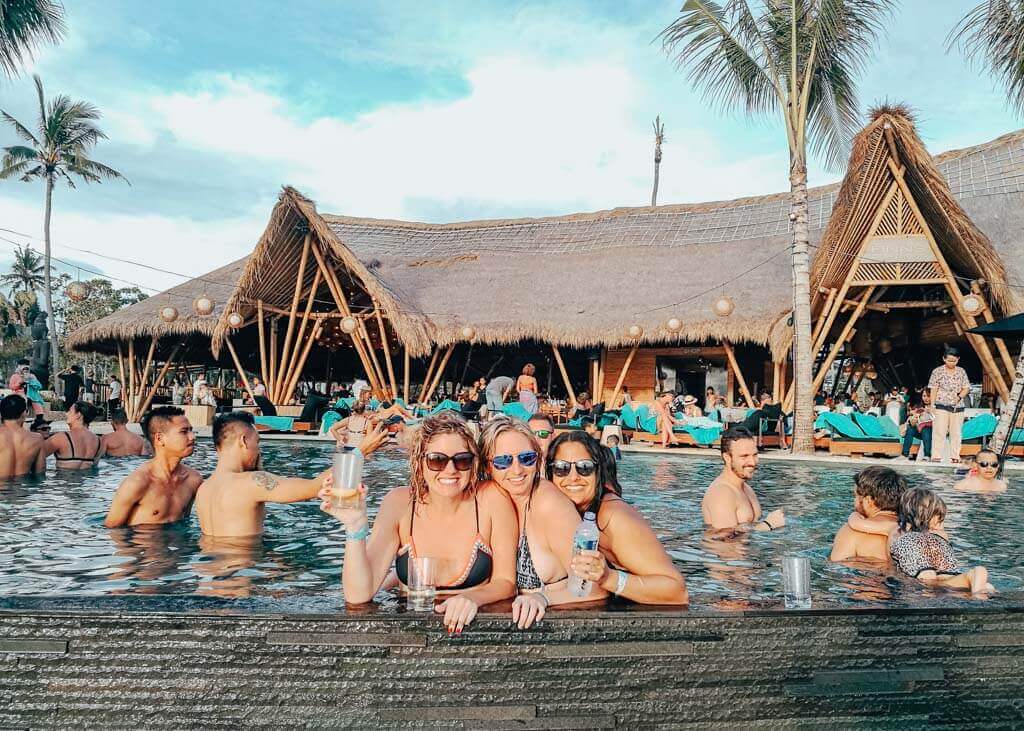 Day 4-8 Ubud (4 Nights)
Ubud is the cultural hub of Bali and no trip to the island is complete without visiting the lush, charming region.
There's something about Ubud that's incredibly captivating.
Be it the food, which is the best I had in all of Bali, the landscapes, the people – everything about Ubud speaks magic.
You should spend at least 3 days in Ubud – if it's not on your Bali itinerary, it should be.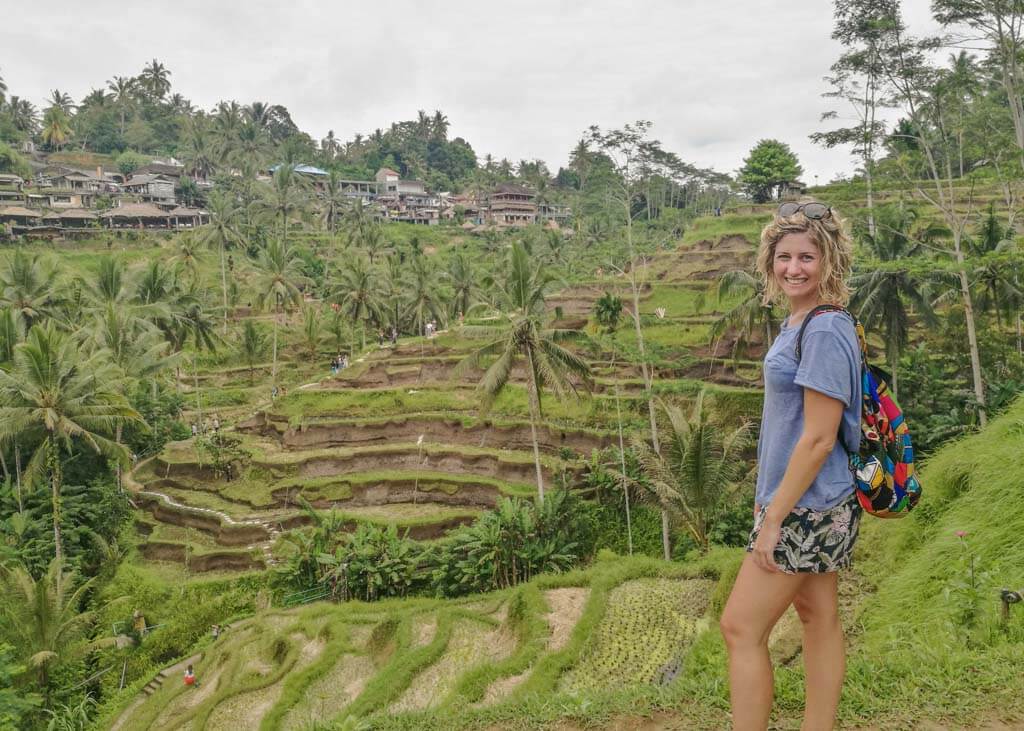 How to get to Ubud
Ubud is centrally located making it easy to access from anywhere on the island.
If you're following my Bali itinerary for 3 weeks, you'll need to drive 30km to get from Seminyak to Ubud.
You might struggle to get a Grab or GoJek driver in Seminyak but you can negotiate with the taxi drivers and shouldn't pay more than 200 000 IDR ($15) for the hour transfer.
Top tip: Just an hour's drive east of Ubud lies a quaint village, Sidemen. If you're looking for a remote and secluded escape in an area untainted by tourism, I recommend you shorten your time in Ubud and spend 2 nights here. It's perfect for a romantic getaway in the countryside and is how I imagine Bali to have been back in the day.
Where to stay in Ubud
Deciding where to stay in Ubud is a tough one! If you're not comfortable riding a scooter, then I suggest you stay in the center of the village, near the Ubud Art Market. You'll be in the hustle and bustle, just a short walk from cafes and shops.
But, for the best experience, stay on the outskirts of town near Campuhan Ridge Walk or Sunset Cafe, where you can enjoy incredible views of the rice fields and lush green valleys. This is the side of Ubud I absolutely love! You'll be spoiled for choice with picturesque tree houses, glamping spots, hidden cabins, and gorgeous villas.
Luxury: The Kayon Jungle Resort sure lives up to its name! The infinity pools which overlook the jungle paired with spacious Balinese-inspired rooms, make this the best place to stay in Ubud if you're looking to live in luxury.
Mid-range: Byasa Ubud is surrounded by rice paddies and is the perfect place to spend your time in Ubud. Situated in a quieter neighborhood, you're guaranteed a remote escape if you stay here.
Budget: Surya Bagus Homestay is ideally located near the center of Ubud and is all you need if you're traveling on a budget. The private room comes with a complimentary breakfast and the friendly owners will ensure you have a memorable stay in Ubud.
Things to do in Ubud
Morning stroll along Campuhan Ridge Walk. This stunning walk passes through rice fields and villages. It doesn't get overly crowded despite how popular it is on Instagram.
Mount Batur sunrise hike. This is a bucket list activity for most people planning their Bali itinerary. And while it is strenuous, you'll be rewarded with a stunning sunrise and beautiful views of Lake Batur and Mount Agung. Read all about my Mount Bature hike here.
Do yoga overlooking the rice fields. Whether you're a yoga newbie or extreme yogi, joining a yoga class in Ubud should be on your Bali bucket list.
Visit Tegalalang Rice Terraces: These rice fields are one of the most photographed locations in Indonesia. It's just a short drive from Ubud and can be paired with a trip to nearby temples and waterfalls.
Lunch at Sunset Cafe. This is one of my favorite spots thanks to the gorgeous views and delicious food! Sunset Cafe is found deep in the rice paddies, and whilst it's close to the busy streets of Ubud, it has that remote and isolated atmosphere.
Go chasing waterfalls. Tegenungan Waterfall is easily one of the most popular waterfalls in the area, but Tibumana Waterfall and Sumampan Waterfall are equally as impressive. This amazing waterfall tour will take you to all these spots!
Hit the rapids and go white water rafting. Adrenaline junkies, this one is for you! The Ayung River is close to Ubud but the best river rafting in Bali can be found along the Telaga Waja River. It's nothing too intense – a perfect activity for the whole family.
READ MORE: The Ultimate Guide to White Water Rafting in Bali
Day 8-11: Gili Islands (3 Nights)
The Gili Islands are made up of 3 tiny islands off the coast of Lombok. They're easily accessible from Bali and are how imagined Indonesia to be before my first visit – raw, authentic, and undeveloped.
For these reasons alone, I recommend you included the Gili Islands on your itinerary for Bali.
Gili Trawangan, otherwise known as Gili T, is the biggest of the 3 Gili Islands and is known to attract more travelers.
Whilst you'll find a backpacker crowd here, don't shy away from Gili T if you're not the partying type. It has a great mix of everything including incredible snorkeling and secluded beaches.
In contrast, Gili Meno is the smallest island offering a peaceful and quiet escape far away from the crowds. Gili Air is a compromise for those people who want a more relaxed party scene than Gili T, with the tranquil atmosphere that Gili Meno is known for.
How to get to the Gili Islands
The Gili Islands are just a stone's throw away from Lombok. Fast ferries leave every morning from Padang Bai harbor on the east of Bali and take about 1.5-2.5 hours to reach the Gili Islands.
Your hotel or guesthouse will be able to arrange your transfer from Ubud to Padang Bai, as well as your boat ticket to the Gili Islands. There's no motorized transport on the island so after arriving, you'll need to walk (or cycle) to your accommodation.
Where to stay in the Gili Islands
Unless you want a completely secluded trip to the Gili's, it's best to base yourself in Gili Trawangan instead of Gili Meno and Gili Air.
Gili T is a small island so you're never too far from the action, but if you'd prefer a quieter stay, I suggest you look for accommodation near the northeast side of the island.
Luxury: Looking for your dream island home? Majo Private Villas is for you! The tastefully decorated rooms are paired with floor to ceiling windows ensuring lots of natural light. With a gorgeous outdoor living area and private pool, this place oozes luxury.
Mid-range: The staff at Kaleydo Villas make this one of the best places to stay in Gili Trawangan. Start your day off strong with a complimentary breakfast from your very own porch and cool off in the large pool after.
Budget: Jimador's Homestay is one of the cheapest places to stay on the island but it has everything you need for a peaceful sleep including a large double bed, air-conditioning, free wi-fi, and a private bathroom.
Things to do in the Gili Islands
Go Scuba Diving. The Gili Islands boast numerous dive sites that are famous for turtles and shark sightings as well as vibrant coral. It's also a great place for beginner divers as the currents aren't strong.
Top tip: If you're an avid diver, you may be slightly disappointed with the diving around Bali. If you have the time, I suggest flying to Flores in Indonesia and joining a Komodo diving liveaboard. This is the best diving I've ever done in my life!
Enjoy the sunset on the west of the island. Here's where you can relax on a bean bag, order up a cocktail and watch as the sun disappears over the horizon.
Day trip to Gili Meno or Gili Air. The local fisherman will happily take you to the other islands for a small fee. Spend the day soaking up the sun on one of their many beaches and explore the island before heading back to Gili T.
Nasi Goreng on the beach, in a bungalow. Does that sound like the perfect afternoon? Head to one of the quieter beaches away from the main strip, order some lunch, and chill out.
Go snorkeling on the northern beaches of Gili T. There's no need to book a snorkeling tour. You'll find an array of tropical fish and even turtles just off the shore! Rent gear from one of the local vendors and hit the water.
Explore by Bike. With no scooters or motorized vehicles, the best way to explore the Gili Islands is by bike. Gili T is so small that you can venture around the entire perimeter in a few hours.
Dinner at the Gili T night market. You'll be spoiled for choice with a variety of Indonesian street food as well as meat skewers and fresh fish on offer at the night market.
Day 11-13: Munduk (2 Nights)
Next up on my Bali itinerary – Munduk. Situated in the northern highlands of Bali, your time here will be unlike any other!
I love Munduk. The climate is notably colder and I enjoyed waking up in the misty mountains and exploring the road less traveled.
Many travelers choose to visit Munduk on a day trip thanks to the Instagrammable locations which have caused quite the hype over the years. But there's so much more to Munduk that can only be discovered by spending a few days here.
After arriving in the village and driving through the sleepy streets, you'll notice the tranquil and peaceful atmosphere. But that's the biggest drawcard – unless you're looking for a festive backpacking vibe (in that case, Munduk is not for you)!
The streets are quiet and it's the perfect place to relax and recharge after a few busy days in Ubud and the Gili Islands.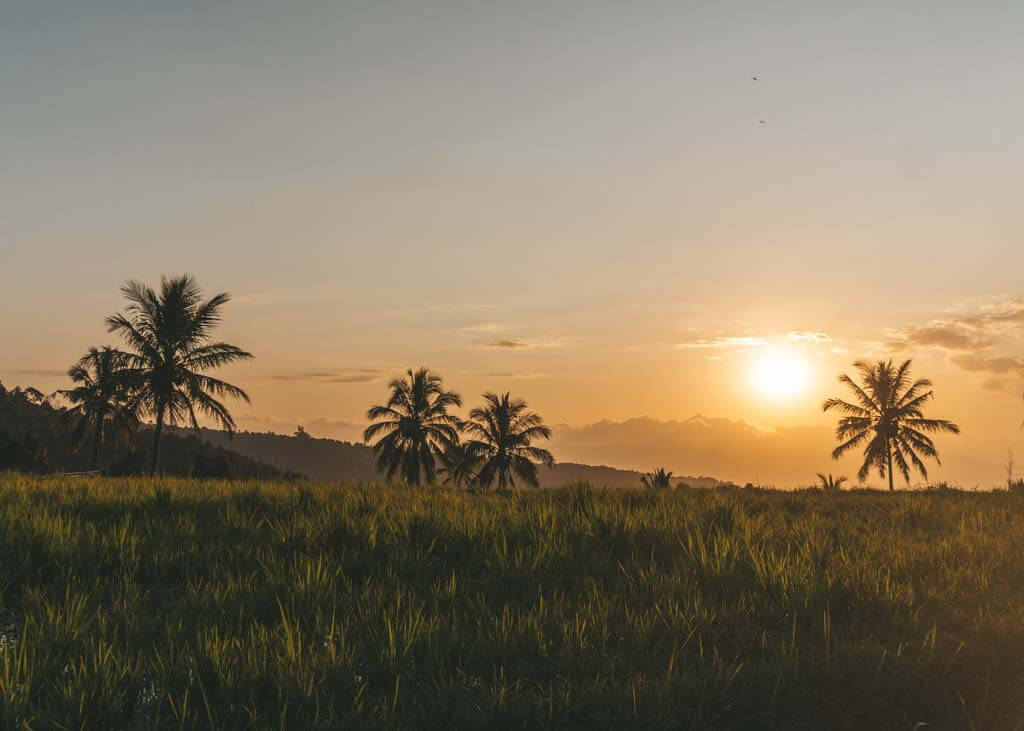 How to get to Munduk
Munduk is found in north Bali, about 2 hours northwest of Ubud and 3 hours from Padang Bai port. If you're coming from the Gili Islands, you'll need to find a driver in Padang Bai to take you to Munduk.
For this travel day, I recommend you get a private driver for 6 hours. There are some truly picturesque spots throughout the trip to Munduk and it's best to stop off at them along the way, instead of going back the next day. I've highlighted these attractions in the section below.
Where to stay in Munduk
You'll be spoiled for choice when it comes to accommodation in Munduk. Your money really does go a long way so if you're traveling Bali on a budget, you can still enjoy mountain views from your spacious private room!
Luxury: Munduk Moding Plantation is set up in the mountains with gorgeous views from its famous infinity pool. The service is impeccable and it's the perfect place to enjoy some time out away from the crowds.
Budget: Lesong Hotel's location couldn't be better. If you're looking to stay in the rice paddies, this is the best place to stay in Munduk! It's great value for money but what makes this place truly shine is the friendly staff and kind hosts.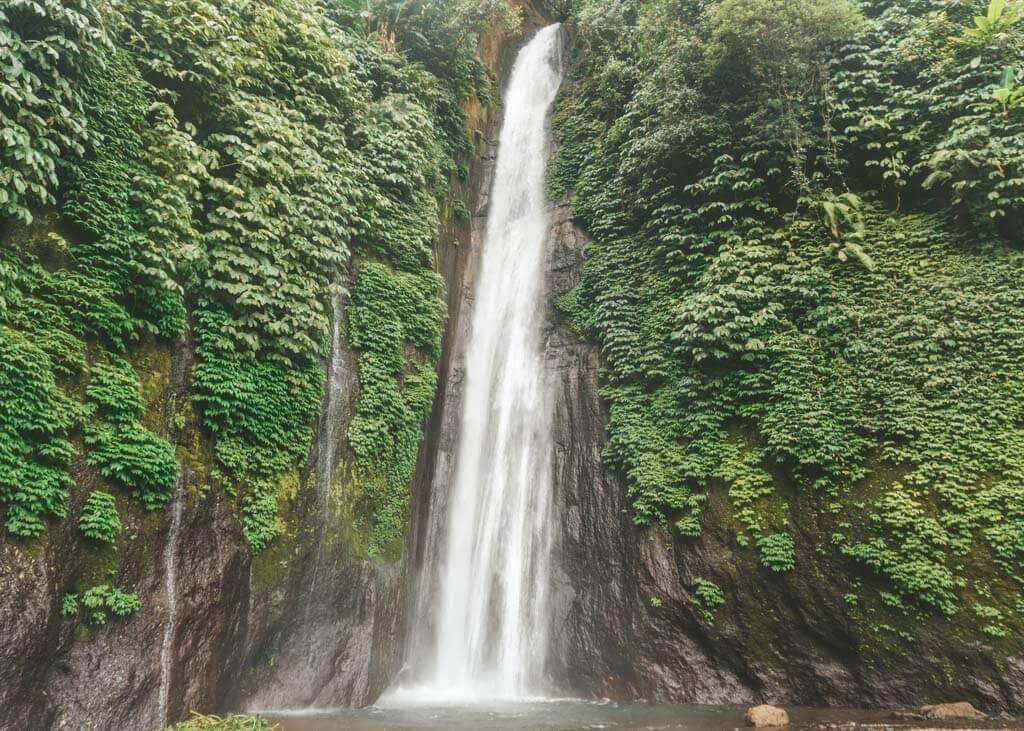 Things to do in Munduk
The first three of these attractions near Munduk can be included as stop-off points during your drive to Munduk as they are all along the way.
Visit the Ulun Danu Temple. This picturesque temple, nestled on the edge of a lake, was built in the 17th century to honor the goddess of the lake, waters, and rivers.
Take a photo at Handara Golf Gates. An iconic location in Bali, these gates are the grand entrance to a golf course near Munduk. With the incredible mountainous backdrop and towering stone pillars, it's easy to see why this is such a popular spot.
Catch a glimpse of the Twin Lakes and Bali Swing. The Twin Lakes are located between Ulun Danu Temple and Munduk village. Here's where you'll find selfie parks with bird's nest, swings, and life-sized hearts!
Explore Munduk Waterfalls. Red Coral, Melanting, Golden Valley, and Banyumala Twin Waterfall are four waterfalls near Munduk that can be added to your Bali 3 week itinerary.
Watch the sunset from Warung Classic. After a long day of exploring, head to one of the hillside warungs, and enjoy a well-deserved beer and beautiful views.
Rent a scooter and explore the rice fields. Munduk is a far cry from the chaotic streets of south Bali. If you're up for it, rent a scooter and explore the rice fields and clove plantations just outside the village where you won't find any tourists.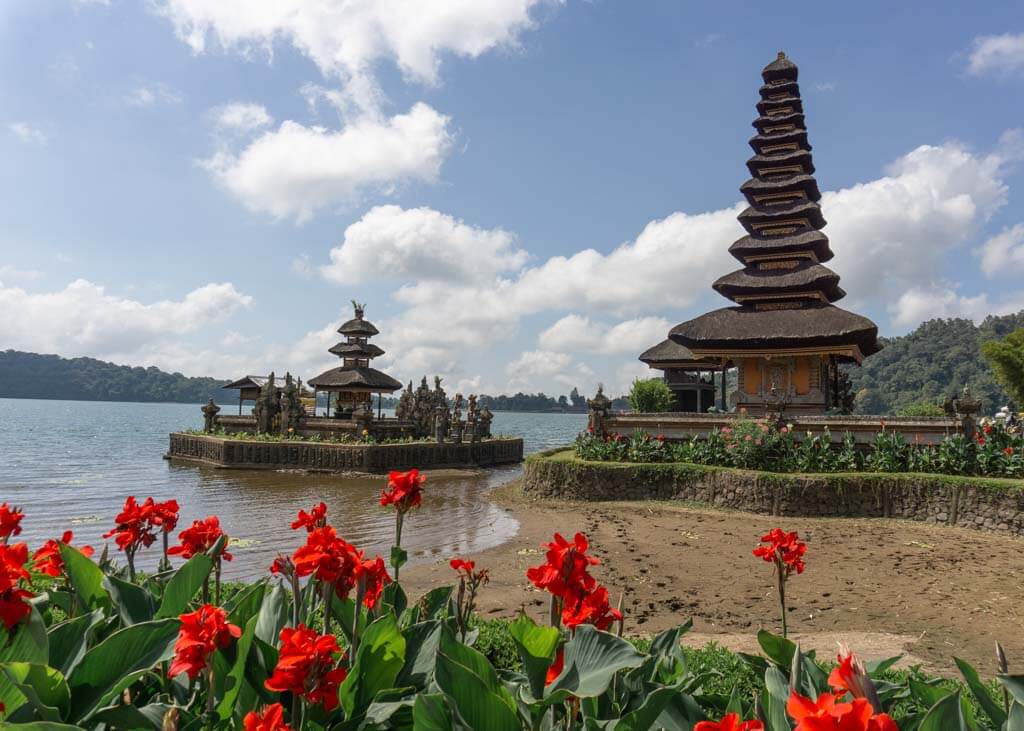 Day 13-17: Nusa Lembongan (4 Nights)
The Nusa Islands are a trio of islands located just off the southeast coast of Bali. They're bigger and closer to the mainland than the Gili Islands, which I included earlier in this itinerary for Bali.
You may recognize the T-Rex shaped rock formation near the famous Kelingking Beach (it's been all over social media) – that's part of the Nusa Islands.
If you prefer to travel slowly and enjoy a bit of adventure, you will love it here. The islands are less developed than Bali and offer a unique experience for families, couples, and backpackers.
Nusa Lembongan is the most populated island with many travelers choosing to stay here, while its neighbor, Nusa Ceningan, is the smallest of the three Nusa Islands. Nusa Penida is the biggest, but it's also the most remote.
If you have less than 3 weeks in Bali, you may want to visit Nusa Penida on a day tour like this one where all your travel and transport is arranged so that you can enjoy one exciting day on the island.
How to get to Nusa Lembongan
The Nusa Islands are located just off the southeast coast of Bali. A quick 45-minute ferry ride from Sanur is all it takes to access the spectacular islands.
If you're following my Bali 3 week itinerary, you'll be coming from Munduk in the north. To get to the port, make your way down south to Sanur which is 80km away. Ensure you have extra travel time as the drive can take up to 3 hours.
The fast ferry from Sanur to Nusa Lembongan costs 300 000 IDR ($22) one way. Several ferries leave throughout the day so there's no need to rush to get an early ferry.
Where to stay in Nusa Lembongan
Many people choose to visit the iconic locations in Nusa Penida on a day trip from Bali. But, if you have 3 weeks in Bali, you'll have more than enough time to spend a few days here.
After the day tourists have left the islands, the empty beaches and peaceful streets will be all yours and you can enjoy the calming atmosphere, gorgeous sunsets, and island vibes.
It's best to base yourself in Nusa Lembongan, which has a small selection of coffee shops, restaurants, and beach bars. You can then do trips to the other two Nusa Islands.
Luxury: Ombak Bay Lembongan boasts an incredible outdoor space with a bar and swimming pool sitting on a cliff, overlooking the crashing waves. The cottages are tastefully decorated and come with air-conditioning and a private deck.
Mid-range: At Bukit Taman Cottages, you get your own private cottage with an outdoor shower, perfect for couples or those looking for a quieter getaway. The infinity pool offers unspoiled views of the lush Lembongan Island and Bali in the distance.
Budget: Just 500m from Mushroom Bay Beach, Gatri Hut provides affordable accommodation with an outdoor swimming pool. For $30, you'll get a large comfortable room with breakfast. One of the many things that makes this place special is the friendly staff.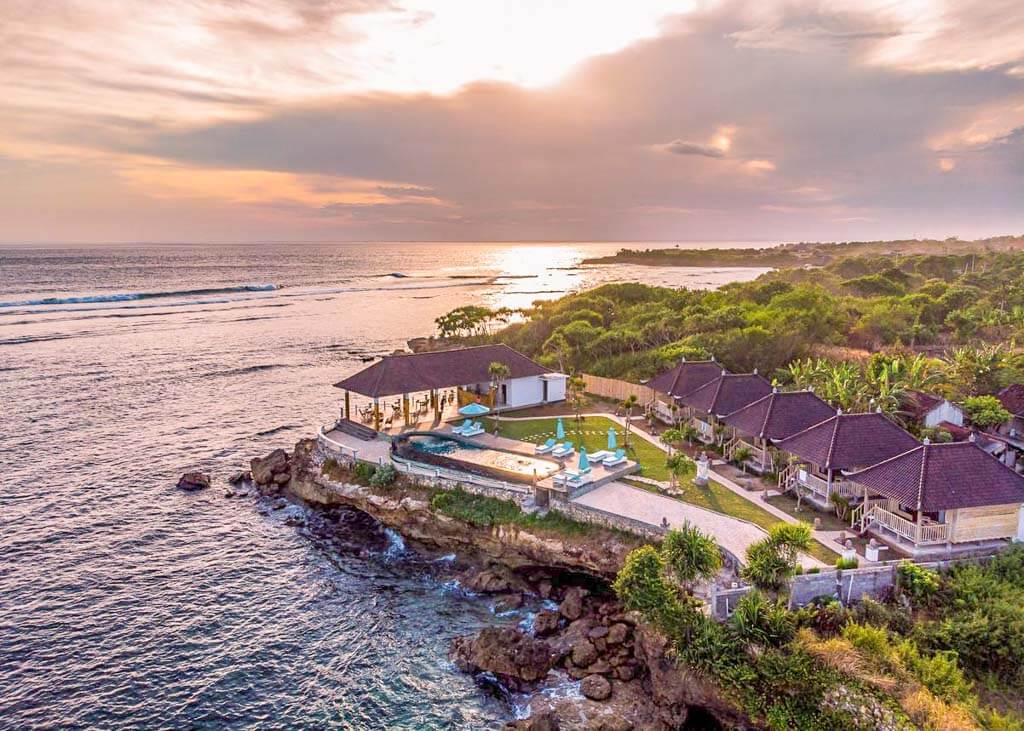 Things to do in Nusa Lembongan
Go diving or snorkeling with Manta Rays. Arguably the biggest attraction in the Nusa Islands are the Manta Rays. Swimming alongside these majestic creatures should be on your Bali bucket list! And it's not only divers who set these sights on them. If you book a snorkeling tour like this, there's a good chance you will see them too.
Visit Nusa Ceningan. To get to this small neighboring island, all you need to do is cross the Yellow Bridge! Rent a scooter and visit some of the top attractions in Nusa Ceningan including the Blue Lagoon and Secret Beach. You can easily explore the island in half a day.
Go surfing. Nusa Lembongan has some of the best waves in Bali and they're perfect for intermediate or experienced surfers.
Day trip to Nusa Penida. To access Nusa Penida from Nusa Lembongan, you need to take a ferry from the Yellow Bridge. Penida is an adventure island and best explored by bike but you can also book a private driver who will meet you in Nusa Penida and take you to the top locations including Kelingking Beach, Broken Beach, and Angel's Billabong.
Beach day, every day. Nusa Lembongan has a handful of pristine beaches, perfect for an afternoon of relaxing and reading! Head to Dream Beach, Sandy Bay, Mushroom Bay, Coconuts Beach, or Jungutbatu Beach.
Experience Devils Tear. This impressive, yet dangerous blowhole, on Nusa Lembongan, is quite the sight!
Day 17-21: Uluwatu (4 Nights)
I'm saving the best for last! Uluwatu is my favorite place in Bali – hands down.
Nestled on the southeast of the island, it's unlike any other destination on this Bali itinerary. With its dramatic coastline, stunning beaches, and local vibes, Uluwatu is the one place where many people wish they could stay longer.
The beauty in Uluwatu lies in how diverse it is. One minute you're sipping Bintangs at a cliffside warung, the next you're driving down a deserted road surrounded by open fields (and being chased by dogs and chickens)!
Everything is spread out so it's never overly crowded. Although there's been quite a bit of development in Uluwatu over the past few years, it hasn't reached the peak of tourism as you'll find elsewhere in Bali.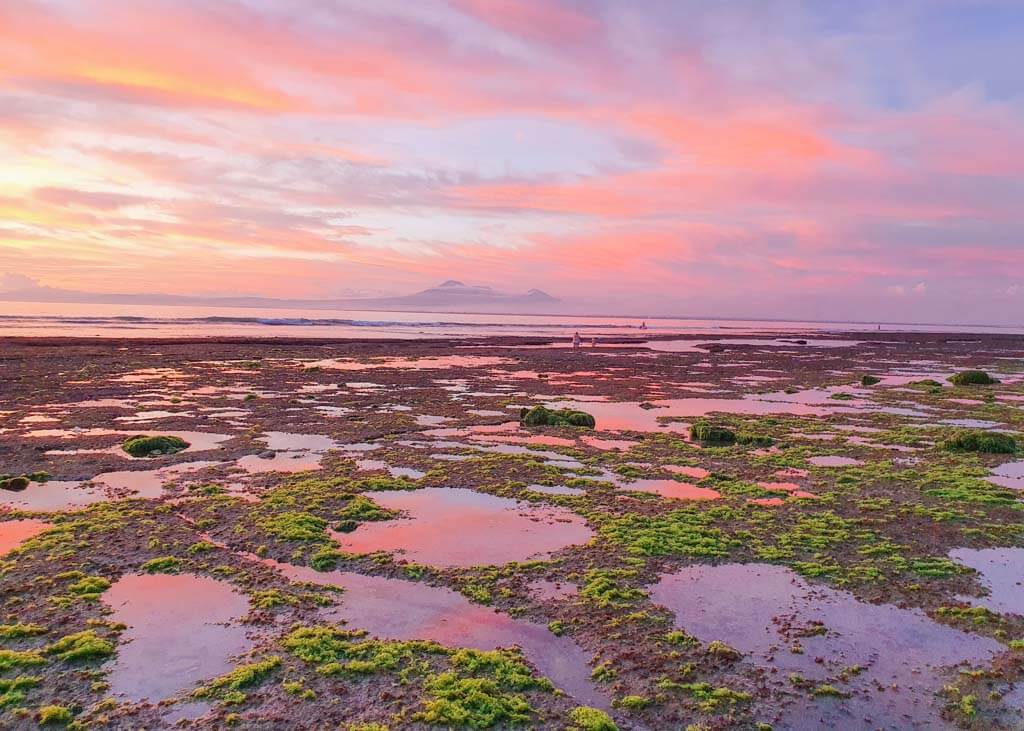 How to get to Uluwatu
Uluwatu is situated on the Bukit Peninsula, to the east of the airport. It's about an hour's drive from Sanur if you're coming from Nusa Lembongan.
As with the other locations on my 3 week Bali itinerary, I recommend you get a driver to take you there which shouldn't cost more than 200 000 IDR ($15) for the trip.
After arriving in Uluwatu, it's best to rent a scooter as the attractions are not within walking distance of each other, and GoJek and Grab are not allowed in certain areas.
Where to stay in Uluwatu
Uluwatu is a huge region! It's actually made up of several main areas including Bingin, Balangan, Suluban, Padang Padang, and Nyang Nyang.
During my 6 months of living in Uluwatu, I stayed in all these areas. My overall favorite is Bingin as it's just a hop, skip and jump away from one of the best beaches. Bingin also has a relaxed vibe while still being very close to cafes, shops, and bars.
I also loved the Balangan area as it's more off the beaten track. If you're looking for a quieter escape with minimal traffic and tourists, Balangan is for you! But you'll definitely need a scooter if you stay here.
READ MORE: The Ultimate Insider Guide to Balangan Beach
Padang Padang and Suluban are more centrally located in Uluwatu and best for those who don't feel comfortable riding a scooter.
Luxury: The Anantara Uluwatu is absolutely incredible – wait until you see the rooms. I spent two days here and didn't leave the resort! With private access to the beach, and an infinity pool overlooking the Impossibles surf break, this is the perfect place to sit back, relax, and sip on a cocktail or two!
Mid-range: In search of boho vibes in a tropical paradise? Hari Indah Boutique Hotel is within walking distance of Bingin Beach. The rooms are stunning and every detail is taken into consideration.
Budget: If you're traveling on a tight budget but don't want to compromise on accommodation, Wira Homestay & Spa is where you should stay in Uluwatu. Situated in a quiet neighborhood, you'll be treated to a large private room with an ensuite bathroom, airconditioning, and communal pool. Breakfast is also included.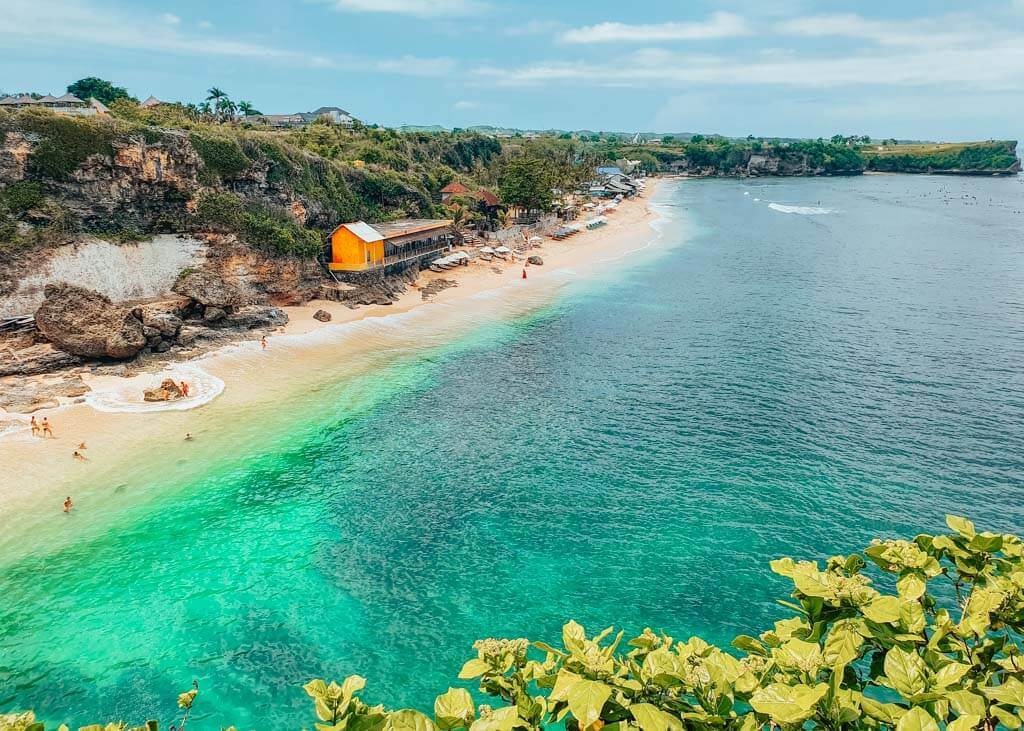 Things to do in Uluwatu
Beach hop. The beaches in Uluwatu are the best you'll find in Bali. but be warned, it can be a mission to get to them thanks to the towering cliffs and steep stairs you need to climb.
Watch the surfers at Uluwatu surf break. This is a world-famous wave for only those experienced surfers. Ulu's is also the best place to watch the sunset! There are scores of warungs lining the cliffs – Give Single Fin a skip and walk down the stairs to find a local spot.
Kecak Fire Show at Uluwatu Temple. This famous temple sits on the edge of a cliff with dramatic views of the crashing waves beneath. Pair this with the Kecak Fire Show, a local dance and musical performance.
Fish BBQ on Bingin Beach. Enjoy a sunset swim and take your pick from the massive seafood spread on the beach.
Learn to surf at Balangan Beach. Surfing is a must-do on any Bali itinerary! Not only is Balangan Beach the best beach in Uluwatu, but it also has an iconic viewpoint that Instagrammers will love.
Explore by scooter. Uluwatu is a great place to explore by scooter. I recommend that you head to the beaches north of Uluwatu including Melasti and Nyang Nyang Beach, as well as the stunning viewpoint from Karang Boma Cliff.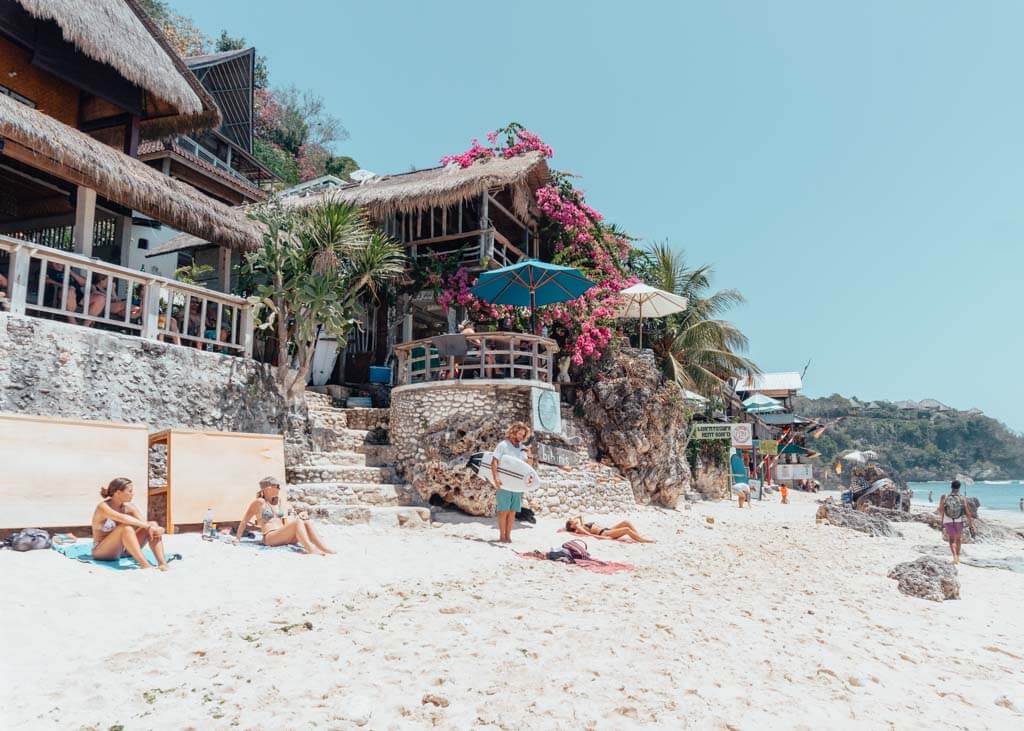 Alternate Places For A Bali Itinerary
Each region in Bali has its own unique vibe, with a different atmosphere that attracts different personalities and different tourists!
My 3 week Bali itinerary is perfectly suited for those looking to see a bit of everything while enjoying a mix of adventure and time out in the sun.
Below are a few other areas you may consider visiting. I've detailed why I didn't include them in my itinerary for Bali, and why you may want it.
Canggu
When I first visited Bali in 2016, Canggu was the up and coming place to visit as it was quiet, remote, and untouched. Fast forward a few years and it's now one of the most popular places in Bali!
I enjoyed Canggu. It's hip and trendy. But I did find it a bit pretentious. It was also too busy for my liking – this is one of the things I also didn't enjoy about Seminyak (but Seminyak is more extreme than Canggu).
If you're a digital nomad or looking to move to Bali, Canggu would be a good place to stay as you'll be surrounded by like-minded people. It's great for networking and starting your remote working life in Bali.
The best part of Canggu is the rice fields that surround the region. If you do decide to stay here, and you're comfortable with driving a scooter, I recommend you stay in Pererenan, the village neighbouring Canggu. It offers a more relaxed experience while still being close to the cafes and beaches of Canggu.
Pro Tip: If you're following my 3 week Bali itinerary and you like the sound of Canggu, I recommend that you remove Seminyak from your travel route and stay in Canggu instead. You can still visit Seminyak as it's a quick 30-minute drive away, but instead, do a day trip then head back to Canggu after.
Things to do in Canggu
Learn to surf. Canggu has a great beginner wave for those learning how to surf. The problem? It can get very crowded so you may have a few boards crashing into you!
Explore the rice fields. Picturesque rice paddies surround Canggu so rent a scooter for the day and venture through the open plains.
Hang out on the beach. Berawa, Batu Bolong, and Echo Beach as the 3 most popular beaches in Canggu. They're famous for their black volcanic sand.
Party the night away. It's no secret that Canggu is the place to go for a good party! Head to Poison Skate Park and La Laguna for a good night out.
End your day at The Lawn or Old Mans. These are two of the coolest places to visit in Canggu, right on the beach.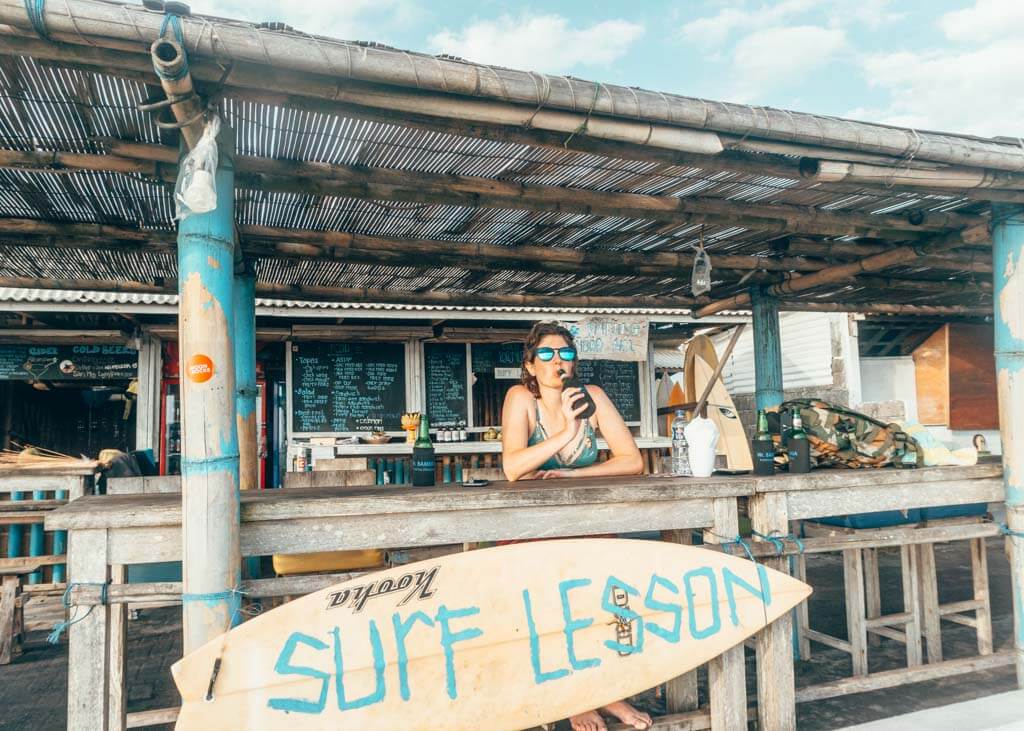 Nusa Dua
Driving into Nusa Dua feels like you're on a different island completely. Palm trees line the neatly manicured gardens, and the region is filled with fancy resorts and hotel chains.
The beaches here are incredible and you can find great all-inclusive options at beachfront resorts. I'm talking swim-up bars, day beds, lavish spas, and romantic dinners under the stars.
If you want to spend your time soaking up the sun and sipping on cocktails, or you're in search of a relaxing romantic vacation, I suggest you add Nusa Dua to your Bali itinerary. It's also a great spot for families as many hotels have activities for children so you're kids will be entertained the entire holiday.
While Nusa Dua is also in the Bukit Peninsula close to Uluwatu, the two regions are vastly different.
Things to do in Nusa Dua
Relax on the beach. Nusa Dua is famous for its soft golden sand and turquoise water. I could easily spend a few days lazing on a sun lounger as the waves crash a few meters away. Some of the best beaches in Nusa Dua include Pantai Mengiat, Pantai Geger, Pantai Samuh.
Let's brunch. I often travel on a budget but for my 30th birthday, I celebrated with an afternoon brunch at the St Regis Hotel in Nusa Dua. It was incredible! I'm a total foodie and the free-flowing champagne paired with the incredible 20 + courses was a total treat.
Go surfing. You'll find some of the best waves in Nusa Dua. While they may not be as popular as Uluwatu, they're still great for experienced surfers.
Water activities for everyone. Nusa Dua is no short on entertainment and you and your kids will be in their element jet-skiing, parasailing, snorkeling, and kiteboarding.
Sidemen
Sidemen is the one place in Bali that doesn't get the attention it deserves. It's a small hillside village east of Bali, just an hour's drive from Ubud.
With its lush green forests, wild rivers, and gorgeous mountains, Sidemen offer a breath of fresh air and quiet escape from the chaotic streets of Seminyak and Canggu.
There's one main street and a handful of restaurants so backpackers and solo travelers may want to give Sidemen a skip. But those looking for peace and quiet will enjoy the untouched beauty of this region.
Here's my full Sidemen travel guide with everything you need to know including where to find the best-hidden cabins.
Things to do in Sidemen
Join a cooking class. Pick your own freshly grown veggies and spices that will be used to make your meal. We made a delicious Balinese spice mix using turmeric, ginger, lemongrass, chili's, bay leaves, and white cabbage which was used as the base for the variety of dishes we prepared.
Explore Tukad Cepung Waterfall. Just a stone's throw away from Sidemen, lies this majestic waterfall which can be found towards the far end of the cave.
Views from Bukit Cinta. Made famous by influencers, it truly is a sight to behold and possibly the best place to photograph Mount Agung.
Go trekking. Sidemen is one of the best regions in Bali to explore on foot. You'll cover several different landscapes, from rice terraces to forests and river crossings with unobstructed views of Mount Agung in the background.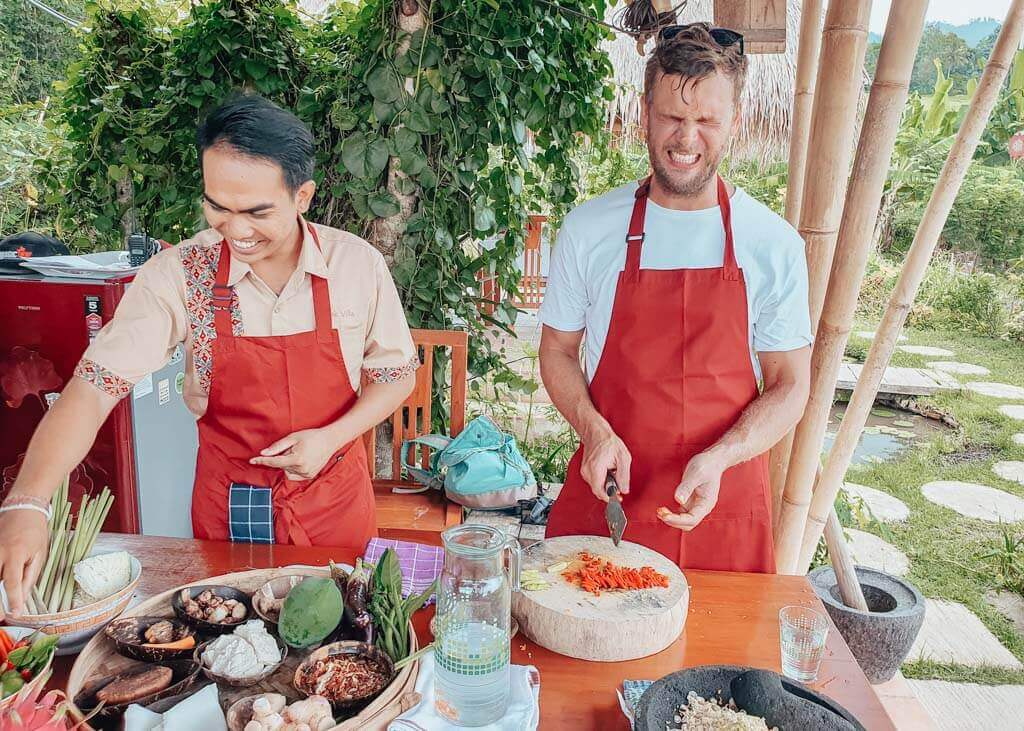 More Than 3 Weeks in Bali
If you have more than 3 weeks in Bali, I highly recommend visiting the nearby islands. During my 2-month Indonesia Backpacking trip, I discovered the true beauty of the country.
Flores
If you're looking for a real adventure, head to Flores Island, just an hour east of Bali. You only need a few days to explore the Komodo Islands which can easily be added to your Bali itinerary.
There's more to Flores than just diving and Komodo Dragons so if you have time on your side, I recommend you stay a little longer.
Head inland for some incredible volcano hiking up Mount Inerie (with no one else in sight) and catch a glimpse of the incredible tri-colored Kelimutu Lakes.
You'll be discovering hidden gems with very few other tourists leaving you with a newfound love and appreciation for Indonesia.
READ MORE: The Ultimate Flores Backpacking Itinerary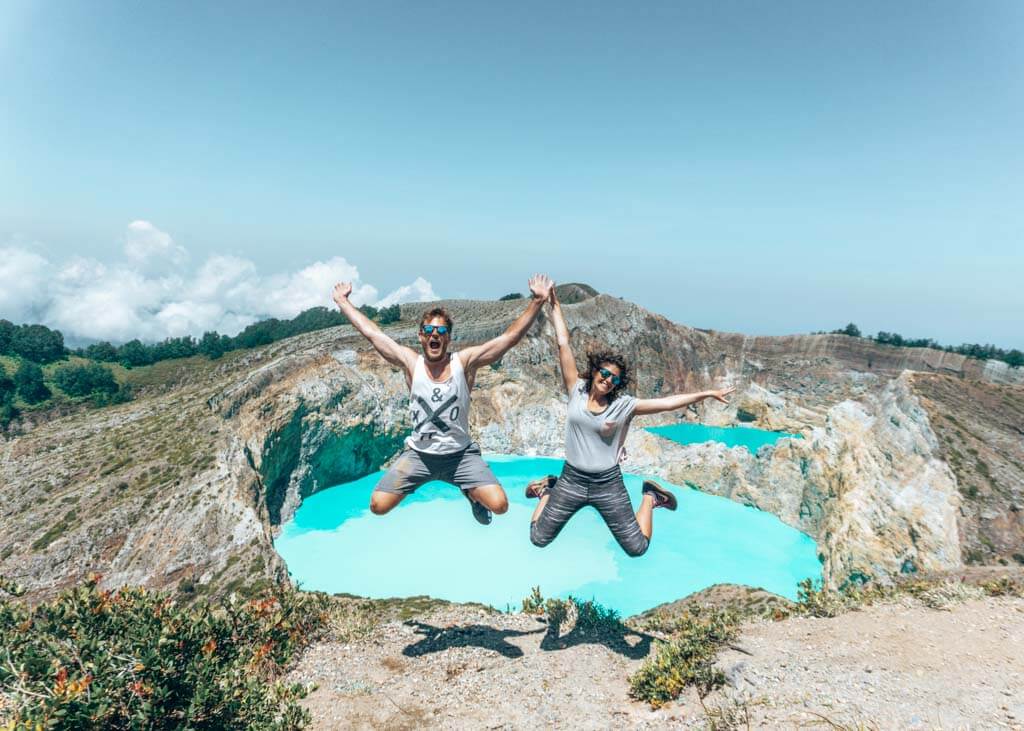 Sumba Island
A trip to Sumba is only recommended for avid surfers and those adventurous souls looking to truly go off the beaten track. I'm talking no wi-fi, no electricity, and no running water – this is the way I experienced Sumba Island and I loved every minute of it!
But you'll need to do a lot of research when planning your Sumba trip as the island is not geared for tourists. This is raw and authentic Indonesia at its best!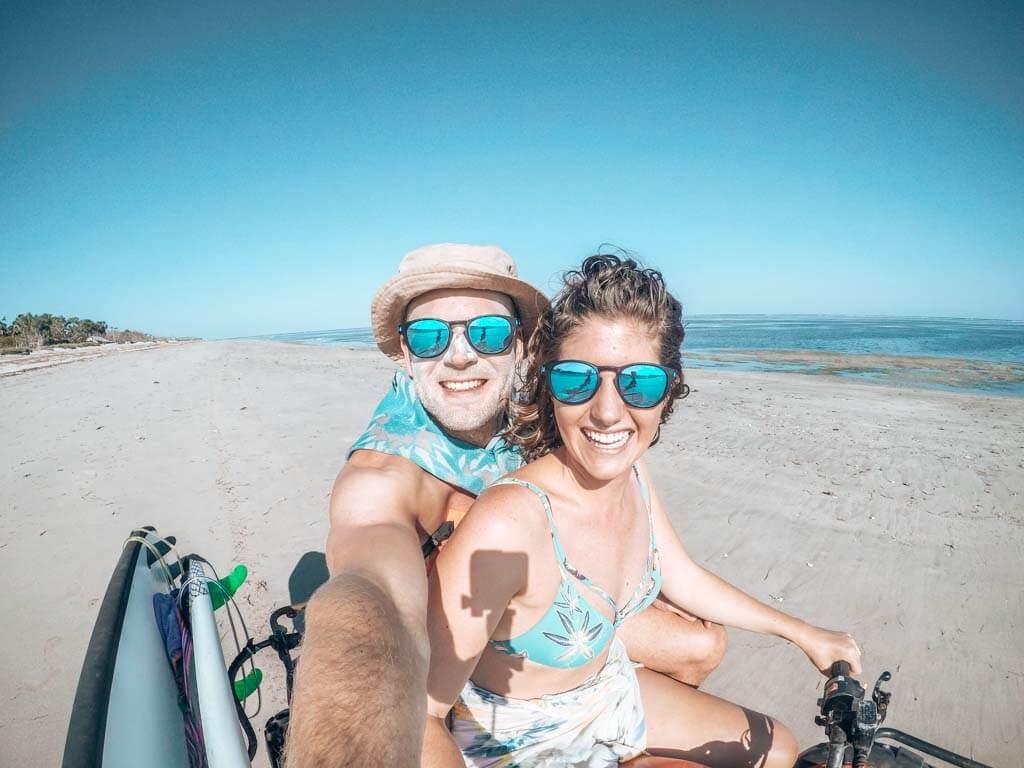 Lombok
Lombok is the main island east of Bali. It's fast becoming the go-to place in Indonesia, yet still maintains its natural charm and calming energy.
If you're following my Bali itinerary for 3 weeks, you would have already visited the Lombok region when you stayed at the Gili Islands. So, why not explore a bit more of this incredible region and head to the south of Lombok to experience the rugged and raw coastline
While Lombok is far less crowded than Bali, I didn't find it to be too rural and there are several awesome beach bars and cafes that are well worth a visit.
I also discovered the most spectacular waterfall in Lombok. You can read all about my Lombok adventures here.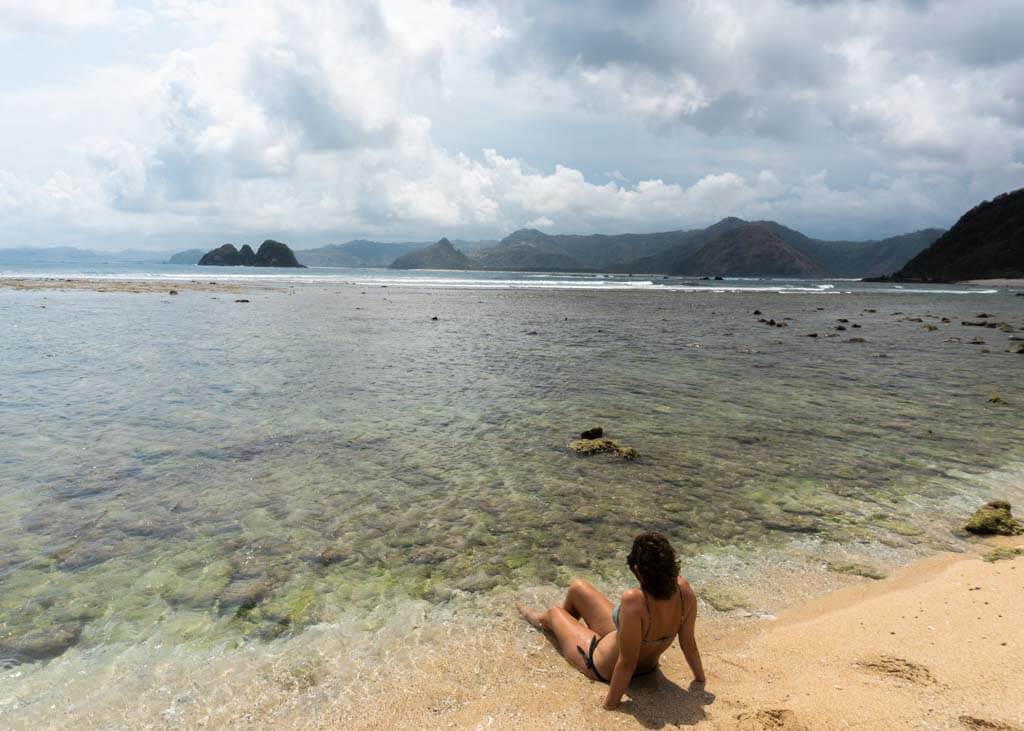 Less Than 3 Weeks in Bali
While a Bali 3 weeks itinerary will give you a chance to explore the entire island, not everyone has time on their side. I recommend you spend at least 10 days in Bali.
If you're trying to decide what to include in your trip, here are a few insider travel tips.
Must-visit places in Bali. No matter how long or short your trip, you should visit both Ubud and Uluwatu. These two locations are suited for everyone, from couples to families, solo travelers to backpackers.
Bali honeymoon itinerary. If you're looking for a more romantic, intimate holiday away from the crowds. Visit Ubud and Uluwatu, but pair this with a stay at the resort area of Nusa Dua. If you have extra time, head to Sidemen as well.
Travel slower. This 3 week Bali itinerary includes the best places to visit and the ideal time in each spot. But if you'd prefer to travel slower and live it up in a villa or on the beach, you can skip Munduk or Seminyak and spend more time in Uluwatu or Nusa Lembongan
Backpacking Bali. My first trip to Bali was on a budget backpacking holiday for 2 weeks. Canggu, Ubud, Gili Trawangan, and Uluwatu are favorites amongst backpackers as there's always something to do and people to meet.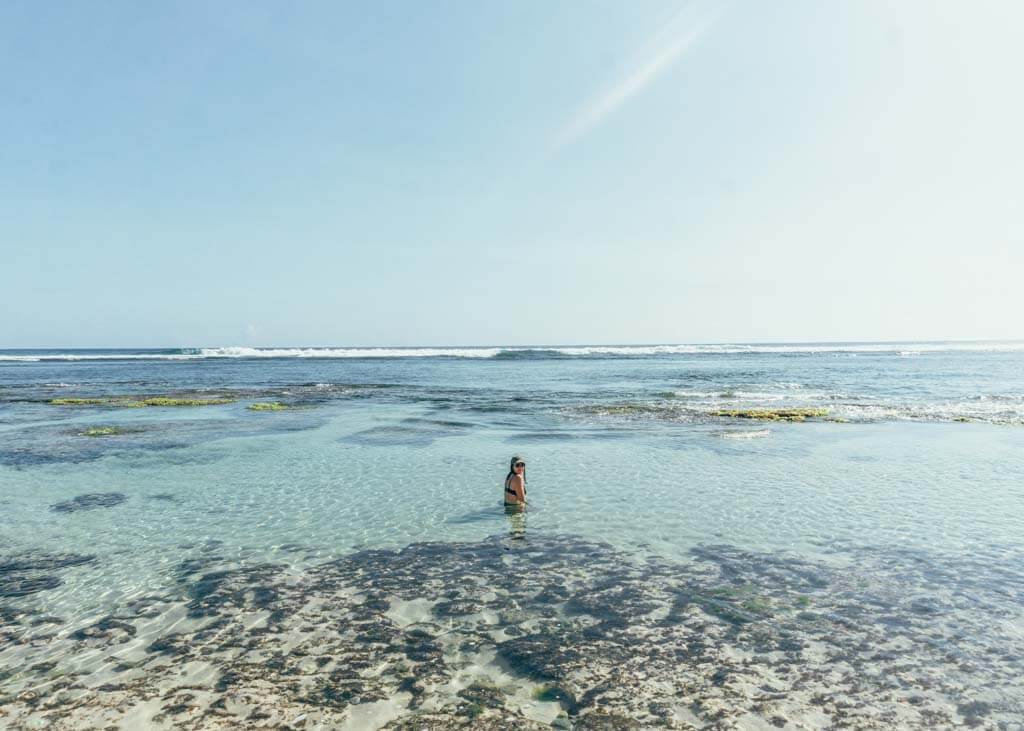 Final Thoughts On My Bali Itinerary
Bali is the perfect place to spoil yourself and enjoy a holiday that won't cost you an arm and a leg! Looking to chill on the beach, roam through rice paddies, or discover local treasures. Well, you can do that, and so much more, if you have 3 weeks in Bali.
But you might not love every place you visit. There's a constant debate among travelers about which areas are better. Canggu vs Uluwatu vs Ubud. While I fell in love with Uluwatu, others may not share the same sentiment.
So, before you decide where you're going to go in Bali based on Instagram photos, do a bit of research first. This Bali 3 week itinerary is a great start and if you follow my travel advice, you'll leave with a full heart and sunkissed tan!
---
Are you planning your Bali itinerary? Do you need more advice on the best places to go? Drop me a message in the comments section below!
Looking for more Indonesia travel inspiration? Check out my other posts!
---
There is a really good chance that this post contains affiliate links. If you click one of them, I may receive a small commission at no extra cost to you. As always, views are my own!