Sri Lanka: there's a bit of something for everyone.
Whether you're after the beaches in Trincomalee or mountains in hill country, you will not be disappointed! I spent a month exploring the east and south coast in search of my paradise, and the beaches in Trincomalee were some of the best on the island.
So, here's my travel guide to the best beaches in Trincomalee: Uppuveli or Nilaveli?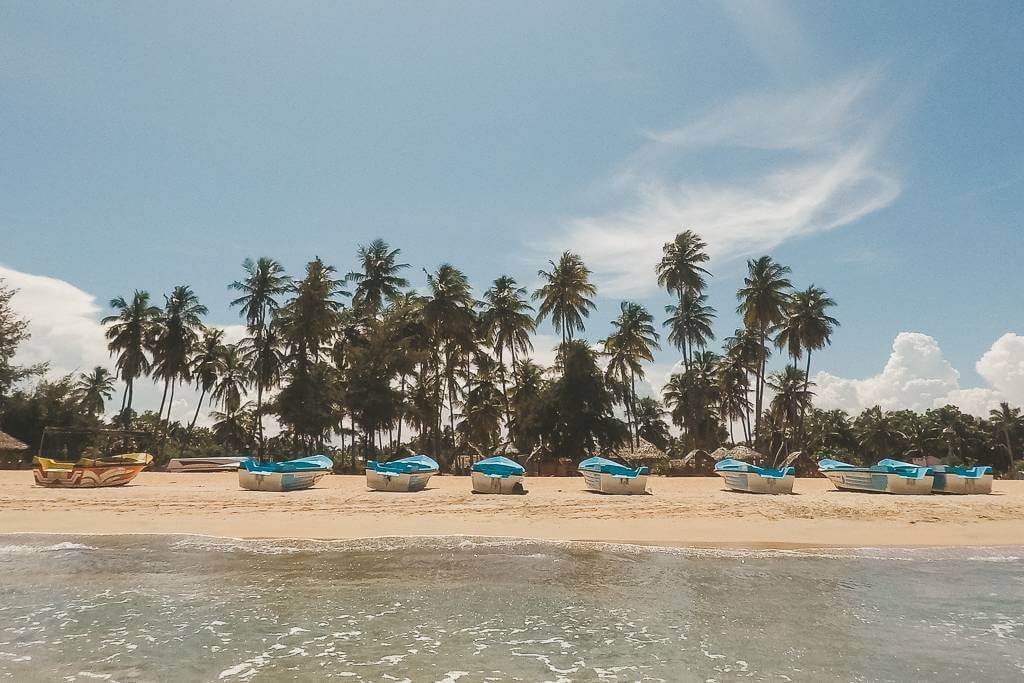 Beach beaches in Trincomalee at a glance
Most beautiful Trincomalee beach: Nilaveli Beach
Most popular beach: Uppulevi Beach
Best beach for snorkeling: Pigeon Island
Where is Trincomalee, Sri Lanka
Trincomalee, often referred to as Trinco, is located on the north-east coast of Sri Lanka offering two of the best beaches in the country, Uppuveli and Nilaveli Beach.
Trincomalee is also home to the popular snorkeling site, Pigeon Island and all 3 of these attractions are relatively close to one another.
This famous port town is not along the main backpacker route and you will need to take a slight detour to get there.
Because of this, it's often overlooked by travelers with limited time, but if you have the flexibility in your Sri Lanka itinerary, I highly recommend you venture to the east and explore the beaches in Trincomalee.
The best beaches and surfing in Trincomalee
It's no secret that Sri Lanka is a hot spot on any surfers' radar. The beaches along the south coast provide some of the best beginner waves in the world.
However, if it's the surfing you're after, perhaps look at Hiriketiya Beach instead as the beaches in Trincomalee are not surfer friendly.
Why?
Because the beaches along the east coast are known for their calmer, clearer waters when compared to those on the south. The waves here are non-existent, and the flat waters provide better conditions for snorkeling as opposed to surfing.
What are the best beaches in Trincomalee
Trinco is home to two spectacular beaches, Uppuveli Beach and Nilaveli Beach.
Nilaveli Beach, Trincomalee
Nilaveli Beach lies north of Uppuveli Beach in Trincomalee. It's a short 20-minute drive to get from one beach to the other.
Nilaveli is quieter and more secluded than Uppuveli Beach, and the clear water makes it the best beach in Trincomalee (in my opinion).
Why you should visit Nilaveli Beach in Trincomalee
Nilaveli Beach is arguably one of the best beaches in Sri Lanka. This long stretch of beach is lined with palm trees and there are few developments in the area.
The sand is whiter and finer when compared to Uppuveli Beach and there's little to no pollution. The water is also pristine, and you really feel like you're on a tropical island.
If you're looking to escape the crowds and spend a few days relaxing on the beach, Nilaveli Beach is just for you.
If you're in search of a more upbeat atmosphere, rather stay in Uppuveli Beach and just take a day trip to Nilaveli instead.
Uppuveli Beach, Trincomalee
Located about 10 minutes outside of Trincomalee lies the small beach village of Uppuveli.
Similarly, to Nilaveli Beach, Uppuveli is a long, sandy beach with clear waters and no waves. It attracts a bigger crowd than Nilaveli Beach as there is more going on in the area.
However, there is more pollution and debris along the shoreline and the beach itself isn't one that I would rave about.
Why you should visit Uppuveli Beach
When tourists speak of Trincomalee Beach, they are often referring to Uppuveli Beach. It's the more popular destination of the two, offering a better vibe and festive atmosphere when compared to the relaxed feel of Nilaveli.
Fernando's Bar is hands down the place to go in Uppuveli. The chilled atmosphere coupled with great tunes makes for the perfect place for lunch, sundowners or just a good ol' party.
It's the only vibey spot in Uppuveli, so pack your towel, sunscreen, a pack of cards, and head to Fernando's the moment you arrive in Trincomalee. Psst…Here's what else you should pack for your Sri Lanka trip.
Snorkeling at Pigeon Island National Park, Sri Lanka
Pigeon Island National Park is one of Sri Lanka's two marine national parks and is a main attraction near the beaches of Trincomalee.
Divers, snorkelers, and adventures alike flock here to lay their eyes on bright coral and tropical fish including reef shark and turtles.
Should you go snorkeling at Pigeon Island National Park near Trincomalee, Sri Lanka
Unfortunately, Pigeon Island may not live up to its high expectations. Not only was the shallow reef damaged by the 2004 tsunami, but uncontrolled tourism has left the reef destroyed and the coral, bleached.
This, in turn, has decreased the biodiversity and marine life surrounding Pigeon Island National Park. Therefore, if you're a regular island hopper and have been diving or snorkeling in Indonesia or the Philippines you may be left disappointed.
This is the reason I didn't go snorkeling at Pigeon Island near Nilaveli Beach.
How to get to Pigeon Island National Park in Sri Lanka
There are scores of boats leaving from both Uppuveli Beach and Nilaveli Beach daily. Pigeon Island is closer to Nilaveli Beach so if you're in the area, take the boat from here instead.
It takes about 10 minutes to reach Pigeon Island from the beaches in Trincomalee.
The cost to get to Pigeon Island is around 3 500 LKR ($20) per person. Be sure to confirm that this includes your snorkeling gear and Pigeon Island National Park entrance fee.
This price to enter Pigeon Island National Park in Sri Lanka varies depending on who you book through as the equipment and level of staff expertise varies drastically.
Make sure you bring sunscreen, water, and some snacks, and do not step on the coral!
Other Trincomalee Beaches
Nilaveli Beach and Uppuveli Beach are the most popular beaches in Trincomalee, but if you have a few extra days to explore, you can visit these beaches as well.
Dutch Bay Beach: This beach is located in Trincomalee, close to the Villuntri Kandaswamy Temple.
Marble Beach: 30 minutes south of Trincomalee, you'll find Marble Beach. It's a favorite amongst the locals and offers clear, calms waters.
How long to stay in Trincomalee
I had originally given myself 2 nights in Trincomalee because I wanted to get to Adam's Peak in Dalhousie.
However, the beaches in Trincomalee were just too good and so I ended up staying 4 nights! If your time is limited, 3 nights should suffice.
How to get around Trinco
Whilst there are other things to do in Trincomalee, the main attractions are the Trinco beaches themselves. If you stay in Uppuveli or Nilaveli, it's possible to walk everywhere.
If you want to take a trip to one of the other beaches in Trincomalee or explore the town, you can rent a scooter which will cost 1000 LKR ($6) per day.
You will need to show your passport and international driver's license for this. Make sure you have both on you at all times as the police are out in full force around Trincomalee, pulling drivers over throughout the day.
Alternatively, there are regular buses moving between the beaches in Trincomalee or you can hop on a tuk-tuk to get around.
READ MORE: The Ultimate 3 Week Sri Lanka Itinerary
Important information
ATM: There are numerous ATM's in Trincomalee but there are none in Uppuveli or Nilaveli.
Fuel: If you're renting a scooter and need to refuel, you will once again need to make your way to Trincomalee as there are no gas stations in Uppuveli or Nilaveli.
When is the best time to visit Trincomalee Beaches
The best time to visit Trincomalee is between May and September.
The east coast monsoon season runs from October to early January with most shops and restaurants closing during this period.
Trincomalee weather in October
Don't let this deter you from traveling out of season. I was in Trincomalee in October which is the start of the monsoon season and I had a great time, despite the late afternoon thunderstorms.
The shops were starting to shut down for the season and I fear that had I visited Trincomalee in November or December, it would have been a ghost town.
This may change as the tourism in Sri Lanka increases. Just don't expect to arrive in Trincomalee in the middle of November and have the beaches and restaurants bustling with tourists.
READ MORE: The Best Things to Do in Kandy, Sri Lanka
Where to stay in Trincomalee
Budget: Hilton Cottage is perfectly situated near Uppuveli Beach. Our friends stayed here and had amazing things to say about it in terms of value for money and location.
Mid Range: Sasvi Cabana is offers gorgeous wooden cabins nestled between palm trees.
Luxury: Amanta Beach is the place to stay if you're looking for an escape! The private pool and beachfront views are hard to beat.
My frightening experience
I don't often write bad reviews, but this owner of Lobster Inn genuinely brought me to tears.
Here's what happened…
After booking a room on-line, we arrived at Lobster Inn, excited to check-in and head to the beach.
Unfortunately, it turns out that the owner of Lobster Inn had a personal grudge against our tuk-tuk driver, whom we had found at the bus stop.
He accused us of "colluding with the enemy", shouted at us, and rudely told us to leave because he couldn't trust us.
I welcomed this excuse to get off his property and went in search of another place to stay. I have since read numerous other comments about the owners' iritic behavior towards other travelers.
I'm only including this because as a female traveler, I felt extremely uncomfortable and scared at Lobster Inn and wouldn't want anyone else to go through the same experience as I did.
Where to eat in Trincomalee
Rice and Curry: As the name suggests, Rice and Curry in Uppuveli serve exactly that, as well as a dam good kottu roti. 600 LKR ($3) per meal isn't too bad.
Be Cool Juice Bar: This is a must in Uppuveli! Be Cool Juice Bar has by far the best breakfast I had during my month-long stay in Sri Lanka. Whilst their Western breakfast is tasty, their traditional Sri Lankan breakfast is in a league of its own and only costs 500 LKR ($3)! It doesn't hurt that the owners are incredibly friendly as well.
Fernando's: Although it's slightly more expensive than other restaurants in the area, Fernando's make a delicious pizza for 1 200 LKR ($7). Pair that with a beer, sea view, and some good tunes and you're in for a good time. Perfect if you're backpacking around Sri Lanka and looking to meet people.
Mama Mia Restaurant: Located in Nilaveli, Mama Mia is a beachfront property with huts scattered throughout the beach. Try their devilled chicken – amazing!
How to get to Trincomalee from Dambulla, Kandy or Colombo
Public transport in Sri Lanka is extremely efficient and easy to navigate. There are local buses going from either Kandy or Colombo to Trincomalee and they run relatively frequently.
When heading to Trincomalee, most buses will stop off in Dambulla, which is the halfway mark and biggest town along the route from Colombo to Trincomalee.
Pro Tip: If you're heading this way, you might as well stop off in Sigiriya and hike Pidurangala Rock which is just outside Dambulla.
Bus from Dambulla to Trincomalee
The bus ride from Dambulla to Trincomalee takes 3 hours and will cost you 150 LKR ($1) per person. You can catch this bus on the main road in Dambulla. Go to Bentota Bake House and the bus stop is nearby.
Don't be afraid to ask the locals to help you find the bus. The Sri Lankan people are all so helpful and made my travels that much easier.
READ MORE: Midigama Beach: Why You Should Stay & Surf Here (Not Mirissa)
Tuk-Tuk from Trincomalee to Uppuveli or Nilaveli Beach
Once you get off the bus in Trincomalee, you need to take a tuk-tuk to either Uppuveli or Nilaveli Beach.
Getting to Uppuveli Beach from Trincomalee bus station will cost around 300 LKR ($2) with a tuk-tuk. Uppuveli is a short 5-minute drive from the center of Trincomalee, whilst Nilaveli Beach is slightly further.
Final thoughts: Is Trincomalee worth visiting
I had 30 days to explore Sri Lanka and I chose to visit the more secluded east coast beaches as opposed to the busier ones on the west coast.
I loved my time in Trincomalee and although it was slightly out of the way and the start of monsoon season, I'm so glad I included it in my itinerary. If you're looking for sunshine and seclusion, I'd highly recommend you visit the beaches in Trincomalee.
---
Looking for more Sri Lanka travel information? Check out my other posts!
---
Pin this!
There is a really good chance that this post contains affiliate links. If you click one of them, I may receive a small commission at no extra cost to you. As always, views are my own!