Choosing the best places to stay in Bali is no easy task. The island has so much to offer, and deciding where to base yourself can make or break your holiday.
If you're looking for surf, sea, and sun, then the coastal areas of Uluwatu, Seminyak, and Nusa Dua are just for you.
For a change of scenery, lush jungles, and culture, head inland to Ubud, Munduk, or Sidemen.
In search of authentic Island life? There's the Gili Islands and Nusa Lembongan.
But you can't stay in all these areas in Bali (and you are probably feeling overwhelmed by the choice).
That's where I come in. I've visited them all and crafted this comprehensive guide on the best places to stay in Bali. It's for all travelers and highlights the pros and cons so you can easily plan your vacation.
Torn Tackies contains affiliate links. If you make a purchase using one of these links, I may receive compensation at no extra cost to you. See my disclosure for more information.
The best areas to stay in Bali
Bali may look like a compact island, but the distances are deceiving. With the chaotic streets and congested traffic, it can take hours to get from one destination to the next.
Are you considering staying in one place for your entire holiday and using that as a base for day trips to other locations? Do not do this! You'll spend more time in your car than actually enjoying the island.
To avoid unnecessary travel time, stay in at least three areas of Bali for a minimum of two full days each.
Map of places to stay in Bali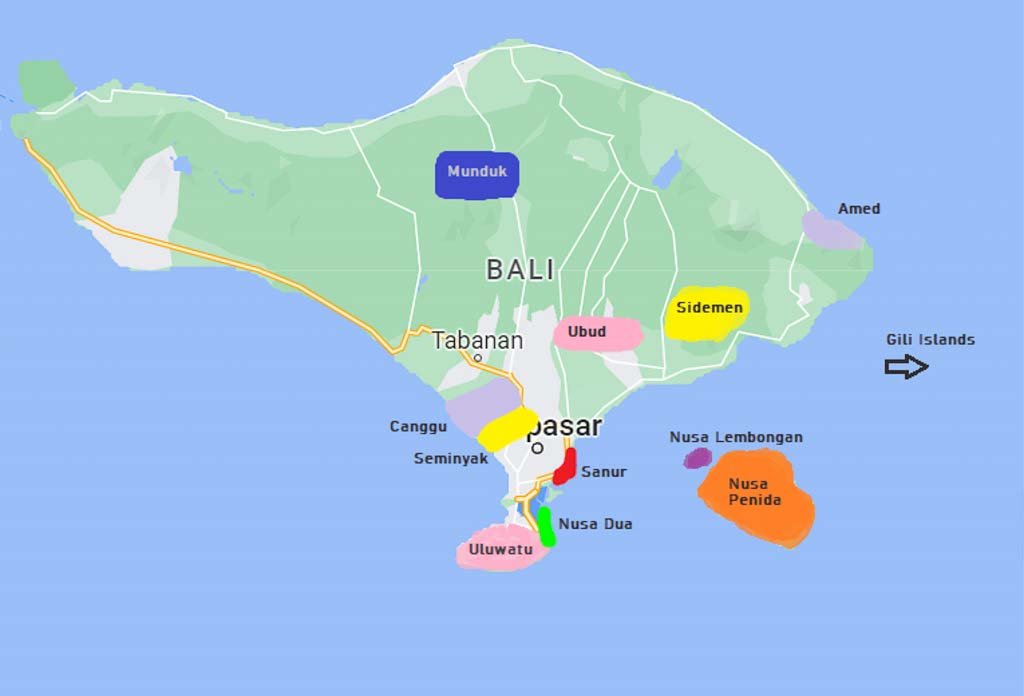 Where to stay in Bali at a glance
Where to stay in Bali for the best beaches: Uluwatu
Best place to stay in Bali for nightlife: Seminyak
Where to stay in Bali for nature and culture: Ubud
Best area to stay in Bali for families: Nusa Dua
Quietest area to stay in Bali: Amed
Best location in Bali for couples: Munduk
Coolest place to stay in Bali: Canggu
Bali accommodation off the beaten track: Sidemen
The best places to stay in Bali for first timers
Truth be told, where to stay in Bali comes down to personal preferences. Are you planning a romantic holiday? Or a getaway with your family? Perhaps you're a backpacker or celebrating a milestone.
Not everyone wants beach clubs and vibrant nightlife. You may want a yoga retreat and a tranquil escape. And your budget may be very different from the next person.
The main point: Bali has something for everyone! So let's get into it.
Uluwatu: Best for surfers and beach lovers
Perfect for: Surfers or couples wanting a more relaxed getaway
Highlights: the stunning beaches
Downsides: Uluwatu is further from the other areas of Bali
Ahhh – Uluwatu. If you ask me, what's the best place to stay in Bali? It's here!
Nestled on the island's southern tip, it boasts some of the best beaches and surf spots.
Uluwatu is huge, and everything is spread out, so you will need transport to get around. There are many places to stay in Uluwatu, but my personal favorites are Bingin Beach and Balangan Beach.
Uluwatu has a dramatic coastline with towering cliffs overlooking the ocean. It's also one of the more chilled areas in Bali, attracting a crowd looking to escape the hustle and bustle of Kuta and Seminyak.
Although there's been quite a bit of development in Uluwatu over the past few years, it hasn't reached the peak of tourism as you'll find elsewhere.
Things to do in Uluwatu
Go beach hopping at these epic beaches in Uluwatu
Watch the surfers at Uluwatu surf break
Check out the Kecak Fire Show at Uluwatu Temple
Devour a seafood BBQ on Bingin Beach
Visit Sundays Beach Club
Verdict
I love Uluwatu. I lived here for 6 months, and it will always feel like home. It's entirely different from the other areas of Bali, so I recommend visiting, even if you only have 2 days.
Where to stay in Uluwatu
Luxury: Bulgari Resort boasts luxury private villas and sweeping views from its picture-perfect cliffside location. Each exquisite villa comes with traditional Balinese decor and has been thoughtfully styled. And what's more, you'll have direct access to the beach through the resort's inclined elevator. There's no denying this resort is one of the best places to stay in Bali.
Mid Range: Pink Coco is a charming boutique hotel just a stone's throw away from Padang Padang Beach. It's the perfect place to stay in Bali if you're looking for a fun atmosphere, holiday vibes, and a great location in Uluwatu.
Budget: The location of Medori Putih Homestay makes this property shine. It is only 5 minutes from Padang Padang Beach and is a prime location for exploring Uluwatu. The private rooms are air-conditioned, and there's even a swimming pool. At this price, it's a winner for backpackers or budget travelers!
Seminyak: Best place to stay in Bali for nightlife
Perfect for: People celebrating bachelorettes or birthdays
Highlights: The lively atmosphere and vibrant nightlife
Downsides: The shopping and restaurant culture doesn't suit everyone
Seminyak is an upmarket area of Bali featuring fancy restaurants, boutique shopping, and a range of beach clubs.
It's great for food lovers and even better for those who like to keep busy on holiday. And while you may think Seminyak only draws a wealthy crowd, this couldn't be further from the truth.
Backpackers, families, and groups of friends all choose Seminyak as a place to stay in Bali. There is also a wide range of accommodation available to suit all budgets.
The colorful bean bags at La Plancha attract tourists in their droves. It's the best place to visit for sunset while enjoying a few cocktails and taking in the festive atmosphere.
But Seminyak is not the place to go if you want to escape the tourists! The streets are busy, and footpaths are clogged with people.
Things to do in Seminyak
Sunset at La Plancha
Hit a beach club – Finns, Potato Head Beach Club, or Ku De Ta
Shop til you drop
Dinner at Motel Mexicola
Day trip to Canggu
Verdict
Even if you're not here for the party, every Bali itinerary should include a night in Seminyak to experience the electric atmosphere. And yes, you only need one night (unless you're keen on parties and shopping)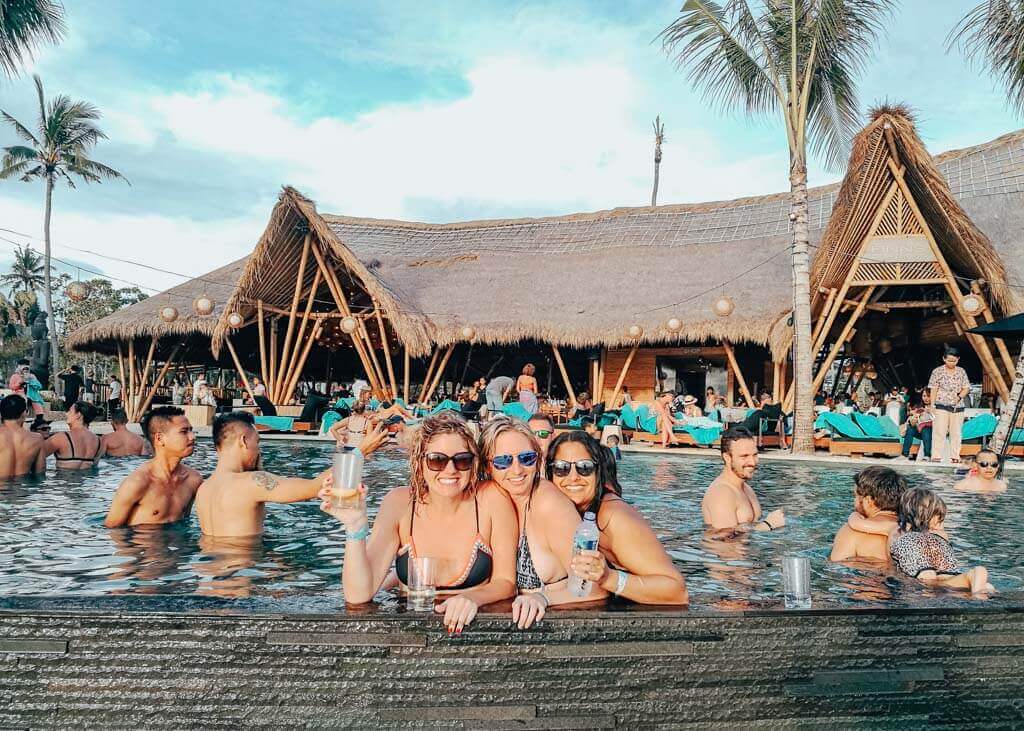 Where to stay in Seminyak
Luxury: Enjoy beachfront views and 5* service at W Bali Seminyak. This hotel is hard to beat, and the location could not be better. If you're planning your honeymoon or romantic getaway, this should be in your Bali itinerary!
Mid-range: If you want personal space in your own private villa, look no further than Mayaloka Villas. Set amidst a lush tropical garden on the quieter side of Seminyak, you'll have your own pool and luxury open-plan living.
Budget: Sleepwell Seminyak is a great place to stay if you're traveling on a budget. With large private rooms, air-conditioning, and breakfast included, you get a lot of bang for your buck when staying here.
Canggu: Best area to stay in Bali for an expat vibe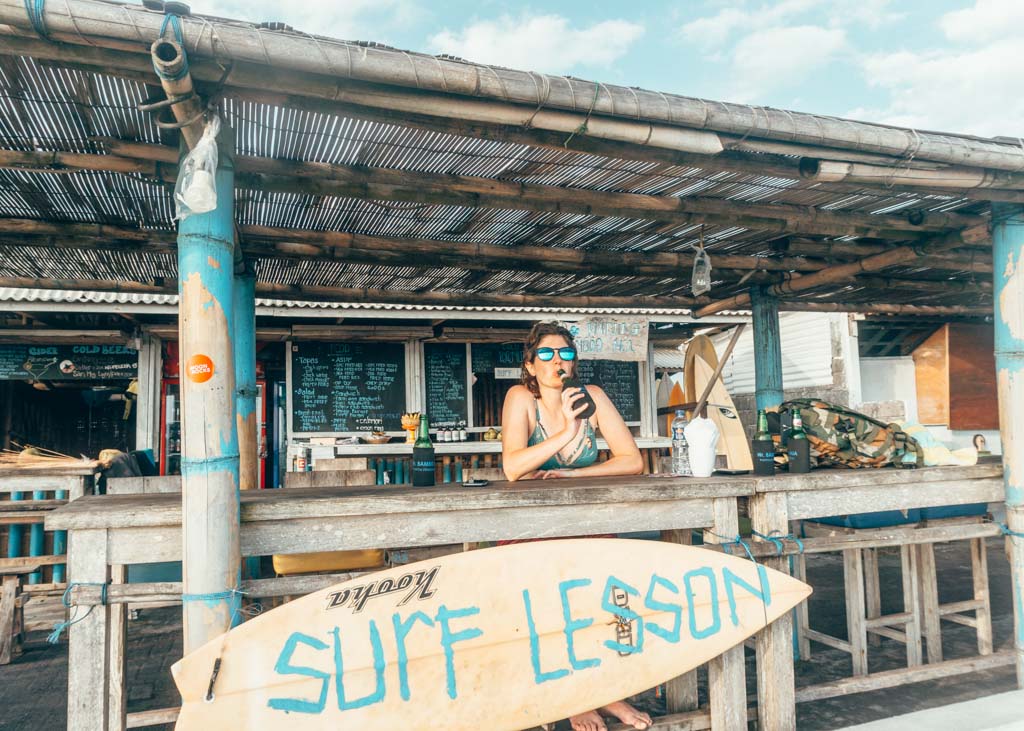 Perfect for: Backpackers and digital nomads
Highlights of staying in Canggu: The cafe culture
Downsides of staying in Canggu: It's super busy
Canggu is the digital nomad hub and the best place to stay in Bali if you're looking for a mix of trendy cafes, good nightlife, and coworking places. Oh, and influencers!
This hipster neighborhood has grown in popularity over the years. What was once the more chilled area of Bali is now one of the busiest.
It's popular with expats living in Bali, entrepreneurs, and content creators and has an impressive selection of cafes. The beachfront boasts scores of restaurants and beach clubs. La Brisa, Como beach club, and the Lawn are some of the most popular.
If you want to experience Canggu but prefer to stay somewhere among the rice fields, I highly recommend Pererenan. It's right next to Canggu but less chaotic.
Things to do in Canggu
Learn to surf
Explore the rice fields
Hang out on a black sand beach. Berawa, Batu Bolong, and Echo Beach
End your day at The Lawn or Old Mans
Verdict
I enjoyed my time in Canggu. But I didn't love it as much as other places in Bali. It's also important to note that the beaches here and in Seminyak are all black sand. So if it's beaches you're after, instead, go to the Uluwatu or Nusa Dua.
Where to stay in Canggu
Luxury: One look at Como Uma Canggu, and you won't want to stay elsewhere! This gorgeous property offers the most magnificent experience for guests looking to soak up the Canggu lifestyle. Its beachfront location provides jaw-dropping views; overall, this Bali accommodation ticks all the boxes.
Mid Range: Shore Amora Canggu is a three-minute walk to the beach and includes stylish rooms with large living spaces. The facilities are excellent, and the restaurant serves up delish local cuisine.
Budget: Salty Shakas Bamboo Stay is one of the best places to stay in Bali on a budget. While the private huts are basic, they're filled with character and offer a romantic experience at a great price. The hosts are super friendly, and the property even offers a pool. It is located further from the beach and closer inland to the rice fields.
Ubud: The best area to stay in Bali for nature and culture
Perfect for: Everyone – Families, backpackers, couples, digital nomads
Highlights: The nature and rice fields
Downsides: None. If you're visiting for the first time, Ubud is one of the best places to stay in Bali!
Lush jungles. Cascading waterfalls. Rice fields for as far as the eye can see. You will welcome a trip to Ubud after spending time along the coast.
The town is located in the central highlands of Bali. It is a melting pot of rich history, cultural experiences, spiritual encounters, and natural attractions. It's one of the most popular places to visit in Bali, and for a good reason.
Ubud attracts tourists seeking wellness retreats, meditation, yoga, and spiritual healing. But it's also an outdoor lover's playground. There are spectacular walking trails, waterfalls, and rice fields. It's the place to go white water rafting in Bali and makes for an excellent base for exploring the north of the island.
The town itself is well-developed and appeals to all travelers. There are many local and western restaurants, bars with live music, and craft markets.
When it comes to accommodation, I recommend booking something outside town. This is where you'll find gorgeous villas amongst the rice fields, all at an affordable price.
Ubud is one of my favorite areas to stay in Bali (after Uluwatu, of course). It should be on every first-timer's itinerary.
Things to do in Ubud
Morning stroll along Campuhan Ridge Walk
Mount Batur sunrise hike. Read all about it here.
Do yoga overlooking the rice fields
Visit Tegalalang Rice Terraces and Tirta Empul Temple
Go chasing waterfalls
Verdict
No trip to Bali is complete without a visit to Ubud. This is one of the best areas to stay in Bali.
Where to stay in Ubud
Luxury: The Kayon Jungle Resort sure lives up to its name! The infinity pools, which overlook the jungle, paired with spacious Balinese-inspired rooms, make this the best place to stay in Ubud if you're looking to live in luxury.
Mid-range: Byasa Ubud is surrounded by rice paddies and is the perfect place to spend time in Ubud. Situated in a quieter neighborhood, you're guaranteed a remote escape if you stay here.
Budget: Surya Bagus Homestay is ideally located near the center of Ubud and is all you need if you're traveling on a budget. The private room comes with a complimentary breakfast, and the friendly owners will ensure you have a memorable stay in Ubud.
Munduk: The best place to stay in Bali for couples
Perfect for: Couples and travelers wanting a more remote escape
Highlights: The natural beauty and lack of development
Downsides: It can be too quiet for some people
Munduk is located in North Bali, about an hour from Ubud. It's how I imagine Ubud to be before the influx of tourists.
Munduk has recently been put on the map thanks to the Instagrammable locations and waterfalls that surround it. It's still considered a hidden gem of Bali – but I'm not sure for how much longer it will hold this impressive title!
Many people choose to visit these Munduk attractions on a day tour from other areas of Bali and skip Munduk Village altogether! If you're searching for a festive atmosphere and a place to meet people, I recommend you do the same.
But in my eyes, Munduk's biggest drawcard is its sleepy streets and tranquil atmosphere. The climate here is notably colder than the rest of the island, making it an ideal place to unwind.
Things to do
Visit the Ulun Danu Temple
Catch a glimpse of the Twin Lakes and Bali Swing
Explore Munduk Waterfalls
Go off the beaten track and explore these Munduk attractions
Verdict
If you're backpacking and looking for a lively atmosphere, give Munduk a skip. It's better suited for travelers wanting to experience a quieter side of Bali.
Where to stay in Munduk
Luxury: Munduk Moding Plantation is set up in the mountains with gorgeous views from its famous infinity pool. The service is impeccable, and the perfect place to enjoy some time away from the crowds.
Mid-range: Munduk Heaven Luxury Villas offer spectacular accommodation in Munduk with sprawling views of the lush forests. The facilities are next-level and it's the perfect place to come home to after a busy day of exploring.
Budget: Lesong Hotel's location couldn't be better. If you're looking to stay in the rice paddies, this is the best place to stay in Munduk! It's excellent value for money, but the friendly staff and kind hosts make this place truly shine.
Sidemen: Best Places to stay in Bali for Honeymoon
Perfect for: Honeymoon destination
Highlights: The untouched beauty
Downsides: Too remote for some people
Sidemen was unknown to me until my fourth visit to Bali. The small, hillside village is relatively undiscovered, making it authentic with a local and genuine feel.
With its lush green forests, wild rivers, and gorgeous mountains, Sidemen offers a breath of fresh air and a quiet escape from the chaotic streets of Seminyak, Canggu, and Ubud.
Sidemen is also one of the most picturesque areas in Bali, most likely because of the lack of development. The streets are quiet, and it's a soulful place to visit.
I spent a 3 days in Sidemen and here's everything you need to know.
If you're looking for an off-the-beaten-track experience with your significant other, I recommend visiting Sidemen. I stayed at a gorgeous cabin perched on a hill overlooking rice fields. Absolute bliss!
But Sidemen is also where to stay in Bali if you're looking for luxury villas. Within a 20-minute drive from the village, you'll find the most gorgeous tree houses, bamboo villas, and lavish accommodation options.
Things to do in Sidemen
Join a cooking class
Explore Tukad Cepung Waterfall
Take in the views from Bukit Cinta
Go white water rafting
Verdict
If you're searching for a place to stay in Bali that offers a peaceful oasis, views, and a romantic escape, you'll find it in Sidemen. But if you're traveling with friends or family, you may want to choose somewhere that has a bit more going on.
Where to stay in Sidemen
Luxury: Wapa Di Ume is luxury at its best! This hotel is for you if you enjoy the finer things in life – like a private plunge pool, a hot tub, large stylish rooms, and next-level service. The breathtaking views, friendly service, and delicious food make Wapa Di Ume the best place to stay in Bali if your budget allows for it.
Mid-range: Sawah Indah Villa is surrounded by rolling hills, but the biggest attraction here is undoubtedly the gorgeous infinity pool that overlooks the rice fields. The rooms are tastefully decorated, and overall, it is the perfect place to stay if you're looking for a luxurious hotel at an affordable price.
Budget: Dika Homestay is the best option for budget travelers visiting Sidemen. It's ideally located just off the main road, and you'll receive a warm welcome from the kind family who owns the place. The rooms are basic yet clean and comfortable and offer the perfect place to rest your head after exploring.
Gili Trawangan: Where to stay in Bali for backpackers
Perfect for: Backpackers and solo travelers
Highlights: Sunset bars on the beach
Downsides: It can take up to 4 hours to get here
The Gili Islands are a trio of islands located off the coast of Lombok. It's a 3-hour ferry to get there from Bali, but the ultimate island paradise is waiting for you on the other side.
There are no motorized vehicles allowed on the Gilis. But they're really small islands, and you only need 2 hours to walk around each one.
Of the 3 Gili Islands, I recommend staying at Gili Trawangan. Why? Because it has the best mix of bars & restaurants, magical marine life, and pristine beaches.
While Gili Trawangan attracts a backpacker crowd, you don't have to go very far to find a secluded part of the island that's off the beaten track.
The ferry departs from Padang Bai, which is a small port town on the east of Bali, and you will need to purchase tickets ahead of time from here.
Things to do in Gili Trawangan
Go scuba diving or snorkeling with turtles
Enjoy the sunset on the west of the island
Day trip to Gili Meno or Gili Air
Verdict
The Gili Islands ooze tropical vibes and is a great place to stay in Bali if you want to laze on the beach, snorkel with turtles and take in the magical sunset. This is totally my vibe! But I wouldn't recommend it if you don't have at least 3 full days to spend here.
Where to stay in Gili Trawangan
Luxury: Kuno Villas offer a variety of luxury accommodation in Gili Trawangan. My favorite is Tenda Villa which boasts a stunning private pool and outdoor bath. Its traditional design and wooden interiors make it perfect for a romantic escape.
Mid-range: Trawangan Dive Resort is incredible for its prime location, swim-up bar, and simplistic room designs. I stayed here and loved the chilled atmosphere. It's on the east of the island, and so it's close enough to all the attractions, yet not in the thick of it.
Budget: If you're looking for an affordable place to stay (that's not a hostel), check out Absolute Villa. Their private rooms have air conditioning and a terrace, and there's even an outdoor pool on the property. The location is also great!
Nusa Penida: Where to stay in Bali on honeymoon
Best for: Couples and those that want to explore the entire island
Highlights: You'll get to all the iconic spots before the day tourists
Downsides: The distances are far, and the island becomes clogged with day tourists
Nusa Penida has made a name for itself thanks to the iconic locations on the island. Considered a famous Indonesia landmark, it's an Instagrammers playground and attracts hordes of day trippers from Bali.
It's the biggest Nusa Islands, and you'll need more than a day to see it all. If you want to explore all corners of Nusa Penida, stay here for a night or two.
The island boasts spectacular accommodation with bamboo treehouses and panoramic views. These are better suited for couples, and you won't find many backpackers or families staying here.
The main roads on Nusa Penida Island are all in good condition. However, if you're staying in accommodation or exploring attractions off these main roads, you may need to drive along bumpy gravel sections.
Despite the significant number of day tourists, Nusa Penida is still worth a visit. But if you're choosing where to stay, I recommend Nusa Lembongan instead (which I'll get to next).
Things to do in Nusa Penida
Kelingking Beach, Broken Beach, and Angel's Billabong are the most popular attractions
Snorkeling at Crystal Bay and Tembeling Springs
Verdict
Of all the best areas to stay in Bali, I wouldn't rank Nusa Penida at the top. Yes, it's a stunning island. But better to visit on a day trip and not use it as a base. But don't go too far; its neighbor, Nusa Lembongan, is a winner.
Where to stay in Nusa Penida
Luxury: If you're in search of a romantic getaway, look no further than Penida Bambu Green Suites. These bamboo suites are perfect for a honeymoon! The views are spectacular, and it's a boho paradise in the middle of the jungle.
Mid-range: Take a look at the Akusara Jungle Resort and Spa infinity pool, and you'll want to stay here. The magnificent huts are tastefully decorated with stunning furnishings and large, comfy beds.
Budget: Nusa Penida Pudak Nature Bungalows offers picturesque cottages amongst the trees at a budget price. Breakfast is also included in the price, and it's a great place to stay for travelers who enjoy a more secluded getaway.
Nusa Lembongan: The most underrated place to stay in Bali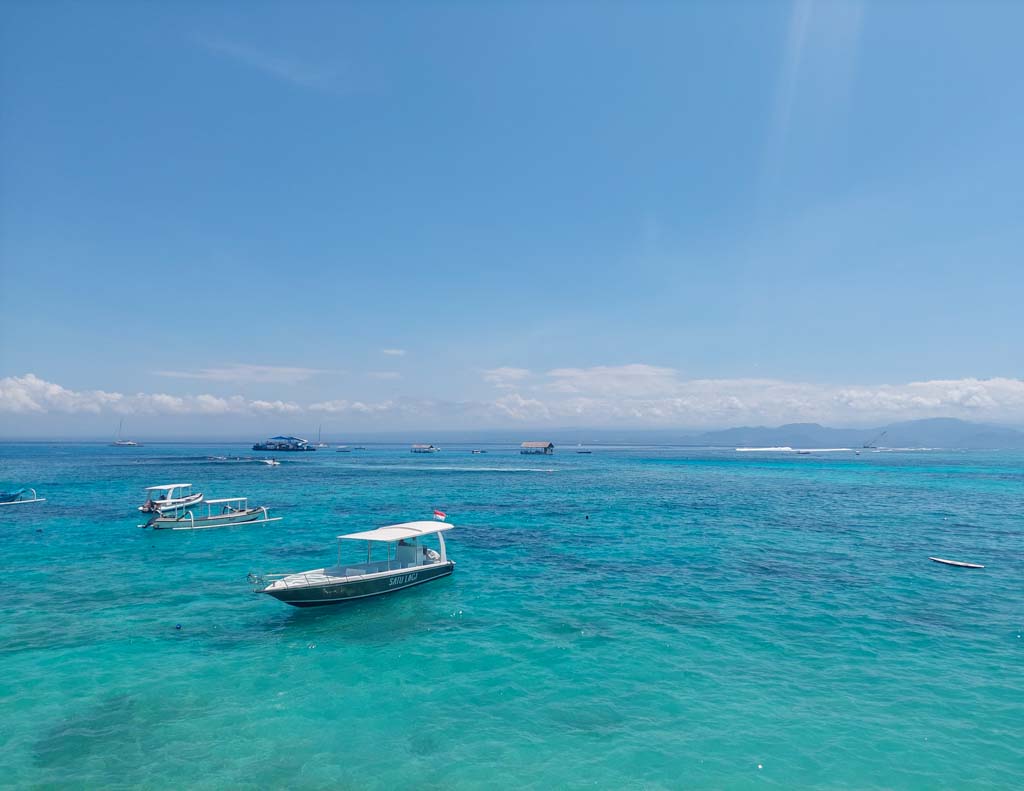 Perfect for: Couples, friends, and families looking for island vibes
Highlights: The chilled atmosphere and epic diving
Downsides: You won't want to leave
Enter my new favorite area to stay in Bali: Nusa Lembongan.
It's just a stone's throw away from Nusa Penida. It attracts a mix of all types of travelers, from backpackers in Bali, families, divers, couples, and solo travelers.
Nusa Lembongan offers the same island vibes I loved so much about the Gili Islands but with more activities and attractions. It's also closer to Bali, so you'll spend less time on the ferry.
There aren't many shops or sophisticated restaurants on the island. The main streets are lined with local bars and warungs, and while it has a lively atmosphere, it's not a clubbing vibe.
The attractions on Nusa Lembongan are hard to beat. You can go diving with manta rays, kayaking amongst mangroves, or simply take in the sunset at one of the many rustic beach bars.
Things to do in Nusa Lembongan
Go diving or snorkeling with Manta Rays
Visit Agung Beach Club and Cloud Land Bar Lembongan for sunset
Go surfing
Day trip to Nusa Penida
Beach day, every day
Verdict
Nusa Lembongan is an island paradise with an array of local warungs and things to do. It doesn't get as busy with day trippers as Nusa Penida and has more adventure things to do than the Gili's.
Where to stay in Nusa Lembongan
Luxury: Ombak Bay Lembongan boasts an incredible outdoor space with a bar and swimming pool perched on a cliff overlooking the crashing waves. The cottages are tastefully decorated and come with air-conditioning and a private deck.
Mid-range: At Bukit Taman Cottages, you get your own private cottage with an outdoor shower, perfect for couples or those looking for a quieter getaway. The infinity pool offers unspoiled views of the lush Lembongan Island and Bali in the distance.
Budget: Just 500m from Mushroom Bay Beach, Gatri Hut provides affordable accommodation with an outdoor swimming pool. For $30, you'll get a large comfortable room with breakfast. One of the many things that makes this place special is the friendly staff.
Nusa Dua: Best place to stay in Bali for Families
Perfect for: Families and honeymooners
Highlights: All-inclusive luxury resorts
Downsides: Doesn't feel like authentic Bali
Nusa Dua is the exclusive resort area of Bali, with 4 and 5* hotels lining the seashore. I'm talking swim-up bars, day beds, lavish spas, and romantic dinners under the stars.
The white sandy beaches in Nusa Dua are some of the best in Bali (After Uluwatu, of course). But they're more accessible than those in Uluwatu as you don't need to walk down cliffs to reach them.
Nusa Dua's soft golden sand and calm waters attract families and is ideal for those looking for a relaxing holiday by the sea. Many resorts also offer kids' clubs, and various water sports are available, including boat trips, kayaking, and snorkeling.
Things to do at Nusa Dua
Water activities for everyone
Go surfing (but you'll need to take a local boat to get there)
Indulge in a brunch at St Regis
Relax on the beach
Verdict
I really enjoyed visiting Nusa Dua on a day trip. The beaches are gorgeous! If you're wondering where to stay in Bali with kids, it's here. If you're backpacking or looking for a more local experience, rather give Nusa Dua a skip.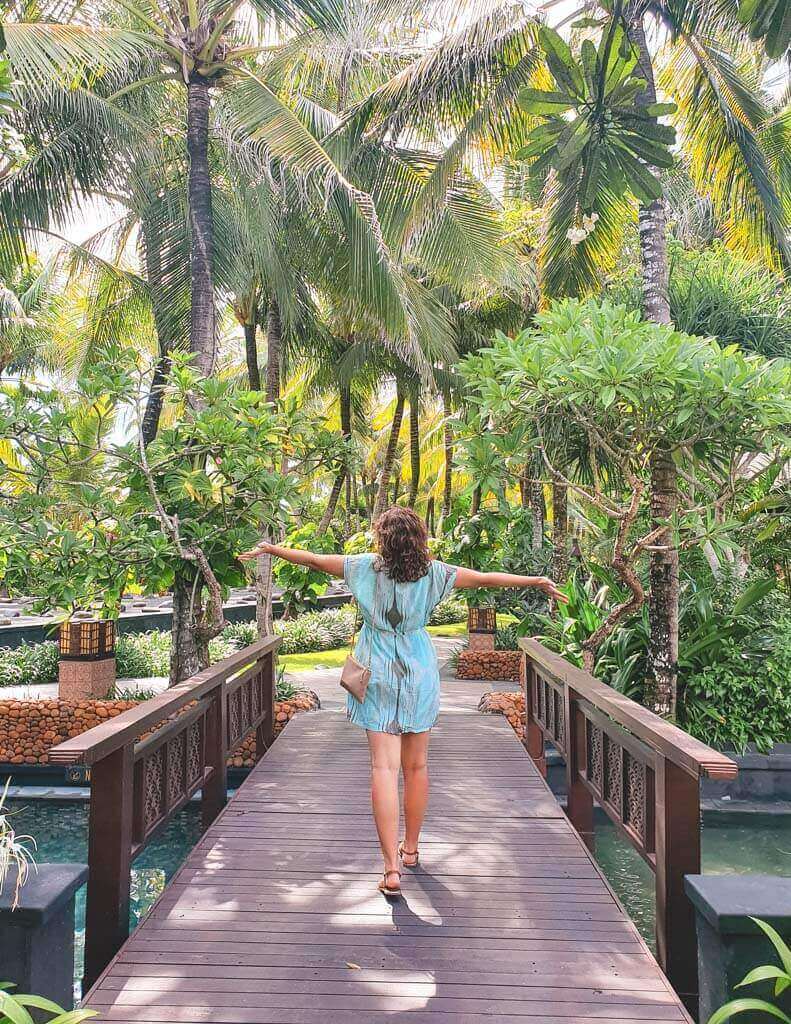 Where to stay at Nusa Dua
Luxury: The Laguna is a magnificent place to stay in Bali. The 5* property features 7 large lagoon swimming pools and perfectly landscaped tropical gardens. There's direct access to the beach, where you can relax on one of the many cabanas available to guests. And I haven't even mentioned the rooms – they're stunning!
Mid-range: La Berceuse Resort and Villa is a short drive from the beach, but it offers luxury at a mid-range price point. The white-washed bungalows offer a retreat to come home to, and you can enjoy a beer or some bubbles on your private terrace.
Budget: Kubu Dimel Homestay is a great accommodation option if you're traveling to Bali on a budget. The air-conditioned rooms are spacious and comfortable, and each has its own private bathroom. The property also boasts a swimming pool and restaurant.
Sanur
Perfect for: Families or older couples
Highlights: Lots of budget accommodation options
Downsides: Not the most beautiful place to stay in Bali
Sanur is a port town and the gateway to the Nusa Islands. Because of this, most people have heard of Sanur, but only some choose to stay here.
It's also close to the airport, so it's an ideal place to stay in Bali if you're flying out early the next day (or arriving late).
I really like the vibe of Sanur. It's laid back and not pretentious. It's not crowded nor noisy, and there's less traffic than in other areas of Bali.
Sanur boasts many local spas, amazing warungs, and craft markets. There are also a handful of beach resorts, but they have an old Balinese feel.
It's a great place to stay for families if Nusa Dua isn't your vibe. The beach is stunning, and the waters offer ideal conditions for children.
Things to do in Sanur
Relax on the beach
Explore the Sanur night markets
Day trip to Nusa islands
Do a cooking class
Verdict
If you're looking for a relaxing vacation on the beach and you don't want the glitz and glam of Nusa Dua or the crowds of Seminyak, I highly recommend staying in Sanur.
Where to stay in Sanur
Luxury: If you're searching for luxury, look no further than Andaz Bali in Sanur. This beachfront resort is impeccable. From the glamorous rooms to beautiful gardens and seaside pool, it's a great place to stay in Bali.
Mid-range: The Alantara in Sanur features a picturesque pool and swim-up bar in a jungle setting. It might not be on the beachfront, but you won't even think about that when lounging by the hotel's grand relaxation zones.
Budget: For the price, Kamboj Homestay is hard to beat. It has an authentic local feel and is only a short walk from Sanur Beach. The large rooms boast their own terrace that looks onto a large swimming pool.
Amed: The quietest area in Bali
Perfect for: Divers looking for a quiet vacation
Highlights: The wreck dive
Downside: Some travelers may not enjoy the lack of nightlife
Amed is a small fishing village located northeast of Bali. It's a black sand beach famous for its snorkeling and diving.
It's considered off the beaten track and doesn't attract as many tourists as the other places in Bali. It's a far cry from the dazzling beach clubs of Seminyak and is perfect for a relaxing beach getaway.
Amed is also known for its diving as there is an impressive Japanese Wreck that attracts many underwater enthusiasts.
Things to do in Amed
Go scuba diving
Relax on the black sand beach
Watch the sunset at Sunset point
Visit Pura Lempuyang Temple
Rent a scooter and explore this less-visited part of Bali
Verdict
Amed is one of the most authentic locations in Bali and remains off the radar of your typical tourist. Don't stay here if you're looking for nightclubs, boutique shops, and upmarket restaurants. But if a fishing village vibe away from the crowds is what you're after, you'll love it.
Where to stay in Amed
Luxury: Villa Bukit Segara is a seaside retreat offering incredible ocean views. A stunning infinity pool is perched on the cliff and is one of the best sunset spots in Amed!
Mid-range: Salt Resort and Spa is on the beach in Amed, with a picture-perfect location. The gorgeous white-washed rooms are tastefully decorated, offering a retreat for guests to come home to.
Budget: D'uma Amed Homestay is just a stone's throw from the beach yet offers the most spectacular views of rice fields. It's an affordable place to stay, complete with air conditioning and a private terrace.
Where to stay in Bali for one week
If you only have a week in Bali, I recommend spending 2 nights in Seminyak, 2 nights in Ubud, and 2 nights in Uluwatu.
Where to stay in Bali for two weeks
With two weeks in Bali, you can spend 2 nights in Seminyak, 3 nights in Ubud and 2 nights in Uluwatu, and 3 nights in Nusa Lembongan.
Which part of Bali is the most beautiful
Uluwatu is the most beautiful part of Bali to visit. Though north Bali also has picturesque landscapes and lush jungle vibes.
Where is the safest place to stay in Bali
Bali is extremely safe. There is petty crime, so be aware of your surroundings. Regarding water safety, Nusa Dua and Sanur offer calm waters that are safe for kids or people who are not comfortable in the water.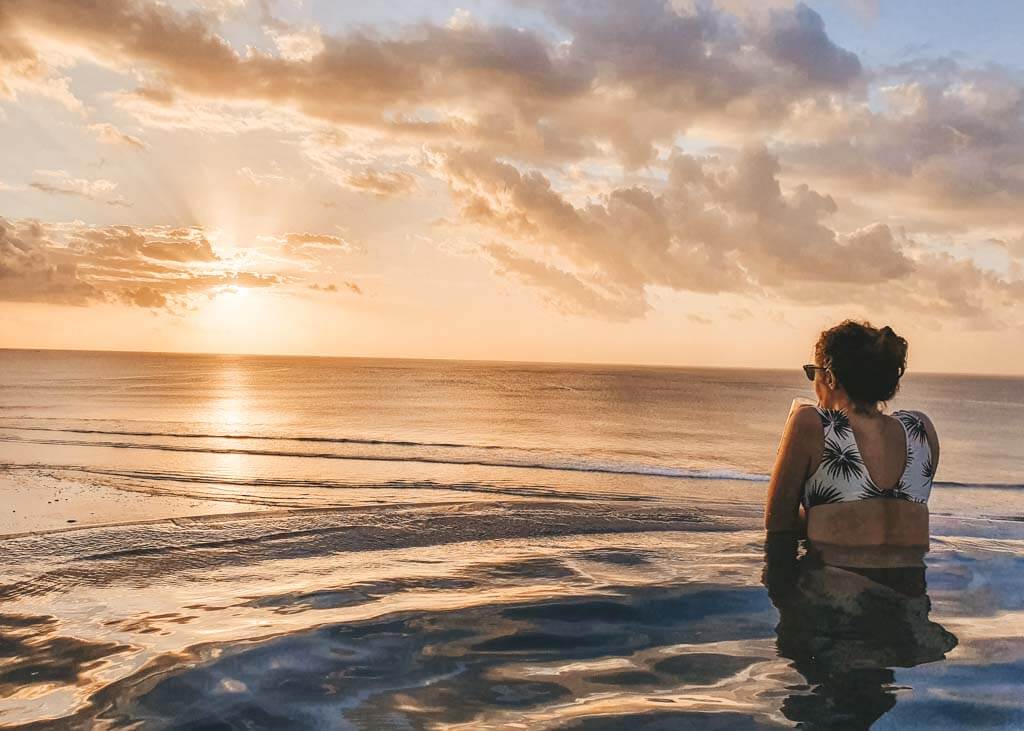 Final thoughts on the best places to stay in Bali
Deciding the best places to stay in Bali can be overwhelming, as there are so many incredible places to choose from, each as good as the next.
This is the ultimate Bali accommodation guide that I wish I had 10 years ago and I hope it helps with your travel planning!
---
Are you planning your Bali trip? Have any questions on the best areas to stay in Bali? Drop me a message in the comment section below!
Looking for more Bali travel inspiration? Check out my other posts!