The Blue Mountains National Park is one of the most spectacular places to visit in Australia.
Not only is it home to incredible hiking trails and lookout points, but it's also an adventure lover's playground with rock climbing, abseiling, and canyoning activities available.
And while you won't run short of things to do, planning a Blue Mountains itinerary is rather challenging as the options can be overwhelming.
I spent hours planning my trip, and this guide details the highlights and top activities that need to be included in your Blue Mountains weekend getaway from Sydney!
It's the perfect travel guide for adventure travelers and those outdoorsy souls looking to enjoy a bit of nature and unspoiled scenery.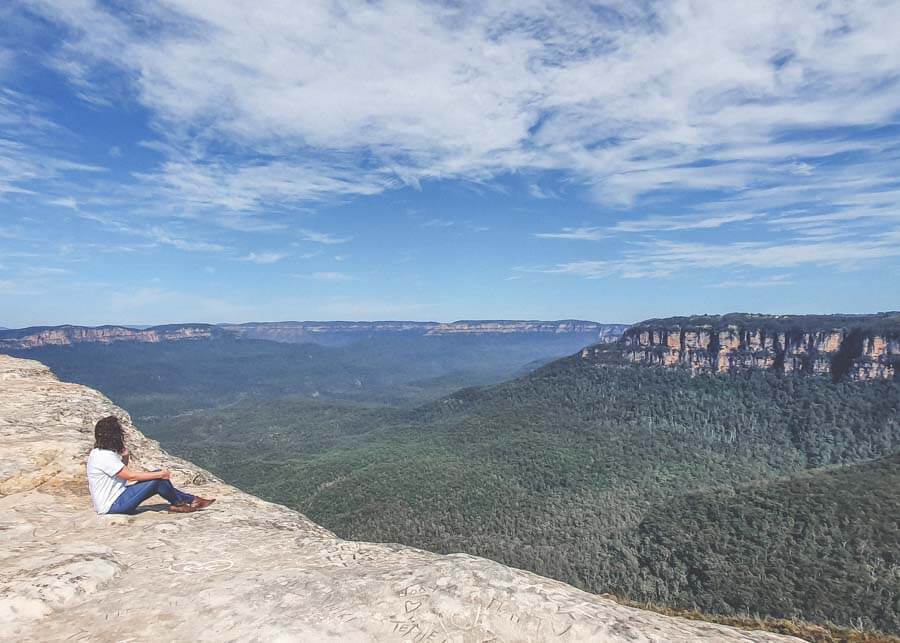 Torn Tackies contains affiliate links. If you make a purchase using one of these links, I may receive compensation at no extra cost to you. See my disclosure for more information.
How many days in Blue Mountains
You won't run short of things to do in Blue Mountains! It's a spectacular place to explore, and avid bushwalkers could spend a week or more here.
Personally, I recommend a 2 day Blue Mountains itinerary. This is enough time to see the main attractions and do a bush walk or two.
If you're traveling from Sydney, you can easily plan a weekend getaway, as it's only a short drive from the city.
Top tip: If you're planning a Blue Mountains day trip, stick to day 1 of this itinerary, which includes the main attractions and things to do.
How to get to the Blue Mountains from Sydney
The easiest way to get to the Blue Mountains is by train. I rented a car for the weekend, and if possible, this is the best option for exploring the region.
Public Transport: Sydney Central Station to Katoomba (2 hours)
For most travelers and backpackers, the train is the best way to get to the Blue Mountains from Sydney. It's super affordable and costs only $8 for the one-way trip.
The train leaves from Central Station in Sydney and is a short 2-hour train ride to Katoomba in the Blue Mountains.
The only downside of taking the train is that you'll have limited transport during the rest of your Blue Mountains itinerary.
Self-drive or car rental (1.5 hours)
There's no doubt that visiting the Blue Mountains with a car is the most convenient option. If you're traveling on a busy weekend or you're looking to go hiking off the beaten track, you're going to want the flexibility of having your own vehicle.
Uber Car Share is the go-to car rental app for those looking to rent a car for their weekend getaway in the Blue Mountains. It's the Airbnb of car rentals, and you can choose a pick-up point in your preferred location. All vehicles are priced differently, so it's great for all budgets.
The entire process is done through the app, and you don't even need an Australian driver's license.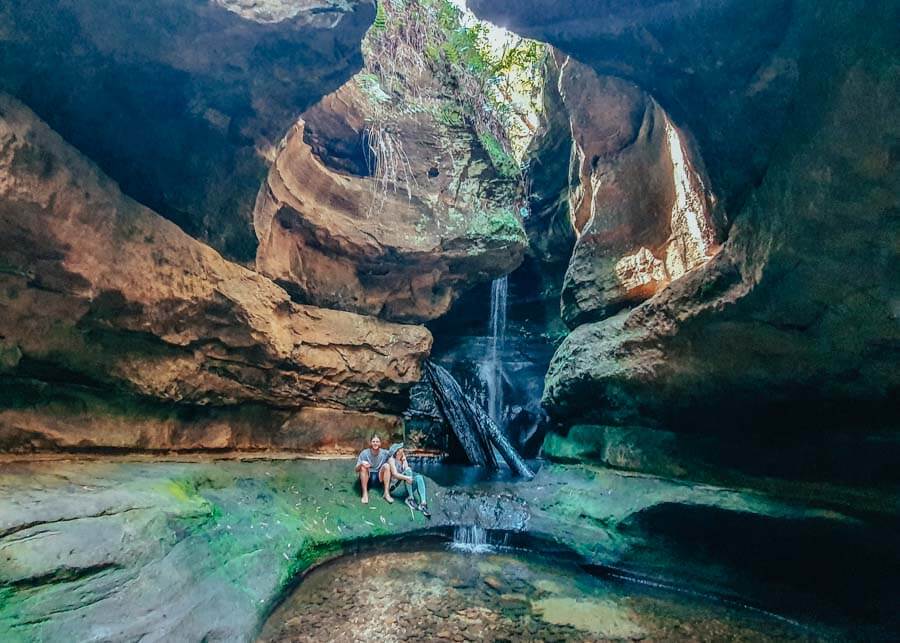 Blue Mountains itinerary: Day 1
If you're planning a Blue Mountains weekend getaway, try to leave Sydney on Friday night or as early as possible on Saturday morning so that you have 2 full days to explore.
Go for a hike: The best thing to do in the Blue Mountains
There are so many hikes around the Blue Mountains National Park – from short leisurely strolls to lengthy bushwalks and even multi-day trails.
To start, head to Katoomba and do the Federal Pass hiking trail. I did a combination of the Federal Pass hiking trail and Prince Henry Cliff Walk. Here's a map of the trail.
Federal Pass Hiking Trail
Difficulty: Moderate
Time needed: 4 hours
Trailhead: Katoomba (here)
This hike passes all the iconic viewpoints, including Queen Victoria Lookout, Echo Point, and The Three Sisters.
If you're looking for something more relaxed, then the Prince Henry Cliff Walk is the one for you. It also passes all these sites.
You could drive to these lookout points, but the walk through the forest is spectacular, and you're surrounded by lush trees, tropical birds, and flowing waterfalls.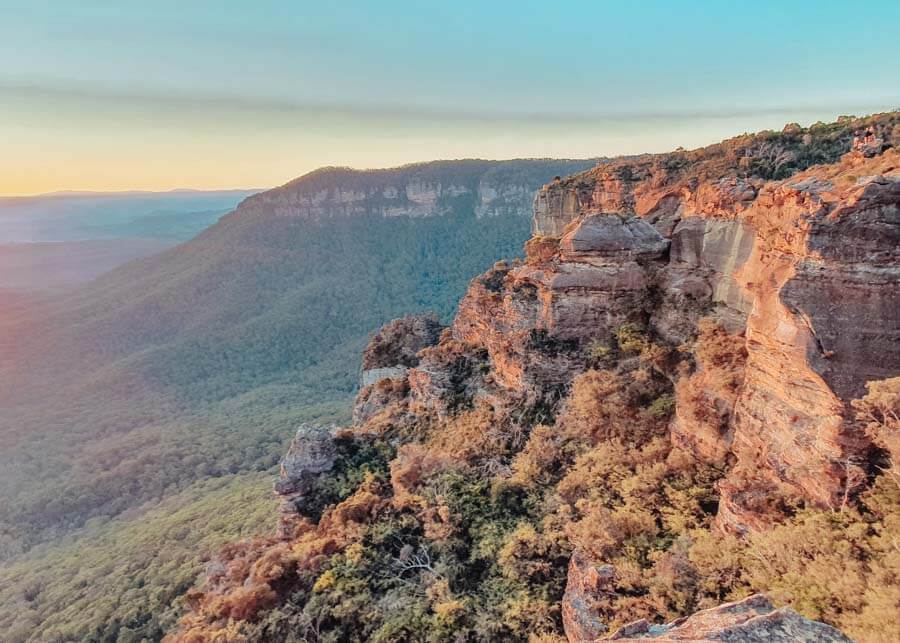 What to expect on the Federal Pass Hiking Trail
The Federal Pass Hiking Trail starts at the corner of Cliff Drive and Merriwa Street in Katoomba (Location here). It ends at Furber Steps near Katoomba Falls – or the section I did, at least!
It takes about 4 hours, depending on your walking pace, and it's a rather challenging hike (but manageable for those with reasonable fitness.)
There are a lot of stairs that go deep into the valley, and of course, what comes down must go up!
Most of the trail is through the dense forest, where you'll pass several towering waterfalls. There is a good variety in the terrain, with many places along the route where you can stop for a break.
The landscape is very different from the hike you'll do on day 2 of this Blue Mountains itinerary, which is mostly through canyons and open spaces.
Katoomba Falls, Echo Point, and The Three Sisters
Toward the end of the Federal Pass track, you'll reach the Furber Steps.
From here, it's an uphill climb, but one that offers rolling views of the dense forest canopy.
Queen Victoria Lookout: On your way up, you'll pass the Queen Victoria Lookout Point, which is one of the best places to see the Three Sisters, as well as Katoomba Falls.
Cliff View and Lady Darley's Lookout: After connecting with the Prince Henry Cliff Walk, you'll reach more gorgeous lookout points, the main ones being Cliff View Lookout and Lady Darley's Lookout.
The blue hues and the seemingly endless trees in the distance make for quite the sight!
Three Sisters and Echo Point Lookout
Most of the viewpoints up until now offer striking panoramic views of the lush valley in the distance.
But Echo Point is arguably the most popular spot, especially for Instagrammers looking for that picture with the Three Sisters as the backdrop.
The Three Sisters are iconic of the Blue Mountains! They're a trio of rock formations rising from the Jamison Valley and were named after a legend.
The story goes something like this – Three sisters supposedly fell in love with three young men from another tribe. This was extremely forbidden, and so to protect the sisters from these men, a sorcerer turned them into stone.
Unfortunately, the sorcerer died before undoing his spell, leaving the sisters trapped in stone for the rest of eternity!
The rocky outcrops, dubbed The Three Sisters, are now one of the biggest attractions in the Blue Mountains!
Thousands of people head to Echo Point, which offers some of the best views of the Three Sisters. But it's busy and flows from a big car park with tourist buses.
Personally, this wasn't my favorite place when compared to all the others I'd seen whilst getting here, so be sure to walk around a bit and find those less crowded viewpoints.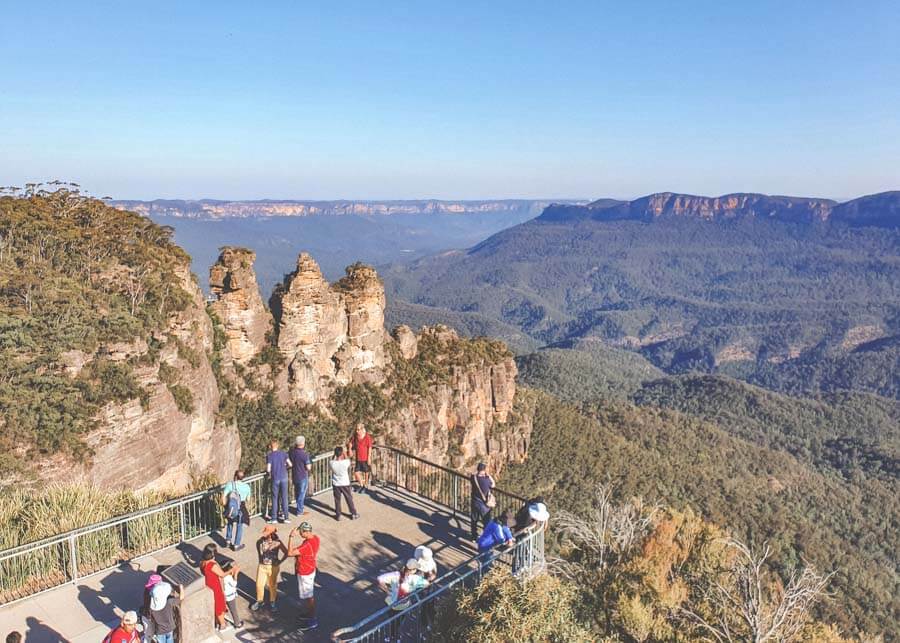 Lunch or a drink at The Lookout Echo Point
If you haven't had anything to snack on yet, you can treat yourself to a meal at The Lookout Echo Point, which is conveniently located just a stone's throw away from Echo Point and the bus stop.
There are several take-away restaurants here – I arrived and went straight to the bar. There's nothing quite like the taste of an ice-cold beer after a long and tiring hike.
After rewarding yourself with a good meal, you'll need to get back to your car, which is at Cliff Drive.
You can either walk the 2 km stretch along the Prince Henry Cliff Walk, or you can hop on the public bus, which will drop you off 500 m from where you parked your car.
Watch the Sunset: The highlight of my Blue Mountains itinerary
If there's one thing that every weekend getaway in Blue Mountains needs to include, it's a sunset session from one of the spectacular lookout spots.
One of the most popular is Cahills Lookout near Katoomba (here).
If you're eager to go off the beaten track and prefer a secluded sunset location without other tourists, you'll be happy to know that right next to Cahill's Lookout lies one of the most incredible viewpoints I've ever seen – Boars Head (here)!
To get there, drive in the direction of Cahills Lookout and stop at one of the side parking areas. You'll find small rocky paths that lead through bushy shrubs. Continue down the short trail and take your pick of one of the most spectacular viewing points in all of the Blue Mountains.
Pack a few snacks and enjoy one of the most gorgeous sunsets you'll ever see!
Dinner at Aunt Eds
Katoomba has an array of restaurants from Indian food to Korean, Vietnamese, and good ol' pub food!
Aunty Ed's was top of my list, and the falafel bowl was one of the best (and biggest) meals I've had. All the food is scrumptious – from the fish and chips to the chicken Pomodoro.
Have an early night because you've got another big day in store for you tomorrow!
Blue Mountains itinerary: Day 2
Today, we'll explore Blackheath, which is just a short drive from Katoomba.
It's home to the Charles Darwin Hike, one of the most popular hiking trails. If you're spending a weekend in Blue Mountains, you may find this spot pretty crowded.
Visit Evans Lookout
Evans Lookout (here) is a famous lookout spot that marks the end of the Charles Darwin hike.
I chose NOT to do the Charles Darwin hike.
Why?
Well, depending on when you plan your Blue Mountains trip, the Charles Darwin hike gets extremely busy. I couldn't believe how many cars and people I saw when I arrived at the trailhead.
Another reason not to do the Charles Darwin hike is because this Blue Mountains itinerary includes the Federal Pass hike (which you did on day 1). That trail and the Charles Darwin hike are both forest walks and offer a similar hiking experience.
I was looking for a change of scenery.
The good news is that the main attraction of the Charles Darwin Hike is Evans Lookout. And you don't need to walk the entire route to get there as it's just a short walk from the car park.
Hike Porters Pass: Best walk on your Blue Mountains itinerary
Difficulty: Moderate
Time needed: 3 hours
Trailhead: Blackheath (here)
Just a short drive from Evans Lookout in Blackheath lies Porters Pass.
If you're looking to escape the crowds and find secluded hiking tracks and lookout spots, the Porters Pass hike is the one for you.
It's for the more adventurous traveler – those who enjoy going off the beaten track!
You start the hike at the corner of Bundarra Street and Eveleigh Avenue in Blackheath (here). It's a loop trail that takes around 3 hours to complete.
Porters Pass is a great addition to your Blue Mountains itinerary as it's vastly different from the hike on day one. It's far more rugged and raw and is a good mix of exposed trail and bush walk with sheer drops along the way.
You can follow my step-by-step Porters Pass hiking route, which will take you to epic lookout points, with the highlight being the jaw-dropping canyon at the end of the trail.
Lunch at Station Bar and Woodfired Pizza
By lunchtime, you'll have worked up quite the appetite, trust me!
Your Blue Mountains weekend getaway is nearly over, and you'll have to head back to Sydney soon.
But first, indulge in a yummy pizza at Station Bar and Woodfired Pizza in Katoomba.
The Yellow Deli is also a crowd favorite if you're looking for a cozy café and some delicious baked treats.
READ MORE: PERFECT 5 DAY FRASER ISLAND ITINERARY
Take a snap at Lincoln's Rock
There's no better way to end your Blue Mountains weekend than with one final lookout spot, Lincoln's Rock (here).
This is a stop in Leura on your way back to Sydney.
Lincoln's Rock has to be one of the most gorgeous viewpoints in all of the Blue Mountains! Unlike many others, there are no fences and no barriers, and the massive rock is completely exposed.
It's a hotspot for Instagrammers, but be careful not to venture too close to the edge as it can be extremely dangerous.
Other things to include in your Blue Mountains 2 day itinerary
This Blue Mountains itinerary is perfect for adventure travelers on a budget looking for a good mix of hiking and lookout points.
But there are other attractions and things to do that you might prefer depending on your time and budget.
Scenic World is one of the leading attractions in the Blue Mountains. With a scenic skyway and incredible vantage points, it's no wonder this is the most touristy place to visit. A bit too commercial for my liking but if this is something you're interested in, here's a great tour from Sydney.
The Jenolan Caves are one of the largest and most spectacular cave formations in Australia, easily accessible from Katoomba. There are various tours to choose from, all of which offer incredible sights of the limestone caves, including underground rivers. Check tours and availability here.
Go canyoning, where you'll spend the day abseiling down small cliffs and challenging drops. You'll need to book a tour for this one, which also includes abseiling out of a canyon into a rock pool and swimming in creeks and beneath waterfalls. Find the best canyoning tours here.
Take a 2 Day rock-climbing course. The Blue Mountains is one of the best places to go rock climbing near Sydney. With draw-dropping views, it's no wonder why it's such a popular activity here. This 2-day course is the perfect introduction to rock climbing which will also take you through standard technical and rope climbing training. Check out the rock-climbing itinerary here.
Where to stay for your Blue Mountains itinerary
Nestled among the national park are three towns that travelers use as their base for exploring the Blue Mountains.
These include Katoomba, which is arguably the most popular, as well as Blackheath and Leura.
Leura: A quieter base
When traveling from Sydney to the Blue Mountains, your first stop is Leura. It's a charming town, home to the spectacular Lincoln's Rock lookout point and Wentworth Falls.
If you're looking for a quieter Blue Mountains weekend escape, Leura is a great place to stay.
Where to stay in Leura: The Old Leura Dairy is, without a doubt, one of the best places to stay in the area. With the rustic decor and country vibes, this place is super cozy and filled with character!
Check availability at The Old Leura Dairy.
Katoomba: Most popular place to stay in Blue Mountains
Katoomba is a tourist hub, with most visitors choosing to stay here during their Blue Mountains weekend getaway.
If this is your first time visiting the national park, I recommend that you pick Katoomba as your base.
Conveniently located between Leura and Blackheath, you'll be spoiled for choice when it comes to food and accommodation options in Katoomba.
It's the largest of the three towns and is the gateway to the top Blue Mountains attractions, including the Three Sisters, Echo Point, and Scenic World.
Where to stay in Katoomba: If you're traveling on a budget, Flying Fox is the perfect place. This is where I stayed, and it was great. With large private rooms and inviting communal areas, it's incredible value for money.
Check availability at Flying Fox.
Blackheath: Furtherst from Sydney
Blackheath is a quaint mountain town and the furthest of the three from Sydney.
With its relaxed vibe and impressive scenery, it's one of the best places to stay for a romantic Blue Mountains getaway.
Blackheath boasts the famous Grand Canyon hike but is also home to a few hidden gems, including the Porters Pass hiking trail.
Where to stay in Blackheath: If you're staying in Blackheath, you can't go wrong with Kyah Boutique Hotel. This newly renovated hotel is styled to perfection and offers cozy living spaces for the chilly winter months and a large outdoor area to enjoy the warm summer weather.
Check availability at Kyah Boutique Hotel.
Tourist buses
If you're taking the train from Sydney to Blue Mountains, you'll struggle to get around without a car.
Because of this, you'll have to stick to those lookout points and hiking trails that are easily accessible via public bus. You may even need to wait for buses or take detours to get to where you need to go. You can find the bus schedule here.
Alternatively, you can purchase a hop-on, hop-off bus ticket. This bus has numerous pick-up and drop-off points at all the top attractions in the Blue Mountains. Purchase yours here, and you'll be ready to start your tour when you arrive!
When is the best time to visit Blue Mountains
If you're planning 2 days in Blue Mountains and wondering when to visit, here's what you need to know.
December to February: It's summer and a great time to visit the Blue Mountains. The trails can get busy, so try to plan your trip for a weekday.
March to May: Fall is my favorite time to visit Blue Mountains. There's a cool breeze in the air, which makes for ideal hiking conditions.
June to August: During winter, the Blue Mountains get very cold (so pack warmly). But the days are absolutely stunning, and the trails are uncrowded.
September to November: You can't go wrong with planning a Blue Mountains itinerary during spring. It does get chilly in the evenings, so bring a light jacket.
Tips for your 2 day Blue Mountains weekend getaway
Take a day pack when hiking, and don't forget to pack water, sunscreen, sunglasses, and snacks
Make sure your phone is fully charged. People have got lost for several days in the Blue Mountains.
Visiting the Blue Mountains is free, and there's no park entry, so it's a cheap option for budget travelers.
The Blue Mountains can be a lot colder than Sydney, so pack in some warm clothes.
Are The Blue Mountains Really Blue
No, the Blue Mountains are not actually blue! When looking from above, the Blue Mountains have a hazy blue tinge to them, hence the name. The cause of this blue haze is the thousands of Eucalyptus Trees in the area.
Their leaves release a fine mist in the heat, and this, combined with dust particles and water vapor, makes the haze look blue at a distance.
Is a day trip to the Blue Mountains worth it?
Yes! Because the Blue Mountains are only a 2-hour drive from Sydney, you can do and see a lot on a day trip. But if you have the time, 2 days is preferable.
---
Have you been to the Blue Mountains near Sydney? What was your highlight? Let me know in the comments section below!
Looking for more adventure activities in Australia? Check out these other posts.
Pin This!