Looking for the best thing to do in Seoul? Hike Bukhansan Mountain (북한산) and you'll discover a new side to the city, one that offers magnificent scenery, challenging trails, and an outdoor experience that's not to be missed.
It's hard to believe that a mountain as stunning as Bukhansan lies in the center of this sprawling metropolis.
The view from the top is breathtaking and no trip to the K-pop capital is complete without doing the Bukhansan hike.
I assumed that the Bukhansan hiking trails would be a walk in the park! I did little to no research and arrived bright-eyed and bushy-tailed, ready to take on the famous hike to the peak of Seoul's highest mountain.
But be warned, it was extremely tough and I didn't quite realize what I was getting myself into!
I've written this detailed guide, with lessons I learned that will ensure you're properly prepared for your Bukhansan hike.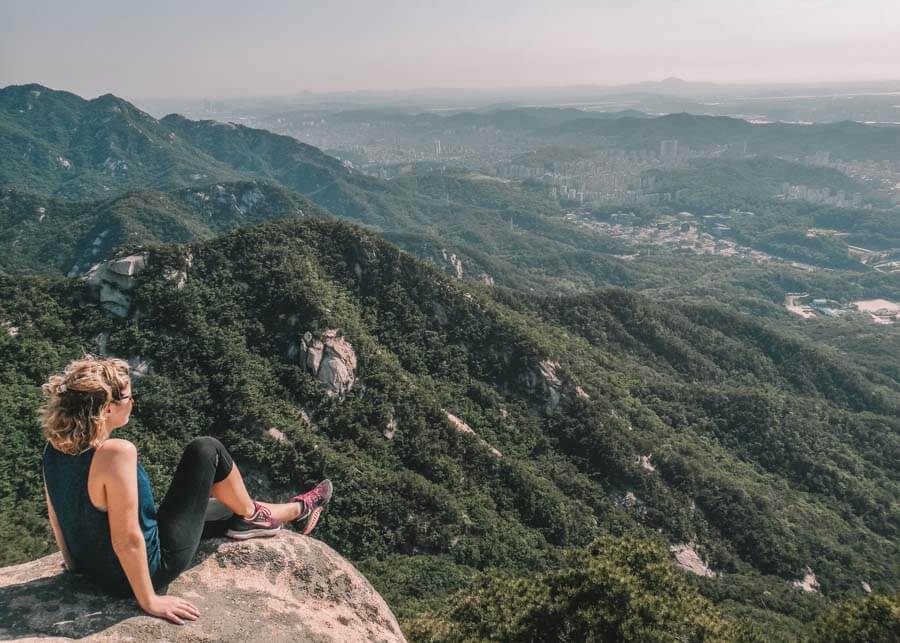 Bukhansan National Park Hike summary
Most popular trail: Baegundae Peak
Difficulty: Moderate
Distance: 8km (return)
Time needed: 4-6 hours for the Bukhansanseong Course to Baegundae Peak
Hiking Bukhansan can be done independently, but if you'd prefer to go with a guide, this tour is a great option.
Bukhansan National Park
Bukhansan Mountain is surrounded by urban areas and sprawls over Seoul's northern perimeter.
The name "Bukhansan" means north of the Han river. This iconic river is a major landmark and cuts through the center of Seoul.
Bukhansan National Park is an outdoor playground and attracts over 5 million visitors each year, which isn't surprising if you knew just how much Koreans love hiking! It's a must-visit on any Seoul itinerary.
Large granite rocks with sharp peaks make up Bukhansan Mountain, and these peaks are visible from just about anywhere in Seoul – air pollution dependent.
Which bukhansan hike is best
The highest point is Baegundae Peak sitting at 836m, followed by Insubong (810m) and Mangyeongdae (787m).
I've covered two Bukhansan hiking trails in this guide.
The first is Bukhansanseong Course which is the most popular trail that leads to Baegundae Peak. The second is the more challenging Uisangneungseon course.
Even if you're not an avid hiker, it's still worth adding Bukhansan to your Korea bucket list as it makes for an awesome day out.
And yes, you're totally allowed to reward yourself with Soju and a Korean BBQ after hiking Bukhansan.
Bukhansan Hike in Seoul: Korean syle
If there was ever a doubt that hiking is a favorite past time of all Koreans, head to Bukhansan Mountain over the weekend!
It's actually quite remarkable to see how committed Koreans are to their outdoor adventures! They're kitted out from head to toe with all the latest gear, and a "you can never be too prepared" kind of attitude.
Hiking poles, Gortex jackets, wide-brimmed hats, the latest North Face hiking boots, and enough snacks and goodies to keep them going for days on end – you name it, they have it!
At first, I found humor in this as it was likely that they had more gear on them than I did for my Everest Base Camp trek!
But after spending 5 hours hiking Bukhansan, slipping and sliding along the rocks and running out of water within the first hour, I was quite envious of how well prepared they were, and I found myself wishing I'd got the memo for hiking in Korea!
To date, the Bukhansan hike is one of the highlights of the 14 months I spent teaching English in Korea. What made it so memorable was the sheer challenge to reach the peak.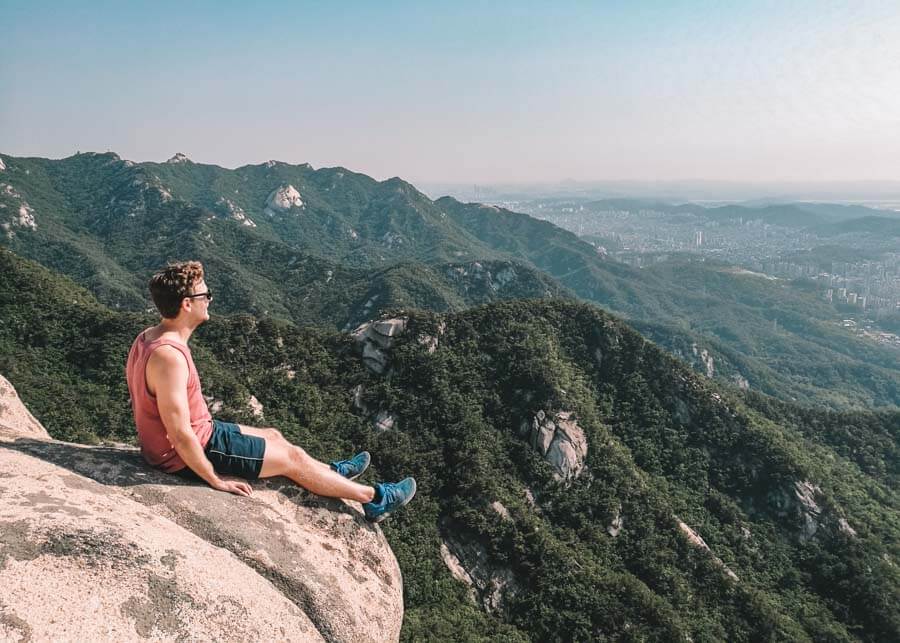 Baegundae Peak (백운대) in Bukhansan National Park
Most people arrive for their Bukhansan hike with Baegundae Peak as their goal. Sitting at 837m, it's the highest point in Bukhansan National Park.
I had the intention of hiking Baekundae Peak, but so did the whole of Seoul on the day that I chose to do my hike!
So, to avoid the crowds, I went in the complete opposite direction and followed a trail that was off the beaten track.
Little did I know that in my efforts to go in the opposite direction of all the crowds, I would end up taking the expert route to Baegundae Peak!
Before I scare you into thinking that hiking Bukhansan is a bad idea, I'll ease into it with the intermediate Bukhansan hiking trail that leads to Baegundae Peak.
Read More: 9 Awesome Day Trips From Seoul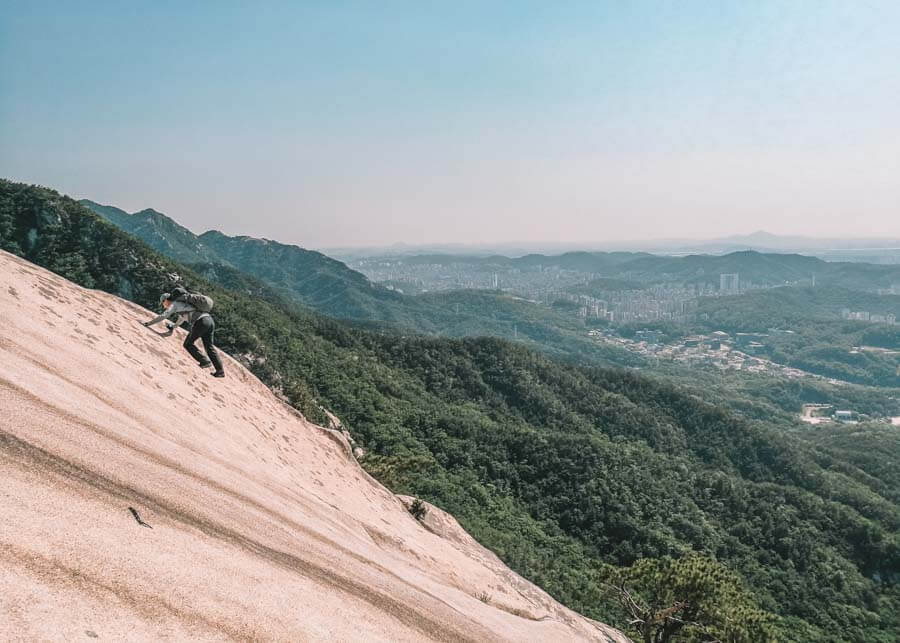 Bukhansanseong Course in Bukhansan National Park
The Bukhansanseong Course is the most popular trail that leads to Baegundae Peak, and supposedly the easiest.
You can't miss the trailhead as there are many signs offering directions, or simply follow the crowds because they're most likely going the same way you're headed.
If you do have questions, pop into the information center and they'll give you guidance on where to go.
If you're as unprepared as I was, you could also join a tour like this where all your transport and meals are included, and you'll have a guide leading the way, so you won't have to worry about getting lost!
How difficult is the Bukhansanseong Course
The hike to Baegundae Peak starts easy with lots of steps and gradually gets steeper as you get closer toward the peak. The final stretch is tough with rocky terrain which will require the use of railings and chains to get to the top.
Having said that, this trail to Baegundae Peak is a relatively easy Bukhansan hike when compared to the one I mistakenly took!
If you're not overly fit, or if you're traveling with kids, the Bukhansanseong Course is one of the better trails, but you still need to be prepared for a strenuous hike so don't underestimate its difficulty.
After you've reached the peak, you can either go back down the same way that you ascended or you can go along the old fortress wall which will add another 4km to your hike, making your total hiking distance just over 7km.
Give yourself 4-6 hours for the Bukhansanseong Course to Baegundae Peak and don't rush it. The views throughout the trail are incredible so take some time to sit back, relax, and enjoy the scenery.
Uisangneungseon (Ridge) Course: Expert Bukhansan Hike
Uisangneungseon (Ridge) Course (ie: course of death) or otherwise known as the "expert" course, is the Bukhansan trail that not many hikers follow.
And yes, it's definitely an advanced course perfect for those adventure junkies, like me!
This is the best Bukhansan hike and if you're looking for a quieter route, that will have you climbing, crawling, and hanging on for dear life, then this is the trail for you.
There's not much information online regarding Nanhangon Peak which is one of the most beautiful places on the trail. Because I had done no research on hiking Bukhansan, I didn't quite know what I was getting myself into.
I was there for the experience and I would choose this less crowded route any day.
Map
Below is a map of the expert route in Bukhansan National Park.
To get to Nanhangon Peak, you need to make your way to the Uisangneungseon course which passes through Uisangbong Peak.
The trail starts gently, with a scenic stroll through the woods. Slowly but surely, the incline gets steeper and the terrain, more challenging.
Before you know it, there are chains that you need to use to pull yourself up the cliff face. This is where the Bukhansan hike gets tougher and pretty hectic!
Finally, you'll reach Uisanbong Peak.
Read more: 24 Strange things about life in Korea
Uisanbong Peak
Uisanbong Peak sits at 502m and is a great course on its own if you're looking for a thrilling hike in Bukhansan. It's a short, 45-minute trail covering a distance of 1.2 km.
But it's steep, so don't be fooled by the distance as it's a 1.2km uphill climb.
It may not be the highest peak in Bukhansan National Park, but the views are stunning with fewer hikers. Many people reach Uisanbong Peak and then return down the same route they came.
At the time, I didn't realize that this is where I should've stopped – actually, that's a lie, keep going up!
I watched a local as he continued past Uisanbong Peak and further up into Bukhansan National Park.
So, I followed him!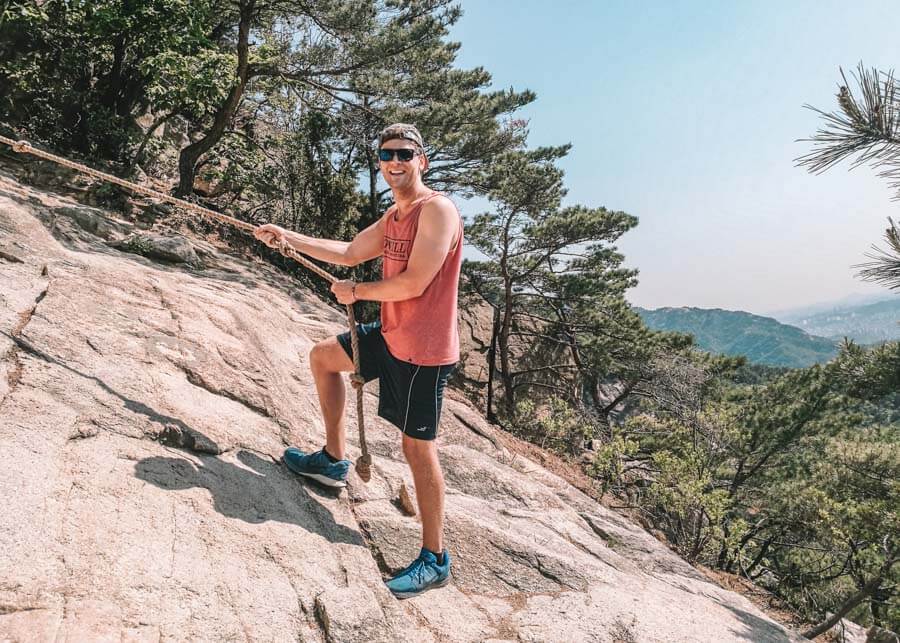 Nahanbong Peak
The next 90 minutes saw us climbing around rock outcrops and scrambling on all fours as we tried to make our way up the steep cliffs. Ropes, chains, handrails, you'll use them all.
If you're into rock climbing, you can choose to scale the massive boulders, which many people do. Alternatively, you can take the stairs, as I did!
What amazed me was how the Koreans took on the Bukhansan hike with ease. They made it look so easy and gracefully soared up the mountain without even breaking a sweat!
In contrast, Gary was having heart palpitations every time I had to climb up a sketchy rock.
Read more: 17 Things I Love About South Korea
Finally, we reached Nahanbong Peak with an unspoiled birds-eye view of Seoul in the distance, which we enjoyed all to ourselves.
Having finished all our water in the first hour, and with no snacks on hand, we sat at Nanhangon Peak, thirsty and hungry but at least the panoramic views made up for it!
For a Saturday afternoon in Bukhansan National Park (during spring, might I add), crowd-free spots like this are unheard of. So taking the expert route definitely has its perks.
If there's one Bukhansan trail to do, it's this one!
Getting back down Bukhansan Mountain
After reaching Nahanbong Peak, we decided to turn around, despite noticing several hikers continue their journey further into the mountains.
Because we didn't have a map, and because we had no idea where we were, we decided to turn back and go down the same route where we had come from.
We had been hiking for over 3 hours and didn't want to take the chance of getting stuck in another 3-hour challenging uphill climb where we could potentially have to walk the same way down.
I also lost track of time and it was nearing 3 pm – the last thing you want is to get lost in Bukhansan National Park on your first day in Seoul!
Little did we know that had we continued in the direction we'd initially climbed, we would've ended at Baegundae Peak and Castle Gate. From there, it's an easy exit off the mountain!
In hindsight, we shouldn't have turned back but if I'd run into huge crowds at Baegundae Peak, it probably would've hampered my overall experience hiking in Bukhansan National Park.
The hike to the top was 3.5 km and took around 3 hours to reach the peak. We went the same route down and it took an additional 1.5 hours.
Pro tip: You'll have aches and pains the day after your Bukhansan hike. Plan a trip to a Jimjilbang (Korean bathhouse) for the following day. Trust me, this is a once in a lifetime experience!
How to get to Bukhansan National Park
You can easily get to Bukhansan National Park using public transport.
The most accessible way to get to the starting point of your Bukhansan hike is to take the Seoul subway to Gupabal Station on line 3.
Once you arrive at Gupabal Station, take exit 1 or 2 and make your way to the nearby bus stop, which is between these two points.
There are 3 buses that go to Bukhansan. Bus 34, 704 and 720. You can hop on any of these to the Bukhansan Fortress Stop. Don't worry, you'll know which one to take, just follow the locals in all their gear!
You'll get off 10 stops later at Bukhansanseong Fortress entrance (북한산성.)
From the bus stop, follow the signs to the Bukhansanan National Park entrance where you'll pass several restaurants and hiking stores.
If you enjoy adventure activities, why not go rafting in Korea. It's one of the best things to do in summer and is easy to do as a day trip from Seoul.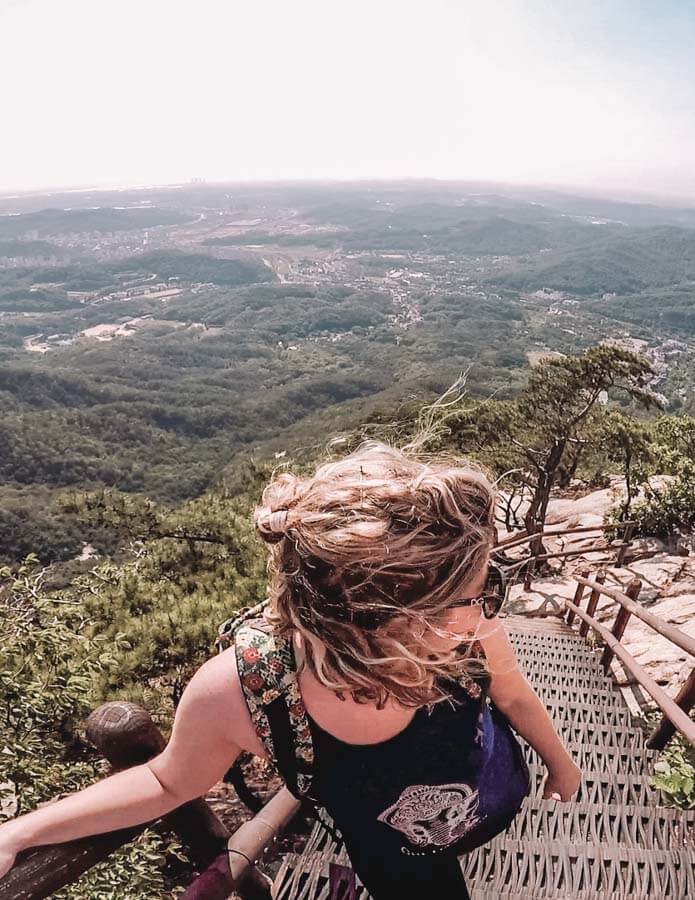 When to Hike Bukhansan
Hiking Bukhansan is a popular activity throughout the year.
Ideally, you want to plan your hike for the spring (March-May) or fall (September – November). Temperatures are optimal at this time and you'll be treated to beautiful cherry blossoms in spring or a sea of orange and red leaves in the fall.
If you hike Bukhansan in summer, the trail will be more challenging because of the heat. If you haven't experienced Korean summers, you're in for quite a surprise!
It gets incredibly hot and humid, and you won't want to leave your air-conditioned apartment, let alone spend 6 hours of your day hiking Bukhansan National Park!
I'd avoid hiking Bukhansan in winter as temperatures can reach below zero and the trail gets quite icy and slippery.
If you decide to do the hike at this time, make sure you're prepared with warm gear, good hiking boots, and gloves. If you're visiting Korea during the icy cold winter months I suggest you visit one of these epic ski resorts near Seoul.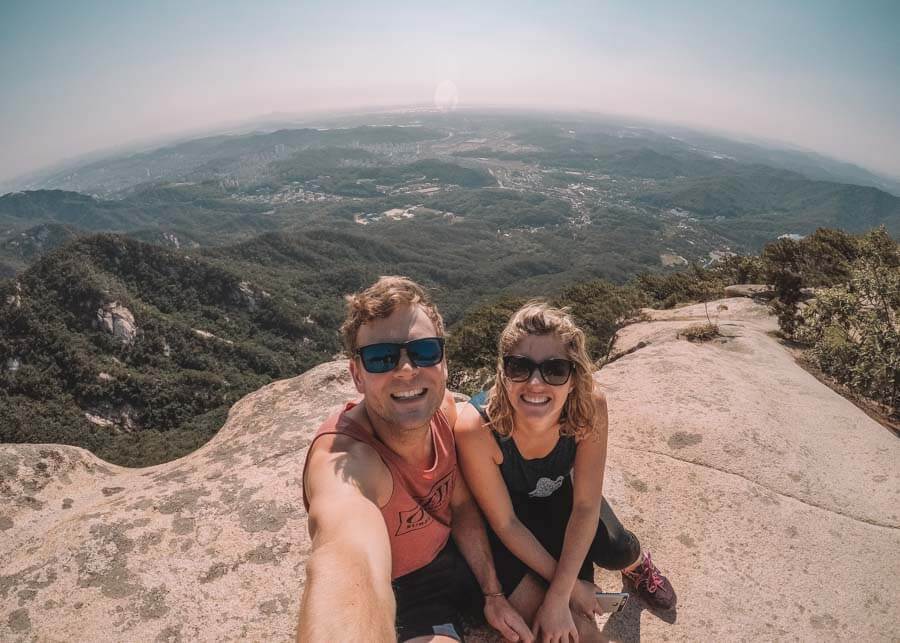 Tips for Climbing Bukhansan
Make sure you bring enough snacks. Buy some gimbap (rice wrapped in seaweed) or ramen from one of the many stores before you start your hike.
Wear sunglasses and a hat – it's hot out there. Here's my comprehensive packing list for Korea which includes everything you need for your trip.
Bring 2l of water per person. Or do it Korean style and pack in a flask with tea as well as a bottle of soju. Yep, it's common to drink alcohol on the mountains in Korea!
If you have hiking boots, wear them. Trainers will suffice but don't come in sandals.
There's no entrance fee to hike Bukhansan.
If possible, try to avoid visiting Bukhansan National Park over the weekend which is the busiest time.
Traveling to Seoul alone? Join one of these group tours where you're bound to meet other travelers. You can even pair your Bukhansan hike with a stop at a jimjilbang. Find more information here.
---
Have you been hiking in Bukhansan? Would you do the expert route to avoid the crowds? Let me know in the comments section below!
Psst… Planning your trip to Korea? I have loads of useful posts!
Pin this!
There is a really good chance that this post contains affiliate links. If you click one of them, I may receive a small commission at no extra cost to you. As always, views are my own!