Not only is Mount Kilimanjaro the highest mountain in Africa but it's also the highest free-standing mountain in the world. If it's not on your bucket list, it should be.
My Kilimanjaro trek was a tough one, but I made it to the top and I've written this guide to help you get there as well!
So, here we go: Everything you need to know to start planning your Kilimanjaro trek including training for Kilimanjaro and how long it takes to climb Kili.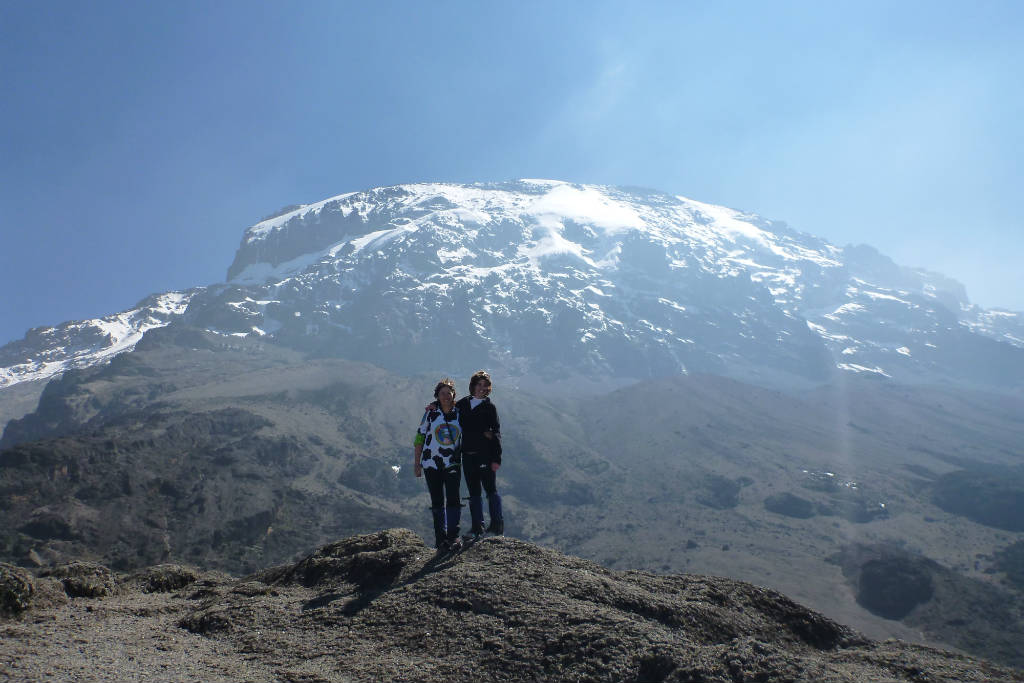 Why I chose to climb Mount Kilimanjaro in Tanzania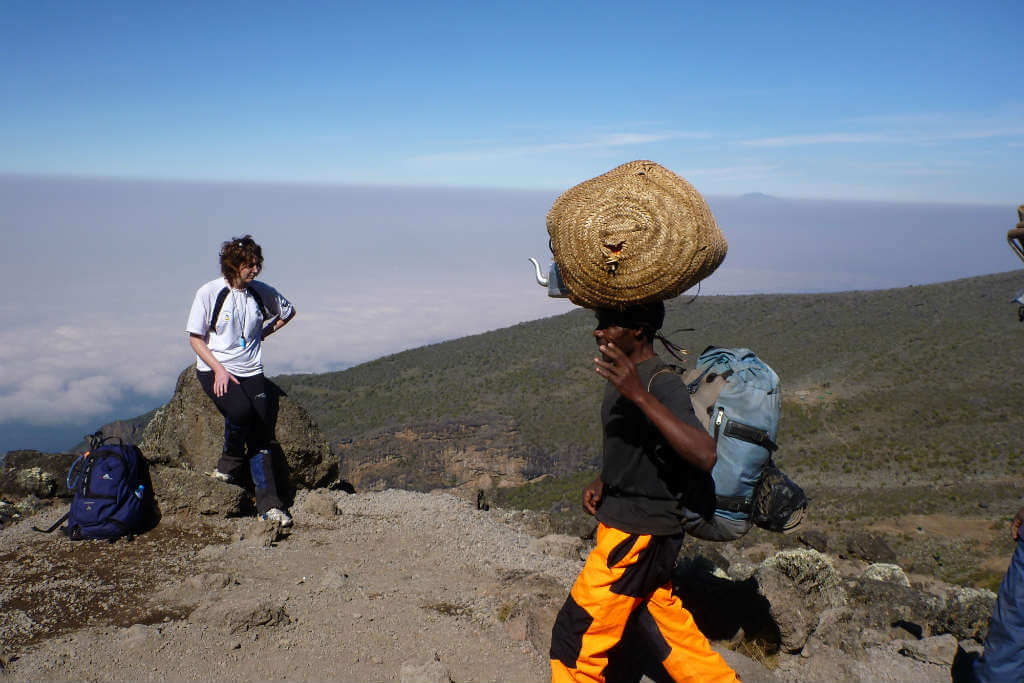 The saying "you can do anything you put your mind to" never rang so true like it did whilst climbing Mount Kilimanjaro in Tanzania. I climbed Kili in an effort to raise funds for CHOC, an organization that provides support for children with cancer.
Having done little to no research on how hard it is to climb Mount Kilimanjaro, I didn't quite realize what I was getting myself into.
Looking back, summiting Mount Kilimanjaro was the hardest, yet most memorable experience and one of my biggest accomplishments to date.
So perhaps you're like me. A reasonably active and driven individual. Summiting Mount Kilimanjaro should be pretty easy then, right? I mean, it's not a technical climb and doesn't require ice axes, harnesses and crampons so it can't be THAT hard?
Um, no!! This was my mistake – underestimating the beast that Mount Kilimanjaro is.
Facts about Mount Kilimanjaro
Mount Kilimanjaro is the highest point in Africa and is located in Tanzania
It's over 19,341 ft or 5,895 m high
The summit is known as Uhuru Peak and is also one of the seven summits of the world
10 Things You Need To Know For Your Kilimanjaro Trek
Climbing Kilimanjaro is tough and will test you both physically and mentally. Preparation is key to ensure a successful summit so here's everything you need to know!
1. How long does it take to climb Kilimanjaro
There are various factors that determine how long it takes to climb Kilimanjaro. Depending on your climbing experience you can chose a 5 to 9 day route.
Each route has its own pros and cons with regards to pricing, days and accommodation. It's better to extend your trip and opt for a 7 or 8-day Kilimanjaro trek as this allows for your body to better adapt to the altitude.
Machame Route
I chose the Machame route which is a very popular trail, with 45% of visitors choosing it for their Kilimanjaro trek. Otherwise known as the "whiskey route", it offers a scenic path through 4 diverse landscapes and climatic zones.
Another reason for the Machame routes' popularity is due to the acclimatization schedule, where you climb higher during the day and go back down to sleep at a lower level. This helps your body better adapt to the altitude and elevation and hence it has a high success rate.
Although you are able to complete this route in 6 days, it is recommended that you choose the 7-day Kilimanjaro trek. This extra day lowers the risk of altitude sickness and better prepares your body for the summit climb.
However, due to its popularity and high success rate, it is a busy trail. You can expect to see many people on the Machame route and it can be quite polluted.
2. Training for Kilimanjaro
Climbing Kilimanjaro isn't a sprint! It's a slow walk and demands endurance and willpower rather than a high fitness level. When training for Kilimanjaro, keep this in mind and make sure you balance your training between fitness, strength and endurance training.
In order to prepare yourself, it's best to climb stairs and a lot of them! Yes, it does get boring but it's good to build up your stamina and muscles for the uphill climb. Climbing sand dunes is also a great workout if you live near the beach.
Whilst doing this training for Kilimanjaro, I made sure I wore a backpack with at least 5 kg to get used to carrying a backpack for longer periods of time.
Although the porters carry most of your things, when you climb Mount Kilimanjaro you will still carry a daypack with your water, snacks, camera and other personal items.
I was also able to easily run 5-10 km before I left for Kili. However, many people can still climb Mount Kilimanjaro with only doing a few long training walks and stair climbs.
Despite doing all of this training for Kilimanjaro, I STILL suffered from symptoms of altitude sickness!
And while training is critical for a successful climb, you also need to ensure you're prepared in terms of what you pack for Kilimanjaro. You can do all the training in the world but if you're not comfortable, you won't make it.
3. When is the best time to climb Kilimanjaro
There are two distinct trekking seasons to climb Mount Kilimanjaro: January-February and late June-October.
January-February is relatively warm and the visibility is good. This is said to be the best time to climb Kilimanjaro.
Late June-October is the busiest time to climb Mount Kilimanjaro as it coincides with the European and North American summer holidays. These months can be slightly colder when compared to the January-February months but they still provide optimal climbing conditions.
March, April, May, and November are the wettest months and are not recommended for climbing Kilimanjaro. If this is the only time you're able to go, then I recommend doing the Everest Base Camp trek instead as conditions are optimal during this time.
Climbing Mount Kilimanjaro in August
Having said this, the above is not a guarantee of great weather. I chose to climb Mount Kilimanjaro in August.
When I arrived in Tanzania, I met a group of hikers who had just returned from their summit attempt. They had been faced with heavy winds and rain on the mountain which resulted in many people turning back before reaching the summit.
However, luck was on my side. I climbed the exact same route 7 days later and had perfect, albeit cold, weather every single day.
4. Kilimanjaro climb costs
There are two big Kilimanjaro climb costs to take into consideration: Flights and tour operator costs.
Firstly, you need to arrange your international flight into Tanzania (Dar es Salaam), Kenya (Nairobi) or Ethiopia (Addis Ababa). From there you take a connecting flight to Kilimanjaro International Airport.
Depending on where you're traveling from, this flight cost can vary from $800 – $1 500.
Tour operator costs to climb Mount Kilimanjaro
Most climbers pre-book an all-inclusive trip with a tour operator to ensure that everything's taken care of.
This usually includes transfers to and from the airport, a night in a hotel before and after your climb and all expenses on the mountain such as 3 substantial meals per day, water, camping equipment and guide/crew costs.
The Kilimanjaro National Park entrance and camping fees total around $100 per climber per day which is also included in your costs of climbing Kilimanjaro.
These all-inclusive Kilimanjaro climb costs (excluding flights and travel insurance) range from $1 200-$4 000. The amounts on either end of this scale are questionable and you should look at paying between $1 800-$2 600 per climber for a well-organized and safe trek.
The cost to climb Mount Kilimanjaro also depends heavily on the number of days you opt for and the route you choose.
Be wary of cheaper operators for your Kilimanjaro trek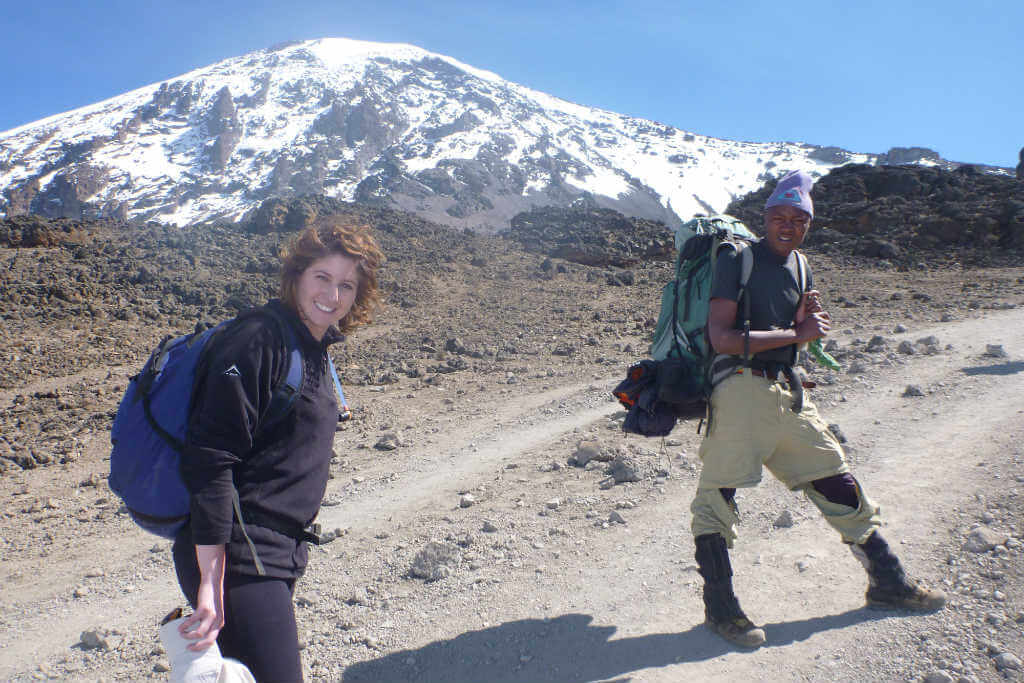 A budget climb means that they may use old equipment and the food will be very basic. These budget tours also cut corners and underpay their staff. The amount of work the porters do is incredible for the little they earn
You will see many guides and porters wearing clothing you would never imagine possible to climb Mount Kilimanjaro in – old, worn shoes, jackets with holes in them and no gloves in the freezing cold.
It's also a nice gesture to give some of your hiking gear to the porters who need after you have completed your hike. A t-shirt or old trainers is something they'll accept with open arms.
Also take into consideration that although most of the crew will have climbed Mount Kilimanjaro a few times, they could still fall prey to altitude sickness or injure themselves whilst carrying all your gear up the mountain. Because of this, it's best to ensure that they are given the necessary insurance and are looked after by their tour operators.
You may not understand this now, but when you're struggling to put one foot in front of the other, and are passed by a porter carrying more than 20 kg's on his back, you will realize the strength it takes for them to make it up that way.
READ MORE: ULTIMATE GUIDE TO VICTORIA FALLS NATIONAL PARK IN ZIMBABWE
Kilimanjaro climb costs: Staff tips
Excluded in this tour amount are the crew tips. Although this is not an obligation, you are expected to pay crew at least 10% of your tour fee when you've completed your climb, regardless whether you had a successful summit or not.
5. How hard is it to climb Mount Kilimanjaro
Mount Kilimanjaro is not a technical climb and the trails aren't demanding. Every day, besides the actual summit, is like an ordinary hike with a gradual incline leading closer towards the peak.
However, walking 4-7 hours a day for 7 days straight can be challenging on your body and the last thing you want are sore legs before you even start the days walk. The stronger and fitter you are, the more you'll enjoy the climb.
BUT there were two areas I struggled with, and you might as well.
Yes, altitude is a bitch! As you walk higher, breathing becomes more difficult due to the lack of oxygen as a result of the higher altitude. If your body fails to adapt quickly enough to these lower oxygen levels, you can suffer from AMS (Acute Mountain Sickness).
Symptoms include headaches, nausea, and dizziness which could be fatal if not treated. AMS is not dependent on age or fitness levels and each person handles the effects of altitude differently. My body, unfortunately, did not enjoy being at such high levels!
The second area I struggled with on my Kilimanjaro trek was my summit climb. The days leading up to the summit do not prepare you for what's to come. Summit night is where you are really put to the test, mind over matter. How bad do you want this?
Starting between 11pm and midnight, you climb for 7 hours before reaching the top of Mount Kilimanjaro, Uhuru Peak. At this stage, I'd managed to adapt to the higher altitude and instead, the cold weather and wind chill was my next obstacle.
Whilst attempting my Kilimanjaro summit, I had many thoughts of turning around. I wanted my warm bed, a fire going in the corner and wine! But instead, I thought I was going to lose my fingers due to frostbite and the only thing that kept me going was knowing my mom was ahead of me and she was doing just fine!
If you read my post on Lasek eye surgery, I bet you're thinking I'm a sucker for pain, or anything challenging for that matter. But despite the winging and moaning, I made it to the top.
Every step on that summit climb was a struggle, and it seemed to take a lifetime. That feeling you get when you reach the top is indescribable! But then you realize you still have another 7 hours of walking to do before you can call it a day, ah!
6. Will I get altitude sickness on my Kilimanjaro trek
At some point, you may feel the effects of the higher altitude and if you do not listen to your body, altitude sickness could be fatal.
In most cases, your body will adapt to the altitude relatively quickly and your symptoms should gradually disappear.
I am a prime example of this! On the 3rd day of my Kilimanjaro trek, whilst approaching Lava Tower (4 600m), I started feeling nauseous and fatigued. I had a headache, lost my appetite and couldn't eat. I threw up and I would've had to turn back had I not had the support of my amazing mom and guides.
How did I get altitude sickness if I did all the right training for Kilimanjaro
I'd done exactly what the book said – I was walking at a snail's pace, I was getting enough sleep at night, eating more than my fair share of food and drinking plenty of water. I'm young and fit and did the proper training for Kilimanjaro. So why did I get sick?
Simple answer: some people adapt better to the higher altitude, like my mother who never suffered any symptoms.
But remember, just because you have the symptoms of altitude sickness on Mount Kilimanjaro doesn't mean you have to turn back.
Luckily for me, this point, Lava Tower, was the maximum climbing height for that day. Once you reach it, you walk down to Barranco Hut (3 950m) which is a camping spot for the night. Because I slept at a lower height than I had climbed that day, my body was able to acclimatize and by the next afternoon, I was feeling strong and healthy again.
READ MORE: HOW DIFFICULT IS THE TREK TO EVEREST BASE CAMP
Be sensible and honest with your guides
Tell them if you're not feeling well. This will allow them to manage your Kilimanjaro trek and take precautionary measures. If it gets to a point where they don't think it's safe anymore, you will need to turn back.
But if you choose to hide the symptoms and keep pushing on even though your body is clearly not adapting, it could be fatal.
7. What can I do to help my body acclimatize to the high altitude on Mount Kilimanjaro
It's all about how your body adapts to the lower levels of oxygen. Below are a few things that will help you acclimatize:
Try to spend a few days in Moshi before you begin your climb in order to assist with acclimatization. If you go straight from sea level to high altitude, you may struggle.
Drink lots of water – at least 3 liters per day.
"Pole Pole" – walk slowly. When you're with a large group of hikers, you may feel pressured to keep up with the pack. However, this could be detrimental to your summit attempt. You need to walk slowly to preserve energy. Many young, fit people rush to stay ahead of the crowds. As a result, they fail at this climb as they push themselves too hard and suffer from AMS.
Make sure you eat enough food on the first few days of your climb as your appetite will decline the higher up you go. For my first few meals I was going back for seconds, but on the third day, I could barely eat. The only thing I could stomach was the oily fries but I had to force myself to eat a bit more.
Get enough sleep.
Acclimatization walks. Even though you'll be tired after spending 6 hours climbing during the day, ask your guide to take you on a short walk to higher point every evening. This helps your body adjust to the lack of oxygen.
Altitude medication – Diamox. I have read many stories about the negative effects of Diamox, and so I chose not to take it. As it is a mild diuretic, you can expect to pee A LOT and as a result, you'd need to drink a lot more water than you normally would (5 liters per day!) Other side effects include a tingling sensation in your fingers and toes, and on a rare occasion, you may experience blurry vision and dizziness. However, I'm attempting the Island Peak summit (6 100 m) in November 2018 which is even higher than Mount Kilimanjaro. Knowing now that my body needs more time to adapt to higher altitude, I am considering taking Diamox as I have heard numerous success stories from people who've taken this medication.
8. Vaccinations for Kilimanjaro: Yellow Fever and Malaria
Most climbers will need a yellow fever vaccination when entering Tanzania. This vaccination is not needed if you're getting a flight directly into Tanzania. However, if you're coming from a yellow fever zone it is a requirement.
The costs for this vaccination vary but can be as much as $100. You can get this shot at either the Dar es Salaam or Kilimanjaro airports for $50, so don't stress too much if you forget to have it done.
Tanzania is a high-risk malaria country but mosquitoes are not found at higher altitudes. It's important to have mosquito repellent for your days in Dar es Salaam or Moshi as this is where the risk of infection is greater.
You could take malaria tablets, but these can affect you on your climb and so it's best to rather take other precautionary measures.
When planning your Kilimanjaro trek, why not pair it with one of these 16 unique experiences in Africa.
9. Do I need a visa for Tanzania
A single-entry visa is required to enter Tanzania. This can be arranged on arrival at the Dar es Salaam airport (Julius Nyerere International Airport) or Kilimanjaro International Airport.
This visa costs $100 for US and Irish Citizens and $50 for non-US citizens. All you need is your passport, money… and a bit of patience. There are generally queues and although the process is simple, it can take time.
Alternatively, you can arrange this visa prior to your departure at the Tanzanian Embassy in your country. There are so many incredible things to do in Tanzania, and climbing Kilimanjaro is just one of them!
10. Kilimanjaro toilets: So it's camping, no bathrooms, no showers
Yes, that's correct! And although it may sound disgusting, it's really not that bad. Your biggest concern is getting to the top of Mount Kilimanjaro, not showering. And with everyone else being smelly and dirty, you'll fit right in!
Depending on your tour operator, you should get a bowl of hot water every morning to wash your face and feet, but other than that, wet wipes will be the next best thing.
When it comes to toilets, there are a few long drops on the Machame route, however, sometimes these can be smelly and dirty. Because of this, most people choose to sneak behind a rock or tree to do their business. It's definitely the most scenic toilet I've ever been to!
You can also organize a private portable toilet tent which your crew will set up when you reach your camping spot for the night.
Final thoughts on my Kilimanjaro trek
Choosing to climb Mount Kilimanjaro was a physically and emotionally challenging venture for me. But no matter your age or fitness level, it is doable.
No, I will not be climbing it again (I have a "try everything once" motto) but knowing that I could handle Kili has motivated me to keep pushing myself and testing my limits.
Every experience, whether a success or failure, is a learning curve and after my successful attempt on Mount Kilimanjaro, I'm excited to take on the mountains of Nepal.
I have since made it to Everest Base Camp and summitted Island Peak in Nepal. Read about my epic adventure here!
---
Looking for more Africa travel information? Want more adventures? Check out my other posts!
---
Pin this!