Adams Peak, otherwise known as Sri Pada (or Sacred Footprint), lies alongside the small town of Dalhousie in the beautiful hill country of Sri Lanka.
With a whopping 5 500 steps, Adams Peak has made a name for itself as being a sacred mountain and draws scores of pilgrims due to its spiritual significance.
Climbing Adams Peak is a top bucket list activity for most tourists visiting Sri Lanka! I had my sights set on reaching the peak but I wasn't sure if it would be worth it, especially during the rainy season?
Well, it was!
If you're looking for an adventure in Sri Lanka, here's my complete guide to the Adams Peak hike with everything you need to know about climbing the sacred mountain.
Climbing Adams Peak at A Glance
Height: 2 243m at the peak. You'll gain over 1 000 meters while hiking
Time needed: 3 hours for the uphill climb, 1.5 hours descent
Difficulty: Strenuous as there are 5 500 steps
Closest town: Dalhousie
Where to stay: Water Side Residence is perfectly located, well-priced and offers gorgeous views
Cost: There's no entrance fee to hike Adams Peak
About Adams Peak Pilgrimage (Sri Pada)
The summit of Adams Peak sits at 2 243m and is home to a 1.8m rock formation. This is believed to be the footprint of Buddha.
On the other hand, Christians believe that this footprint belongs to Adam, whilst Hindus believe the sacred footprint is that of Shiva.
Every year, thousands of Sri Lankans make the annual pilgrimage to Adams Peak to pay homage to this sacred footprint. Tourists have since joined in their numbers to experience the pilgrimage for themselves.
Where is Adam's Peak in Sri Lanka
Adams Peak is found alongside the small village of Dalhousie and is situated in the middle of Sri Lanka's hill country.
Don't confuse Sri Pada/Adams Peak in Dalhousie with Little Adam's Peak in Ella.
These are two completely different hikes and no – you cannot do both in one day.
Adams Peak in Dalhousie is far tougher, longer, and is a two-day detour if you're going from Kandy to Ella.
Adams Peak Hike: 5 Things You Need to Know
You need to be prepared for what climbing Adams Peak is really like!
It's not easy, but if you enjoy outdoor adventures and going off the beaten track, it will be one of the highlights of your trip to Sri Lanka.
1. How hard is climbing Adams Peak?
Steps, steps, and more steps!
I've summited Mount Kilimanjaro and hiked to Everest Base Camp, so I thought this relatively small, sacred mountain in Sri Lanka would be a walk in the park.
And no, it's not!
Over 5 500 steps lead the way to Adams Peak summit. The entire route is paved and it's easy to navigate to the top without a guide.
But don't underestimate just how many steps there are, and just how steep these stairs are.
For 2 days after my Adams Peak hike, I was man-down and struggled to move around.
Whilst hiking Adams Peak is manageable, it's most certainly not an easy climb and does require some level of fitness.
If you're looking for an easier hike in Sri Lanka, I'd suggest you try these two instead:
2. The best time to plan your Adams Peak climb
Despite what you may hear, it's possible to hike Adams Peak throughout the year, but your experiences will be very different depending on whether to climb during the pilgrimage season or not.
Sri Pada/Adam's Peak pilgrimage season (December to May)
Adams Peak pilgrimage season runs from December to May.
During these months the weather conditions are perfect for hiking, bringing with them spectacular sunrises. The stairwell leading to the top of Adams Peak is all lit up with tea lights and the atmosphere is electrifying.
However, climbing Adams Peak between December and May brings with it a large influx of pilgrims all making their way to the top of the sacred mountain.
Mothers bring bags of gifts for Buddha, fathers carry their children as they sleep, and the elderly are assisted carefully up the steps by their younger relatives.
There are often queues of pilgrims and reaching the top can take over 5 hours due to traffic that comes to a stand-still.
It's best to avoid climbing Adams Peak over New Year, a full moon (known as "Poya" days), or on weekends.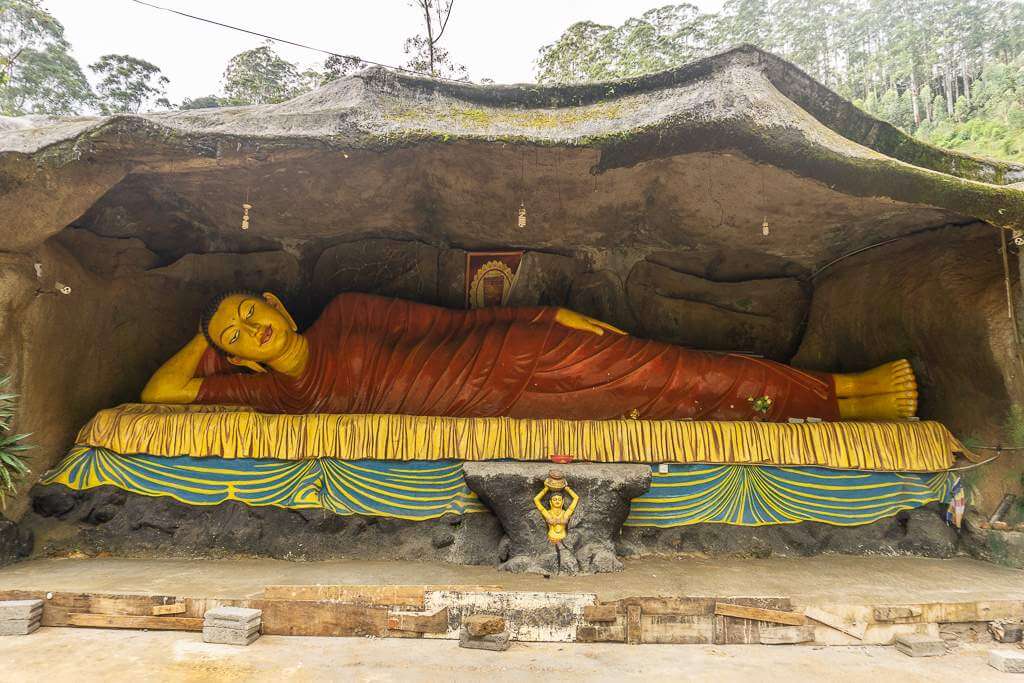 Climbing Adams Peak Off Season
If you're planning your Adams Peak hike off season, your experience will be completely different from those who hiked during the pilgrimage.
Firstly, the route is quiet with very few people making their way to the top. Personally, I preferred this as I don't enjoy crowds!
However, this also means that there isn't that festive atmosphere and there are no lights leading to the peak. During off season, the temple grounds at the summit of Sri Pada are also closed and there are very few vendors along the route.
The weather can be unpredictable and you're less likely to have that perfect sunrise. There is also a chance of rainy weather making the steps slippery so you will need to be properly prepared for your climb.
But, despite this, I hiked Adams Peak off season and I don't regret it one bit!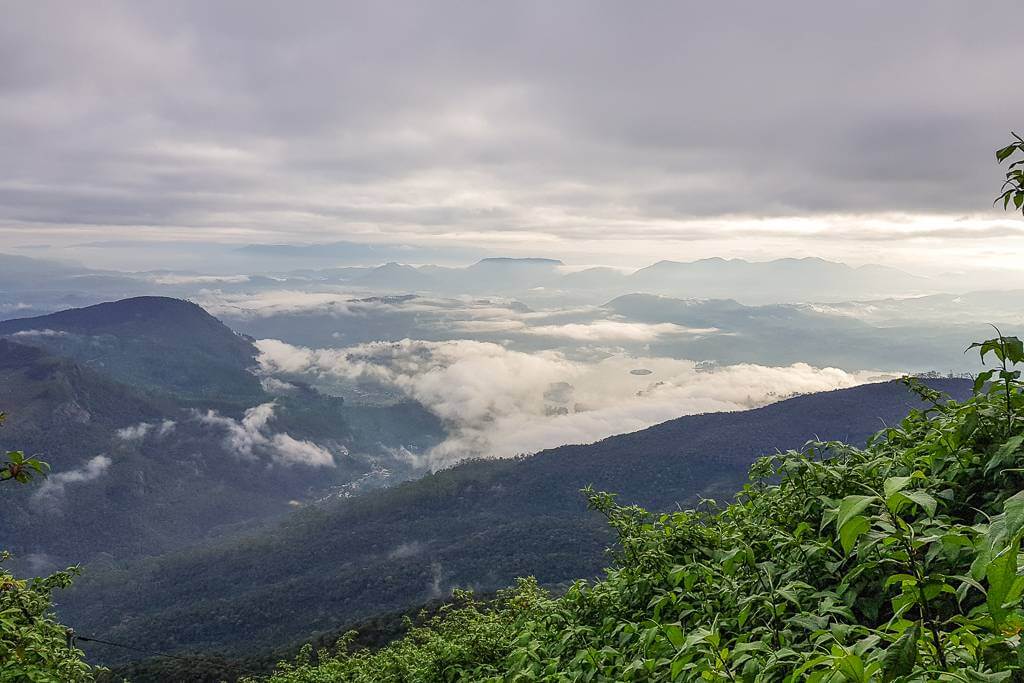 Adams Peak, Dalhousie, in October
When I climbed Adams Peak in October, I had a clear, starry night with only the moon lighting up the path. I often stopped dead in my tracks and just stared at the sky above as it was incredible.
However, the moment I got to the top of Sri Pada, massive clouds formed, and the sunrise was non-existent.
In contrast, the next morning proved to be a very different story as the people who hiked Adams Peak the following day had a breathtaking sunrise.
Predicting the weather near Adams Peak in the off season is virtually impossible! One day you could have a clear, starry night, the next it could be pouring with rain.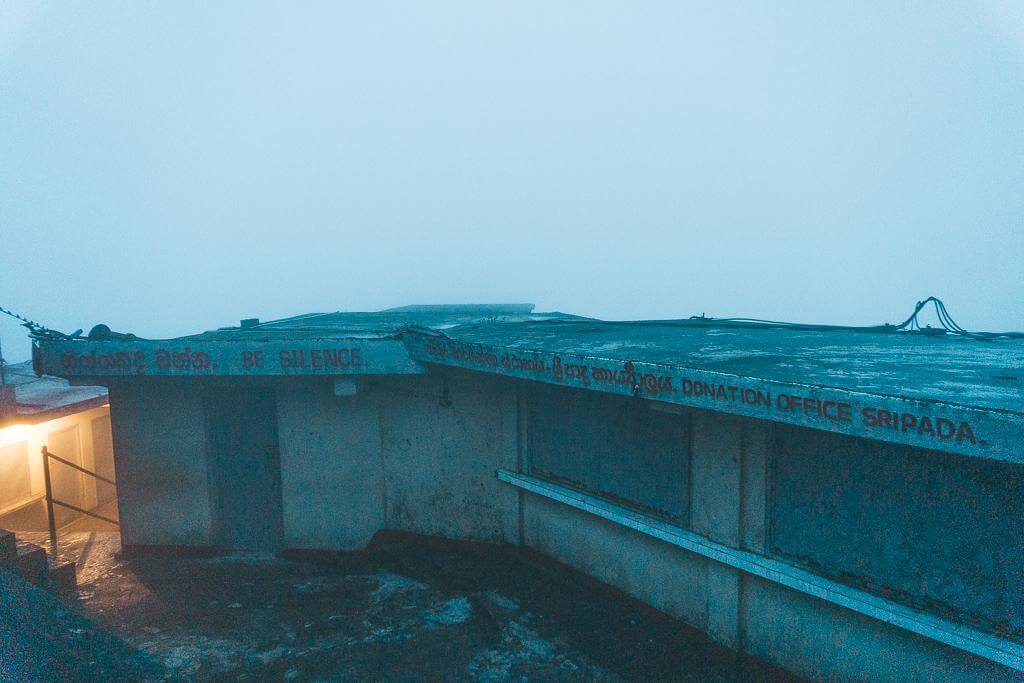 3. How much does it cost to climb Adams Peak footprint
Climbing Adams Peak won't cost you a cent!
There is no entrance fee, however, there are a number of points where donations can be made to the Monks, so bring some change along with you.
Personally, I felt that I was bombarded by Monks asking for donations when I climbed Adams Peak. This could be because there are fewer people climbing the sacred mountain during the off season.
The Monks, therefore, approach every single tourist, not realizing that we've been stopped over 10 times in the past 5 minutes!
READ MORE: The Ultimate Sri Lanka Itinerary
4. How long does it take hike Adams Peak
In total, you'll need to give yourself 6 hours for your Adams Peak hike.
If you want to see the sunrise, you'll need to arrive at the steps of Adams Peak by 02:30 am. You should reach the summit 3 hours later at 05:30 am.
Getting back down takes around 2 hours and this is when you'll grasp just how many steps there are.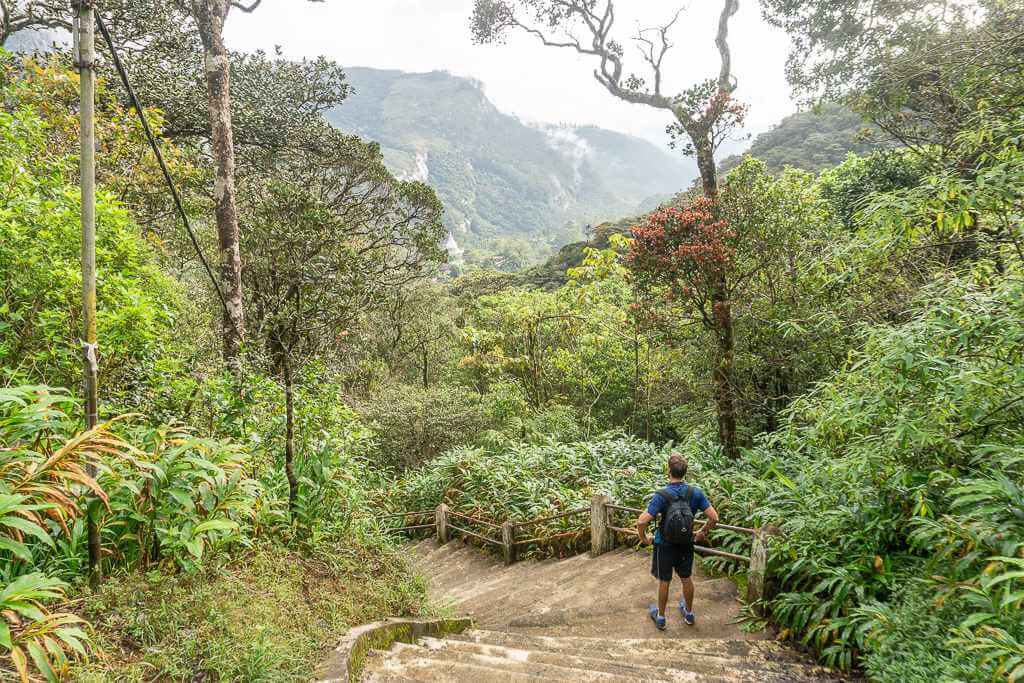 5. What to pack for your Sri Pada/Adams Peak hike
Proper shoes: Trainers are sufficient as you need to climb an infinite amount of steps.
Head torch: During the Sri Pada pilgrimage season this is not necessary as the path is lit up. However, you will need a head torch if you climb Adam's Peak at any other time as there are no lights and the route is completely dark
Sunglasses, hat, sunscreen: It gets very hot on the walk back down so make sure you're prepared for this.
Wear long socks: This should be standard with every hike you do in Sri Lanka as there are leeches everywhere.
Warm clothes: Don't underestimate how cold it is at the summit of Adams Peak, especially if you have to wait for the sunrise.
Snacks and water: 1.5 liters per person should be enough.
Money: Bring some change to give as a donation to the Monks. There is also hot tea and snacks for sale along the route.
Take a look at my comprehensive Sri Lanka packing list.
How to get to Adams Peak, Sri Lanka
As with all destinations in Sri Lanka, getting to the start of the Adams Peak hike is relatively easy using public transport. But it's not on the standard tourist track and is therefore often skipped by travelers.
Dalhousie: The Main Town near Adams Peak
So, let's first get our bearings right!
The closest village to Sri Pada is Dalhousie. This is where you'll stay if you're planning on doing the Adams Peak climb.
You may want to search for "Nallathanniya" instead of Dalhousie as it's more prominent on Google searches. Unfortunately, there are no trains that go directly to Dalhousie, but there are plenty of public buses.
Hatton: The Main Train Station Near Adams Peak
The closest train station to Dalhousie is in the small town of Hatton.
Hatton station is about 2.5 hours into the Kandy to Ella train ride, before Nuwara Eliya.
You can check out the full train schedule here.
Getting from Hatton to Dalhousie (Adams Peak)
Once you've arrived in Hatton, you can either take a public bus or tuk-tuk to Dalhousie, Sri Lanka.
Tuk-tuk
If you opt for a tuk-tuk ride from Hatton to Dalhousie, it will take roughly 60 minutes and costs around 2 000 LKR ($11).
I'd recommend you go one way by tuk-tuk so that you can stop along the way and admire the spectacular views – this was the highlight of my trip!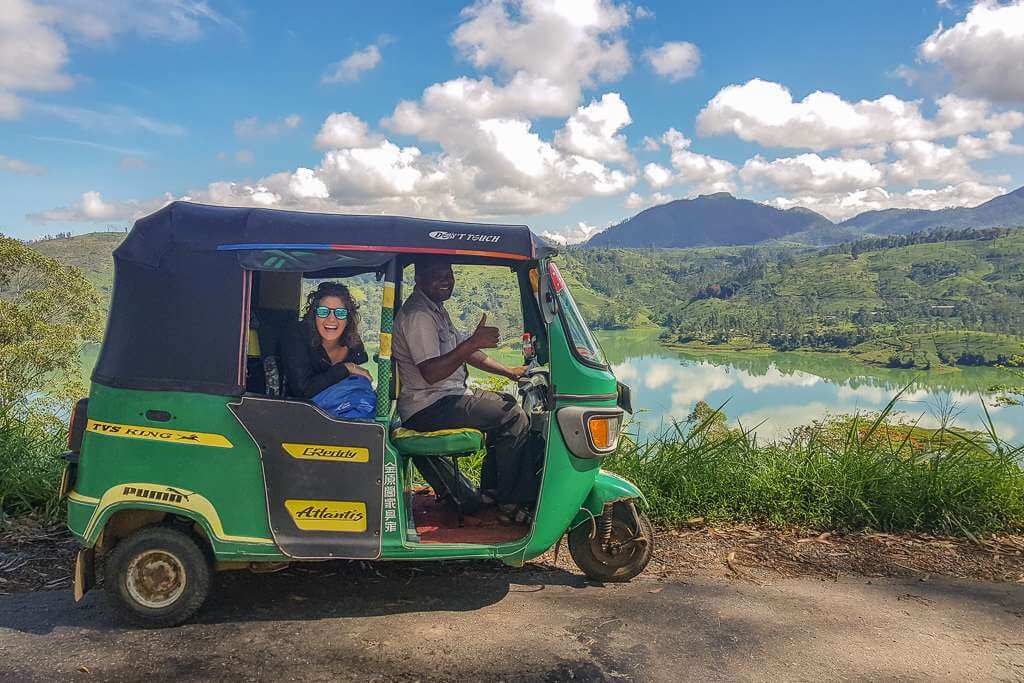 Public Bus From Hatton to Dalhousie
During the Adams Peak pilgrimage season, there are direct buses from the Hatton train station to Dalhousie, Sri Lanka.
However, this is not the case during the off-season, which is when I was planning my Adams Peak hike.
If you travel to Adams Peak off-season, the bus trip may take a bit longer as it's not direct from Hatton to Dalhousie, and there are lots of stops along the way.
READ MORE: The Best Kandy Itinerary: 10+ Things To do
The public bus from Hatton to Dalhousie is the slower, less comfortable option and takes over 2 hours.
However, if you're looking for a more authentic experience, I highly advise you to travel as the locals do.
I did this on my way from to Dalhousie. Although it took nearly 4 hours due to a landslide (which had blocked the road) it was certainly an experience I will never forget.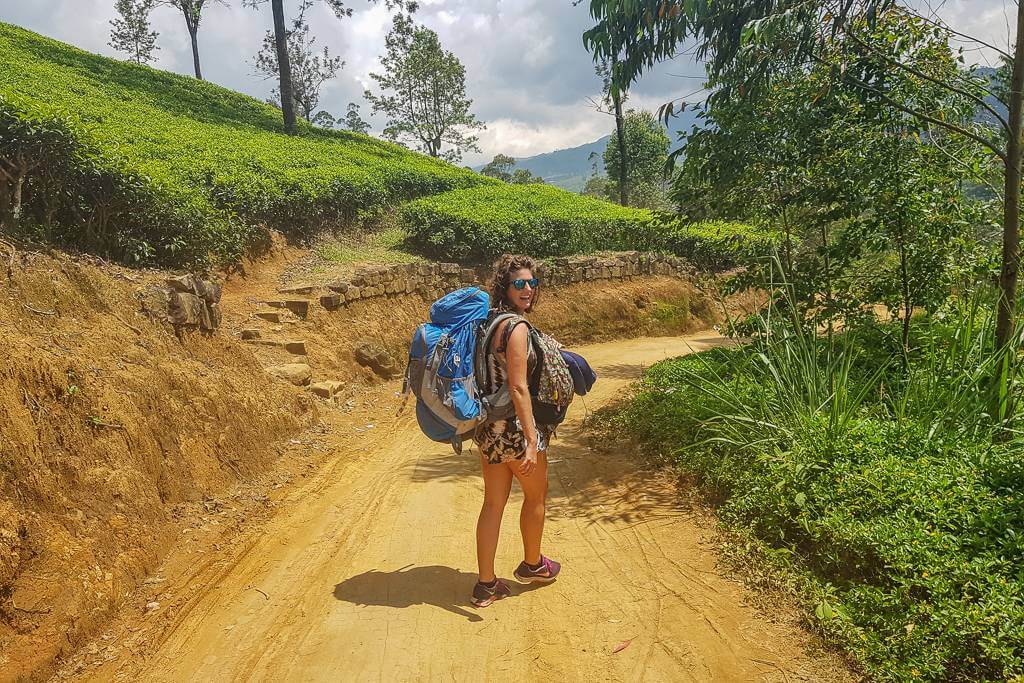 Adams Peak Hike Itinerary
Although Adams Peak is in the heart of Sri Lanka's hill country, it's still quite a detour from the main Kandy to Ella route.
1-night Adams Peak itinerary
If you're pressed for time, you can easily give yourself one night to stay in Dalhousie, Sri Lanka.
This is the Adams Peak itinerary that most people opt for.
If this is the case, you will arrive in Hatton around 11:12 am (if you're taking the train from Kandy to Hatton).
You then need to take a bus or tuk-tuk from Hatton to Dalhousie and you will arrive by 14:00, giving you enough time to explore the village in the afternoon.
It will be an early night for you as you'll be up by 02:00 am to start your hike.
After you've climbed Adams Peak, aim to be back at your hotel by 08:00 am. You'll then have enough time to get to Hatton and make either the 11:14 or 14:30 train.
Instead of going straight to Ella from Adam's Peak, I suggest you go to Nuwara Eliya first. It's about halfway between Hatton and Ella and was one of my favorite places to visit in Sri Lanka.
You'll be exhausted but at least you would have made it to the summit of Adams Peak in Dalhousie.
2-night Adam's Peak itinerary
If time is on your side, I highly recommend spending another night in Dalhousie.
Whilst there isn't much else to do near Adams Peak, you'll need the time to rest and catch up on some much-needed sleep. Climbing Adams Peak will take it all out of you!
Another reason to spend an extra night in Dalhousie is so that you don't rush your Adams Peak hike as many people hurry back down in order to make the early train from Hatton.
When I hiked Adams Peak it was overcast and cloudy at the summit, with no view. Most people saw this and were disappointed, so after spending a few minutes at the top, they went straight back down.
However, because I'd given myself an extra day in Dalhousie, I wasn't so rushed to get off Adams Peak.
After waiting about 30 minutes at the top, the sun peeked through the clouds, opening up the sky and giving us a spectacular view of the valleys below.
Where To Stay Near Adams Peak, Dalhousie
Are you wondering where do you stay when climbing Adams Peak? You will find many hotels and homestays in Dalhousie (Nallathanniya) which is the gateway to Adams Peak in Sri Lanka.
Most will offer an early morning service to drop you at the entrance of Adams Peak so be sure to confirm this with your hotel the night before.
I stayed at Subash Hotel which is situated just outside Dalhousie and is about a 10-15 minute drive from Adams Peak. It's close to the local villages and lies amongst the forest giving you views of the dam and surrounding valley.
At only $10 per night for two people, including a hot shower, the price is extremely affordable. Subash Hotel also has its own restaurant and the food is delicious and well-priced.
Here are a few alternative places to stay near Adams Peak
Budget: Water Side Residence has views like no other. It's cheap, has amazing reviews, and is close to Adams Peak. Having a hot shower to come home to is luxury and makes this the best place to stay in Dalhousie if you're on a budget!
Mid Range: Hugging Clouds is found is the heart of Adams Peak and it's the kind of place you want to come back to after a strenuous hike. The owners are incredibly friendly and will give you insider tips of other things to do in Dalhousie.
Luxury: The Farm Resorts is a Sri Lankan paradise situated amongst the tea plantations. The location couldn't be more picturesque and it's a sanctuary hidden alongside the shores of Castlereigh Lake. It's a 30-minute drive to Adam's Peak and Dalhousie, but the drive is worth it to be able to stay in such a beautiful area.
Is climbing Adams Peak worth it
Adams Peak is a prime example of the journey being more important than the destination – because Dalhousie is beautiful, and off-the-beaten-track by Sri Lankan standards.
Why you should climb Adams Peak in Sri Lanka
The drive from Hatton to Dalhousie (Adams Peak) is absolutely gorgeous. Throughout my 4-weeks in Sri Lanka, this route was by far the most scenic I came across, with rolling hills and endless tea plantations.
Unlike the beaches down south, there aren't many tourists exploring Dalhousie and I felt like I was in a country that had never experienced tourism.
It was incredible.
READ MORE: A Complete Guide to Sri Lanka's Paradise, Hiriketiya Beach
And the actual Adams Peak hike
My honest opinion – climbing Adams Peak was a bit of a let-down.
Why? Because unlike other hikes in Sri Lanka, Adams Peak was literally just walking up an infinite number of stairs.
For over 3 hours you climb 5 500 steps all on a paved and "safe" route in one direction – up.
I prefer the more natural hikes where you get lost on a trail (which is why I loved hiking Ella Rock in Ella and Pidurangala Rock in Sigiriya).
Whilst the view from the top was spectacular, there were buildings blocking the view and barb-wire preventing people from climbing onto the structures which offered better views.
Why do you want to climb Adams Peak in Dalhousie
Adams Peak is a holy mountain and needs to be appreciated as such.
Whilst I do think climbing Adams Peak off season is better because of the fewer people, I also think that it's the pilgrims who make it such a special and unique mountain to climb: To be a part of the Adams Peak pilgrimage with thousands of Sri Lankans, young and old.
So yes, climbing Adams Peak is worth it if you can appreciate the beauty between Hatton and Dalhousie. If you have time to take in the views and interact with the locals as I did, or if you take part in the annual pilgrimage.
If you just want to do a hike and you're pressed for time, rather give Ella Rock and Little Adam's Peak a shot.
Is Adams Peak hard to climb?
Adams Peak isn't hard to climb if you are reasonably fit – but there are lots of steps.
Why do people climb Adams Peak?
Most people climb Adams Peak as it's regarded as a holy site by Buddhists, Christians, Hindus, and Muslims. Every year, over 25 000 pilgrims hike to the peak to set their sights on the Adams Peak footprint.
But it's not only the annual pilgrimage that attracts visitors. The beauty surrounding Sri Pada/Adams Peak is unmatched and it's a stunning part of Sri Lanka to explore.
How long does it take to climb Adams Peak?
It take 3 to 5 hours to climb Adams Peak. But this depends on your fitness levels and how many breaks you need as there are 5 500 steps to the top.
---
Have you climbed Adam's Peak in Dalhousie? Is it worth including in your Sri Lanka itinerary? Let me know in the comments section below!
Looking for more Sri Lanka travel information? Check out my other posts!
---
Pin this!
There is a really good chance that this post contains affiliate links. If you click one of them, I may receive a small commission at no extra cost to you. As always, views are my own!