The Coogee to Bondi walk is one of the most famous walks in Sydney. And rightly so! The route hugs the coast where you make your way across 5 stunning beaches, each with their own unique charm and gorgeous natural rock pools.
But owning the title of the best coastal walk in Sydney means one thing – Everyone's doing it! Come the weekend, everyone, (and their dog) venture outdoors to do the Coogee to Bondi coastal walk.
I was eager to see what all the fuss was about so I prepped a few sandwiches, hopped on the ferry to Circular Quay, and headed to the eastern beaches to walk from Coogee to Bondi Beach.
Now that I've been there, done that, I created this guide with everything you need to know about the Bondi coastal walk, including whether the reverse option (Bondi to Coogee Beach) is better.
So, if you're planning on ticking a coastal walk off your Sydney bucket list, this is your go-to guide with all you need to know.
What is the Coogee to Bondi Walk
Bondi Beach is arguably the most iconic beach in Sydney, located on the eastern shores of the city.
It's world-famous and has gained even more popularity thanks to the Bondi Rescue reality show. Masterchef Australia also has a part to play in creating the world-wide craze as several episodes have been filmed at the famous Icebergs Restaurant overlooking Bondi Beach.
This, coupled with the thousands of influencers snapping away their gorgeous photos with the picturesque Bondi pools in the background, has led to Bondi Beach being one of the top tourist attractions in Sydney – you can't visit the city and not check out Bondi!
But there's more to the eastern beaches than just Bondi Beach! And the best way to experience them all is to explore the scenic coastline by doing the Coogee to Bondi coastal walk where you'll wander the sandy shores of Coogee Beach, Gordons Bay, Clovelly Beach, Bronte Beach, and Tamarama Beach before calling it a day at Bondi.
Coogee to Bondi Coastal Walk: The details
Coogee to Bondi walk distance: 6km
Walking time: 1.5 hours nonstop | 2.5 -3.5 hours with breaks
Difficulty: Easy
Track conditions: The entire trail from Coogee to Bondi is paved and in great condition. This makes it extremely attractive for those looking for a nice afternoon stroll, but if you prefer a more adventurous coastal walk with a wilder route, you may want to check out the other coastal walks in Sydney – like Manly to Curl Curl on the northern beaches.
Coogee to Bondi or Bondi to Coogee
The Coogee to Bondi walk is a one-way trip that starts at Coogee Beach and ends 6km north, at Bondi Beach. But you can also do it in reverse.
So, which is better? Walking from Coogee Beach to Bondi? Or the Bondi to Coogee walk?
Both have their pro's.
I recommend you start at Coogee because the first few beaches from that side are spectacular making it a great introduction to the Bondi coastal walk. Also, you'll have worked up quite the appetite after your walk and you'll be spoiled with options of places to eat and drink when you reach Bondi Beach. If this is your first time going to Bondi, one of the highlights of walking from Coogee to Bondi is the moment you reach Icebergs Restaurant, with the sprawling views of Bondi Beach as it curves far in the distance.
On the other hand, if you're looking to hang out at a beach after your walk, then I'd suggest walking from Bondi to Coogee. Whilst Coogee Beach isn't as big as Bondi, the vibe is more relaxed and it's a great spot to spend the day. Bondi, on the other hand, is busy and more chaotic.
Where to start the Coogee to Bondi Walk (or Bondi to Coogee)
Firstly, use public transport to get to Coogee or Bondi Beach. Avoid driving your own vehicle as parking is a nightmare and ridiculously expensive, plus you'll have to hop on a bus or catch a taxi anyway to fetch your car when you're done.
It's just so much more convenient to get on the bus!
Coogee to Bondi Walk: The walk starts at Coogee Beach. If you're coming from Circular Quay or the CBD, take bus 373 to Coogee Beach. This is a 40-minute ride. From there, head to the left side of the beach, towards the Coogee Pavilion.
Bondi to Coogee Walk: If you're doing the walk in reverse, from Bondi to Coogee, take bus 333 from Circular Quay to Bondi Beach which is a 40-minute ride. You could also take the train from Circular Quay to Bondi Junction and then hop on the bus to Bondi Beach, but the time is more or less the same, and staying on the bus is far more effortless!
The route is clearly marked, and you won't struggle to find the path – just follow the scores of people ahead of you.
Coogee to Bondi walk tips
Avoid going on weekends if possible! I did the Coogee to Bondi walk on a Sunday and the route was packed. And this was in winter – I can't imagine how busy it is during summer.
Keep an eye out for whales. May to October is the migration season where whale sightings are common. Dolphins are seen all year round so be on the lookout for those as well.
Traveling on a budget? Prepare a few sandwiches, and enjoy your lunch on the cliffs overlooking the ocean.
Bring a reusable water bottle. There are refilling stations throughout the Coogee to Bondi walk.
There are toilet facilities. And they're clean! You can find them at every beach along the route.
Wear a hat and sunscreen. There is no shade and the Australian sun can be harsh.
The Coogee to Bondi walk is not wheelchair friendly. Expect lots of stairs which make even traveling with a pram difficult.
Got a dog? You can bring your furry friends along with you but keep them on a lease!
Get to know the Bondi area before visiting. Did you know that "Bondi" is an aboriginal word? Discover all the interesting Bondi Beach facts here.
Coogee to Bondi Walk: The route and highlights
If you're fresh off the plane, you'll soon learn about the beach culture of Australia – it's all about beach volleyball, surfing, and tanning.
Coogee to Gordons Bay
Arriving at Coogee, I was pleasantly surprised. Living in the northern beaches of Sydney, I was expecting a similar sort of landscape – nope, they are completely different!
Coogee Beach was my first taste of the eastern beaches and I loved it (except the crowds, but I had to suck it up).
Read More: Ultimate Guide To Climbing Island Peak in Nepal
Once you get to Coogee Beach, head in a northerly direction and you'll soon find the start of the Coogee to Bondi walk near the Coogee Pavilion. Walk through Dunningham Park but don't forget to look back as you'll have sweeping views of Coogee Beach in the distance.
Soon after leaving Coogee, you'll head down the cliffside to Gordons Bay. The sparkling clear waters will catch your eyes immediately!
Gordons Bay is a small cove, popular with snorkelers and stand-up paddleboarders. The shallow, rocky waters and offshore reef make for the perfect place to explore the underwater world.
It's also a prime spot to hang out but the beach is pretty small, so most people find a place to sit on the rocks on either side of the bay.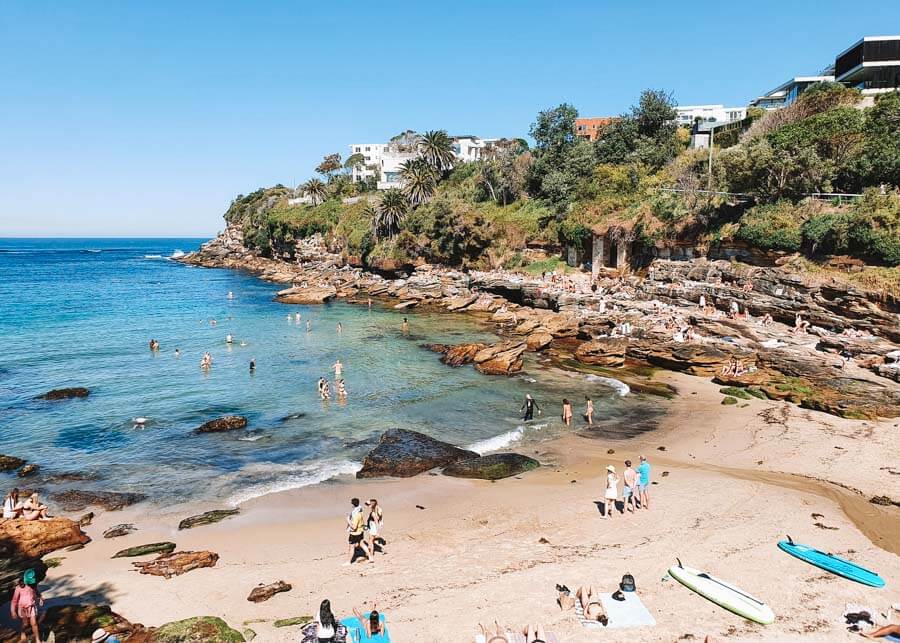 Gordons Bay to Clovelly Beach
From Gordons Bay, there's a short uphill climb and once you reach the top, you'll have unspoiled views of Gordons Bay to the right.
You'll continue walking along the path before you catch your first sight on Clovelly Beach: The best beach for families!
As you initially turn into Clovelly Beach you won't actually see the beach. My first impressions were that of shock!
There were hundreds of people tanning on the concrete floor next to what looked like an exceptionally long swimming pool – it seemed absurd to me.
Was this the "beach"?
But, walking further around the point and going inland, I eventually saw what all the fuss was about!
Clovelly Beach is a narrow beach sitting at the end of a long bay, providing perfect conditions for kids as there are no waves nor strong currents. There are small rock pools and kids everywhere!
Just like Gordons Bay, Clovelly Beach is also a great place to go snorkeling and the beach is pretty long, so you'll find a spot in the sand, although it seemed that most people preferred the concrete!
Clovelly Beach to Shark Point
The next beach on the Coogee to Bondi walk is Bronte Beach. But first, you have to check out Shark Point which is on the way.
Leaving Clovelly Beach, the path veers inland but instead of following it, take a detour and head toward the coast through the open grass area on your right. This route is more remote and quieter and offers some pretty epic views of the crashing waves as they hit the cliffs.
If you've prepared a few snacks, Shark Point is a good place to have a lunch break but keep an eye out for dolphins and whales as it provides a great vantage point for sightings.
After your break, continue on the rugged path where you'll pass Clovelly Bowling Club and Burrows Park Sportsfield – This clifftop rugby field has an incredible backdrop and we couldn't help but watch 5 minutes of a school game that was taking place.
Soon you'll meet up with the rest of the crew walking from Coogee to Bondi Beach.
READ MORE: COMPREHENSIVE GUIDE TO SCUBA DIVING BYRON BAY
Pro Tip: If you're walking from Bondi to Coogee, keep an eye out for this sportsfield and head left as you see it. This alternative route isn't as visible from the other side, so you'll most likely miss it if you don't know that it's an option.
Shark Point to Waverley Cemetery
So, not only does the Coogee to Bondi walk take you past several stunning beaches, but you'll also set your sights on one of the most beautiful cemeteries in the world!
That's right – along the coast, with oceanfront views of the Tasman Sea lies Waverley Cemetery. You'll walk along the boardwalk with the cemetery to your left (if you're going from Coogee to Bondi) and the ocean to your right.
The size of the cemetery, and its prime real estate, certainly make it one of those awe-inspiring moments (or am I the only one who didn't know about it prior to doing to Coogee to Bondi coastal walk).
Waverley Cemetery to Bronte Beach
After walking to the end of Waverley Cemetery, you'll climb up a flight of stairs and cross rocky terrain before setting your sites on Bronte Beach.
Bronte is the little sister to Bondi Beach and has something for everyone. The model train and shallow rock pools appeal to kids whilst adults will be drawn to the beach activities and fun shore break.
The Bronte Baths are Instagram famous and are equally as gorgeous in real life. The park behind Bronte Beach is a hive of activity with musicians performing and people picnicking and it's a great spot to end your weekend.
Pro tip: If you're pressed for time, many people choose to only walk the section from Bronte to Bondi which is 2.5 km. Personally, I preferred Coogee to Bronte because of the contrasting coves and unique beaches, and the section of the Bronte to Bondi walk is also busier.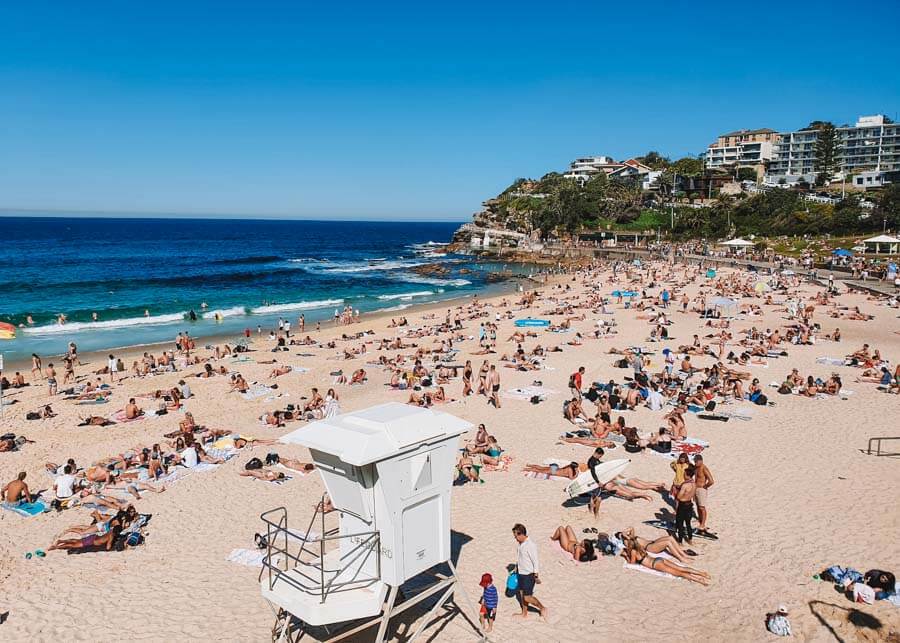 Bronte Beach to Tamarama Beach
By now you'll be about 2 hours into your Coogee to Bondi walk and itching to see Bondi Beach!
But first, you'll need to pass Tamarama Beach which is just a few minutes from Bronte Beach.
Tamarama Beach is smaller than Bronte, and not as congested. Unlike Clovelly Beach which attracted families with kids, Tamarama Beach draws an older crowd of surfers and bodyboarders as the clean break out back provides a fun wave.
At the end of the beach, there's a park and kids' playground and it's another awesome place to hang out at the end of a busy day.
Tamarama Beach to Bondi
Leaving Tamarama Beach, I didn't realize I'd be so excited to see Bondi Beach but walking around the corner to Mackenzies Point, the excitement was real!
But don't be in such a hurry get to Bondi. Take time to appreciate the views and be on the lookout for whales as Mackenzies Point is the best place to spot them.
Read More: 11 Things You Need To Know About Trekking to Everest Base Camp (And How Difficult It Really Is)
From there you'll walk under a few overhanging cliffs before reaching the iconic Bondi pools which mark the end of your Coogee to Bondi walk.
As you head down toward Bondi Beach you'll feel the change of energy. In comparison to all the other beaches on the Coogee to Bondi walk, Bondi Beach is massive and you can easily spot its sandy shores from a mile away.
If you're planning on hitting the beach, then continue further along the coast and find a spot, or if you'd prefer to reward yourself with a beer, head to one of the many restaurants and pubs along the beachfront.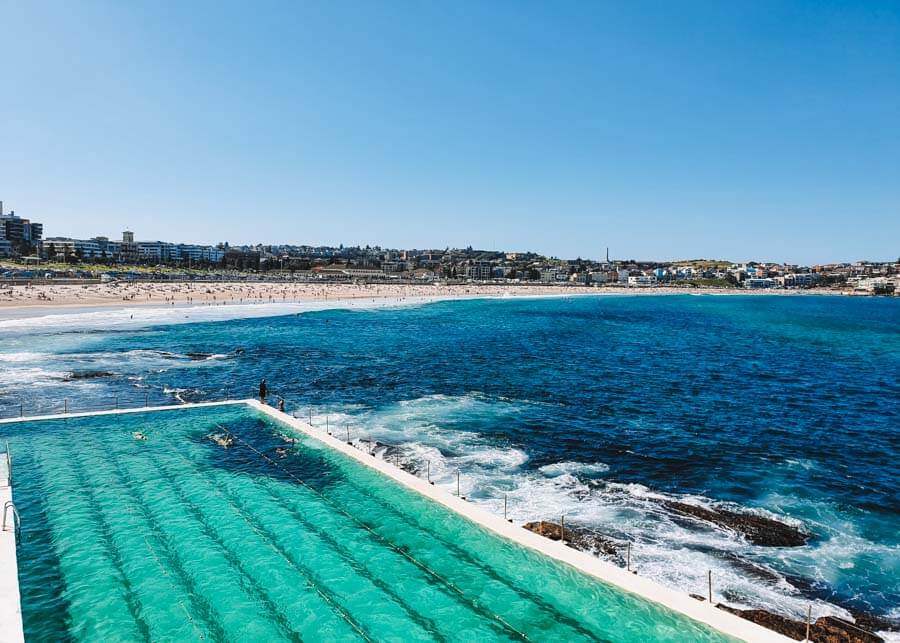 Other experiences along the Bondi Coastal Walk
If you're an adrenaline junkie or you're simply looking to learn more about the history of the locations along the Coogee to Bondi walk, these tours are excellent options for you.
Helicopter Flight: Check out Bondi Beach from above and take this epic flight above the Sydney harbor and the eastern beaches.
Guided coastal tour: Having a local guide lead the way will give you so much more insight into the history of not only the eastern beaches but Sydney as a whole.
Thrilling speedboat ride: This has to be the most exciting way to see Bondi Beach! But there's more – you'll also see the Sydney Opera House and the Harbor Bridge.
Bondi surf lesson: Bondi Beach is a great place to learn how to surf. There's tons of space and you'll be finding your groove along with other beginner surfers.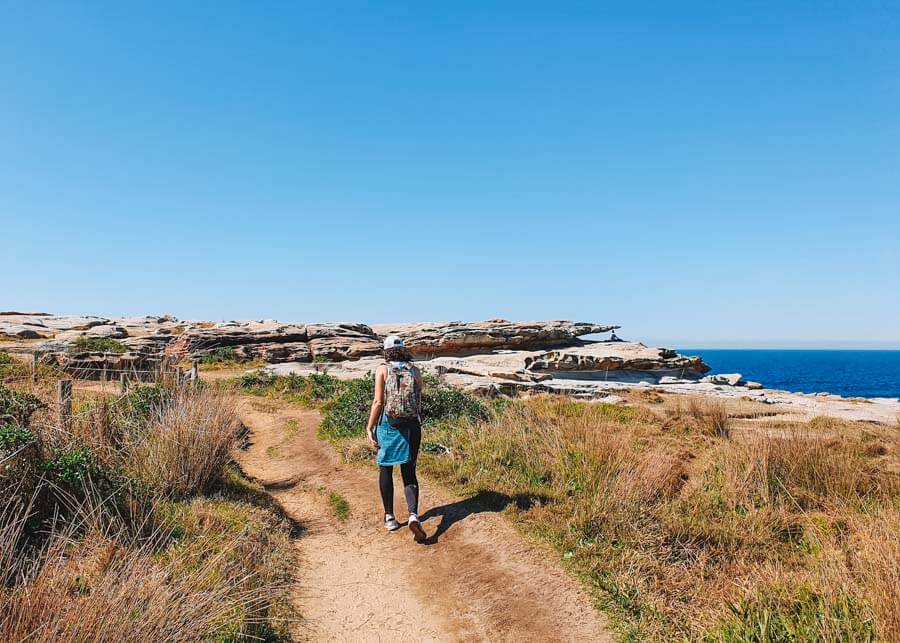 Thoughts on the Bondi coastal walk from Coogee to Bondi
Sydney is absolutely gorgeous and I never imagined the coastline to be as rugged and diverse as it is. And that's why you have to do the Coogee to Bondi walk as it will give you the chance to see that there's more to Sydney than the Opera House and Bondi Beach (although both are amazing!)
---
Have you done the Coogee to Bondi walk? Or did you do the standard route: Bondi to Coogee? Which is better and do you think it deserves the title of best coastal walk in Sydney? Let me know in the comments section below!
Here are a few other posts that my interest you!
---
Pin This!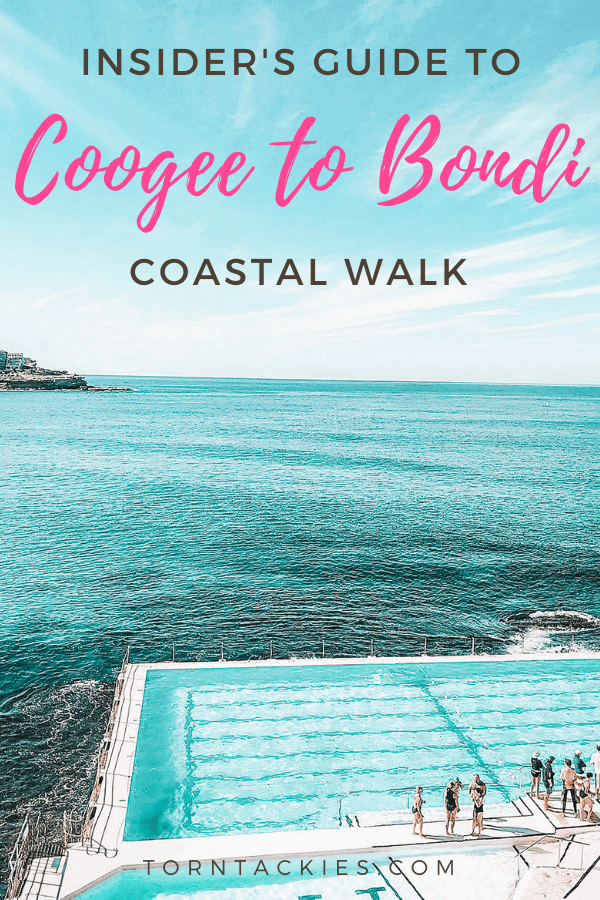 There is a really good chance that this post contains affiliate links. If you click one of them, I may receive a small commission at no extra cost to you. As always, views are my own!