Seoul – the city that never sleeps! There's always something happening in the sprawling metropolis, and it's the most exciting place to visit in Korea.
But it can be overwhelming!
After a few days exploring the vibrant city, you may want an escape from the flashing lights and K-Pop craze. Luckily, there are so many awesome day trips from Seoul, making it easy for you to hop on a train or bus and explore more of Korea.
Here are 9 of the best Seoul day trips that you cannot miss, as well as a few extra destinations that you should include in your Korea itinerary.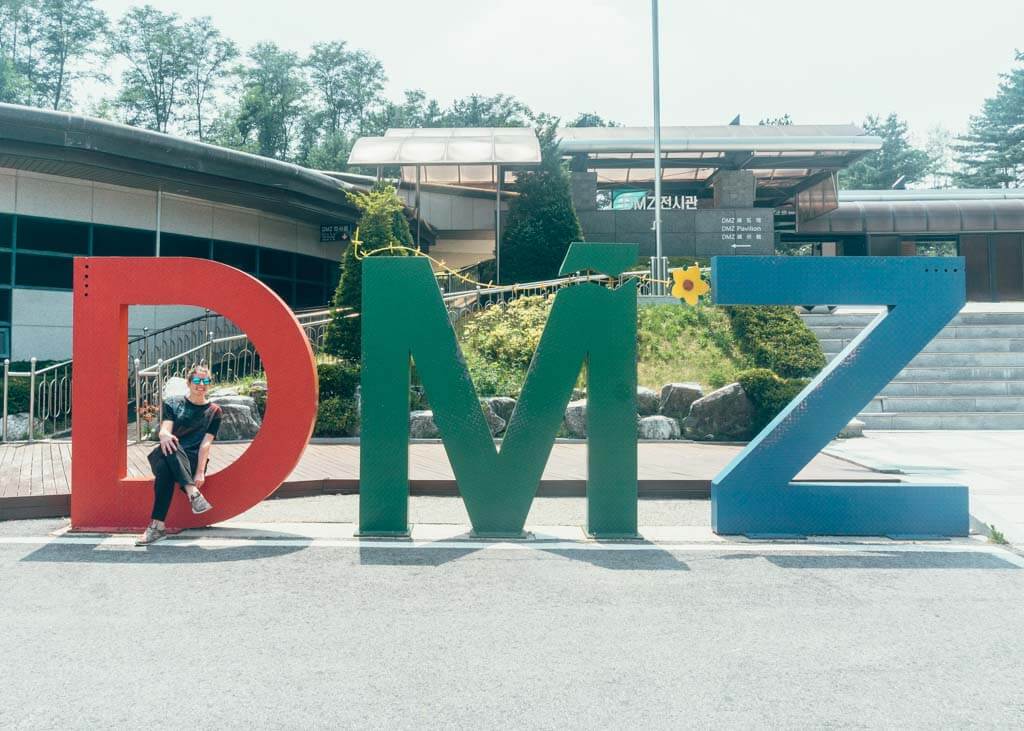 9 Best Seoul Day Trips
Below are my top picks of the best day trips from Seoul, many of which can be included in a 7 day Seoul itinerary.
They take you from the thrilling roller coasters of Everland to the eerie corners of the DMZ and will suit adventure travelers and even couples looking for a romantic getaway from Seoul!
Summary of The Best Day Trips From Seoul
Adventure day trips from Seoul: Skiing at Bears Town or river rafting in Inje
Best Seoul day trip for couples: Nami Island or Chuncheon
Must-do summer day trip from Seoul: Daecheon Beach
Easiest trip using the Seoul Metro: Suwon and Bukhansan National Park
Day trips from Seoul for families: Everland Theme Park
Most popular attraction near Seoul: DMZ and JSA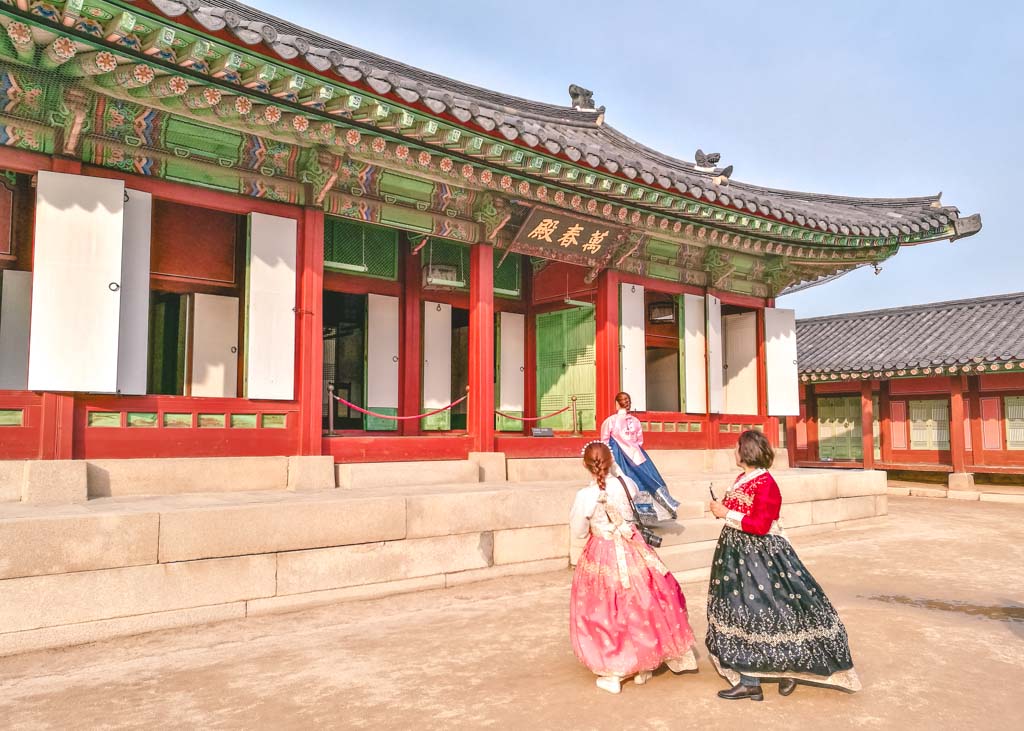 Skiing day trips from Seoul
The winter snow season runs from December until March and attracts thousands of eager Koreans and foreigners looking to escape the city and head to the mountains.
If you're spending winter in Korea, check out these awesome ski resorts which are easily accessible on a day trip from Seoul.
Unlike other ski destinations in the world, you don't need to plan week-long getaways to go skiing in Korea.
The ski parks are much smaller, and the courses lack variety, making it the perfect day trip from Seoul, as you'll get pretty bored if you spend more than 2 days at the same resort.
Most ski resorts lie within a 2-hour drive from the capital city, the closest being Bears Town Ski Park which is awesome for beginner snowboarders and skiers. Vivaldi Ski Park is a hit with families as it has Snowy Land, a fun snow park for kids.
There are numerous ski tours to choose from where all your gear is provided, and ski passes are organized. All that's left for you to do is meet the bus in Myeongdong, Seoul at 7 am and you'll return by 8 pm the same night.
Nami Island and the Garden of Morning Calm
Nami Island and the Garden of Morning Calm are two of the most iconic sights in Korea and are easily accessible on a Seoul day trip.
The Garden of Morning Calm is a massive botanical garden boasting over 20 themed sections. It's incredibly picturesque with stunning photo opportunities no matter where you look! The gardens are a great place for a picnic lunch so come prepared with a blanket and some snacks and enjoy some downtime under the trees.
Next, head to Nami Island which is a short drive away. This is arguably the most famous place in Korea and is the filming location for many K-dramas. To get to the half-moon shaped island, you need to pass through "immigration" before taking a ferry (or a zip line) to the island.
Beautiful pine trees line the walkways and it's best to rent a bike and cycle around, where you'll discover Insta-worthy photo locations, quirky sculptures, and riverside benches.
For this Seoul day trip, you can even add Petite France to your itinerary, but this depends if you're going independently or with a tour group. It's possible to explore Nami Island and the Garden of Morning Calm without a tour group, but it will be a rush and so you'll most likely have to give Petite France a miss.
But, an awesome tour like this takes you to the top attractions and all your tickets will be purchased in advance so you won't have to waste time waiting in queues
Check Nami Island tour prices here.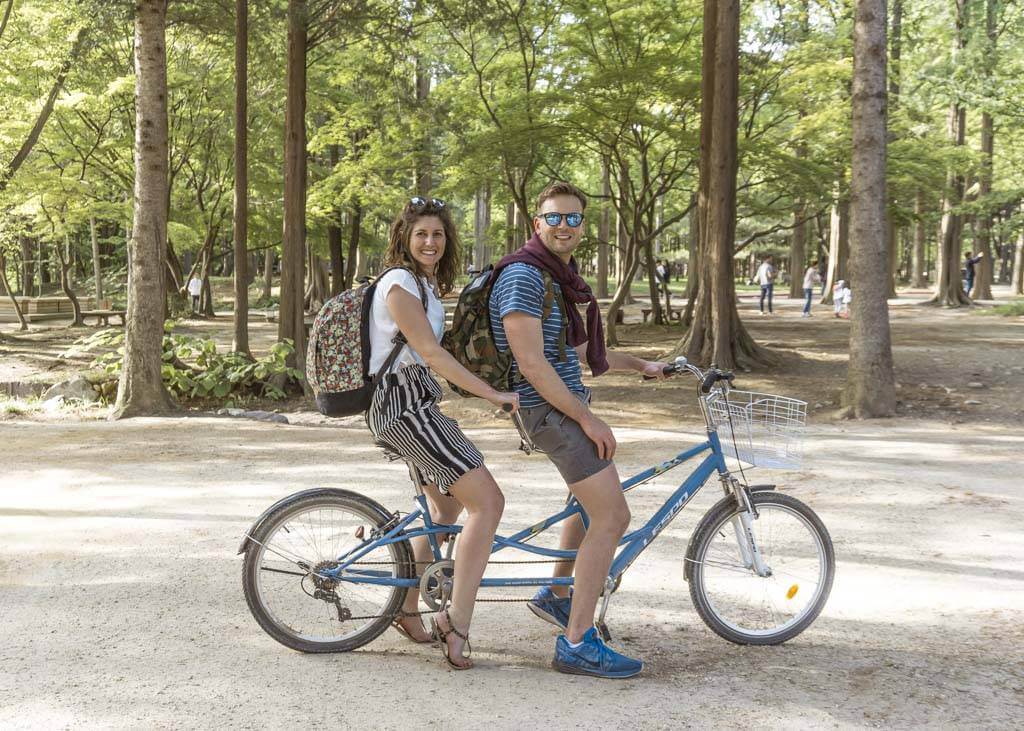 DMZ & JSA Day trip from Seoul
If you're as fascinated by North Korea as I am, you have to visit the Joint Security Area (JSA) which is located in the Demilitarized Zone (DMZ). This is one of the best places to visit outside Seoul as it's located just an hour's drive away.
The DMZ is no man's land and acts as a buffer between North and South Korea. It's one of the most heavily militarized borders in the world and spans the entire breadth of the two countries.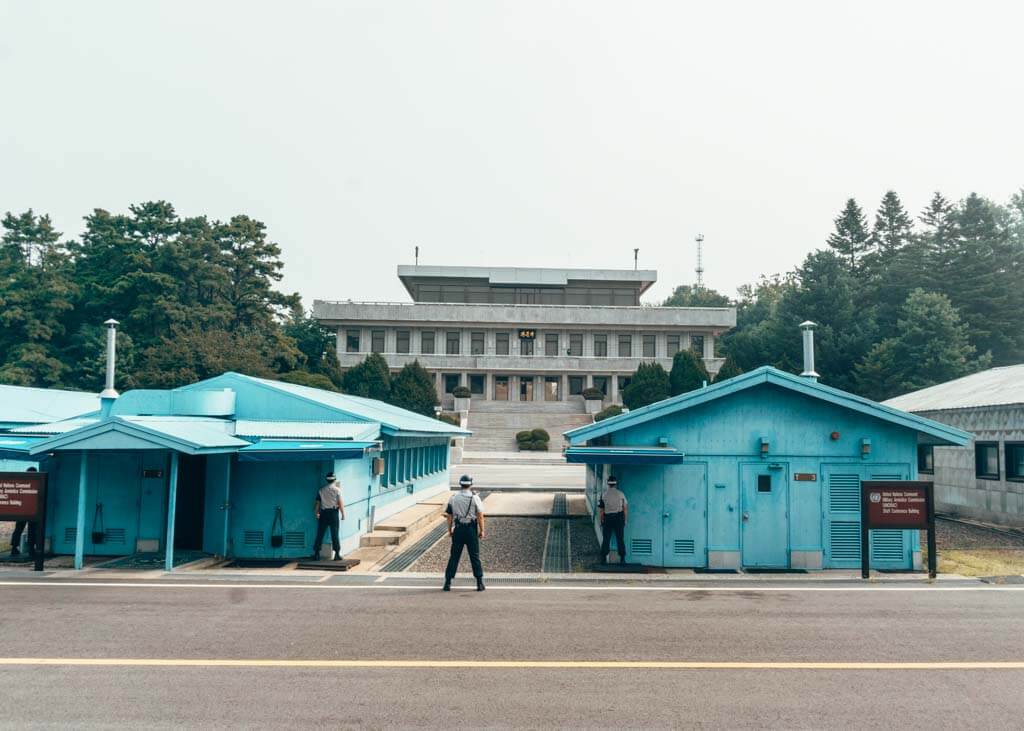 DMZ Tour From Seoul
Of all the day trips from Seoul, the DMZ is the one that you cannot access independently and has to be organized through a tour operator.
There are various half-day tours and full-day tours to choose from, but if you're making the effort to go there, rather opt for the full-day tour from Seoul and experience the DMZ in its entirety.
During the tour, you'll visit the Third Tunnel of Aggression which was built by the North Koreans as a way to invade the south many years ago.
From there, you'll head to the Dora Observatory which overlooks the DMZ and onto North Korea. You'll also visit Dorasan Station, an abandoned train station that will potentially connect Pyongyang and Seoul in the future.
But arguably the most moving of all is visiting the Joint Security Area (JSA) where the two Koreas meet and negotiations are made. This place is downright eerie, and you can feel the tension in the air as soldiers line the road and there are strict protocols in place.
By entering the conference room, which is recognized by its iconic blue color, you're able to step foot into North Korea! You'll have soldiers staring you down whilst doing so, so it's best you don't make any quick movements.
If there's one day trip from Seoul that you cannot miss, it's this DMZ tour!
2022 Update: The JSA is currently closed to visitors but there are still tours going to other sections of the DMZ.
Is North Korea seen as a threat to the South
After living in Korea for 14 months, I became immune to the conflict between the two countries. Not because it didn't concern me, it did, but rather because of how little attention Koreans gave to the threats from the North.
There would be a nuclear test, and my fellow co-teachers wouldn't blink an eye (whilst I frantically read every news article to ensure Seoul wasn't a target).
According to the locals, these threats have been going on for years, long before the media decided it was a news-worthy topic. They choose not to pay much attention to it and as that's what North Korea wants – its scare tactics – they want the attention and they want the power.
Regardless, you can't NOT be interested in how the North and South separated, and the events leading up to their split and hatred for one another. Families were torn apart during the war and it's a warming feeling knowing that there may be a chance for them to reunite one day.
Check the latest DMZ tour prices.
Everland and Caribbean Bay
Everland is the Disney World of Korea! It's the largest theme park and an institution in the country.
Situated in the colorful city of Yongin, it takes an hour to reach from the center of Seoul and you'll need a full day to explore all the attractions.
With parades, fireworks, and a magic fair, Everland is a sensory explosion for all visitors and is one of the top activities to do on a Seoul day trip.
Right next door to Everland lies Caribbean Bay, a water park with fun slides, wave pools, and river tubing activities. This makes for an exciting day trip on its own, especially during the warm summer months.
Both Everland and Caribbean Bay get extremely crowded over the weekend and public holidays, so if you're planning this day trip from Seoul, try to visit during the week when it's less busy.
Buy your tickets in advance here where you'll pay a discounted rate and won't need to stand in long queues. You could also opt for a tour which includes your transport from Seoul to Everland which may be a better option if you're traveling with kids.
Bukhansan Mountain Hike
You don't have to venture too far when looking for the best Seoul day trips! Just a short drive north of the city lies Bukhansan National Park, an outdoor playground for those looking to go hiking near Seoul.
The highest point is Baegundae Peak which offers panoramic views of Seoul in the distance. But the climb to get there is tough!
If you're an adventure traveler, hiking Bukhansan Mountain is one of the most exhilarating day trips from Seoul.
I mistakenly took the expert route – you can read about my Bukhansan hiking adventure here – which saw me climbing on all fours, scaling massive boulders whilst pulling myself up with rope and hanging on to dear life as I tried to maneuver my way to the top of the mountain!
The bonus of taking this route was that there were no tourists in sight, and I could enjoy the awe-inspiring views all to myself.
But fear not, the Bukhansanseong Course to Baegundae Peak is a far more relaxed hike and suitable for all fitness levels. On the downside, it is a popular trail, so you'll come across lots of people.
Chuncheon and Gangchon Rail Park
Start your morning off by pedaling through the Korean countryside at the Gangchon Rail Bike, the best rail park in Korea!
Situated in Gapyeong, just 77km from Seoul, the 8.6km rail bike course passes through wide-open fields, where you'll enter themed tunnels and ride alongside rivers before hopping onto a train for a scenic ride to the final point.
It's one of the best day trips from Seoul that allows you to explore a different side of Korea, away from the crowds as only a limited number of people are allowed on the rail bike at a time.
In total, you'll need 2 hours to enjoy the Gangchon Rail Bike but don't end your trip here!
After your rail bike experience, head over to Chuncheon, the Dakgalbi capital of Korea, which is just 2km away. If you don't know what Dakgalbi is, you're in for a treat. The delicious cheesy meal supposedly originated in the city of Chuncheon and there's even a street named after it!
After eating your heart out, hop back on the KTX and head home to Seoul.
Pro tip: Gangchon Rail Bike Park is in the same region as Nami Island and the Garden of Morning Calm. If you have some extra time and you're looking for the best weekend trips from Seoul, spend the night in Chuncheon and check out Nami Island the next day.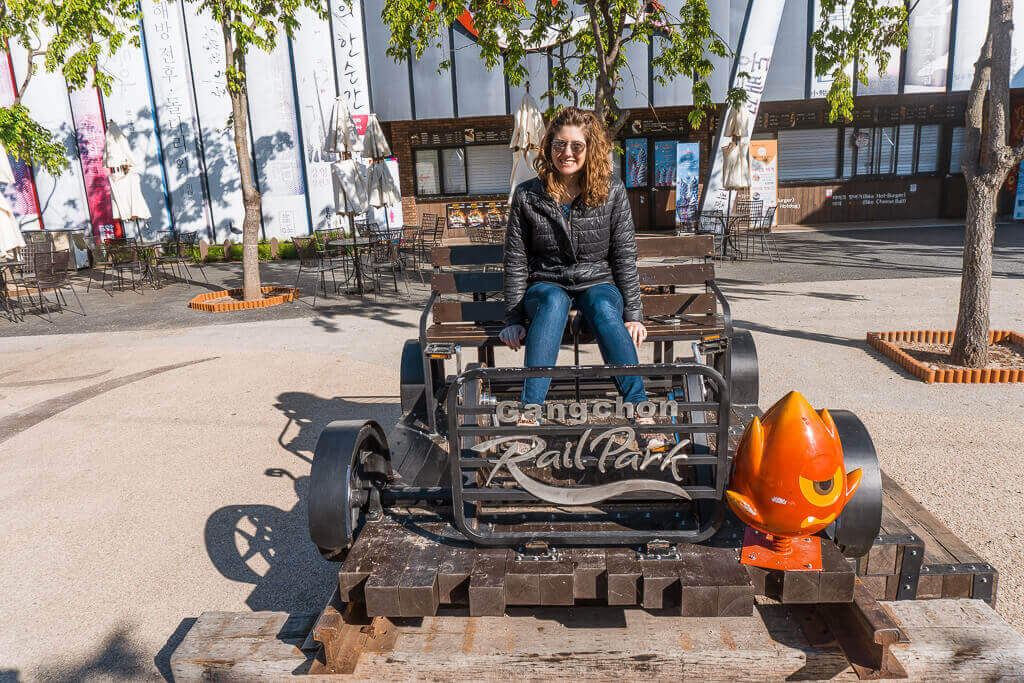 Daecheon Beach
Planning your vacation to Seoul for summer and looking to hit the beaches? Unfortunately, those on the east coast, like Busan and Sokcho, are a bit too far to include on a day trip from Seoul.
But Daecheon Beach on the west coast is a 2-hour drive from the capital and makes for the perfect day or weekend trip.
Situated in the town of Boryeong, Daecheon Beach is famously known for being the home of the Boryeong Mud Festival which attracts thousands of visitors to its shores in July each year. The 3.5km stretch of beach is the perfect place to soak up the sun and spend a day in the water.
The sidewalk alongside the beach is lined with Korean restaurants where you can feast on a BBQ and enjoy some Soju before heading back to Seoul.
To get to Daecheon Beach, take the bus from Seoul Express Bus Terminal to Boryeong Bus Terminal. From the bus terminal, you can hop on the local bus to Daecheon Beach which leaves every 10 minutes.
White water rafting
If you're looking for fun day trips from Seoul during summer, why not go rafting down the Naerincheon River near Inje. Whilst it's a popular weekend activity for Korens, I was surprised to see no other tourists on the river!
The 6 km course offers class II rapids which aren't overly exciting so it's best to manage your expectations before you arrive thinking you're in for some fun, wild waters.
But what it lacks in rapids, it makes up for in scenery. It's incredibly beautiful and the stream is lined with lush trees.
The highlight comes halfway through the course when you can hop in the water. After spending an hour paddling in the scorching heat, this refreshing swim is well-deserved.
Naerincheon River is a 90-minute drive from Seoul and to get here, you first need to take a bus from the Dong Bus Terminal in Seoul to the town of Inje, followed by a 15-minute taxi to X-Game Resort which is where you'll start your rafting tour.
Read More: All You Need To Know About River Rafting in Korea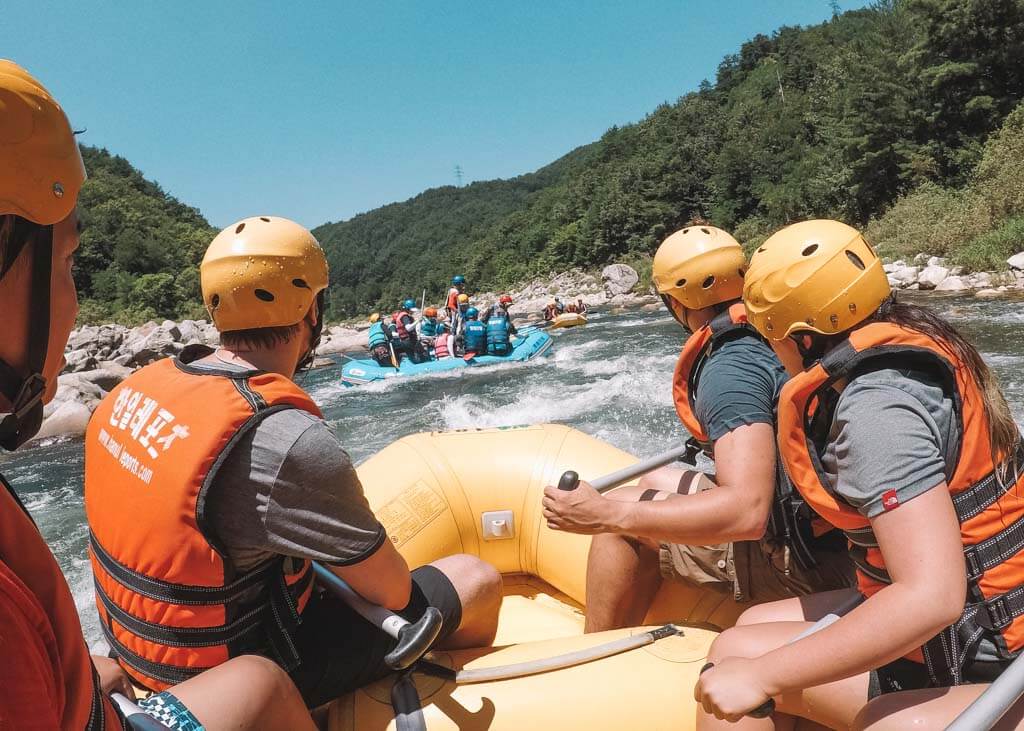 Suwon
Suwon is a small city situated on the outskirts of the capital, and a worthy day trip from Seoul as it's easily accessible using the Seoul Metro.
The biggest attraction is the Suwon Hwaseong Fortress. Built in the 18th century during the Joseon Dynasty, it's a UNESCO World Heritage site and one of the most impressive destinations near Seoul.
Stretching over 5km, you're able to walk the perimeter walls taking in the picturesque mountain views that surround the fortress.
Suwon also has an exciting nightlife scene, so after exploring the fortress, head out and treat yourself to some delicious Korean food, and soju (of course)!
Or better yet, coordinate this Seoul day trip with a baseball game at the local Suwon stadium.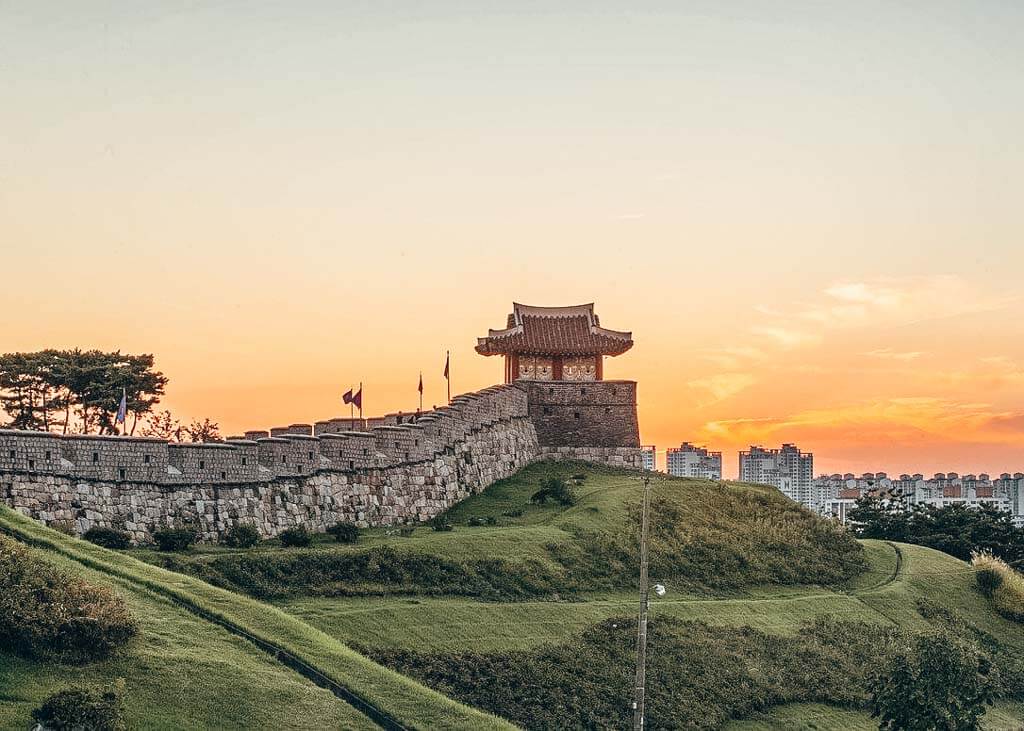 Weekend Trips from Seoul
Thanks to the KTX fast train, most places are accessible on day trips from Seoul. But just because you can do it, doesn't mean you should!
The below places are better to visit over a weekend trip from Seoul as they are further away and you'll need more time to check out all the attractions nearby.
Jeonju: The best weekend getaway from Seoul
Jeonju is a foodie's delight and a charming city south of Seoul. Just like Chuncheon is famous for Dakgalbi, Jeonju's signature dish is Bibimbap, yet another one of my favorite Korean dishes!
READ MORE: THE ULTIMATE KOREA PACKING LIST
Another major attraction in Jeonju is the well-preserved Hanok Village which is arguably one of the most spectacular traditional villages in Korea. Walk the streets, explore the traditional houses made from wood and slate, dress up in a traditional Hanbok and observe the selfie-obsessed visitors (seriously, if you don't take selfies in Korea, you will stand out like a sore thumb!)
After exploring the village, take a short walk to Jaman Mural Village where you'll find vibrant street art.
Finally, and my highlight of Jeonju, enough a night of Makgeolli which is a traditional Korean milky rice wine!
Pro tip: When in Korea, always ALWAYS eat where the locals do. So what if you can't read the menu! It doesn't matter if you can't communicate with the staff. This is the true Korean experience and it's not to be missed! Here are some interesting facts about the food culture in Korea!
After all the Makgeolli, you'll most likely wake up with a nice headache the next day, so feast on a big breakfast (which should be bibimbap – yes, it's a favorite for breakfast, lunch, and dinner) before heading back to Seoul, or continue on to Busan which is 3 hours away.
Why you shouldn't visit Jeonju as a day trip from Seoul
To get to Jeonju, you can hop on the KTX bullet train which takes less than two hours from Seoul. But at $35 for the one-way trip, it's rather pricey!
If you include Jeonju as one of your day trips from Seoul, you should definitely take the fast train but it's a lot of money to spend for a few hours in the city.
Alternatively, if you're traveling Korea on a budget, the bus is your best bet, but it's just over 3 hours' drive from Seoul. Thus the reason I suggest spending the night in Jeonju.
High1 Ski Resort: Adventure Weekend Getaways near Seoul
I've already mentioned that visiting a ski resort is the perfect Seoul day trip. But, there's an exception!
High1 Ski Resort is the biggest (and arguably the best) ski resort in Korea but it's a 3-hour drive from the capital, so it's best visited as a weekend trip from Seoul.
High1 offers the highest elevation in the country with long courses and more exciting slope variety than you'll find elsewhere. Because of the distance, it's best to extend your stay so that you can ski the afternoon you arrive, and the following day before heading back to Seoul.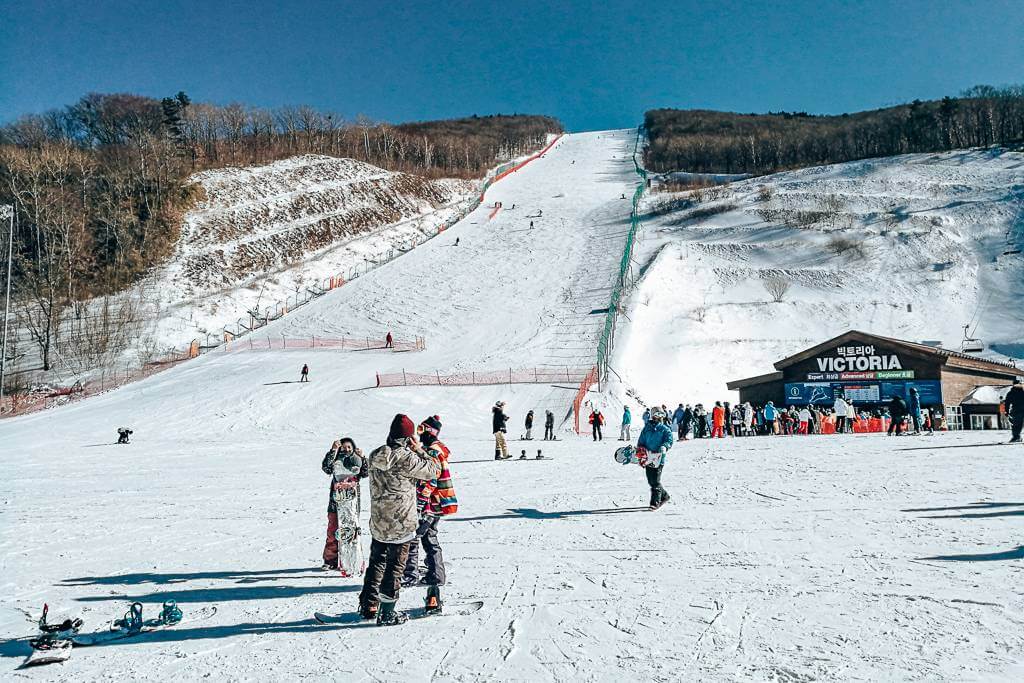 Sokcho & Seoraksan National Park
On the east coast of Korea lies Sokcho, home to Seoraksan National Park and the third highest mountain in the country.
Mount Seorak is one of the most beautiful places to visit in Korea and you'll need 5 hours to explore the national park. There are various hiking trails suited to all levels – you don't want to be rushed as it's a truly stunning park with so much to do and see.
Afterward, head to the fishing town of Sokcho and indulge in a delicious fresh seafood dinner. On your second day, explore the beaches in Sokcho or head to nearby Naksan Beach and visit Naksansa Temple, which sits at the top of a cliff with panoramic views of the gorgeous coastline.
Many people include Seoraksan National Park as one of their day trips from Seoul. If you're pressed for time, it is possible on a day tour like this, but if you have a few days, I recommend that you spend some time exploring Sokcho and Seoraksan National Park.
The bus ride from Seoul to Sokcho is 3 hours and you can easily find a bus from the Seoul Express Bus Terminal.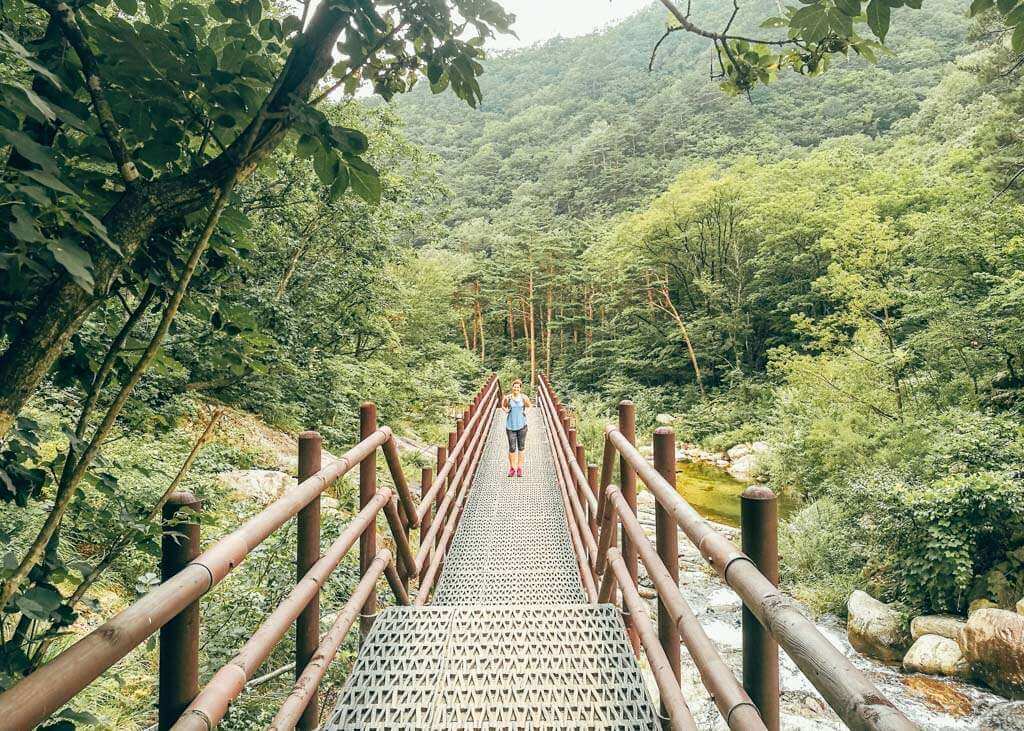 Longer Seoul Vacations
There is just so much to do and see in Korea, and if you have the time, head over to the destinations below. I suggest you spend at least 3 days at each.
You can't, or rather, shouldn't, visit them on a day trip from Seoul. I also wouldn't recommend a weekend trip, but it is possible if you have no other option.
Jeju Island: The Hawaii of Korea
Jeju Island, the Hawaii of Korea – so they say! It's one of the 7 New Wonders of the World and home to Korea's highest Mountain, Mount Hallasan.
There's so much to do in Jeju, from climbing Seongsan Ilchulbong Peak to exploring Manjanggul Cave and even chasing towering waterfalls. During the summer, hit the beaches or pop into one of the numerous themed museums.
The highlight for me was the famous Jeju Black Pork BBQ – it's the best I had in all of Korea.
I spent 5 days on the island and traveled independently using public transport. But, if you're pressed for time and only have 2 or 3 days in Jeju, it's best to join a day tour like this as the distance between destinations is far and the public transport can be slow.
To get to Jeju, you need to take a flight from Gimpo airport in Seoul. It's a short, cheap flight and before you know it, you'll be exploring the most popular attractions in the country.
READ MORE: Where To Stay in Jeju Island (Insider Guide)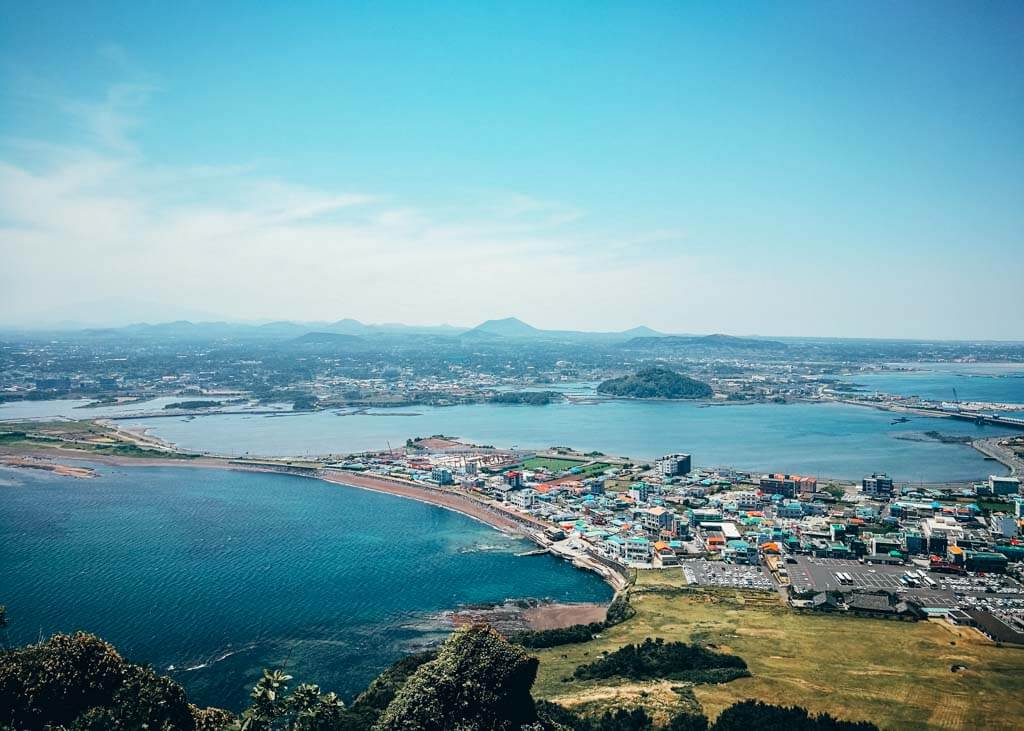 Busan
Busan is the second-largest city in Korea and another must-visit on any Korea travel itinerary. This vibrant city has so much to offer including some of the best beaches in Korea.
I had my first Jimjilbang experience in Busan – if you don't know what a jimjilbang is, it's one of the best things to do in Korea! The city is also famous for the colorful Gamcheon Culture Village and the picturesque Haedong Yonggung Temple (Temple by the Sea).
Using the KTX, you can reach Busan from Seoul in as little as 3 hours, but the ticket is expensive! If you're spending the $80 to get there (which is more than the cost to fly), you might as well make the most of your time and explore Busan for more than just a day trip from Seoul.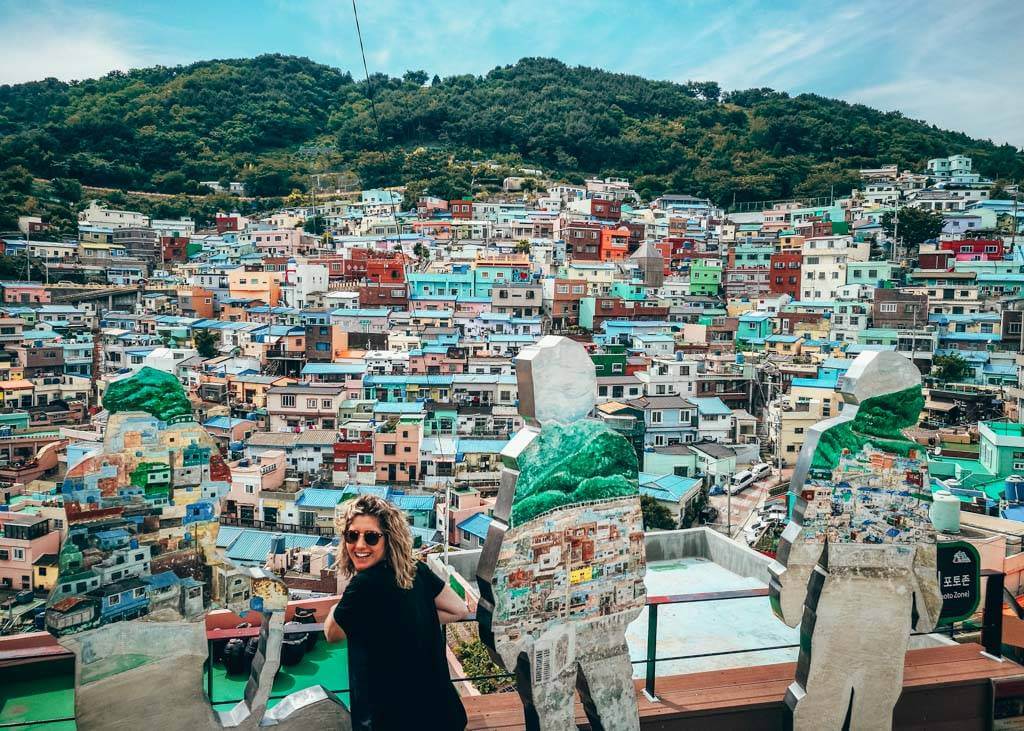 How to Plan Your Day Trips from Seoul
South Korea has one of the best public transportation networks in the world. This makes it easy to plan the perfect Korea itinerary where you can visit the many bucket list destinations the country has to offer.
By Train
The KTX fast train takes a fraction of the time than a normal train would, and buses depart from the Seoul Express Bus Terminal to various destinations at 30-minute intervals.
But, if you cannot speak Korean or read hangul, you may struggle to navigate around the country, especially if you're rushing around and your time is limited.
You don't want to risk getting lost or mistakenly catch the wrong train – both of which happened to me. This resulted in many of my day trips from Seoul being extended to weekend getaways!
Tour group
It's best to plan your trip using a tourist-friendly operator such as Klook or Get Your Guide. I've used both in Korea, and they are extremely affordable options for foreigners and take care of all the nitty-gritty for you, so you can just sit back, relax and enjoy your day trip from Seoul.
However, there are still a few day trips that you can do independently without a guide and I've included them all, above!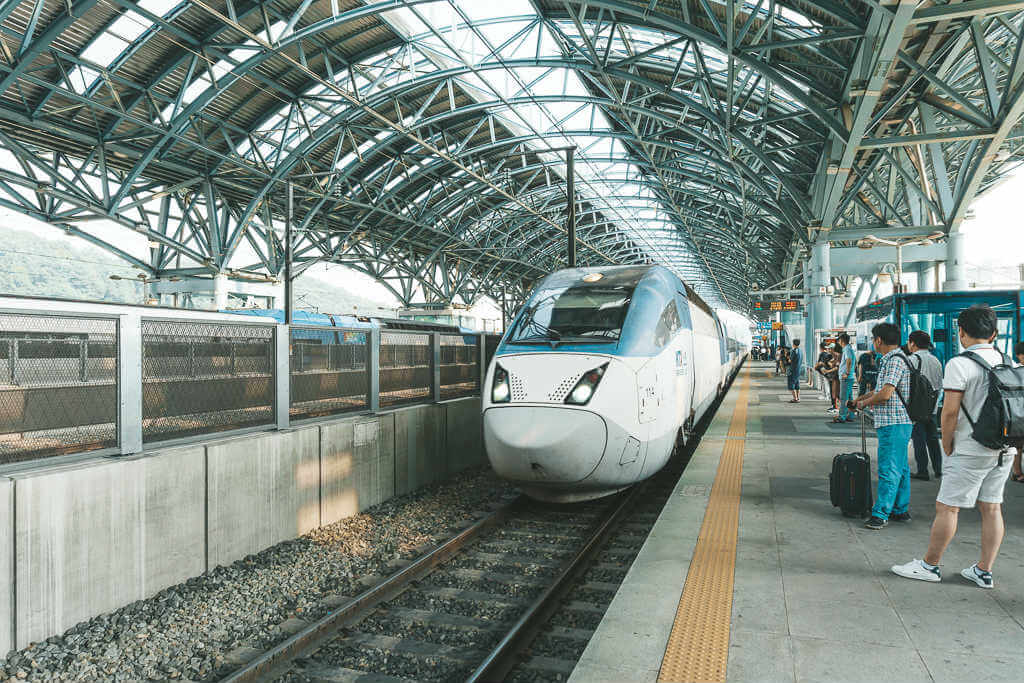 Thoughts on the best day trips from Seoul
Each of these Seoul day trips offers something different and suited for everyone from adventure travelers to backpackers.
My highlights include the skiing day trips from Seoul but each is worthy to be on your Korea bucket list!
---
Have you done any of these Seoul day trips? Would you prefer to travel independently or with a tour group? Let me know in the comments section below!
Psst… Looking for more Korea travel information? Check out my other posts!
Pin this!