Are you planning on doing the Ella Rock hike in Sri Lanka? This guide has got you covered.
Ella Rock is a magical hike that follows a rugged trail through tea plantations and forests. The views from the summit are hard to beat and it's a bucket list activity for anyone visiting Ella.
But nearby you'll also find Little Adams Peak. While the views from both are spectacular, the hiking trails leading to Ella Rock and Little Adams Peak are very much different from each other.
This guide details everything you need to know about the Ella Rock hike (including step-by-step directions) and why I preferred it to Little Adam's Peak.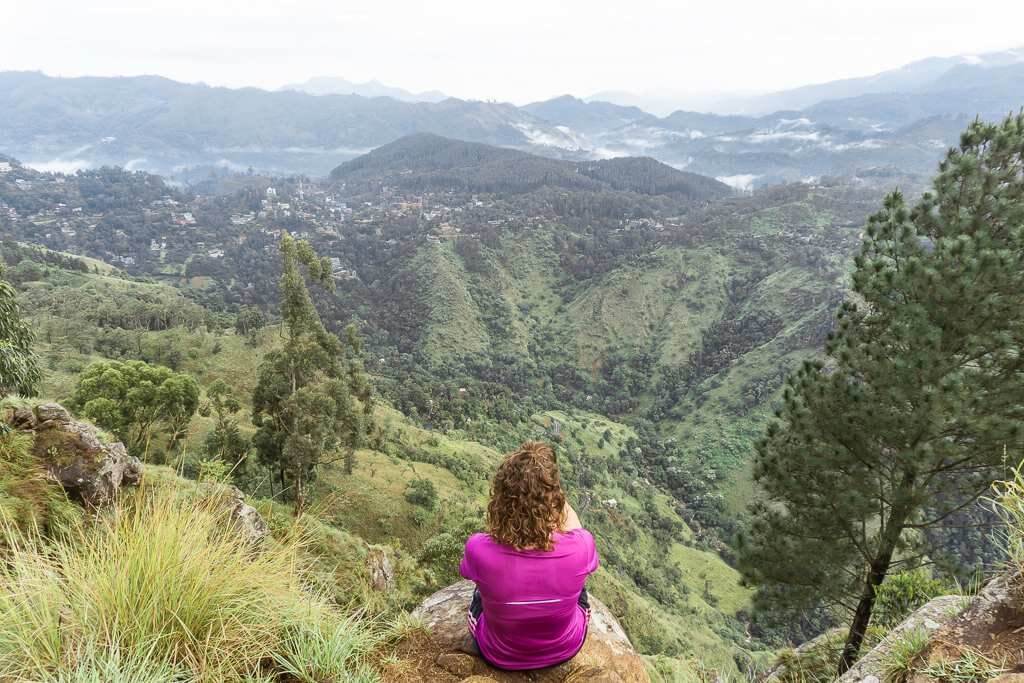 Ella Rock Hike at A Glance
Guide to the Ella Rock hike
Sitting at 1 041m, Ella Rock is a famous cliff and one of the best hikes in Ella.
The trail to the top of Ella Rock takes you through the countryside where you walk amongst tea plantations, forests and overgrown shrubs.
Once you reach the top of Ella Rock, you'll be rewarded with picturesque views of the plains below, including Little Adam's Peak in the distance.
How to get to Ella Rock, Sri Lanka: step by step directions
There are various routes that navigate to Ella Rock. Below is the path I followed. It's the most popular and scenic (in my opinion).
Step 1: Go to Kithalella railway station.
There are 2 ways to get to Kithalella station, the gateway to Ella Rock.
The first option is to walk from Ella Train Station to Kithalella Station which takes 30 to 40 minutes. From Ella Station, turn left, walk to the end of the platform and down onto the tracks. This is a working railway so be aware of oncoming trains. But it's completely common to walk alongside the tracks.
The second way to get to Kithalella Station is to go by scooter from Ella town. Go to this point, The Finalgate homestay, and turn left down the road. Keep going all the way down and you will reach Kithalella train station. Cars cannot access this route so you will need to go either by scooter or tuk-tuk. This route is quicker as it saves you 40 minutes of walking along the tracks from Ella Station to Kithalella Station.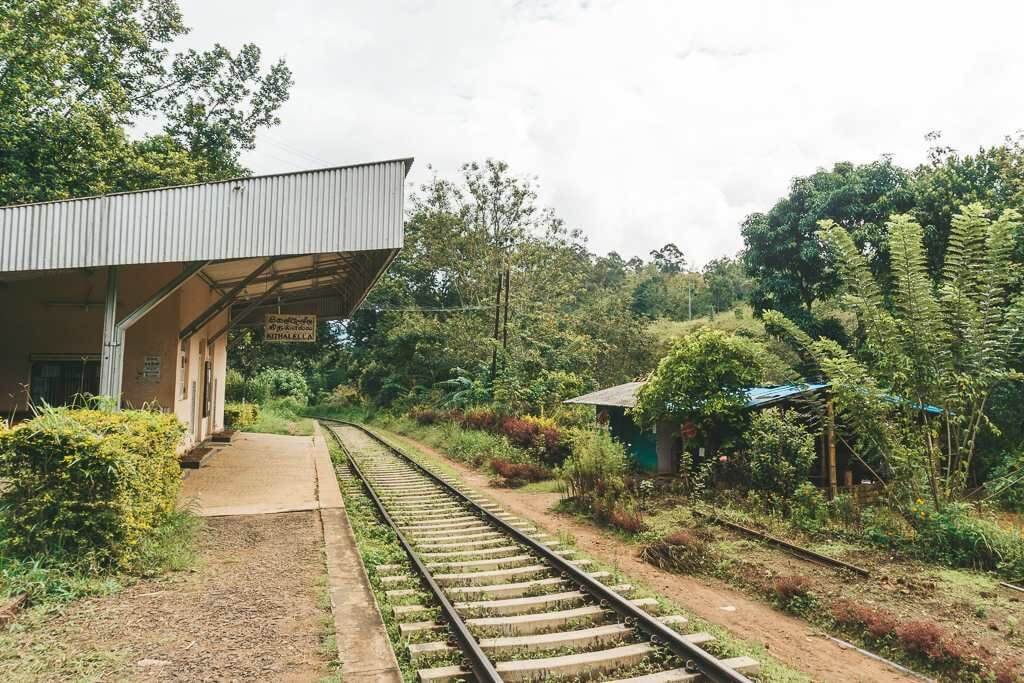 Step 2: Walk the tracks from Kithalella Train Station to Ella Rock
From Kithalella Train Station, continue along the tracks in the opposite direction of Ella. Do this for 5-10 minutes.
People along the route may give you different directions to Ella Rock and locals will offer their guided services if you seem lost but don't listen to anyone who's trying to confuse you.
It's even been said that there are fake signs trying to trick tourists into getting help from guides.
Step 3: Turn left at the big rock with lots of vegetation
After walking 5-10 minutes from Kithalella Station you will see a big rock to your left. It's situated as the tracks bend and there is also a 15km/h sign nearby.
You'll notice a blue arrow on this rock that's marked "Ella Rock" but it's almost completely covered by grass and vegetation.
Take a sharp left just after this rock and continue along the gravel path to Ella Rock.
Step 4: Cross the footbridge to Ella Rock
After following the path, you'll cross a small footbridge. The path then splits in two.
Take the left route to Ella Rock which goes up toward the tea plantations.
This route is best as it wraps around the hill as opposed to going straight up. Don't worry if you take the path to the right as they both lead to Ella Rock, but the left is the easier route to follow.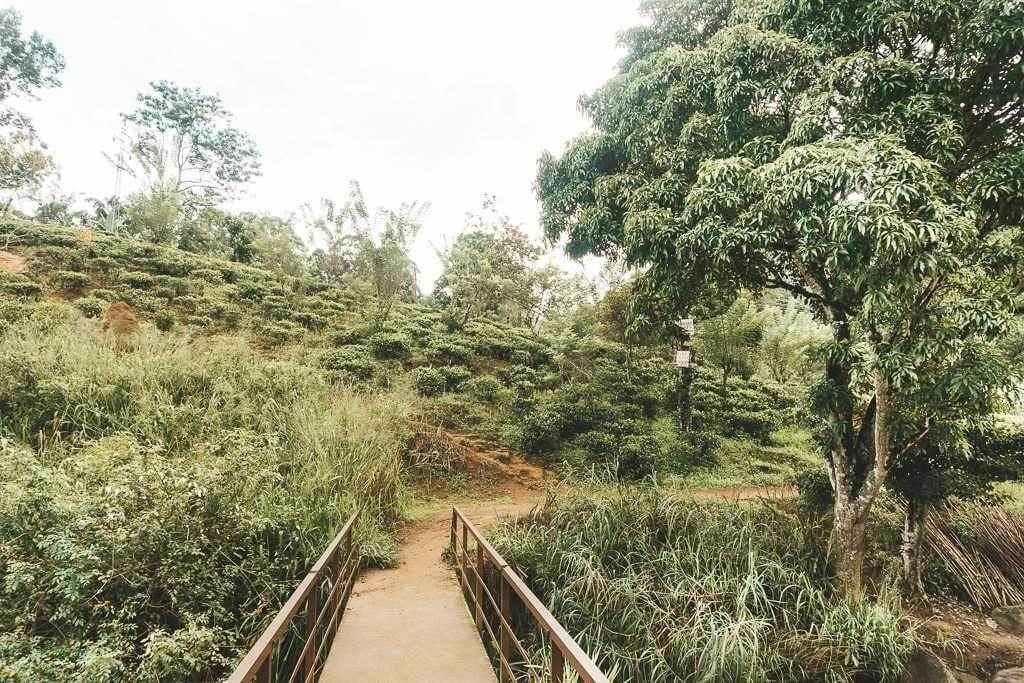 Step 5: Walk through tea plantations and long grass
Next, you'll make your way through tea plantations and finally reach long grass. Keep going straight toward Ella Rock and do not wander off along the smaller paths linked to this one.
If you think you should turn, don't! Just keep going straight and don't veer off the path. You'll keep walking this way for about 30 minutes.
Step 6: Hike to Ella Rock
At the end of the long grass, the fields open and the path veers right. You'll pass an interim viewpoint before making your way through a beautiful forest.
This is the most strenuous part of the Ella Rock hike and leads to the peak.
Step 7: Enjoy the Ella Rock viewpoint
The views from Ella Rock are incredible! There's only one vantage point and this tends to be where everyone comes to enjoy the scenery.
It can get crowded so try to get here as early as possible.
READ MORE: 24 THINGS I WISH I KNEW ABOUT BACKPACKING SRI LANKA
When's the best time to hike Ella Rock
Sunrise is the best time to do the Ella Rock hike. Why? Because this is your best chance at getting clear views (plus an epic sunrise).
If you're traveling during the off peak period (as I was), clouds start rolling in after lunchtime.
To reach the top of Ella Rock for sunrise, you should leave your hotel by 4am. If sunrise is too early for you, it's best to start your Ella Rock hike before 7am to avoid the heat.
Remember that the route can also be confusing, so don't leave too late or else you're at risk of getting lost in the dark on your way back down!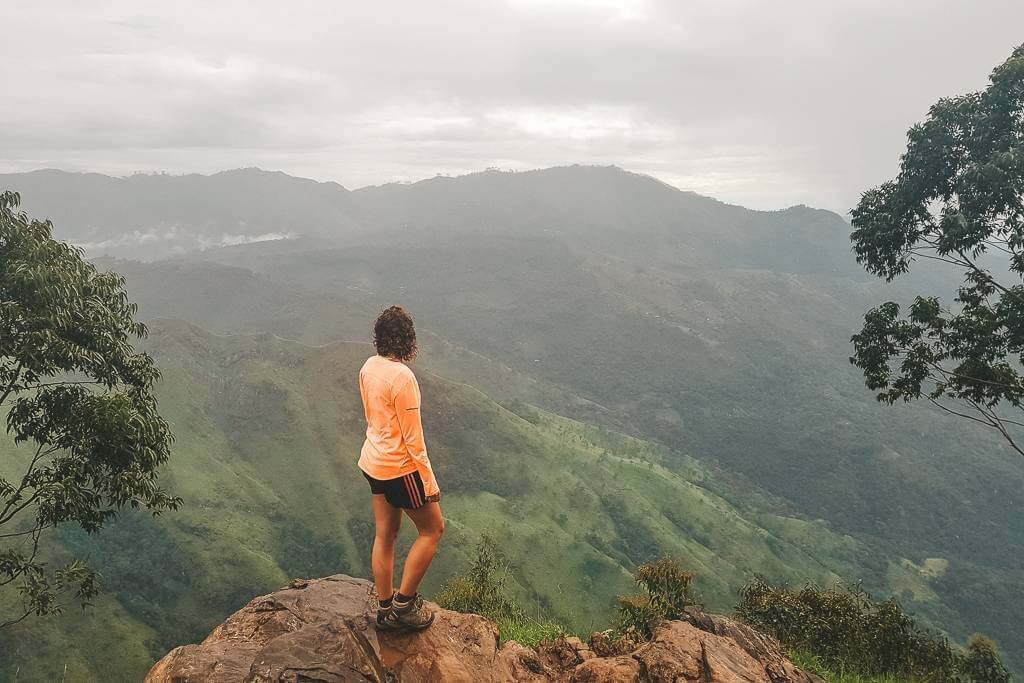 How long does it take to hike Ella Rock for sunrise?
Depending on your starting point (Ella vs Kithalella Train Station), the Ella Rock hike takes no more than 2 hours to reach the top.
Add another 2 hours to get back down and you're looking at 4 hours of hiking, with an extra 15 minutes at the top to enjoy the view.
Do you need a guide to hike Ella Rock, Sri Lanka?
No – If you follow the below step by step directions to Ella Rock, you won't need a guide. However, if you'd prefer a local direct you, look at tipping between 2000-3000 LKR ($20).
Is Ella Rock Hard to Climb?
No, Ella rock is not hard to climb. The difficulty lies in navigating the unmarked trail to reach the top.
If you're busy planning your Sri Lanka trip, I've written this detailed itinerary and travel guide, and Ella is one of the destinations you just cannot miss!
Tips for Ella Rock
Ella Rock hike or Little Adam's Peak: Which is better?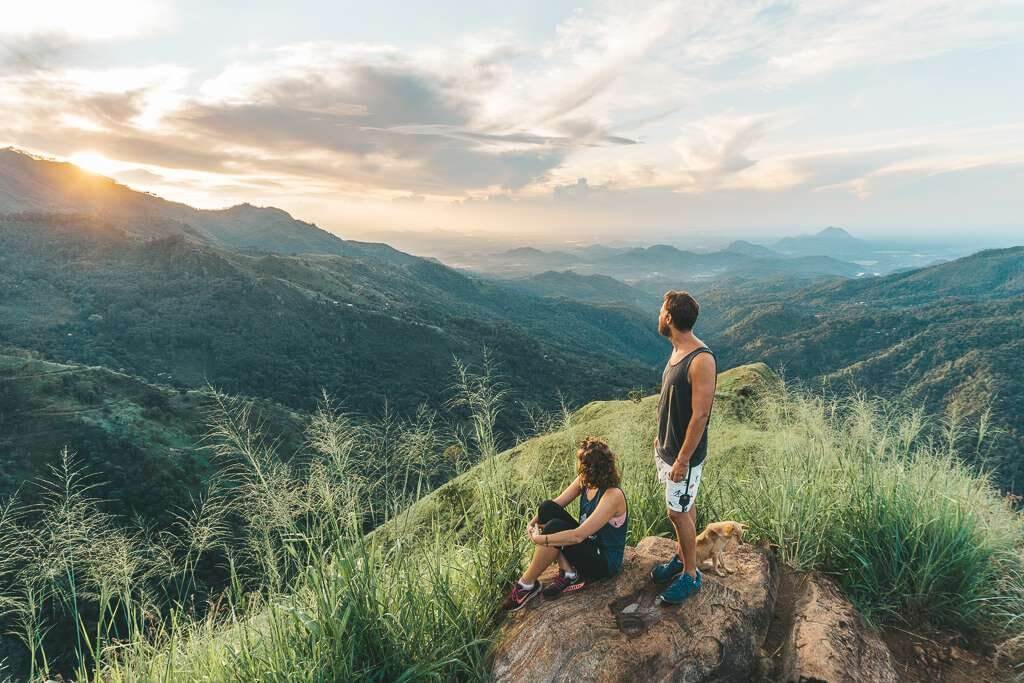 Little Adam's Peak in Ella should not be confused with Adams Peak in Dalhousie.
The latter is a sacred mountain that is home to the annual pilgrimage taking place between December and May. It's a tougher hike than both Ella Rock and Little Adam's Peak and will see you climbing throughout the night.
If you want to climb Adam's Peak in Dalhousie, check out this post. If you're looking for a more relaxed hike to Little Adam's Peak, keep reading!
Here's a summary of my experience from hiking both Ella Rock and Little Adam's Peak:
View from the top
From Little Adam's Peak you have a beautiful view of Ella and the valleys below. Whilst the view from Ella Rock is equally as gorgeous, Little Adam's Peak takes this one as there are far more viewpoints.
Hiking trail
The Ella Rock hike is more rugged, untouched and quieter, whilst Little Adam's Peak is well marked and an easy trail to follow with steps directing you to the top.
READ MORE: THE BEST KANDY ITINERARY
Hiking time
Little Adam's Peak is about an hour hike return and you should give yourself an additional hour to explore the various viewpoints at the top. Ella Rock is about 2 hours to get to the top and 2 hours to get back down again and you will only need 20 minutes at the top of Ella Rock.
Difficulty
Ella Rock is slightly tougher than Little Adam's Peak, because of the longer time it takes to get to the top and the final ascent is steeper.
Overall
If you can only do one hike in Ella and must choose between Ella Rock or Little Adam's Peak, I'd go for Little Adam's Peak because of the views. However, I much preferred the hiking route to Ella Rock.
Where to stay in Ella
Ella is perfectly situated in hill country with most accommodation offering gorgeous views of the valley and tea plantations.
Ideally, you'd want to find a place to stay in the mountains, and if you're on a budget, I highly recommend Broad View Guest House which is where I stayed in Ella. This homestay is owned by a lovely family and the wife makes incredible Sri Lankan food which you have to try!
Here are a few alternatives that would suit any budget:
Hiking Ella Rock final thoughts
Both Ella Rock and Little Adam's Peak rival any hike in Sri Lanka. They're relatively easy and offer spectacular views for minimal effort.
I'd highly recommend that you hike both Ella Rock and Little Adam's Peak if you have the time.
Where to go after Ella
After spending a few days hiking through hill country, reward yourself to some downtime on the beach. Hiriketiya Beach is my favorite place in Sri Lanka and should be your next stop after hiking Ella Rock.
---
Have you been to Ella? Did you love it as much as I did? Let me know in the comments section below!
Looking for more Sri Lanka travel information? Check out my other posts!
---
Pin this!
There is a really good chance that this post contains affiliate links. If you click one of them, I may receive a small commission at no extra cost to you. As always, views are my own!