Are you looking for the best Everest Base Camp packing list? You've come to the right place!
I arrived in Nepal extremely unprepared for my EBC trek. With a backpack filled with bikinis and summer gear, I had no idea what was in store for me.
But if you're reading this, it means you've already done more research than I did.
In this comprehensive packing list for Everest Base Camp, you'll find exactly what you need to pack and also what you don't need to.
It's a perfect Everest Base Camp packing list for females and males and also includes tips and tricks for trekking through the colder months.
This post is more than just a packing list. It's a detailed buying guide with everything you need to consider for what to pack for Everest Base Camp, and how you can do it on a tight budget.
Torn Tackies contains affiliate links. If you make a purchase using one of these links, I may receive compensation at no extra cost to you. See my disclosure for more information.
What to Pack for Everest Base Camp Trek
When the altitude changes, and temperatures fluctuate, your body will pay the price.
You'll be exhausted from all the hiking, clinging to your comfort levels. Because this is the one thing you can prepare for.
Things to know about this Everest Base Camp packing list
All your gear will be split in two. Porters will carry your large duffle bag between tea houses, but you won't have access to these while trekking. Instead, you'll wear a small day pack like this during the day.
There are strict weight restrictions for the flight from Kathmandu to Lukla. Your duffle bag cannot weigh more than 10 kg. Your day pack can be a maximum of 5 kg.
It's all about layering. You'll need to include three layers on your EBC packing list: A base, middle, and outer layer.
Pack a set of non-trekking clothes that you can wear at the tea houses. There's nothing better than putting on fresh and comfy clothing after a long day of trekking to Everest Base Camp.
Everest Base Camp Packing List: Essential Items
70 L Duffle bag (hiking with a tour group)
If you're doing a guided trek, porters will be responsible for carrying most of your hiking gear and personal items in a duffle bag.
Your tour operator will most likely provide this expedition bag with a waterproof cover, but confirm this first.
You'll pack this bag every morning, hand it over to the porters who'll carry it throughout the day, and you'll get it back again when you reach your tea house in the evening.
55-65l backpack (hiking independently)
You can no longer trek to EBC without a guide, but you can still carry your own gear.
So, if you're not arranging porters to carry your things, make sure you buy a good-quality backpack for Everest Base Camp that's light and durable.
For this trek, a 55 to 65-litre backpack will be sufficient for all your gear as you will be staying at tea houses along the route (you won't need to pack food or camp gear).
I have this Gregory Deva 60l pack and absolutely love it for multi-day hiking. I tried on a lot of backpacks, and the Gregory was by far the most comfortable and had all the extras I was looking for.
Keep in mind that if you're joining a tour group, you don't need this big hiking backpack for Everest Base Camp (you need a smaller day pack, which I've highlighted below).
30-40l Day Pack for Everest Base Camp Trek
A good day backpack for Everest Base Camp is a critical item for your kit list.
Your belongings will be in your big duffle bag with the porters. But they won't be hiking with you through the day.
You will need this day pack to carry your essential items, including water, tissues, snacks, sunscreen, a camera, and a warm top for cold weather.
But there's so much more to choosing the best backpack for Everest Base Camp trek than meets the eye!
Trust me. I returned the first one I bought.
Best Daypack for Everest Base Camp trek: Considerations
Size: I recommend a 35l to 40l day pack like this with a waist strap so that the weight rests on your hips and not on your shoulders.
Extras: Make sure you get an Everest hiking pack that has a separate holder for your hydration pack and an outlet for the pipe. Don't buy one if it doesn't have this feature! You'll thank me on those long trekking days when you're desperate for water, and the hose is conveniently within arm's reach.
Zips and pockets: These extra mesh pockets on the sides of your day pack are a game-changer as they allow you to get small items without having to stop and remove your entire backpack.
Hydration Pack
A water bladder is essential for your Everest Base Camp packing list.
You need to drink at least 3 liters of water every day to help your body acclimatize. Even if you're not thirsty.
Having a camelback like this in your day pack provides an easy and convenient way to ensure you're always hydrated.
A 3-liter hydration pack is a good size. But make sure it's a good quality item, as the seal can break if you opt for a cheaper alternative.
2 Reusable Water bottles
You'll store about 2 liters of water in your hydration pack.
But you will need another 2 liters in bottles, which you'll keep in your day pack.
I recommend buying two of these 1-liter water bottles for Everest Base Camp.
It should also have a tight seal and a large opening. Why?
As you get to higher altitudes, your guides will clean the water by boiling it every night.
Once boiled, the water will get transferred into your water bottles. This is why they should have a bigger opening, as it makes it easier to pour the boiling water inside.
In the evenings, these water bottles can double up as hot water bottles, so they need to be good quality and able to withstand being filled daily with boiling water.
-15 Sleeping bag
You need a good quality sleeping bag to keep you warm in the tea houses as there's no insulation and the rooms are freezing!
Tea houses provide blankets for your beds, but they won't keep you warm.
If you're trekking with a tour company, they should give you a sleeping bag. But confirm this and ensure you're happy with the warmth rating, which should be at least -10.
Alternatively, you can easily rent one in Kathmandu or buy your sleeping bag here.
I knew that I would get freezing cold, so I requested a -20 sleeping bag. And while everyone thought it was a bit extreme, I was warm and comfy every night.
Sleeping bag liner
A sleeping bag liner is great to pack if you're renting a sleeping bag. It's also an extra measure against the cold at night.
Sleeping bag liners like this are small and light, and I used mine every night!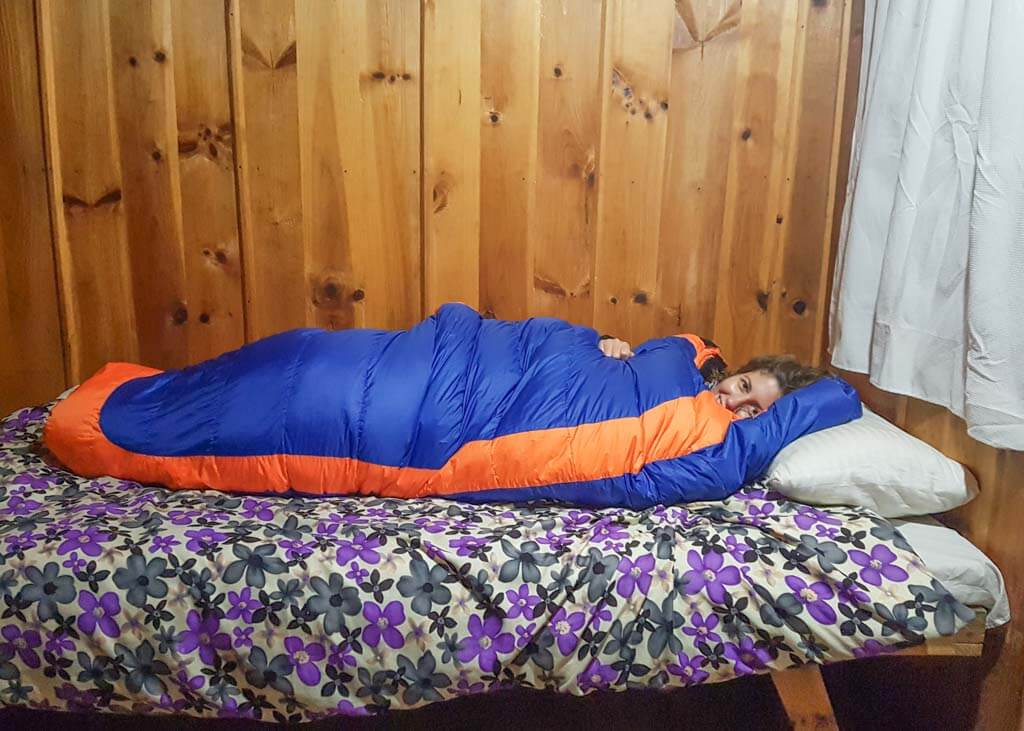 Hiking Boots or trail shoes
2023 Update: I wore ankle hiking boots like this for my EBC trek. If there's one thing I would do differently when packing for Everest Base Camp, it's buy these trail running shoes instead of hiking boots.
Your Everest Base Camp trek shoes need to be lightweight with a good grip. But most importantly, they need to be comfortable.
I was so confused about which shoes to wear and searched the internet for all the Everest Base Camp packing list blog posts I could find.
Best Shoes for Everest Base Camp trek
I eventually opted for ankle-high boots like this, and here's why.
The trail is rocky, uneven, and can be slippery in places, so the extra ankle support makes a big difference. Also, having a higher boot prevents stones and dirt from getting into your shoes.
Looking back on my experience of hiking to EBC, I didn't necessarily need ankle-high hiking boots as there was no rain.
Ultimately, solid trail shoes would have been okay if the soles had good traction. I now use these Hoka trail shoes, and they are the best hiking shoes I've ever worn!
Slippers for the tea houses
Make sure you include a second pair of lightweight shoes in your Everest Base Camp packing list. You'll use these to walk around the tea houses.
You may also want to explore the villages along the trail, and your feet will want a break from your trekking boots.
You can either pack a pair of trainers, which you can walk in during the first few days of the trek, or you can have a pair of lightweight slip-on shoes like these.
Everest Base Camp Packing List: Headgear
Peak or sunhat
Despite the cold and overcast conditions, the sun is harsh!
A cap is something you'll definitely need for your Everest Base Camp packing list. And you'll wear it immediately after leaving Namche Bazaar.
Fleece Beanie/Warm hat
Remember when I recommended keeping a set of non-trekking items to wear in the evenings at the teahouse?
Well, a fleece beanie is the first of those.
This fleece hat doesn't need to be too thick, but make sure it's a comfortable one. I even slept with mine on (yes, I was that cold!)
If you plan on doing the same, make sure it's not too tight around your head and doesn't have any bobble or decorative features that may be uncomfortable when lying with your head on a pillow.
hiking beanie
You won't need to hike with a warm hat for the first 3 days of your trek. (weather dependant).
But from day 5, it will get chilly. You'll then replace your sun hat with a beanie.
I loved my beanie, and it looked pretty good on too!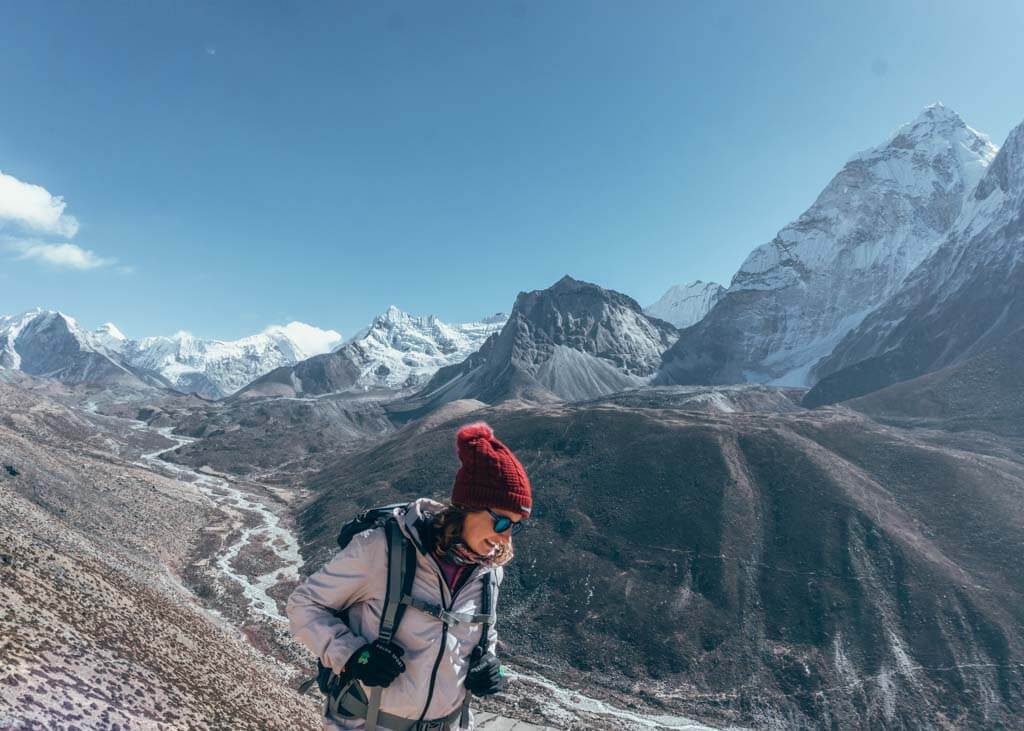 Thin Buff for Everest Base Camp
If there's one thing you can learn from me when deciding what to pack for Everest Base Camp, it's to buy a thin, light buff like this.
I presumed I would get too cold, so I packed two thick buffs instead. Not bringing a thin one was a big mistake!
You need this thin buff for trekking, and you should wear it from day 1.
Not only does it protect you from the sun and keep your neck warm, but it also acts as a mask, preventing fine dust and other particles from entering your mouth and nose.
And you need this mask effect!
The route from day 1 to 4 takes you through forests and shrubby areas where there is a lot of dust, and the yaks and horses kick up sand that you'll breathe in (but you shouldn't).
I suffered from a bad case of the Khumbu cough, which I attribute to the dust on the first few days because I didn't have a light buff or mask to wear.
So, even though it will be hot at these lower altitudes, the thinner, breathable fabric of the light buffs means you can wear them every day, even in the heat.
thick buff
Buffs act as a scarf and keep your face warm on those chilly nights.
I used my thick buff every night and even slept with it on.
This fleece-lined buff is for those cold nights at the tea houses, and you'll also need it for your final day as you approach Everest Base Camp.
The reason you won't want to hike with this buff is that they are very thick and not breathable. So it's not practical to cover your mouth or nose when trekking.
If you're susceptible to the cold, pack one in. If you don't foresee yourself getting too cold, bring an extra thin buff instead.
Clothes for Everest Base Camp Packing List: Upper Body
2 thermal tops (base layer)
Thermals are an essential base layer that you will need to include in your Everest Base Camp packing list.
You'll need to pack 2 sets of thermal tops like this. One for the evenings and another for trekking.
Even if you don't get as cold as I do, I strongly recommend that you bring 2 thermal tops (unless you're happy to sleep in the same thermals you hiked in).
Some people swear by these Merino Wool thermals as they keep you warm, dry, and sweat-free.
But they are expensive. If you have the budget for them, go for it. I got a set of normal thermals, and I had no issues.
1 Short sleeve hiking shirt
Pack a lightweight, breathable exercise top like this.
You only need one, which you'll wear on your first and second days as you hike from Lukla to Namche Bazaar. You'll wear this again on the last day when you return to Lukla.
If you generally get extremely hot or if you're packing for Everest Base Camp in summer, then I suggest you pack an extra one.
1 Long sleeve lightweight hiking top
Layering is key, and this lightweight long-sleeve top is a must.
I wore mine on most days instead of a short-sleeved top.
Having the long-sleeved alternative was great as a sun protector.
Try to get a breathable fabric so that you can wear it every day without having to wash it.
Top tip: Instead of packing 2 short sleeve tops (above), I packed 1 short sleeve and this lightweight long-sleeve top.
1 midweight warm hiking top
This midweight warm top is nice to have.
I wore it at the tea houses over my sleeping thermals and as an extra layer on these cold hiking days.
It has a similar purpose to the lightweight hiking top above, but it's nice to have 2 options as they both have varying levels of warmth.
Fleece Jacket
A warm fleece top will come in handy as the temperatures drop when you head higher up the mountains.
I wore mine in the evenings at the tea houses and on those colder trekking days as we got closer to Everest Base Camp.
Go for a zip-up one like this, as it's easy to get on and take off. Mine also had zip-up pockets, which were great as I could keep my GoPro or tissues inside.
Depending on the weather, you can wear your thermals and long-sleeved hiking tops underneath.
Lightweight puffy jacket
This was the best investment, not only for your Everest Base Camp packing list but for life in general!
I wore my puffy jacket all the time – either over my fleece and thermals or under my windproof jacket.
Down feather jacket
A down-insulated jacket like this is only really needed for the Kalla Pathar summit. When you start trekking at 4 a.m., temperatures easily reach below zero!
Also, the last few nights at the tea houses can be freezing cold.
Your tour operator should provide you with this thick-down jacket, so confirm this when making your inquiry.
If you're on the fence about whether you should invest in one or not, I would say that this is not completely necessary, especially if your budget doesn't allow for it.
But you will need to have all the other items I've included in this Everest Base Camp kit list, including the warm fleece and waterproof jacket.
Alternatively, you can look at renting a down jacket in Kathmandu.
Top tip: I added Island Peak to my EBC trek. It's an extra 4 days but was the highlight of my trip. If you're looking for snow climbing and incredible views, consider hiking Island Peak and Everest Base Camp.
Windproof Rain Jacket
You could have perfect weather and sunny skies every day.
But it might also be rainy with strong gusts of wind, so this rain jacket is needed.
Your jacket should be slightly bigger so that you can wear it over all your layers. You preferably want a Gore-Tex material, but any waterproof fabric will do.
Top tip: Don't worry about buying a jacket with a warm inner lining, as you'll wear your base and middle layers underneath.
Rain Poncho
Ponchos are light and small and will keep you and your backpack dry if it rains.
They don't take up too much space and are relatively inexpensive, so I recommend you add this to your packing list for Everest Base Camp trek.
Everest Base Camp Packing List: Lower Body
2 Long thermal pants (Base Layer)
As with the base layer for your upper body, you'll need 2 thermals for your lower body.
One should be used in the evenings when you're at the tea houses and to sleep in. There's nothing better than putting on a fresh-ish pair of thermals after a wet wipe shower!
Your second base layer will keep you warm when trekking, and you'll wear it under your hiking pants as you get closer to Everest Base Camp.
You can buy a base layer set here.
2 yoga/Hiking pants for Women
Yoga pants are a great alternative to hiking pants for women as they are stretchy and more comfortable.
In my experience, these are the best kind of trekking pants for Everest Base Camp.
I wore these yoga pants on the first few days of the trek.
When it got colder, I hiked with them over my base layer or under my thicker hiking pants.
Top tip: You're not walking fast enough to work up a sweat, so rather pack in a pair of longer pants than shorts.
2 Hiking pants for Men (or women who don't want to wear tights)
These lightweight, thin hiking pants are great to hike in.
I chose to wear yoga pants instead of hiking pants, so you can pack either one or the other.
Because they're made of such breathable materials, they won't provide much warmth on colder days. You can wear your thermal base layer underneath if the temperature drops.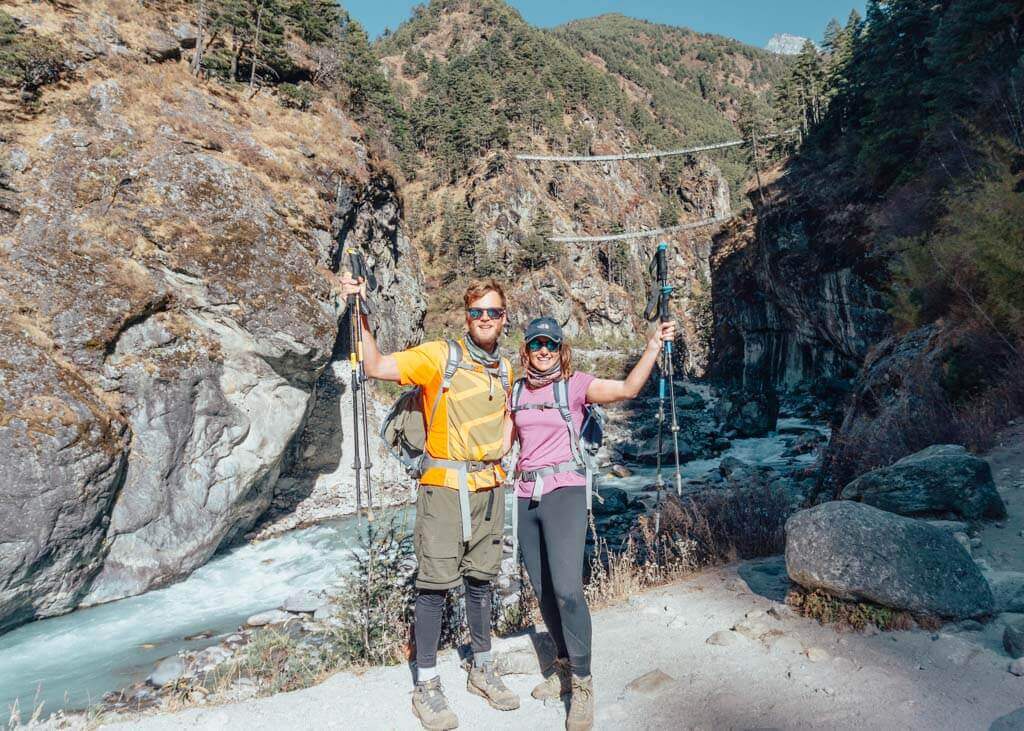 1 Warm hiking Trousers
You'll need warmer, water-resistant pants for the final push to Everest Base Camp when it's freezing cold.
I alternated my layers when I wore these thicker hiking pants. But make sure you buy a pair that is at least one or two sizes bigger than your normal fit, as you will be layering.
Some days I wore my hiking pants over my base layer. If it was absolutely freezing, I would wear them over my base layer and yoga pants.
Fleece pants
Baggy, oversized pants are a total luxury when you get to the tea house!
I slept in mine (over my thermals, of course) and wore them every evening.
Everest Base Camp Trek Packing List: Underwear
Underwear
Sports bras
3 Trekking Socks
Good quality hiking socks are a must on every Everest Base Camp packing list.
You'll spend over 10 hours a day on your feet, so you must buy 3 pairs of socks that are thick and provide support and comfort.
Top tip: If you're wearing ankle-high hiking boots, make sure your socks go high enough so that you don't get blisters from the boots.
2 warm socks for tea house
After a long day of hiking, your feet are going to need some TLC!
Keep a pair of socks aside that you'll only use in the evenings at the tea house.
I also had a pair of these thermal socks, which I slept in.
Everest Base Camp Packing List: Accessories
Sunglasses
You'll need to include a pair of good quality UV protective sunglasses on your packing list for Everest Base Camp. Snow goggles are not necessary!
I have a pair of these Ray Ban Wayfarers and love them as they're so versatile.
You may want to pack in a cheap second pair just in case you break your first ones.
Headlamp
Don't forget your headlamp (and an extra batteries) for walking around the tea houses at night.
It's better to buy one like this that has 2 or 3 settings so you can dim the brightness depending on where you are.
Glove liners
These thin glove liners are the best!
I initially bought them for extra warmth to wear under my thick gloves, but I ended up wearing them alone on most days.
Glove liners protect your hands from sunburn, and they also help with grip and prevent blisters when using trekking poles.
These gloves will also keep your hands warm when doing tasks like tying shoelaces or taking photos.
Get the ones that are touchpad-friendly.
hiking gloves
The higher you go, the colder it gets. And so you'll need thick gloves like these that you'll wear as you get closer to Everest Base Camp.
If it's chilly, you can wear your glove liners under these thick gloves for extra warmth.
You don't need super thick down gloves that will suit the Everest summit!
fleece gloves (evenings)
These fleece gloves are nice to have. They take up such little space in your bag, so I suggest you pack them in.
Your glove liners and thicker gloves will be dusty and dirty after wearing them day in and day out.
Putting on a fresh pair of gloves when you're around the tea houses is the way to go.
READ MORE: HOW DIFFICULT IS THE TREK TO EVEREST BASE CAMP
Trekking poles
Trekking poles are yet another item that some people use; others don't.
But I recommend you include them on your packing list for Everest Base Camp. They reduce the impact on your knees and make those steep sections more bearable.
It's important to get durable and lightweight poles like these. But again, you don't need anything fancy.
I used aluminum poles which are slightly heavier than carbon, but they were perfect and didn't cost me an arm and a leg.
Packing Cubes
Packing cubes are a lifesaver when it comes to organizing your Everest Base Camp packing list.
Your duffle bag will be filled with all your things, and you will have to pack and unpack it every day.
This is time-consuming (and even worse when you're tired, cold, and grumpy!).
Packing cubes make it easier to find what you need from your duffle bag.
Make sure you buy ones like these that come in varying sizes.
Top tip: I always kept my teahouse clothes separate from my trekking clothes using these packing cubes.
Ziplock bags
While packing cubes are great for organizing clothes and underwear, zip lock bags are perfect for storing toiletries, medication, and snacks.
Padlock
Theft isn't common on the mountain. But as an extra measure, you may want to buy combination locks like this to lock your big duffle bag.
Everest Base Camp Packing List: Toiletries
Toiletry bag
Instead of buying a fancy toiletry bag, use a packing cube or zip-lock bag to store all of your toiletries.
Sunscreen
You're spending long days outside. Even though it gets cold and cloudy the further up you go, the sun is harsh, and you can get extremely burnt.
I recommend buying a small sunscreen like this.
Wet wipes
1 x 60 wet wipe pack
1 x 20 small wet wipe pack
I went 10 days without showering (and you'll most likely do the same).
That's why your Everest Base Camp packing list needs to include wet wipes so you can have a "wet wipe" shower every night. You'll use 3 or 4 per night.
It's also a good idea to keep a smaller pack in your daypack, which you can use while trekking.
I packed in too many wet wipes, so don't make the same mistake I did.
Top tip: Remember, your baggage is weighed before you get on the flight to Lukla. It cannot weigh more than 10kg. You're going to have to leave off a lot of items you had initially included in your EBC packing list. One of them is the excess wet wipes!
Hand Sanitizer
You're probably thinking the same thing I did. You'll have wet wipes to clean your hands, so why do you also need hand sanitizer?
I didn't include this on my Everest Base Camp trek packing list. But it's one of those things I wish I had!
Hand sanitizer is great for when you're trekking. You'll want something that is easily accessible and fits into the mesh pockets of your day pack.
Shampoo (multi-purpose)
If you're following my Everest Base Camp itinerary, the best place to shower would be on day 2 in Namche Bazaar and day 10 in Pheriche.
This is where you can treat yourself to a well-deserved hot shower that won't cost a fortune!
To save space and to stick to your weight requirements, I recommend decantering your shampoo into a small container like this.
You can use this as your handwash as well as body, face, and hair wash for the 2 days you're able to shower.
Microfibre Towel
A microfiber towel is small, light, and affordable and can easily fit into your bag.
The tea houses along the route don't provide towels. I recommend that you pack one in (even though you won't be showering much!)
1 roll Toilet paper
Some tea houses and restaurants provide toilet paper; others don't.
And while your tour operator may give you with a roll or two, pack an extra one just in case!
4 small packs of Tissues
My nose was running all day, every day!
Keep these tissues in your day pack because you'll need them.
Other toiletries
Toothbrush
Toothpaste
Small mouthwash
Roll-on Deodorant
Lip balm (with sunscreen)
Hair ties and clips
Mosquito repellant
Body lotion
Everest Base Camp Packing List: Electronics
20 000 MaH Power bank
After Namche Bazaar, you'll start paying for electricity (which isn't cheap). Bring one or two power banks along with you.
Universal Plug Adapter
I'm going to let you in on a little secret!
When paying for power at the teahouses, you'll be charged per hour per outlet.
Not per item you change.
Buying a universal plug adapter like this allows you to charge up to 4 devices at once.
GoPro
If there was ever a need for a GoPro, it's for your EBC trek!
This was the best thing on my packing list for Everest Base Camp, especially for those wide-angle shots and selfies!
Sony camera
There were times when I was so exhausted and didn't stop to admire the scenery and mountains that surrounded me.
My camera was around my neck the entire time, and I took hundreds of snaps, without paying attention to what I was photographing.
I now look back and appreciate the incredible Himalayas through all the photos I took.
Phone
N-cell has the widest coverage, and you'll have cell reception until you reach Dingboche.
As you get closer to Everest Base Camp, you'll go off the grid for a few days.
Headphones / earphones
The days are long, and you'll often be walking alone. Having some good tunes and motivational music will keep you going.
While Gary loved having his headphones on him, I found that I didn't need mine.
Everest Base Camp packing list: Snacks
Even if you're not a snack person, pack in a few things to nibble on throughout the trek.
Small, one biter snacks are the way to go.
You can purchase these from the teahouses and shops along the way. But they'll be a lot more expensive.
Here are a few snacks I packed for Everest Base Camp.
Kitkat, snickers
Chewy sweets
Oreo biscuits
Granola bars
Rehydrate
Everest Base Camp Packing List: First Aid Kit
Your tour guide should carry a first aid kit with them. If they don't, here's a great one that's small enough to fit in your day bag.
I recommend adding the below items to your EBC packing list.
Headache tablets (paracetamol/ibuprofen)
Throat lozenges
Vitamin C
Band-Aids/plasters – bring different shapes and sizes
It's best to purchase these back home. While there are plenty of pharmacies in Kathmandu, you may find you prefer to take medication you've used previously.
Diamox: Should this be on your Everest Base Camp trek Packing list?
Diamox is a medication that is effective in preventing Acute Mountain Sickness (AMS) and other issues that could occur due to the high altitude.
You can purchase Diamox in Kathmandu (without a prescription), but it's recommended to speak to your doctor back home before taking the medication.
Why I didn't take Diamox
I debated whether or not to take Diamox.
During my Mount Kilimanjaro trek a few years back, I got extremely sick as a result of the high altitude. I never imagined my fit, healthy body to react the way it did!
Luckily, I recovered after walking to a lower altitude and getting a few hours of sleep. 2 days later, I was able to make it to the top of the highest mountain in Africa.
But this scarred me, and I didn't want to take any chances with altitude sickness at Everest Base Camp.
While Diamox does increase the rate at which your body acclimatizes, it does not guarantee that you will have a successful climb.
People who take Diamox have also complained about a tingling sensation in their hands, like pins and needles.
It is also a diuretic which means you'll have to urinate often. This could be a positive thing as it means you'll be making regular stops which is recommended as a way to acclimate properly.
Allowing your body to acclimatize naturally
Another way to beat altitude sickness is to walk slowly, make regular stops, stay hydrated, and ensure you get enough food and nutrients. (You should be doing all of this even if you take Diamox).
I opted to let my body naturally acclimate so I didn't take Diamox.
Every day, I was the last one in camp. I walked the slowest and listened to my body.
Yes, I struggled, but I never had the same excruciating headaches and nausea I felt on Mt Kilimanjaro.
Gary and I were the only 2 in our group who didn't take Diamox. And while everyone felt strong after taking it, the day we arrived at Everest Base Camp was a different story.
People struggled with the altitude, and one of our fellow trekkers had to be put on oxygen, even after taking Diamox.
That just goes to show that taking Diamox does not mean you won't get sick. Because you can.
So, if you choose to take it, hike as if you didn't. Go slow and drink lots of water.
Everest Base Camp Packing List: Documents
Passport
No less than 6 months before expiry
Nepal Visa (VOA)
You can get your visa on arrival in Kathmandu. Ensure you have USD on you to pay for this.
I didn't have cash on me at the time, and the ATMs were not working. After 5 hours of trying to get cash, I managed to leave the airport with my visa!
Cash while on route
$150 for costs incurred during the trek
10% of the total trip cost for a tip for guides and porters
Before you leave for Lukla, draw enough money to pay for luxuries such as hot showers as well as coffee and cake in Namche Bazaar.
You can also purchase souvenirs along the route or items you may have left off your Everest Base Camp packing list.
You will give the tips to your guides and porters in Lukla on the last day of your trek. Instead of taking all this tip money with you, rather draw cash from the ATM in Namche Bazaar or Lukla on your way down.
Other things to pack for EBC
What Not to Pack for Everest Base Camp
Pillow
The tea houses provide pillows. Save space and leave those off your Everest Base Camp trek packing list.
Your sleeping bag should also have a hood so you won't actually have your face on the pillow.
Some people choose to bring their own pillowcases instead – each to their own.
Gaiters
If you're trekking in hiking boots, gaiters are not necessary.
If you're wearing normal trainers or doing a detour that involves venturing to areas with heavy snow, then you will need them.
Books
I packed in 2 books. I probably got to page 5 of the first one and that's it!
When you're not hiking or sleeping, you'll be chatting to people in the tea houses and playing card games.
Unless you're an avid reader, you should save space and leave your books at home.
Tripod
A tripod will just add to the weight of your bag. So many people will be more than happy to take photos for you!
Balaclava
I didn't wear mine once – even though I get incredibly cold!
If you've packed all the other gear on this list, a balaclava is not needed.
Water purification tablets
This is specifically for Gary and me. After doing a lot of research and consulting with our tour guides, we decided not to take any water filter.
Why? Well, all the water is boiled and filtered already.
After 18 days on the mountain (because we hiked to Island Peak after Everest Base Camp), we didn't get sick from the water we drank.
Taking water purification tablets is an additional measure so if you're susceptible to food poisoning or getting sick, perhaps take them with you.
Washing detergent
You won't have the energy to do any washing! Air your clothes out every evening, and they'll be good to go the next day.
Solar chargers
Don't want to pay for electricity at the teahouses? Bring a solar charger! Or not.
Admittedly, I didn't include a solar charger on my Everest Base Camp trek packing list. But a few people in my group did and they weren't too impressed.
With so much cloud cover in the mountains and the time it takes to fully charge the batteries, they were barely put to any use.
So bear that in mind before investing in expensive chargers.
Travel Insurance for Everest Base Camp
No matter how fit or experienced you are, you need travel insurance.
Hiking at high altitudes has its risks. Acute Mountain Sickness (AMS) is a real thing, and you could also seriously injure yourself while trekking.
The only way to get off the mountain during an emergency is to be evacuated by a helicopter.
I was shocked to see just how many people are heli-vacked to a lower altitude.
There's constantly a hover of helicopters up above you, making their way between the small villages and Lukla.
Travel insurance for your Everest Base Camp trek is one thing you cannot take lightly. It can be a life and death situation, and if you do not have the funds to cover these emergencies, you will be risking your life.
I used World Nomads for my trip as they cover high-altitude trekking of up to 6,000 m. Everest Base Camp sits at 5, 364 m.
Where to Buy Your Hiking Gear for Everest Base Camp
While it's easier to buy everything on your Everest Base Camp kit list before you arrive in Nepal, this might not be possible for some people (or you might realize mid-flight that you've left something at home).
The neighborhood of Thamel in Kathmandu is a hiking hub with stores that stock everything you need to pack for Everest Base Camp trek, from expensive brand names to cheaper knockoff alternatives.
If you're only looking for top-quality, reputable brands, my advice would be to purchase your Everest Base Camp clothing at home.
If you're in search of more affordable items, then you'll be spoiled for choice in Thamel.
My Everest Base Camp Packing List Budget
I arrived in Kathmandu with hiking boots only as I was at the end of a 4 month backpacking trip.
I spent my first 2 days walking the streets of Thamel, where I bought all the equipment and trekking gear I needed for two weeks on the mountain.
In total, everything cost me less than $500 on everything (except for my hiking boots, which I had purchased prior). That's right, everything you see on this Everest Base Camp packing list that was not provided by my trekking company, I purchased for under $500!
I had no issues with the quality of my gear, and I still wear a lot of it today.
So, if you're finalizing your complete packing list for your EBC trek and you're on a tight budget, perhaps it's worth arriving 2 or 3 days earlier in Kathmandu so that you can buy everything there.
You can also rent gear in Thamel. Numerous stores rent sleeping bags, down jackets, hiking boots, and more.
However, be sure to note the quality, as sometimes it may be better to buy a new item yourself.
Top tip: The only thing we struggled to find in Kathmandu were hiking boots for Gary. While the stores did stock the items, they didn't have big sizes. If you're quite particular about what you need, then it may be a better idea to purchase it at home.
FAQs about my Everest Base Camp packing list
What should I pack for Everest Base Camp?
There's a 10 kg strict weight limit on the clothing and gear you can pack for Everest Base Camp. You need to pack lightly and smartly whilst ensuring you have sufficient warm gear as it gets cold on the mountain.
If you follow my recommendations in this detailed packing list for EBC, you'll have everything you need.
Do you need gaiters for Everest Base Camp trek?
No, you do not need gaiters for Everest Base Camp. But if you prefer wearing them, then you should bring a set with you.
What temperature should a sleeping bag be at Everest Base Camp?
You should have a sleeping bag with a -10 rating, as it is extremely cold at Gorak Shep (which is the closest tea house to Everest Base Camp).
How do you shower at Everest Base Camp?
There are showers at most tea houses along the route. You will have to pay for these, and the price is more expensive the higher up you go.
You're looking at paying $4 in Namche Bazaar and Phakding and up to $15 per shower closer to Everest Base Camp.
This is why most people go a few days without showering.
Final Thoughts on Your Everest Base Camp Packing List
Phew – if you reached the end of my Everest Base Camp trek packing list, congrats!
This is a first-hand account of my experience packing for EBC. I tried sticking to a budget while also ensuring I had everything I needed for a successful trek.
Bear in mind that everyone is different, and no one packing list for Everest Base Camp trek will suit everything.
If you're going all the way to the Everest Region of Nepal, I recommend pairing your Everest Base Camp trek with Island Peak. It's an incredible summit climb that only adds a few extra days to your itinerary. You can read about it here.
---
Have you been to Nepal? What's your top tip on what to pack for Everest Base Camp? Let me know in the comments section below.
Looking for hiking inspiration? Check out my other posts!
---
Pin this!