The Everest Base Camp trek with Island Peak climbing is without a doubt the most physically and mentally challenging thing I've ever done! Each person has their own pain threshold, and on day 13 of my EBC and Island Peak trek, I had reached mine.
I pushed myself so hard, day after day. I barely made it to Everest Base Camp and yet I had to keep on going as there was a far greater challenge waiting for me: Island Peak.
This summit climb to the top of Island Peak, was the day I almost gave up. I wanted to throw in the towel because I just didn't know if my body would make it.
But, I soldiered on and after an excruciating 12 hour summit climb, I reached Island Peak.
When I think back to my time hiking to Everest Case Camp and Island Peak, I can still feel the the emotions, the adrenaline, and the moments of utter hopelessness.
Luckily, I have photo's that captured these times, not because I want to remember just how difficult the trek was, but instead so that I can look back on those moments that I didn't appreciate; the gorgeous sunrises, my amazing trekking team, the insane views, and the times I didn't feel sick!
Because in the end, it wasn't all about the summit, it was the entire journey to Everest Base Camp and Island Peak.
If you're thinking of taking on the Himalayas, keep scrolling down as these photos will fuel your wanderlust! Also, I have more detailed trekking posts highlighting itineraries, training and costs so check those out below.
Why I chose to do Everest Base Camp with Island Peak
Mount Everest has always fascinated me! I've watched every documentary and admire those brave souls who attempt to reach the summit of the highest mountain in the world.
It's captivating and their stories are compelling.
And whilst I'm always up for a challenge, Mount Everest is not on my bucket list and I don't plan on conquering the giant anytime soon (or ever).
But, seeing the magical mountain up close and personal has always been a dream of mine and this is why I decided to do Everest Base Camp and Island Peak.
The Best of Both Worlds: Everest Base Camp with Island Peak
After teaching English in Korea, I decided to take 5 months off to travel. I planned a backpacking trip through Asia and had my sights set a few bucket list activities.
My trip would start off in China with The Great Wall, then I'd spend 2 months in Indonesia before hitting the beaches of Sri Lanka! I'd end my adventures on a high note: Nepal!
I wanted to see Mount Everest and experience a piece of what so many incredible mountaineers had seen, even for just a moment.
But, I also wanted to push myself, I wanted to test my limits.
Whilst Everest Base Camp is extremely tough (you can read more about my thoughts on just how difficult Everest Base Camp is, here) I wanted my trek to include some technical climbing, something I'd never done before.
After hours of research, I decided that the Everest Base Camp trek with Island Peak climbing would be the best way for me to experience the Himalayas. So, I booked my trip and that was that!
The reality: After 4 months of backpacking, I was not as prepared as I should have been. But, I made it to Everest Base Camp and I summitted Island Peak having done no training at all!
But, there are a lot of lessons I learned and I wrote this guide with all the details of my Island Peak climbing experience here. The pictures below might convince you to book your trek, but you need to know what to expect – and it's not all fun and games!
Everest Base Camp Trek with Island Peak Climbing: The Highlights
The Infamous Lukla Airport
The 25-minute flight from Kathmandu to Lukla is terrifying! The plane is tiny and you can feel every bump – Not to mention the short uphill runway at the end.
If the pilot doesn't get his landing perfect, you're pretty much screwed. It's so dangerous that people traveling in groups or those with their partners often make the decision to fly on separate planes as a precautionary measure!
Suspension Bridges: Activating My Fear of Heights
On day two of your Everest Base Camp trek and Island Peak climb, you'll cross several suspension bridge. All offer incredible views, but they're also extremely high and especially terrifying when there are mules coming for you!
Tea Houses: The Good, The Bad, and The Ugly
I was pretty impressed with the standard of tea houses during my Everest Base Camp and Island Peak trek. (Although after camping for 8 days on my Kilimanjaro climb, with no toilets and no western food, I didn't have high expectations!)
Some tea houses are worse than others but all have a cosy communal area with a fireplace. The bedrooms are not insulated and so they're extremely cold! Some have private toilets, others have communal bucket toilets.
As you get closer to Everest Base Camp, the standard of these tea houses get worse, which is pretty much expected.
Camping at Island Peak Base Camp (After reaching EBC)
After 11 days on the mountain, it was time for 3 nights of camping at Island Peak Base Camp. Surprisingly, our tent was far warmer than our ice cold rooms in the tea houses!
By this stage I was ready to call it a day and head home but I did enjoy the change of environment and sleeping in my small, cosy tent!
Dodging Yaks and Mules
Keep left. That's the rule when you come across the scores of yaks and mules when trekking to Everest Base Camp and Island peak.
Yaks live in high altitude conditions and can survive temperatures of -40 degrees. When you get closer to EBC, the cheese you get is yaks cheese, so if you're not keen on eating it, don't order the pizza!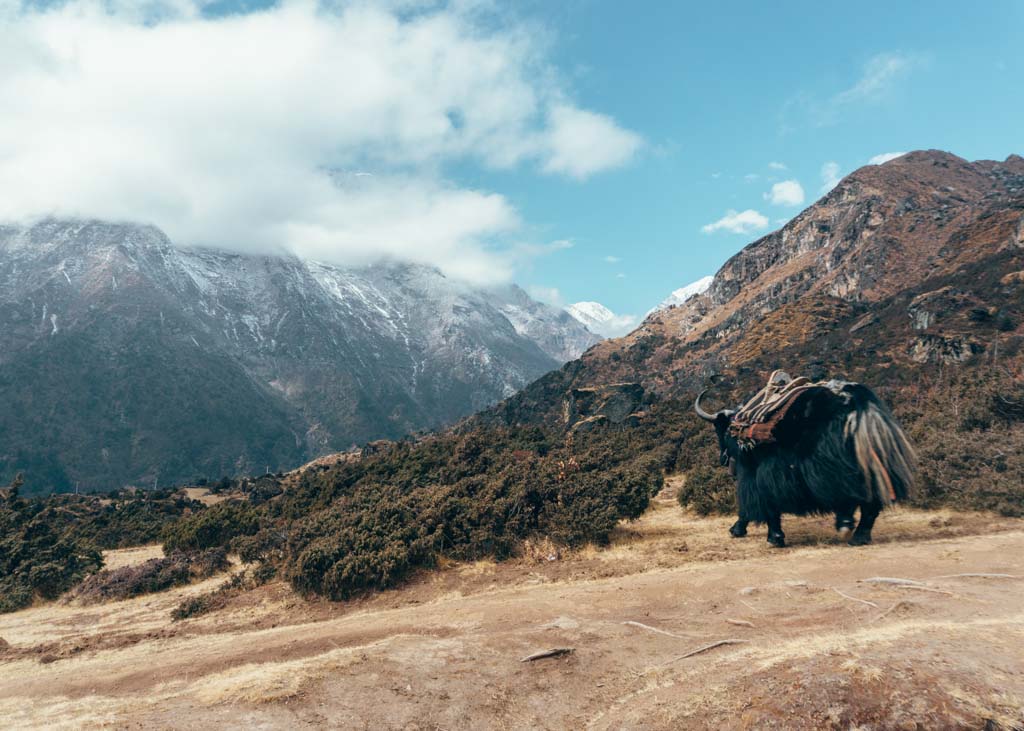 Helicopters Making Their Way Between Everest Base Camp and Island Peak
This one took me by surprise. I know that getting to Everest Base Camp and Island Peak has its risks, but I didn't quite realize the extent to which trekkers had to be rescued.
Right from the get go, you hear the sounds of helicopters as they make their way between the Himalayan giants, transporting those who have suffered from AMS.
But these helicopters are not only used in emergencies; they also transport goods and food supplies to the villages higher up in the mountain.
Beer, Cake and Movies in Namche Bazaar
Namche Bazaar is one of the most popular Sherpa villages in Nepal. Most trekkers to Everest Base Camp and Island Peak will spend 2 days here on their way up in order to acclimatize.
You have to try the chocolate carrot cake at Hermann Helmers! And on your return, reward yourself with an Everest movie and an ice cold beer from Liquid Bar.
Reaching Everest Base Camp and Island Peak Summit
Of course, the top highlight of our trek was stepping foot on Everest Base Camp and Island Peak.
That moment was how I imagined it to be, and better. EBC was slightly crowded but there wasn't a soul in sight from the summit of Island Peak. The time at the summit flew by – it was freezing cold and all we wanted to do was head home.
We sat at the top of Island Peak and shed a few tears, admired the views then continued with our 3 hour trek to base camp.
Exploring Kathmandu
Kathmandu is a vibrant city and it's best to spend a few days here before your trek. There's so much going on and the energy that fills the streets is contagious! From museums to temples, parks, and shopping, there's so much to do in Kathmandu.
We also had a fab time in Thamel where we bought all our trekking gear as we had nothing with us when we arrived!
The Powerful Porters and Guides
These are the true mountain heroes! These porters and guides climb to Everest Base Camp and Island Peak without even breaking a sweat. The way their bodies have acclimatized is remarkable.
However, despite their years of experience, they are still vulnerable to the conditions of the mounatins. During our trip, an experienced porter from another group had to be heli-vacced out of Dingboche.
This goes to show that no matter how fit you are, altitude sickness can affect anyone and at any time!
Feeling like S*#t
Altitude sickness is a bitch and at some stage on your Everest Base Camp trek and Island Peak climb, you'll experience symptoms of AMS (Acute Mountain Sickness) – some more severe than others.
On day 6 of my trek, I lost my appetite and suffered from a throbbing headache. In my Everest Base Camp itinerary, I've detailed my trekking route and how I managed to overcome this speed bump.
But it's not only altitude sickness that got to me! It's the freezing cold temperatures and the long, tiring days. It's the emotional battle and mental challenge, but it was all worth it!
The Mighty Ama Dablam
Sitting at 6,812m Ama Dablam dominates the skyline for the first few days of your trek to Everest Base Camp and Island Peak.
If you're up for another challenge, Ama Dablam should be next on your bucket list! But make sure you put in the hours as it's an extremely technical climb and requires professional climbing experience to reach the summit.
The Small Things: Celebratory Moments
Waking up feeling strong.
Making it to the Everest memorial after a painfully difficult climb.
Reaching Namche Bazaar.
Getting to the lunch stop within 20 minutes of my team members (yes, I was slow!)
Having perfect trekking conditions.
These are all the small moments that felt like huge achievements and reasons to celebrate!
The Team
Gary and I were the only ones in our trekking team that had chosen to do the Everest Base Camp trek with Island Peak climbing.
But at least we had these guys for the first 12 days to EBC and it was a sad farewell when we had to continue on to Island Peak without them.
Read More: The Perfect Everest Base Camp Packing List
The View From Island Peak
If I could freeze one moment of my trek to Everest Base Camp and Island Peak, it would be at the summit of Imja Tse.
Just wow – and we were there!
The Picturesque Lunch Stops
I must admit, this is one of those things that I took for granted.
It's hard to appreciate the gorgeous mountains and scenic views when you can barely breathe and your body is aching!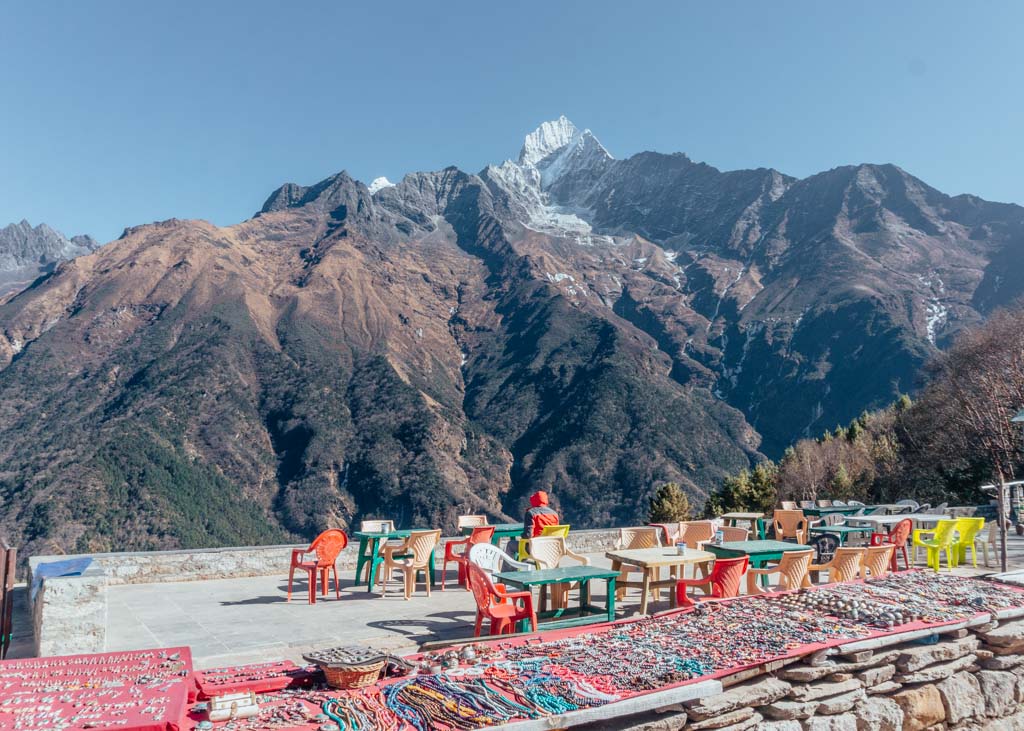 Final Thoughts On My Everest Base Camp Trek With Island Peak Climbing
After reaching Everest Base Camp and Island Peak, I just wanted to get off the mountains!
I wanted a hot shower, a warm bed, and a delicious meal. I was so looking forward to waking up without feeling sick and being able to put on normal clothes.
These photos make me look back and smile. Yes, it was tough! But it was incredibly beautiful and making it to Everest Base Camp and Island Peak is the best thing I've done. Ever!
---
Psst… Looking for more adventures to add to your bucket list? Check out my other posts!
---
Pin this!