The Glacier Huemul hike is one of the most underrated day hikes in El Chalten. For minimal effort, you're rewarded with postcard views of turquoise waters surrounded by a magnificent glacier.
Located close to Lago Desierto, Glacier Huemul lives in the shadow of the more popular hiking trails that are easily accessible from El Chalten.
But those who venture further out will be rewarded with one of the most spectacular sites in Patagonia: Glacier Huemul.
Hiking to Glacier Huemul was not on my El Chalten itinerary at first – it was a last-minute adventure that turned out to be the highlight of my trip.
Here's everything you need to know about the Glacier Huemul hike, including how to get there (because the trail does not start from El Chalten).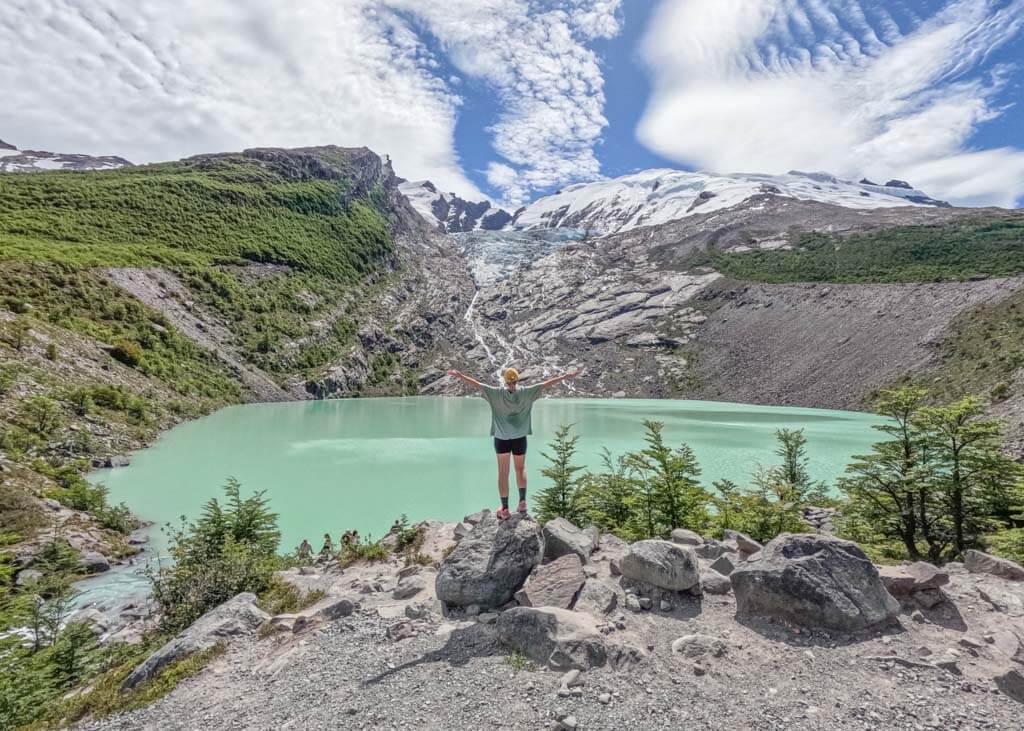 Glacier Huemul summary
Hiking distance: 3.2km
Driving distance to trailhead: 37km
Time needed: 2 hours of hiking time
Difficulty: Easy
Route type: Out and back
Elevation gain: 204m
Entrance fee: 1,500 pesos per person (2023)
Hiking Glacier Huemul Overview
Glacier Huemul is the most picture-perfect location near El Chalten. The turquoise lake is surrounded by lush landscapes with the iconic Glacier Huemul as the backdrop.
If your body is sore from all the intense hiking in El Chalten and you're looking for a relatively chilled activity, I highly recommend trekking Glacier Huemul.
It's located on private property an hour's drive from El Chalten. But the drive and money spent are well worth it!
Glacier Huemul hike difficulty
Compared to the two most popular hikes in El Chalten (Laguna De Los Tres and Laguna Torre), Glacier Huemul is super easy!
It's just over 3km return and the trail meanders through a gorgeous forest with moss-covered trees.
You'll gain 200m in elevation on the way up. As a result, it's steep in some areas but there are ropes and handrails to assist with the climb.
How to get to Glacier Huemul
Getting to Glacier Huemul is the tricky part.
It's located near Lago del Desierto, 37 km outside El Chalten. Do not attempt to walk or cycle it! The road is all unpaved and is a 60-minute drive by car.
There are shuttles that depart every morning from El Chalten to the trailhead, but you need to book your seat a day in advance. Trust me on this one!
You can either ask your accommodation to make the booking for you or visit Zona Austral's offices which are just a short walk from the main bus terminal in El Chalten.
Because I hadn't planned to hike Glacier Huemul, I left it to the very last minute. Unfortunately, all transfers were fully booked and a private taxi was far too expensive!
We even attempted to hire a bike and cycle to Glacier Huemul, but we were encouraged not to as it would take hours in direct sunlight.
Our only option was to hitchhike – and luckily we managed to get a ride with an incredible Argentinian couple. But the hitching competition is strong and we noticed many people looking for a lift, most of whom weren't as successful as we were.
Glacier Huemul trailhead
You can't miss the trailhead leading to Glacier Huemul. There's a big sign alongside a kiosk and clean toilets at the entrance to the trail.
Before setting off, you'll need to pay 1500 pesos to use the trail. This is because Glacier Huemul is on private land.
Hiking to Glacier Huemul
The trail to Glacier Huemul is gorgeous. Set in a lush forest, you'll be protected from direct sunlight for most of your hike.
The trail starts steady and flat but quickly gains elevation. It's a lot steeper than I thought it would be – but not nearly as difficult as the other hikes in the area.
When you reach the top you'll have sprawling views of Rio de las Vueltas valley before catching sight of Glacier Huemul.
You can also swim in the turquoise waters of Lago Huemul, but the water is freezing cold!
To get back down, you'll follow the same trail you come with – this time you'll be making your way downhill.
Is trekking Glacier Huemul worth it?
Yes! After hiking 40+ km in 2 days, my body needed a day to recover. I was in search of a hiking trail that wasn't as challenging – and Glacier Huemul was the answer.
If you're renting a car, I recommend you combine a trip to Glacier Huemul with Lago Del Desierto which is just a short drive away.
---
Are you looking to hike to Glacier Huemul? Do you have any questions about your trip? Drop me a message in the comments section below.