Lush landscapes. Pristine beaches. Friendly locals. Indonesia is one of the most magnificent destinations in the world!
If you're planning your Indonesia itinerary and looking for the best things to do in 3 weeks, you've come to the right place.
I spent over 12 months in the country and ventured from the volcanoes in Java to the rice terraces in Bali. I backpacked my way overland from Lombok to Sumbawa then to Flores and finally, Sumba Island.
But with only 3 weeks in Indonesia, you won't have enough time to do everything!
So, to help you craft the perfect trip, this Indonesia travel itinerary will take you to those magnificent landmarks you won't want to miss. It's a great balance of adventure and culture for first-time visitors and can be easily customized into a 2 week or 1 month itinerary for Indonesia.
How many days in Indonesia
You'll need at least 3 weeks in Indonesia (or more)! The country is massive and with over 17 000 islands, there are endless amounts of things to do and see.
But not everyone has time on their side, so you need to decide where your priorities lie.
Are you planning a backpacking itinerary for Indonesia? Do you want to travel slowly? Are you in search of natural attractions or cultural sights?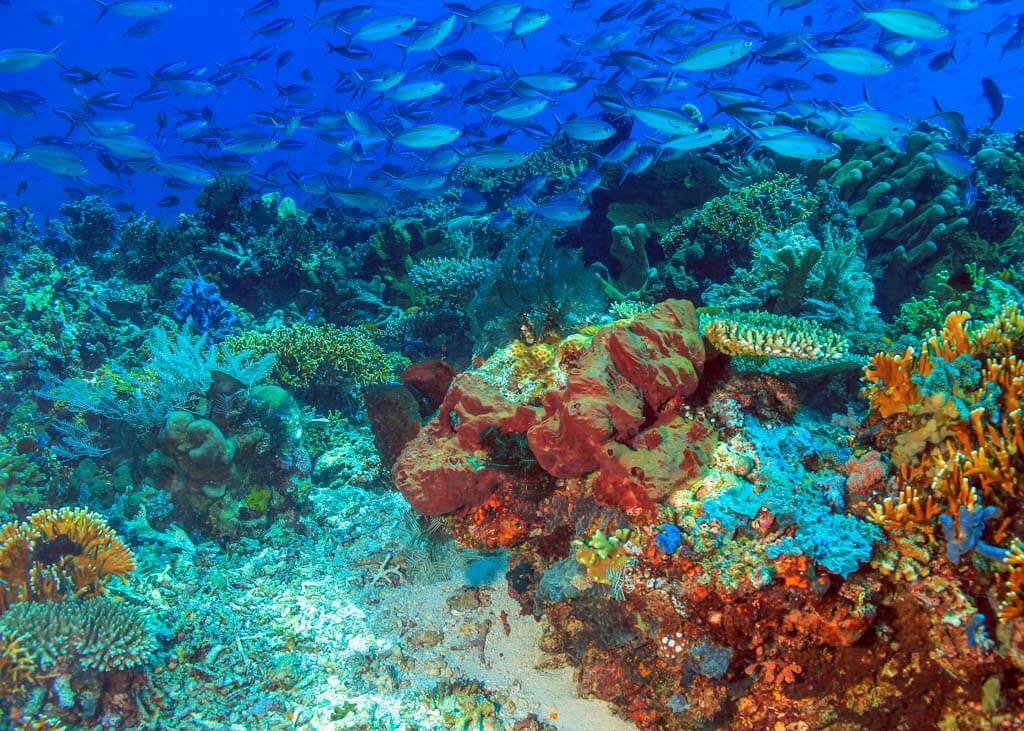 When is the best month to plan your trip to Indonesia
April to October are the best months to visit Indonesia. This is the dry season so you can expect warm sunny days with little to no rain.
The peak tourist season runs from July to September. There are larger crowds and higher prices during these months.
If you're planning your Indonesia itinerary for December to March, you can expect a fair bit of rainfall. This is the rainy season after all, and it also gets extremely humid during these months.
If you're backpacking Indonesia or doing lots of hiking, island hopping and outdoor activities, then I recommend avoiding travel during the rainy season.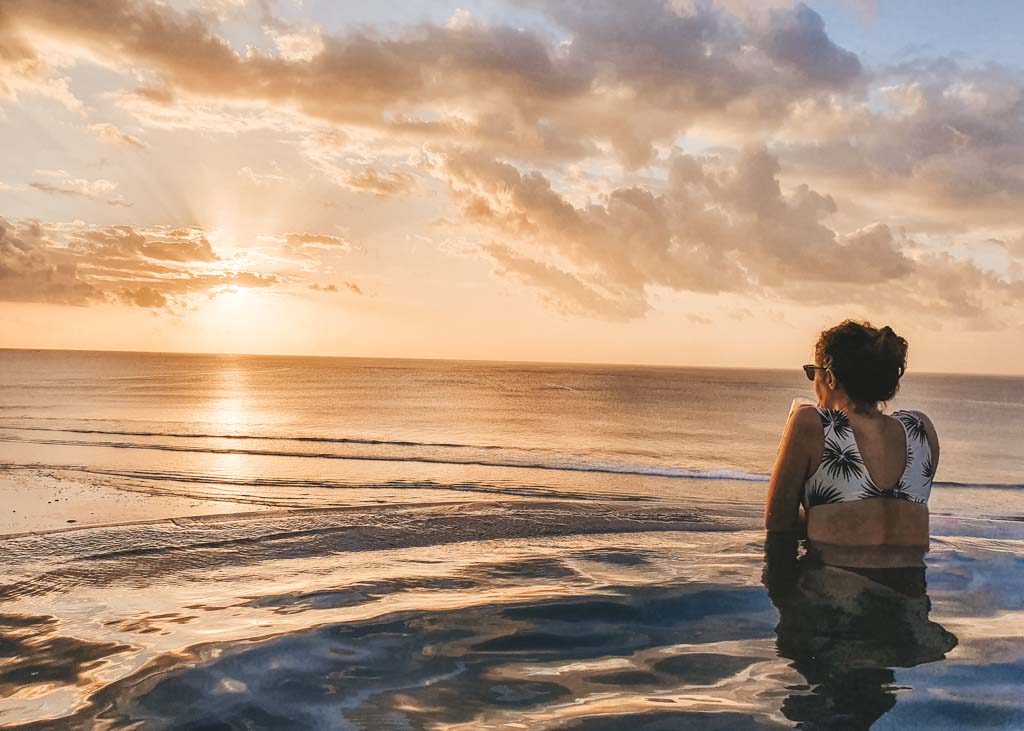 3 week Indonesia itinerary Summary
Below is a summary of where to go in Indonesia. This includes island hopping and seeing all the top attractions.
Day 1 – 3: Seminyak, Bali
Day 4 – 5: Ubud, Bali
Day 6 – 7: Gili Islands, Lombok
Day 8 – 9: Kuta, Lombok
Day 10 – 13: Komodo National Park, Flores
Day 14 -15: Uluwatu, Bali
Day 16-20: Optional (Java, Bali or Flores)
Day 21: Fly home
Indonesia itinerary: Where to go, eat, play, and stay
This 3 week Indonesia itinerary starts on the Island of the Gods, Bali!
You'll spend 6 days exploring the best of Bali, from the beaches to the rice fields.
You'll then hop on a ferry and head east to Lombok.
Here you'll soak up the sun on the Gili Islands before making your way to the mainland of Lombok. You'll choose between climbing an active volcano, exploring hidden waterfalls, or sipping on cocktails on the beaches.
After 10 days in Bali and Lombok, you'll catch a flight from Lombok to Flores Island, the home of Komodo National Park.
Flores is my favorite island and something that should be included in every Indonesia itinerary.
Finally, your last 4 days in Indonesia are up for debate! You can either venture off the beaten path in Bali or Flores or hike Mount Bromo in Java.
I'll leave that decision up to you.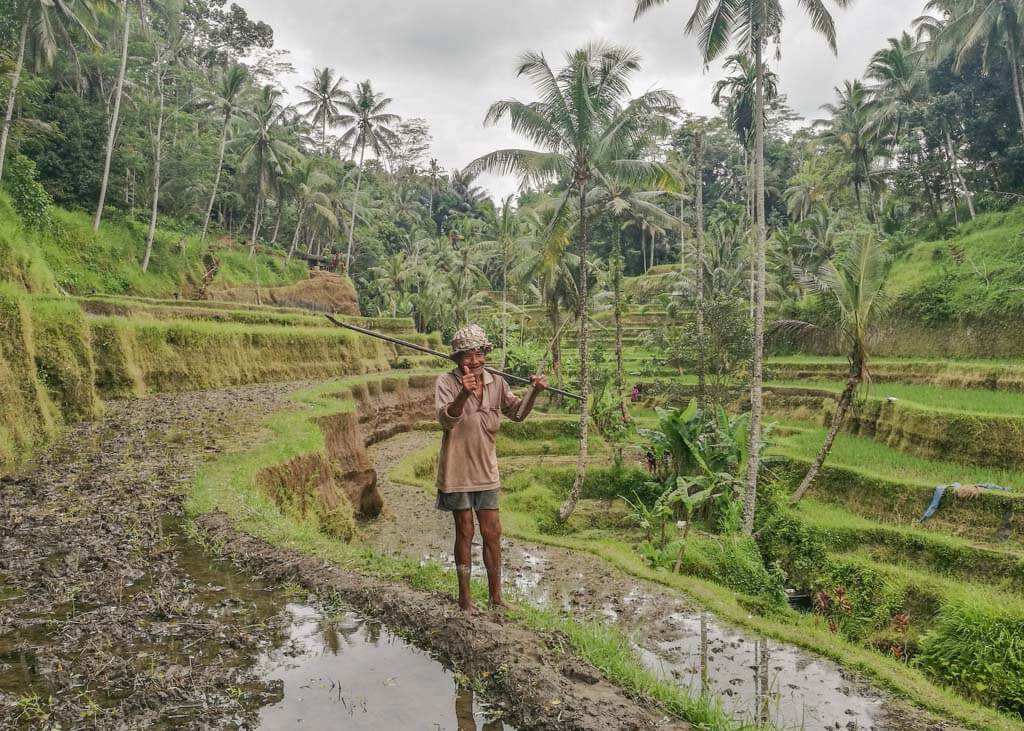 Day 1: Start your Indonesia itinerary in Bali
It's best to start your Indonesia itinerary in Bali as the tropical island vibes will quickly get you into holiday mode!
On the first day of your 3 weeks in Indonesia, you should keep your schedule empty. After a long flight, the last thing you'll want is to spend more time in a car driving to all the main attractions.
Instead, beat the jetlag by exploring the area around your hotel or by sipping on cocktails on the beach.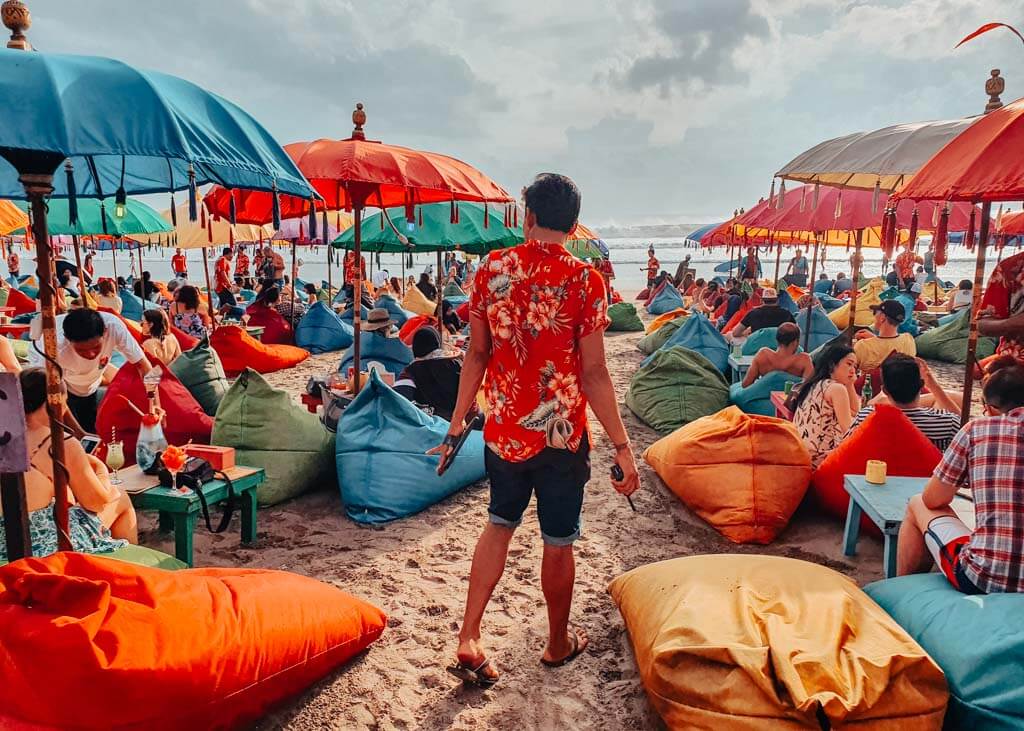 Where to stay in Bali
During this Indonesia 3 week itinerary, you'll be staying at 3 different places in Bali. The first of those is Seminyak.
Why Seminyak? Because it's a lively area with some of the best beach clubs, trendy cafes, and fun markets in all of Bali.
It's the perfect introduction to the island – plus is pretty close to the airport!
Luxury: Enjoy beachfront views and 5* service at W Bali Seminyak. This hotel is hard to beat and the location could not be better. If you're planning your honeymoon or romantic getaway, this is the perfect place to stay.
Mid-range: If you want personal space in your own private villa, look no further than Mayaloka Villas. Set amidst a lush tropical garden in the quieter side of Seminyak, you'll have your own pool and luxury open-plan living.
Budget: Sleepwell Seminyak is a great place to stay if you're traveling on a budget. With large private rooms, air-conditioning, and breakfast included, you get a lot of bang for your buck when staying here.
Day 2: Seminyak
It's day 2 and you should be ready and rearing to go!
Today, you'll stay close to Seminyak and Canggu, exploring the coastline and bustling streets.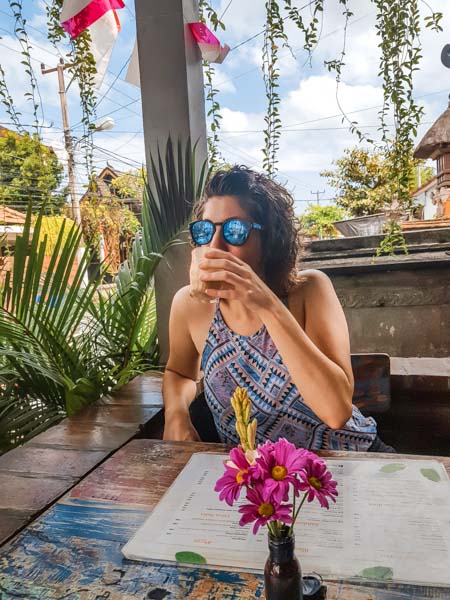 Things to do in Seminyak or Canggu
Hit a beach club. I love Finns Beach Club! With a swim-up bar in a pool overlooking the ocean, there's no better place to celebrate life. Other popular beach clubs include Potato Head Beach Club, Ku De Ta, Mrs. Sippy, and more!
Day trip to Canggu. Just 30 minutes from Seminyak is the digital nomad capital of Bali, Canggu! Many people choose to include Canggu in their Bali travel route as it's a great place to learn to surf and enjoy a seafood lunch at one of the many beachside restaurants.
Relax at Double Six Beach. Double 6 Beach is one of the most popular beaches in Bali. Bear in mind that the coastline here isn't as pristine as the beaches in Uluwatu. But that's ok because you'll be going to Uluwatu a bit later in this Indonesia itinerary.
Sunset at La Plancha. You can't miss La Planch at Double 6 Beach! Here's where you'll find the colorful beanbags and umbrellas. It's a great place to watch the sunset and the vibe is awesome.
Visit Tanah Lot. Tanah Lot is a Hindu temple found in the sea north of Seminyak. During low tide, visitors can access the temple from the mainland.
Go shopping. Seminyak boasts some of the best shopping in Bali.
Day 3: Ubud
On your 3rd day in Indonesia, you'll head to Ubud, the cultural capital of Bali.
Unlike the popular areas along the coast, Ubud's main attraction lies in its lush surroundings that ooze tranquility and peacefulness.
Where to stay in Ubud
If you're planning an Indonesia backpacking itinerary, I suggest you stay in central Ubud, near Monkey Forest Road. Ubud is a small village bustling with tourists and everything is within walking distance or a quick taxi ride away.
If you're looking for a more relaxed stay, you can't go wrong with picking a place near Campuhan Ridge Walk or the neighboring villages of Penestanan and Nyuh Kuning, all of which offer quaint bungalows with views of the rice paddies.
Luxury: The Kayon Jungle Resort sure lives up to its name! The infinity pools which overlook the jungle paired with spacious Balinese-inspired rooms, make this the best place to stay in Ubud if you're looking to live in luxury.
Mid-range: Byasa Ubud is surrounded by rice paddies and is the perfect place to spend your time in Ubud. Situated in a quieter neighborhood, you're guaranteed a remote escape if you stay here.
Budget: Surya Bagus Homestay is ideally located near the center of Ubud and is all you need if you're traveling on a budget. The private room comes with a complimentary breakfast and the friendly owners will ensure you have a memorable stay in Ubud.
Things to do in Ubud
Take the Campuhan Ridge Walk. Campuhan Ridge Walk starts in the heart of Ubud and passes through rice fields and villages. It's a leisurely nature walk that takes about 2 hours to complete and covers 9 km in total.
Visit Ubud Monkey Forest. Home to over 600 mischievous monkeys and 120 different species of trees, you'll find the Ubud Monkey Forest right in the center of bustling Ubud.
Indulge in all the food. Ubud has some of the most delicious Indonesian cuisines, so be sure to visit one of the many local restaurants.
Day 4: Ubud
Today will be your first day trip from Ubud where you'll visit towering waterfalls, lush forests, and ancient temples.
I recommend getting a private driver for the day
Things to do
Visit a rice field. Tegalalang Rice Terrace – the most famous of all rice fields in Bali, if not the whole of Indonesia! The Tegalalang Rice Terrace lies to the north of Ubud and is the source of those iconic photos you see all over social media. Jatiluwih Rice Field is slightly further and not nearly as crowded
Explore a waterfall. Leke Leke is one of the most picturesque waterfalls in Bali and is close to Jatiluwig Rice Terrace. If you're looking for something closer to Ubud, Tegenungan is also a popular choice.
Visit a temple. There are several temples close to Ubud. The Tirta Empul Holy Water Temple is one of the most famous, but you may also want to check out Goa Gajah (The Elephant Temple).
Lunch in the rice fields. During your day trip, ask your driver for a restaurant recommendation. You'll be spoiled for choice when it comes to restaurants offering sprawling views of the rice fields below.
Go for a massage. After a busy day of exploring, there's no better way to relax than by going for a massage. You'll probably go for quite a few during your time in Indonesia as they're so affordable. Where else will you pay less than $10 for a full body massage!
Tip: Ubud is truly a magical place. If you had more than 3 weeks in Indonesia, I would recommend spending an extra night in Ubud. You will then have time to go river rafting and explore more waterfalls.
Day 5: Ubud to Gili islands
Day 5 of your Indonesia itinerary is going to be a long day (if you decide to climb Mount Batur)!
You'll be heading to the Gili islands, a trio of spectacular islands located off the coast of Lombok. It's just what you're going to need after a busy few days of exploring Ubud and Seminyak.
But before you do that, I recommend that you climb Mount Batur. This is a sunrise hike to the top of an active volcano close to Ubud. You should be back at your hotel by 10 am, just in time to have a quick shower before going to Padang Bai Harbour.
To get to Gili Islands, you'll hop on a fast ferry which will take 2 hours to reach the Gilis. Then it's time to soak up the sun and relish in the island vibes!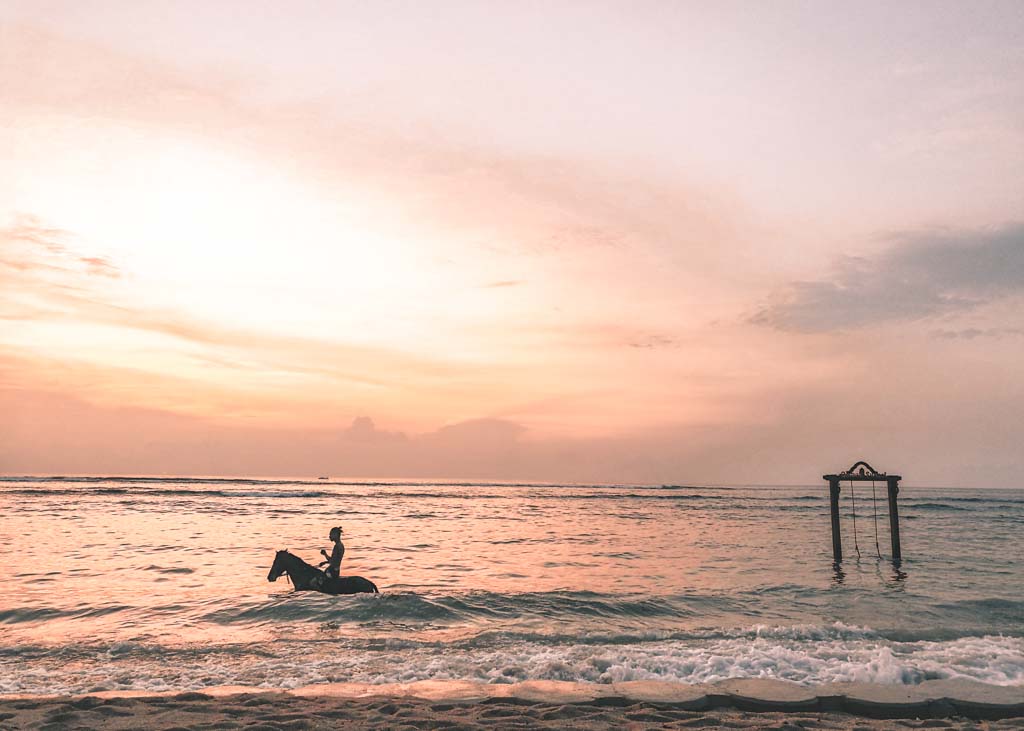 Where to stay in the Gili Islands: Gili T, Gili Meno, or Gili Air?
All three of the Gili islands are tiny and there are no motorized vehicles allowed on any of them.
Gili Trawangan is the biggest and most developed of the three islands. It attracts a backpacker crowd and is perfect if you're looking for a bit of a bustling vibe. In contrast, Gili Meno is the smallest and quietest island. Gili Air is a good mix between the two!
For this 3 week Indonesia itinerary, I recommend that you stay in Gili Trawangan.
Luxury: Looking for your dream island home? Majo Private Villas is for you! The tastefully decorated rooms are paired with floor-to-ceiling windows ensuring lots of natural light. With a gorgeous outdoor living area and private pool, this place oozes luxury.
Mid-range: The staff at Kaleydo Villas make this one of the best places to stay in Gili Trawangan. Start your day off strong with a complimentary breakfast from your very own porch and cool off in the large pool after.
Budget: Jimador's Homestay is one of the cheapest places to stay on the island but it has everything you need for a peaceful sleep including a large double bed, air-conditioning, free wi-fi, and a private bathroom.
Things to do on day 5
Cycle around the island. The only way to get around Gili T is by foot or bicycle. As a result, the Gilis are best explored by bike. There are many hidden paths leading to untouched corners of the island and you can visit all of them in less than an hour.
Find a sunset spot. The best way to end your first day on Gili Trawangan is by watching the sunset from the western side of the island. The beach bars here are often bustling with tourists and offer live music. This is also where you'll find the famous Gili T swings.
Visit the Night Market. This Gili T night market is located off the main road near the harbor. The food is absolutely delicious, and great value for money. The market is open daily from 6-10 pm.
Day 6: Gili Islands
Go snorkeling with turtles. Turtles are often seen in the shallow waters close to Turtle Point and you don't need to swim out too far to encounter them. Snorkeling equipment can be rented from one of the many vendors near the beach.
Find underwater statues. The underwater statues are without a doubt the biggest attraction near the Gili Islands. The 48 life-size human sculptures are located just off the shore of Gili Meno.
Go scuba diving. The Gili's are known for their vibrant underwater life which attracts beginner and experienced divers alike. With over 20 dive sites, great visibility, and turtles galore, scuba diving is one of the best things to do in Gili Trawangan.
Explore the other islands. Gili Meno and Gili Air are both a short 15 min boat trip from Gili Trawangan. You can spend the day soaking up the sun on one of their many beaches or exploring the island by bike.
There's a lot more you can do around the Gilis! For more activities, check out my post on the best things to do in Gili Trawangan.
Day 7: Gili Islands to Lombok
And so, your 3 week Indonesia itinerary continues.
This time you're on a quick ferry ride from the Gili Islands to Lombok. This is one of the most underrated islands in Indonesia and is a good mix of untouched beauty meets creature comforts.
It's best to get an early start to your day. To get from the Gili Islands to Lombok, you'll hop on a 15 minute fast ferry to Bangsal Harbour, Lombok.
After reaching Lombok, you'll get a driver and make your way down south to Kuta, Lombok with a few exciting stops along the way.
Tip: I haven't included Mount Rinjani hike on this Indonesia travel guide? Why? Because it's a 3D2N hike and quite expensive. If you're an adventure traveler who's up for the challenge, I recommend you head to Senaru after arriving in Lombok. This is the starting point of the Mount Rinjani hike.
Where to stay in Lombok
Many people choose to stay in Sengiggi on the west coast of Lombok. Given that you only have 3 weeks in Indonesia, I recommend that you skip Sengiggi and head straight to Kuta, Lombok which is a 2-hour drive from the harbor.
But don't confuse Kuta in Lombok with Kuta in Bali. They are two very different places.
Kuta, Lombok is the main hub for backpackers, honeymooners, and solo travelers. While it's a small village, you'll enjoy a great selection of restaurants, bars, and accommodation options.
Luxury: Segara Lombok may not be in Kuta itself, but it's right on the beach which is even better if you're looking for an ocean escape. With its outdoor showers, minimalist design, and seafront views, Segara Lombok is the perfect place to stay on the island.
Mid-Range: Rascals Hotel is a trendy hotel in the heart of Kuta, Lombok. You could spend all day here relaxing in the lounges alongside the pool. It's within walking distance of the main street where you'll find an array of restaurants and shops.
Budget: Galus Homestay is just the place to stay if you're traveling on a tight budget. You'll receive a warm Indonesian welcome from the hosts who are extremely kind and caring.
Things to do in Lombok
Visit Benang Stokel and Benang Kelambu waterfalls. These are the most incredible waterfalls I've ever seen! You'll pass them on the way from the harbor to Kuta so there's no excuse not to see them!
Laze on Tanjung Aan Beach. After you've checked into your accommodation in Kuta Lombok, rent a scooter and head to Tanjung Aan Beach, one of the best beaches in Lombok.
Sunset at Merese Hill. Alongside Tanjung Aan Beach lies Merese Hill which is a great place to watch the sunset.
Day 8: Kuta, Lombok
On day 8 of your Indonesia Itinerary, you'll go on a scooter mission to find some of the best beaches in Lombok. Personally, I felt that the beaches here are way better than those in Bali so it's really worth checking them out!
Things to do in Kuta, lombok
Go beach hopping. My faves are Mawun Beach and Selong Belanak which are both west of Kuta, Lombok. Here you'll find the bluest water and soft white sand!
Learn to surf. Selong Belanak is a great beach to learn how to surf. The beach is lined with surf shacks where you can rent boards or organize a surf lesson. There are also sunbeds to laze on, and several warungs where you can buy fresh coconuts, beer, or food.
Views at Shu Restaurant. On your way back from the beaches, stop at Shu restaurant which offers one of the best views over Kuta Beach.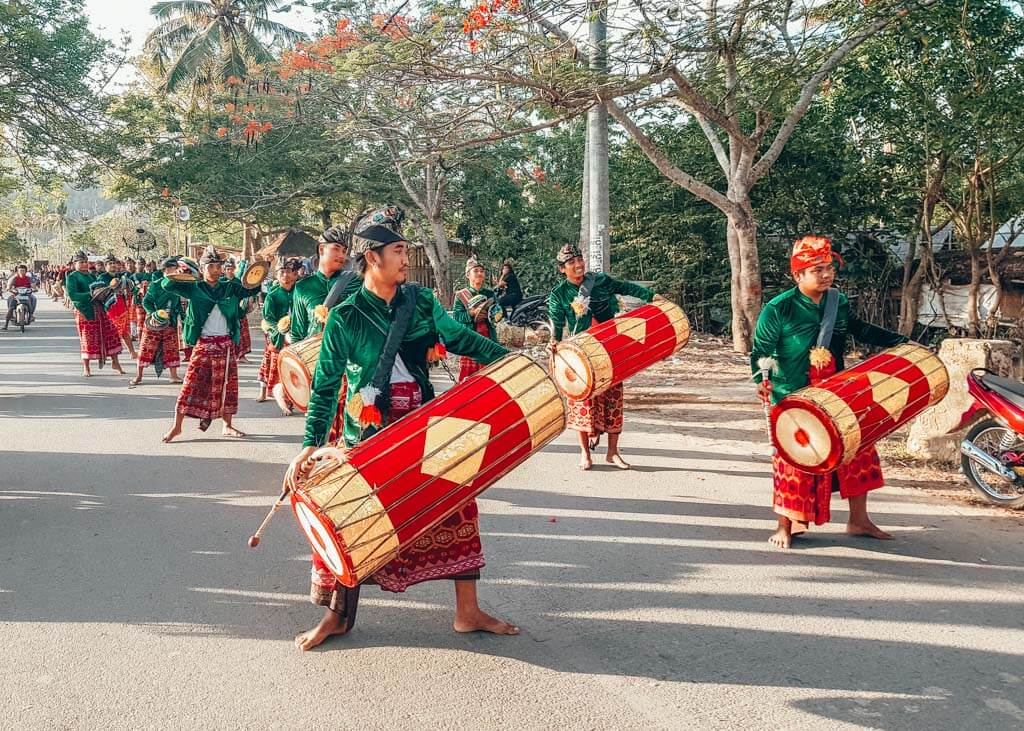 Day 9: Lombok to Flores Island (Komodo Islands)
On day 9 of your Indonesia itinerary, we're heading to Flores! This is my favorite island and the highlight of my Indonesia trip.
I spent 2 weeks doing a Flores overland trip and while you won't be able to fit that all in during this trip, you can see some of the highlights! These include the world-famous Komodo Dragons, manta rays, pink beaches, and epic viewpoints.
To get from Lombok to Flores, you'll take a short flight from the airport in Kuta, Lombok to Labuan Bajo which is the gateway to Komodo National Park.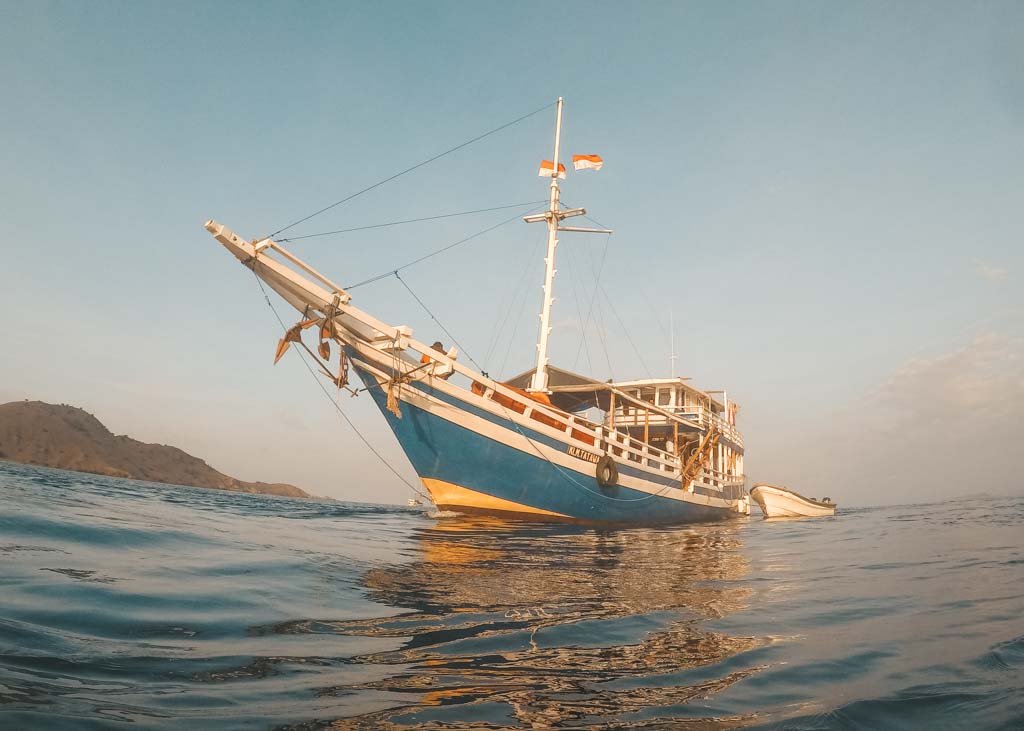 Where to stay in Flores
It's best to stay somewhere close to the Labuan Bajo harbor. This area is bustling with tourists and offers a great variety of food options.
Luxury: If you're looking for something more private (and more luxurious), you'll love Villa Domanik. Set on a hillside with panoramic views over the Labuan Bajo port, it's the perfect base for couples or those looking to escape the hustle and bustle.
Mid-range: Seaesta Komodo Hotel is the perfect place to spend your first night in Labuan Bajo. Not only is it situated in a prime location, but the views from the rooftop pool are also pretty epic! With shared dorm rooms and private ensuite alternatives, it's a great option for all travelers.
Things to do in Labuan Bajo
I hate to break it to you, but Labuan Bajo isn't too exciting! You'll spend the night here before and after your liveaboard trip but that's about it.
The best way to explore the Komodo Islands is on a liveaboard boat. Why? Because the national park is quite far from the mainland.
It takes just less than 3 hours to commute from Labuan Bajo to Komodo National Park. So while you can do a day trip, you'll spend most of the day boating to and from the islands, leaving you very little time to explore.
Komodo liveaboard options
Because of just how big Komodo National Park is, I recommend booking a 2N 3D liveaboard. This is what I did and you can read all about my liveaboard experience here.
Below are a few things that will be included in your liveaboard trip.
Komodo Dragon sighting at Rinca Island
Climbing Padar Island
Snorkeling at pink beach
Swimming with Manta Rays at Manta Point
Sunset from Gili Lawa
If you're scuba diving certified, I highly recommend Dive Komodo's liveaboard. Other snorkeling options include Wanderpus and Travass.
Day 10-11: Komodo Liveaboard
Day 12: Return to Lubuan Bajo
You'll return from your liveaboard trip late in the afternoon.
Unfortunately, there are no flights from Labuan Bajo to Bali after 4 pm. But this is also a good thing as it gives you time to rest and recover after spending 3 days on the water!
Day 13: Komodo Islands to Uluwatu, Bali
You still have a week left of your Indonesia itinerary, and today you'll fly back to Bali to visit Uluwatu.
Why?
Because you'll need to fly to Bali anyway and Uluwatu is yet another must-visit destination in Bali.
With its dramatic coastline, stunning beaches, and local vibes, Uluwatu is the one place where many people wish they could stay longer.
Book an early flight from Labuan Bajo to Bali so that you have a full day to explore Uluwatu.
Where to stay in Uluwatu
Uluwatu lies in the far east of Bali, in the Bukit Peninsula. It spans a large distance consisting of 6 districts, each with its own unique charm. Unlike other areas in Bali, you could spend a few days here and still not see all the neighborhoods in the area.
As a first-time visitor to Uluwatu, you'll love Bingin. If you're not comfortable riding a scooter, then Padang Padang is a better option as it's more centrally located.
I recommend that you read my Uluwatu accommodation guide to find the perfect area for you.
Luxury: The Anantara Uluwatu Resort is absolutely incredible – wait until you see the rooms. I spent two days here and didn't leave the resort! With private access to the beach, and an infinity pool overlooking Impossibles surf break, this is the perfect place to sit back, relax, and sip on a cocktail or two!
Mid-range: In search of boho vibes in a tropical paradise? Hari Indah Boutique Hotel is within walking distance of Bingin Beach. The rooms are stunning and every detail is taken into consideration.
Budget: If you're traveling on a tight budget but don't want to compromise on accommodation, Wira Homestay & Spa is where you should stay in Uluwatu. Situated in a quiet neighborhood, you'll be treated to a large private room with an ensuite bathroom, air conditioning, and a communal pool.
Things to do in Uluwatu
Visit the beaches. The beaches in Uluwatu are the best you'll find in Bali. While there are more than 12 to choose from, Padang Padang Beach and Suluban Beach are more conveniently located so visit these 2 today and the rest tomorrow.
Watch the surfers at Uluwatu surf break. This is a world-famous wave for only those experienced surfers. Ulu's is also the best place to watch the sunset! There are scores of warungs lining the cliffs – Give Single Fin a skip and walk down the stairs to find a local spot.
Watch Kecak Fire Show at Uluwatu Temple. This famous temple sits on the edge of a cliff with dramatic views of the crashing waves beneath. Pair this with the Kecak Fire Show, a local dance and musical performance.
Day 14: Uluwatu
Today you'll explore more of Uluwatu. I recommend renting a scooter for the day or organizing a private driver.
Things to do
Check out the Balangan Viewpoint. Not only is Balangan Beach the best beach in Uluwatu, but it also has an iconic viewpoint that Instagrammers will love.
Seafood BBQ at Bingin. Enjoy a sunset swim and take your pick from the massive seafood spread on Bingin Beach.
Go to a beach club. If you thought the beach bars in Seminyak were awesome, just wait until you see what Uluwatu has to offer. My top picks are Sunday's Beach Club and Karma Kandara.
Day 15-20: Uluwatu and beyond
You're on day 15 of your Indonesia itinerary and with only a few days left, you can take your pick of how you end your trip.
What I've detailed above at the must-dos on any Indonesia itinerary, no matter how much time you have.
Here are my recommendations for other things to do.
Option 1: Explore the Kelimutu Crater Lakes in Flores
Time needed: 2 nights
After your liveaboard in the Komodo National Park, take a quick flight from Labuan Bajo to Ende in Flores to see the Kelimutu Crater Lakes.
Ende is the main city near the smaller village of Moni. Moni is home to the stunning Kelimutu Lakes and the entire area off the beaten track. If you're looking for raw and real experiences in Indonesia, be sure to visit the Kelimutu Crater Lakes before flying back to Bali.
Option 2: Visit Mount Bromo in Java
Time needed: 2 nights
Forming part of the Bromo Tengger Semeru National Park in East Java, Mount Bromo is one of the best-known peaks of Indonesia. At almost 2,330 meters high, its summit isn't as tall as some of the others in the range, but it attracts the highest number of hikers.
To get to Mount Bromo, you will need to fly from Bali to Surabaya on East Java. You then have the option of doing a day tour from Surabaya to Mount Bromo, which is a 2-hour drive away. Or you can take a bus (or train) and stay at Probolinggo which is the gateway to Mount Bromo.
Option 2: Nusa Penida, Bali
Time needed: 2 nights
If you've got your heart set on seeing more Bali landmarks, then spend 2 days in Nusa Penida where you can visit the famous Ketiling Beach, Angels Billabong, Crystal Bay as well as Broken Beach.
You can also visit Nusa Penida on a day trip from Bali as it's a short boat trip away.
Option 3: Munduk, Bali
Time needed: 2 nights
This itinerary for Indonesia takes you to many seaside locations. But if you're looking for lush forests, coffee plantations, and waterfalls, then Munduk is a great addition.
Munduk lies toward the northern part of Bali and offers a cooler climate and fewer tourists compared to those areas down south.
Day 21: The end of your 3 weeks in Indonesia
Today's the last day of your Indonesia itinerary. Make sure you're staying in the same area as the airport as there can be traffic or ferry delays.
What to pack for Indonesia
Bali has a tropical climate and you need to pack for this. Also, remember to pack lightly. If you're following my recommended Indonesia travel route, you'll be moving around quite a bit. here are a few must-haves
A backpack: Don't bring hard luggage if you're traveling between islands.
Trainers: Hiking shoes aren't necessary, but be sure to bring a good pair of trainers for all the walking you'll be doing.
A light jacket: Although it will be hot, bring a light jacket to wear in the mornings, on boat trips, and for your flight.
Here's my comprehensive Indonesia packing list which includes everything you need to pack (and leave at home)!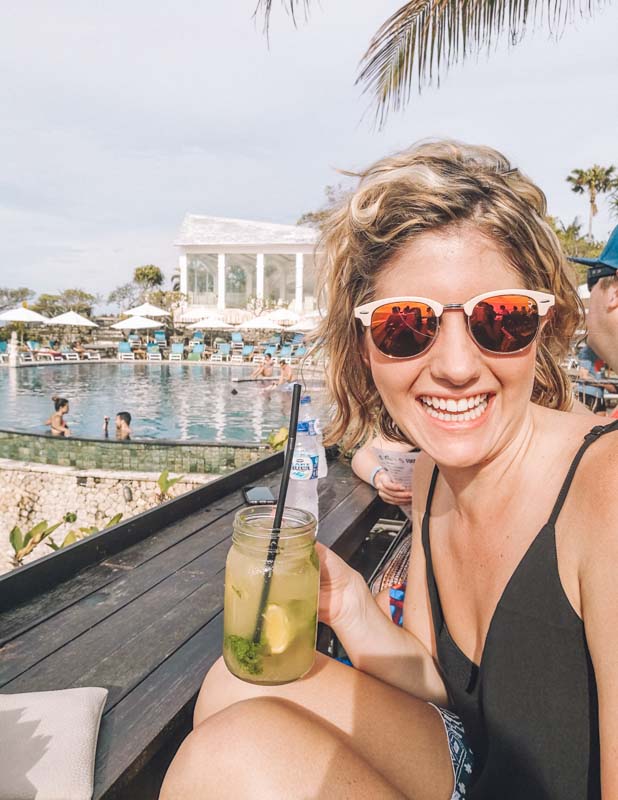 Is Indonesia expensive to visit
No, Indonesia is extremely affordable. You can easily get by on $50 per day! The flight and ferry costs are also really affordable.
Do I need a visa for Indonesia
Previously, if you were spending 3 weeks in Indonesia, you wouldn't need a visa to visit the country.
This has now changed!
All travelers need to pay for a Visa on Arrival (VoA), which costs IDR 500 000 ($35 USD). This 30-day tourist visa can be extended for an additional 30 days.
You can pay in cash using USD, AUD, GBP and Euro. Alternatively, Visa or Mastercard payments are also accepted.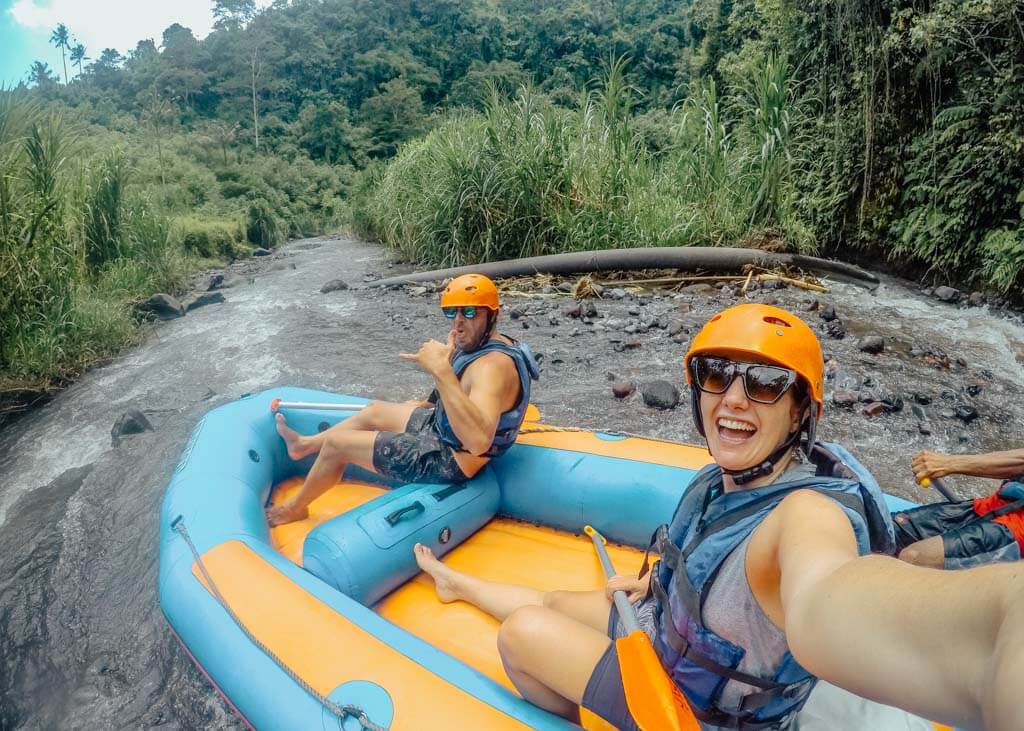 Frequently Asked Questions
Best time to visit Indonesia
The best time to visit Indonesia is during the dry season from April to October.
How long to spend in Indonesia
If you want to visit a few islands, I recommend planning a 2 to 4 week Indonesia trip itinerary.
Final thoughts on 3 weeks Indonesia itinerary
Planning the perfect Indonesia itinerary is no easy task! With so many amazing attractions, you're going to have to make a few compromises.
From my personal experience, this guide includes the best of Indonesia and I have no doubt that after your visit, it won't be long before you return.
---
Have you traveled to South East Asia? What destinations would you recommend for the perfect Indonesia itinerary for 3 weeks? Let me know in the comments section below!
Looking for more Indonesia travel inspiration? Check out my other posts!
Did you find this post helpful? Save it for later on Pinterest!
There is a really good chance that this post contains affiliate links. If you click one of them, I may receive a small commission at no extra cost to you. As always, views are my own!