Lush forests surrounded by Orangutans. Majestic waterfalls nestled at the foot of volcanoes. Historic temples only recently discovered.
If you're looking for the most famous landmarks in Indonesia, you've come to the right place.
Indonesia is filled with beauty no matter where you look. From the tropical marine life in Raja Ampat to the towering volcanoes in Java. And I haven't even got to Bali yet!
While the Island of the Gods is one of the most famous places in Indonesia, it's only one of 17 000 islands that make the country so spectacular.
Here are 30+ famous Indonesia landmarks, including some hidden gems that you're going to want to see!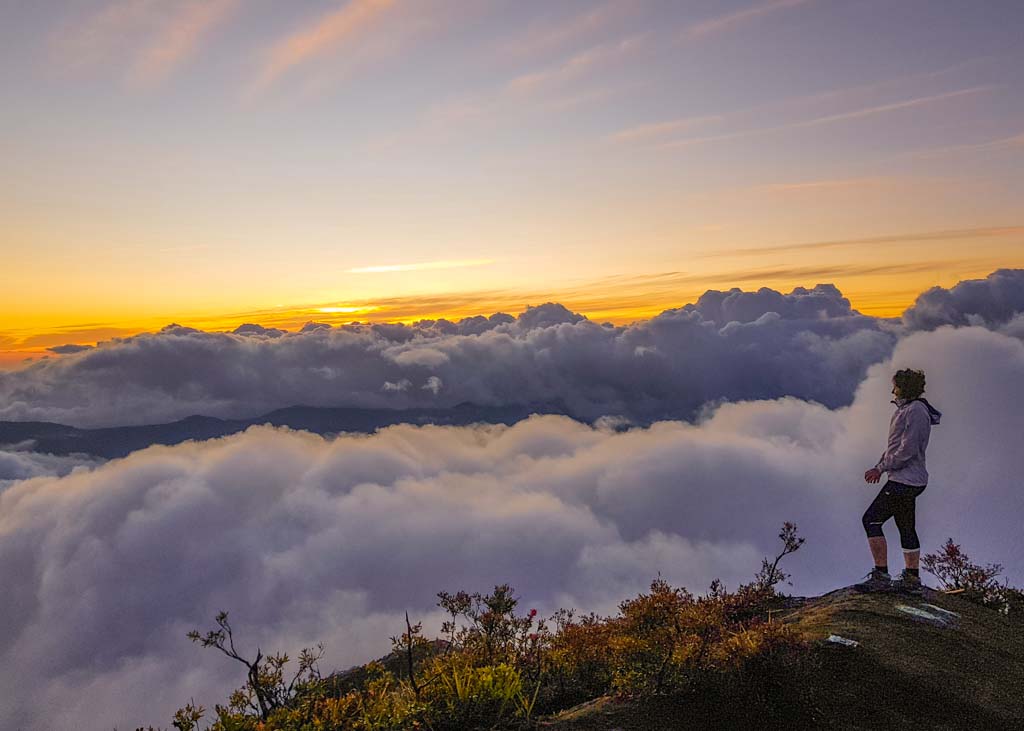 Torn Tackies contains affiliate links. If you make a purchase using one of these links, I may receive compensation at no extra cost to you. See my disclosure for more information.
Indonesia landmarks overview
Here's an overview of some of the best Indonesia landmarks that should be on your Indo travel itinerary.
Most famous Indonesia landmarks: Kelingking Beach in Bali, Borobudur in Java, Mount Bromo in Java.
Indonesia Iconic landmarks: Kelimutu Crater Lakes in Flores, Tanjung Puting National Park in Central Kalimantan, Raja Ampat in West Papua Province.
Cultural attractions: Prambanan Temple in Java, Uluwatu Temple in Bali, Tugu Monas in Java.
Famous landmarks of Indonesia
Kelimutu Lakes
Nestled on the east of Flores Island lies one of the most spectacular landmarks in Indonesia: The Kelimutu Crater Lakes.
Mount Kelimutu is a dormant volcano sitting at 1 639 m with 3 lakes at its peak.
These tri-colored lakes are a natural phenomenon and change dramatically and unpredictably from blue to green to brown and even red. This is a result of the chemical reaction of the lake's minerals, the gas activity of the volcano as well as the changing weather conditions.
Due to the toxic sulfuric water, it's not safe to swim in the Kelimutu Crater Lakes. It's also a sacred place for locals who consider these lakes to be the resting place for departed souls.
From the entrance of the park, it's a short 1.5 km hike to the peak of Mount Kelimutu. The path is well-marked with a gradual incline and is suitable for all ages.
How to get to Kelimutu National Park
The small village of Moni on the east of Flores Island is the gateway to Kelimutu Lakes.
To get there, you can either fly into Ende or include Moni as part of your overland travel across Flores Island.
Borobudur Temple: The Most Famous Indonesia Landmark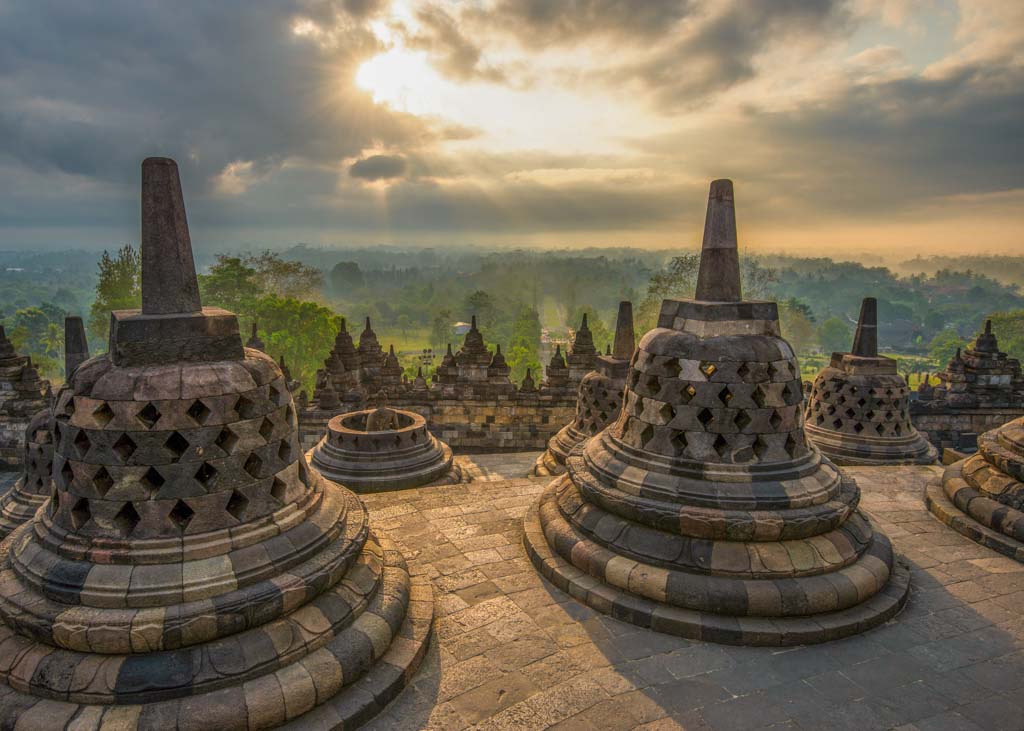 Borobudur is the world's largest Buddhist temple and sits on a hill overlooking vast landscapes.
Built in the 9th century, it's one of Indonesia's most valuable treasures.
The UNESCO World Heritage site covers a distance of 123m by 123m. The temple is decorated with intricate carvings and ornate stupas and consists of over 504 statues of Buddha.
It's hard to believe that Borobudur was once abandoned and hidden under a layer of volcanic ash and jungle growth.
It was then rediscovered in 1815, making it an even more fascinating landmark in Indonesia.
How to get to Borobudur
Borobudur is only one hour's drive from Yogyakarta in Java. The easiest way to get here is to book a tour like this.
Ulun Danu Beratan Temple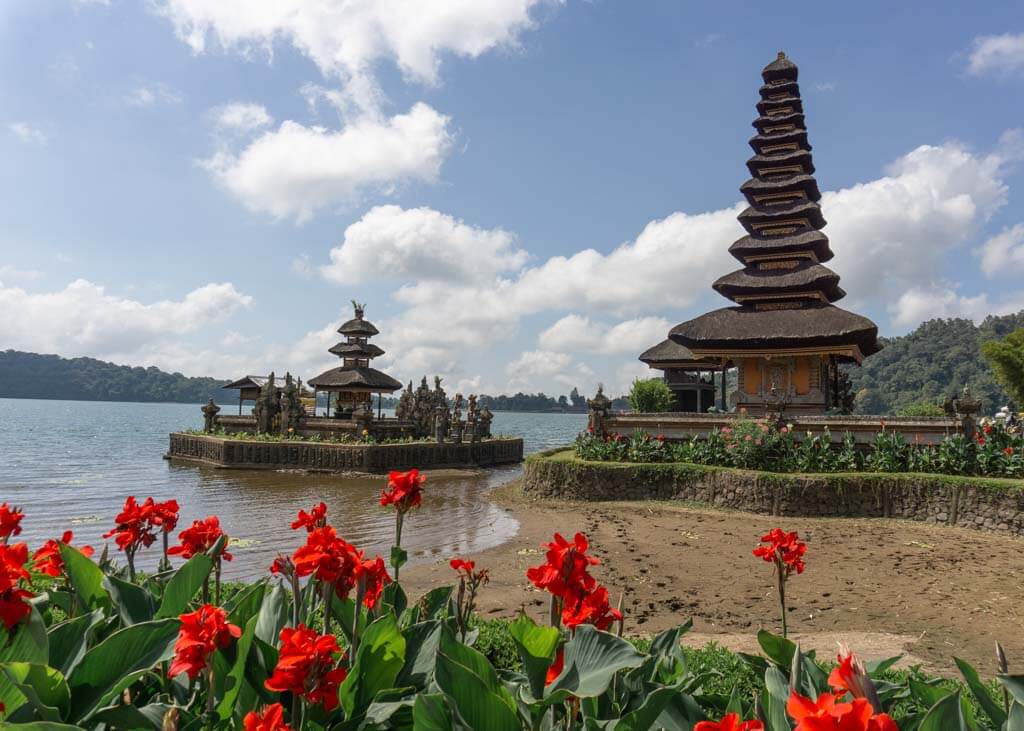 The Ulun Danu Temple is arguably one of the most iconic landmarks in Indonesia. You'll even find it on the 50,000 IDR note.
It was built in the 17th century in honor of Goddess Danu, who was the goddess of lakes, water, and rivers.
HOW TO GET TO ULUN DANU TEMPLE
Ulun Danu Beratan is found in the northern highlands of Bali, near Munduk. It's about 1.5 hours from Ubud and about 2.5 hours from Kuta or Canggu.
It's best to pair a visit to Ulun Danu Temple with other nearby attractions, which are all included in a tour like this.
Komodo National Park
Hidden between the islands of Sumbawa and Flores lies the Komodo National Park.
Not only is it a diving mecca, but it's also home to the famous Komodo Dragon.
If you're one for adventure and nature, then Komodo Islands is one of those places in Indonesia that you must visit.
And what better way to take in all the beauty than on a Komodo liveaboard which takes you to epic spots throughout the park?
Here are just a few of the highlights from my trip to the Komodo Islands.
Seeing Komodo Dragons up close on Rinca Island
Scuba diving with sharks
Taking in the best views from Padar Island
Watching the sunset from Gili Lawa Island
Snorkeling with manta rays
How to get to Komodo Islands
The Komodo National Park is a stone's throw away from Labuan Bajo on Flores Island.
From there, you'll need to take a boat to the islands.
Kelingking Beach
Kelingking Beach in Nusa Penida is one of the most famous landmarks in Indonesia.
This is thanks to the T-Rex-shaped cliff that overlooks the beach and provides an epic backdrop for any photo.
Far beneath the iconic viewpoint lies Kelingking Beach, which is accessible via a steep trail. It takes about an hour to reach the sandy shores, but hiking back up is the challenging part!
And while the beach is spectacular, the waters can be rough, so think twice before taking a dip.
If you're planning your honeymoon, Nusa Penida has some of the dreamiest accommodation in Bali.
How to get to Kelingking Beach
The Nusa Islands are located just off the southeast coast of Bali.
It's a quick 45-minute ferry ride from Nusa Penida on the mainland.
Mount Bromo
Forming part of the Bromo Tengger Semeru National Park in East Java, Mount Bromo is one of the best-known peaks of Indonesia.
At almost 2,330 meters high, its summit isn't as tall as some of the others in the range, but it attracts the highest number of hikers – and most of the attention too.
Mount Bromo is an active somma volcano: this refers to the fact that its crater has been partly filled by a new core at the center.
Despite this, Mount Bromo is pretty easy to hike, and the ethereal landscapes that can be seen from the summit are an awe-inspiring sight.
There's no denying that this is one of Indonesia's most famous landmarks and its views are often the star of many photographs from the country.
For locals, this is a sacred place, and it certainly feels like somewhere truly special when you view the surrounding Sea of Sand from the top.
How to get to to Mount Bromo
Mount Bromo takes around four hours to reach by car from Surabaya. This is the capital of East Java and home to Juanda international airport.
You can book an organized trip from Surabaya or Malang. As Malang is far closer, the drive takes just over an hour from there.
Tanjung Puting National Park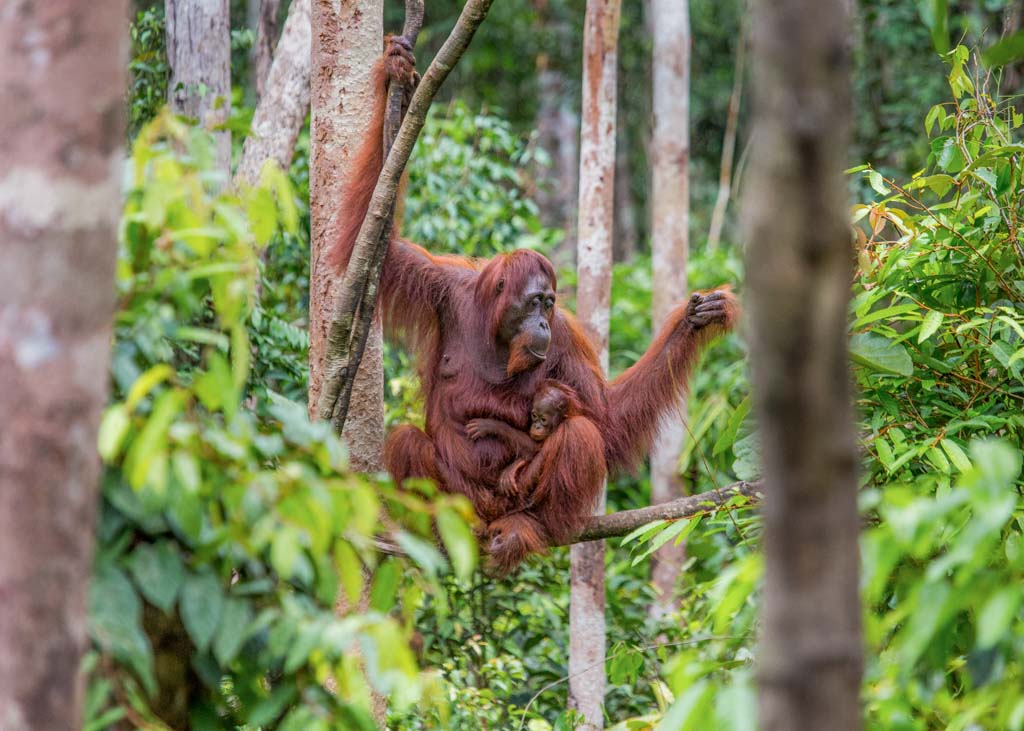 Location: Central Kalimantan
If you'd love to get up close and personal with large primates during your trip to Indonesia, don't miss Tanjung Puting National Park. It's the country's top spot for seeing orangutans in their natural habitat.
Tanjung Puting National Park is located in Borneo in the Indonesian province of Central Kalimantan. The area has been a National Park since 1982. Before that was a game reserve.
This park is the most popular place to visit in Kalimantan, and an orangutan sighting is almost guaranteed.
Access is by boat along the river, and there are feeding stations en route to maximize your chances of an encounter. This all forms part of the orangutans' rehabilitation program, so it's not just for show.
But make sure you have the right clothing for this activity. You can find my comprehensive Indonesia packing list here.
How to get to Tanjung Puting National Park
Tanjung Puting National Park is close to Pangkalan Bun, Kalimantan.
The airport here is well-served by domestic flights. Kumai is around 20 minutes by road from this small town, and boat trips depart from there.
Organized tours generally include transport from hotels in Pangkalan Bun as well as the river cruise.
Benang Stokel and Benang Kelambu
After spending more than 12 months in Indonesia, I've seen my fair share of waterfalls.
But Benang Stokel and Benang Kelambu waterfall in central Lombok is without a doubt the best I've ever seen.
The park is home to 5 waterfalls systems, all located just a short walk from each other.
Of all of them, Benang Kelambu is the most impressive. The water flows from high up above, over lush greenery, into a small rock pool below.
It's a beautiful walk to these waterfalls. While the trail is easy to navigate, tourists are required to have a local guide.
How to get to Benang Stokel
Benang Stokel and Benang Kelambu is a 1.5-hour scenic ride from Kuta, Lombok. We rode scooters here, and the journey was incredibly scenic.
Ijen volcano
Like Kelimutu Lakes, Ijen Volcano in Java attracts many tourists thanks to the electric turquoise waters lying deep in its crater.
It's eerily beautiful, with smoke rising out from it, and undoubtedly one of the most fascinating places in Indonesia.
But there's a dark side to Kawah Ijen Volcano.
It is a sulfur volcano with a PH of 0.5 which is similar to battery acid!
The sulfur is mined and used to make matches, fertilizer, and cosmetics. And while it provides much-needed employment for the local community, it's one of the most dangerous workplaces on earth!
For the adventurous traveler, you can climb Ijen Volcano and then make your way down into the crater.
It's a tough climb that's best done at night when you can see the blue flames that aren't visible in the daytime.
But be warned. It's a hostile environment consisting of toxic gas and winds of ash and dust. All tourists are required to wear a gas mask.
When planning your trip, book a tour with a local guide, and be sure to give way to the miners as they do their work. Ask for permission before taking pictures and leave a tip, as it will go a long way for these heroes.
How to get to Ijen Volcano
Ijen Volcano is located on the east of Java Island, near the town of Banyuwangi.
It's close to Bali, so you can include this as part of your Bali itinerary.
Tugu Monas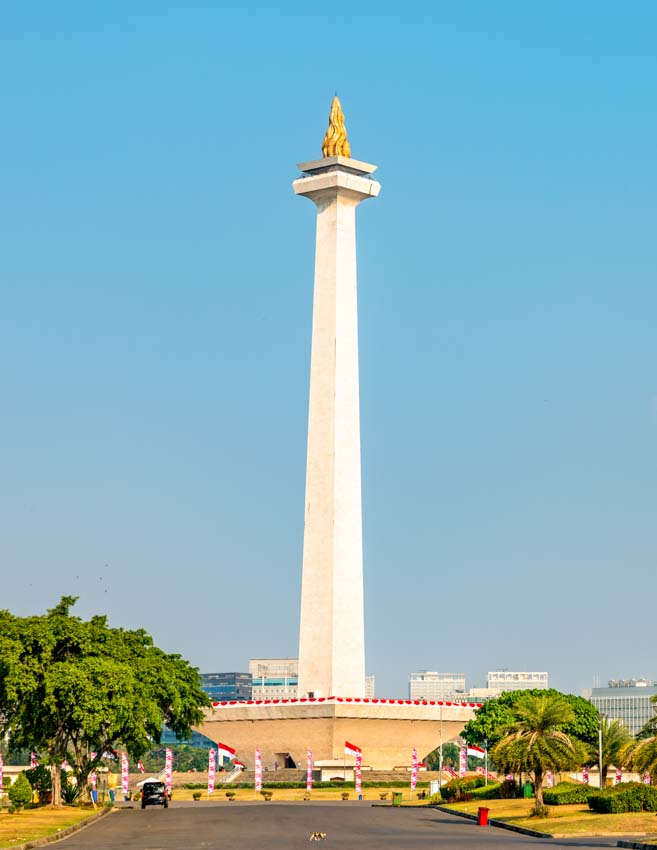 As far as Indonesia landmarks go, Tugu Monas is one of the easiest to access as it's located in the center of the sprawling Indonesian capital, Jakarta.
The obelisk is a National Monument that was erected to represent the struggle for Indonesian independence.
Work on Tugu Monas began in 1961 and took 14 years: the monument opened July in 1975.
Now the 132-meter high column is a popular place to visit as a commemorative site. And also because of the sweeping views of the city skyline from the observation deck.
How to get to Tugu Monas
It's easy to reach Tugu Monas while you're based in Jakarta.
Public transport options include the bus operated by the TransJakarta rapid transit system: look for buses heading to Jakarta Pusat – Central Jakarta.
You may need to cross the Lenggang Jakarta food court to get to the monument area.
Uluwatu Temple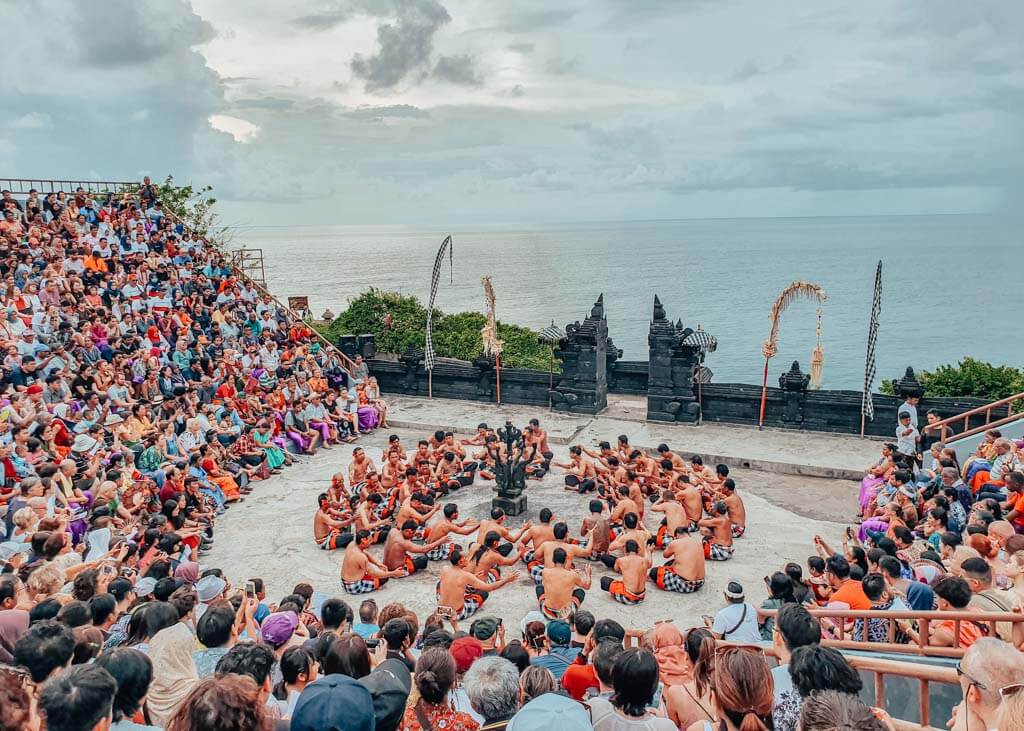 Uluwatu Temple is a Balinese Hindu Sea Temple perched on the edge of a cliff.
It offers dramatic views of the Uluwatu beaches and the crashing waves beneath. It's also one of the best places to watch the sunset in Bali.
The walk through the temple complex is stunning but beware of the monkeys! They're notorious for getting too close to tourists and will snatch your glasses, phone or food.
The Kecak Fire Show, a local dance and musical performance, takes place daily at the Uluwatu Temple so it's best to pair your visit with one of these shows.
How to get to Uluwatu Temple
Uluwatu Temple is located in the Uluwatu region of Bali, Indonesia.
It's easily accessible on a day trip from anywhere on the island but I highly recommend you stay in Uluwatu and explore the other attractions in the area.
Mount Krakatoa
Mount Krakatoa barely requires any introduction. It's one of the most iconic calderas on the planet.
It lies between the Indonesian islands of Sumatra and Java, in the Sunda Strait.
Much of the reason for Mount Krakatoa's fame is the fact that it erupted in 1883. This was one of the most devastating natural catastrophes ever to occur on earth.
The volcano's high levels of volcanic activity are down to its position along the line where the Eurasian and Indian-Australian tectonic plates merge.
The 1883 eruption resulted in 36,000 deaths and plunged the surrounding area into darkness that lasted for over two days.
Powdery dust traveled all over the globe after the eruption, and the event also triggered tsunamis as far away as the distant Pacific Ocean!
The eerie glow and flowing lava that can be seen during periods of volcanic activity is a staggering sight that will leave you speechless.
If you enjoy hiking, wildlife, or snorkeling, you can also combine a trip to Krakatoa – or Krakatau – with these activities, as they are available in the area nearby.
How to get to Mount Krakatoa
Taking an organized tour is the best way to see and fully appreciate the might of Mount Krakatoa, as your guide can reveal the volcano's secrets during your visit.
You can arrange such trips from Anyer or Carita or depart from the Indonesian capital of Jakarta.
READ MORE: THE PERFECT BALI PACKING LIST
Prambanan Temple
Picturesque Prambanan Temple is also one of Indonesia's postcard and Insta-worthy sights.
This historic Hindu structure is a complex comprising the remains of over 240 separate temples.
The site is UNESCO listed and dates back to the 9th century.
It is nestled in the Opak river valley and forms part of the Special Region of Yogyakarta in central Java. Yogyakarta is the regional capital and the only remaining royal city in Indonesia.
The Prambanan Temple complex was built in deference to the three Trimūrti Gods – Brahma, Shiva, and Vishnu. According to Hinduism, they are responsible for creation, preservation, and destruction.
The site is not only one of the most well-known Indonesian landmarks, but it is also one of Southeast Asia's most prominent monuments.
A central compound with eight major and eight minor temples atop a raised platform makes the most breathtaking spectacle.
Candi Shiva Mahadeva is the biggest temple in the complex and is renowned for its stone carvings and intricate staircases.
How to get to Prambanan Temple
The Prambanan Temple area is easy to reach from Yogyakarta by public transport. Many travelers take the bus from Yogyakarta Lempuyangan station.
Services operate frequently and are run by the local bus rapid transit (BRT) network Trans Jogja. The trip takes around 40 minutes and tickets are very cheap to buy.
Mount Rinjani
Sitting at 3,726 meters, Mount Rinjani is the second-tallest volcano in Indonesia.
It's located north of Lombok and offers an incredible yet challenging 2-day trek to the crater rim.
But more recently, Mount Rinjani has been making headlines for all the wrong reasons!
It erupted in 2016, damaging the trails and causing devastation to the local community. Tourism took a hit and the area was closed for a significant amount of time.
The track has since been repaired and is now open to tourists.
You'll need to book a guide for the hike who will organize your food, water, tents, and other supplies. The costs range from 1.8 million IDR to 3.5 million IDR depending on the size of your group (120-230 USD).
It's best to hike Mount Rinjani during the dry season, from April to November. Any time before or after is considered dangerous due to the heavy rain and so the trails are closed.
Climbing Mount Rinjani is particularly popular with travelers backpacking Indonesia and it's a great chance to meet other like-minded travelers.
How to get to Mount Rinjani
There are two main points of entry to Rinjani National Park in Lombok – Sembulan and Senaru.
Your tour operator will arrange your transport from the ferry or airport.
Mentawais Islands
If you're chasing waves, the Mentaiwai Islands has to be on your Indonesia bucket list!
With a chain of seventy islands dotted off the coast of Sumatra, the Mentawai Islands Regency boasts some of the most pristine beaches in all of Indo.
Tropical island vibes and a remote, isolated atmosphere – it's exactly my kind of travel destination!
There's also great snorkeling here and the islands offer some epic trekking routes.
The best time to visit and surf the Mentawais is between March and October.
How to get to Mentawais Islands
To get to the Mentawais, you'll need to fly into Padang on Sumatra Island.
From there, take a 3 to 6-hour fast boat to the Mentawais
Gili Islands
The Gili Islands are the epitome of island vibes.
I'm talking palm trees, soft sandy shores, turquoise waters filled with spectacular marine life, and epic beach bars (of course)!
They're made up of 3 beautiful islands nestled off the coast of Lombok in Indonesia: Gili Trawangan, Gili Meno, and Gili Air.
Famous for underwater status and Instagrammable swings, each island offers a unique experience from romantic honeymoon escapes to wild backpacker parties.
I absolutely love the Gili's as they're so different from other famous landmarks in Indonesia. There are no cars and no motorbikes on the island and it's a great place to rest and relax while taking in the tropical vibes.
How to get to Gili Islands
To get to the Gili Islands from Bali, you'll need to go to Padang Bai which is on the northeast of the island.
Here, you'll hop on a 1.5-hour fast ferry from Bali to the Gili Islands.
Raja Ampat: The Most Beautiful Landmark of Indonesia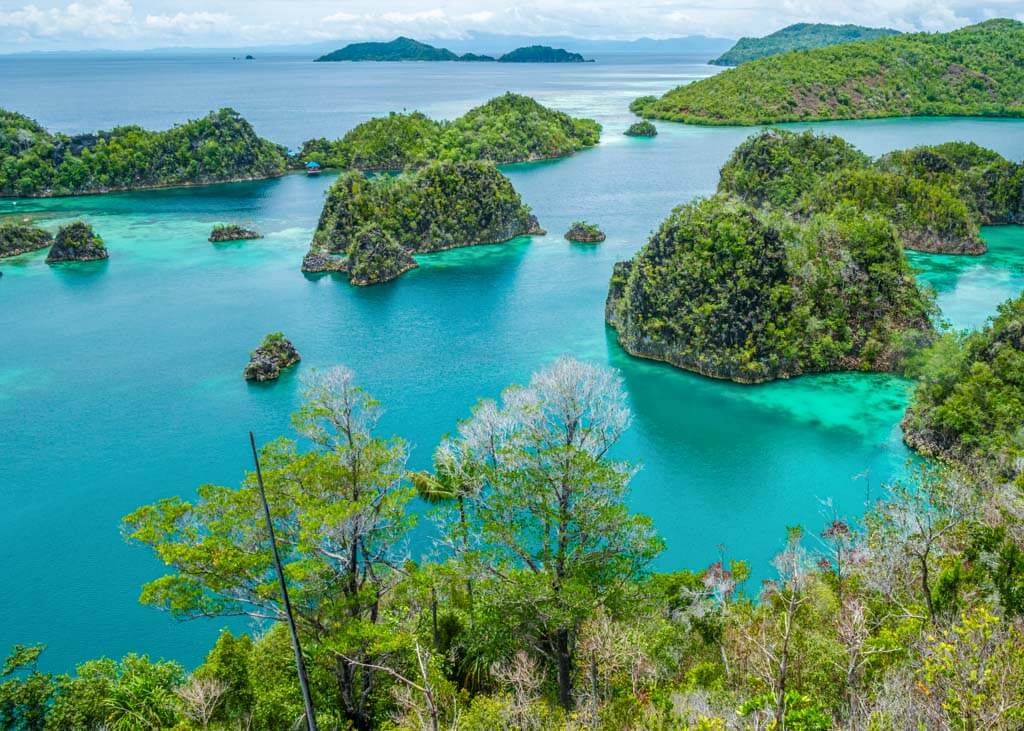 Consisting of 1, 500 small islands, Raja Ampat is an archipelago and one of the most stunning landmarks in Indonesia.
The amazing diving in Raja Ampat is world-renowned, with lush islands home to a diverse marine life. Perfect for underwater exploring.
It's raw, rugged, and completely off the beaten track.
Because of its remote location, getting here can be a struggle for many (not to mention expensive). But those who choose the adventure will be rewarded with untouched beauty.
How to get to Raja Ampat
To get to Raja Ampat, you will need to catch a flight to Sorong.
From there, you can either catch another plane or a ferry to Waisai, the gateway to Raja Ampat.
Mount Merapi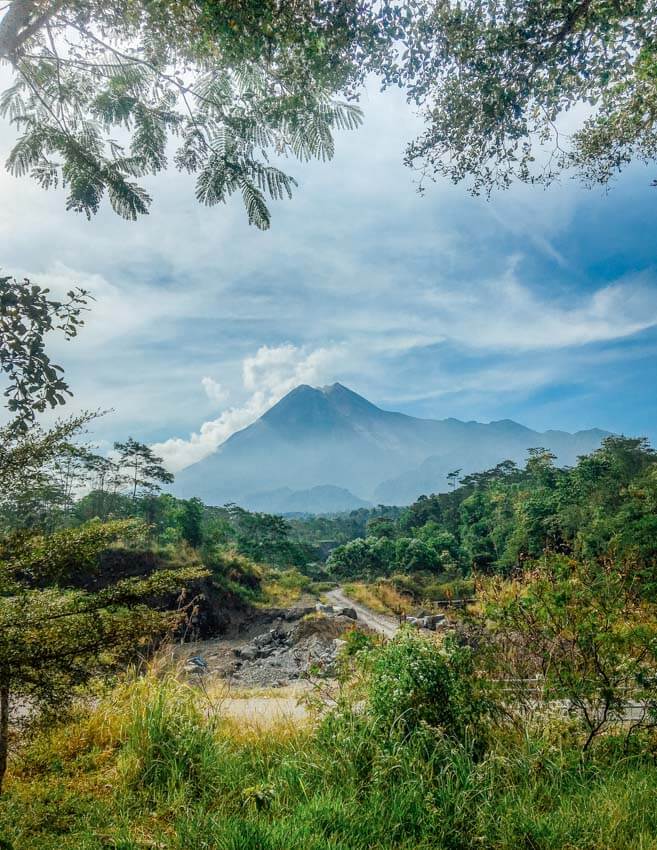 Mount Merapi is another one of Indonesia's active volcanoes.
It's a stratovolcano, so like Mount Sibayak, Mount Merapi is cone-shaped with steep sides near the top.
It's the most active volcano found in Indonesia and has erupted regularly since 1548.
Mount Merapi is one of those key Indonesia landmarks that many visitors want to see. The 2,911 meter height makes it an impressive sight even when dormant.
Despite the danger, locals prize the volcano for the way the ash has transformed the soil, and the thick vegetation on the lower slopes is a testament to this fertility.
There are several ways to experience Mount Merapi.
The museum on the lower slopes can teach you all about its history and geology, and you can also see it from Kaliurang Observation Tower.
It's also possible to book one of the local 'lava tours' taken by all-terrain vehicles or climb to the summit. This is an arduous trek taking around four hours.
How to get to Mount Merapi
The New Selo base camp near Mount Merapi is around 20 miles from Yogyakarta.
Booking a tour or private car is the easiest way to access the volcano and its museum.
Tumpak Sewu Waterfall
Location: East Java
Tumpak Sewu Waterfall sits snugly beneath Java's tallest mountain, Semeru, which is also an active volcano.
The multi-level waterfall is also known locally as Coban Sewu and can be found in east Java.
It's a huge waterfall, and the view of the water tumbling over the vast rock face is a magnificent sight.
The water forms a semi-circular shape as it plummets down and is one of the best waterfalls in Indonesia.
Tumpak Sewu is still considered a hidden gem as it's not as popular as some of the other more famous Indonesian landmarks in this post.
The stunning vista from the viewpoint makes it well worth the steep uphill slog.
It's a heavenly spot and certainly lives up to its name, which translates as a thousand waterfalls.
How to get to Tumpak Sewu Waterfall
Many travelers access Tumpak Sewu Waterfall from Malang. It takes about an hour by car to travel the distance between the two.
Jatiluwih Rice Terrace
A list of famous Indonesia Landmarks wouldn't be complete without mentioning at least one of the many spectacular rice terraces in the country.
Jatiluwih Rice Terrace in Bali stands out above the rest, with cascading terraces and unique vantage points that can be accessed from one of the many hiking trails.
The UNESCO World Heritage Site is maintained by a traditional and sustainable irrigation system called subak. It's fast becoming the place to visit in favor of the more popular (and crowded) Tegalalang Rice Terrace near Ubud.
How to get to Jatiluwih Rice Terraces
The Jatiluwih Rice Terraces are found in central Bali. The area is best explored by motorbike, but you can also organize a private driver to take you there.
Malanage Hot Springs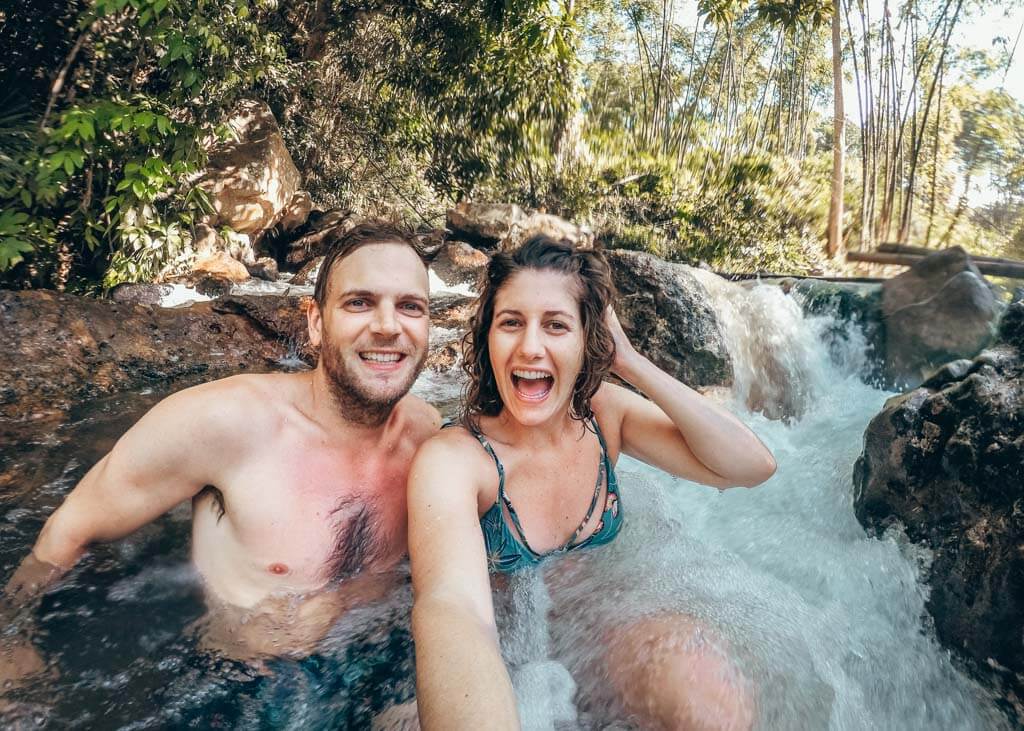 If you're in search of an Indonesia landmark that's far off the tourist track, then this is it!
Malanage Hot Springs is a completely natural hot spring near Bajawa, Flores.
There are two streams that flow into the Malanage Hot Springs.
The one is boiling hot and is heated by the volcanic activity of Mount Inerie which is nearby. The other stream is freezing cold.
Together they meet to form a river that's the ideal temperature to rest and relax in.
This is the perfect activity to do after you've climbed Mount Inerie or if you simply want to be surrounded by nature.
I spent about 5 hours swimming in these natural pools – and I could've stayed longer!
How to get to Malanage Hot Springs
Malanage Hot Springs is in the Dariwali village, about 40 minutes south of Bajawa. The closest airport is in Ende in Flores Island.
Red Island
Situated in East Java, Red Island is a beautiful bay with an iconic rock islet jutting out of the water.
It's everything you'd want from a remote island destination.
Not only does it offer a fun beach break with uncrowded waves, but it's also located near G-Land, one of the best places to surf in Indonesia.
The sunsets from Red Island are hard to beat, especially when you're lying on the beach, a book in one hand and coconut in the other!
How to get to Red Island
Red Island is located on the east coast of Java and is about a 2-hour drive south of the port city of Banyuwangi.
Mount Sibayak, North Sumatra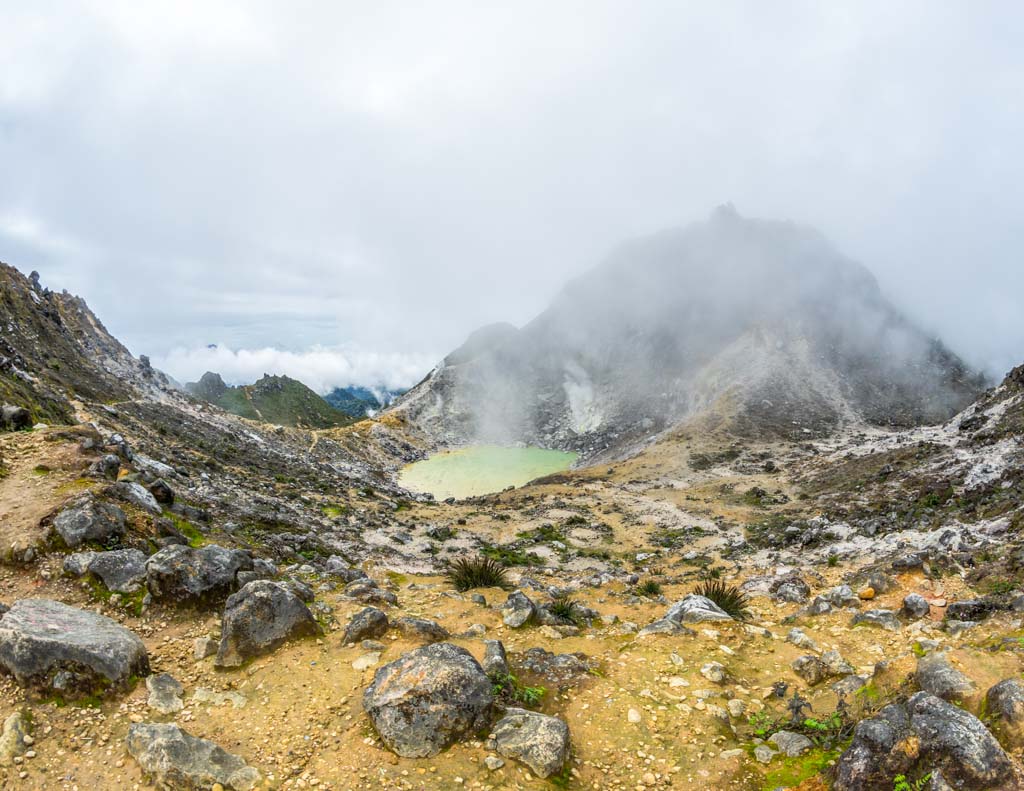 Mount Sibayak looms over Berastagi, a town in the north of Sumatra.
As a stratovolcano, it is a cone-shaped, steep-sided peak made from hardened layers of lava. The volcano last erupted over 100 years ago.
Visitors flock to Mount Sibayak to witness the geothermal activity that the volcano and surrounding area are famous for.
Steamy vents emit sulfurous gasses. You can even bathe in the natural hot springs here: a treat to look forward to on the descent, for sure!
Ascending before sunrise is as popular here as it is at Mount Bromo, and numerous travelers make the pilgrimage so they can observe this natural phenomenon from the summit, which is more than 2,090 meters above sea level.
How to get to Mount Sibayak
To reach the summit of Mount Sibayak before sunrise requires using private transport, or you can book organized hiking tours from Berastagi or Medan.
Lakey Peak
The small seaside village of Lakey Peak is a treasure amongst the surfing community. Located on the east of Sumbawa Island, it's an ideal destination for travelers with an adventurous spirit.
Lakey Peak attracts scores of surfers and the main wave in town sits in front of the iconic watchtowers. This is one of the most consistent waves in Indo with a perfect A-frame peak.
But there's more to Lakey Peak than just the waves so don't write it off if you're not there to surf! It's laid-back, relaxed, and fun with an authentic vibe. The sunsets are spectacular and there are hidden WW2 bunkers to explore.
How to get to Lakey Peak
Bima Airport, otherwise known as Sultan Muhammad Salahuddin Airport, is the closest airport to Lakey Peak.
From there, you'll need to catch a 2-hour taxi to Lakey Peak.
Mount Batur
Location: Bali
Sitting at 1,717 m above sea level, Mount Batur is not only one of the most iconic landmarks in Bali but all of Indonesia.
It's an active volcano that offers stunning views of Lake Batur and Mount Agung in the distance.
Reaching the peak of Mount Batur is a must-do for any traveler visiting Bali. It's a popular activity so the trail does get busy, but the sprawling views make it worthwhile!
The hike to the peak takes about 2 hours and getting back down will take you the same amount of time. It's best to do the hike at sunrise and it can only be done with a local guide.
How to get to Mount Batur
Mount Batur tours depart from all over Bali Island, but the best pick-up location is Ubud. Your tour operator will arrange your transport, breakfast, and a headlamp.
READ MORE: INCREDIBLE HIDDEN GEMS IN BALI
Puncak Jaya
Why visit Puncak Jaya? Because it's the highest island mountain peak on the entire planet!
Positioned on the island of New Guinea in Papua province, this iconic Indonesia landmark is also widely known as the Carstensz Pyramid.
The former is the Indonesian name, while the latter references the European explorer who first spotted the mountain.
Whatever you call it, Puncak Jaya is one pretty impressive peak, with an elevation of 4,884 meters above sea level.
Keen mountaineers may know Puncak Jaya for its part in the Seven Summits challenge.
Despite being the lowest peak of the seven, Puncak Jaya is regarded by experts as the most strenuous to climb.
Ascending Puncak Jaya is best left to experienced mountaineers, and hiring an expert guide is recommended.
How to get to Puncak Jaya
If you do want to take on the challenge that climbing Puncak Jaya poses, then the best route is to take a domestic flight to Timika.
Organized trips are the best option, as these will include a charter flight and an experienced local guide.
Goa Jomblang Cave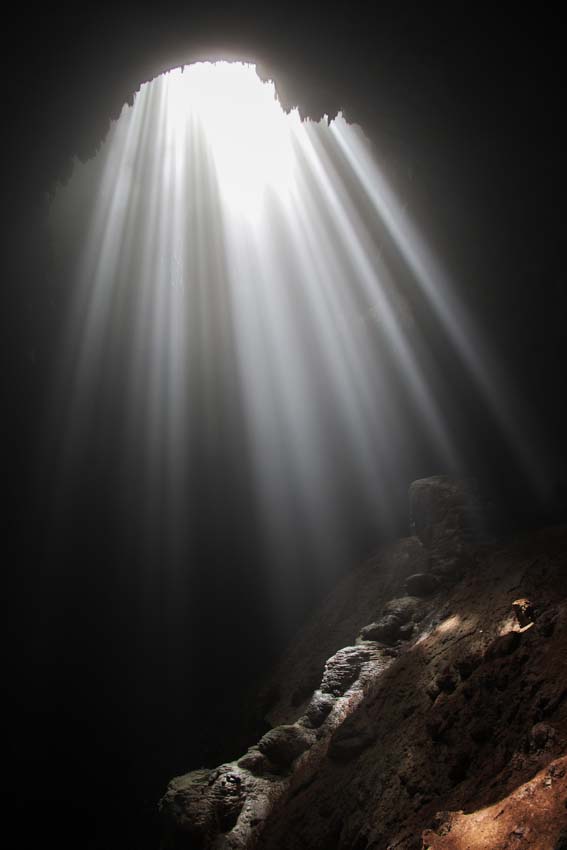 Located in Java, Goa Jomblang Cave is a natural landmark of Indonesia and the country's must-see cavern.
As it's a vertical grotto, you'll need equipment to climb down into it and this is provided by local tour operators.
Visiting and exploring the cave makes for a fun day out. Though it can be messy and at times challenging, it makes a refreshing change from touring man-made sites or mountain peaks.
Once you're all rigged up, you can descend over 150 meters down into the cavern before following your guide along a slightly miry walkway towards the edge.
After reaching this point, it's a waiting game until a beam of sunlight illuminates the grotto.
Witnessing this sunlit transformation is an otherworldly experience and one well worth including on your Indonesia itinerary.
If you enjoy adventurous pursuits, you can also combine your descent into Goa Jomblang Cave with tubing on the Kalisuci River.
How to get to Goa Jomblang Cave
There are various day trips to Goa Jomblang Cave available from Yogyakarta.
From here it takes around 90 minutes to reach the site. Taking an organized trip ensures your safety while in the cavern, as well as making it easy to reach. All caving equipment will be supplied.
Kampung Pelangi (Rainbow Village)
Kampung Pelangi in Java was once just a regular Indonesian neighborhood, but a serious injection of color changed its fortunes. Now, this settlement in southern Semarang is a tourist attraction, known for its fanciful artwork and wondrous colors.
Seeing the vibrantly hued rooftops is quite something and makes for some fabulous photo opportunities. Even the railings at the side of the road are brightly painted, and rainbows adorn some of the 232 houses dotted around the village.
It's a clever move: while Kampung Pelangi was once a rather downtrodden place with an air of abandonment, it's now one of Indonesia's key landmarks. Over $20,000 US dollars' worth of government investment resulted in this magical transformation, and now social media fans from all over the world head here to capture on camera this one-off sight.
As well as seeing all the colors, visitors also gain a unique glimpse into the life of the ordinary Javan residents who have made their home there.
How to get to Kampung Pelangi
Kampung Pelangi is located in Semarang, in Central Java. The former headquarters of the Dutch East Indies Railway Company at Lawang Sewu make a good landmark: from there you can walk along Jalan Dr Sutomo to reach the rainbow village.
Other popular Indonesia Landmarks
Indonesia is a magical country with iconic landmarks scattered all over the islands.
Here are a few more popular sites that you might want to check out!
Sacred Monkey Forest, Bali: This beautiful forest boasts ancient trees and temples and is home to over 600 mischievous monkeys
Tanah Lot, Bali: Tanah Lot is a Hindu temple found in the sea. During low tide, visitors can access the temple from the mainland.
Equator Monument, Pontianak: As the name suggests, the Equator Monument sits at exactly 0-degree altitude.
---
Are you planning your island holiday and looking for the best landmarks of Indonesia? If you have any questions, let me know in the comment section below!
Looking for your next adventure? Check out my other posts!
Did you find this post helpful? Save it for later on Pinterest!