Last updated on December 18th, 2020
The Great Wall of China is one of the 7 New Wonders of The World and deservedly so! It's the longest man-made structure on earth and was built by over 1 000 000 civilians, convicts, and soldiers.
It's one of those bucket list destinations. But, with over 10 million people visiting the historic site each year, can you really experience the Great Wall of China crowd free?
Yes! But you need to head out a bit further from Beijing and do the Jinshanling Great Wall Tour.
This guide details everything you need to know about the Jinshanling section including how to get there, which route to choose, and how it compares to all the other sections of the Great Wall.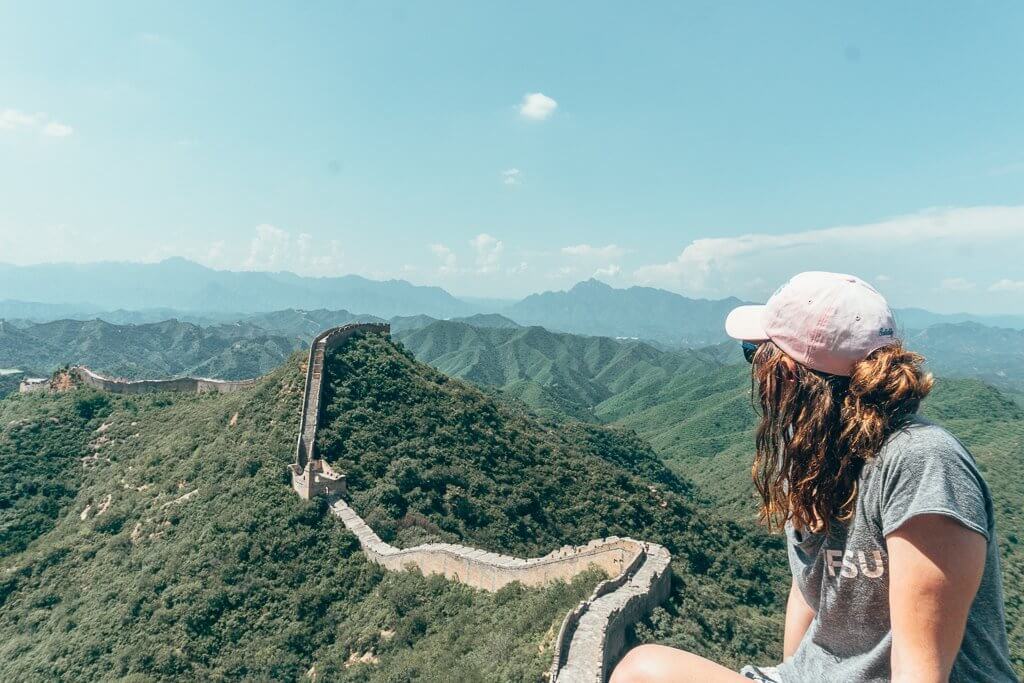 4 Things I Love About The Jinshanling Great Wall
1. Crowd free
If you're planning your trip to Beijing, be prepared for crowds as the city is bustling with tourists left, right and center.
The Jinshanling Great Wall tour offers an escape from the chaos of it all as it's further from Beijing.
Need proof? Well, these pictures speak a thousand words, and no – tourists have not been photo-shopped out of them.
2. The hiking
For those looking for an adventure and a serious workout, the Jinshanling section is just for you!
It stretches over 10km with steep steps and uphill climbs. I hiked the section from Jinshanling toward Simatai which has several beacon towers all with the iconic arched doorways and windows.
Because there weren't many people on the wall, I could walk at my own pace (which wasn't too fast thanks to the heat).
Note: you cannot access the entire Simatai section as it's blocked, but you walk in that direction.
3. It's semi-restored
Did you know that over one-third of the Great Wall of China has disappeared as a result of erosion? And parts of the wall will continue to fade away slowly throughout the years.
This is one of the best things about the Jinshanling section. You can see the wall in its original form, and how it's deteriorated as times gone by. But you can also experience the newer, well-maintained sections that have recently been restored.
I preferred the older, wilder section as it took me back in time and made me appreciate just how old the structure is.
I can't imagine what those people went through, working all day and night throughout the summer heat. It's believed that many of them lost their lives working on the Great Wall, and I can now understand why.
4. The views from Jinshanling Great Wall
The Jinshanling section is said to be the most beautiful part of the Great Wall of China. And I couldn't agree more.
For as far as the eyes can see, you're spoilt with gorgeous lush greenery and breathtaking views of the rolling hills in the distance.
Did I imagine China to be as beautiful as this? No! And seeing it from the Jinshanling section has made me want to experience more of the county.
This gorgeous 4-day hike to Huangshan is next on my China bucket list!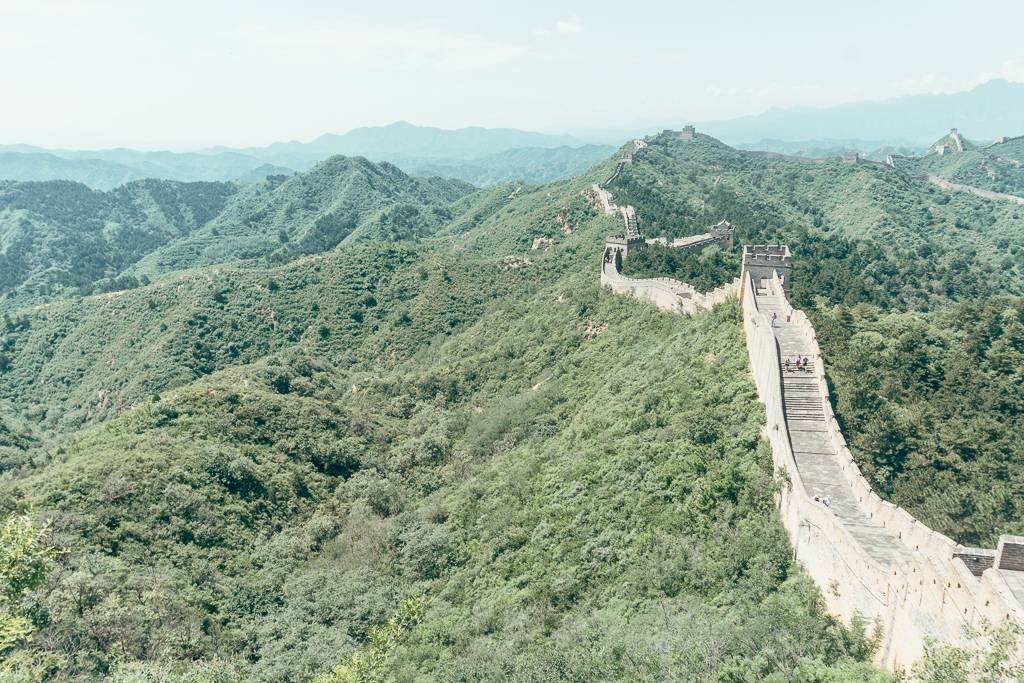 Where is the Jinshanling section
The Jinshanling Section is about 150km north-east of Beijing. Although it's one of the furthest sections from the city, the 2.5-hour drive to get there is worth every minute.
Jinshanling connects with the Simatai section toward the east and the wild Gubeikou section toward the west. But don't worry, I've detailed the full hiking route below!
How To Get to Jinshanling Great Wall of China
Unlike the more popular sections of Badaling and Mutianyu, getting to the Jinshanling section of the Great Wall is slightly more challenging as it's further from Beijing.
Public transport: Beijing to Jinshanling
There is a direct bus from Beijing to the Jinshanling section between April and November which costs $7.50 each way.
This bus departs from Dongzhimen Wai Bus Station.
To get there, go to Dongzhimen Train Station, take exit B or E.
Once outside, turn left and walk for 10 minutes in that direction until you see Dongzhimen Outer Street.
The bus leaves from Dongzhimen for Jinshanling at 07:40 & 08:20 (I have since read conflicting reports that there is one bus a day, and it leaves at 08:00, so my suggestion is to get there by 07:30 to guarantee a spot). It returns to Dongzhimen at 15:30.
Jinshanling Great Wall Tour
As you can see, getting to the Jinshanling Great Wall can be confusing! I'm not usually a fan or tour groups BUT you need to weigh up the pros and cons of booking your Great Wall tour through a tour operator or going independently.
Remember, you're in a foreign country where there's not much English spoken. It's crazy busy everywhere and there can be delays with the buses. Not to mention that finding your way around Beijing is challenging, especially if you don't have a VPN and access to the internet.
Pro tip: Ensure you have a Virtual Private Network (VPN) downloaded on your computer and phone before you arrive in China – you cannot do this in China. Having a VPN allows you to use Google and access your emails and Facebook. Without one, you're pretty skrewed! I use Express VPN and highly recommend it. It allows you to connect to 5 devices and is really easy to use. Check it out here!
I didn't want to risk the chance of getting lost and not having a full day hiking the Great Wall, so I chose to go with a tour group instead. It's by far the easiest and most convenient way to plan your trip.
Getting a tour company to organize your trip to the Great Wall doesn't mean that you must move together like a herd of sheep on the wall! The guide shows you the route, gives you your time allocation and off you go.
Afterward, you'll be rewarded with the most delicious Chinese lunch and ice-cold beer!
Jinshanling Tour Group Costs
I paid $69 for my Jinshanling Great Wall tour which included a pick up from my hostel, return transfer in an air-conditioned bus, a small snack for breakfast (but bring your own as it's not much), entrance to the Jinshanling section as well as a tour guide who gave us directions and let us explore on our own.
Hiking Jinshanling Great Wall
Thanks to the Jinshanling cable car, certain parts allow easy access for the elderly or people with limited mobility (or those who aren't too keen to walk the wall).
Alternatively, you can take up the challenge and hike as much of it as possible.
I chose the latter (well, sort of)!
Jinshanling Great Wall Map
I suggest you save the Jinshanling map below and use it as guideline for your walk.
The three most important locations are Brick Cremel, highlighted in red, Xiaojinshan Tower in green and East Five-Window Tower in blue.
The Best Jinshanling Route To Take
There are various routes you can choose depending on the amount of time you have.
Option 1: Walking the entire Jinshanling Great Wall route
Key directions: Brick Cremel to East Five-Window Tower
Time needed: 3.5 hours fast walk / 4.5 hours at an easy pace
If you chose to walk the entire section, you need to follow the route from the entrance of the Jinshanling Great Wall tour to Brick Cremel (on the Jinshanling map above)
Once you arrive here, take a left and you'll soon meet up with the group taking the cable car.
Continue to the East Five-Window Tower where you'll find a path that takes you back to the East Gate of the Jinshanling entrance.
Option 2: Walk and Cable Car
Key directions: Xiaojinshan Tower to East Five-Window Tower
Time needed: 2.5 hours fast walk / 3.5 hours easy pace
If you take the cable car from the Jinshanling entrance, you will arrive at Xiaojinshan Tower on the Great Wall.
This part is moderately busy as many tourists take the cable car to the top, get a few snaps and then return down via the cable car.
Once you reach this tower, you'll turn left and make your way to the East Five-Window Tower. Here, you'll leave the wall and walk towards the East Gate of the Jinshanling entrance.
Should you take the Jinshanling cable car
When I first heard that there's a cable car at the Jinshanling Great Wall, I laughed. Why would you want to take a cable car to the wall, and not walk the route yourself?
But then I realized that to get to the wall, you need to walk up-hill for over 45 minutes. Why waste all this energy just getting to the wall!
Also, if you're doing the Jinshanling Great Wall section with a tour group, you'll most likely have 3h30min to hike the wall. This may seem like enough time to cover 12km, but if you want to admire the views, take loads of pictures and enjoy the hike, then the cable car may be a better option as it gives you more time on the wall.
If you take the Jinshanling cable car and follow my route above, you'll walk from the restored section toward the rugged and wild section on the east (toward Simatai)
How Difficult is the Jinshanling Great Wall Hike
The hike (or walk) from Jinshanling toward Simatai is relatively easy but several parts are quite challenging. It does require some level of fitness but it's best not to rush. Take as many photos as you need – it's a great excuse to have a short break.
You'll pass through both ruins and completed sections, you'll walk up steep flights of stairs, and then all the way back down again. You'll find shade in the watchtowers (and never want to leave).
But once you're done, you'll leave feeling like you're on top of the world!
Jinshanling Great Wall Marathon
The Jinshanling Great Wall Marathon takes place in April every year. There is an option to do the full marathon, half marathon, and 10km race.
If you're planning to visit Beijing during this time, I highly recommend that you sign up for it.
Which is the Best Section of The Great Wall
The Great Wall is made up of several different sections, which were built by different dynasties for different purposes.
I've hopefully already convinced you to visit the Jinshanling section but, if you want to check out your options, these are other popular Great Wall tours that may be better suited for you.
Badaling Great Wall
Pros: The entrance is just 70km from Beijing, making it the closest section to the city. It can be reached by train so if time is of the essence, you may want to choose this route. It's immaculately restored and offers easy walking routes and accessibility if you have limited mobility.
Cons: The Badaling section of the Great Wall is the most well-known tour with 75% of tourists choosing this section to visit. It's the most popular with local tourists, it's busy and commercialized. Don't do it!
Badaling tours: Because the Badaling section is close to Beijing, you can pair a trip to Badaling with the Ming Tombs, which is the largest imperial tomb in the world. Check the latest prices.
Mutianyu Great Wall
Pros: Mutianyu is the second most popular choice for tourists. It's well-restored and offers a less crowded experience than Badaling. If you only have a day in China, I recommend you visit the Mutianyu section of the Great Wall as it's only 75km away from Beijing. The toboggan ride down from the top is also a huge attraction!
Cons: It is still a crowd favorite and attracts thousands of visitors.
Tour: This is one of the most affordable sections of the Great Wall of China. Enjoy round-trip air-conditioned buses and an English speaking guide. Check the latest prices.
Simatai Great Wall
Pros: If you visit the Simatai section, you can see the wall in its original form with some parts crumbling. However, it is accessible to hike and less commercial than the above two.
Cons: The Simatai section is further from Beijing, 130km, and not easily accessible for handicapped people.
Tour: The Simatai section is located near Gubei Water Town which is an ancient canal village. It's best to explore the water town as well as the Simatai section on the same day. Check the latest prices.
Jiankou Great Wall
Pros: Jiankou has not been renovated and is probably the wildest section of the wall. It's completely original and is recommended for the more adventurous traveler.
Cons: With the crumbling rock it can be quite dangerous, and the climb is not for the faint-hearted as it is fairly steep. Hiking boots are required and it's advised that you hike this as part of a group.
Jinshanling is considered the happy medium of all the above and so that's why I chose it.
Tour: If you're wanting to experience the Jiankous section, it's best to do the Great Wall hike from Jiankou to Mutianyu. Check the latest prices.
Best Time to Visit the Great Wall of China
China gets extremely hot in the summer months from June to August.
I hiked the Jinshanling section during August in 40-degree heat and extreme humidity. I don't recommend this (unless this is the only time you can visit!)
April/May and Sept/Oct are said to be the best months to visit the Great Wall as it's not scorching hot nor overly crowded. But clear sky's are never guaranteed in China as the air pollution is so bad.
Avoid weekends or public holidays, especially over Chinese New Year in February.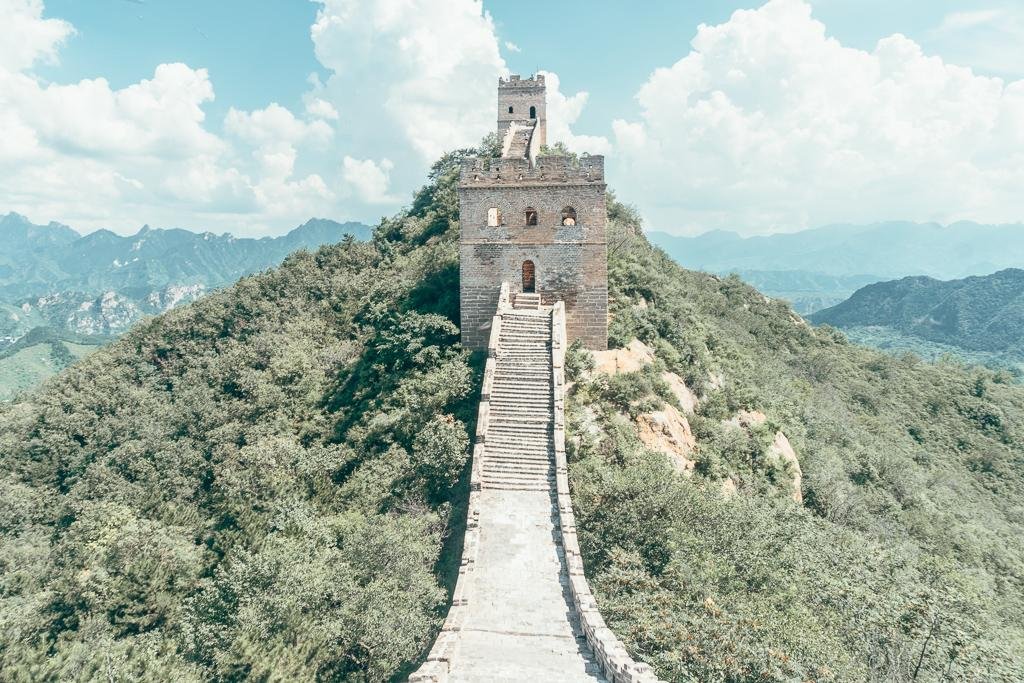 What Pack When Climbing the Great Wall of China
If you're serious about walking quite a bit of the wall, you need to dress appropriately.
Trainers are a must (Hiking shoes aren't necessary for the Jinshanling section)
Comfortable clothes
Hat, sunglasses, and sunscreen (You can purchase a hat at the front entrance)
Small backpack or sling bag
Lots of water and snacks. There are vendors at the watchtowers selling refreshments, but these can be quite pricey
Cash to buy refreshments and drinks during lunch
Camera or GoPro
Where To Stay in Beijing
When visiting Beijing, it's best to stay near the city center. From here, it's easy to access to subway and is within walking distance to several attractions.
I stayed at 365 Inn which is situated in the Qianmen area. I chose location above all else, and 365 Inn did not disappoint. It's a short walk to the Forbidden City and Tiananmen Square and there are an array of restaurants nearby.
The vibe at this hostel is also great. I stayed in a private room, but the restaurant downstairs was extremely social and the food was delicious. Check the latest prices!
Here are a few accommodation options that will suit any budget:
Budget: Peking Station Hostel is an awesome, social place right in the center of the city. You can book private or dorm rooms here and it's one of the most affordable accommodation options in Beijing.
Mid-Range: Hotel Cote Cour Beijing can be found in the heart of Beijing with spacious rooms, a roof top terrace and a restaurant.
Luxury: The Peninsula Beijing is an exquisite hotel centrally located in the Wangfujing Shopping District. It oozes elegance and is the perfect place to stay if you're willing to spend a bit more.
Final thoughts after ticking the Great Wall of China off my bucket list
The Great Wall was everything I imagined it to be, and more!
Opting for the Jinshanling section was one of the best decisions I made. I feel that my experience would have been very different had it been overcrowded like some of the other tour options.
If I can give you one piece of advice – don't go in summer if you don't have to! I can't even begin to explain how hot it was out there! But I soldiered on and didn't let the heat ruin my experience.
Practical Information
What to expect: Not many people, gorgeous views, lots of walking and seeing the most beautiful parts of the Great Wall of China.
Tour cost: $65-$75 per person. Check the latest prices.
Distance from Beijing to Jinshanling: 2.5-3 hours drive.
Time needed: 1 full day.
---
Have you been to the Great Wall of China? Which section is your favorite? Let me know in the comments below!
Pin this!
There is a really good chance that this post contains affiliate links. If you click one of them, I may receive a small commission at no extra cost to you. As always, views are my own!