Is it really worth going to Kelimutu National Park to see the tri-colored Kelimutu crater lakes? That's the question I kept asking myself when I first arrived in Flores Island, Indonesia.
The answer: yes! But the journey to get there is a long one.
I spent over 2 weeks on Flores Island where I discovered the most incredible destinations, far off the tourist path. I hiked Mount Inerie in Bajawa, dived in the Komodo National Park, and took a very sketchy drive to Riung.
Adding a visit to the Kelimutu Lakes in Moni was the cherry on top of an incredible time on the island.
So, I put together this post detailing everything you need to know about Kelimutu National Park and why you should include it in your Flores itinerary!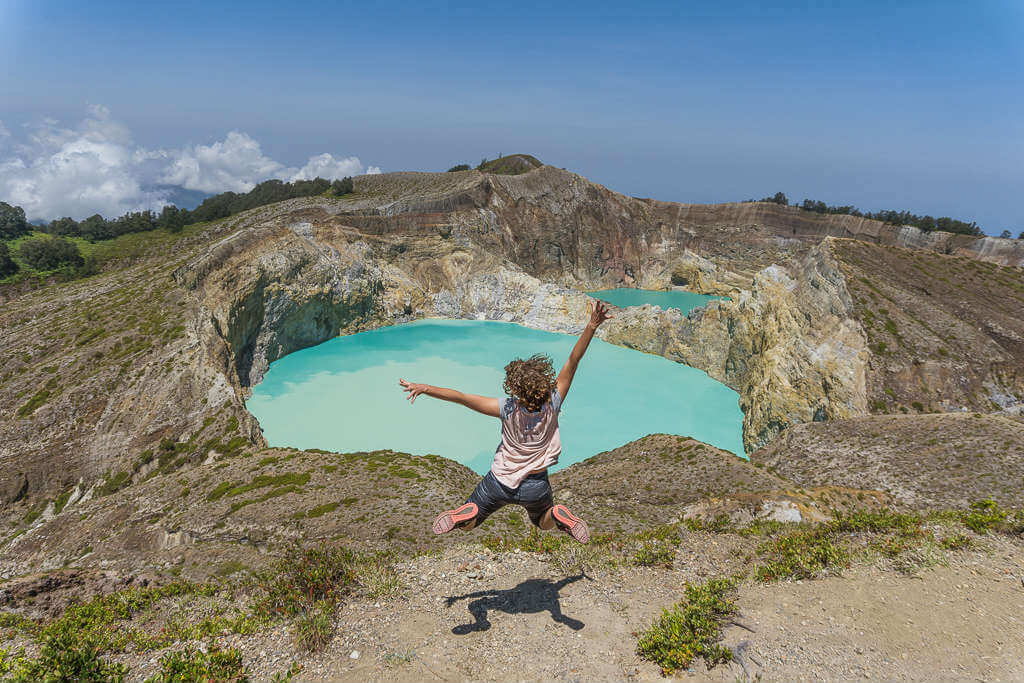 Summary of Kelimutu crater lakes
Location: Flores Island, Indonesia
Closest airport: Ende
Where to stay: Geckos Homestay in Moni Village
Time needed: 3 hours to explore Kelimutu National Park
Kelimutu entrance fee: $10 per person
Best time to go: During the afternoon
Highlight: The stunning colors of Mount Kelimutu Lakes
Downside: If you're short on time, it is out of the way
About Kelimutu National Park, Indonesia
Mount Kelimutu is a dormant volcano sitting at 1 639m with 3 lakes at its peak.
Translated directly, keli means "mountain" and mutu means "boiling". However, this "boiling mountain" is famous for its multi-colored lakes rather than its volcanic activity.
There's no denying that visiting Kelimutu National Park should be on your Indonesia bucket list! These tri-colored lakes are a natural phenomenon and seem surreal until you witness their beauty with your own eyes.
How to get to Kelimutu National Park in Indonesia
Mount Kelimutu is located to the east of Flores Island in the East Nusa Tenggara province of Indonesia.
There are a few ways to get to Kelimutu National Park, depending on where you're starting off from.
The easiest is a direct flight from Bali to Ende in Flores Island.
Whilst Ende is the main transportation hub leading to Kelimutu National Park, it's a small town that doesn't have much to offer.
I suggest you go straight to Moni which is the closest village to the Kelimutu Crater Lakes and lies at the foot of Kelimutu National Park.
Alternatively, if you're planning on visiting the Komodo National Park, you could fly from Bali to Labuan Bajo (also in Flores). From there, you can catch a short 50-minute flight from Labuan Bajo to Ende.
How to get to moni
To get to Moni from Ende, you can either rent a scooter, take a private vehicle or hop on a public bus from Ende which only costs 35 000 IDR ($2).
Whilst it's only 50km from Ende to Moni you should give yourself 2 to 3 hours for this trip to account for traffic (and the possibility of your bus breaking down – which ours did!).
The road is in good condition compared to other journeys I've taken in Flores, but expect a lot of windy parts and sharp turns.
How to get to Kelimutu National Park from Moni
Once in Moni, you need drive 11km to Kelimutu National Park.
The easiest way to do this is by hiring a scooter for the day which will cost 125 000 IDR ($8). This allows you to enjoy Mount Kelimutu at your own pace and explore the rice paddies that surround the villages thereafter.
Your other options include an ojek (motorcycle taxi) which costs 100 000 IDR ($6) for a round trip. Aternatively, you can hire a private driver which will set you back 200 000–300 000 IDR ($13-$20).
After arriving at the parking lot, it's a short 1.5km hike to the peak of Mount Kelimutu which shouldn't take you more than 30 minutes to reach.
The path is well marked with a gradual incline and is a pretty easy route to walk.
Kelimutu National Park entrance fee
The entrance fee for Kelimutu National Park is 150 000 IDR ($10) for a daily pass for foreign tourists.
You're able to revisit the lakes numerous times throughout the day so ensure you keep this ticket on you.
When's the best time to see the Kelimutu Lakes? Sunrise or daytime?
This one's debatable.
Yes, watching the sun rising behind the beautiful turquoise lakes is something special but you aren't guaranteed perfect weather conditions. This is something I learned the hard way.
Most tourists choose to visit for sunrise so that they can move on to their next destination straight after. If you're bound by a tight schedule, you might need to do the same, but keep in mind that it will be crowded.
I visited Kelimutu National Park for both sunrise and at mid-day. Pictures speak a thousand words, so keep reading and you decide for yourself which is better!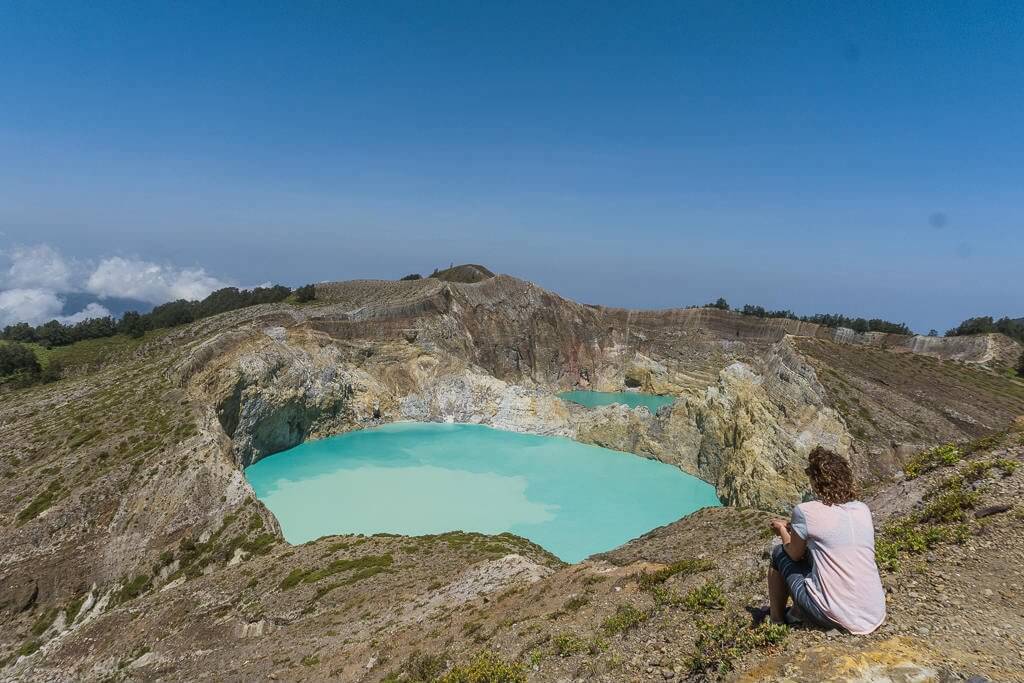 Visiting Mount Kelimutu for sunrise
I left Moni at 04:15 and began the trek to the peak at 05:00.
I suggest you skip the first viewpoint and head straight to the main viewing area to catch the sunrise.
Instead of a clear morning with the perfect sunrise, I was met by a fierce storm. It was cold and wet, and I found comfort in the coffee and warm noodles being sold.
Bear in mind, this was in August which is the dry season in Indonesia.
The next hour saw everyone rushing to get a snap of the Kelimutu Crater Lakes as the sun occasionally beamed through the clouds.
Not ideal and not "picture perfect"!
After an hour at the peak, we decided to head back down.
This experience taught me one thing – pack carefully when traveling to Indonesia. You need solid trainers as well as warm clothes when visiting Kelimutu Lakes as it's chilly at sunrise.
Here's my comprehensive packing guide for visiting Flores.
Visiting Mount Kelimutu during the day
The reason I'd come all the way to Moni was to see these Kelimutu Crater Lakes. The sunrise session hadn't given me much to write home about.
So, after a rather disappointing, yet eventful start to the day, we decided to go back to Kelimutu National Park.
I was happy to find the slippery mud had dried and getting to and from the lakes wasn't as difficult as it had been earlier.
Arriving at the top, I couldn't believe I was at the same spot I had been a few hours back. The Kelimutu Lakes were all brightly colored with no shadows falling on them.
The sky was clear blue and the views, spectacular. It was also peaceful and quiet with only a handful of other tourists around.
I had given the magical Kelimutu Lakes a second chance at impressing me and wow, was I was completely blown away by their beauty!
This is why I recommend planning your Indonesia itinerary so that your days are flexible.
In my opinion, noon is the best time to go on a Kelimutu Lake tour.
Why do the Kelimutu Lakes change color
The colors of these volcanic lakes change dramatically and unpredictably from blue to green to brown and even red.
These changes are caused by a chemical reaction of the lake's minerals, the gas activity of the volcano as well as the changing weather conditions.
The local beliefs and spiritual significance
Whilst modern science has its reasons for the changing colors of these crater lakes, the locals have their own theories.
These beliefs are based around the idea that the lakes are the resting place of their ancestors' spirits. It is said that the changing color is due to spirits that have become restless and begin to wander.
Because of this, it is easy to understand why the Kelimutu National Park is a sacred place with spiritual significance.
Exploring Kelimutu National Park
The westernmost lake, pictured above, is called Tiwu Ata Mbupu, the "Lake of Old People".
This is believed to be the home of those souls who have lived a long, good life. This lake was dark green in color at the time of our visit (which was slightly underwhelming when compared to the other two volcanic lakes).
Lake of Young Men and Maidens
Next are two lakes that are located besides each other, separated only by a crater wall.
The most striking is Tiwu Nuwa Muri Koo Fai otherwise known as the "Lake of Young Men and Maidens". This lake, pictured below, is said to be where those young souls and children go to rest.
Enchanted lake
Finally, the "Enchanted Lake", Tiwu Ata Polo, is the first lake you will come across after entering the Kelimutu National Park.
This lake, below, is home to the spirits of those who have committed crimes and lived an evil life.
Mount Kelimutu trekking
For those interested in hiking, there is a 10km trek which includes a more scenic route through Kelimutu National Park. This trek takes about 2-3 hours from Moni to Kelminutu National Park.
I suggest you take an ojek or taxi to the Kelimutu Lakes parking area (as most people do).
From there, make your way to the lakes. Thereafter, take the longer route down to Moni where you will walk through the local villages and rice paddies before reaching the town 3 hours later.
READ MORE: The Best Places To Visit In Bali
Where to stay
Moni is a small village with only a few basic accommodation options available.
I highly recommend you stay in Moni, but if you prefer a more luxurious option, then you'll need to stay in the bigger town of Ende and drive a bit further to reach the Kelimutu Lakes.
The Geckos Homestay is one of the best places to stay near Kelimuatu National Park. The property is nestled in the countryside and offers a luxury experience at a budget price point. The hospitality of the owner is also hard to beat!
If you're looking for an affordable place to stay that's even closer to the park entrance, Santiago Bed & Breakfast comes highly recommended.
Can you swim in Kelimutu Lakes
No, you cannot swim in the crater lakes in Kelimutu National Park as they are made of toxic sulfur water. There are also steep cliffs surrounding the lakes, making them dangerous to access.
The verdict: Is it worth going to the Kelimutu National Park
Hell yes!
This part of Flores Island is incredibly beautiful and it's not just the Kelimutu Lakes that make it worthwhile, but also the journey that it takes to get there.
---
Looking for more Indonesia travel information? Check out my other posts!
---
Pin this!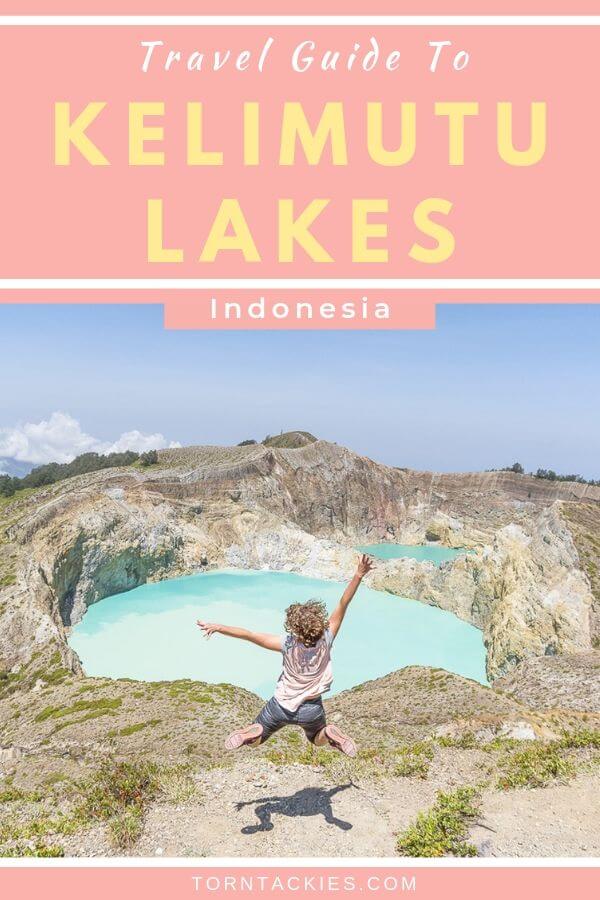 There is a really good chance that this post contains affiliate links. If you click one of them, I may receive a small commission at no extra cost to you. As always, views are my own!