Are you planning your trip to South Korea but struggling to decide what to include on your Korea packing list? I've got you covered.
I lived in Korea for 14 months and explored the whole country.
I experienced all the tourist hotspots while discovering some epic hidden gems along the way. It was a life-changing journey, and South Korea will always have a special place in my heart.
After calling the K-pop capital home, I think it's safe to say that I know a thing or two about what to pack for Korea. And I've covered them all in this mega packing guide.
So, whether you're visiting Korea for a quick vacation or if it's a long-term move for work or study, this Korea packing list is just for you.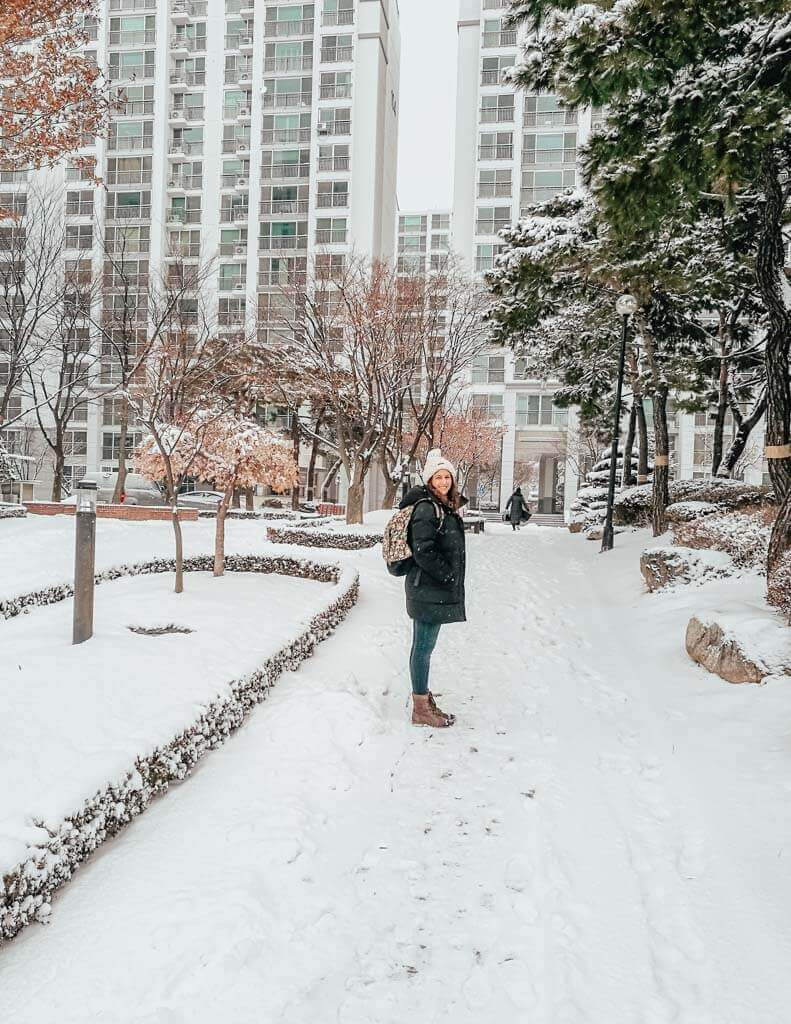 Torn Tackies contains affiliate links. If you make a purchase using one of these links, I may receive compensation at no extra cost to you. See my disclosure for more information.
Things to Know About What to Pack for Korea
The extreme weather
I have never experienced weather as extreme as it is in Korea.
The summers are boiling hot and humid, and the winters are freezing cold with snowfall. Spring and fall are undoubtedly the best times to visit if you want to be out and about.
The bottom line, what you pack for Korea will depend on the season you visit, and I've broken this packing list up accordingly.
What to wear in Korea: The culture
Before traveling (or moving) to Korea, there are a few cultural norms you need to familiarize yourself with.
You can read more about them here, but one of those is the fashion, as it's most likely different from what you're used to.
Ladies, your packing list for Korea should include clothes that cover your shoulders, collarbones, and chest if possible.
While the capital city, Seoul, is perhaps the exception, the rest of the country is a lot more conservative when it comes to exposing your chest.
But note that this isn't seen as "unacceptable" or disrespectful. It's not uncommon for foreigners to wear tank tops. It's just not something Koreans do.
On hot summer days, I wore tank tops to the beach and the park. But of course, this wouldn't be appropriate for teaching or attending formal functions.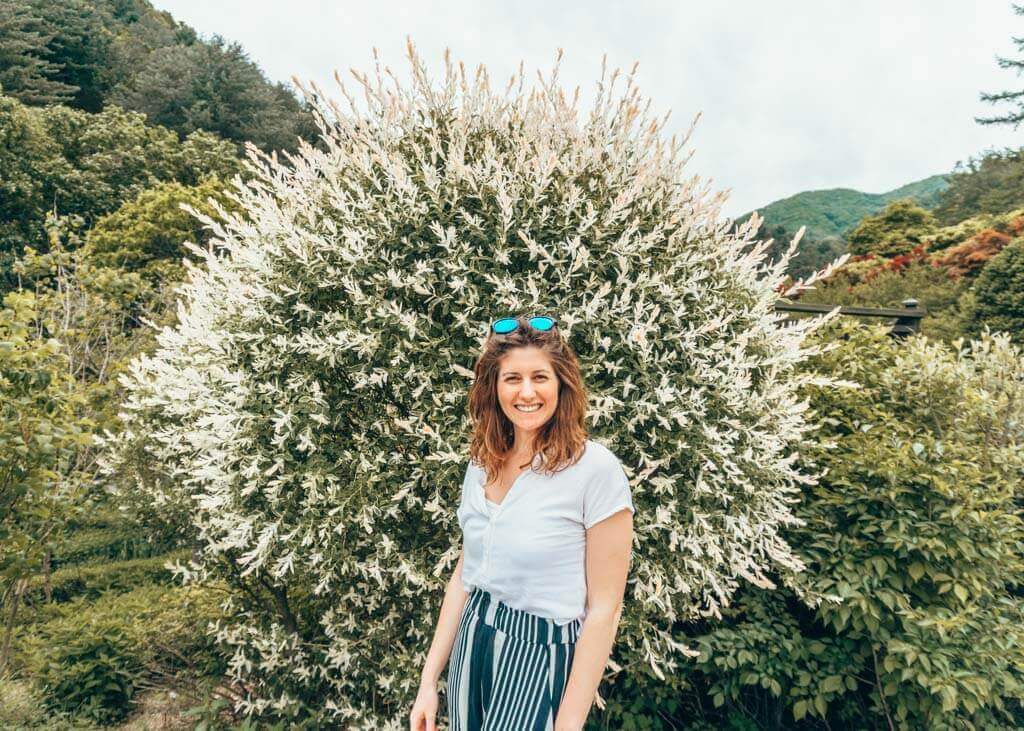 Packing list for Korea: Your Luggage
Check-in luggage: Suitcase or backpack
If you're visiting Korea for a few weeks, you'll only need one big bag for your checked-in luggage.
Personally, I prefer traveling with a large backpack like this as it's a lot easier to carry and more convenient to cart around.
But, unlike most of Asia, where a backpack is more practical, you can still get away with traveling with a large wheelie suitcase in Korea.
If you're moving to Korea, you'll generally be allowed 2 checked-in bags on your flight. I recommend bringing one large suitcase and one big backpack.
This backpack will come in handy when you're traveling around Korea or if you decide to visit one of the neighboring countries during your school break (I went to the Philippines!)
Carry-on luggage
Having a good carry-on backpack is crucial to every South Korea packing list.
This over-the-shoulder bag is needed for exploring the city and can be used to store your snacks, phone, camera, and sunscreen during your day trips from Seoul and hiking missions.
This is the bag I used in Korea, and highly recommend it as it's so versatile.
It has a compartment to safely store your laptop and is the perfect size for day trips.
Packing cubes
Packing cubes are Korea travel essentials that should be on your packing list no matter where you're going.
They can be used to separate all your clothing items, from swimwear to underwear, dresses to shorts.
These are my go-to packing cubes! They are affordable and come in sets of 3 varying sizes, so you'll definitely get your money's worth.
And they're not only for clothes. I use my packing cubes as laundry bags, toiletry bags, and mark-up bags!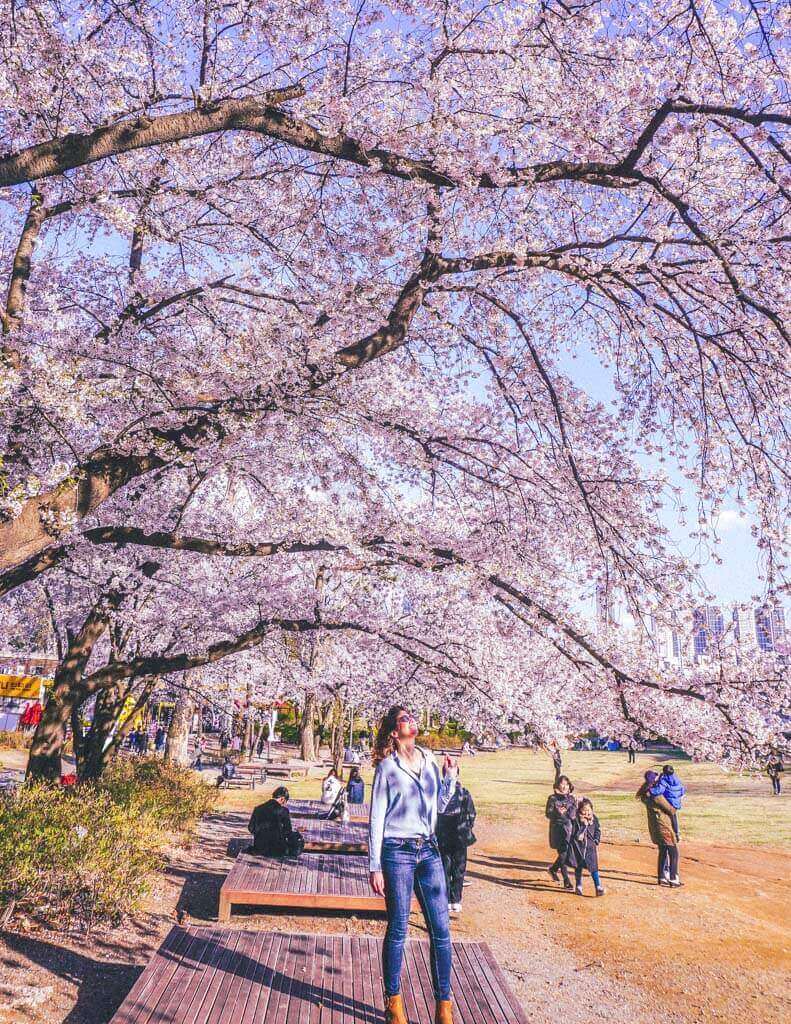 Packing List for Summer in Korea (June to Mid-September)
The Korean summers are next level, with mid-July to mid-August being the hottest and most humid.
There's a constant heatwave, and everyone spends time indoors with the air conditioner on.
Summer is also the rainy season in Korea, but it only lasts a short while, so don't let that deter you from visiting.
Summer packing list for Korea
T shirts: Pack shirts that cover your shoulders
Tank top: Bring one or two of these, but you'll mostly wear t-shirts
Shorts
Loose-fitting pants: It will be too hot for jeans
Sandals
Trainers: Rather go for a versitile shoe like this that you can wear when hiking and exploring
Flip flops: Only pack these if you're going to the beach
Swimsuit: There are many great beaches in Korea, but the locals don't wear bikinis! Instead, they wear clothes from head to toe to protect their skin from the sun. While you can wear a bikini, and I did, expect a lot of stares.
Sunglasses
Sun hat
Summer PJ's
Underwear
Socks
Things to do in Summer in Korea
Here are some of my favorite things to do during summer.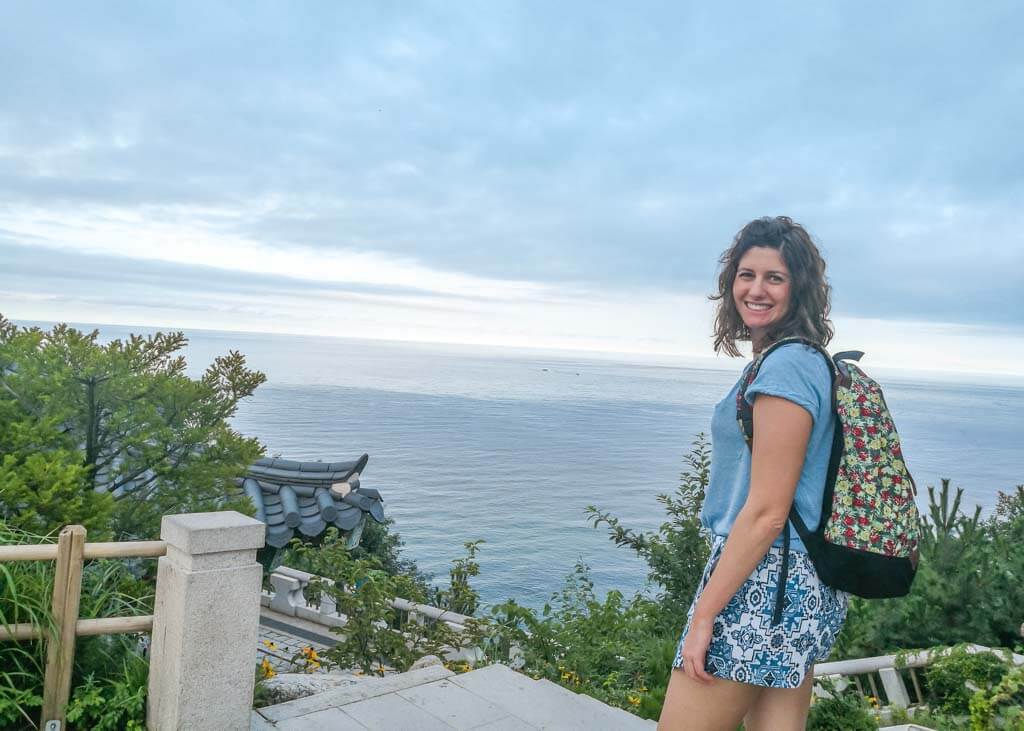 What to Pack for Korea in Fall or Spring
Spring and fall are my favorite seasons to visit Korea as the weather's pleasant and far more bearable than summer and winter.
While it's often t-shirt and shorts kind of weather, the temperatures can be unpredictable so bring some warm clothes with you.
Fall (End of September – End November): After summer, the months of September and October are generally sunny and warm. As it gets to November, the temperature drops quite a bit.
Spring (Mid-March – End of May): It's still chilly in early spring (mid-March), so you'll need a few warmer items. April and May are delightful, and it's a great time for seeing cherry blossoms and other outdoor activities.
Spring and fall packing list
T shirts: Pack shirts that cover your shoulders
Tank top: Bring one or two of these but you'll mostly wear t-shirts
Cardigan
Sweater
Light jacket: Pack something like this that's waterproof and versatile
Yoga pants (great for hiking)
Loose-fitting pants or jeans
Sandals
Trainers
Sunglasses
Sun hat
Summer PJ's
Underwear
Socks
Things to do in spring or fall
Visit Jeju Island, a volcanic island south of the mainland that has recently been named one of the 7 New Wonders Of Nature.
Hike Bukhansan Mountain in Seoul.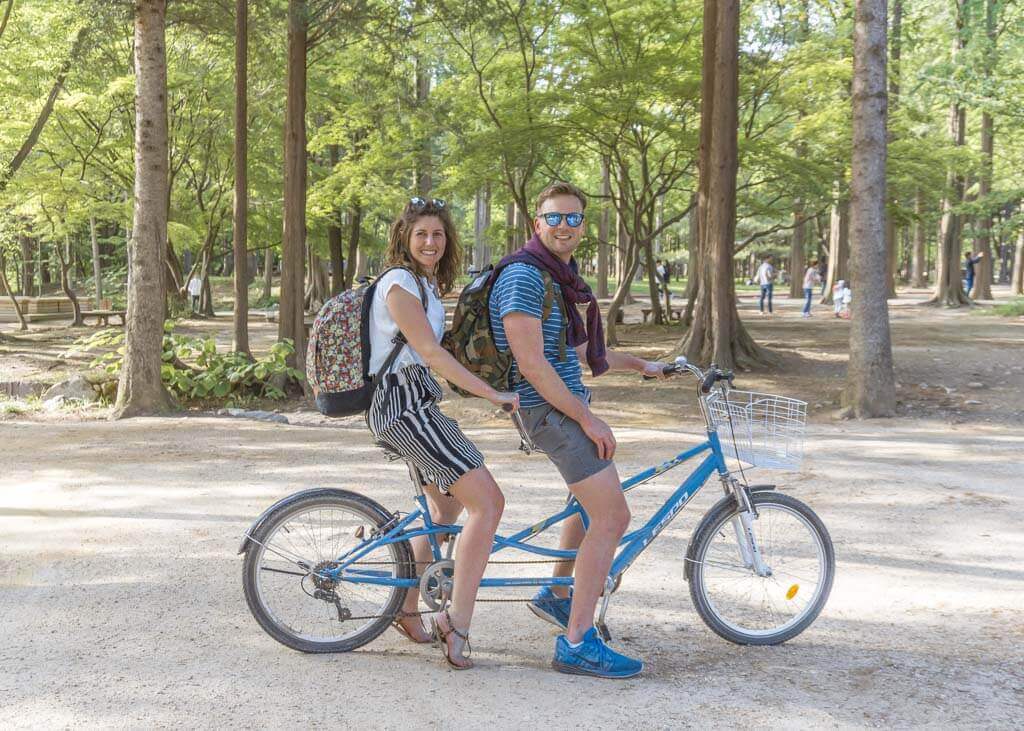 What to Wear in Korea For Winter (December to Mid-March)
Don't underestimate just how cold it is during winter in Korea, especially during January.
It's absolutely freezing! I'm talking icy mornings, snowfall, and below 0 temperatures.
You'll need to pack warmly! Layering is key, so ensure your Korea packing list has enough long tops and sweaters.
Things to pack for Korea Winter
Warm puffy jacket or parka: This long winter coat is all the craze in Korea – I wore mine everyday in winter.
Thick sweater
Long sleeve shirts:
Thermal base layer: Get something ultra thing yet warm
Jeans
Leggings or trousers
Winter boots: You'll need a pair of boots that are waterproof as it may be snowing during your visit
Sneakers
Trainers
Warm hat
Scarf
Gloves
Sunglasses
Winter PJ's
Underwear
Thick socks
Normal socks
Things to do in Winter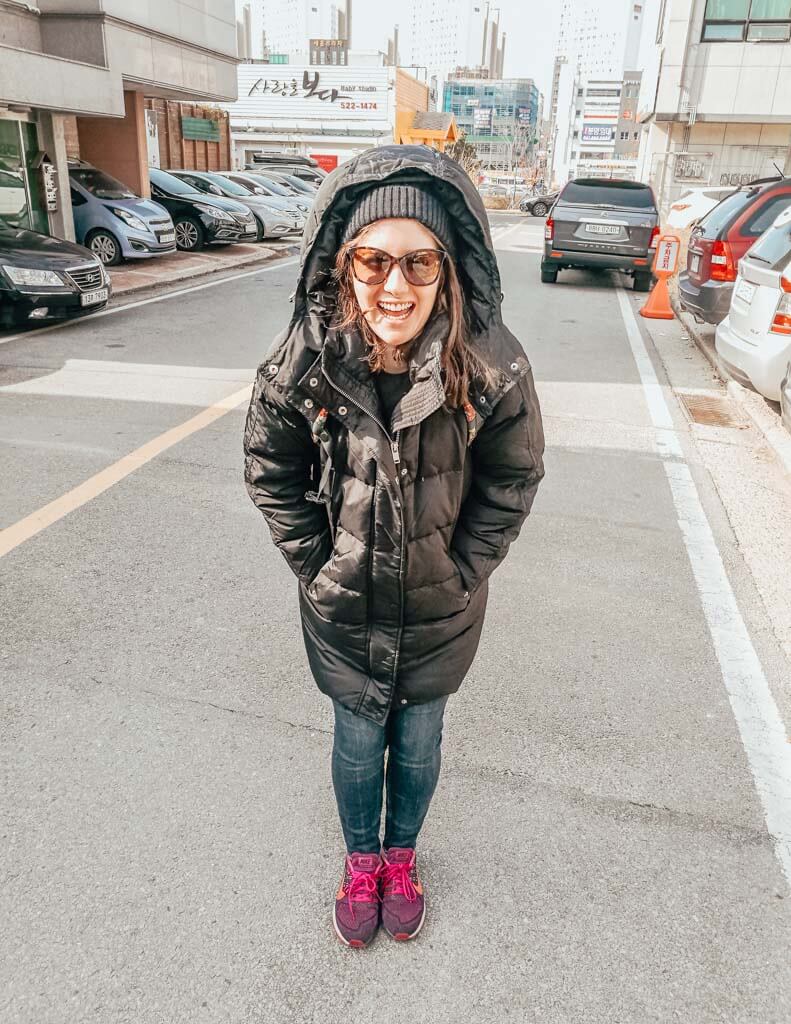 Toiletries to Pack for Korea
Shampoo and conditioner (2 in 1): I'll let you in on a secret. When I'm traveling, I use the 2-in-1 shampoo and conditioner for my hair and body so no need to bring a separate body wash
Facewash
Moisturizer
Toothbrush and toothpaste
Razors
Deodorant
Sunscreen
Make-up
Hairbrush
Hair accessories
READ MORE: 17 THINGS I LOVE ABOUT SOUTH KOREA
First Aid Kit
There's no need to go overboard with medical supplies. But I recommend you add these items to your packing list for South Korea.
Paracetamol
Bandages/plasters
Antiseptic cream
Imodium
Mosquito spray (especially in summer)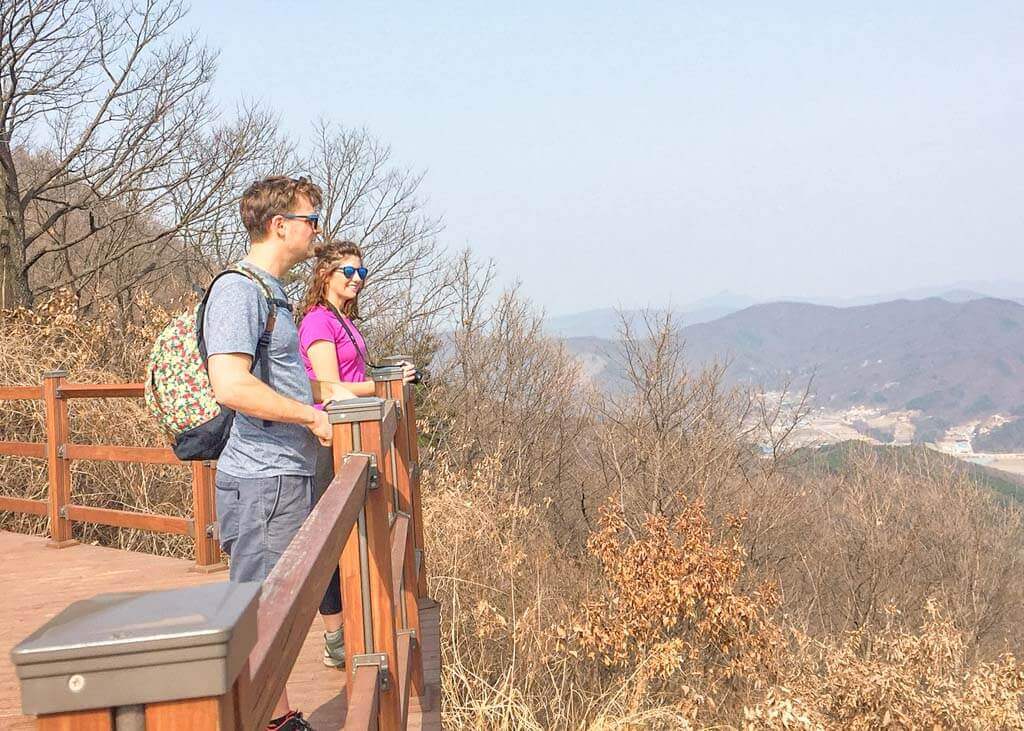 Gadgets
GoPro: If you don't have one, buy one! You'll want to capture all your favorite memories (and they're also great for selfies).
Portable power bank: Your phone battery may not last an entire day when you're using it to take photos every two minutes. You're going to need a portable power bank (and make sure it's charged). Here's a 20 000mAh option that provides enough power to charge your devices numerous times, and its slim design means it's easy to travel with.
Adapter: Korea uses 220V outlets. They're European style plugs with twin round pins (same as some South African plug points). This universal adapter is compact and versatile and has 4 USB ports so you can charge up your devices the moment you arrive.
Headphones: Bring a pair of headphones with as they'll come in handy during the long bus rides.
Reusable water bottle: Tap water in Korea is not okay to drink (although this is debatable). Your accommodation may offer complimentary water that you can decanter into smaller reusable water bottles like this. If this isn't an option, purchase the bigger 10l water canisters from the corner store and decanter them into smaller bottles for your day trips.
READ MORE: WHERE TO STAY ON JEJU ISLAND
Essential Travel Items to Pack for South Korea
Passport
Air ticket
Visa: Most nationalities can enter South Korea without having to get a tourist visa in advance (double-check this). If you're moving to Korea, you'll need to have a work visa in your passport. You can find out more here.
Debit and credit card: Both Visa and MasterCard are accepted everywhere in Korea. If you have 2 cards, bring both, as you never know if one will give you issues
Driving license and International Driving License
Copy of Passport, Travel insurance, Drivers, accommodation booking
Passport wallet to hold your Passport and other important documents (all the above). Don't get one that's too small. You want it to fit your passport, travel insurance details, and other travel documents.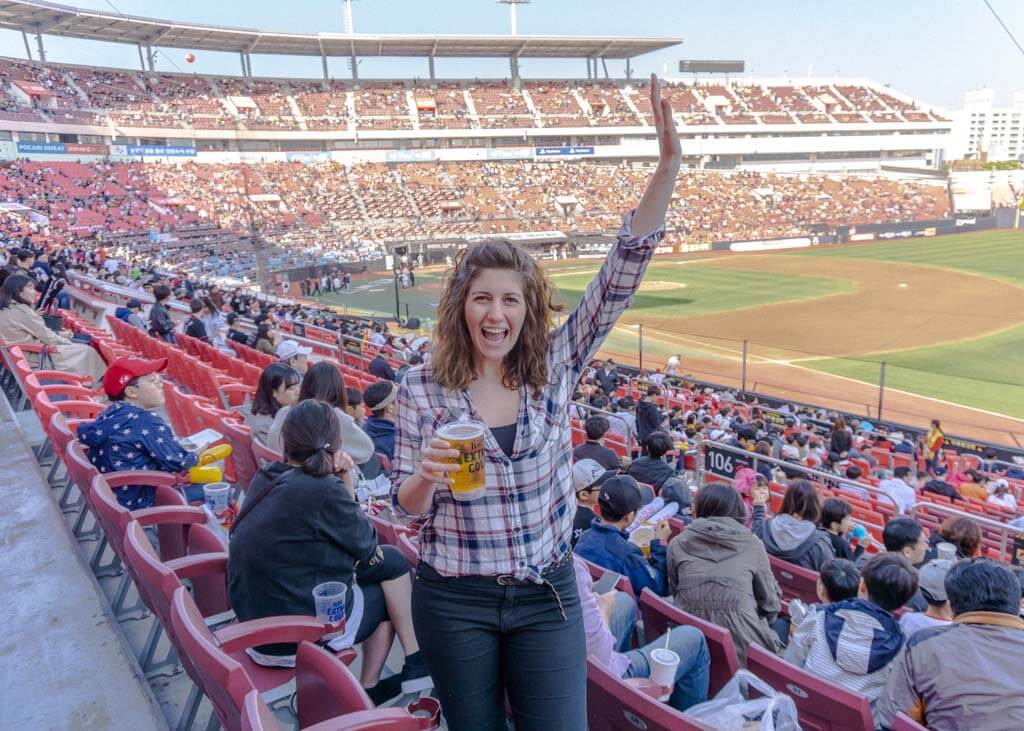 What to Pack for Moving to Korea
The Korea packing list above breaks down what you need to pack depending on the season you visit.
If you're packing to move to Korea (to teach English, study, or other work), you'll need to include all of the above items as well as the below.
Moving to Korea packing list
Clothing to pack
Baggy clothing, loosely fitted pants, and long skirts. They're all the hype in Korea. And that's great for us English teachers, especially when you're packing for summer in Korea.
Comfortable button-up tops: If you're teaching in Korea, make sure you have plenty of tops that cover your chest and shoulders.
Clothing (based on your size): Unfortunately, most of the clothing in Korea is made for petite bodies. This means that if you're tall, curvy, or medium-sized and bigger, you'll struggle to find clothes that fit. In that case, make sure your packing list for Korea includes enough clothing for every season. Yes, there are international stores in Korea like Zara and H&M, but the options and sizes are limited.
Shoes: I am a UK 7, and Gary is a men's UK 11, and neither of us could find shoes. If you have big feet, bring trainers, sneakers, sandals, and winter boots from back home. This is one of the things I wish I brought to Korea! (But remember, you won't wear shoes while teaching, so don't go overboard with the amount of footwear you pack for Korea).
toiletries and makeup
Makeup: While Korea is arguably the beauty capital of the world, you'll only find lighter shades of makeup. People of color and those with tanned skin will struggle to find a foundation that suits their skin tone.
Deodorant: The deodorant in Korea just doesn't match up to that back home. Bring as many cans as you can.
Toothpaste: You can buy toothpaste in Korea, but it's expensive and doesn't have a high percentage of fluoride in it. And for some reason, they only have strange flavors that don't leave your mouth feeling fresh and minty. So rather bring your own.
home items
A big towel. The standard towels in Korea are tiny. They're our version of hand towels! And while you can buy bigger towels, I couldn't find these big towel sheets that you can wrap yourself in.
Bed linen. One thing you'll soon realize when moving to Korea is that the beds are hard, and well-fitted sheets are not easy to come by. The quality also isn't great, and they can be super expensive. I recommend bringing a set with you. I also packed a duvet cover as I had extra space in my bags.
Pictures of home: Depending on where you live in Korea, it can be a lonely place for foreigners, so bring a few photos that you can put up in your apartment to remind you of home.
Spices. Mixed herbs and spices, paprika, oregano, and non-Korean spices might be a little more challenging to find. You may get your hands on these in boutique stores in the big cities, but if you're moving to the rural areas, pack in some spices.
READ MORE: INSIDE MY KOREA APARTMENT
Other Things to bring to Korea
Money: If you're part of the EPIK program, you'll be given an allocation (around $250) to help you settle into your new home. Unfortunately, if you're teaching at a Hagwon (like I did), you won't be so lucky.
You'll only be paid at the end of the month, so bring enough cash (I recommend $400) to cover your food and transport for your first month in Korea.
Travel insurance: If you're moving to Korea to teach English, your school legally has to provide you with health insurance (this is one of the main benefits). However, this may take a few days or weeks to be set up. You will still need some form of insurance that will cover you from the time you leave home until your health insurance in Korea is set up.
With World Nomads, you're able to specify the number of days you need to be covered for, and if there are any flight delays, lost luggage, or accidents, they will cover all of your expenses, including hospital bills. Their price is really competitive, and it's so worth it.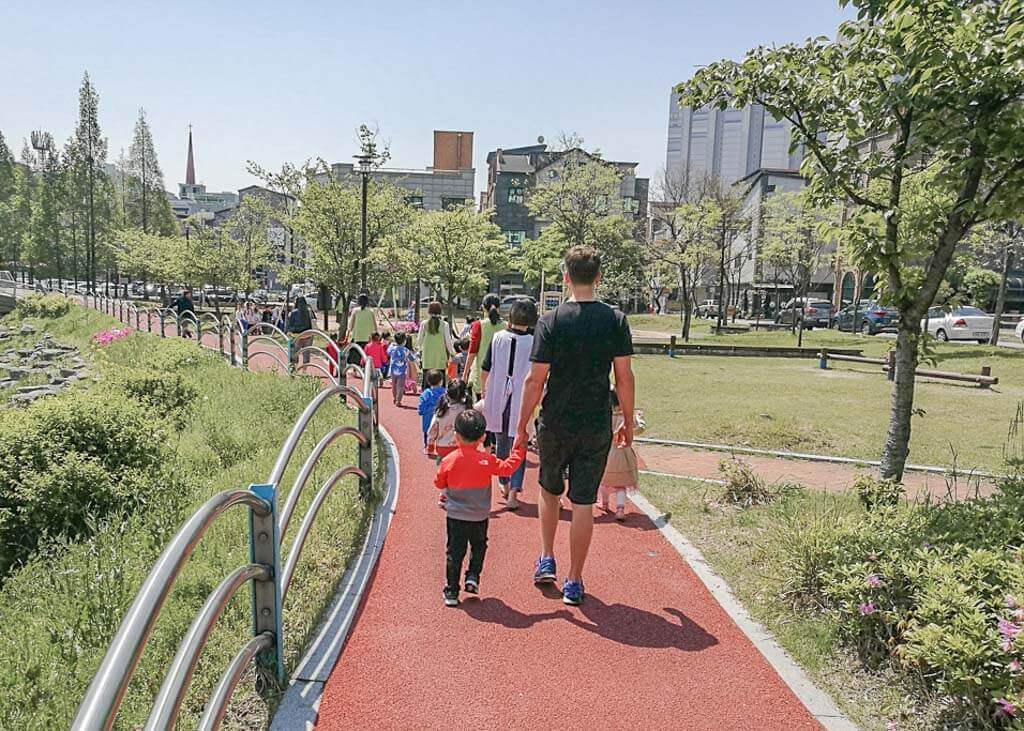 What Not to Bring if You're Moving to Korea
Don't bring a suit jacket or dressy clothes. Teachers dress pretty relaxed and casual. As long as you're covering your chest and shoulders, you'll be ok.
Don't bring extra shampoo and conditioner. While I've mentioned that you should pack in a few extra cans of deodorant and toothpaste, that's not necessary for shampoo or conditioner as you can find this in all stores.
Don't pack teaching material. Sorry, what? Yes, I've seen this on a few Korea packing lists. You can leave your teaching notes at home!
READ MORE: THINGS I WISH I KNEW ABOUT BACKPACKING KOREA
What to Buy in Korea
Here are a few things that you should rather buy in Korea if you can.
A warm jacket. I didn't realize that Korea would be so cold. And I didn't pack in a warm jacket either. Come winter, I was freezing! Luckily, there are so many stores that sell warm, thick jackets, and they're all reasonably priced. So, my advice would be to rather buy your jacket in Korea. This will save you space in your bag and also money!
Phone and computer. Ok, so I'm not telling you to leave your phone at home (Do not do that). But if you want an upgrade, rather buy one when you get to Korea. Namdaemun Market and Yongsan Electronics Market in Seoul are hubs for new and used phones. I purchased a second-hand Samsung that was only a few months old and paid under $300 for it.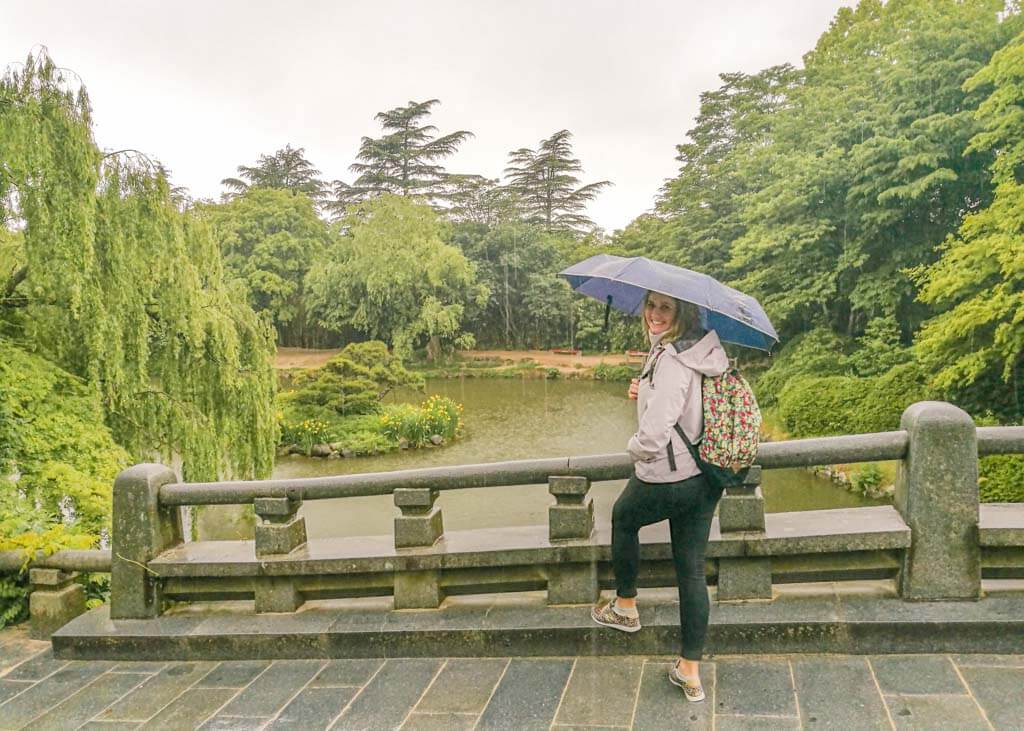 Final Thoughts on What to Pack for South Korea
From the fashion to the food, the bright lights, culture, history, and more, Korea is yours to explore.
Now that you're all packed and ready to go, all that's left is to get on a flight!
I'm so excited (and jealous) that you're heading to Korea, and I hope you have the best time indulging in Korean BBQs and exploring the country.
---
Are you planning your trip? Have any questions about your packing list for Korea? Drop me a message in the comment section below!
Looking for more Korea travel inspiration? Check out my other posts!
Did you find this post helpful? Save it for later on Pinterest!