The island of Lombok is one of the most underrated destinations in Indonesia.
While it lies in the shadow of its neighbor, Bali, I was completely blown away by the magnificent beaches, unspoiled beauty, and gorgeous landscapes that surround Kuta in Lombok.
Kuta lies south of the island and is the main hub for backpackers, honeymooners, and solo travelers.
It's an adventure destination that should be on your bucket list.
Here are the best things to do in Kuta, Lombok!
Torn Tackies contains affiliate links. If you make a purchase using one of these links, I may receive compensation at no extra cost to you. See my disclosure for more information.
Where is Kuta, Lombok
Lombok is an island east of Bali in the West Nusa Tenggara province of Indonesia.
It's said to be the "new" Bali, with trendy restaurants, luxurious villas, and a gorgeous coastline.
The best place to stay in Lombok is an area south of the island called Kuta.
And don't confuse Kuta in Lombok with Kuta in Bali, because they couldn't be more different.
How many days to spend in Kuta Lombok
This is a tough one!
I recommend no less than 3 days as there are so many amazing things to do in Kuta, Lombok.
If you have more time on your side, then try to stay for 5 days.
How to get to the Kuta Lombok attractions
There is no public transport in Lombok. Taxi operators like Grab and GoJek don't operate on the island.
The best way to explore Lombok is by bike, which can be rented for as little as 50 000 IDR ($3.5) per day.
Alternatively, you can get a private driver or book a tour (if your budget allows for it).
Click here for all Lombok tours.
9 Awesome things to do in Kuta, Lombok
Here are the best places to visit in Kuta, Lombok.
Explore the Best Beaches in Kuta Lombok
If you're looking for a beach vacation, Kuta in Lombok is your go-to destination.
The beaches here are on par with some of the best beaches in Uluwatu, Bali, so you won't be left disappointed.
Be prepared to pay 10 000 IDR ($1) to access the beaches though.
But it's a small price to pay to experience a pristine coastline with soft, light sand and palm trees.
Below is a list of the best beaches that should be included in your Kuta itinerary.
Tanjung Aan Beach: The most popular beach in Kuta, Lombok
Tanjung Aan Beach is a long beach with clear blue water and soft, golden sand.
It's arguably the most popular beach in Kuta, Lombok, so don't expect to enjoy the beach alone!
Here you can rent daybeds and sip on cocktails whilst working on your tan. This beach is also popular for its beach swings that you'll recognize from Instagram.
Alongside Tanjung Aan Beach is Merese Hill, a sunset spot with incredible views.
There has recently been a lot of development near Tanjung Aan Beach, with resorts said to be taking over the area in the next few years.
Hopefully, this beach will still maintain its unique and natural charm, but only time will tell.
How to get to Tanjung Aan Beach
Tanjung Aan Beach is east of Kuta, Lombok. It's a 20-minute scooter ride, and the roads are in good condition.
Selong Belanak Beach: The best beach to learn to surf in Kuta, lombok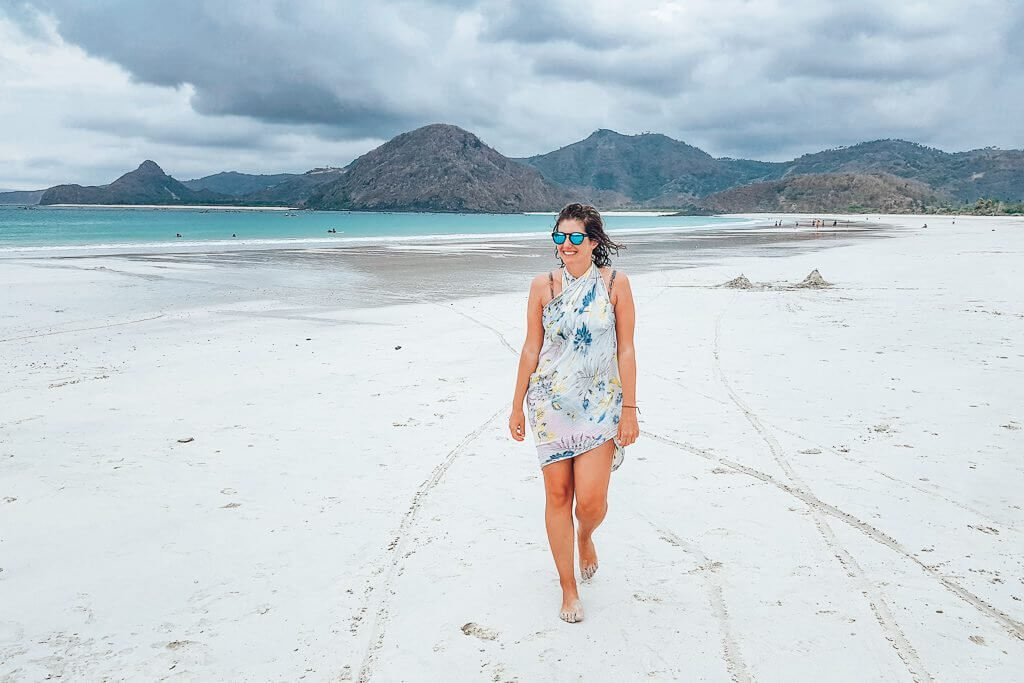 If there's one beach you must include in your Kuta, Lombok itinerary, it's Selong Belanak Beach!
Pantai Selong Belanak is one of the best beaches in Lombok.
Why?
Well, it's a large bay with clear, soft sand and a perfect beach break for beginners learning how to surf.
The beach is lined with surf shacks where you can rent boards or take a surf lesson.
There are also sunbeds to laze on, and several warungs where you can buy fresh coconuts, beer, or food.
Although Selong Belanak attracts more people compared to Mawi or Mawun Beach in Lombok, the bay is big enough that it never feels overcrowded or chaotic.
How to get to Selong Belanak Beach
Pantai Selong Belanak is 30 minutes west of Kuta, Lombok. The road is in great condition, and the beach is easy to access.
Mawun Beach: The beach with the bluest waters
Mawun Beach is incredible. Spending a few hours here is, without a doubt, one of the best things to do in Kuta, Lombok.
Never have I ever seen a beach with water as blue as this.
Mawun Beach, or Pantai Mawun, is a good balance between Tanjung Aan Beach (above) and Mawi Beach (below).
You can rent sunbeds and umbrellas at Mawun Beach, and it's a great lunch spot for the day.
Surfers should look elsewhere as Mawun Beach isn't the best surf spot near Kuta.
Whilst the turquoise water here is the biggest drawcard, Mawun Beach is also the most polluted beach in Kuta, Lombok.
This is a sad reality of Indonesia, and most beaches are ruined by litter that's washed up onto the shores as there's no proper waste management system in place.
How to get to Mawun Beach
Mawan Beach is a 20-minute drive west of Kuta, Lombok. The road is well-marked, and you can follow directions on Google Maps.
After visiting Mawun Beach, I recommend you go check out the beaches below, which are all in the same direction.
Mawi Beach: Remote beach near Kuta, Lombok
Mawi Beach is a gorgeous beach hidden in a small bay about 40 minutes from Kuta, Lombok.
Because of its remoteness, Mawi Beach is quiet and isolated, with very few other tourists.
The road to get here is also pretty rough and deters many travelers from visiting.
If you're up for exploring, take a walk to Semeti Beach, which is in the bay next to Mawi Beach.
Pantai Mawi is also one of the most popular surf spots near Kuta, Lombok, as it picks up quite a bit of swell.
This wave is only recommended for advanced surfers, and you can rent surfboards from Warung Mawi (but their range of boards is limited).
Because of its remoteness, comforts such as day beds and umbrellas are not available at Mawi Beach. There is a small warung that sells snacks and fresh coconuts, but that's about it.
Check the tides before making the mission out here. On a low tide, the reef is exposed, and it's not great for swimming.
How to get to Mawi Beach
Mawi Beach is about a 40-minute drive west of Kuta, but it's not the easiest beach to get to.
The first 25 minutes of the ride take you along beautifully tarred roads, but then you take a left turn, and the real adventure begins!
This next section is terrible, and you'll spend at least 20 minutes on the worst roads in Lombok.
If you have limited time, I suggest you leave Mawi Beach off your Kuta, Lombok itinerary.
But the effort is well worth it if time is on your side and you're comfortable driving a scooter to get there.
Areguling Beach
Areguling Beach is the quieter neighbor of Mawun Beach near Kuta, Lombok.
I found this beach by mistake, and it seems to be a surfer's hot spot with a few surf shacks and warungs on the beach.
It's not as popular as other beaches in Kuta, Lombok, and the water isn't as blue as Mawun Beach.
But if you're looking for a bit of an adventure, head here for a bite to eat and to explore the villages before moving on to the other beaches in Lombok.
How to get to Areguling Beach
It's best to pair a visit to Areguling Beach with Mawun Beach, Selong Belanak, and Mawi Beach, as they are all west of Kuta, Lombok.
After turning off the main road, you're met with a gravel road (which isn't nearly as bad as the road leading to Mawi Beach).
We found ourselves driving through a village where a local soccer game was taking place, and the locals here were so friendly.
Kuta Beach, Lombok: The Main Beach in Kuta
Kuta Beach is a short walk from the main road in Kuta, Lombok.
It's the busiest of all the beaches, so if your time is limited, rather check out the other beaches that I've mentioned above.
Watch the sunset from Seger Beach
One of the best things to do in Kuta, Lombok, is to end your day with a cold Bintang in hand whilst watching the sunset.
And the Seger Beach viewpoint is the place to do this!
Seger Beach is a small beach about 15 minutes east of Kuta, Lombok.
Check the tides before you go, as you won't be able to swim when it's low tide. But it's one of the best sunset spots near Kuta, Lombok.
READ MORE: 26 THINGS I WISH I KNEW ABOUT BACKPACKING INDONESIA
Go Surfing in Kuta Lombok
Surfing is one of the best things to do in Kuta, Lombok as the waves are suited for all levels.
Selong Belanak is a great beach to learn how to surf, but if you're looking for something more advanced, you might want to check out Gerupuk or Desert Point.
Intermediate or advanced surfing in Lombok: Gerupuk
Gerupuk is a small fishing community 40 minutes east of Kuta.
This area doesn't have the best beaches in Lombok. Instead, Gerupuk has some fun waves and is one of the best surf spots in Lombok.
The waves here are suited for intermediate and advanced surfers, and the surf spots include Don-Don, Inside Gerupuk, Outside Gerupuk, and Kids Point.
These offer a great variety of left and right breaks.
How to get to Gerupuk surf spots in Kuta, Lombok
Unlike surfing at Selong Belanak Beach, access to the surf spots near Gerupuk is more challenging (and expensive) as you need a boat to take you there.
You'll find numerous fishermen who provide these boat services for around 150 000 IDR ($10).
Try to join up with a group so that you can split the costs.
Advanced surfing in Lombok: Desert Point
Although Desert Point isn't a surf spot in Kuta, Lombok, it's worth traveling here if you're serious about surfing.
This wave provides one of the longest left-hander barrels in Indonesia. It's a tricky wave to get to with a shallow reef, so not recommended for beginners.
How to get to Desert Point
Desert Point is about 2 hours drive west of Kuta, Lombok.
If you're planning to surf here, it's best to spend a night or two before returning to Kuta.
Induldge in delicious food in Kuta, Lombok
I was so impressed by the variety of food options in Kuta. From cheap eats to trendy cafes and even luxury dining experiences, there are plenty of restaurants to feast at.
El Bazar for a delicious Mediterranean meal
Boom Burger for cheap eats
Kenza Café for healthy smoothie bowls
Bush Radio for good coffee and chill vibes
Cantina Mexican for the best tacos in Kuta, Lombok
Herry Warung for local goodness
Visit the best waterfalls in Lombok: Benang Stokel and Benang Kelambu Waterfalls
I've spent over 12 months in Indonesia and seen my fair share of stunning natural landmarks in the country.
But this waterfall in central Lombok is without a doubt the best I've ever seen!
Benang Stokel is actually home to 5 waterfalls, all located in the same park with easy access from the entrance.
Not keen on driving a scooter? Check out this private tour of Benang Kelambu Waterfall.
Benang Stokel Waterfall
The first waterfall is a 15-minute walk from the entrance. It's an easy trek and is possible to do with flip-flops or sandals, although trainers are better.
Here, you'll come across several falls.
The first is a jumping waterfall where you can have a go at jumping 11 m into a gorgeous canyon surrounded by hanging vines.
Before you jump here, be sure to check the water depth as it changes over time.
A stone's throw away from the jumping spot, you'll find the Benang Stokel falls, which is made up of two beautiful waterfalls.
Benang Kelambu Waterfall
Next, you'll head back to the entrance, hop on your scooter, and drive 5 minutes to Benang Kelambu.
This has to be the best waterfall in Lombok.
The water flows from high up over lush greenery into a small rock pool below.
We skipped the last 2 waterfalls in the Benang Stokel waterfall park as our guide said that they weren't as impressive and were quite a trek away.
Benang Stokel Entrance Fee
There's a sign at the entrance that says the entrance fee to Benang Stokel is 35 000 IDR ($2.5) per person. But we were charged 90 000 IDR ($6) per person with a guide.
It is possible to visit the Benang Stokel and Benang Kelambu waterfalls without a guide, but the locals are quite adamant that a guide is needed.
We were committed to helping the local people after the earthquakes (more about that later), and paying that entrance with a guide meant so much to them.
For this reason, we didn't hesitate to pay. And plus, we had our own personal photographer, so I think it was money well spent!
How to get to Benang Stokel waterfall from Kuta, Lombok
Getting to Benang Stokel from Kuta is fairly easy.
It's a 1.5-hour scenic ride from Kuta through rice fields and villages, and the roads are in great condition with little traffic.
If you don't feel comfortable driving a scooter, this is a great tour that includes transport.
Enjoy happy hour and a view from Ryans Cafe or Ashtari
On your way back from the beaches west of Kuta, stop off at Ryans Cafe for a drink and dinner as you watch the sunset.
The atmosphere is super relaxed, and the view is incredible.
Nearby is Ashtari. It's the trendier, more luxurious neighbor with the same views and great happy hour specials.
Ashtari also offers daily yoga and cooking classes.
Keep an eye out for happy hour specials in Kuta, Lombok, as most restaurants and cafes have these from 4 pm to 7 pm daily.
READ MORE: THE ULTIMATE INDONESIA PACKING LIST
Other things to do in Lombok
If your time allows for it, here are some other things to do near Kuta, Lombok.
Climb Mount Rinjani
Mount Rinjani is a 3 726 m high volcano north of Lombok. It's one of the biggest attractions on the island.
Hiking Mount Rinjani is a 2-day trek that requires you to camp on the volcano and is considered one of the best things to do in Lombok.
But more recently, Mount Rinjani has been making headlines for all the wrong reasons!
It erupted in 2016, damaging the trails and causing devastation to the local community. Tourism took a hit, and the area was closed for a significant amount of time.
The track has since been repaired and is now open to tourists.
You'll need to book a guide for the hike who will organize your food, water, tents, and other supplies. The costs range from 1.8 million IDR to 3.5 million IDR depending on the size of your group (120-230 USD).
The trek to the summit of Mount Rinjani is closed every year from January to March as this is peak monsoon season so it becomes too dangerous to hike.
Check availability for Mount Rinjani tours here.
Explore the Gili Islands
The Gili Islands are a trio of tiny islands off the northwest coast of Lombok.
While they're a bit further from the other attractions in Kuta, Lombok, they can easily be added to your itinerary on a day trip like this.
Famous for underwater status and Instagrammable swings, each island offers a unique experience, from romantic honeymoon escapes to wild backpacker parties.
READ MORE: THE ULTIMATE FLORES, INDONESIA, ITINERARY
Accommodation in Kuta, Lombok
Here are a few options of places to stay to suit any budget!
Budget: Cewin Homestay is just the place to stay if you're traveling on a tight budget. You'll receive a warm Indonesian welcome from the hosts who are extremely kind and caring.
Backpackers: Botchan Hostel is one of the most popular hostels in Kuta, Lombok. It has a nice-sized pool with a vibey and social atmosphere. Check availability here.
Mid-Range: Rascals Hotel is a trendy hotel in the heart of Kuta, Lombok. You could spend all day here relaxing in the lounges alongside the pool. It's within walking distance to the main street where you'll find an array of restaurants and shops.
Luxury: Segara Lombok may not be in Kuta itself, but it's right on the beach which is even better if you're looking for an ocean escape. With its outdoor showers, minimalist design and seafront views, Segara Lombok is the perfect place to stay on the island.
How to get to Kuta, Lombok from Bali
Most international travelers will land in Bali.
From here, you can either fly or take a ferry to Lombok.
Flight from Bali to Lombok
A flight from Bali to Lombok's Praya Airport costs around $35 for the 30-minute flight.
Once you've landed at Lombok airport, you can find a taxi that will take you to Kuta. This 20-minute taxi ride shouldn't cost more than 150 000 IDR ($10).
Ferry from Bali to Lombok
You can also take a public ferry or a fast boat to Lembar Harbour in Lombok.
The public ferry leaves from Padang Bai port in Bali and takes 4-5 hours. This is the most affordable option at $4.
Alternatively, there are fast boats available from both Padang Bai and Benoa Harbour in Bali to Lembar Harbour in Lombok.
Whilst this is a lot quicker (2 hours) than the ferry, it is pricey. Expect to pay around $50 for a fast boat from Bali to Lombok.
Once you arrive at Lembar Harbour in Lombok, you'll find many taxi drivers who'll take you to Kuta. You shouldn't pay more than 250 000 IDR ($17) for the 1-hour drive, but you'll have to negotiate this price.
Travel budget for Lombok
Lombok, like all of Indonesia travel, is a great destination for budget travelers as your money goes a long way.
You can also live a life of luxury if you have the budget for it.
Below are the basic costs you can expect when in Kuta, Lombok.
Flight from Bali to Kuta, Lombok: 500 000 IDR ($35)
Scooter rentals: 50 000 IDR ($3.5) per day, 10 000 IDR ($1) for fuel
Accommodation in Lombok: 300 000 IDR ($20) for a comfortable, double room
Surfboard rental: 50 000 IDR ($3.5)
Surf lessons: 200 000 IDR ($15) for 2 hours
Lunch on the beach: 30 000 IDR ($2)
Happy hour cocktails: 40 000 IDR ($2.5)
Beach entrance & scooter parking fee: 10 000 IDR ($1)
Day beds with umbrella: 50 000 IDR ($3.5)
READ MORE: GUIDE TO RENTING A SCOOTER IN BALI
Is Lombok safe
A series of earthquakes in 2017 and 2018 left the north of Lombok in total destruction.
Many people lost their lives, their homes, and their income as a result.
Indonesia is situated along the infamous "Ring of Fire," and so earthquakes are bound to happen. But we don't know when and we don't know where.
I traveled to Lombok after these earthquakes and could feel the desperation of the locals who were struggling due to the lack of tourism to the island.
The famous Mount Rinjani hike was shut down (it has since reopened), and people were desperate to find work.
The area of Kuta lies south of Lombok Island and was not hit hard by the earthquake. All restaurants, shops, and warungs are fully operational, and the infrastructure has not been compromised.
So yes, Kuta Lombok is safe to visit.
What I didn't like about Kuta, Lombok
I'm not sure if it's a result of the lack of tourism and money coming to the island, but I found the locals to be a lot more relentless in their selling tactics in Lombok.
Toats haggle you on the beach and in the streets.
Children stop you left, right, and center trying to sell you jewelry, sarongs, and crafts, and they won't take no for an answer.
One of the biggest selling tactics used by the children is to play the capital city game. It's worse than Bali or any other island I've been to in Indonesia.
It's important to remember that the locals and people who operate businesses on the island are in desperate need of tourism to rebuild their homes and their lives.
But it can get a bit too much, so if you're not going to buy anything, politely tell them "no thanks" and walk away (but they'll probably follow you anyway!)
READ MORE: INCREDIBLE BALI HIDDEN GEMS
Final thoughts on what to do in Kuta, Lombok
Kuta is definitely the best area to visit in Lombok.
I enjoyed adventuring to the beaches and waterfalls and exploring the countryside.
It's not as developed as Bali, yet not as rustic and rural as Flores Island, and there are so many things to do that will keep you entertained for days on end.
---
Look for more Indonesia travel information? Check out my other posts!
---
Pin This