Laguna De Los Tres. If only I had known what was in store for me when starting this challenging hike in El Chalten, Argentina.
But was it worth it? Of course!
With Mount Fitz Roy as the backdrop, Laguna De Los Tres, otherwise known as the Fitz Roy hike, is an iconic trail in the hiking mecca of Patagonia.
But it's a strenuous hike – one that I completely underestimated!
Here's everything you need to know about hiking to Laguna De Los Tres.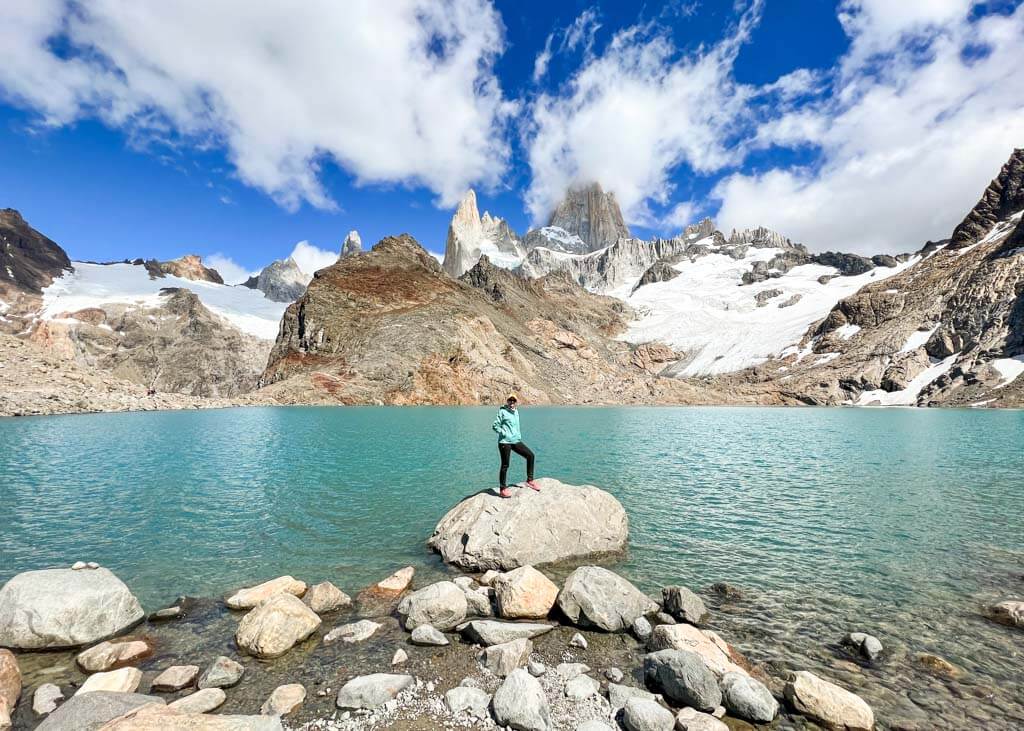 Laguna De Los Tres Hike Summary
Distance: 22km
Time needed: 5 hours up, 4 hours down
Difficulty: Strenuous
Route type: Out and back
Elevation gain: 800m
Overview
When I first arrived in El Chalten, I was overwhelmed by the number of hiking trails available.
Here's the low down!
There are two main hiking trails that you should do: Laguna De Los Tres (Fitz Roy hike) and Laguna Torre.
And while they both offer incredible views from the lagunas, the trails leading to them couldn't be more different.
Laguna De Los Tres: 22 km with a grueling 90-minute hike to the summit, which offers the best views of Mount Fitz Roy.
Laguna Torre: 20 km hiking trail that's easy compared to Laguna De Los Tres but with equally impressive views (but of Cerro Torre, not Fitz Roy).
This comprehensive guide is the only one you need if you're considering doing the Laguna De Los Tres hike in El Chalten.
Laguna De Los Tres hike difficulty
It is not easy. But worth it!
The main Laguna De Los Tres trailhead starts and ends in El Chalten.
It's 11 km from the trailhead to Laguna De Los Tres, which is an out-and-back track, meaning you'll walk the same path up as you would back down again.
The first 3 km is uphill – but you'll feel strong and excited for what's to come. That was my experience, at least (but later that day was a completely different story).
After that, the trail becomes flat… until you're 8 km in. It's all uphill from there, and the last 2 km are a slow slog to the top.
Still wanting to take on the Fitz Roy hike? Here's a step-by-step guide!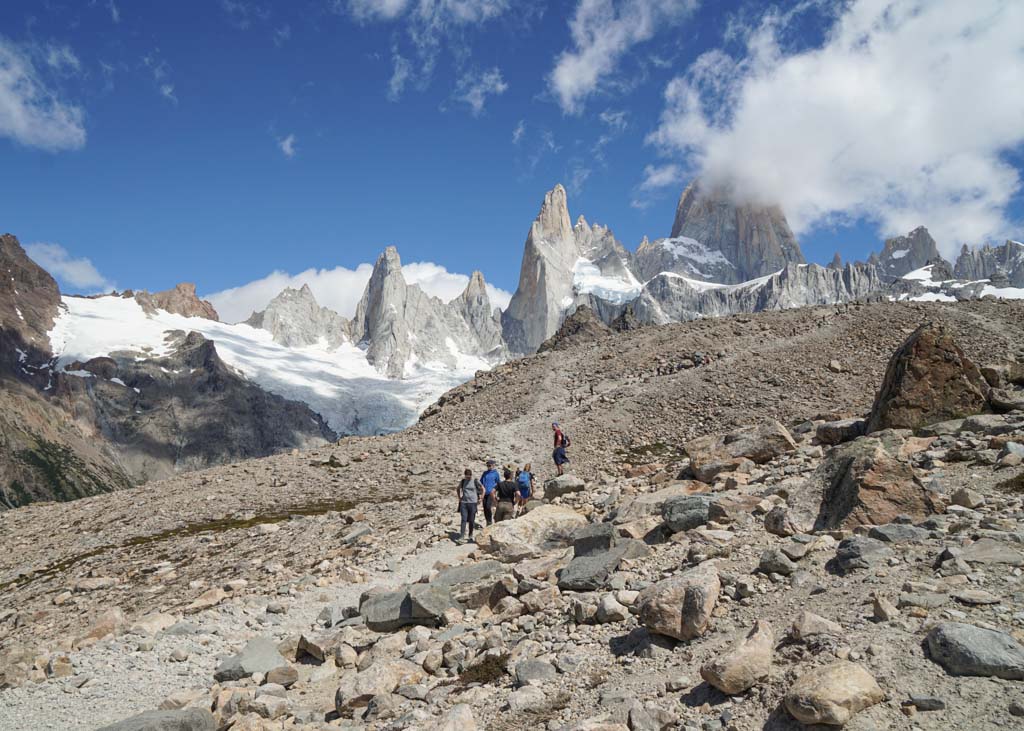 Laguna De Los Hike Trailhead: Which is better?
There are two starting points for the Laguna De Los Tres hike.
The original and most popular route is from El Chalten.
The trailhead is on the far end of the town. Just follow San Martin Avenue until you reach a big parking area, and you'll see the sign to the Laguna De Los Tres trailhead – you can't miss it.
The alternative starting point is at Rio Blanco, 15 km from El Chalten. To get there, you'll need to drive or book a taxi. Don't try to walk it!
The alternative trailhead to Laguna De Los Tres (Rio Blanco) is popular because it cuts out the first 3 km hike from town – which is mostly uphill.
Many people hike from Rio Blanco and then come back down via the regular route to town.
This guide follows the trail from El Chalten to Fitz Roy and back again. It's the route I took and that I recommend – if you don't want the admin of organizing taxis at 5am!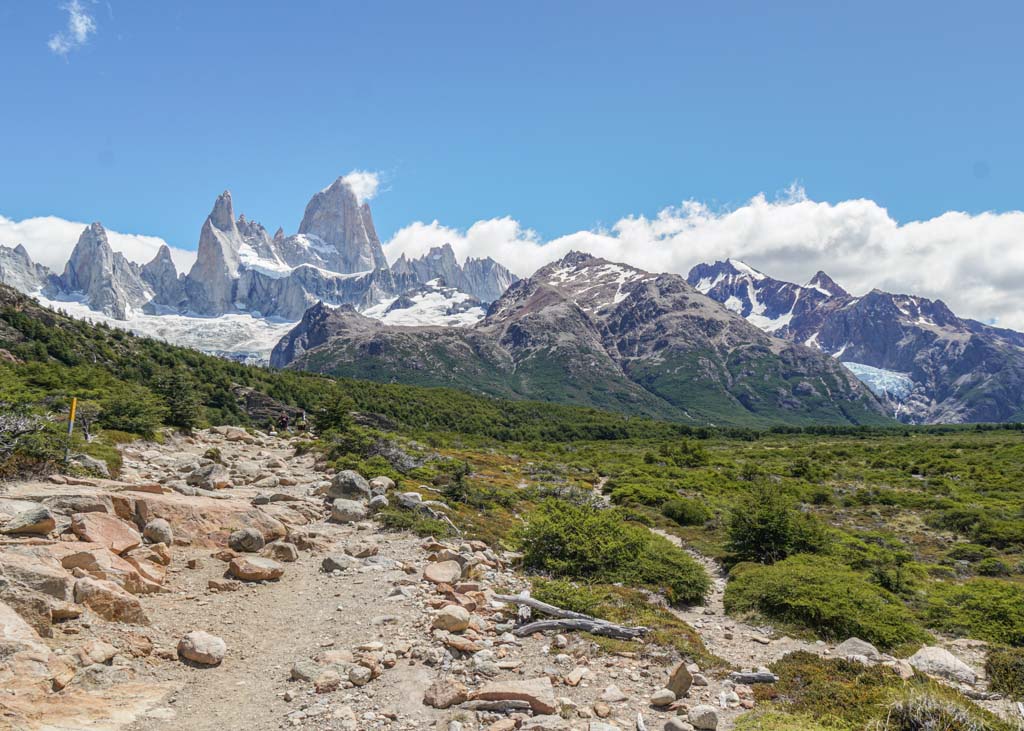 The start of the Fitz Roy Hiking trail
The Laguna De Los Tres hike starts with a bang!
It's pretty much all uphill for the first 3 km. You'll gain 400m of elevation during this section (and another 400m during the last 2km before reaching Laguna De Los Tres).
You'll pass beautiful viewpoints along the way, and the trail is well-marked throughout.
About 90 minutes into your hike, you'll reach a fork in the road. You can either take the left route to Laguna Capri (Campamento Capri) or the right path to Mirador Fitz Roy.
Both lead to the same point.
I recommend taking the right path to the mirador (viewpoint) on your way up, and when you come back down, you can take the route via Laguna Capri.
Shortly after taking the trail to the right, you'll pass a stunning viewpoint of Mount Fitz Roy.
Enjoy the next 3 km as they are flat and scenic!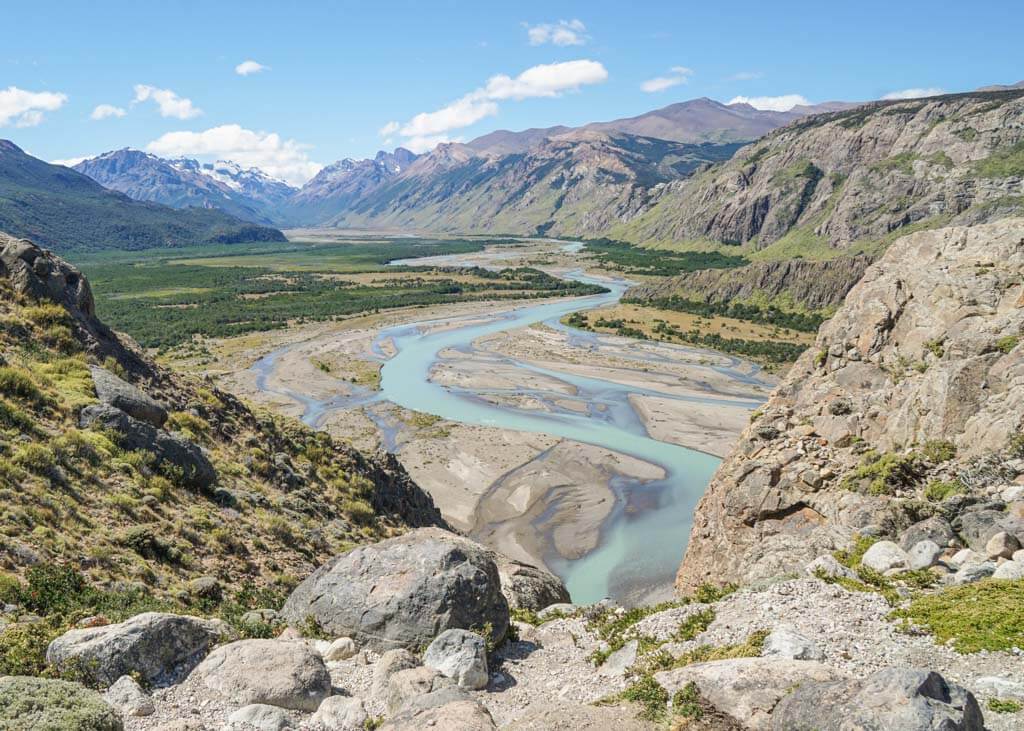 The Uphill Climb
About 3 hours into your hike, you'll reach Campamento Poincenot. This is where the alternative route (Rio Blanco) meets with the original one.
After walking through the picturesque campsite, you'll cross a river. Keep walking straight, and soon you'll notice a gradual incline through the forest.
This will ease you into the next part!
The trail soon becomes very rocky and uneven with little shade.
It's steep – very steep! But keep your head down and take as many breaks as you need.
As you get closer to the top, there is a "false summit." This means that the end is in sight, only for you to arrive and realize that you have one more section to climb. But don't worry, it's not nearly as harsh and long as the one you would have just conquered.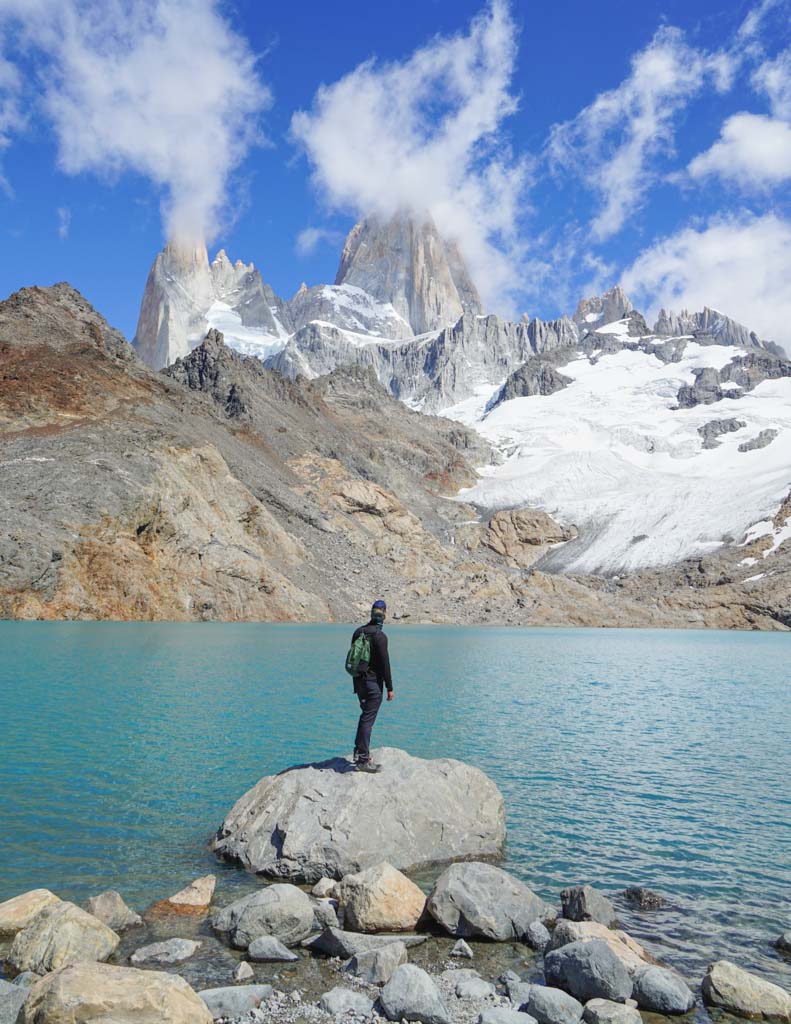 Arriving at Laguna De Los Tres
5 hours after starting your Fitz Roy hike, you will reach Laguna De Los Tres. Most travel guides say it takes around 4 hours – and I thought I would do it quicker as I'm relatively fit – but it took me 5 hours!
The view is magnificent, and you'll have an "aaaah" moment after getting the first glimpse of Mount Fitz Roy up close.
Take some time out and have a well-deserved break and a bite to eat.
Even if you don't have the energy, I highly recommend walking down to the base of the lake.
If you follow the track that hugs the laguna on the left, you'll reach another epic viewpoint of Laguna Sucia.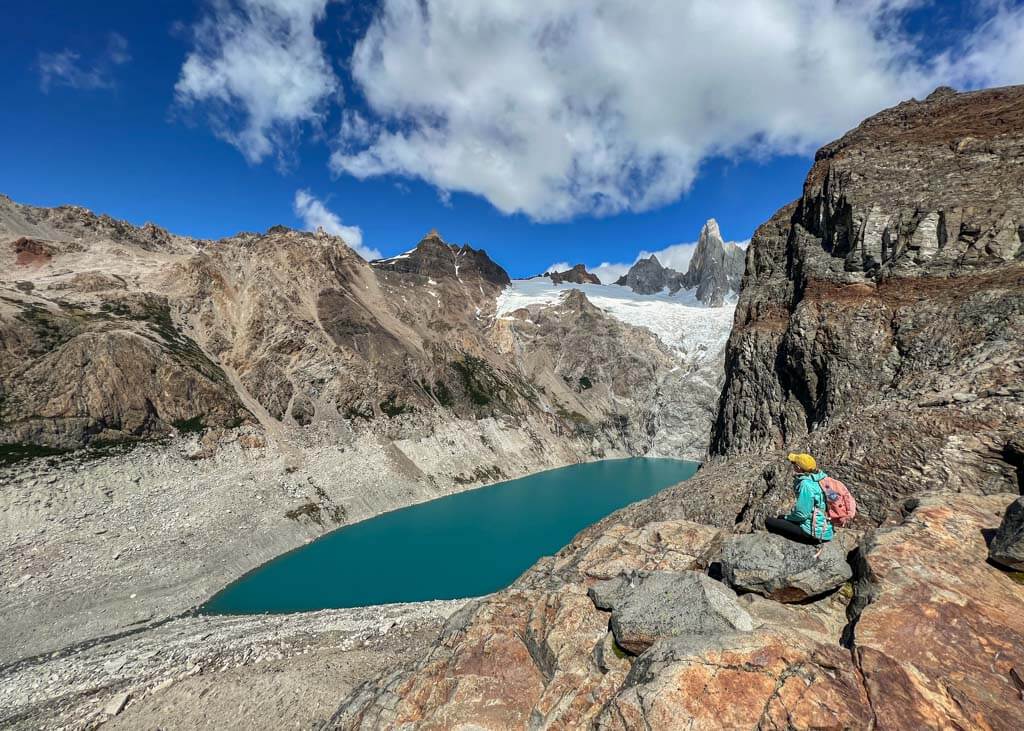 The way back down
Give yourself at least 4 hours to get from Laguna De Los Tres to El Chalten.
Hiking down is tough on the knees, and the last 3 km will feel like they go on forever.
My legs, knees, and feet were absolutely exhausted (and aching) by the time I returned to the starting point. So I headed straight to the closest bar and got an ice cold coke and beer!
Best time to do the Laguna De Los Tres Hike
It's best to get an early start before the crowds roll in.
I started my Laguna De Los Tres hike at 5am and was surprised to see no one else on the trail for at least 2.5 hours!
As I made my way past Poincenot campsite, I noticed other hikers descending from Laguna De Los Tres.
Even then, the trail wasn't busy, and I enjoyed the views of Fitz Roy with very few other tourists. This was at 10am.
On my way down, which was at about 12pm, the trail was extremely crowded and congested.
In my opinion, the reason to hike Fitz Roy earlier in the morning is not to experience Laguna De Los Tres with no other tourists (or get that perfect insta photo of Mount Fitz Roy).
Instead, it's to enjoy the uphill trail without crowds and without being rushed or constantly having to step aside for other tourists.
Because it gets busy and the last section is a narrow path!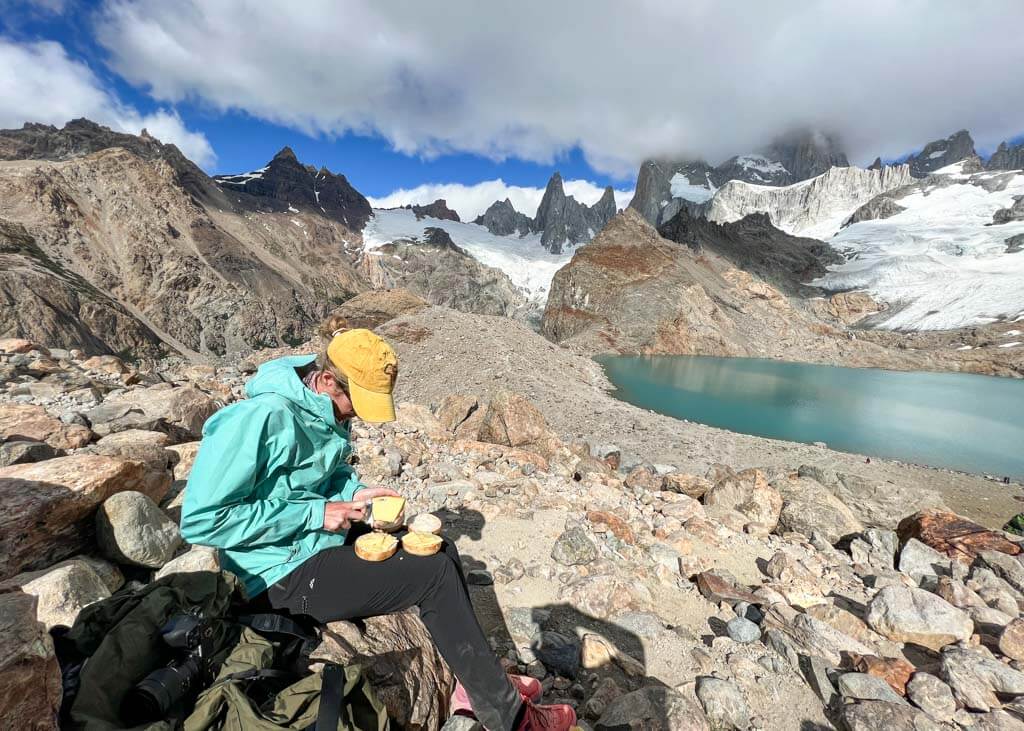 How much does it cost to hike Laguna De Los Tres?
The Laguna De Los Tres hike is completely free and there is no park entrance fee.
What to pack from the Fitz Roy hike
2 Liters of water which you'll need for the hike up. Once you've reached Laguna De Los Tres, you can refill your bottles with glacier water.
Food: I bought rolls, ham, and cheese from the supermarket and made a sandwich at the top.
Snacks: The trail is long, so bring some fruit and chocolate to keep you going.
A packet for your trash.
Warm top.
Hiking poles are useful, but not necessary.
Flashlight if you're starting the hike before sunrise.
Is the Laguna De Los Tres hike worth it?
Yes, if there's one hike you should do in El Chalten, it's this one.
It's a challenging hike, but the views of the stunning turquoise waters of Laguna De Los Tres and the jagged peak of Mount Fitz Roy are breathtaking.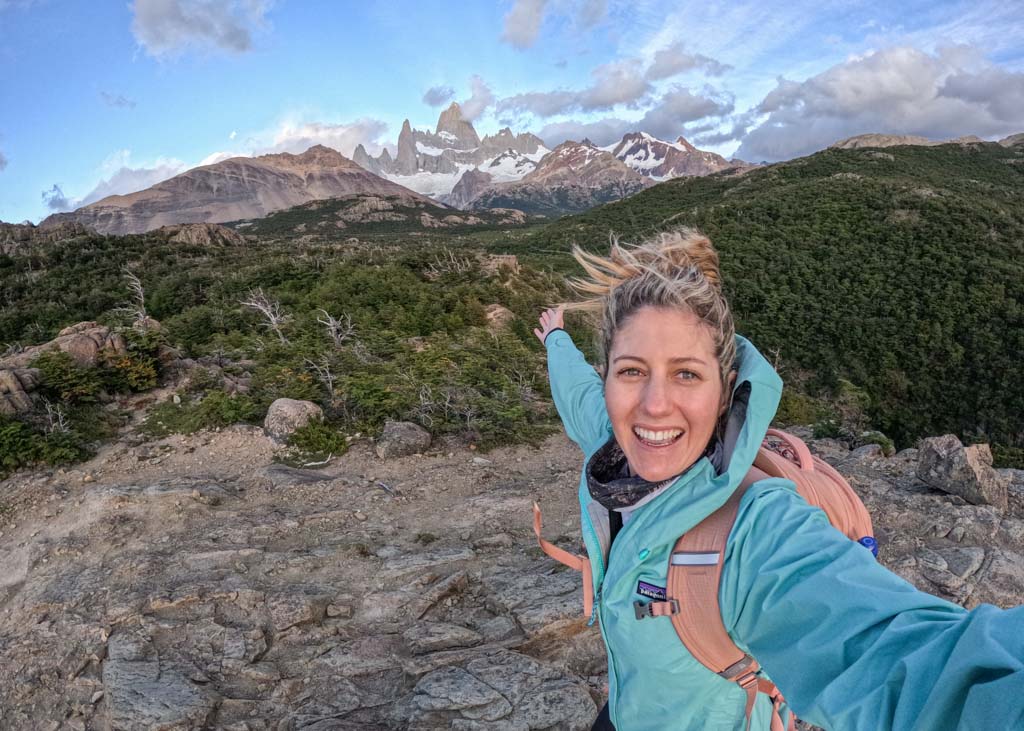 Camping Laguna De Los Tres
One regret I have is not camping in El Chalten.
You can choose between two campsites – Campamento Capri or Campamento Poincenot.
Both offer scenic sites, allowing you to get closer to Laguna De Los Tres without walking 22 km in one day! You can then combine your hike with a few other trails in the area.
These campsites are free and don't need to be booked in advance, but they offer very basic amenities.
Conclusion
Mount Fitz Roy dominates the Chalten skyline, and hiking to Laguna De Los Tres is the closest you're going to get to the spectacular peak.
It's a popular trail for a reason, as it's a gorgeous sight that should be on your El Chalten bucket list.
If you're body needs some time to recover after the hike, be sure to visit Glacier Huemul which is a short drive from El Chalten.
---
Are you looking to hike to Laguna De Los Tres and Mount Fitz Roy? Do you have any questions about your trip? Drop me a message in the comments section below.