The Laguna Torre hike is right up there as one of the best hikes in El Chalten.
Sitting at the base of the Cerro Torre Mountain Range, the trail to Laguna Torre boasts impressive scenery. It's an easy-ish trail and a great alternative to the more challenging Laguna De Los Tres hike.
But be warned, it's a popular hike. If you want to enjoy the landscapes and views of Cerro Torre without the crowds, you'll have to start early.
Here's everything you need to know about hiking Laguna Torre in Los Glaciares National Park.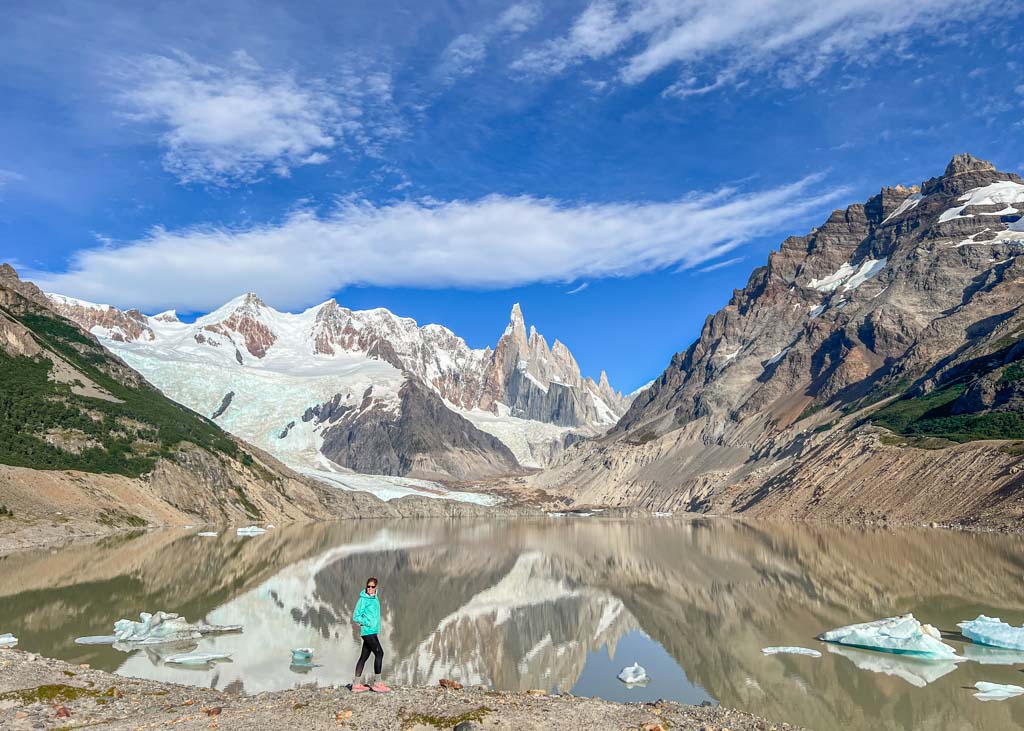 Torn Tackies contains affiliate links. If you make a purchase using one of these links, I may receive compensation at no extra cost to you. See my disclosure for more information.
Laguna Torre hike Summary
Distance: 18km (+ 2km for the extra trail to Mirador Maestri)
Time needed: 3 hours up, 2.5 hours down
Difficulty: Moderate
Route type: Out and back
Laguna Torre Elevation gain: 490m
How long is the laguna torre hike
Laguna Torre is an 18 km day hike that starts in El Chalten.
It's also known as the Cerro Torre hike but technically this isn't accurate.
Cerro Torre is the towering mountain that sits behind Lagoon Torre. It's considered to be one of the most challenging rock climbing peaks in the world!
During the Laguna Torre hike, you'll walk to the lagoon that sits at the base of Cerro Torre.
There's no rock climbing involved and it's an easy out-and-back track that takes 6 hours to complete.
Laguna Torre hike difficulty
Laguna Torre is a walk in the park compared to Laguna De Los Tres!
The first 2 km are uphill, but the rest of the trail is relatively flat with no steep inclines.
It's an ideal trail if you don't want something too hectic! It's well-marked and an easy route to follow without a guide.
The views of Cerro Torre from Laguna Torre are spectacular, and icebergs are scattered all over the laguna.
Personally, I found the hardest part of the hike to be the section leading to Mirador Maestri.
Laguna Torre trailhead
The Laguna Torre hike starts from the end of Los Charitos Street (here) in El Chalten.
I started my hike at the alternative starting point, also listed on Google maps – here. The alternative trailhead joins with the main path after about 20 minutes, so you can choose to start at either one.
If you choose the latter, as I did, you need to walk to the end of the street and through the parking area to get to the Laguna Torre trailhead. You might think you're lost! But after going all the way to the end of the road, you'll see a small sign written: "Laguna Torre."
I enjoyed this route at the start and returned via the standard trail.
The Start of the Laguna Torre Hike
The Laguna Torre hike starts with a gradual incline – but don't worry, it's only for 2 km.
You'll pass numerous viewpoints, so be sure to look back and admire the gorgeous landscapes.
We saw a few families hiking this beginning section and their kids really struggled with it. There are a few large rocks to climb over but if they make it past the first 2km, they'll be good to go.
The easy part
The following 7 km to Laguna Torre are spectacular.
You'll walk through open plains, alongside rivers, and through forests before arriving at the iconic laguna.
Arriving at Laguna Torre
There's no steep summit climb and no challenging ascent to reach Laguna Torre.
And when you arrive, you'll set your sights on one of the most iconic locations – Laguna Torre, with Cerro Torre as the backdrop.
It's absolutely breathtaking, and I found it more impressive than Laguna De Los Tres!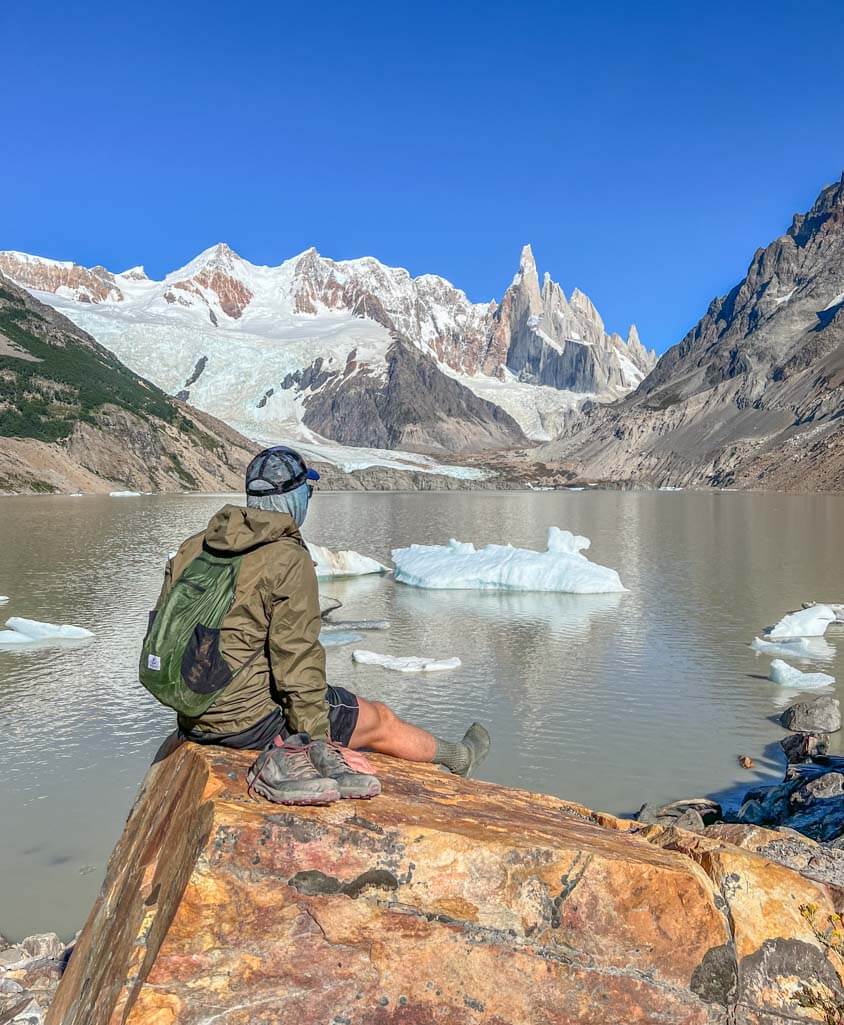 Hiking to Mirador Maestri
Most people arrive at Laguna Torre and spend some time at the lake before heading back down.
But, if you have the energy, I encourage you to hike to Mirador Maestri, a viewpoint on the far right of Laguna Torre.
The return trail to Mirador Maestri will add 2 km to your Laguna Torre hike, but it's where you'll have the best views of Glacier Torre.
Getting to Mirador Maestri was more challenging than I expected. There are a few inclines, and the path is rocky and uneven. Allow an extra 1.5 hours for the additional trail.
Returning to Laguna Torre
You'll return from Mirador Maestri via the same trail.
As you get closer to the main Laguna Torre viewpoints, you'll notice a zig-zag path to the left that leads to a forest. This trail winds down toward a campsite. From here it connects back with the original track you had taken to reach Laguna Torre.
I recommend that you follow this trail back to El Chalten.
Best time to do the Laguna Torre trek
The trail leading to Laguna Torre is busy, so I recommend leaving El Chalten just before sunrise, which is what I did.
Not only will you have the most incredible sunrise views on the way up, but you'll also miss the crowds.
After starting our hike at 5 am, we arrived at Laguna Torre at 8 am. The trail was empty, allowing us to enjoy the scenery with no other tourists.
How busy is hiking Laguna Torre
The way back from Laguna Torre to El Chalten was a different story!
The trail was packed with many people making their way up to the iconic location. It was even busier than I had seen at Laguna De Los Tres the previous day.
But I can understand why!
Laguna Torre appeals to so many more people as it's one of the easier hiking trails in El Chalten. Hence it gets busy as it's suitable for children and people of all fitness levels.
But remember, it's still 18 km which is pretty far, and many people will struggle with the distance alone.
Where to stay when trekking Cerro Torre
Most people doing the Laguna Torre trek stay in El Chalten. It's a quick walk to the trailhead from town and there are plenty of accommodation options to choose from.
I stayed at Hosteria El Alamo and highly recommend it. It's well-priced given the prime location and breakfast is included. The staff are so friendly and were happy to help me plan my hike to Laguna Torre. Check availability here.
If you're looking for something more luxurious, you can't go wrong with Chalten Suites Hotel. This is the perfect place to come home to after a long day of hiking. There's an onsite restaurant and it's just a stone's throw away from the trailhead to Laguna Torre. Check availability here.
What to pack when hiking Laguna Torre
2 Litres of water.
Food: I bought rolls, ham, and cheese from the supermarket and ate at the top.
Snacks: The trail is long, so bring some fruit and chocolate to keep you going.
A packet for your trash.
Warm top.
Hiking poles are helpful but not necessary.
Flashlight if you're starting the hike before sunrise.
Cerro Torre/Laguna Torre hike vs Fitz Roy
There are two main hiking trails that need to be on your El Chalten bucket list: Laguna Torre (Cerro Torre hike) and Laguna De Los Tres (Fitz Roy hike).
While they both offer incredible views from the lagunas, the trails leading to them couldn't be more different.
Laguna Torre: 18 km hiking trail that's easy compared to Laguna De Los Tres but with equally impressive views (but of Cerro Torre Mountain, not Fitz Roy).
Laguna De Los Tres: 22 km with a grueling 90-minute hike to the summit, which offers the best views of Mount Fitz Roy.
Laguna De Lost Tres is the crown jewel of El Chalten. But it's a tough hike. If you have the time, I highly recommend doing both the Cerro Torre hike and Fitz Roy as they are completely different.
Camping near Laguna Torre
If you're planning on trekking Laguna Torre and Laguna De Los Tres, I highly recommend camping at one of the sites close to Cerro Torre and Fitz Roy.
The Laguna Torre trek connects with Laguna De Los Tres via a small trail through Madre and Hija lagoons.
Along the way, you'll find two campsites that you can choose from: Camp De Agostini and Poincenot.
Both offer scenic sites, allowing you to get closer to the iconic locations.
If you choose to camp, you can then combine your Laguna Torre hike with a few other trails in the area.
Unlike the W Trek in Torres Del Paine, you don't need to know pre book campsites in El Chalten. They are free and you can rent camping gear from town.
Is the Laguna Torre hike worth it
Absolutely! The trail to Laguna Torre is stunning, and you'll have picturesque views of Cerro Torre throughout the hike.
No matter how tired or sore your body is from hiking in El Chalten, Laguna Torre is one hike you do not want to miss!
If you're wanting a rest day, check out Glacier Huemul or Mirador De Los Condores, which are two hikes that are easily accessible from El Chalten.
---
Are you looking to hike to Laguna Torre, El Chalten? Do you have any questions about your trip? Drop me a message in the comments section below.