The small seaside village of Lakey Peak is a treasure amoungst the surfing community. Located on the east of Sumbawa Island, it's an ideal destination for travelers with an adventurous spirit.
Lakey Peak attracts scores of surfers – but don't write it off if you're not there for the waves! It's laid-back, relaxed, and fun, and was one of my favourite destinations in Indonesia.
I've put together this comprehensive guide to all things Lakey Peak – from how to get there, where to stay and the best surf spots at Lakey Peak, Sumbawa.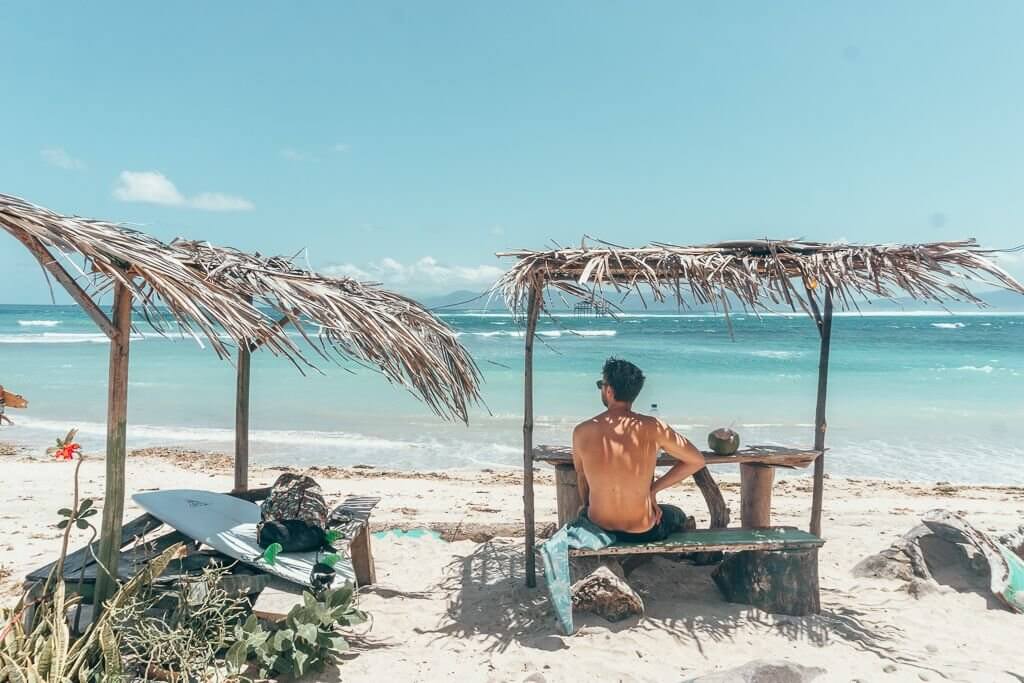 Where is Lakey Peak, Sumbawa
Lakey Peak is a small village situated on the south-east coast of Sumbawa Island in Indonesia.
While it's a quick 1-hour flight from Bali, Lakey Peak is in the middle of nowhere with no bustling cities nearby and no crazy nightlife. And that's why I loved it so much.
Things to know about Lakey Peak
There are no ATM's in Lakey Peak. The closest town is Dompu which is an hour away so draw money on your way in.
You can easily rent scooters with side racks for your boards. These cost about 50 000 IDR ($4) per day.
There are a couple of surfboard repair shops along the main road in Lakey peak. They did a great job of fixing Gary's board and the price is way cheaper than you're going to find anywhere else.
There are a few small shops that sell wax, leashes, and fins, but their stock is limited so it's best to bring everything along with you.
Surf photographers can be found all around Lakey Peak so if you're looking for some good snaps, make sure you let them know.
The internet connection is great at Lakey Peak but unfortunately there are often power outages in the village. Make sure your devices are charged and get a top-up on your data bundles before you arrive.
Bring mosquito repellent as there is talk about malaria here.
Surfing in Lakey Peak in Sumbawa
Surfing at Lakey Peak is not for the faint-hearted!
You shouldn't surf here unless you're an experienced and confident surfer. The waves are powerful and challenging with many advanced surfers returning with battle scars.
Gary broke his ribs surfing at Lakey Peak and another friend got a nasty cut on his forehead!
So, if you're a beginner and just learning to surf, don't expect to find those nice beach breaks here.
Best time to surf Lakey Peak
The winds begin to pick up late morning, making Lakey Peak a kite surfer's dream destination. It's best to head out early morning or late afternoon to get the best surf conditions.
Try to plan your trip to Lakey Peak to coincide with high tides in the morning so that you get the best surf without the winds.
Lakey Peak Surf Breaks
Lakey Peak is home to the best Sumbawa surf spots!
Lakey Peak: Lakey Peak is the main wave in town and sits in front of the iconic watchtowers. It's an easy 450m paddle out to the break which is a perfect A-frame peak. This is one of the most consistent waves in Indo and is best surfed at head-high plus range. Keep an eye out on the tides and depth as the reef can be quite sharp.
Lakey Pipe: 400m south of Lakey Peak lies Lakey Pipe. It's a left-hander that's gnarlier than Lakey Peak and is a favorite amongs body boarders. I've heard stories of a few hard-core reef cuts from Lakey Pipe.
Nungas: Nungas is a fun break in front of Ali's Bar. This was Gary's favorite wave at Lakey Peak as it's a long left-hander that offers rides of 200m and more!
Cobblestones: Cobblestones is a small channel with a left and right break but it was pretty flat when we were there. You need to rent a bike to get to Cobblestones but it's still close enough to Lakey Peak.
Periscopes: Periscopes is a right-hander break. It wasn't working at the time of our visit as it requires a big swell with more south in it. It's best surfed on high tide.
Things to do in Lakey Peak (besides surfing)
1) Catch a tan on Lakey Peak Beach
Lakey Beach isn't quite the paradise beach you may have been hoping for. The sea bed is lined with small stones and rocks and is more like a dam as opposed to a beach with waves.
Since everyone is out in the water, the beach is generally empty. One of my favorite things to do in Lakey Peak was to take my book and a towel and head to the beach (before the wind picked up).
You can also buy fresh coconuts from one of the local vendors. This is chilled island vibes at its best!
2) Go Kite surfing at Lakey Peak
Lakey Peak is making a name for itself among the kite surfing community. So much so that the number of kite surfers in the water often exceeds surfers.
The winds pick up after 12:00 and this is the perfect time for kiteboarders to get out and test their skills on the Lakey Peak breaks.
Pro tip: If you're looking for another top surf spot in Indonesia, Sumba Island is another hidden gem that I can highly recommend!
3) Enjoy the sunset on the rocks
When it comes to sunset spots in Indonesia, you often have to fight for your seat.
But not at Lakey Peak!
There are no massive crowds and it's generally quiet in the late afternoon so you're guaranteed to find the perfect spot to enjoy the sunset.
4) Chill at Fatmah's Restaurant
Fatmah's is the go-to place in Lakey Peak!
Looking for the best bar? Fatmah's.
The best smoothie bowls? Fatmah's.
The best workspace? Fatmah's.
The best place to relax and read a book (or take an afternoon nap)? Fatmah's!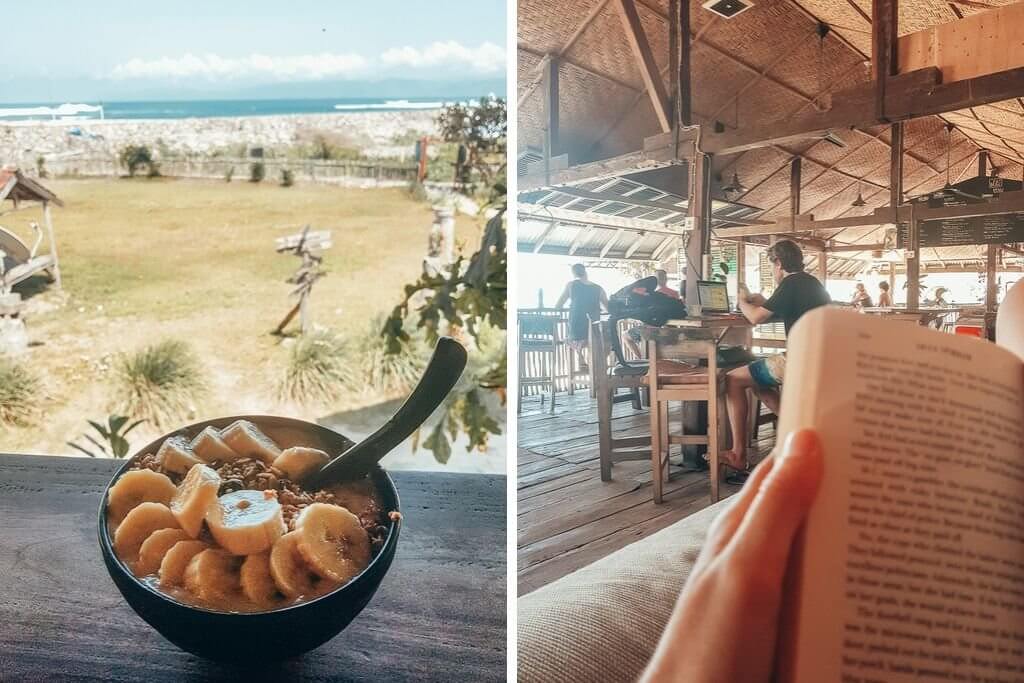 5) Explore on foot… and go for a run
This might seem a bit odd, but for those non-surfers who have been dragged to Lakey Peak (perhaps a bit of an exaggeration), put on your running shoes and head out for a run.
I did this most mornings while the boys were out surfing. I passed all the homes, small-holdings, and schools in the area. I was met with hundreds of smiles as I ran past a primary school and was greeted by all the lovely people who call Lakey Peak home.
I also had to dodge a few chickens and other animals as they were running across the road and got lost trying to find my way to secluded beaches.
All in all, a fun activity if you're looking to get out and about!
6) Drinks on the beach
There are no beach clubs or fancy resorts at Lakey Peak. It's all rustic!
Right in front of the Lakey Peak surf break is a small little beach cafe where you can have a cold beer, or fresh coconut, after your surf session.
7) Explore the coastline by bike
The coastline is waiting to be explored so if it's a flat day, rent a scooter and go on a mission!
You could also take a trip to Dompu, a town about an hour from Lakey Peak.
8) Find the Japanese WW2 relics
After spending the morning surfing, head out to the mountains behind Lakey Peak to check out the WW2 bunkers.
You might get lost (like we did) but it's still super fun to explore the landscapes and surrounding areas.
9) Get a massage
Every day, a few ladies (and men) walk around Lakey Peak offering massages to worn out surfers and others looking to treat themselves.
These massages are super affordable, and your masseuse will meet you at your homestay.
READ MORE: How To Spend 3 Incredible Weeks in Bali
10) Have a doughnut
The doughnut lady of Lakey Peak has made quite a name for herself. Her doughnuts are absolutely delicious and it's hard to resist them (for breakfast, lunch and dinner)!
Every day she walks the roads yelling "DOUGHNUT…DOUGHNUT!"
You've got to admire her determination and persistence to keep her little business thriving, day after day.
Lakey Peak Restaurants
Fatmah's: Fatmahs is slightly more expensive than the warungs below but their super burritos and smoothie bowls are out of this world!
Lela's Warung: I still crave these meals from Lela's! Their portions are huge, and they are so delicious – and cheap. Especially the chicken satay.
Mamat Warung: Mamat's is another one of my favorite restaurants in Lakey Peak. Mamat's have a great local menu and their food is well-priced. Give their curries a try.
Puma's: Puma's has the best view of Lakey Peak and Lakey Pipe. The food here is good (not amazing, not bad) and it's super cheap.
Shipwreck: This is a great spot overlooking Lakey Beach. Their food is good, but the portion size could be a bit bigger. But their ice-cold beers make up for it!
Lakey Peak Accommodation
There are two areas where you can stay at Lakey Peak.
The first is near Nungas and Ali's Bar which is on the west side of Lakey Peak. The second is near Fatmah's which is on the east side.
I recommend that you book your accommodation in Lakey Peak on the east, close to Fatmah's Restaurant. There's far more happening that side and the crowds that hang around here are awesome.
I knew that Gary would be surfing all day so I wanted to stay somewhere near the beach, comfortable and clean, and with good Wi-Fi so that I could do some work.
Best places to stay in Lakey Peak
We stayed at Kita Garden Homestay. This is the best budget accommodation in Lakey Peak. Don't look any further!
Whether you're a surfer, backpacker or just passing through, make sure you book at Kita Garden Homestay.
Colin and Rama are two of the kindest people I've ever met. Their place accommodates over 8 people in 4 private rooms with hot water and Wi-Fi. Rama's food is also delicious, so be sure to order the mie gorgeng and pizza!
Other accommodation in Lakey Peak
If you're looking for a more luxurious stay and traveling on a bigger budget, The Tree House Sumbawa is just for you! It's slightly further from the village, but the villa comes with a beautiful pool and 5* service at an affordable price.
If you're traveling with friends (and Kita Garden has no availability), then check out Villa Tsubaki. I heard lots of good things about this place from other groups. You can't miss the bright pink building and it's just a short walk from Fatmahs.
How to get to Lakey Peak
The town of Bima is the gateway to Lakey Peak, Sumbawa. You first need to get here before you can continue on to your final destination.
Fly to Bima, Sumbawa
Bima Airport, otherwise known as Sultan Muhammad Salahuddin Airport, is the closest airport to Lakey Peak. The flying time is an hour from Bali and a one-way ticket costs between $40 and $60.
Wings Air & Nam Air are your cheapest options but check the airline allowances for surfboards before you purchase your flight to Lakey Peak.
Previously Nam Air didn't charge extra for surfboards, whereas Wings Air did. Apparently, this has changed and now both airlines charge the extra fee to bring a surfboard along.
Bima to Lakey Peak
Next, you need to get from Bima to Lakey Peak. And it's not as simple as hopping on a cheap, local bus.
Some call it the Lakey Peak "mafia". Others say that it's a way to uplift the community.
Either way, you need to organize a private transfer to get to and from Lakey Peak. This is quite pricey as there is no public bus available.
This one-way transfer from Bima to Lakey Peak costs 800 000 IDR ($55) for a car that seats 4 people. You can try to negotiate it down to 600 000 IDR ($40) but don't argue with the locals if they're not willing to budge.
Don't pre-book this transfer as it's easy to get a taxi in Bima. Instead, find other surfers on the plane and organize transport together to save costs.
The drive from Bima to Lakey Peak takes no more than 2-hours and the road is in surprisingly great condition.
Ferry from Flores to Bima
If you're traveling from Flores Island, the easiest way to get to Lakey Peak is to take a ferry to Sape which is on the east coast of Sumbawa.
The ferry leaves Labuan Bajo in Flores at 09:00 but you need to be there by 07:30. This trip takes 5-7 hours depending on the weather and costs 60 000 IDR ($4).
After your arrival in Sape, you'll have to catch a bus from the port to Bima which is about 2-hours away. You can find a public bus for 30 000 IDR ($2).
Pro tip: We did a 4-day scuba diving livaboard in Flores before our trip to Lakey Peak. I highly recommend you do the same.
Overall thoughts of Lakey Peak in Sumbawa
I loved my time at Lakey Peak. If you're looking for beach clubs and activities to keep you busy all day, then Lakey Peak isn't for you.
If you're happy to chill and go with the flow, then I highly recommend you add Lakey Peak to your Indonesia bucket list.
---
Look for more Indonesia travel information? Check out my other posts!
---
Pin this!