Last updated on August 2nd, 2021
I love South Korea, but before I moved here I knew nothing about the country. I'd done little research and associated Korea with Asia, and Asia with the more popular areas of Thailand, Bali, and China!
I then heard about the tension between North and South Korea and found myself regretting my decision to move here in the first place. Looking back, this was a big wake up call for me as to how naive I really was!
Fast forward 14 months and I've come to love living in South Korea.
If you've read my post where I highlighted the strange things about living in Korea, you'd probably think otherwise, but there are so many pros and benefits to living in the country!
So, here are my top 17 things I love about living in South Korea: the pros.
Why I Love Korea
From the safety, to the delicious food, Korea is one place I can't get enough off! If you're planning your South Korea itinerary, you'll soon realize why it's one of the best countries to visit in Asia!
1) Efficiency
One of the first things I love most about living in South Korea – everything just works!
People get back to you timeously, they're never late for meetings and there is a sense of urgency to get things done.
The postal service is incredibly fast, going to the police station is a breeze and all other public services are managed efficiently.
People respond to emails within hours and there are never issues with power, transportation or infrastructure.
2) Opportunities for ESL teachers
The lucrative package for ESL teachers is the main reason for the influx of foreigners into the country.
In addition to salaries starting at 2.1 million KRW ($1 900), your airfare is covered and you receive free accommodation from the school who also pay 50% of your health insurance.
So, what do you need to get started as an ESL teacher Korea? Check out my teaching posts on my blog! And no, you don't even need to be a qualified teacher to apply for these positions.
3) Safety: One of the many pros of living in South Korea
Another reason why I love Korea: The crime rate is incredibly low and I've never felt this safe before.
Not worrying about petty crime, armed robberies or questioning everyone's intentions has been a breath of fresh air in my life.
I walk to the convenience store alone at night with not a worry in the world. And if you leave your wallet or cell phone in the restroom, subway or cafe, it will still to be there when you come back looking for it. This is partly due to the fact that there are CCTV cameras everywhere so even if you do take something that's not yours, you will be caught!
4) Jjimjilbangs
Korean bathhouses, otherwise known as Jimjilbangs are a big part of the Korean culture and tradition, and if you're living in South Korea, it won't be long before you visit one.
They are gender-segregated bathhouses that feature hot and cold pools where you get fully naked and scrub yourself clean before entering the large baths.
These jimjilbangs are open 24/7 and offer the perfect setting for people to rest and recuperate.
In addition to the baths, Jimjilbangs offer various saunas and communal sleeping areas as well as entertainment lounges where you can spend the day. And if you're out partying and need a place to rest your eyes for the night, a jimjilbang is the perfect spot.
Why do I love Jimjilbangs? They are fascinating and unique to Korea. Oh, and they're not a tourist trap! Every time I've been to a Jimjilbang, I've seen one, maybe two foreigners and the rest are local people who've come for their daily or weekly sauna session.
Read More: 10 Things You Need To Know About Visiting a Jimjilbang in Korea
5) Korea is incredibly beautiful
70% of Korea is made up of mountains and rolling hills which make it a hiker's playground!
You don't need to venture too far from the city to find hidden gems and temples located off the beaten track. Bukhansan Mountain is one of the most fascinating national parks in the county and it's situated slap-bang in the center of Seoul!
The countryside is filled with lush green trees and rivers, and this is another reason why I love living in Korea.
6) Kindness
During my 14 months of living in Korea, I have met the kindest and most caring Korean.
People who selflessly take time out of their busy day to help strangers, fellow co-workers who will go out of their way to assist with any task and staff at the local post offices, police stations and restaurants who are so patient and who genuinely want to help.
This inherent kindness in the Korean culture, and not expecting anything in return, is something I will never forget.
7) Transportation networks
Public transportation in Korea is world-class, and is one of the pros of living in the country!
South Korea boasts an impressive transportation network making every area available for exploring and you can access all corners of the country on a day trip from Seoul.
The buses and trains are cost-effective and offer regular routes to locations all over the country, making the cost of living in South Korea extremely affordable.
They are well maintained, modern, clean and always stick to the schedule. If you're even 1 minute late, the bus will leave without you!
8) Dating culture
Having a significant other is important in Korea. Couples often wear matching outfits when they go on dates and the 14th of every month is a day to honor love.
Valentine's day is celebrated slightly differently in Korea. Unlike western standards, Korean women traditionally give men gifts and shower them with love on Valentine's day.
However, roles reverse on "White Day", March 14, where women receive gifts and it's the man's turn to sweep them off their feet. May 14th celebrates "Yellow Day" where couples wear yellow outfits and buy each other roses.
So, what if you aren't in a relationship? Fear not! That's what "Black Day" is for!
It's celebrated on April 14th and groups of people join together and feast on jajangmyeon. Here, they celebrate their independence with the hopes of meeting their perfect match!
9) For the love of coffee
The coffee craze in Korea is a booming market with cafes lining the streets and entrances to most buildings.
In fact, Seoul is home to more Starbucks coffee shops than any other city in the world. If you don't drink coffee, it won't be long before you start!
These coffee shops vary from large international chains to local themed cafes which attract many people for their cute decor and intricate designs. Hours are spent in these cafes and it's a popular place to catch up with friends, get some studying done, or simply read a book.
If you're planning your Seoul itinerary, make sure you pop into one of the many themed cafes – the Poop Cafe in Insadong is one of the most popular!
One other thing that has surprised me while living in Korea is the love of ice americanos! In the summer, just about every second person you pass is sipping on one.
10) Love for their family
Family is of utmost importance in the Korean culture.
They tend to live close to one another and spend their weekends together. All the cousins will meet up and go to their grandparent's house and they even vacation and travel to other countries together.
Siblings have a strong bond and this love and respect for family is something I deeply admire.
11) Korean cuisine and the restaurant culture
The food is unlike any I've had before and this is one of the benefits of living in South Korea!
Initially, it was a shock to the system as I wasn't used to eating so much rice and pork! But I soon fell in love with the Korean BBQ and flavors of Dakgalbi and Jimmdak.
The restaurant culture in Korea is also something I've grown a strong liking for due to its simplicity and ease.
I absolutely love the no tipping rule and the call button for service!
Read More: How to Eat A Korean BBQ (Like A Korean)
12) Lasek Eye surgery
I don't even know how to start this part. I get so excited when I talk about this procedure that changed my life completely and is to date the best thing I did while living in South Korea!
Being an extremely active person, wearing glasses and contact lenses was not only a hassle but also a financial stress.
I'd heard of Lasik/Lasek but it had never crossed my mind to have the surgery, simply because I thought it was a risky procedure. I also hate needles and the idea of someone messing with my eyes completely freaked me out.
But after I arrived in Korea, I discovered the popularity of this surgery and it fascinated me!
I soon learned that Korea has the latest technology and some of the best eye doctors in the world. After reading just about every success story out there, I plucked up the courage and made an appointment to have my eyes done.
I was a nervous wreck by the procedure was painless. However, the recovery, not so much! But totally worth it.
10 months later and I have perfect eyes, with 20/14 vision (which is better than 20/20 vision). Only people who are dependent on glasses will understand the impact of not needing them anymore.
So, if you're in Korea and if you have bad eyesight, I highly recommend you read this article about getting Lasek in Korea.
13) 24-hour convenience stores
You don't need to walk very far to find 7/11 and GS25 convenience stores as they are scattered throughout the towns in Korea. These are open all day, every day!
Here you can buy everything from your daily groceries to toiletries, snacks, ready-made meals and alcohol!
Because drinking in public is legal in Korea, they even have seating outside of the stores where you can eat your meal and enjoy your beer and soju.
And let's not forget about "1 + 1"! The isles are often filled with items where it's "buy one get one free". These specials are amazing, especially when it comes to the end of the month!
READ MORE: THE ULTIMATE PACKING LIST FOR KOREA
14) Recycling
There are strict regulations regarding waste disposal and if you're living in South Korea and you don't recycle, you could be fined.
This includes separating your food waste, plastic bottles, papers, Styrofoam and glass bottles into specific colored bags.
It's entrenched in their daily lives and children are taught from a young age how to separate their waste and recycle. I love this about Korea!
15) K-Pop!
Korean pop music, otherwise known as K-Pop is a craze here.
When I first arrived in the country, I experienced my first K-pop concert at the Boryeong Mud Festival and was baffled by the unique dance moves and singing style.
It reminded me somewhat of "Boyzone" back in the day with their well-choreographed dance moves, sleek hairstyles, and cheesy lyrics!
However, I quickly fell in love with K-pop music and often find myself humming along to the songs as they play in most stores and restaurants.
16) Work hard, play harder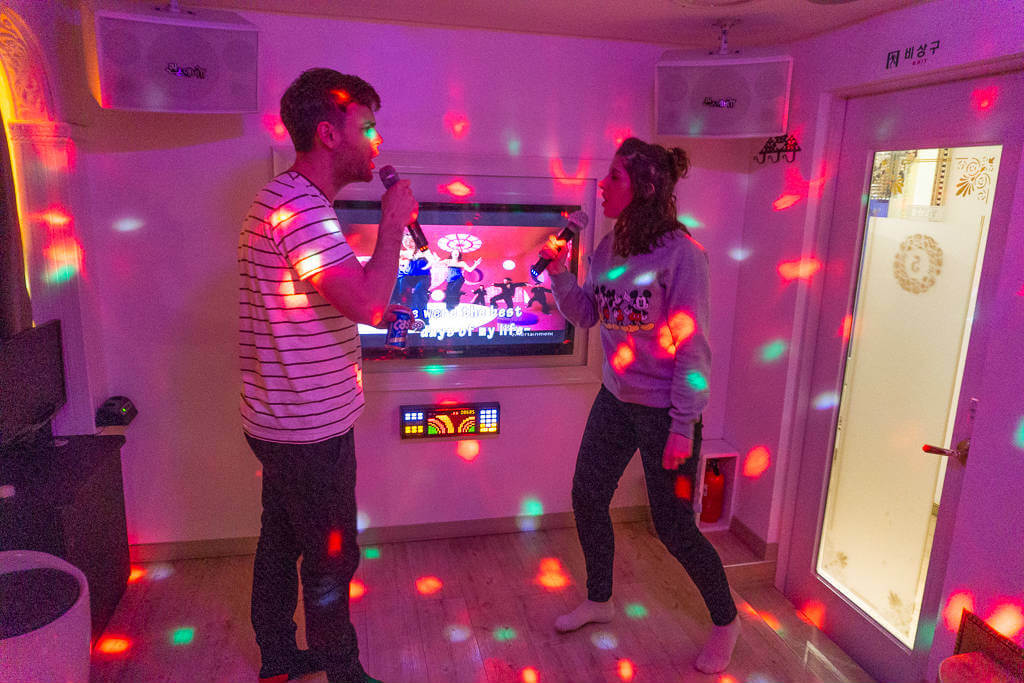 So, I see myself as an outgoing, fun individual who loves a good party. But even with my years of drinking experience, I cannot keep up with the Koreans!
Soju is the national alcohol that's consumed daily and will have you buzzing in no time! This drink is super cheap and deceptively potent and before you know it, you're 2 bottles down and ready to hit the Nuraebang down the road.
Or perhaps you'd prefer to end your evening off with bowling or even indoor baseball. These are all popular activities to do on your night out.
READ MORE: INSIDER MY KOREAN APARTMENT
17) Cost-effective healthcare
Getting sick is usually a financial burden but in Korea, not so much!
A consultation with a doctor won't cost you more than 8 000 KRW ($6) and the antibiotics and painkillers are a similar price. This is one of the main benefits of living in South Korea.
For your convenience, the medication is packaged into separate packets with pills that you take each day. You're given a good strong dose that will knock you out but will have you back in action in no time!
Conclusion: The pro's of living in South Korea
Moving to Korea was a culture shock and it opened my eyes to a whole new world. This country is so unique and I will never forget the special memories I have here.
---
Looking for more Korea travel information? Check out my other posts!
---
Pin this!