Bali is an island filled with exquisite nature that has thousands of adventurous souls flocking to its shores. One of those adventures starts bright and early and involves hiking up an active volcano, Mount Batur.
The Mount Batur sunrise trekking tour is on many travelers bucket lists, and after reading this post, hopefully it will be on yours as well!
About Mount Batur
Mount Batur is located in the Kintamani District on the island of Bali in Indonesia. It's an active volcano which last erupted in the year 2000.
Sitting at 1 717 m (5 600 ft) above sea level, the peak of Mount Batur offers stunning views of Lake Batur as well as another volcano, Mount Agung.
Mount Agung has recently been making headlines due to its volcanic activity so stay up to date with this before you arrive. On a clear day, you can see Mount Agung from anywhere on the island, no matter where you travel in Bali.
How to get from Ubud to Mount Batur
Mount Batur is located north east of Bali. The drive takes about 1h20min from Ubud and you'll need to add an extra 30 minutes if you're traveling from Kuta or Seminyak.
Transport will be included in your tour price and there are pick-up locations throughout Bali.
If you're staying in Ubud, be sure to read this post on other things to do in the area.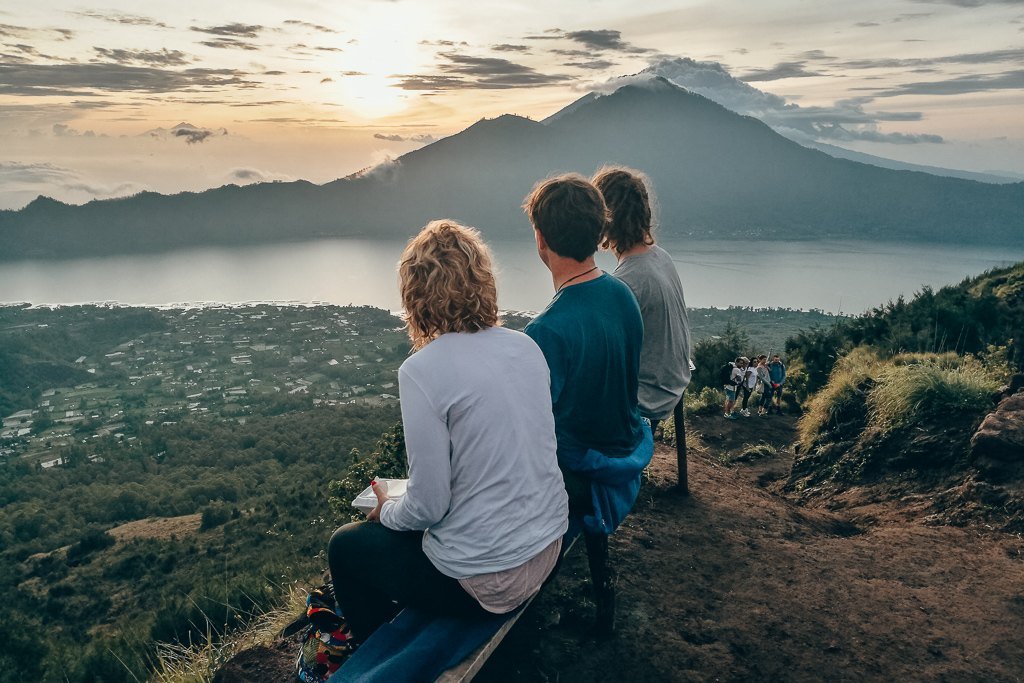 Mount Batur Difficulty
The most difficult part of trekking Mount Batur was getting out of my warm bed to venture out into the dark at 2am.
We stopped to grab a bite to eat on the way before beginning our trek at 4am. It's not a great wake up call, that's for sure!
Especially when you start questioning why you put yourself through this when you're on holiday – a time to relax and recuperate.
Mount Batur Difficulty: The Climb
Mount Batur sunrise trekking tours start in complete darkness. You walk through fields and forests on a trail laden with volcanic rock.
The hike to the peak of Mount Batur takes about 2 hours and getting back down will take you the same amount of time.
The trek itself is a moderate climb that will have you breaking into a sweat. If you're relatively active you shouldn't find the Mount Batur hike too difficult.
I also hiked the highest volcano on Flores Island and I hate to break it to you, but Mount Batur was a piece of cake when compared to Mount Inerie!
Mount Batur Difficulty: The Trekking Route
The trekking route to the top of Mount Batur is a busy one! You'll have climbers of all fitness levels in front and behind you – walk at your own pace and you'll be fine.
I was desperate to make it to the peak in time to watch the sunrise, so I stepped it up a notch. But I paid for it the next day when I could barely move as my body was so stiff!
Because Mount Batur is a volcano, there are large chunks of rock everywhere with lose ground and uneven paths which become steeper the higher you go.
Be careful not to lose your footing, as I did! It's not a very gracious fall and you can really hurt yourself.
Climbing Mount Batur Without A Guide
Yes, it's possible to hike Mount Batur without a guide, but I don't recommend it. Why?
1) Hiking with a guide makes it that much easier and convenient for you. You're fetched from your hotel, given full details, and are shown where to go.
2) You'll also meet other people in your group who'll most likely share a common interest for adventure. As always, this is my favorite part about traveling!
3) I have read numerous stories of travelers being harassed by touts if they do not use a guide. This will ruin your experience so rather avoid this and book your Mount Batur hike through a tour company.
Mount Batur Trekking Price
Tour operators can be found on every street corner in Bali. You'll have no problems booking your Mount Batur sunrise trip and you can negotiate good deals.
The Mount Batur trekking price is between $25-$35 per person for a budget tour within a large group. Private trekking options are more costly and tours range from $55-$70 per person.
This amount is dependent on where in Bali you need to be picked up from. Be sure to confirm what exactly is covered in your tour such as a headlamp, water, and breakfast.
READ MORE: THE ULTIMATE BALI PACKING LIST
What to wear when trekking Mount Batur
Wear layers. Trust me, when you first begin the trek, it's chilly!
As you make your way up the volcano to the top of Mount Batur, the temperature gets warmer and when the sun eventually appears, you'll be hot and sweaty.
Hiking boots aren't necessary but I advise you to wear comfortable trainers.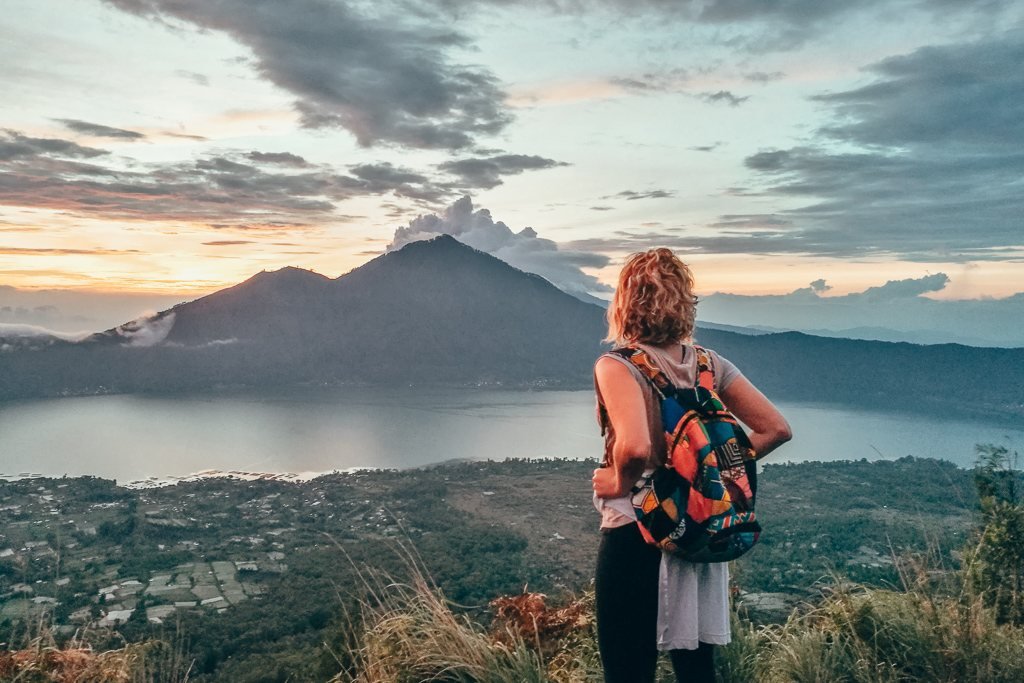 What to pack for your Mount Batur sunrise trek
Cap and sunglasses.
Headlamp: Most Mount Batur trekking tours arrange a headlamp for you but don't take it for granted that they will. However, even without a headlamp, you'll be fine as everyone around you will have.
Snacks: Breakfast may be included in your trekking costs, but confirm this. Our tour stopped on route to Mount Batur where we had a light snack at 3am before reaching the base of the volcano. Some companies provide food at the summit instead.
Money: Boiled eggs and coffee are sold at the peak of Mount Batur. It's slightly more expensive than you would find elsewhere in Bali, but by the time you reach the summit, you would have worked up a big appetite.
Water: Bring at least 2 liters. When you descend Mount Batur, it will be scorching hot and you'll want to stay hydrated.
Waterproof jacket: The weather can be unpredictable so if you have a raincoat, make sure you pack it in.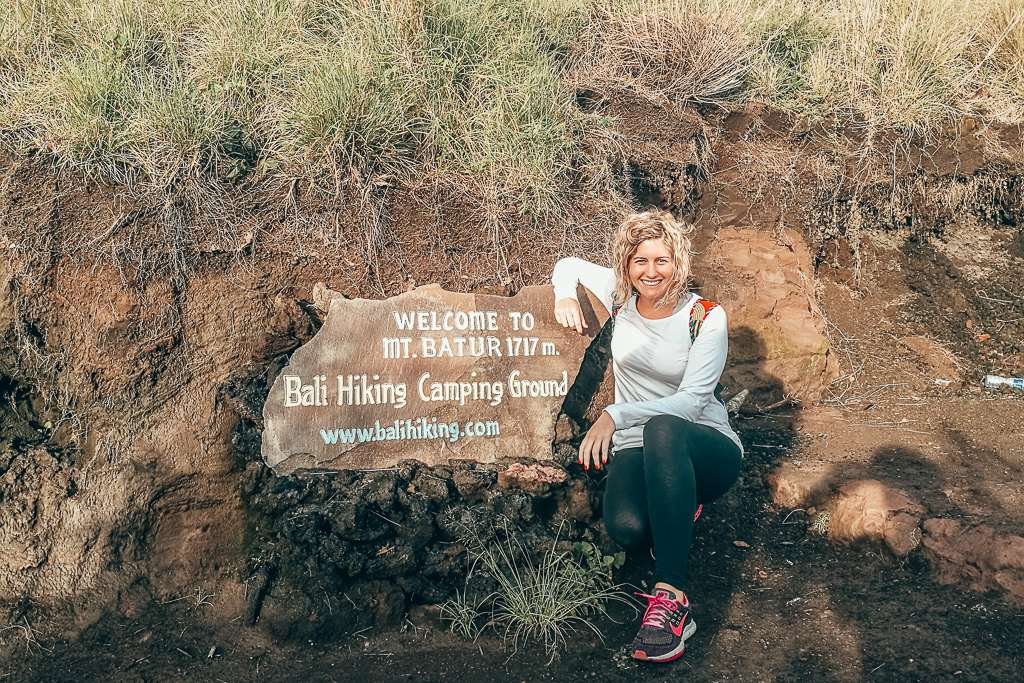 What to do after your Mount Batur Sunrise Trek
Some people choose to stop at the hot springs near Mount Batur or visit a coffee plantation before heading back to their hotel in Bali.
Whilst this does make sense as it's en route, I couldn't think of anything worse!
After our Mount Batur sunrise trek I was tired, dirty and hungry. I treated myself to a hot shower, a delicious meal and some cocktails followed by a magnificent afternoon nap!
READ MORE: ULTIMATE GUIDE TO ULUWATU ACCOMMODATION
Final thoughts on trekking Mount Batur for sunrise
The early morning wake up call is so worth the stunning views you'll get from the peak of Mount Batur.
The exercise was much needed after I'd spent the past week overindulging in the delicious Indonesian cuisine (and cocktails!) in Gili Trawangan.
Practical Information
What to expect: A busy route and steep climb, but the most incredible views from the top.
Tour price: $25-$45 per person for a budget tour.
Tour itinerary: 2am collection from your hotel, 4am start your hike, 6am reach the summit, 9am return home.
Distance from Ubud to Mount Batur: 1.5 hours drive.
Time needed: Half day
---
Looking for more Bali travel information? Check out my other posts!
---
Pin this!