The Pidurangala Rock hike in Sigiriya was one of the highlights of my trip to the cultural triangle of Sri Lanka and it paved the way for what was the most incredible month in the country.
But, Pidurangala Rock is often overshadowed by its neighbor: Sigiriya Rock, otherwise known as Lion Rock. So, which is better?
I've covered this, and so much more – including other epic places to visit in Sigiriya – below. Keep reading to discover how you can see the best of Sigiriya and hike Pidurangala Rock in 2 days.
Psst… looking for more hikes in Sri Lanka These posts might help.
Pidurangala Rock Hike vs Sigiriya Rock: Which is Better
The area surrounding Sigiriya has made a name for itself for its two leading attractions, Sigiriya Rock and Pidurangala Rock.
Sigiriya Rock Fortress
Sigiriya Rock, otherwise known as Lion Rock, is a UNESCO World Heritage Site and an ancient rock fortress with a rich history. It's the main attraction in the cultural triangle and is one of the best places to visit in Sigiriya.
Along with this title comes a steep $30 entrance fee to Sigiriya Rock which allows you to explore the fortress.
Pidurangala Rock
Pidurangala Rock is a stone's throw away from the famous Sigiriya Rock Fortress and albeit not as popular, it sure does offer a scenic hike with a more natural feel.
From the top of Pidurangala, you'll have impressive views of Sigiriya Rock and the village below.
I was looking to immerse myself in nature, so taking into consideration the cheaper Pidurangala entrance fee, and smaller crowds that gather there, I decided to go for the Pidurangala Rock sunrise hike instead.
Everything You Need to Know About The Pidurangala Hike
You can easily plan your Pidurangala hike independently and a guide isn't necessary. But make sure you come prepared and know where to go and what to bring so that no time is wasted!
Here's everything you need to know about climbing Pidurangala Rock, Sigiriya.
Best Time To Hike Pidurangala Rock
Although I'm not a morning person, I opted for a sunrise hike up Pidurangala Rock to escape the heat and the crowds. I suggest you do the same as it gets scorching hot during the day and your trek won't be as enjoyable.
I started my Pidurangala hike at 5:30 am and made it to the top just in time to catch the sunrise.
Because this is the best time to plan your hike, you'll notice a few other tourists on the trail, but it's not nearly as busy as Lion Rock, which you'll see in the distance.
Sunset is also a popular time to hike Pidurangala Rock so if you're not too keen on the early morning wake-up call, opt for a sunset hike instead.
The Pidurangala opening hours are 5 am-6 pm, so as long as you get there before sunset, you're good to go.
In hindsight, 5 am isn't too bad. If you're planning on climbing Adam's Peak in Dalhousie, you'll need to start your hike at 2 am – now that's early!
How To Get to Pidurangala Rock
Pidurangala Rock is situated about 10 minutes from the center of Sigiriya. If you're staying in Sigiriya, you can either ride a bike, take a scooter or hop on a tuk-tuk to get there.
If you're planning the Pidurangala sunrise hike, make sure you organize your transport the day before. But be careful of wild elephants!
I stayed at a local homestay in Sigiriya and was planning on riding a bicycle to the entrance of Pidurangala Rock for my sunrise hike. However, this plan went out the window after my host warned me of wild elephants that roam the area before sunrise.
So instead, I rented a scooter for the day. You won't struggle to find scooters to rent and there are tuk-tuk drivers all over the main road in Sigiriya.
How to Get to Pidurangala Rock from Dambulla
Dambulla is the biggest town situated close to Sigiriya. Many travelers use this as their base for exploring the cultural triangle and hiking Pidurangala.
If you have the choice, rather stay in Sigiriya as it has a small village vibe whilst Dambulla is quite busy and chaotic.
The distance from Dambulla to Sigiriya is 20 km and takes about 30 minutes. The easiest way to get from Dambulla to Pidurangala Rock in Sigiriya is with a tuk-tuk which will cost around 1 300 LKR ($7) for the trip.
Another option is to take a local bus to Sigiriya, but this will take you over an hour and the bus can be tricky to find.
Pidurangala Rock Entrance Fee
The Pidurangala entrance fee is 500 LKR ($3) per person which is pretty cheap in contrast to Lion Rock.
This fee is a small donation to the monks for the upkeep of the temple grounds, and the hike is worth every penny.
Pidurangala Rock Hike Time
Reaching the top of Pidurangala Rock takes 20-40 minutes, depending on your pace. It's not a difficult hike and people of all ages and fitness levels will be able to get to the summit.
You'll probably spend an hour at the top, before hiking back down which will take about 15 minutes.
READ MORE: The Ultimate 3 Week Sri Lanka Itinerary
What To Pack For Your Pidurangala Hike
Headlamp: If you're going for a sunrise hike up Pidurangala Rock, don't forget a headlamp. Your phone's torch will work, but there are areas where you have to climb and crawl so having to hold a phone may not be ideal.
Sarong/ shawl: You're going to have to cover up when you go on your Pidurangala hike. This applies to ladies and gents. Pidurangala Rock is a sacred site so respect the heritage and the monks who live there. The monks do provide sarongs if you forget to bring, but when it's busy they may run out
Trainers or comfortable shoes: If you have hiking shoes, great, but they aren't necessary. There are parts where you have to climb, and trainers work best.
Snacks and water: If you want to enjoy the sunrise without going hungry, pack in some snacks and enough water.
Take a look at my Sri Lanka packing list. It has everything you need to pack (and what you can leave at home).
Pidurangala Hike: Step-by-Step Directions
Here's a run-through of what to expect during your Pidugangala hike.
Arriving at Pidurangala Sigiri Rajamaha Viharaya Temple
You will arrive at a white temple at the base of Pidurangala Rock where you pay the $3 entrance fee and receive a sarong to cover your legs.
After walking through the temple grounds, the Pidurangala hike starts off with a steep flight of stairs and progresses into a moderate climb along a rocky path.
The Royal Cave Temple and climbing Pidurangala Rock
As you get closer to the top of Piduralgala Rock, you'll pass the Royal Cave Temple which houses a giant reclining Buddha statue. This statue has been reconstructed but most of the original structure is still there.
After passing the Buddha statue, the real climbing starts!
For the next 5-10 minutes, you'll have to weave your way past large boulders that block the path. This area may be challenging for some but there are arrows painted on the rocks so keep your eyes out for those if you lose your way.
Reaching the top of Pidurangala Rock, Sigiriya
Once you've scrambled past the last boulder, you'll have unbeatable panoramic views of Sigiriya Rock Fortress in the distance.
Take a moment to enjoy it, but don't stop there!
Keep walking around the massive boulder behind you and you'll get to a large platform. Here, you can walk around the top of Pidurangala Rock and enjoy the scenery and abundance of greenery in the distance.
Other Places to Visit in Sigiriya
Situated in the heart of the cultural triangle, there are so many things to do in Sigiriya. I recommend you spend two nights here which will give you enough time to explore all these incredible sights.
Get lost in Sigiriya
One of the best things I did in Sigiriya was hiring a scooter for the day and taking a ride through the local villages.
With no tourists in sight, I was greeted with excitement by a number of children. Although we were struggling to communicate with them, they still welcomed us into their home, showed us their treehouses, and offered us the most delicious tea I've ever had.
There are vast spaces around every corner, and they're all yours to explore!
Get Cultured at Sigiriya Rock Fortress (Lion Rock)
Sigiriya Rock Fortress is only 2km's from Pidurangala Rock, making it easy to visit both in one day. It's one of the most popular places to visit in Sigiriya, if not the whole of Sri Lanka!
If you're on a backpacker budget, you may want to skip this one. But if possible, it's best to do the Pidurangala hike for sunrise and Lion Rock for sunset.
Take a Trip to the Ancient Capital City, Anuradhapura
Anuradhapura is yet another UNESCO World Heritage Site in the cultural triangle of Sri Lanka.
It's a 90-minute drive from Sigiriya and a great activity for a day trip if you're looking to learn more about the history of Sri Lanka.
Support Sri Lanka cricket in Dambulla
Cricket is a craze in Sri Lanka and international games are often played in Dambulla. We watched the Sri Lanka Vs England 1 day game and it was such an awesome vibe!
Be sure to check out the schedule and if there's a big game on, don't miss it!
Check Out the Ancient Ruins' of Polonnaruwa
Polonnaruwa is just 60km from Sigiriya. It's a great option for a day trip if you're looking to see more of the cultural triangle.
The best way to explore Polonnaruwa is on bike and these can be rented from outside the ruins' entrance.
Where to stay near Pidurangala Rock, Sigiriya
Although Dambulla is the biggest town closest to Sigiriya, it's best to stay in Sigiriya itself as it's a small village offering you a unique experience and unmatched beauty.
I stayed at a homestay called Shen Residence in Sigiriya and I highly recommend it.
The owners are extremely friendly and helpful, and the price is affordable. You must eat the curry here – it's absolutely delicious and one of the best meals I had in Sri Lanka. They also rent bicycles for 200 LKR ($1.5) and scooters for 1500 LKR ($8) per day.
Alternative Accommodation in Sigiriya
Budget: Sigiri Sithru Home Stay is one of the cheapest places to stay in Sigiriya. You'll leave after having a true Sri Lanka experience with the hosts who go out of their way to make your stay as memorable as possible.
Backpackers: Roys Villa Hostel provides unique accommodation suited for backpackers looking to stay in a chilled yet social environment. It's the best place to stay in Sigiriya if you're looking to meet other travelers and the location couldn't be better.
Mid-Range: Il Frangipane is just a stone's throw away from Pidurangala Rock in Sigiriya. Coming home for a swim in their beautiful pool has to be the biggest attraction here.
Luxury: Water Garden Sigiriya is the best place to stay near Pidurangala Rock if you're looking for a more luxurious option. The hotel is set in the lush countryside and the rooms have unspoiled views of Lion Rock. There are even options for private plunge pools, a spa, and a fitness center.
Restaurants in Sigiriya
Milis: The best Khotto Roti I had in Sri Lanka and super cheap.
Shenadi Restaurant: I had the most delicious, well-priced curry here and it's slap bang in the middle of Sigiriya.
Where to next
Hiking Pidurangala Rock is one of the best things to do in Sri Lanka and I highly recommend you add it to your itinerary.
After your trip to Sigiriya, continue east to Trincomalee and spend a few days exploring Nilaveli and Uppuveli Beach, two of the best beaches in Sri Lanka!
If you're short on time, head to hill country and explore Nuwara Eliya and spend your days visiting tea plantations and waterfalls.
---
Looking for more Sri Lanka travel information? Check out my other posts!
---
Pin this!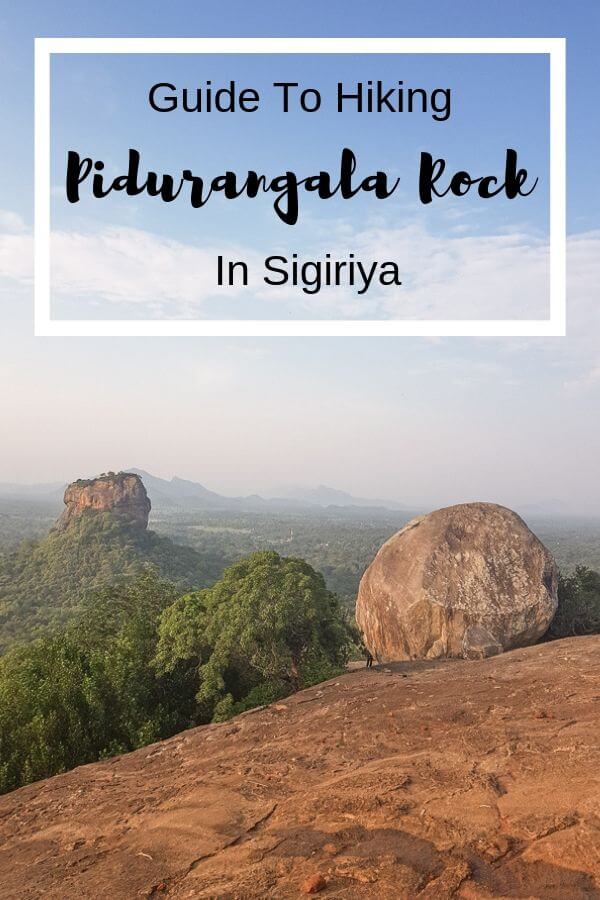 There is a really good chance that this post contains affiliate links. If you click one of them, I may receive a small commission at no extra cost to you. As always, views are my own!