Kandy is the cultural home of Sri Lanka and is considered one of the most sacred places in the world amongst the Buddhist community.
Home to the Temple of the Tooth Relic and famous botanical gardens, Kandy has been hailed as one of the top destinations in Sri Lanka thanks to its historical value.
It's certainly an interesting city with everything wrapped into one: It's chaotic, noisy, and vibrant, yet you don't have to go too far to find peace and serenity.
But, you might be asking yourself "Is Kandy worth all the hype?" If you only have a few days in Sri Lanka, should you visit Kandy over other attractions in the hill country or the cultural triangle?
I spent 4 weeks in Sri Lanka, covering most of the country, and have highlighted the best places to visit in Kandy for adventure travelers, backpackers, families, and those looking to learn more about the history and culture of Sri Lanka.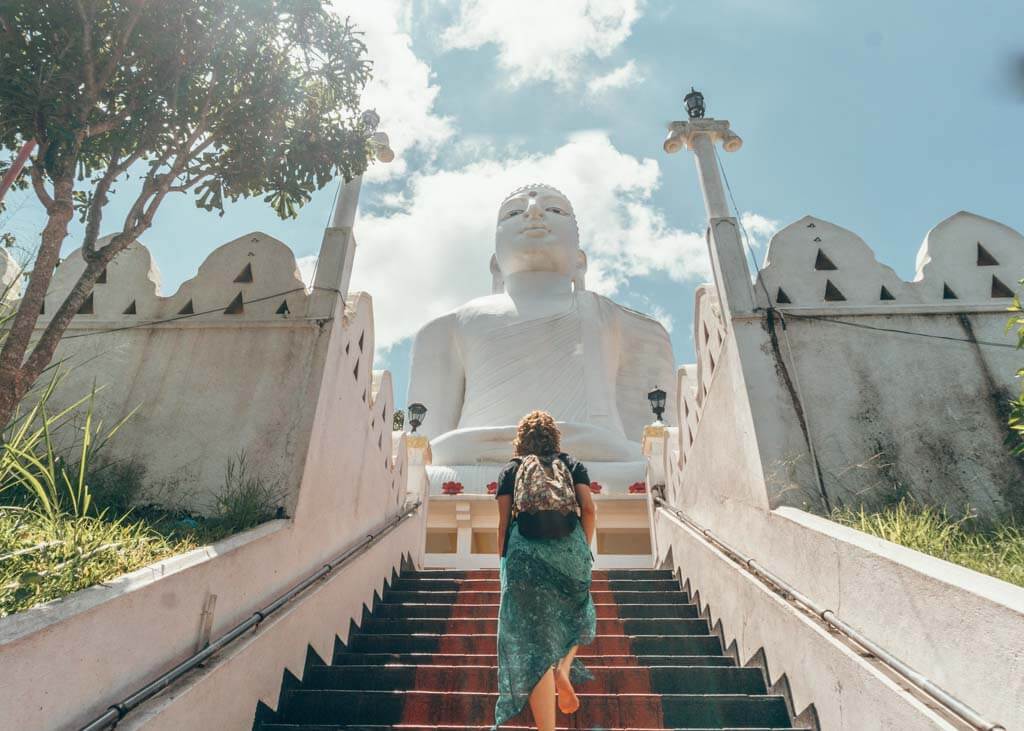 How Long to Spend in Kandy, Sri Lanka
While there are so many beautiful places in Kandy, how long you spend here depends entirely on how much time you have in Sri Lanka.
If you have less than 2 weeks and you're in search of hiking trails and dreamy beaches, then give Kandy a skip altogether – yep, it wasn't my favorite place to visit but you'll love it if you're looking for a true cultural and spiritual experience.
If you have 3 weeks (or more) in Sri Lanka, I recommend you spend one day in Kandy. This will equate to 2 nights as you'll arrive on the afternoon of the first day, explore the best things to do in Kandy on the second, and leave early on day three.
Pro Tip: Knuckles Mountain Range is just outside the city and if you're looking for an outdoor adventure, it's the best place to visit in Kandy. Unfortunately, I was unable to do it – keep reading to see why.
How to Get to the best places in Kandy
Whilst Kandy may be the second-largest city in Sri Lanka, it doesn't have that massive city vibe. This makes it easy to visit the top tourist places in Kandy on a free walking tour, as I did.
Walking from one part of the city to the other allows you to see a side of Kandy that you may have missed otherwise.
You'll walk through the streets as families go about their daily lives, you'll watch as the locals play an intense game of street cricket, and you'll pass school kids as they rush to their classes.
If you're not too keen on walking, you could hail down a tuk-tuk and get a personalized tour of all the beautiful (and hidden) places in Kandy. This shouldn't cost you more than 3 000 LKR ($15).
Either option is a fun way to explore Kandy like a local.
One Day Kandy Itinerary: The Best Places to Visit in Kandy Sri Lanka
Surrounded by lush mountains and tea plantations, there's more to Kandy than meets the eye.
The city boasts some pretty impressive historical buildings as well as religious sites and is, of course, the starting point of the famous Kandy to Ella train ride.
I planned to visit the uncommon places in Kandy – you know, those hidden gems that are often missed by other travelers who are in search of Insta-worthy locations instead.
Unfortunately, there aren't too many of these "off-the-beaten-track" places to visit in Kandy!
Below is my one-day Kandy itinerary but I've also included some of the other popular attractions that you might prefer.
1. Walk through Udawattakele Forest Reserve: The most uncommon place to visit in Kandy
Cost: 650 LKR ($3.5) per person
Time needed: 2 hours
Situated in the center of Kandy, and overlooking Kandy Lake, lies Udawattakele Forest, also known as the Royal Forest Park of Kandy. It's a beautiful lush urban jungle at the heart of the bustling city.
It was once the King's personal garden but has since been made open to the public, offering one of the best places to visit in Kandy.
You only need 2 hours to explore the forest, where you'll walk beneath a thick canopy of trees and come across numerous monkeys and native bird species. There's a viewpoint that overlooks Kandy Lake but most interesting was the cave I discovered by following a narrow path leading off the main trail.
Throughout the 4km trail, I came across a handful of other people, none of whom were tourists, so if you're looking for non-touristy things to do in Kandy, Udawattakele Forest is it!
How to get to Udawattakele Forest
Udawattakele Forest will be the starting point of your free walking tour of Kandy. I suggest you take a tuk-tuk to the entrance which is located here.
2. Visit Bahirawakanda Vihara Buddha Statue: The Best views of Kandy
Cost: 250 LKR ($1.5)
Time needed: 30 minutes
The Bahirawakanda Vihara Statue is one of the most famous places in Kandy and dominates the city's skyline.
At 27m in height, it's one of the tallest Buddha statues in Sri Lanka and can be seen in all its might from just about anywhere in Kandy.
The views from the site itself are just breathtaking and overlook the Kandy cricket stadium, Udawattakele Forest, and Kandy Lake.
How to get to the Buddha statue
The Bahirawakanda Vihara Buddha lies on the opposite side of Kandy to the Udawattakele Forest. It's a 2.5km walk from the forest to this statue and the walk takes you through the city. The final stretch involves an uphill climb which can be quite tiring for some.
Alternatively, you can take a tuk-tuk.
Pro tip: You need to take off your shoes and wear a sarong to cover your legs before entering the statue premises.
3. Indulge in a delicious Sri Lankan meal
Phew, if you're following this Kandy free walking tour, you would have walked over 6km's already!
Reward yourself with a delicious lunch to keep you fuelled for the rest of the day!
I stopped at Nagalingam's Bhavan, an amazing family-run restaurant in Kandy that serves up the best (and cheapest) local food.
Save this location because it was one of the best places I visited in Kandy.
How to get there
From the Buddha statue, make your way down the hill to Kandy Lake which is 1.5km away. En route, you'll come across many local restaurants so pop in and order a Sri Lankan curry or Kottu Rotti.
As you get closer to Kandy Lake, you'll notice the change in energy as the streets become more chaotic and the atmosphere, more cheerful.
If you're as obsessed with local food as I am, you might want to check out these awesome food tours in Kandy!
Kandy Private Street Tour where you'll feast on 10 tastings of the most delicious meals. The highlight? Your guide will take you to the best local spots so you'll have an authentic food experience in Kandy.
Kandy Cooking Class that will take you to a local market to pick up supplies before walking through rice fields where you'll source your own ingredients and prepare a delicious Sri Lankan curry.
4. Hang out at Kandy Lake in the heart of Kandy
Cost: free
Time needed: 15 minutes
Built in 1807 by orders of the last King of Sri Lanka, Kandy Lake is an artificial lake sitting in the heart of the city.
You can purchase fish food from one of the vendors and feed the many fish that call the lake home. If you're lucky, you'll even spot huge monitor lizards swimming in the lake or basking in the sun.
If you're up for some more walking, why not take a stroll along the path that encircles Kandy Lake. But, the main road runs alongside the walking path so it can get noisy with buses and tuk-tuks honking consistently.
READ MORE: The Best Beaches in Trincomalee
5. Temple of the Tooth Relic: The most sacred place to visit in Kandy
Cost: 1 500 LKR ($8) per person
Time needed: 1 hour
Right next to Kandy Lake lies Sri Dalada Maligawa or Temple of the Tooth Relic. It's a UNESCO World Heritage site and one of the most spiritual places to visit in Kandy, if not the whole country!
The stunning golden roof temple is home to the famous tooth of Buddha which is housed in the Royal Palace Complex.
How did Buddha's tooth get there?
Well, it was initially smuggled into Sri Lanka way back when and was moved around the country before finding its new home in the famous temple in Kandy. It's a spiritual place with religious fame and you need to show respect by covering your shoulders and legs.
As with Adam's Peak pilgrimage in Dalhousie, Sri Lankans believe that they should visit the Temple of the Tooth at least once in their lifetime and many people make the long journey to Kandy just to step foot in the holy grounds.
Unfortunately, you can't actually see the tooth itself as it's hidden in a golden casket that's heavily guarded. The temple has been attacked twice, once in 1989 and a second time in 1998, and so security is extremely high.
This scared tooth relic is one of the top tourist places in Kandy so if you're not a fan of crowds, you might want to leave this off your itinerary.
6. Enjoy a beer at the Stag's Head Pub in Hotel Casamara
After 6 hours of exploring all the best places to visit in Kandy, you'll be exhausted and in much need of a drink!
Head to Hotel Casamara which has an awesome rooftop bar overlooking Kandy and treat yourself to an ice-cold Lion beer!
7. Watch the Kandyan dance: The most touristy thing to do in Kandy
Cost: 1 000 LKR ($5)
Time needed: 5pm-6pm
You're going to have to force yourself out of the bar for this one (or stay, and give the Kandyan dance a skip – up to you!)
For a night of cultural dancing, enjoy the Kandyan dance which is a colorful show of acrobatics, dancing, and drumming. This is one of the most popular things to do in Kandy at night and is followed by a short firewalking performance.
Personally, I felt that the performance was a bit too long and repetitive, but it's only an hour out of your day to support the community and enjoy the local art and culture.
Where to see the Kandyan performances
The Kandyan performances take place at various venues just a stone's throw away from Kandy Lake.
Kandyan Art Association & Cultural Centre is the most popular of all the venues and attracts busloads of tourists. The performance starts at 17:00 and it's right next to Kandy Lake.
Kandy Lake Club is a more intimate performance when compared to the above and starts at 17:00, but it's about a 1km walk from Kandy lake.
Read More: Hiriketiya Beach – All You Need To Know About Sri Lanka's Paradise
Other Popular Places to Visit in Kandy
If you followed my walking tour of all the places to see in Kandy, you'll be exhausted by the end of the day!
Perhaps you have a bit more time and want to explore a few more Kandy attractions. Or maybe you want to swap the above locations for some other popular places to visit in Kandy.
Royal Botanical Gardens
Cost: 2 000 LKR ($10)
Time needed: 2 hours
The Royal Botanical Gardens or Peradeniya Botanical Gardens in Kandy is not only the biggest botanical garden in the country but also the oldest, dating back to 1371.
Home to over 5 000 species of flora and fauna, the gardens boast an impressive collection of orchids and other flowers. Also, keep an eye out for the giant fruit bats!
These botanical gardens are one of the top tourist attractions in Kandy where you can enjoy a tranquil setting amongst the trees so bring a picnic blanket and a book if you're keen for some downtime.
But, if you only have a one day trip in Kandy, you would need to choose between the popular Botanical Gardens or the less-visited Udawattakele Forest. I opted for the forest and have no regrets!
How to get there
The Royal Botanical Gardens are a 20-minute drive from the center of Kandy and you can easily hop on a local bus if you'd prefer not to pay for a tuk-tuk.
Head to the bus station at the Kandy Clock Tower and look for the bus to Pilimathalawa. Alternatively, just ask to say, "Botanical Gardens" and the locals will happily point you in the right direction.
Explore Tea Plantations
There's no arguing that Sri Lanka is one of the biggest tea producing nations in the world and a visit to the county isn't complete without exploring one of the many tea factories set amongst the lush green hills.
There are several tea plantations you can visit near Kandy, but if you plan on visiting Nuwara Eliya (which was my favorite place in Sri Lanka), I recommend that you rather tour the tea fields there as your Kandy itinerary is already jam-packed.
However, if you have more than one day in Kandy, and you're not planning on traveling to other parts of hill country, then it's best to visit a tea plantation from here.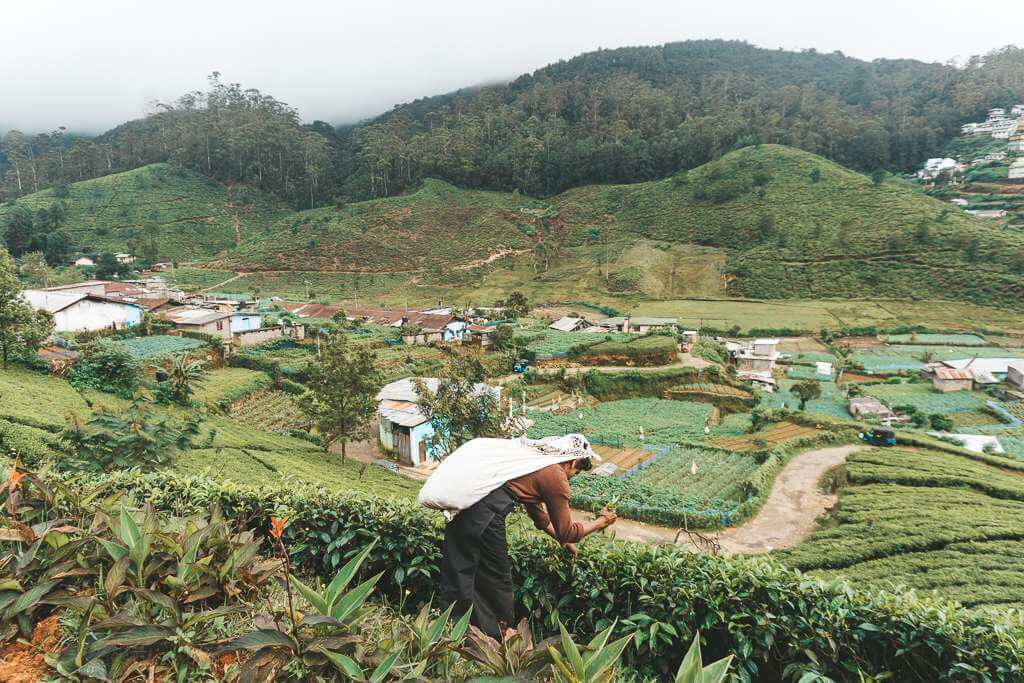 Things to do in Kandy that require a day tour
Explore Knuckles Mountain Range
Home to cascading waterfalls, lush green hills, and rich in biodiversity and wildlife, Knuckles Mountain Range is one of the best places to visit in Kandy if you're looking for a secluded outdoor experience.
Situated north-east of Kandy, just a thirty-minute drive from the center, you'll need a full day to explore Knuckles Mountain Range which will include about 5 hours of trekking through the lush green hills.
It offers a variety of diverse and challenging trails (over 30 to be exact) so you're guaranteed a thrilling experience away from the crowds. But, a guide is needed as the routes are not signposted and you can easily get lost.
How to plan your trip from Kandy
If you're backpacking Kandy, this $40 fee for a guide & park entrance may be the deciding factor as to whether you include it in your Kandy itinerary or not.
I really wanted to spend the day hiking through Knuckles Mountain Range but, unfortunately, it had been raining non-stop for the days leading up to my visit to Kandy, and so I was told that it wasn't a great time to go trekking.
If you only have one day in Kandy, you'll have the choice of either trekking in Knuckles Mountain Range or exploring the other top attractions. Personally, I think I would have preferred Knuckles – if the conditions were right.
Pro tip: Many travelers opt for a day trekking in Horton Plains to World's End. If you're deciding between the two, Knuckles Mountain wins hands down!
Day trip to Sigiriya
If you're wondering what to do in Kandy as you have a few more days to explore, then I highly recommend taking a day trip to Sigiriya.
Sigiriya is home to the famous Lion Rock, an ancient rock fortress north of Kandy. Overlooking Lion Rock is the stunning Pidurangala Rock which makes for an awesome sunrise hike with panoramic views.
I spent 3 days in Sigiriya and I highly recommend that you add a stop to this small village in your Sri Lanka itinerary. But, if time is not on your side, you may have to opt for a day trip from Kandy instead.
It's a 2-hour drive from Kandy to Sigiriya and if you're wanting to do this day trip, rather opt for a tour as public transport will take so much longer.
Kandy to Ella Train
When you're done exploring the best things to do in Kandy, it's time to move on to your next destination in hill country.
The best way to get there? The famous Kandy to Ella train ride, of course!
It's been hailed as one of the most scenic train rides in the world, and the thousands of Insta shots have attracted tourists in their numbers, deservedly so.
But, if you think you'll easily find a window seat offering picturesque views of the valleys below or that you'll get to hang out the doors with not a worry in the world, you're in for a surprise!
The Kandy to Ella train gets packed! So much so that the excitement and rush to get on the train is often more memorable than the actual train ride.
The first train from Kandy to Ella departs at 08:47. Get there by 07:45 to secure tickets.
If comfort is what you're after, you'll need to pre-purchase your 1st or 2nd class train tickets here but otherwise, buy a third-class ticket from the Kandy train station.
Sitting with the locals in the back is the best way to experience the Kandy to Ella train!
Read More: Ella Rock or Little Adam's Peak: Which is Better?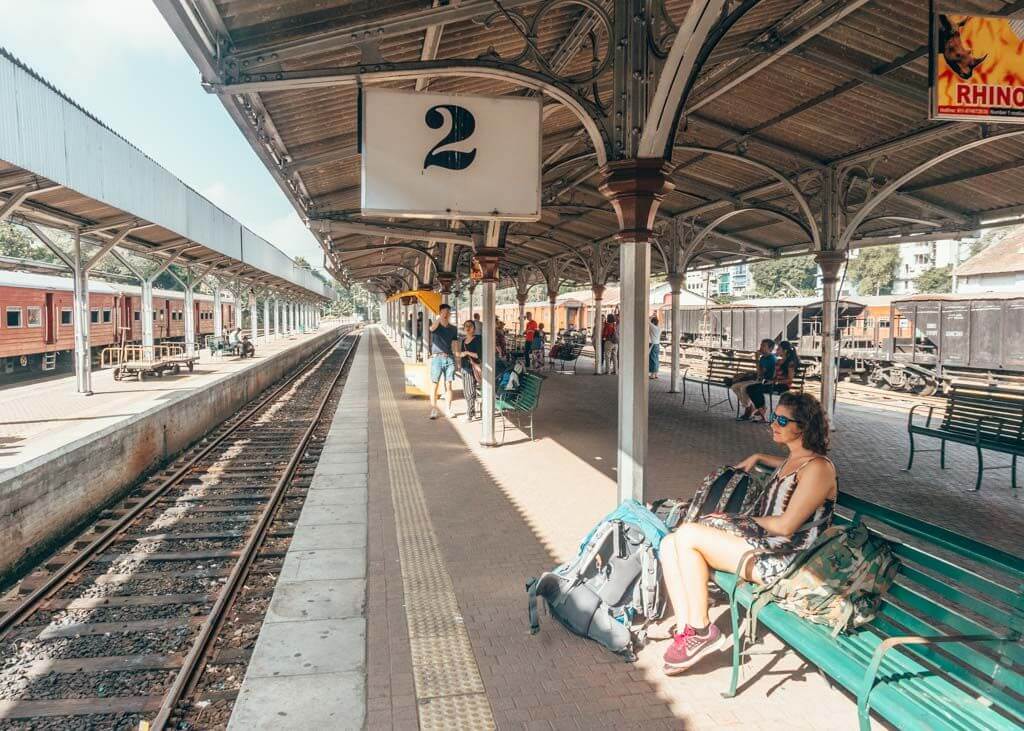 Best Time to Visit Kandy
The seasons in Sri Lanka are just down-right confusing and no matter when you visit, the weather is bound to be unpredictable.
October and November is the rainy season in Kandy and I can attest to that.
I traveled to Sri Lanka in October and Kandy had experienced heavy rains that month, except the one day I was there! I had struck it lucky and was able to continue with my Kandy free walking tour unaffected by the weather – it was actually scorching hot.
December to April is said to be the best time to visit Kandy as this is the dry season with no rain, but it's also one of the most popular times to travel to Sri Lanka so be prepared for crowds.
READ MORE: THE ULTIMATE SRI LANKA PACKING LIST
Where To Stay in Kandy
If you're only spending one day in Kandy, it's best to book a hotel in the city so that you can easily explore these famous Kandy attractions.
But, just a 10-minute drive from the center, you'll find gorgeous accommodation options on the hills, overlooking the city. Staying at one of these places offers an escape from the hustle and bustle, which you'll need after a full day of exploring.
My personal favorite is Resident View Homestay, a beautiful family home just outside the center of Kandy where I spent 2 nights. It's one of the most affordable places to stay in Kandy and the hospitality of the host was the highlight for me.
She made us the most delicious Sri Lankan food, gave insider tips on the best things to do in Kandy, and went out of her way to ensure we had a great time in her city, not to mention how comfortable the rooms were. Check the latest prices here.
Other options for places to stay in Kandy Sri Lanka
Backpackers in Kandy will love J Hostel. It's a backpacker hot spot that provides comfortable and clean rooms at an awesome price. You'll be treated to a homey atmosphere with friendly hosts. Check the latest prices here.
If you're traveling on a budget but looking for more privacy than a hostel, look no further than Joyspring Hills. Not only is it the cheapest place to stay in Kandy, but the family who owns the homestay are the absolute kindest and selfless people you'll meet. There's also a bus stop right outside the property, making it easy to get to all the places in Kandy. Check the latest prices.
Looking for a mid-range place to stay in Kandy? E-stay Hanthana is great value for money. No kidding, just look at the pictures and you'll understand why! The room is modern and stylish and even comes with a private balcony and incredible nature views. Check the latest prices.
Kandy has some pretty epic luxury accommodation and if you're here on honeymoon or simply looking to treat yourself, look no further than Aarunya Nature Resort and Spa. This is the best place to stay in Kandy, no questions asked! You'll be treated like royalty at this hotel which is hidden high up in the misty mountains about 15 km's from Kandy. Take your pick of private villas with hot tubs and infinity pools – I can assure you that you won't want to leave this place! Check the latest prices.
How To Get To Kandy
Kandy lies 3.5 hours from the capital city, Colombo. It's well connected to all destinations in Sri Lanka using public or private transport and is a transit hub for many travelers.
Unfortunately, there's no airport in Kandy and so air travel isn't possible
Depending on your time, and budget, there are various ways to get to Kandy.
Private Transfer
I wouldn't recommend that you drive in Sri Lanka. If you don't want to use public transport, it's best to book your transport with a taxi. Book your private transfer here.
Public Bus
The public buses in Sri Lanka are certainly a unique way to experience the country. But they're a hit and a miss. I was pleasantly surprised when I got on my first bus to find it was air-conditioned and offered a direct trip to my destination.
But this was the first, and last!
The buses can get very crowded and you'll sit squashed like a sardine with your bags on your lap! The buses also make numerous stops, and so the trip from Colombo to Kandy can take anywhere from 3 -4 hours.
Train
The train ride from Colombo to Kandy isn't quite as scenic as Kandy to Ella, but it's extremely affordable and takes 3 hours. Check the train times here.
The train from Ella to Kandy is pretty long (6.5 hours), and it's best to split it up by staying in Nuwara Eliya or Dalhousie. Check the train times and prices here.
The train from Nuwara Eliya to Kandy is 3.5 hours. Check times and prices here.
If you're happy to sit 3rd class (which I did) there's no need to prebook tickets. But, if you want a comfortable train ride in either 1st or 2nd class, you need to pre-book your tickets here.
Kandy, Sri Lanka: Nice place to visit but not the best
I enjoyed visiting Kandy. Being the second-largest city in Sri Lanka, I expected it to be a lot bigger and more chaotic than it was. But I was pleasantly surprised to find that it wasn't as hectic as I imagined it to be.
But, Sri Lanka has so much natural beauty and if you're deciding what to do and see in the country, I wouldn't include Kandy as one of those bucket-list places to visit.
---
Have you been to any of these places in Kandy? Do you think it was overrated? Let me know in the comments below!
Planning your trip to Sri Lanka? These posts may help!
---
Pin This!
There is a really good chance that this post contains affiliate links. If you click one of them, I may receive a small commission at no extra cost to you. As always, views are my own!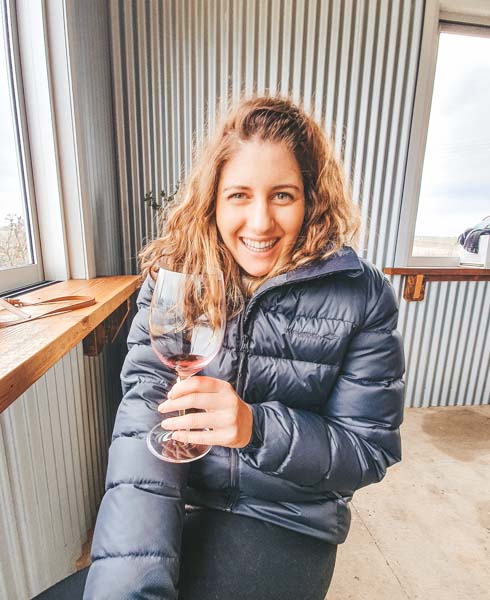 About Carryn
Hi, I'm Carryn. I'm an adventure travel blogger trying to figure out my way through life by traveling and exploring. Join me as I share my travel stories and tips of life abroad.