Summer in Korea is brutal! It's scorching hot and incredibly humid leaving you with very few options for outdoor activities.
Many people choose to lock themselves indoors with the aircon blazing away – which I did for most of the time. But, if you're willing to brave the outdoors, head to the Naerincheon River near Inje where you can spend the day white water rafting in Korea.
After a full day of exploring the Korean countryside whilst floating down the Naerincheon Stream, I finally got to tick rafting off my Korea bucket list!
Here's everything you need to know, and whether it's worth doing as a day trip from Seoul.
Where To Go Rafting in Korea
The best rafting in Korea is found towards the east of the country, in Gangwon-do province. It's a mountainous province with beautiful scenery and the most "exciting" rapids you'll find – by exciting, I mean by Korean standards.
Three popular areas for white water rafting include Donggang River rafting in Yeongwol, Naerincheon River in Inje, and Hantangang River in Cheorwon.
They all offer similar experiences with clean refreshing waters to cool down in the hot summer months.
The best part? They're all easily accessible on a day trip from Seoul!
I went rafting down the 6km course along the Naerincheon River and have included all the details in this post.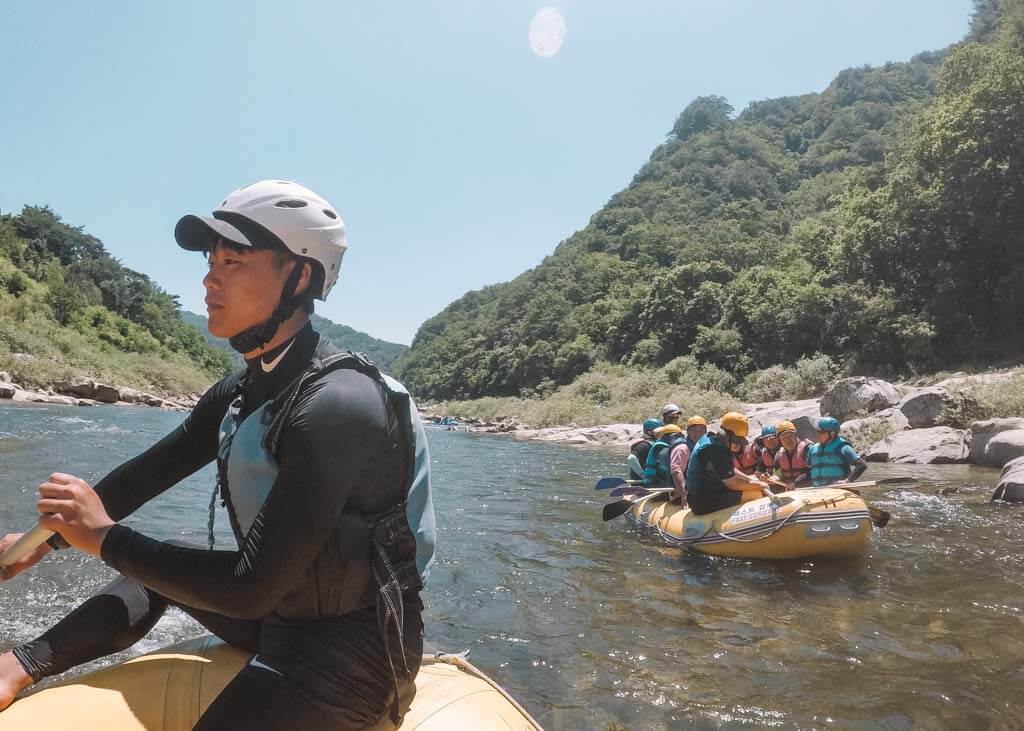 Naerincheon White Water Rafting in South Korea
Naerincheon River is located in Inje, Korea, and is a 90 min drive from Seoul. The 6km course is made up of class II rapids and together with a halfway stop, it takes about 2 hours to complete.
I was super excited to go rafting in Korea! I'm a bit of an adventure junkie and came prepared for a thrilling experience, with the hopes of taking on intense rapids.
Reality didn't quite meet my high expectations – and you'll soon find out why.
But, what I loved about my rafting experience along the Naerincheon River were the awesome people I met, the incredible lush countryside and the fun day out in the sun, swimming in the stream with few people around.
Psst… If you're in search of other fun activities to do in the summer, head to Naksan Beach in Korea – it's the best beach in the country!
Safety First
When it comes to rafting in Korea, expect strict safety regulations. Koreans are overly cautious and leave nothing to chance. This is quite the contrast to my white water rafting experience in Bali!
But rightly so. What I didn't realize is that not many Koreans can swim and if they fall into the water, it can be extremely scary for them. They, therefore, rely heavily on their life jackets and are extra careful not to plunge into the river.
On the other hand, all I wanted was to be thrown out of our boat into the refreshing stream!
So, after collecting our rafting gear which included paddles, water shoes, a helmet, and a life jacket, we headed to the start of the tour.
As we got to the river, we were met by crowds of friendly locals who were all super excited to hop into their rafts and begin their trip.
First, we were given a thorough 10-minute safety briefing, after which we had to chant the safety calls we'd use whilst rafting along the Naerincheon River.
Then, to ensure we knew how to stay afloat in the water, just in case we fell in, we all had to lie on our backs and demonstrate the correct technique for floating with a life jacket.
Whilst we were all having a good time, chatting with our new friends and excited to get going, our instructor was super serious and was taking no chances with us on his raft.
Read More: The Ultimate Nami Island Itinerary
Rafting Down the Naerincheon River near Inje
Rapids range between Class I-Clas VI. Class I is a combination of small waves and no rapids, and Class VI is hectic and only for experts!
The rapids in Korea are supposedly a Class II, but I thought they were more along the lines of Class I.
They are very tame, and most of the time we were slowly gliding down the river, begging our instructor to take us through the more thrilling sections (which he wouldn't – because, well, "dangerous").
We were 7 people in a raft, all paddling in perfect rhythm. About halfway we reached a flat section where all the rafting tours stopped to take a break and enjoy the scenery. Here you can swim, and chill on the river banks, but you'll have to wear your life jackets at all times.
2 hours after the start of our rafting tour, we made it to the finish point.
The facilities were top-notch with showers and change rooms where we freshened up before indulging in a delicious Korean lunch and a few beers.
Tips For Rafting in Korea
The rafting season runs from April to October but it's best to go in the warm months of July and August when the water's not too cold.
There are dozens of white water companies to choose from which are easily identifiable from the main road.
Wear comfortable clothes that you can swim in. Here's my Korea packing list that covers everything you need to bring for summer in South Korea.
If you plan on taking your phone with you down the river, ensure that you have a waterproof case as it will get wet.
To be on the safe side, rather take a GoPro with you.
Confirm whether you're given water shoes. If not, wear sturdy shoes and or go barefoot.
Bring a change of clothes for afterward.
Wear sunscreen – I didn't and got burnt.
You can't drink alcohol before (or during) your rafting tour – don't judge me for being disappointed about this!
To Take a Tour or Not?
If you don't know much about Korea, you're in for a surprise. What shocked me the most was how English is so foreign in the country, making it difficult for tourists to travel independently.
And whilst the country has an incredible public transportation network – It's one of the many things I loved about living in Korea – it can be difficult to navigate between cities when you can't speak Korean or read Hangul.
So, when I began looking at my options for rafting in Korea, I kept going around in circles and couldn't find much information online about making a booking.
To save myself the hassle, and to avoid the risk of taking the wrong bus from Seoul, I chose to go with an organized tour.
This meant that my return transport from Seoul, rafting tickets, and lunch were all pre-arranged and I could sit back, relax and enjoy my day out in the sun with a bunch of awesome foreigners and Koreans who were all on the same tour.
Unfortunately, the tour company I used is no longer operating but I highly recommend Klook for your tours around Korea as I've used them for most of my travels in the country.
How to get to Naerincheon River from Seoul
Whilst I chose to go with a Korea rafting tour, you can easily get to the rafting point independently if you know your way around the Seoul bus terminal and can speak a bit of Korean.
A direct bus from Seoul to Naerincheon River (with a tour) takes about 90 minutes.
If you use public transport, it will take 2 hours or more, as you first need to go to Inje and then take a taxi. If you go this route, I recommend giving yourself an extra hour just in case you get lost.
Read more: The Ultimate 7 Day Seoul Itinerary
Directions
From Dong Seoul Bus Terminal, you need to take the bus to Inje which runs daily from 06:30 and leaves every 30 minutes. This one-way ticket costs 14 500 KRW ($11).
After arriving at the Inje Intercity Bus Terminal, it's best to hop in a taxi to get to the start of your rafting tour. The address is 221-12 Hapgang-ri, Inje-eup or go to X-Game Resort. This is a 15-minute drive from Inje.
How Much Does it Cost
Because I went with an organized tour, I paid $60 which included transport, rafting gear, and lunch.
If you go independently, it costs 35 000 KRW ($28) per person for the rafting alone. You then also need to organize transport and buy your lunch so you're looking at similar costs if you go independently.
There are also options to go rock climbing and paintballing nearby as well as ATV riding and these activities are an extra cost.
Should You Go Rafting in Korea
Yes! It's an easy day trip from Seoul and is a fun activity to do in the summer. Just don't expect anything overly exciting, so if you're traveling with your kids, they'll certainly love the experience.
If you'd prefer to stay somewhere closer to Seoul, I highly recommend hiking Bukhansan Mountain. It's one of the best things I did in the city and is an awesome hike through one of the best national parks in the country.
---
Have you been rafting in Korea? What are other adventure activities on your Korea bucket list? Let me know in the comments section below!
Psst… Looking for more Korea travel information? Check out these posts!
Pin this!