Looking for an off-the-beaten-trabck destination in Indonesia? Look no further than Red Island Beach! Situated in East Java, Red Island is a beautiful bay with an iconic rock islet jutting out of the water.
It's everything you'd want from a remote island destination and is the perfect spot to spend a few days in Java.
Psst… Planning your trip to Indonesia? These posts might be helpful!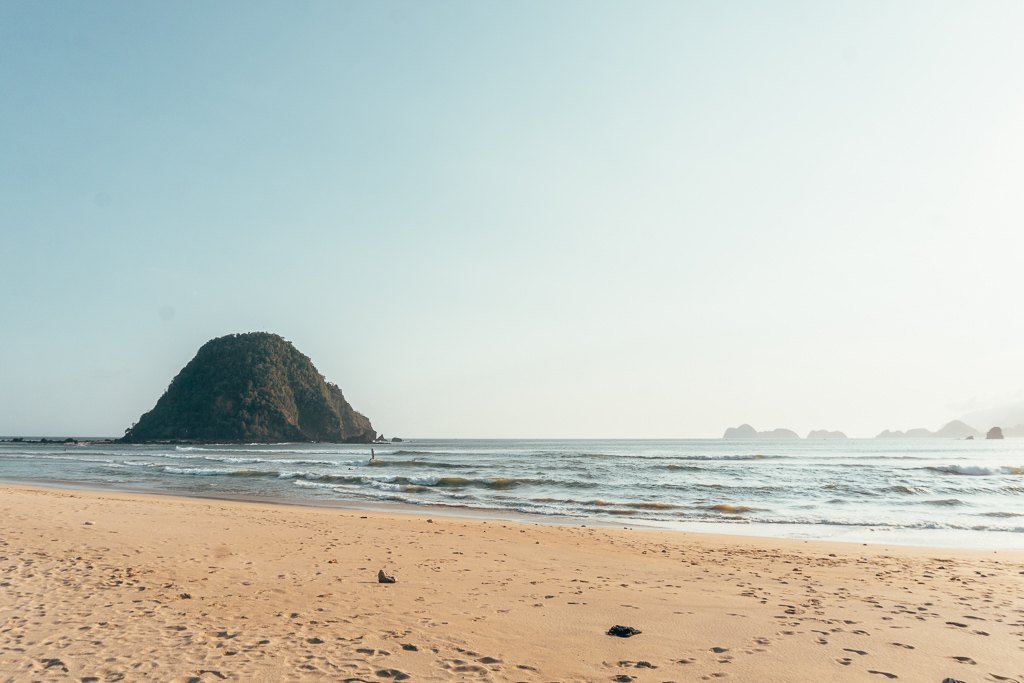 How to get to Red Island (Pulau Merah)
Red Island, otherwise known as Pulau Merah, is located on the east coast of Java and is about 2 hours' drive south of the port city Banyuwangi.
If you're visiting Bali and have time to explore other islands in Indonesia, I highly recommend that you include Red Island in your itinerary.
I rented a scooter in Canggu and headed north to Munduk in Bali before taking a ferry to Java. Here, I stopped in Banyuwangi to climb Mount Ijen and then headed south to Red Island.
It's quite the adventurous road trip with Red Island being the last and most relaxed destination of all. If you have more time to explore, check out these other awesome attractions in Java – they're well worth a visit!
8 Reasons to visit Red Island in Java
1) Red Island Beach
Red Island Beach, or Pulau Merah Beach, is the main attraction in the area.
It's arguably the best beach on Java Island and is the sole reason you come to Red Island – everything else is just a bonus!
The beach is a beautiful long stretch of soft sand and the water provides perfect swimming conditions. A few sun loungers and a lifesavers shack line the shore but other than that, the beach is free from restaurants, bars, and development.
Lying to the far right of Red Island Beach is Pantai Mustica. This beach isn't much to write home about as it's right next to the harbor (and smells like fish) so rather stick to Red Island Beach instead.
2) The relaxed atmosphere
After 2 months of island hopping in Indonesia, I was exhausted!
I'd surfed in Sumba Island, hiked Mount Inerie in Flores, spent 4 days diving the Komodo Islands, explored Bali and ended with a road trip through Java. I was busy!
So, when I arrived at Red Island, Java, I wanted to do absolutely nothing but laze on the beach and relax.
My daily routine after arriving went something like this: Wake up, have breakfast, walk to the beach, swim, read, relax, go for lunch, back to the beach, surf, walk around (or take an afternoon nap on the beach), swim (again), read (again), sip on a coconut, watch the sunset, have a beer, go for dinner, play a game of cards, shower, sleep. REPEAT!
That's it. 3 days of pure "chill". And there's not much around to convince you to do otherwise.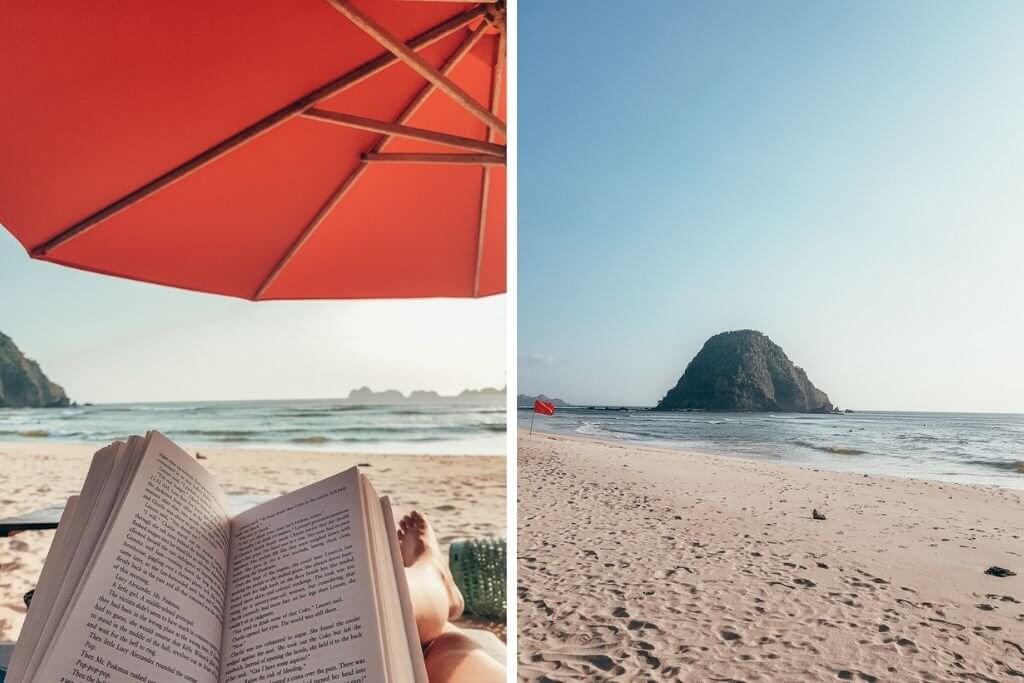 3) Red Island Surf
Red Island is a popular surf spot in Java. Not only does it offer a fun beach break with uncrowded waves, but it's also located near G-Land, one of the best places to surf in Indonesia.
The waves at Pulau Merah are well-suited for beginners, and if you get it at the right time, they're also great for more experienced surfers.
You can rent surfboards from the lifesavers shack on the beach, or there are a few surf camps in town with plenty to choose from.
If you're looking for the best waves, I'd highly recommend that you head over to G-land after your visit at Red Island, Java.
4) Adventure to Pantai Wedi Ireng
After a few days of doing nothing much but relaxing, eating, and reading, I decided to check out Pantai Wedi Ireng, a hidden beach recommended to us by a local store owner.
It's quite a mission to access the beach and involves a short, but strenuous hike. When you get there, it will be all worth it! Make sure you take enough sunscreen and water as the beach is deserted.
How to get to Pantai Wedi Ireng, Java
You can either take a boat from the harbor or opt for the cheaper, more adventurous option and walk to Wedi Ireng Beach.
Take a scooter from Red Island Beach to Pantai Mustica, which is 5 minutes away. You can also walk along the beach to Pantai Mustica, but you have a lot of walking coming up, so I suggest you opt for the scooter ride instead.
Once you've arrived at Pantai Mustica you can either pay for a fishing boat to take you to Wedi Ireng, or you can continue by foot.
If, like me, you choose to walk to Wedi Ireng, park your scooter in the parking lot at Pantai Mustica and walk toward the harbor, cross the stream (yes, the same stream that you may find fishermen taking a dump in!) and head toward the lush forest ahead of you.
There are no clear signs (August 2018) and you may not be sure of where to go. To be fair, I thought I was lost the entire journey!
Among all the shrubs and palm trees, you'll see a rugged path. Just follow that for about 35 minutes.
We saw a few locals getting to Pantai Wedi Ireng on motorbikes, but they went on a different route and to be honest, the paths aren't in great condition and it looks like an accident waiting to happen. The walk is a scenic one, so I'd recommend opting for that instead.
5) The sunsets
The sunsets from Red Island are hard to beat, especially when you're lying on the beach, book in one hand and a coconut in the other!
It's also a popular sunset spot among the locals. At around 5 pm daily, you'll notice an influx of families and friends who live in the nearby villages all heading to Red Island to catch the sunset.
I love that the locals are able to enjoy what's in their own backyard and that Red Island isn't over-run with tourists… yet!
READ MORE: The Ultimate 3 Week Bali Itinerary
6) The town itself
Tourism in Java is on the rise, and I thought that the same would apply for Red Island.
But, turns out it's a sleepy village. There are no clubs or bars. There's no shopping centers and clothing stores. The locals are friendly, you can walk everywhere, and it's safe!
7) Red Island is off the tourist path
When I arrived in Red Island, I was expecting to see tourists sipping on cocktails and surfers taking over the waters.
But I was pleasantly surprised to find the complete opposite – there was not one tourist in sight!
After walking around the town we ran into a few other travelers at Mojo Surf Camp, and some Aussies who work at the mine nearby, but that's about it.
8) It's cheap
When you're backpacking, your daily struggles include deciding when to splurge, and when not to (especially when the price of a beer is the same as a meal!) Luckily for us, we didn't have that dilemma at Red Island because everything was so cheap.
We paid 250 000 IDR ($17) per day for a double room with hot water, aircon, Wi-Fi, and breakfast! Your average meal will cost 15 000 IDR ($1) and you'll pay even less than that for a fresh coconut.
READ MORE: THE ULTIMATE INDONESIA PACKING LIST
Red Island, Java Accommodation
There's no need to book accommodation in advance when traveling to Red Island (Pulau Merah) unless you're looking to stay at a more luxurious and comfortable place.
The main road is lined with home stays and it's best to go knock on the doors, inquire about availability and negotiate the price.
This is how I found Yogi Homestay Putra Pandu. For only 250 000 IDR ($17) I got a private double room including breakfast, hot water, and wi-fi. This price is hard to beat! Yogi Homestay isn't on Booking.com but you can't miss it on the main road.
Here are a few other options that may better suit your budget: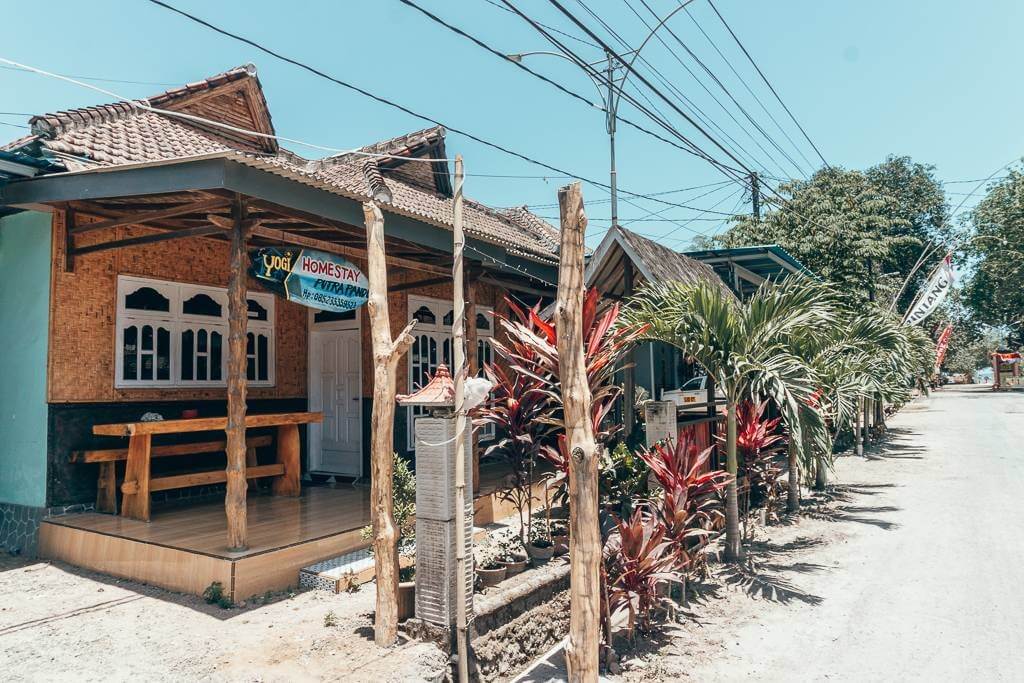 Overall thoughts on Red Island, Java
I loved my time at Red Island, Java, and rate it as one of the best destinations in Indonesia. But you don't need to stay more than 3 nights as there's not much to do in the area.
If you prefer the beach clubs of Bali then give Red Island a skip. But if you want to experience a relatively untouched island destination, and you don't mind limited choices when it comes to activities and restaurants, then Red Island is for you!
Practical Information
What to expect: A relaxed atmosphere, not many tourists nor activities to keep you busy so bring a book to read and prepare to chill
Distance from Banyuwangi, Java: 2 hour drive
Time needed: 2 Days
Best time to go: October (not busy and great weather)
---
Looking for more Indonesia travel information? Check out my other posts!
---
Pin this!