Byron Bay is a hotspot for yogis, foodies, surfers, and beach bums. It oozes Bali vibes and has a festive atmosphere that attracts tourists in their droves.
Just off the coast of Byron lies its true crown jewel – Julian Rocks!
Julian Rocks boasts the best dive sites in Byron Bay. I'm talking Leopard Sharks, Grey Nurse Sharks, Manta Rays, turtles, and more.
It's a diving mecca and has put Byron on the map as one of Australia's top places to go diving.
I missed the memo on this one! And so my first visit to Byron Bay didn't involve diving. But after realizing what I had missed out on, I was quick to book another trip and spent the day diving at Julian Rocks.
This guide includes everything you need to know about scuba diving in Byron Bay, including when to go, who to go with, and what to expect.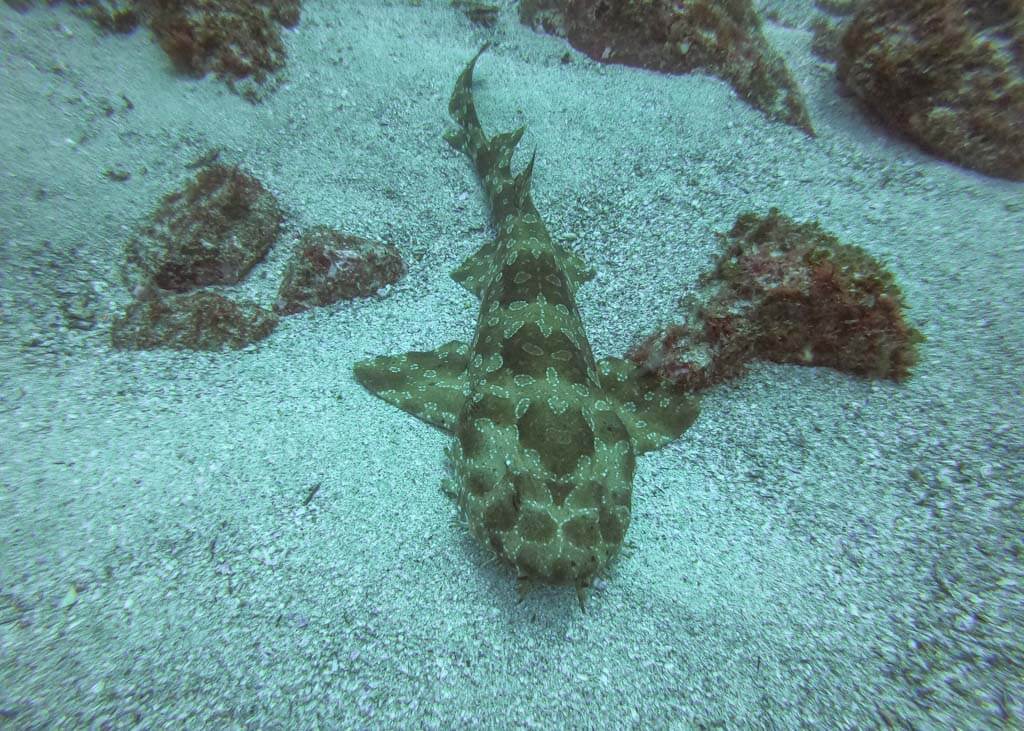 Diving Julian Rocks at Byron Bay
Julian Rocks, otherwise known as Nguthungulli, is a protected marine reserve only 2.5km from Byron Bay.
Made of two rocky outcrops, it's the convergence point of warm tropical and cooler temperature waters. This makes Julian Rocks an underwater wonderland teaming with vibrant marine life.
Diving Byron Bay: The Seasons
Julian Rocks offers a spectacular diving experience all year round. But, if you're serious about diving with either Leopard or Grey Nurse Sharks, you need to plan your Byron Bay diving trip to coincide with the right season.
Summer: Scuba diving in Byron Bay with Leopard Sharks
From December to May, you'll find Leopard Sharks and Manta Rays in the waters near Julian Rocks.
The water temperature ranges from 22 to 27 degrees during this time, so it's a great time to be out in the water.
Winter: Best time to see Grey Nurse Sharks
The cooler winter months from June to October attract Grey Nurse Shark in their numbers. These critically endangered species may look terrifying, but they're harmless, and it's safe to dive with them.
You'll also get to do some whale watching during this time. But it's cold, and you'll be diving in water that's 18 to 23 degrees.
Diving at Julian Rocks in September
I went scuba diving at Byron Bay in September, hoping to be surrounded by Grey Nurse Sharks.
But I didn't see any!
They had been spotted in large numbers the day before and after our dive. But unfortunately, we didn't get so lucky. Regardless, it was still a spectacular dive with wobbegongs, turtles, an eagle ray, and a cow tail ray.
We also saw breaching whales right in front of us on the boat trip to and from Julian Rocks.
Byron Bay dive sites at Julian Rocks
Here are the top dive sites at Julian Rocks.
The Cod Hole
The Cod Hole is one of the most popular Byron Bay dive sites. At 15 to 21 meters, it's deeper than the other sites and is a hotspot for Grey Nurse Shark encounters (from June to October.) You may even spot a few Manta Rays during the summer months. Sweetlips, trevally, and moray eels also hang out in The Cod Hole.
The Needles
With a depth of 10 to 15m, Needles is where you want to dive from December to May to see Leopard Sharks. It's located south of Julian Rocks and is also popular with turtles, wobbegongs, and giant rays. We dived here in September and saw turtles, wobbegong, rays, nudibranchs, and an incredible stone fish.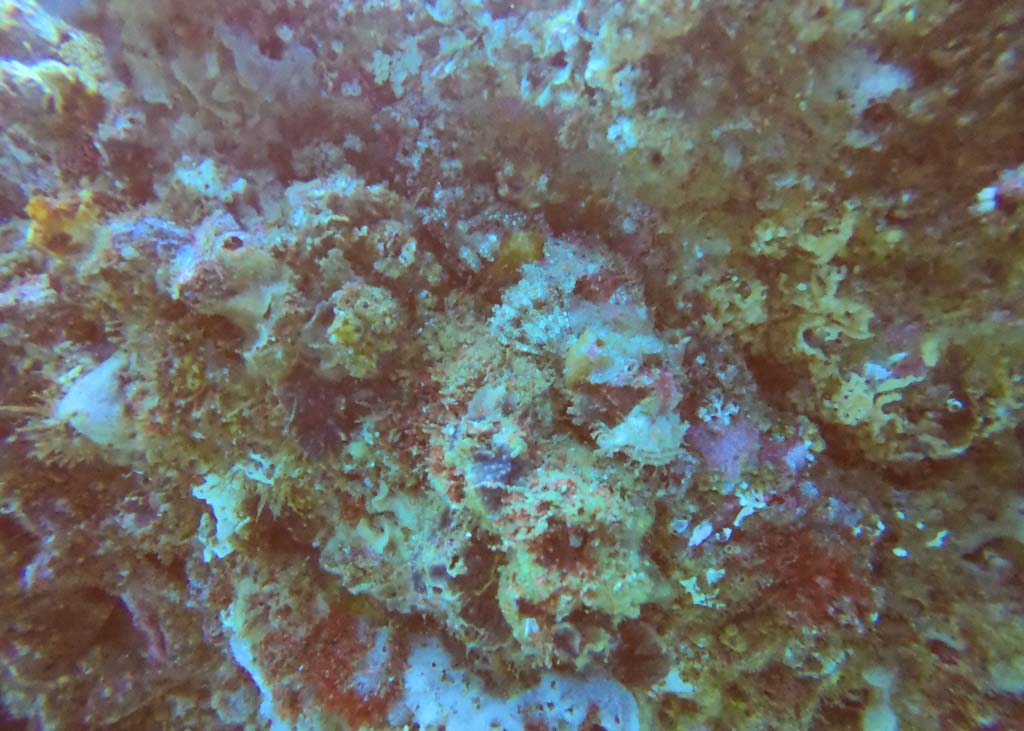 The Nursery
This shallow site (5-12m) is the most sheltered of all Byron Bay dive sites and is protected from currents. This makes it an easier dive ideal for beginners. The Nursery isn't only an excellent site for diving but also snorkeling. You'll find Leopard Sharks and Manta Rays here during the summer months and Grey Nurse Sharks during the winter.
Hugos Trench
Running through Julian Rocks, Hugos Trench offers a 15 to 18m dive where you'll spot big and small marine life, including wobbegongs, Eagle Rays, and turtles. During the winter months, Grey Nurse Sharks are also often spotted here.
The Cray Cave
This cave offers a narrower swim-through compared to The Cod Hole. Only one diver can enter at a time. You'll be diving at about 18 to 25m with sightings of Grey Nurse Shark, turtles, cods, and rays. It is only recommended for experienced divers!
Snorkeling at Julian Rocks
Julian Rocks offer shallow waters, making it perfect for snorkeling. The Nursey is a popular site for snorkelers as it's shallow and protected. Turtle sightings are common, and you'll see plenty of marine life here.
Byron Bay diving trips
Three diving operators make regular trips to Julian Rocks dive site.
Local Byron Bay tour operators
Sundive and Byron Bay Dive Centre are both based in Byron Bay. They offer similar packages which include all your diving gear.
You can do 1 or 2 dives but take note that if you choose to do two dives, you won't stay out on the water. You will head back to the dive shop between dives.
Other operators
Blue Bay Divers is the third tour operator that visits the Byron Bay dive sites.
They're based in Brunswick Heads and offer double dives to Julian Rocks. This means you stay on the water between dives, saving you the hassle of returning to the dive shop and waiting around before your second dive.
The only catch is that it's a 30-minute boat ride from Brunswick Heads to Julian Rocks.
My experience of scuba diving in Byron Bay
I booked my dive trip with Sundive and was very happy with their service and the quality of their scuba gear. The winter water is freezing, so you'll want a thick wetsuit, hoodie, and booties. Sundive had everything I needed to stay warm!
---
Are you looking to go scuba diving in Byron Bay? Do you have any questions about your trip? Drop me a message in the comments section below.
Looking for more Australia travel inspiration? Check out my other posts!