Seoul – My favorite city in Korea, if not the whole world!
With its quirky cafes, vibrant nightlife, and incredible street food, Seoul is a captivating city.
This 7 day itinerary for Seoul covers the best of what the K-pop capital has to offer, from outdoor adventures to historical sites.
You'll get a glimpse of traditional Korean culture and the striking contrast between how Seoul was back in the day versus the new, modern Seoul.
So, let's jump right in and plan the perfect 7 day Seoul itinerary. I've included everything you need to know to plan your trip, including where to stay and the best things to do if you only have 7 days in Seoul.
Torn Tackies contains affiliate links. If you make a purchase using one of these links, I may receive compensation at no extra cost to you. See my disclosure for more information.
7 Days Seoul itinerary
I bet you're wondering: "How many days should I stay in Seoul?".
Well, 7 days in Seoul is not enough – but neither is 7 weeks!
I lived in South Korea for over a year, and Seoul was one of those cities I just couldn't get enough of. If you follow this Seoul itinerary, you're guaranteed to love it as much as I do.
Whilst this travel guide allows for 7 days in Seoul, it's easy to add or remove days and customize your itinerary depending on how much time you have.
7 Tips for your Seoul itinerary
1. Check if you need a K-ETA visa
As of 2023, there have been changes to the Korea entry requirements.
If you're a citizen from one of the countries that are eligible for visa-free entry, you may still be required to get a K-ETA to enter Korea. It's a short document to complete, and there's not much paperwork involved. But it can take up to 14 days to be processed.
So be sure to do this at least a month before arriving in Seoul. You can find out more here.
2. Get a T-Money card
A T-Money card is the transportation card needed to access Seoul's public transport. It's a stored money card that can be recharged and used between buses, trains, and subways in Korea.
You can purchase this T-Money card from one of the many convenience stores or kiosks at the subway stations.
Alternatively, you can buy one online here, and it will be waiting for you at the airport when you arrive.
3. Download the "Subway Korea" app
The subway system in Seoul is fantastic! Download the "Subway Korea" app for updated train times and routes.
4. Get a local sim card
Trust me on this one! It's far easier to navigate around the city if you have access to the internet.
You can conveniently purchase your sim card here.
5. Know how to get from Incheon Airport to Seoul
When coming from Incheon International Airport, the easiest way to get to Seoul Station is to take the AREX (Airport Express) train. This 45-minute train runs like clockwork and is the fastest option.
Tickets are sold at the airport for 9 000 won ($7). Or you can purchase discounted tickets here.
6. Get a Discover Seoul Pass
The Discover Seoul Pass gives you free access to over 43 Seoul attractions.
If you're planning to visit all the top attractions in your 7 day Seoul itinerary, purchasing this Discover Seoul Pass may work out more affordable.
7. First time visitors should stay in Myeongdong
When planning where to stay during your 7 days in Seoul itinerary, it's best to choose one area that will act as your base.
The most central district is Myeongdong. It's near all the best Seoul attractions and is a great choice for first-time visitors. Myeongdong is my go-to.
7 Days in Seoul: Overview
Day 1: Gyeongbokgung Palace, Bukchon Hanok Village, Cheonggyecheon Stream, Banpo River Bridge
Day 2: Bukhansan Mountain, Jimjilbang, Korean BBQ in Itaewon
Day 3: Seoul Forest, Namsan Tower, Myeongdong shopping, Nanta Show
Day 4: Gangnam (Coex Library, Bonguensa Temple, Gangnam sign), Lotte Tower, Explore Hongdae
Day 5: Insadong, themed cafes, Jogyesa Temple, Dongdaemun Design Plaza
Day 6: DMZ Tour
Day 7: Nami Island
Day 1 Seoul Itinerary: Where old meets new
The first day of your 7 day itinerary for Seoul is sure to be one of the best!
Today you'll dive into Korean culture and tradition and see how the old and new are intertwined.
Visit Gyeongbokgung Palace
Operating hours: 09:00 – 17:00 (18:00 in the summer)
Entry fee: 3 000 won
Time needed: 1-2 hours
Note: The palace is closed on Tuesdays
Seoul is a city rich in history and is home to 5 royal palaces. Atleast one of these should be added to your 7 day itinerary in Seoul.
The most beautiful and largest of all the palaces is Gyeongbokgung Palace. This is one of those South Korea bucket list attractions that you need to check out!
Built in 1395 by the Joseon Dynasty, Gyeongbokgung Palace was the main seat of royalty until it was destroyed by a fire during the Imjin War. It was later restored and has since been open to the public.
The palace is closed on Tuesdays, so keep that in mind when planning your trip.
Top tip: Don't miss the Changing of the Guard ceremony, which takes place at Gyeongbokgung Palace at 10:00 and 14:00 daily.
Wear a Hanbok
To really entrench yourself in the Korean way of life, I recommend renting a hanbok for your visit to Gyeongbokgung Palace
A hanbok is a traditional Korean dress worn during festivals and ceremonies. It's commonly worn by locals and tourists visiting the palaces in Seoul.
These hanboks can be rented from one of the many stores near the palace grounds. But for ease and convenience, it's best to pre-book your dress here.
How to get to Seoul Palaces
To get to Gyeongbokgung Palace, take subway line 3 to Gyeongbokgung Station, exit 5.
Here's the exact location of Gyeongbokgung Palace.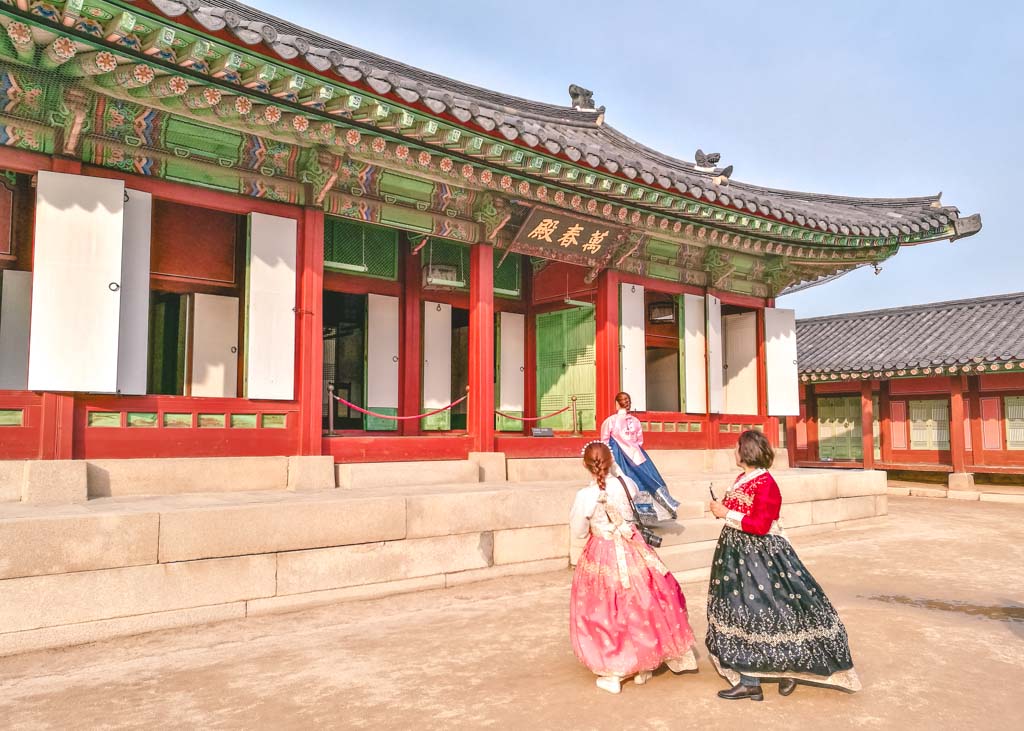 Other palaces in Seoul
Depending on how you're doing for time, there are 4 other palaces that you may want to add to your Seoul itinerary.
They include Changdeokgung & Changgyeonggung Palace, together known as the East Palace Complex. These are the most well-preserved of all the palaces in Seoul.
Gyeonghuigung Palace and Deoksugung Palace are known as the western complex and are two of the smaller palaces in the city.
These 4 palaces are all closed on Mondays (Unlike Gyeongbokgung Palace, which is closed on Tuesdays).
Explore Bukchon Hanok Village: A must-do in Seoul
After visiting Gyeongbokgung Palace, it's time to see Bukchon Hanok Village.
Bukchon Hanok Village is just a short walk from the palace grounds. It's one of the oldest and most famous neighborhoods in Seoul.
This picturesque village is home to hundreds of traditional Korean houses called hanoks. The narrow alleyways are lined with these charming houses, all made from stone and wood.
The village is filled with a maze of picturesque streets, and many of the hanoks now operate as cultural centers, museums, and restaurants.
While it's one of the more popular tourist places in Seoul, it's important to remember that the Bukchon Hanok Village is still home to many families. Please respect their privacy and try to be calm and quiet when visiting.
Top tip: Namsangol Hanok Village is a lesser-known Hanok village in Seoul. It might not be as impressive as Bukchon, but it's much quieter and boasts a beautiful park.
How to get to Hanok Village
To get to Bukchon Hanok Village, head to Anguk Station on the Seoul subway and take exit 3.
If you're following this 7 day Seoul itinerary and you're visiting Bukchon Hanok Village after Gyeongbokgung Palace, you can walk between the two.
Follow your GPS to this point which is where you'll find the village.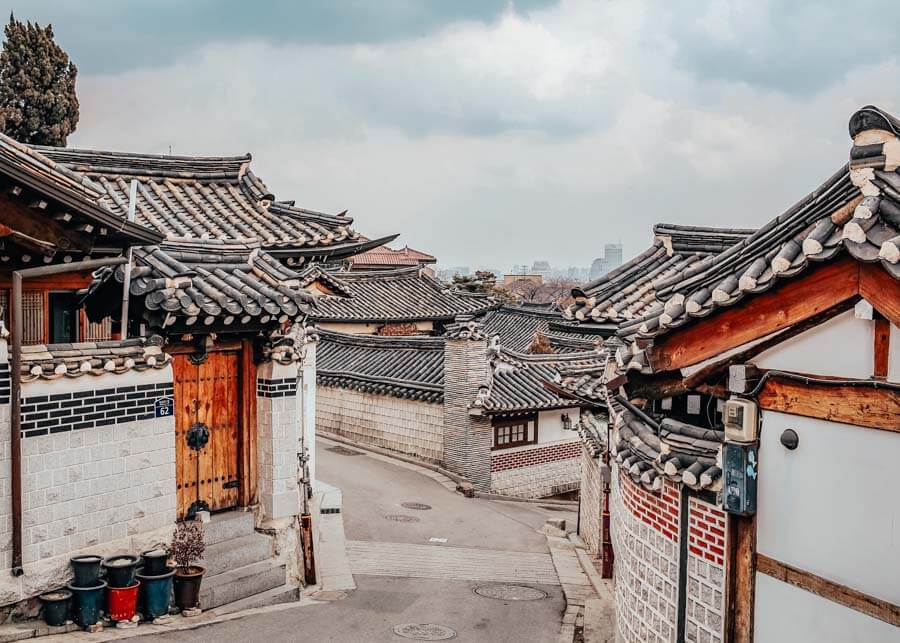 Relax at Cheonggyecheon Stream
Cheonggyecheon Stream is a popular hangout spot where locals come to chill after a busy day in the office.
There are also many street performers, umbrella-covered walkways, candlelit fountains, and a festive atmosphere that attracts couples as well as groups of friends and families.
Dip your toes in the water and take in all that is Seoul.
How to get to Cheonggyecheon Stream
The closest subway station to Cheonggyecheon Stream is Gwanghwamun Station. Take exit 5, and you'll be a short walk away. It's located here.
Chicken and beer alongside the Han River
I love the Han River! Parks line the water's edge, and it's a hive of activity on the weekends.
My favorite of all the Han River parks is Banpo Hangang Park. It boasts the best views for seeing the Banpo Bridge Rainbow Show. This music and water performance takes place every night from 8 p.m.
The parks around the Han River also have a wide selection of vendors selling the most delicious street food in Seoul. I recommend grabbing some famous Korean Chicken and Beer, and enjoying the views of the famous bridge.
If you're looking for more things to do along the Han River, why not book a boat cruise? It's the perfect way to end your first day in Seoul.
How to get to Banpo Han River Park
You'll find the Banpo River Park here. The closest subway station is the Seoul Express Bus Terminal Station.
From here, take exit 8-1 or 8-2 and walk about 600 m until you reach the park.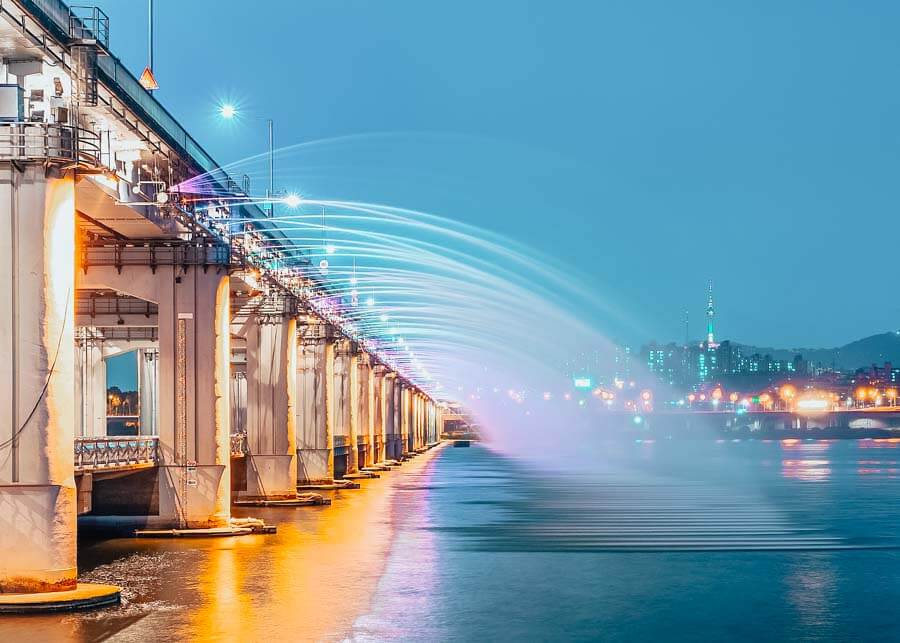 Day 2 Seoul Itinerary: Hiking and outdoor adventures
Your first day in Seoul was a good mix of culture and tradition. Day two will be nature and nightlife!
Hike Bukhansan Mountain: My favorite place to visit in Seoul
Whilst Seoul may seem chaotic at times, you don't have to venture very far to escape the hustle and bustle. Just head north of the city to Bukhansan National Park.
Home to the highest mountain in Seoul and several hiking trails, it's worth including in your 7 day itinerary for Seoul.
The views from the Baegundae Peak in Bukhansan Mountain are breathtaking, but the forest walks are equally as impressive.
There's no denying that Bukhansan Mountain is one of the best places to visit in Seoul, but you'll need 4 to 6 hours to hike to the peak.
Take it slowly, enjoy being in nature, and chat with the locals. Hiking is, after all, a favorite pastime of all Koreans.
Top tip: If you don't want to do the Bukhansan hike, today's a good time to visit one of the theme parks. Lotte World and Everland are two of the biggest and most impressive theme parks in all of Korea. I've added their details at the end of this 7 day Seoul itinerary.
How to get to Bukhansan Mountain
To get to Bukhansan Mountain, head to Gupabal Station on subway line 3.
Take exit 1 or 2, which will lead you to a bus stop. Three buses go to Bukhansan National Park from here – bus 34, 704, and 8772.
You can hop on any of these and get off 10 stops later at Bukhansanseong Fortress entrance.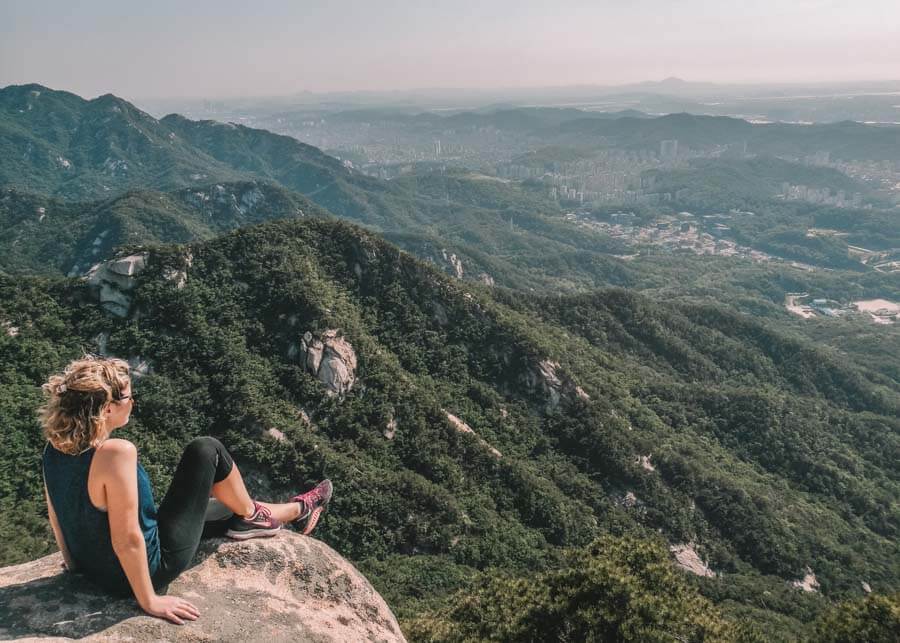 Visit a Jimjilbang in Seoul (Korean bathhouse)
Operating hours: 24 hours
Entry fee: 10 000 won ($8)
Time needed: 2-3 hours
Your 7 days Seoul itinerary isn't complete without having a Jimjilbang experience!
It's unique to the Korean culture and one of the most underrated experiences for tourists in Seoul.
A jimjilbang is a traditional Korean bathhouse with hot and cold baths that are said to have healing and soothing properties.
They're gender-segregated, and there's standard Jimjilbang etiquette that needs to be followed before you can enter these baths.
There are many Jimjilbangs in Seoul, but my favorite is Siloam Sauna near Seoul Station. Unfortunately, it has since closed its doors.
If you're staying in Itaewon, then Itaewon Land is close by, but it doesn't have a wide variety of baths and saunas when compared to Siloam Sauna.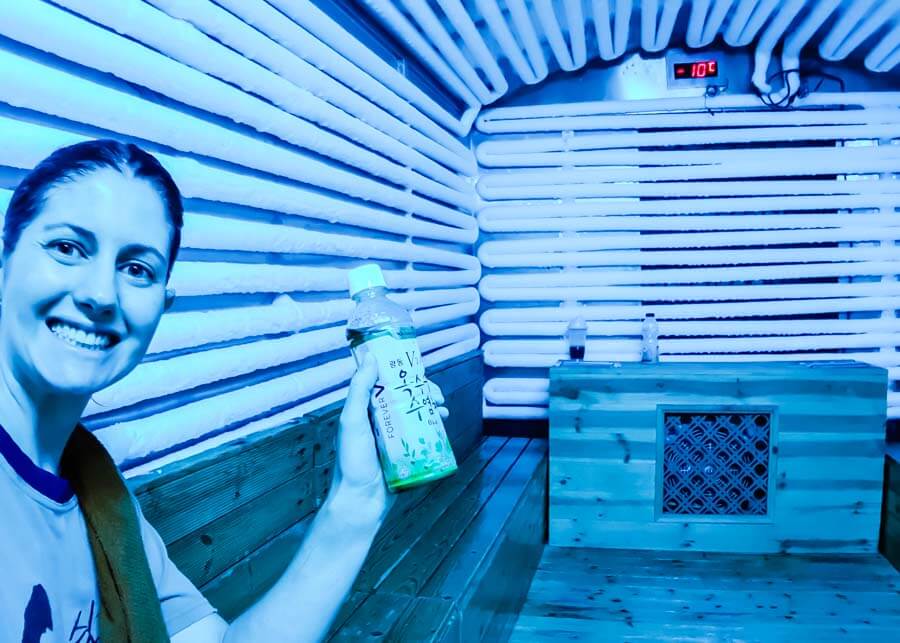 Korean BBQ in Itaewon
After a busy afternoon, you'll have worked up quite the appetite.
Head to Itaewon, a fun district that is a favorite for those backpacking Korea.
It's a diverse neighborhood filled with international influences and is completely different from all other areas in Seoul.
Itaewon comes alive at night, and the streets are bustling with people, young and old! There's an energy in the air, and it's a great place to hang out.
If you're planning your Seoul travel itinerary and want to include a night out on the town, this is where you need to be!
Itaewon is the best place to enjoy your first Korean BBQ in Seoul. Order a few bottles of Soju to go with it, and you're set for a fun night in the city.
And don't forget to visit a noraebangs (karaoke bars)!
Day 3 Seoul itinerary: Korean beauty and iconic landmarks
On your third day in Seoul, you'll visit some of the most iconic landmarks the city has to offer.
Seoul Forest
If you enjoy being outdoors as much as I do, you'll love Seoul Forest.
Situated alongside the Han River, it's one of the best places to visit in Seoul with kids. Deer and other animals call the forest home, and you're able to feed them as well.
Bicycles are available for rent, and you can cycle through the forest and across the bridges. This is a great place for a picnic breakfast.
If you'd prefer to run off all the delicious food you've eaten, Seoul Forest offers many trails that wind through the forest and alongside the streams.
How to get to Seoul Forest
To get to Seoul Forest, take the subway to Seoul Forest station and go out of exit 3. The entrance is a 5-minute walk away.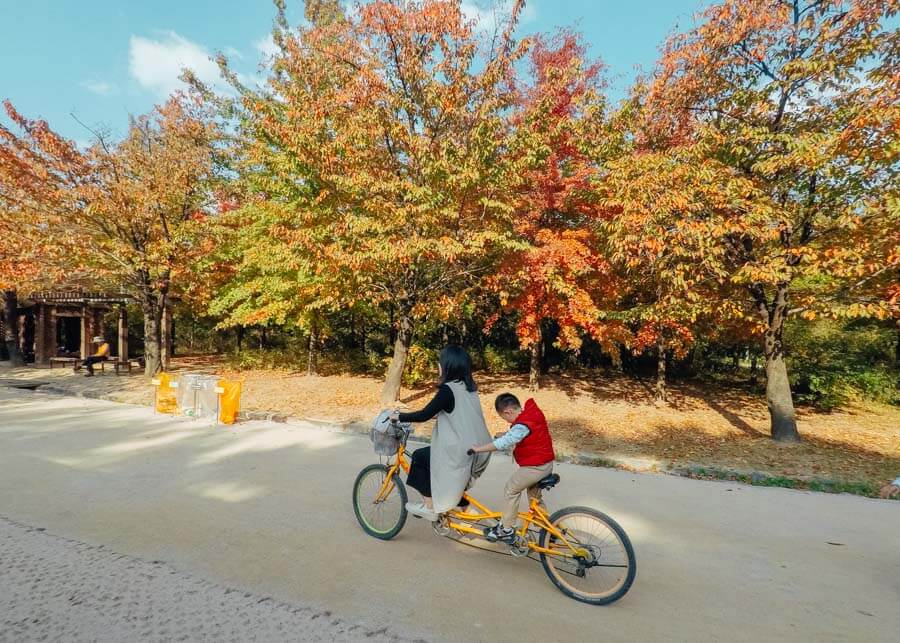 N Seoul Tower (Namsan Seoul Tower)
The N-Seoul tower sits 236 m high and is yet another iconic landmark in Seoul, offering sweeping views of the city.
It's a romantic place to visit and is a popular attraction for couples, families, and tourists in general.
Situated within walking distance from Myeongdong, the panoramic view from the top is gorgeous.
Padlocks, known as locks of love, fill the fences and have engravings of couple's names and initials, symbolizing eternal love.
Top tip: N Seoul Tower is included on most travelers Seoul itinerary. Therefore it gets very crowded, especially at night. Rather go in the morning or afternoon so you can enjoy the views with fewer people.
How to get to N Seoul Tower
To get to N Seoul Tower, head to Myeongdong Station exit 3. Continue walking to the Pacific Hotel, where you follow the street on the right side for about 10 to 15 minutes.
It's best to take the cable car up Namsan Mountain to N Seoul Tower, but on your return, walk down through Namsan Park.
Walk the streets of Myeongdong
Next, head to Myeongdong, which is just a stone's throw away from N Seoul Tower.
It's one of the best places to visit in Seoul and is known for its street food, awesome shopping, and glitzy neon lights.
Bear in mind that Myeongdong only really starts to come alive after 4 pm.
Walk the streets and indulge in delicious local street food! Korean fashion is all the craze at the moment, so you'll want to explore the hundreds of Korean beauty stores, and browse through the boutique outlets.
Top tip: If you're looking for a party scene, you won't find it in Myeongdong. Itaewon or Hongdae are the places to go for that!
Watch Nanta Cooking Show
The Nanta Cooking Show is a dance and food extravaganza in the heart of Myeongdong. This makes it an easy addition to your Seoul itinerary while you're in the area.
The 90-minute performance is a mix of martial arts and acrobatics with comedy and cooking. Yep, it's quite the performance, considering it's non-verbal.
It's suitable for the whole family, young and old, and it's the best thing to do in Seoul at night (and in winter).
The Nanta show is extremely popular, and tickets cost 33 000 won ($25) each. These need to be purchased in advance as they sell out fast.
You can pre-book your Nanta tickets here.
Day 4 Seoul itinerary: A bit of everything
Today we'll check out all the famous places south of the Han River.
eXPLORE Gangnam
Gangnam is one of the most famous places to visit in Seoul, thanks to Phy's hit single, Gangnam Style!
This is where the wealthy reside, and the streets are lined with luxury boutique stores, brand names, and sky-scrapers.
Starfield Coex Library
Gangnam is also home to the Starfield Coex Library, a massive library with over 50 000 books!
With its stunning design and impressive collection, the Starfield Library has also become a top site for photographers and Instagrammers.
Bonguensa Temple
In the heart of Gangnam you'll find Bonguensa Temple, a beautiful Buddhist temple located amongst the towering buildings of Seoul.
The Gangnam Sign
Next, head to the famous Gangnam Sign, which is just a short walk from the Coex Library and Bonguensa Temple.
Lotte World Tower
Lotte World Tower is a stunning skyscraper and an iconic landmark in Seoul.
Located in Jamsil, which is next to Gangnam, Lotte Tower stands as the tallest building in South Korea and one of the highest in the world.
The tower houses a variety of spaces, including retail outlets, and an observation deck offering panoramic views of Seoul.
For the best views of Seoul, book a Lotte World Tower Sky Ticket, which gives you access to the observation deck. These tickets sell out, and it's recommended to purchase them at least a week in advance.
Nearby is the beautiful Seokchon Lake, which offers full views of Lotte Tower standing tall amongst the Seoul skyline. I recommend walking around the lake if you have time.
Explore Hongdae
Hongdae is a hip and happening neighborhood near Hongik University.
It's popular amongst those backpacking Seoul, thanks to its karaoke bars, gaming rooms, and chicken and beer restaurants.
If you enjoy a festive atmosphere and youthful scene, then you'll love Hongdae!
The highlight of visiting Hongdae is the inspiring art and music scene, where performers take to the streets and put on shows for the public.
Unfortunately, the Trick Eye Museum in Hongdae has closed its doors. But I highly recommend adding the Coconut Box to your Seoul itinerary instead.
The Coconut Box is the latest craze and boasts bungalows and fun experience centers. You can find out more here.
Just like Itaewon, Hongdae is known as the party district. It only really starts to pick up after 5 pm, so when planning your Seoul travel itinerary, head to Hongdae around sunset time.
How to get to Hongdae
To get to Hongdae, take the subway to Hongik University station and take exit 9.
Day 5 Seoul Itinerary: Themed cafes & design
Day 5 of your Seoul itinerary offers a mix of the old traditional Seoul, and the new, trendy developments.
Visit Insadong
Insadong is another popular shopping neighborhood in Seoul, consisting of narrow alleys and clusters of traditional houses.
It's a mix of historical and modern, and the area is known for its antiques.
Insadong is an artsy district with art centers and traditional restaurants where you can purchase Korean souvenirs and trinkets, including tea, pottery, chopsticks, and more.
The Alive Museum in Insadong is worth a visit when you're in the area. It's an interactive museum offering funky trick art.
You can also pop into the Kimchi Museum, which has an impressive kimchi exhibition where you can learn more about the kimchi-making process.
How to get to Insadong
To get to Insadong, take the metro to Anguk Station, exit 6.
Themed Cafes
If there's one thing that Korea does right, it's themed cafes. And you have to include a visit to one of them during your 7 days in Seoul.
There are several themed cafes near Insadong, but the Ddo-Ong Cafe, more commonly known as the Poop Cafe, is arguably the most popular!
As you can tell by the name, your coffee is served in a toilet-shaped mug and your cake looks like, err, poop!
It's weird, but it's wonderful.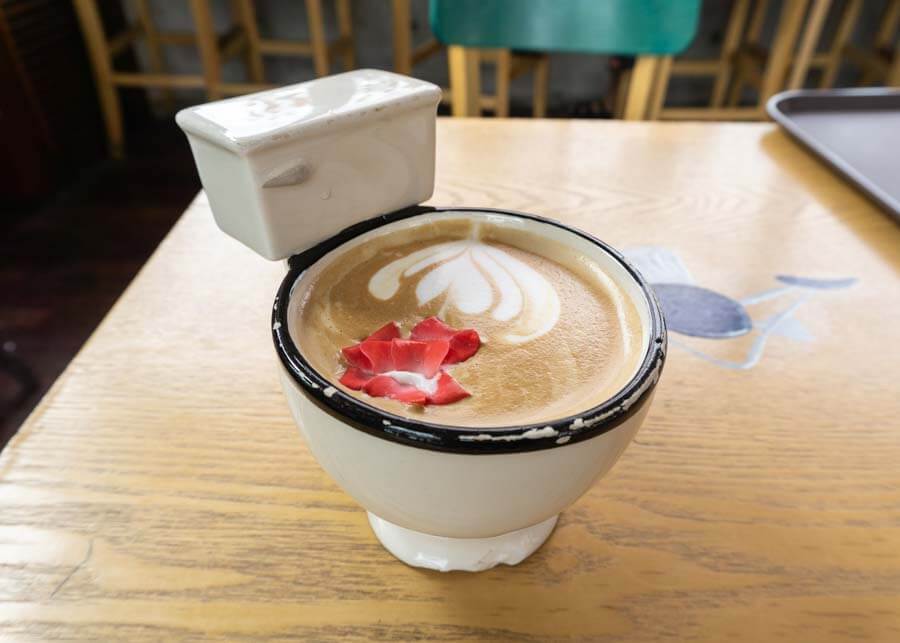 Other themed cafes for your 7 days Seoul itinerary
Cafe Onion Anguk is another popular cafe near Insadong. Set in a traditional hanok, this cafe looks like it comes straight from the Joseon dynasty.
Greem Cafe is one of the latest trends in Seoul, and an Instagrammer's dream. The cafe has been styled in black and white and looks like something straight out of a cartoon!
Seoullism Cafe near Lotte World is a rooftop cafe in Seoul. It's a hit thanks to the awesome views and the massive Seoul sign that forms the perfect backdrop.
Stylenanda Pink Pool and Pink Hotel Cafes in Myeongdong & Hongdae: These Pink Pool cafes are two of the most iconic cafes in Seoul and they're fun spots to go with your gal pals.
Cafes not to visit
Animal cafes are also very popular, and many tourists visit them during their vacations to Seoul.
Unfortunately, these animal cafes are like mini zoos where the animals are kept in captivity and have no freedom to run around.
The Racoon Cafe in Hongdae not only has raccoons but also a ferret, meerkats, civet cats, and a kangaroo – yes, a kangaroo in a tiny little room shared with families drinking their coffee! There are other themed cafes in Seoul with sheep, pigs, and dogs.
These animals are kept indoors in small rooms and are constantly surrounded by screaming kids all trying to hold them, touch them, and take photos.
It's incredibly sad so please reconsider that before including an animal cafe in your Seoul itinerary.
Visit Jogyesa Temple
Jogyesa Temple is a prominent Buddhist temple renowned for its cultural and spiritual significance. It serves as a hub for meditation, religious rituals, and cultural events.
It's not as grand as some of the other palaces or temples in Seoul. But Jogyesa Temple is conveniently located near Insadong, so I recommend popping in while you're there.
You can find the location here.
See the Dongdaemun Design Plaza
The Dongdaemun Design Plaza, or DDP, is an architectural must-see in Seoul.
As a hub of creativity, it showcases the forefront of design trends and hosts various events, from fashion shows to art installations.
The DDP is a 10 minute train ride from Insadong.
Day 6 Seoul itinerary: Day trip
I recommend keeping the last two days of your Seoul itinerary free for day trips.
I've created this guide with 25+ day trips from Seoul but below are my recommended ones if you're limited with time.
DMZ Day Trip
The tumultuous history between North and South Korea is truly fascinating!
The Demilitarized Zone (DMZ) was founded at the end of the Korean War and forms a border between the two countries.
If you have 7 days in Seoul, a visit to this iconic location should be on your travel itinerary.
The main attractions within the DMZ include the infiltration tunnels, Dora Observatory, Dorasan Station, Freedom Bridge, and the JSA.
The JSA (or Joint Security Area) is the most well-known place in the DMZ. It includes Freedom House, the iconic blue building where the two Koreas meet, and the soldiers stand face to face.
How to visit the DMZ
The DMZ is only accessible by an organized tour.
There are various tours to choose from, each of which offers different itineraries. You can see all of them here.
Unfortunately, the JSA tours have been indefinitely canceled due to a recent unauthorized crossing by a US soldier into North Korea. However, the other areas of the DMZ are still open to visitors.
Depending on what DMZ tour you choose, you may return to Seoul at lunchtime, or in the evening.
If you do the half-day tour, this is a great time to visit the other palaces in Seoul or a themed cafe.
If you opt for the full-day tour, you'll be exhausted by the time you get back. I recommend going to a nearby Korean restaurant for Dakgalbi before calling it a night.
Day 7 Seoul Itinerary: Nami Island
Situated 60 km from Seoul lies Nami Island, the prize of the Gapyeong region near Seoul.
It's a popular weekend getaway destination for all Koreans, especially couples.
Nami Island can easily be recognized by its picturesque tree-lined avenues. It's famous for being the shooting location of several K-dramas, including Winter Sonata.
The island is fun and quirky, and you can even take a zipline to reach its shores!
It's a great addition to any trip to the capital as it's an easy day trip from Seoul.
Attractions near Nami Island
Other attractions near Nami Island include the Garden of Morning Calm, which is one of the biggest and most beautiful gardens in all of South Korea.
Instagrammers will love Petite France thanks to its quaint buildings, which provide the perfect backdrop for any photo. It's found just a stone's throw away from Nami Island but is rather small and can get extremely busy.
The highlight of my trip to Nami Island was the Gangchon Rail Bike which is 20 minutes away from Nami Island.
Here, you peddle across the countryside along discontinued train tracks. The route takes you through themed tunnels and alongside a beautiful river before ending with a scenic train ride.
If you're planning your itinerary for Seoul in spring or autumn, Nami Island is one of the best places to visit.
How to plan your day trip to Nami Island
It's possible to organize your day trip to Nami Island independently using public transport. But your travel time will take up most of your day.
If you only have 7 days in Seoul, I recommend booking a Nami Island day tour like this.
The tour departs from Myeongdong in Seoul and covers the best things to do around Nami Island, including the Garden of Morning Calm and Gangchon Rail Bike.
Other things to add to your itinerary for Seoul
This Seoul itinerary includes my top attractions in the city. But there are so many more things to do in Seoul!
You may want to consider the following attractions and amend your itinerary based on your preferences.
Visit a theme park: The best thing to do in Seoul with kids
If you have children, or you're a sucker for fairytale experiences and rollercoasters, a visit to one of Seoul's famous theme parks is a must-do on your 7 day Seoul itinerary.
Lotte World and Everland are the biggest theme parks in Korea, offering a Disney-like experience.
Everland Theme Park
Everland Theme Park is an hour's drive from the center of Seoul. It's the largest of all Korea's theme parks, and it's regarded as one of the best things to do in Seoul with kids.
Taking the shuttle bus to Everland is the quickest and easiest way to get there. You can book your seat here.
Lotte World Theme Park
Lotte World Theme Park combines an indoor theme park with an outdoor adventure zone. It's conveniently situated in the center of Seoul, near Gangnam.
If you choose to visit Lotte World, give yourself a bit of time to explore Seokchon Lake and Lotte Tower, which are close by.
Go skiing in Korea: Best thing to do in Seoul in winter
If you're planning your 7 days Seoul itinerary for winter, skiing has to be on your bucket list!
There are many ski resorts near Seoul, all offering great slopes for skiing, snowboarding, and sledding.
My favorite ski park is Oak Valley Resort which is one of the closest places to ski near Seoul.
Families will love Vivaldi Ski Park which offers Snowy Land, an awesome snow park for kids. Book your Vivaldi trip here.
The best way to plan your ski trip is to book through a tour operator who will take care of all the logistics for you. The cost will include round-trip transportation from Seoul, your ski gear as well as your lift pass.
These tours offer huge discounts for foreigners, so you won't find better deals out there.
Explore Namdaemun Market
Namdaemun Market is the largest traditional market in Seoul where you can buy everything from souvenirs, clothing, accessories, jewelry, luggage, toys, and of course, delicious Korean street food.
It's a popular wholesale market in Seoul and if you feel that you haven't done enough shopping, then you can add Namdaemun to your 7 day Seoul itinerary.
But I don't think it's one of those attractions you must do in Seoul, especially if you've already explored the shopping scene at Insadong, Myeongdong, and Gangnam.
Visit Seoul Children's Grand Park
If you're visiting Korea in spring, Seoul Children's Grand Park is the best place to see cherry blossoms in Seoul. But you need to get your timing right!
They only bloom for 2 weeks, which is normally the beginning of April, but this is largely dependent on the weather.
If you miss the cherry blossom season, a visit to Seoul Children's Grand Park is still worth a visit if you're looking to explore more parks in Seoul.
How to get around Seoul in 7 days
It's incredibly easy to travel around Seoul using public transport. The subway system is convenient and cheap and covers all corners of the city.
The public buses are equally as impressive, but I've found that a combination of using the subway and walking are the quickest ways to get to all the Seoul attractions.
Taxis are also a popular option. They charge by the meter but often take longer than the subway due to traffic.
The best time to visit Seoul
Korea has 4 distinct seasons!
I'm talking extreme hot and humid summers to the point that you do not want to be outdoors. And ice-cold, snowy winters.
This weather can affect what activities you do during your 7 day Seoul itinerary.
Summer
June to August is summer in Korea. Whilst it's the busiest time to visit Seoul, it's not pleasant.
If you're familiar with high humidity and you can withstand the heat, then you'll be okay. But, it's a sticky kind of hot.
I spent two summers in Korea and only went outdoors when I really had to. This means you might not want to be hiking or doing strenuous activities during your Seoul visit.
READ MORE: A GUIDE TO NAKSAN BEACH IN KOREA
Fall: The best time to visit Seoul
The fall season, from September to November, is one of the best times to visit Seoul.
The weather is pleasant, with low humidity and comfortable temperatures.
It's a great time to be outside, and the city is filled with bright orange and red leaves.
Try to avoid visiting Seoul during Chuseok (Korea Thanksgiving), as many shops will be closed.
Seoul in Winter
If you enjoy the cold, visit Seoul from December to February. But be warned, temperatures reach below 0!
Korea winter is icy and freezing cold. Seoul doesn't get much snow in December, but you can expect a few days of snowfall in January and even February.
There are a lot of things to do in Seoul in Winter. But you may not be able to do as much hiking or outdoor exploring as you would have liked.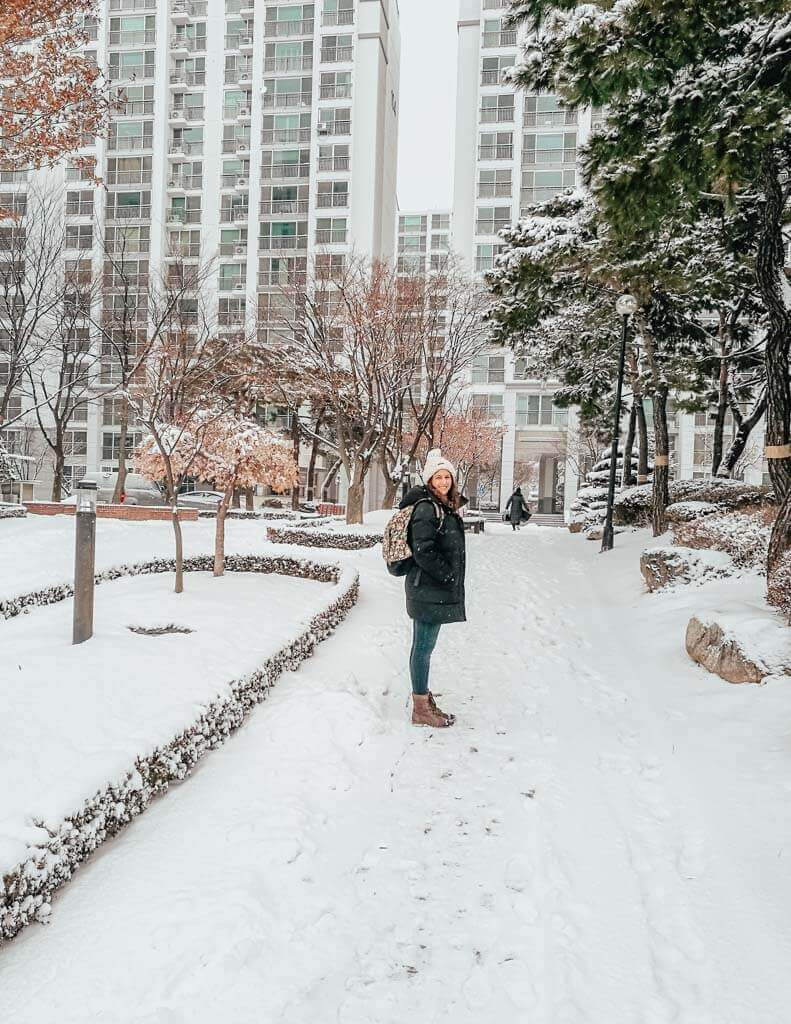 Spring: Beautiful time to visit Seoul
March, April, and May are my favorite months to visit Seoul.
It's spring in Korea and the best time to be outside, hiking, and exploring.
March is still pretty cold, but the weather slowly heats up toward the end of the month.
Cherry blossoms line the streets during the first weeks of April, which attracts tourists in their numbers.
Where to stay in Seoul
No matter where you choose to base yourself for your 7 days in Seoul, you're never too far from the main attractions, thanks to the awesome public transportation network.
Myeongdong: The Most Central Place to Stay in Seoul
Myeongdong is a great place if you want to be near the shopping district. It's filled with boutique stores, cosmetic outlets, and brand names and is within walking distance from N-Seoul Tower.
Most day tours leave from Myeongdong, and it's my recommendation of where you should stay during your Seoul itinerary.
If you're backpacking Seoul, Oyo Hostel Myeongdong 5 is a hit with budget travelers. It's a brand new hostel situated in in the center of Myeongdong with an epic rooftop area offering great views the Myeongdong skyline.
Traveling on a mid-range budget? Hotel Thomas is great value for money, given its modern features and the fact that it's just a short walk from the subway line.
If you're looking for a luxurious place to stay in Seoul, Lotte Hotel should be top of your list. With large, impeccably furnished rooms and gorgeous views, you can't go wrong with a stay here. Not to mention that it's well placed for exploring the best that Seoul has to offer.
Itaewon: Best place to stay if you're backpacking Seoul
Itaewon is the most diverse neighborhood in Seoul with a vibrant night scene.
You're never too far from a party and are bound to meet other travelers here. Itaewon is also centrally located, making it a great place to base yourself during your 7 days in Seoul.
If you're traveling on a budget, Seoul Cube is the perfect place for you! Situated just a stone's throw away from Itaewon station, this hostel has a selection of private and dorm rooms, and a complimentary breakfast is included in the price!
Are you traveling to Seoul on a mid-range budget? Imperial Palace Boutique Hotel comes with all the bells and whistles, including a large bed and artistic murals on the walls. It's also just a short walk from the main road in Itaewon and offers great value for money.
Looking for the best place to stay near Itaewon? The Grand Hyatt will exceed all your expectations! Situated on the foot of Namsan Mountain, the location couldn't be better. With the large floor-to-ceiling windows, you'll be spoiled with sprawling views of Seoul from your suite!
Hongdae: The Fun Area
Hongdae is the area around Hongik University. It's a colorful neighborhood that attracts a youthful crowd and is known for its vibrant atmosphere and bustling nightlife.
It's not quite in the center of Seoul but it's a great base if you're looking for a lively and fun district.
Zzzip Guesthouse is just the spot for travelers on a budget. The rooms are clean and comfortable. But arguably, the biggest attraction is the friendly hosts who will go out of their way to ensure you have a great time visiting Seoul.
The best place to stay in Hongdae on a mid-range budget is Hi There Guesthouse. Situated just 500m from Hongik University Station, you'll be right in the center of all the action, and it's a great base for your itinerary for Seoul. Breakfast is included, and the rooms are spacious and comfortable.
If you're in search of a luxury hotel in Hongdae, you can't go wrong with RYSE, Autograph Collection Marriot. The rooms are tastefully decorated with a minimalistic design and the hospitality of the staff will ensure you have a memorable stay.
Gangnam: THE EXPENSIVE AREA
Gangnam is one of the most expensive neighborhoods in Seoul. It's the Beverly Hills of Korea and became famous thanks to Psy's Gangnam Style.
Let's be honest, you're only going to stay here if you've got some cash to splurge!
Hotels in Gangnam ooze luxury and opulence and Andaz Seoul Gangnam is no different. This new, modern hotel is within walking distance of all the attractions in Gangnam and is the perfect place to return to after a busy day exploring Seoul.
Arguably the best hotel in Seoul, Signiel Seoul boasts panoramic views from all their exquisite rooms. The attention to detail is out of this world. If you're a foodie, the Michelin-starred restaurant is yet another reason to stay here!
What to eat in Seoul
One of the highlights of visiting Seoul is the mouth-watering food. And when you leave the country, you'll be pining for that dakgalbi and one more Korean BBQ.
Don't wait until the end of your Seoul itinerary before you try out the local cuisine.
Start on day 1 and feast on these delicious meals.
Tteokbokki: Tteokbokki is rice cakes covered in delicious spicy sauce and one of the most popular street foods in Korea.
Dakgalbi: Cheesy chicken goodness with vegetables.
Korean BBQ: You cannot miss out on this famous meal. It's a cultural experience where you prepare your meat on a grill.
Bibimbap: Bibimbap is rice served in a bowl that's topped with delicious vegetables, kimchi, and various sauces, as well as a fried egg.
Kimchi Jigae: Kimchi stew is a winner on a cold winter's day in Seoul.
Jjimdak: Similar to Dakgalbi in its deliciousness, Jimdak is a chicken dish served with noodles and a ganjang sauce.
Gimbap: Gimbab are sushi-like rolls wrapped in seaweed that are perfect for food on the go. Snack on them during your hike and ensure you have enough Gimbap for your picnics.
Bingsu: A popular shaved ice dessert in Korea with various yummy toppings.
Essentials and etiquette for your Seoul itinerary
I'm not quite done with this 7 days itinerary for Seoul!
Here are a few more tips.
Escalator etiquette: Always stand on the right and walk on the left. Always!
When packing for Korea, consider not only the weather but the local customs as well. For example, exposing your shoulders (and chest) is not okay in certain environments.
Ensure you have cash on you when you're walking through the markets in Seoul as they don't have card facilities. You can easily draw from the ATM's.
There's no tipping in Korea. And don't offer, as it's seen as an insult!
Download Google Translate – you'll need it.
In Korea, everything starts later and is open later. People only appear from their apartments after 10 am but they'll be up until midnight, including the children!
Download the "Naver Maps" app for directions. Naver Maps shows you more detailed directions, including the fastest routes to all the Seoul attractions using car, bus, and subway.
How many days in Seoul
One word of advice, don't spend less than 3 days in Seoul. You'll miss out on so much!
A 5 day Seoul itinerary will allow you to get a taste of what the capital has to offer, but your schedule will be jam-packed, so be prepared for 5 busy days.
Planning 7 days in Seoul is the ideal amount of time. You can travel slower, enjoy the hiking trails at your own pace, and explore several parks and cafes.
And you won't feel guilty if you decide to take it easy after too many bottles of Soju the night before!
Final thoughts on a 7 Day Seoul itinerary
Seoul is one of the most fascinating cities I've ever visited.
There's something for everyone, and it's an explosion of the senses with all its bright lights, incredible restaurants, and popular attractions.
The city is showing no signs of slowing down, so be prepared to spend your 7 days in Seoul being blown away by all it has to offer!
Before you arrive, I recommend reading this post on all the strange things about Korea (because the country isn't all as perfect as it seems).
---
Have you been to Seoul? Is there anything you'd add to this 7 days Seoul itinerary or do you have any questions about your trip? Let me know in the comments section below!
Planning your trip to South Korea? Check out my other posts!
---
Pin This!