Tucked away in the lush mountainous region of eastern Bali lies Sidemen.
With its towering waterfalls, endless rice paddies, gushing rivers, and picturesque views of Mount Agung, a trip to Sidemen Valley should be on your Bali bucket list!
The eastern side of the island is often overlooked by travelers who have limited time to explore. On the bright side, if you choose to venture to Sidemen Valley, you'll be rewarded with uncrowded restaurants, affordable accommodation, and a peaceful, serene atmosphere.
So, should you include a trip to Sidemen, Bali on your travel itinerary? Is it really worth the hype? This post answers all those questions and includes the best things to do in Sidemen, Bali.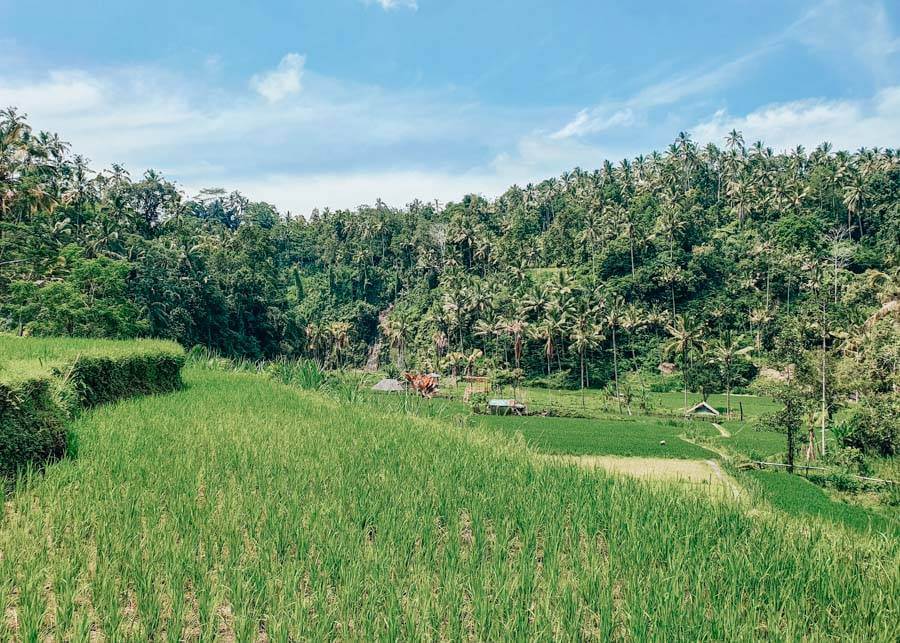 About Sidemen Valley, Bali
Sidemen Village lies in the Karangasem Regency in eastern Bali, about 60 minutes east of Ubud.
It offers a breath of fresh air in comparison to the more popular and busier areas of Bali. Not only is it less developed but it's also one of the most unique and authentic parts of the island.
Sidemen Valley
The village of Sidemen has managed to keep a low profile over the years. However, its rural setting, friendly locals, and stunning landscapes are attracting tourists looking to experience a more authentic side of Bali.
There is only one quiet road that winds through Sidemen Valley, with several local warungs dotted throughout, each offering panoramic views of lush greenery and open fields in the distance.
When planning your itinerary for Bali, allow for two full days to explore Sidemen Village. If you're looking for an escape and prefer to travel slower, it's best to add an extra day to your visit.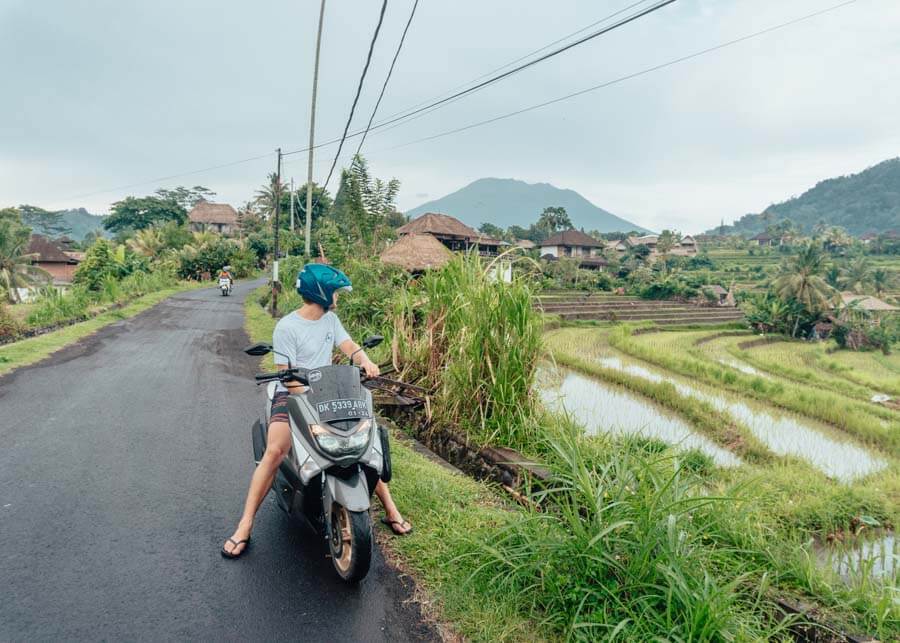 How to get to Sidemen
Sidemen is 50km's from Denpasar Airport. And while the drive should take less than an hour, it often takes closer to two! This is due to the hectic traffic jams but once you reach Sidemen, you won't have to deal with any of that.
The best way to explore Sidemen is to rent a scooter for the duration of your stay. This can easily be arranged through your guesthouse and will cost 60 000 IDR ($3) per day.
If you're not comfortable driving a scooter, or if you're traveling in a group, it's best to organize a driver and car for the day. These drivers offer expert tips and local advice, and they'll also be happy to double up as a photographer if you give them a tip.
What to do in Sidemen, Bali
Sidemen's attractions are often included as part of a day trip from other regions in Bali. This makes it possible to explore the area without even staying here.
My recommendation: Even if you're short on time, try to spend a few nights in the area.
Here are the best things to do in Sidemen, Bali.
Visit Tukad Cepung Waterfall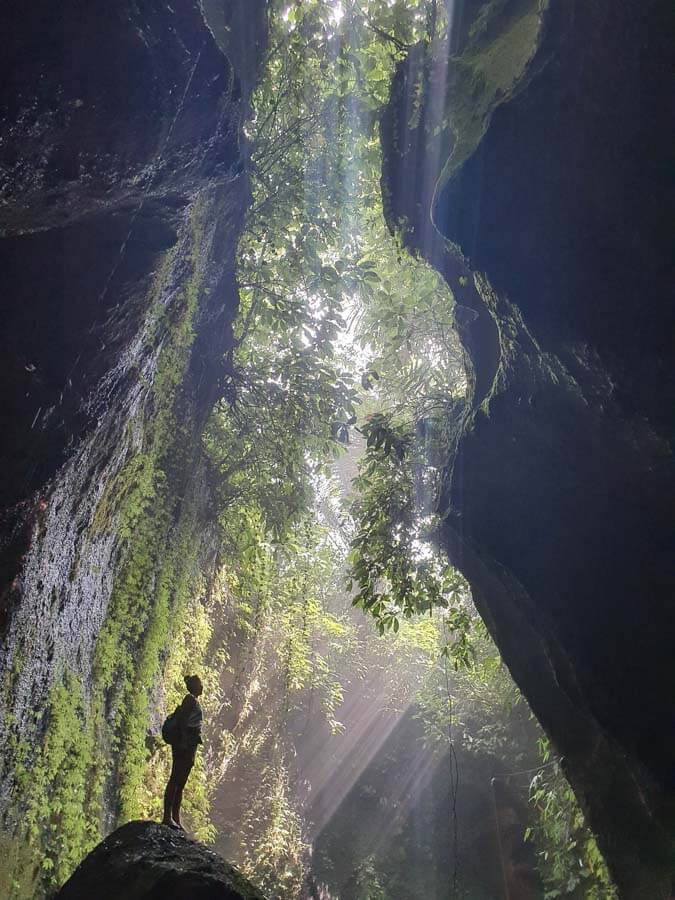 Time needed: 2 hours (including driving time from Sidemen)
Entrance fee: 15 000 IDR ($1) per person
Located just 40 minutes north-west of Sidemen, Bali, lies the gorgeous Tukad Cepung Waterfall. The entire waterfall complex is a sight for sore eyes. It's absolutely stunning with every turn providing a unique photo opportunity!
To access this waterfall near Sidemen you'll walk about 5 to 10 minutes down a steep flight of stairs before entering a jungle-like setting. The path follows a small stream for another 5 minutes before you make your way down to the foot of the waterfall.
Whilst the main attraction here is the Tukad Capung Waterfall itself – which can be found towards the far end of the cave – there are various sections you can explore.
Surrounded by towering cliffs, you'll notice the beautiful rays of light that beam through the gaps in the cave creating the most incredible backdrop for photos.
Try to visit this waterfall early in the morning to avoid the scores of tourists who flock here after 11 am. 8:30 am is a good time to arrive and if you're staying in Sidemen, this shouldn't be too early of a wake-up call.
Go white water rafting at Telaga Waja River
River rafting is the best way to experience the beauty of Bali, far away from the crowds! The Telaga Waja River runs alongside Sidemen Valley and attracts adventure travelers looking to go white water rafting in Bali.
Throughout the 18km course, you'll paddle past lush forests, rice paddies, and cascading waterfalls, where you'll have the chance to swim beneath the falls and explore the surrounding landscapes.
This half-day rafting tour starts just 10 minutes outside of Sidemen. The rapids are class III-IV and whilst there is a thrilling 4m drop towards the end, the rest of the course is relatively calm making it a great activity for the whole family!
You can read all about my Telaga Waja Rafting experience here.
Join a Sidemen Cooking Class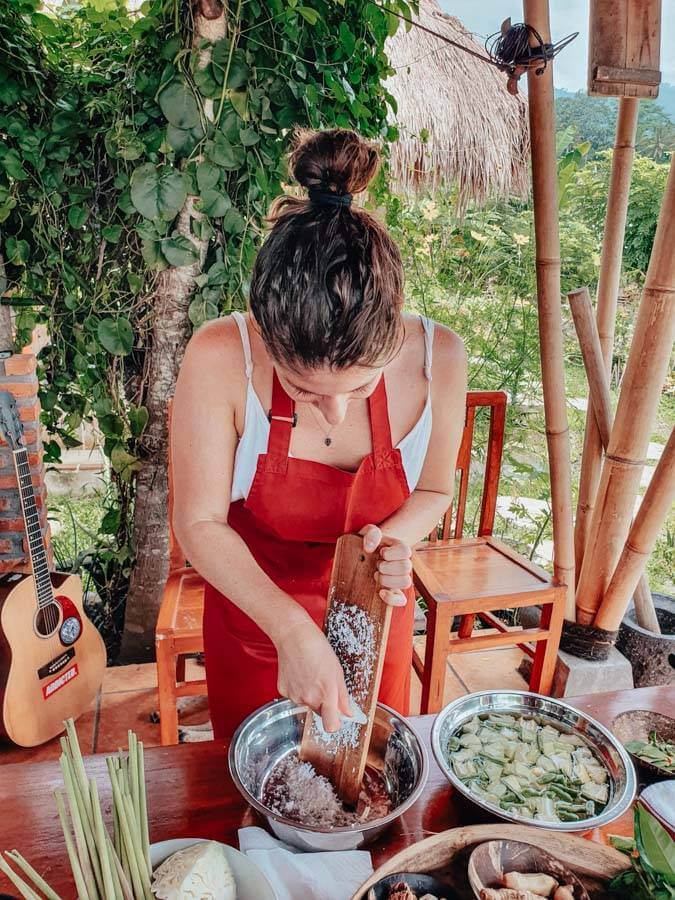 Time needed: 3 hours
Cost: 440 000 IDR ($25) per person
My culinary skills are not great. And whilst I'm not a big fan of cooking, I absolutely love the eating part!
Some of my best travel memories include the local food I've overindulged in and I'll travel just to get a taste of the local cuisine.
It's no secret that I'm a sucker for Indonesian food which I'm happy to eat for breakfast, lunch, and dinner! So, to learn a bit more about the food I was eating, I signed up for a cooking class in Sidemen, Bali.
This wasn't your ordinary cooking class; this was a special Balinese vegan cooking class which is unique to Anandinii Organic Garden and Kitchen.
The class starts with a tour through their organic vegetable garden where you'll pick your own freshly grown veggies and spices that will be used to make your meal. From there, the cooking begins.
We made a delicious Balinese spice mix using turmeric, ginger, lemongrass, chili's, bay leaves, and white cabbage which was used as the base for the variety of dishes we prepared.
2 hours later we indulged in the food we'd prepared, and man was it delicious!
Stay in a Sidemen bamboo house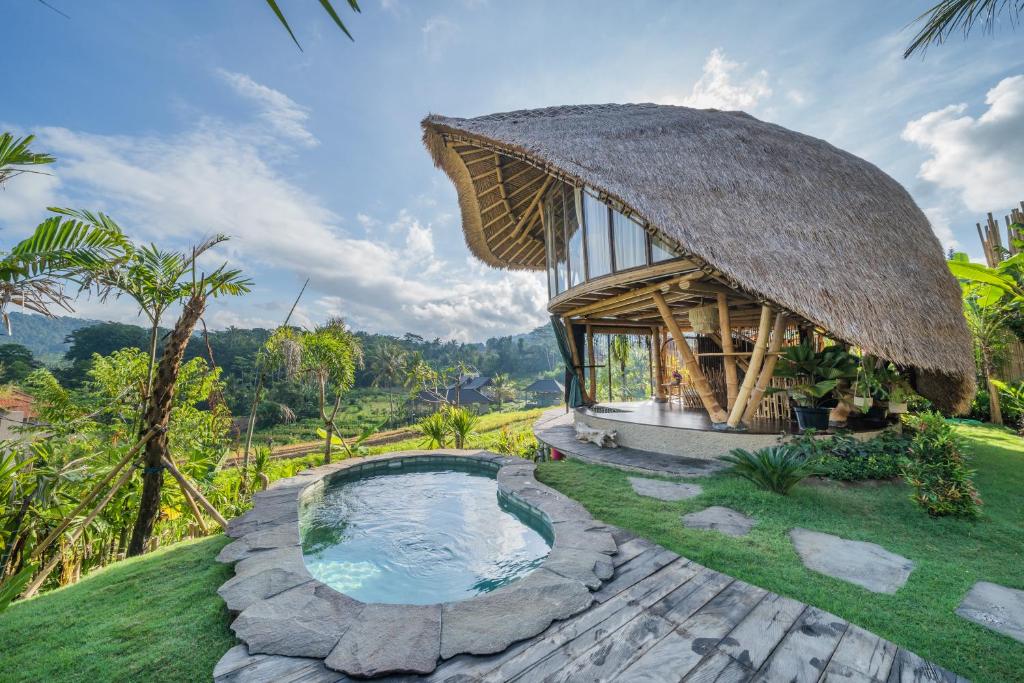 Sidemen Valley has some of the most incredible bamboo houses in Bali and if you're looking for an Instagrammable treehouse, you'll be spoiled for choice.
Remote and romantic, they're the perfect place for couples. If you book a stay at one of these, you'll never want to leave. And I don't blame you!
With views for days, a jungle setting, and a private pool, Villa Veluvana is one of the most luxurious places to stay in Sidemen.
Enjoy the Sidemen rice terraces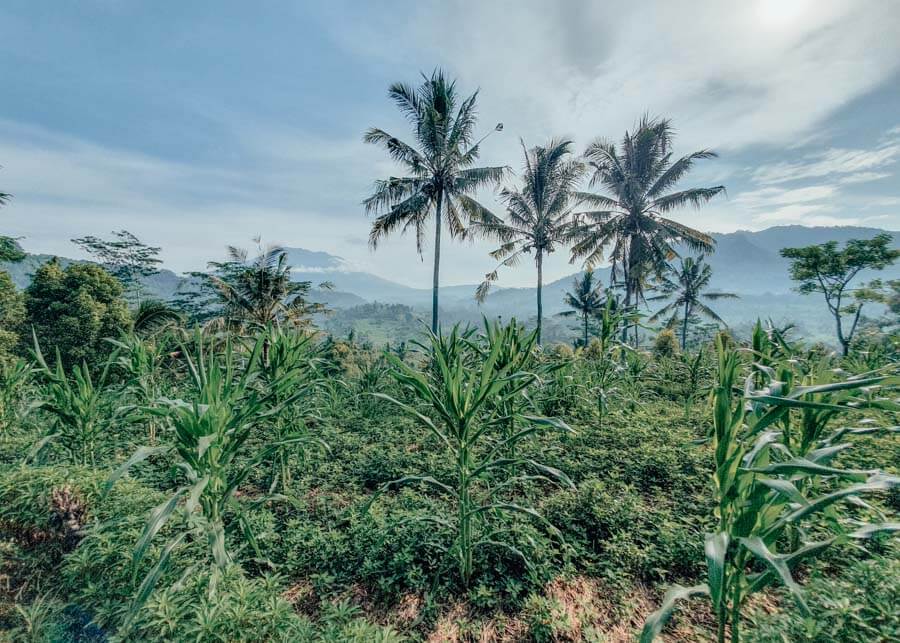 Time needed: 30 minutes – 2 hours
Cost: Donation
Sidemen is one of the best places to visit if you're looking to escape the crowds.
I loved Munduk for the same reasons: Stunning views, lush greenery, and endless rolling hills filled with rice paddies all lined with coconut trees!
These rice terraces surround Sidemen Valley can be accessed by taking a short drive outside the main village. You'll be spoiled for choice as there isn't one spot that's more Instagrammable than another.
They are all just so beautiful!
A good place to start is by driving to this point and continuing on the road to Warung Makan Iseh.
If you want to take a photo in these Sidemen rice fields, be sure to ask permission first and offer a donation to the staff who are working there.
Explore the famous viewpoint of Mount Agung: Bukit Cinta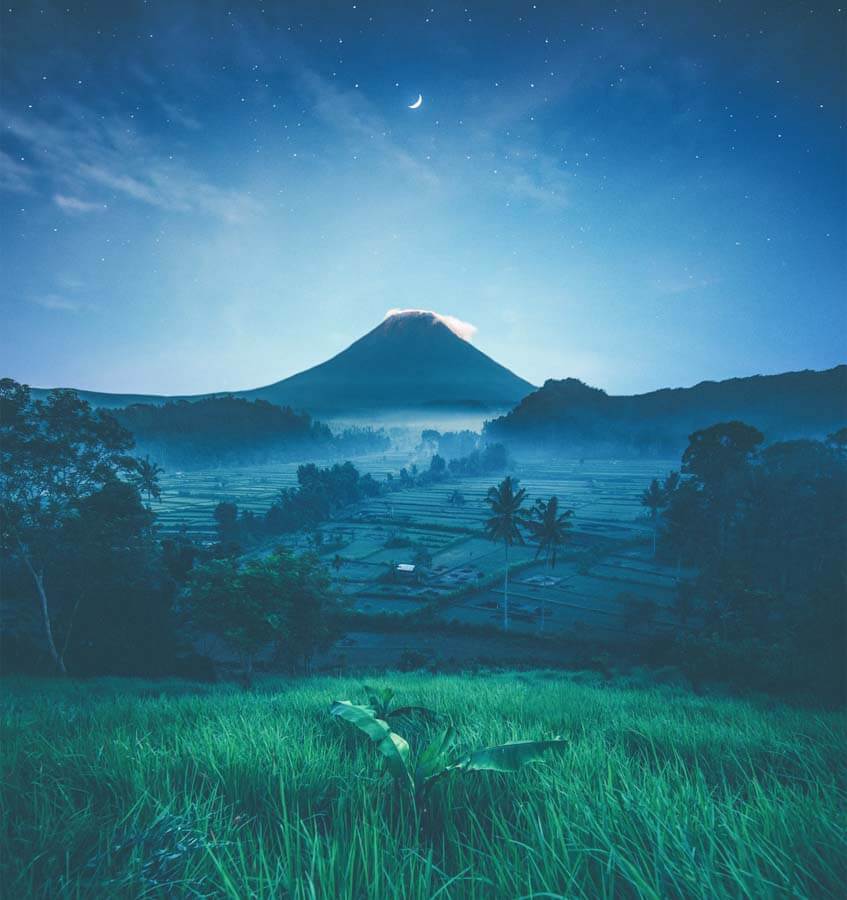 Time needed: 3 hours
Directions: Find Bukit Cinta on Google Maps
If you've been doing your research on Insta spots in Bali, then the Bukit Cinta viewpoint has most likely crossed your feed! Made famous by influences, it truly is a sight to behold.
To get here, you'll need to drive 45 minutes north of Sidemen. The entire drive is a scenic one, where you'll pass through winding roads and local villages.
The best time to visit is at sunrise before the clouds roll in, and you can pair a visit here with the nearby temple.
Go trekking in Sidemen Bali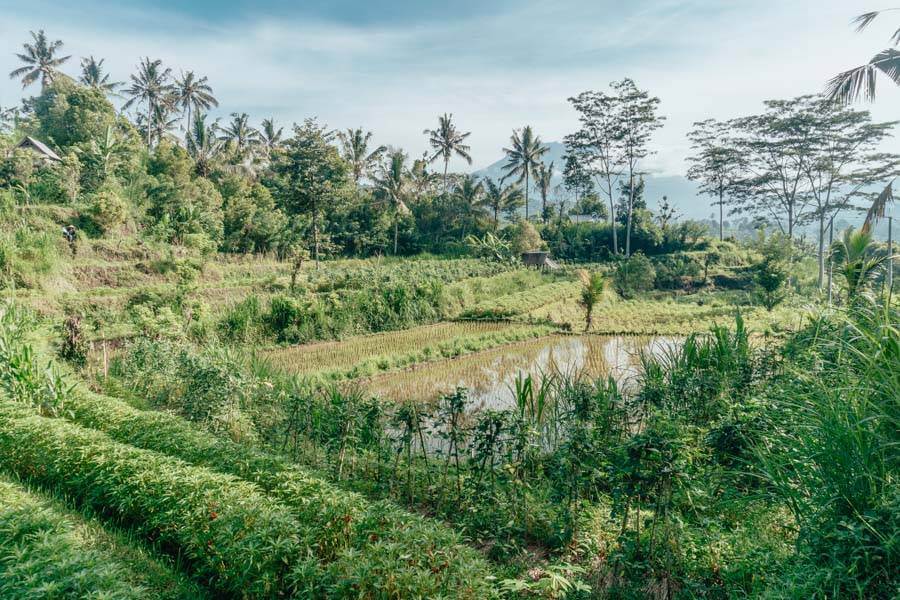 Time needed: 3 hours
Costs: 300 000 IDR-500 000 IDR per person ($18-$30) depending on the number of people
Sidemen is one of the best regions to explore on foot. Trekking in Sidemen covers several different landscapes, from rice terraces to forests, and even river crossings.
The unobstructed views of Mount Agung on a clear day will certainly be a highlight.
If you want to go trekking in Sidemen, it's best to organize a tour with a local guide who has expert knowledge of the area. He will lead you through unexplored parts of Sidemen Valley and tell you interesting stories about Bali, the region, agriculture and so much more!
This tour is more than just trekking – it's about creating a deeper connection with the local people and getting to know them, and their communities better.
Bear in mind that if you book these Sidemen trekking tours in the wet season (December – April) it gets extremely hot and humid, and afternoon rain showers are common in Bali. I recommend that you plan your day so that you do the trekking first, and the other activities after.
Discover Gembleng Waterfall
Time needed: 1 hour
Cost: 20 000 IDR (Donation)
Gembleng Waterfall is one of the recently discovered waterfalls in Bali. It's conveniently located just a short drive from Sidemen Village and boasts an arrange of rock pools with breathtaking views of the nearby ricefields.
The walk is short yet steep and you can enjoy a refreshing swim in one of the many natural pools. There is no entrance ticket to explore the waterfall, but the locals will ask for a small donation.
Explore one of the many temples near Sidemen Bali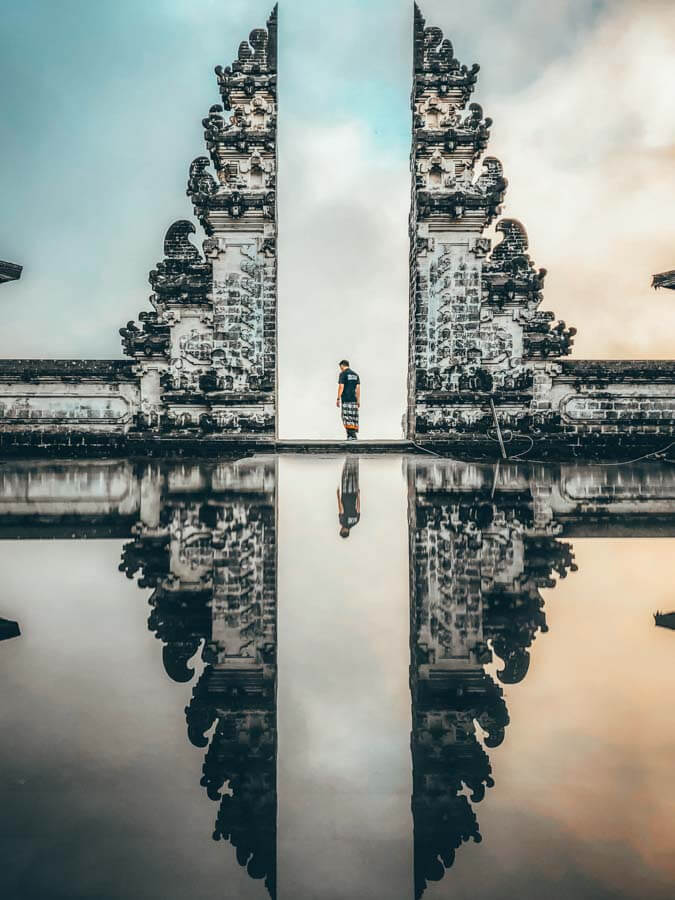 Besakih Temple lies just 16 km north of Sidemen. It's known as the Mother Temple of Bali and is an extremely important temple in the Hindu religion. Entrance is 60 000 IDR per person and it's an excursion that can be easily added to your Sidemen itinerary.
If you're keen to drive further, Lempuyang Temple is arguably one of the most photographed temples in Bali, thanks to its gorgeous gates which look on to Mount Agung in the distance.
Entrance is only 10 000 IDR but be warned, you need to manage your expectations or else you might be disappointed.
When looking at pictures of the iconic temple gates, you'll notice a "lake" that mirrors your reflection – but the reality is far from it. A mirror is actually used to create the image and the long queue of Instagrammers will be off-putting for some!
Disconnect: Yoga, Massages, and Self-Care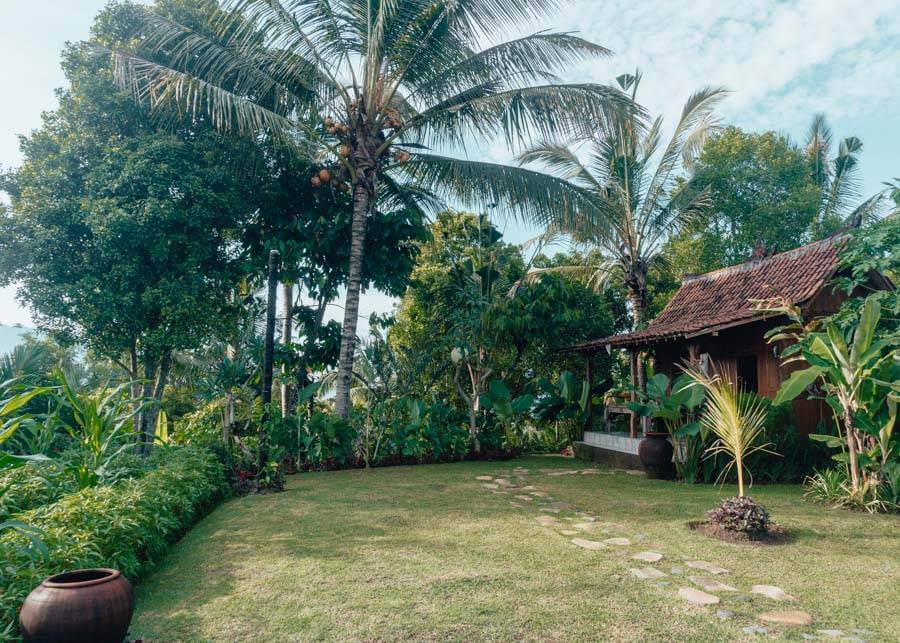 It's no secret that Sidemen's biggest attraction lies in its remoteness that guarantees a peaceful and tranquil visit.
Take advantage of this by checking into a hotel among the rice fields. Gladak di Ume offer just this – a place of peace and serenity!
Take time out to read your book, sleep in late, do yoga, get a Balinese massage or enjoy an outdoor bath – all in the privacy of your own cabin with no one in sight!
This is a great option for budget travelers who can't afford the expensive price tag of some of the treehouses in Sidemen.
Go for a drink with a view in Sidemen, Bali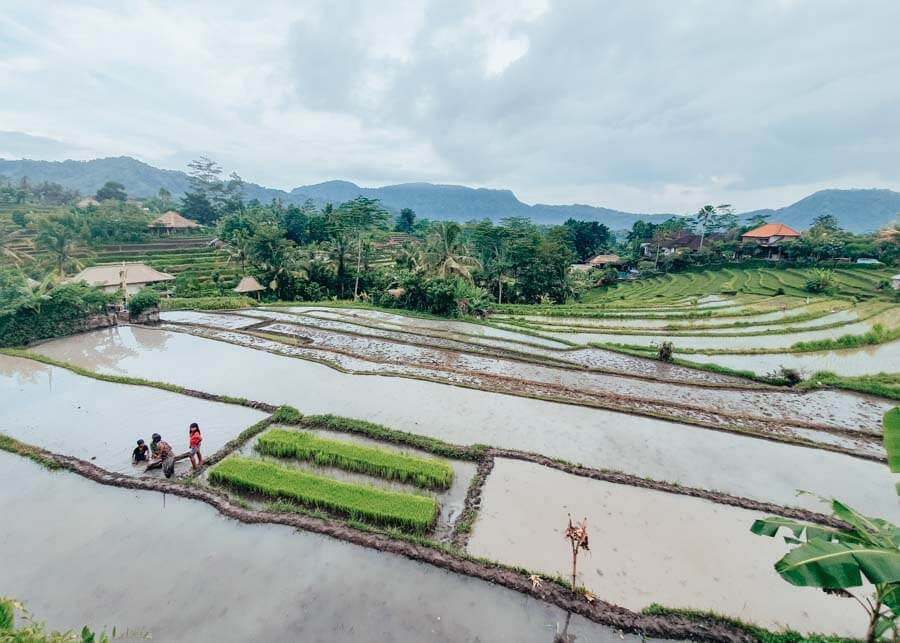 Why not enjoy a delicious meal whilst sipping on a Bintang with panoramic views of rice fields in the distance!
Head straight to Warung Makan which is about a 15-minute drive from town and offers unspoiled views of the Sidemen Valley. The food here is delicious and it's a great place to stop at after your day out exploring.
If you're looking for something a bit closer to town, Warung D'Padi is a hidden gem in Sidemen that sits right on the rice fields.
Juglo D'Uma is also one of the best restaurants in Sidemen and offers views of rice paddies in the distance. La Montague is another popular cafe with a view.
READ MORE: THE ULTIMATE BALI PACKING LIST
Where to stay in Sidemen Bali
Budget: Dika Homestay is the best option for budget travelers visiting Sidemen. It's ideally located just off the main road and you'll receive a warm welcome from the kind family who owns the place. The rooms are basic, yet clean and comfortable and offer the perfect place to rest your head after a long day exploring.
Mid-range: Sawah Indah Villa is surrounded by rolling hills but the biggest attraction here is certainly the gorgeous infinity pool that overlooks the rice fields. The rooms are tastefully decorated and overall, it is the perfect place to stay if you're looking for a luxurious hotel at an affordable price.
Luxury: Wapa Di Ume is luxury at its best! If you enjoy the finer things in life – like a private plunge pool, a hot tub, large stylish rooms, and next-level service – this hotel is for you. The breathtaking views coupled with the friendly service and delicious food, make Wapa Di Ume the best place to stay in Sidemen, if your budget allows for it.
Overall thoughts on Sidemen Village, Bali
If you're looking for an authentic experience and you want to catch a glimpse of the "old" Bali, Sidemen is just for you!
I spent two days here and both were jam-packed with activities, but the best part was coming home to my peaceful guest house, tucked high in the mountain and far away from the hustle and bustle of south Bali.
---
Psst… Planning a trip to Indonesia? These posts might help!
Pin This!