Are you planning your itinerary for Korea? Firstly, I'm super jealous! I lived in Korea for over a year and I would go back in a heartbeat! I experienced the best that the country has to offer and I'm so excited to share this South Korea 2 week itinerary with you.
We'll start in Seoul then head to Jeju Island, the so-called "Hawaii of Korea" before jetting off to Busan and making our way back to the K-pop capital, with stops at Gyeongju and Sokcho along the way.
But that's not all, I've crafted this South Korea itinerary to fit any season so whether you're traveling in summer or winter, I've got you covered!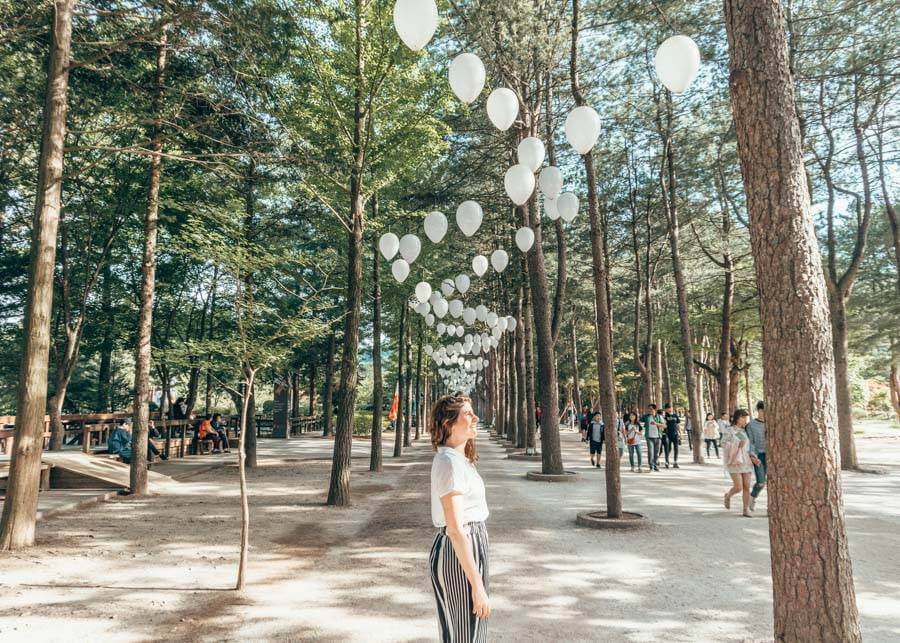 South Korea Itinerary
The truth is there is so much to do and see, and with only 2 weeks in Korea, you won't get to everything!
On the bright side, it's more than enough time to explore the capital city, Seoul, and learn about the rich culture. You'll indulge in the delicious food, visit spectacular palaces and temples whilst also experiencing the breathtaking landscapes and natural attractions.
This itinerary for Korea is balanced. It's for those adventurous souls who want to catch a glimpse of Korea's history. It's for solo travelers eager to meet like-minded people. It's for backpackers looking for that once-in-a-lifetime experience on a budget. It's for loved-up couple's planning their first trip away together.
That's why I believe this is the best South Korea itinerary out there because it covers a bit of everything, for every type of traveler.
In fact, I've left off quite a few attractions that I visited myself.
Do you really want to have temple burnout – as I did after visiting 6 temples in one week? And markets, there's only so many you can see before they become monotonous (well, besides the food). And no, you don't want a soju hangover every day!
Your time in Korea is precious – trust me! But if you follow my tips and advice, you'll see the best of South Korea in two weeks.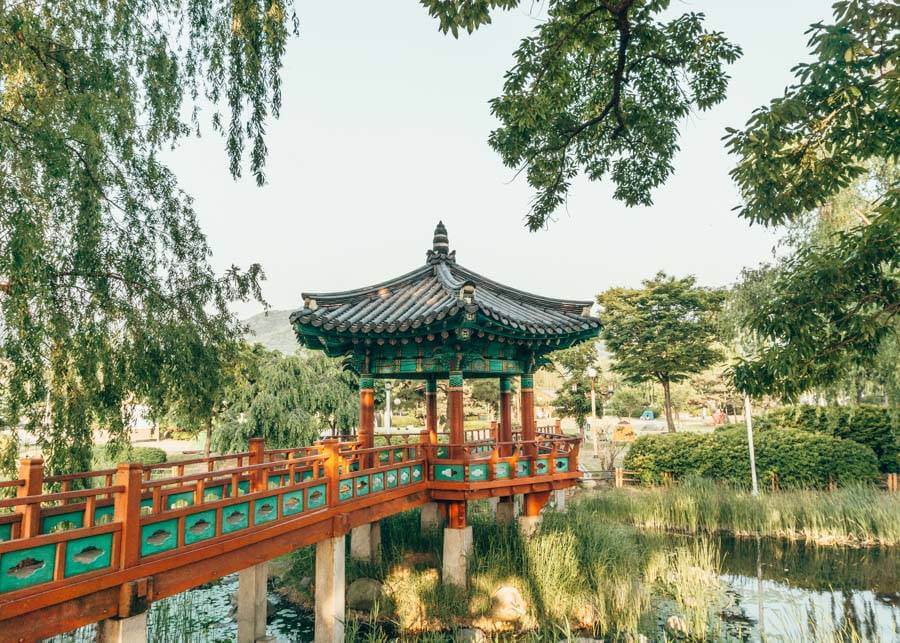 Bucket List for Your Itinerary for Korea
Before I arrived in South Korea, I hadn't done much research! Luckily, I had 14 months to figure my way around. If you're following this itinerary, you will only have 14 days in Korea.
Here's what not to miss if you're planning a long-term or short vacation to South Korea!
Get naked at a Korean Jimjilbang (bathhouse)
Eat all the food: Kimchi, Korean BBQ, Dakgalbi, Bibimbap and Tteokbokkie
Sing your heart out at a Noraebang (Karaoke rooms)
Go hiking and watch in awe as you see how committed Koreans are to their outdoor activities
Listen to K-pop music
Visit a themed cafe: There's everything from poop cafe's to 3D cafes and even flower cafes
Your itinerary for Korea must include visits to at least one temple and also a palace
Drink Soju (and Somaek which is a mixture of Soju and beer)
How to get around for 2 weeks in Korea
If you're backpacking South Korea, you'll be pleased to know that public transport is top-notch! It's fast and efficient, and more importantly, it's budget-friendly.
This South Korea travel itinerary covers all forms of transport, from trains to buses, flights, and even organized tour groups.
Thinking of joining organized tours? No need to! If you're on a budget or you're a seasoned traveler, you may opt to avoid tour operators, and travel independently. This is possible if you have 3 weeks, giving you more time to travel slowly.
But with only 2 weeks in South Korea, your time is of the essence and you may want to consider a few day trips. These are worth doing and are better coordinated with a tour operator.
I personally used Trazy and Klook, depending on their tour availability. Both are reputable companies and offer awesome day trip itineraries to several leading attractions at affordable prices.
Their guides speak English (but there are also Chinese speaking options if you prefer) and they take the hassle out of trying to navigate around areas that are more difficult to reach via public transport.
The bonus – most tours offer massively discounted rates to foreigners!
Read More: 17 Things I Love About South Korea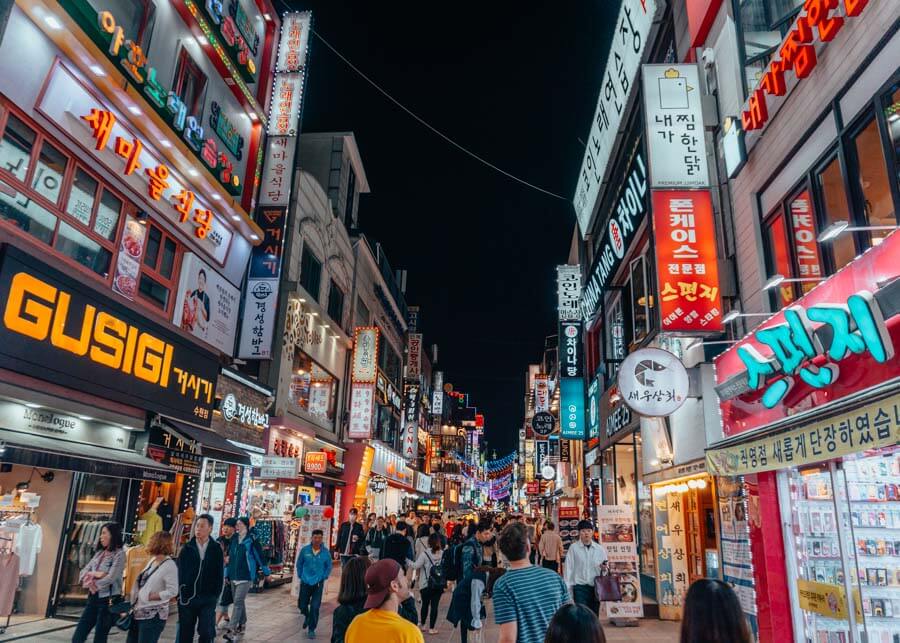 Tips For Planning Your South Korea Vacation
The local currency is the Korean Won. You can easily draw cash from the ATM's and bank cards are accepted in most places (except for street markets).
Korea is visa-free for most visitors. If you're working in Korea, it's a different story.
Pack with caution. When packing for Korea, consider not only the weather but the local customs as well. For example, exposing your shoulders (and chest) is not ok.
Spring and Fall are the best times to plan your trip. Korea has 4 distinct seasons – the summers are excruciatingly hot, whilst winter is freezing cold.
Air pollution is a real thing. At times the air quality is extremely poor, and everyone wears face masks. It's handy to have one on you when you travel through Korea.
A T-money card is used to access public transport in Korea. You can either purchase this card at a convenience store or train station. But if you're pressed for time, you may want to preorder one here and collect it at the airport.
Google Translate will be your new best friend. You might be surprised to hear that most Koreans cannot speak English. Seoul is the exception, but when traveling through other destinations within this South Korea itinerary, you'll need to have Google Translate on hand so that you can communicate with the locals. The speaking function is a lifesaver!
Korea is an extremely safe country. Crime is unheard of! If you're backpacking Korea or you're a solo traveler, you can rest easy knowing you have the freedom to move around safely.
Get a sim card. Whilst the wifi in Korea is really good, it's best to stay connected by purchasing a local sim card. This will come in handy when traveling between cities and when you're out and about trying to find your way around. You can purchase your Korean sim card here, and it will be waiting for you at the airport when you arrive.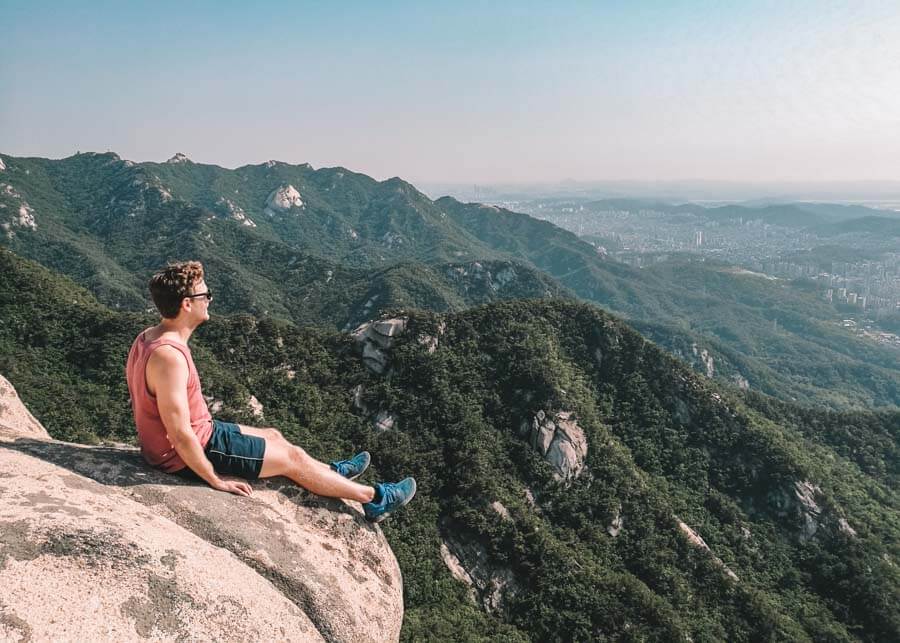 Where to Start your Itinerary for Korea
Most South Korea trip itineraries start in the city that never sleeps: Seoul.
If there's one word of advice I can give when planning your vacation, it's to end in Seoul. Why? Because Seoul will be the highlight of your 2 weeks in Korea and if you start in the capital, you won't want to leave!
And whilst Seoul is the most exciting place to visit, the rest of Korea has so much to offer! If you're looking for a more authentic Korean experience, then you need to venture to the rural areas where you'll discover a whole different side of the country.
On that note, let's jump right in! This travel route is flexible and can be cut to a shorter Korea itinerary or extended if you have more than 2 weeks in South Korea.
Travel Route for your South Korea Itinerary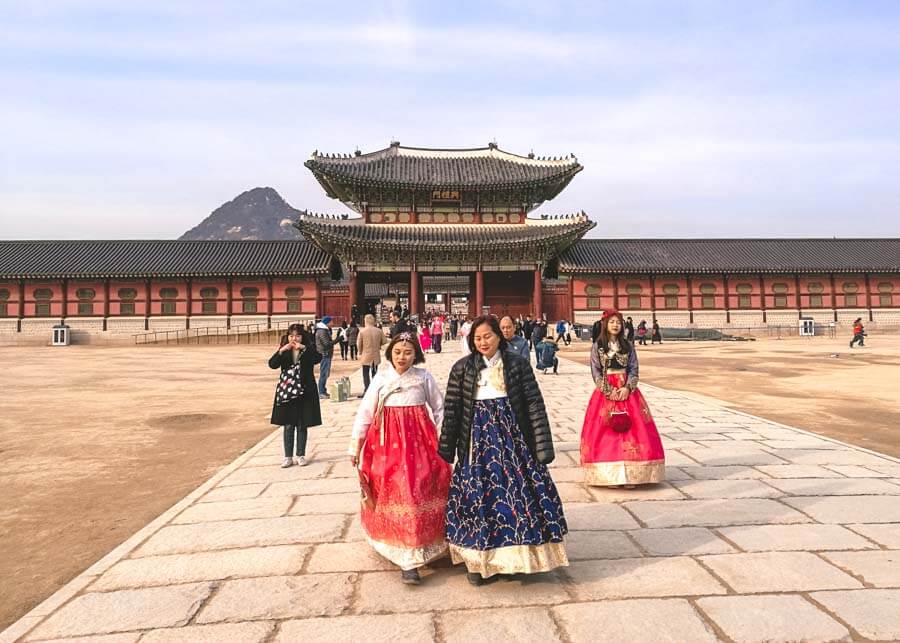 Day 1-4: Jeju Island (3 nights)
Jeju Island, the "Hawaii of Korea", is a must on any itinerary for Korea. Formed through volcanic activity over 2 million years ago, this large island south of the Korean peninsula was recently listed as one of the New 7 Wonders of the World.
Koreans love Jeju – so much so that the flight route from Seoul to Jeju is the busiest and most popular route in the whole world. Families pop over for a quick weekend getaway and it's a favorite for vacationers. It's also a romantic island and a hotspot for honeymooners.
I had big expectations before arriving in Jeju. It's the place where I had my first real Korean BBQ, the first time I overindulged in Soju, and the first time I got to experience the Korean way of life, which includes an obsession with selfies!
It was an island of firsts and whilst it may not have been the tropical paradise I was anticipating, it was spectacular in its own right and is worthy of a spot in your South Korea 2 week itinerary.
Read More: The Best Things to do in Jeju Island
How to get to Jeju Island
Jeju Island is the starting point of your vacation to Korea. International flights from across Asia have designated routes to Jeju so be on the lookout for those. However, most international flights will land at Seoul's Incheon International Airport.
Seoul has two airports, Incheon and Gimpo, which are a 40-minute train ride from each other. Gimpo mostly caters to domestic flights so you'll book your flight to Jeju International Airport from here. This is a quick 1-hour flight that costs $40 one way.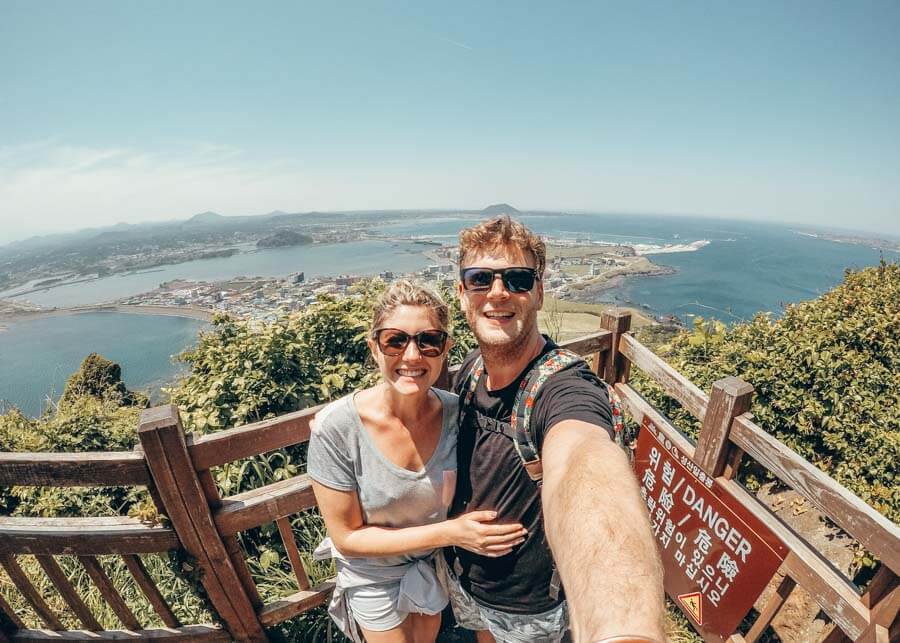 Where to stay in Jeju
Choosing where to stay in Jeju is often the most challenging part of any trip as the island is massive. The airport is in the north, in Jeju City, which has a big city feel. In contrast, the south and east coast are less chaotic and more peaceful areas.
If you're following this South Korea two week itinerary, I suggest you stay in Seogwipo which is south of Jeju Island. It's within close walking distance to many attractions and the vibe is awesome.
Budget travelers will love Jeju Hiking Inn (Also known as Gudeok Guesthouse). It's the perfect option for solo travelers, backpackers, and even couples. Jeju Hiking Inn is located in the middle of all the action and close to the harbor with parks and playgrounds close by. Their private rooms are a nice size and the owner is very friendly.
If luxury is what you're looking for, Artstay Seogwipo Harbor is the best place to stay in Seogwipo. The rooms are tastefully decorated and are much bigger than most in Korea. There is also a rooftop terrace with spa baths!
Things to do in Jeju Island
There is so much to see and do in Jeju, and with only two weeks in Korea, you're going to need to choose your activities wisely.
Day 1 in Jeju
Day 1 is the perfect introduction to Korea. You'll probably arrive in Jeju around noon, giving you just enough time to explore one or two attractions. It will be an early night as you'll be exhausted from your international travels.
Waterfalls: After checking in to your hotel, take a walk to the 2 best waterfalls in Jeju, namely Cheonjiyeon, and Jeongbang Waterfall. Both are conveniently located just a short walk from Seogwipo so it's a great opportunity to get some fresh air after a long day of travel.
Jeju Black Pork: Jeju Black Pork is world-famous! The meat itself isn't black, but rather the color of the pig. After exploring Seogwipo, head out for dinner to try your first Korean meal: A Black Pork BBQ. For a true Korean experience, head to Tam Gung Restaurant in Seogwipo.
Read More: How to eat a Korean BBQ (Like a Korean)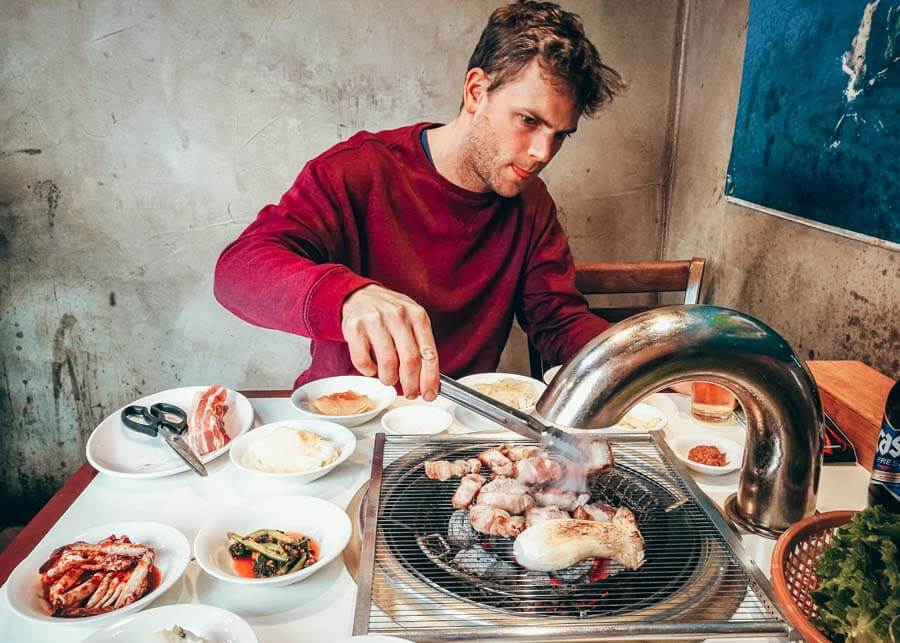 Day 2 in Jeju
Today I recommend you head east of the island to explore several UNESCO World Heritage sites. These spots are not to be missed and should be part of every South Korea itinerary. You can either book a full-day tour or you can use public transport to get around today.
The public transport in Jeju is good, but not at the same high standard as the rest of Korea. I only used buses on the island and managed just fine but they were slow with long wait times. However, I had more time to play with as I had 5 days in Jeju (and not 3). If you're able to, I suggest you book a full-day tour instead.
Manjanggul Cave: This cave east of the island is one of the longest in the world! At 13km in length, you're guaranteed to set your sights on many spectacular natural attractions. Although only the first kilometer is open to the public, it's absolutely fascinating.
Seongsan Ilchulbong: Also known as Sunrise Peak, Seongsan Ilchulbong is an extinct volcano and one of the top attractions in Jeju. The hike to the peak takes around 30 minutes and offers unspoiled views of Jeju island in the distance.
Women Divers: The Jeju Haenyeo (women divers) have made a name for themselves in Korea. These women free dive for up to 20 meters and fish for shellfish and clams, which they sell to the local stores. Their work is impressive, especially given that they're over 70 years of age! You can easily watch them after your hike to Seongsan Ilchulbong as they dive into the ocean at the foot of the volcano.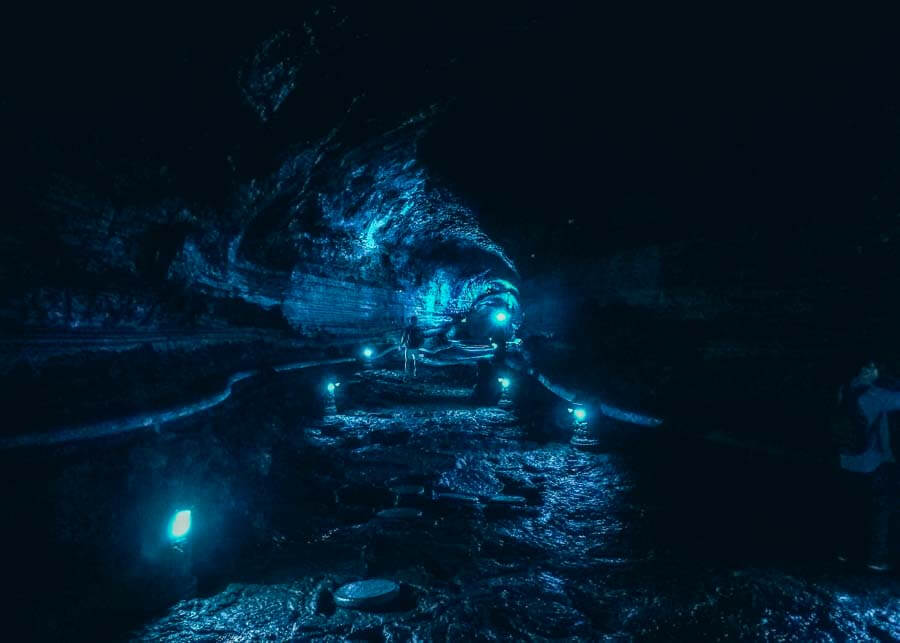 Day 3 in Jeju
Your third day in Jeju can be customized to your preferences.
Beaches: If you're backpacking Korea during the summer, you have to visit the beaches in Jeju Island, they're the best in the country! Jungmun Beach on the south coast is arguably the most popular and Sagye Beach, which is nearby, is also worth a visit. Both are close to Cheonjeyeon Waterfall which can easily be included in your itinerary for today. If you're looking to go further west, you'll find Hyeopjae Beach, which is also a crowd favorite.
If you're going beach hopping, hire a private driver for the day. This way, you can customize your route and enjoy the beaches at your own pace.
Hike Mount Hallasan: Mount Hallasan is the highest mountain in the country with many people including it as a bucket list activity on their itinerary for South Korea. Situated in the middle of Jeju, you'll need a full day to hike to the peak and it's best done during the spring or fall when the weather's pleasant and cool.
Western Island Tour: If you're looking to see a bit of everything, this western island tour of Jeju is for you. Highlights include Cheonjeyeon Waterfall, tea fields, Hyeopjae Beach, and even a stop at Hanlim Park. You'll be exhausted by the end of it but it's a great mix of the best of western Jeju.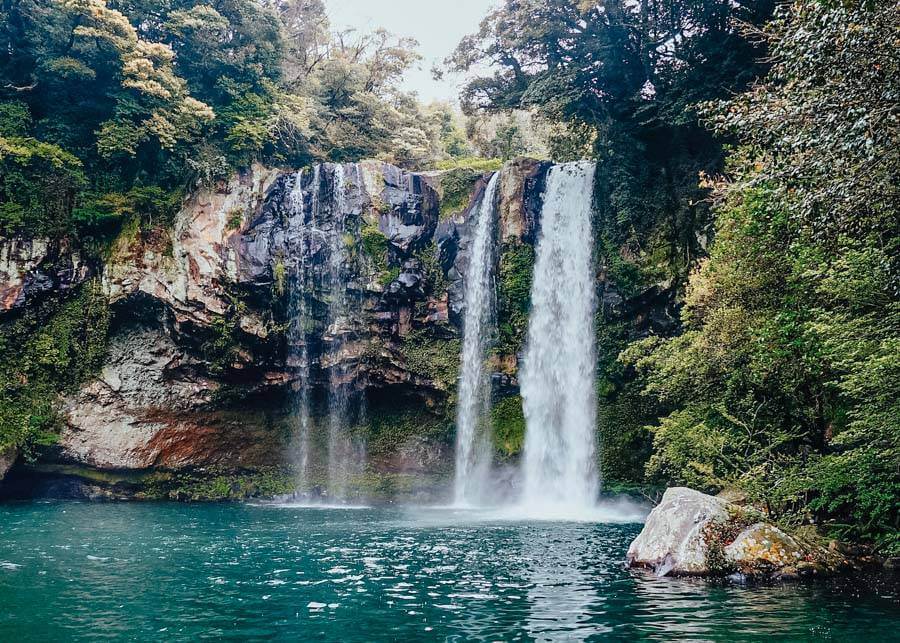 Day 4-6: Busan (2 Nights)
Next up on your 2 week South Korea itinerary is Busan. It's the second-largest city in Korea and lies southeast of the country. Famous for its beaches, Busan is strikingly different from Jeju and other cities in Korea.
Although Busan is a favorite for travelers backpacking South Korea, it wasn't my favorite. But it's still worth a visit and that's why I've only included 2 days here.
Where to Stay in Busan
Because you only have 2 nights in Busan, I strongly recommend that you stay near Haeundae Beach. It's an awesome spot with a lively atmosphere and a great vibe.
Haeundae gets extremely busy during the summer, so prices may be inflated, but staying just a stone's throw away from the beach justifies the cost. Here's my guide to the best places to stay in Busan which includes the pros and cons of each neighborhood.
If you're backpacking Korea, Mama Guesthouse in Haeundae is the perfect spot for you! It's just a short walk to the beach, where you can spend your evenings watching the sunset.
Got more money to spend? You won't get much better than Paradise Hotel! The spacious rooms come with oceanfront views, and the rooftop bar has a luxurious infinity pool.
Pro tip: There are certain things you must get used to when looking for accommodation in Korea, especially if you're traveling on a budget. The rooms are small, and the beds are hard – but that's normal here! My post on Korean apartments will give you a bit more information about what to expect.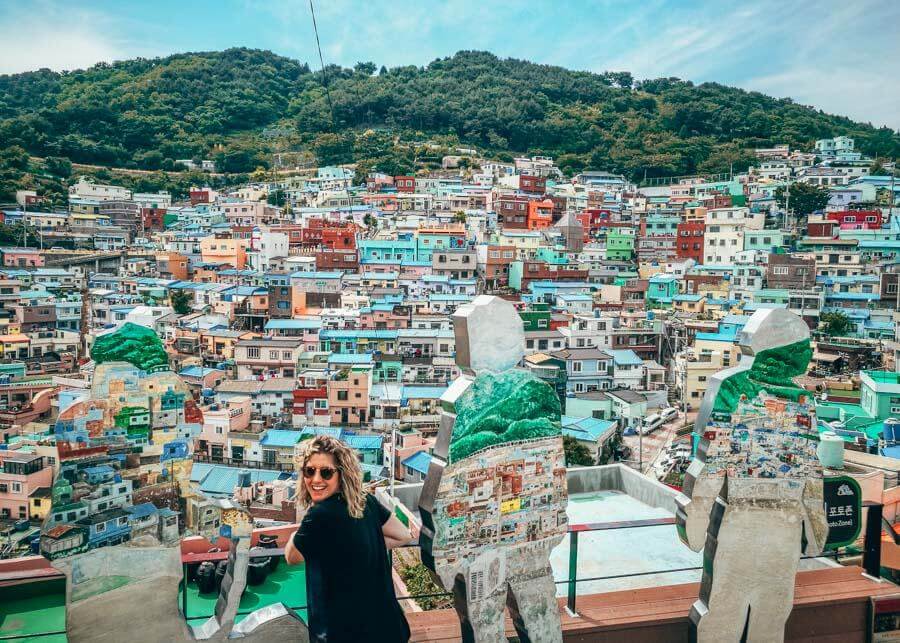 How to get to Busan
Busan is easily accessible throughout Korea via a short flight from Seoul or you can hop on the speedy KTX fast train which is the quicker option!
If you're following this South Korea 2 week itinerary, then it's best to book a flight from Jeju to Busan which won't cost you more than $40 for the 45-minute flight.
If you're backpacking Korea, and traveling on a tight budget, you can also opt to take the ferry from Jeju to the mainland, but the journey takes over 12 hours.
Things to do in Busan
You only have 2 days in Busan and they're going to be busy! Put on your walking shoes because you're off to visit the best places in the city.
Day 4 in Busan
You'll be traveling from Jeju to Busan on day 4 of your South Korea itinerary. There are many flights to choose from but try to get one that leaves Jeju in the morning.
Yonggungsa Temple: This stunning Buddhist temple sits on the coast of Busan, with gorgeous views from its cliffside location. It's one of the most popular attractions in Busan thanks to the spectacular photos of the unique architecture along with the sea and nature in the background. Yonggungsa Temple is 7km east of Haeundae Beach but if you'd prefer to take it easy, you can give it a skip. You'll be visiting many temples over the next few days and this one is particularly crowded!
Haeundae Beach: I love Haeundae Beach! And no matter the season, there's always a hive of activity surrounding its sandy shores. Grab a coffee (or a Cass) and some snacks, and head to the beach to watch the sunset.
Jagalchi Fish Market: The Jagalchi Fish Market in Nampo offers the biggest variety of seafood I have ever seen! And you don't need to order anything if you're put off by what you see, just take a stroll and watch as the locals do their thing.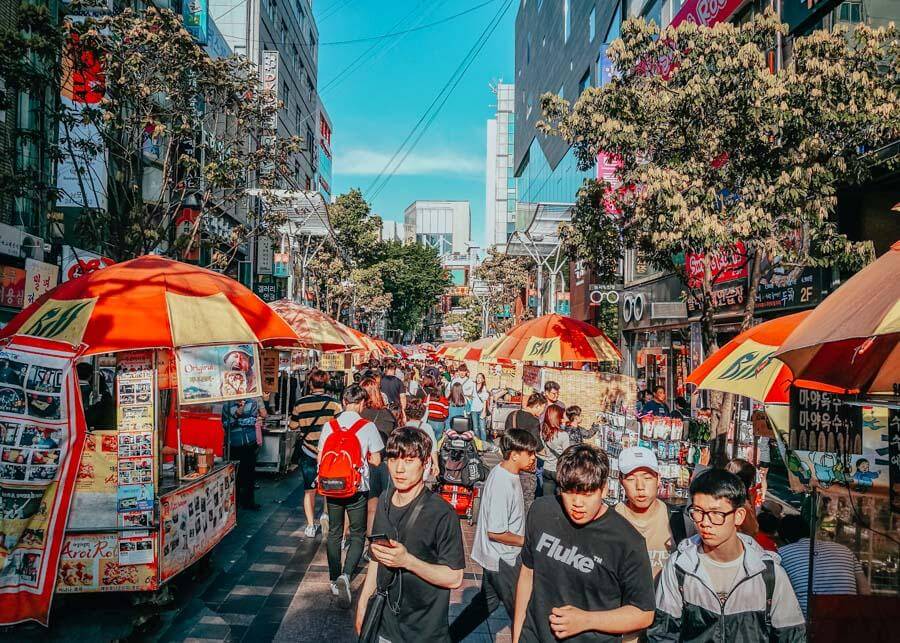 Day 5 in Busan
Your fifth day in South Korea is going to be a busy one! We'll be heading southwest of Busan to check out some epic places. All the attractions are found along the same route, so it makes sense to visit them all today.
Gamcheon Culture Village: Gamcheon Culture Village is an iconic neighborhood in Busan. This bright-colored and vibrant neighborhood was once a slum but has now been transformed into an Instagrammers dream location with quirky houses, murals, and statues dotted all over the show.
Biff Square Market: After visiting Gamcheon Culture Village, you would have worked up quite the appetite so it's the perfect time to visit your first street market in Korea! And the food here will blow your mind and satisfy all your cravings. While you're at it, you can purchase some socks, beauty products, cell phone accessories and more because Biff Square has everything.
Gwangalli Beach: Gwangalli Beach is another one of the top beaches in Busan. After a busy day exploring, you can finally head to Gwangalli Beach where you can chill by the seaside. Here's where you'll spot live performances on the beach, selfies galore, and couples having photoshoots. Once the sun's set, head to a nearby chicken and beer restaurant (yes, it's a thing, and yes, you have to try it) before making your way back home.
Read More: 24 Strange Things About Life in Korea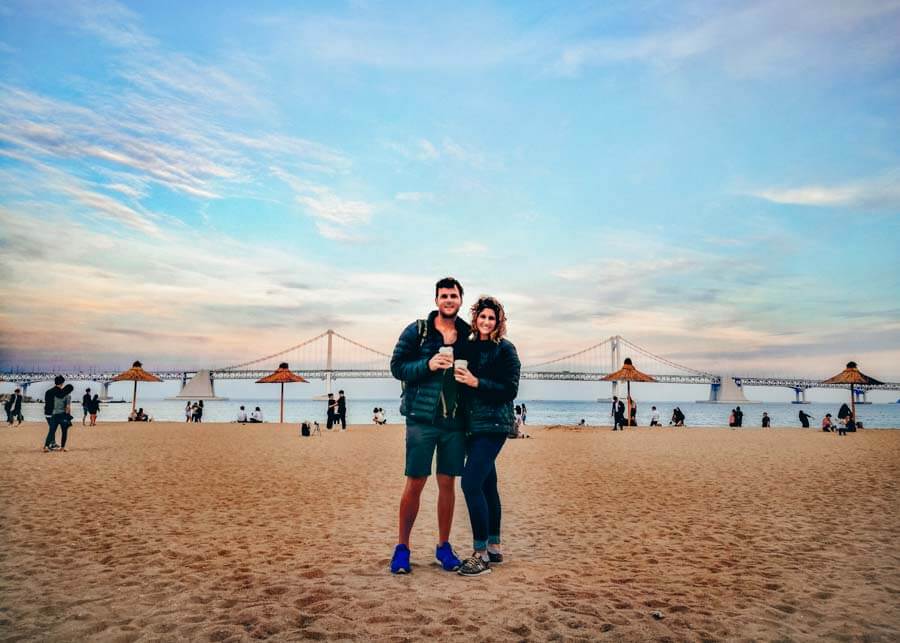 Day 6-7: Gyeongju (1 Night)
Today you'll leave Busan but you have a few options of things to do and places to go: Either Gyeongju or Seoul.
Before saying goodbye to Busan, have an early start to the morning and visit Life Day Spa. This is a Jimjilbang and no Korea itinerary is complete without visiting these traditional bathhouses. However, this particular spa is more westernized and caters to tourists.
If you're looking for a true and authentic Jimjilbang experience, skip Life Day Spa in Busan and visit Siloam Sauna in Seoul, which I've included in the Seoul section, below. Once you're done, it's time to head off to your next destination.
In my initial itinerary for Korea, I had allocated more time to Busan. But after spending 2 days in the city, I was keen to check out something new. It's not that I didn't love Busan, it was just a lot and my first days were pretty busy.
I wanted to see a more traditional side to Korea so I headed to Gyeongju.
Gyeongju was the capital city of the ancient kingdom of Silla and is one of the most historical sites in South Korea. It was once the 4th biggest city in the world and holds a significant place in Korean history.
Should Gyeongju be on your itinerary for Korea
But Gyeongju isn't for everyone. It's a charming city with a rich history and cultural heritage of the Silla dynasty. There are historical sights, temples, tombs, and relics around every corner and it's often referred to as the museum with no walls!
As you can imagine, Gyeongju has a completely different vibe to that of Seoul and Busan. I never saw any foreigners during my time there, but I loved this feeling of being so foreign, and completely out of my comfort zone.
If you're looking for nightlife, a backpacking crowd, and other creature comforts, then don't visit Gyeongju. If that's the case, skip this section of my South Korea itinerary and continue onto Seoul (and then Sokcho)!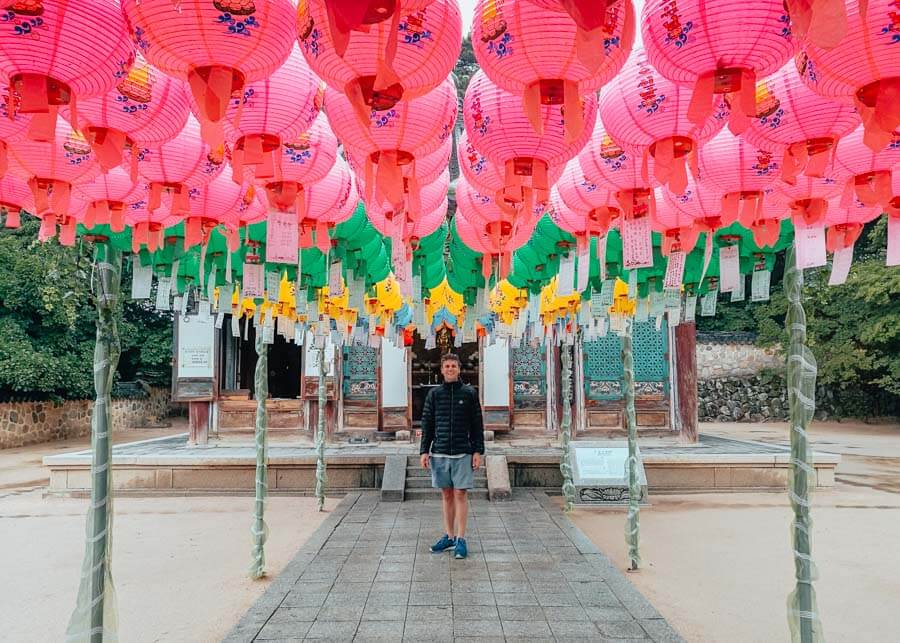 How to get to Gyeongju
Gyeongju is a short 1-hour drive north of Busan. The easiest way to get here is to hop on the express bus at the Nopo Bus Terminal (in Busan) to Gyeongju. You can find the bus schedules here.
Where to stay in Gyeongju
Gyeongju is a relatively small city and it's best to stay near the bus terminal as you'll only be here for one night.
I stayed at Motel Apple House conveniently located in the middle of town. The price is affordable and the rooms are much bigger than most. I rented bikes from the owner who happily offered us insider tips on where to go and what to do.
A more luxurious option is Gyeongju GG Tourist Hotel. This hotel is one of the best! Its prime location is the biggest selling point (and the delicious breakfast that's included).
Things to Do in Gyeongju
Despite being a small city, there is plenty to keep you busy. These are the highlights and what you should include in your 2 week South Korea itinerary.
Day 6: Arrive in Gyeongju by 11 am
Try to get to Gyeongju before noon so that you have time to explore the city on your first day.
Rent a bike: The best way to experience Gyeongju is by bike. The city is small so you can easily cycle around, visiting the top attractions in a short space of time. You can rent a bike from your accommodation but there are many bike rental shops throughout the city and it won't cost you more than 5 000 won ($4) per day.
Daereungwon Tomb Complex (Tumuli Park): When cycling through the city, make your way to Tumuli Park where you'll find the royal tombs. They are easily identified as they resemble small mountains within a park. These tombs are the resting place of kings, queens, and court officials but most are unidentified.
Donggung Palace and Wolji Pond: Formally known as Anapji, it's hard to believe that this was the palace complex of the ancient Silla. Walking through the restored complex grounds was like going back in time. If possible, visit the palace at nighttime when the soft lights illuminate the pond and temples.
Read More: 9 Awesome Day Trips From Seoul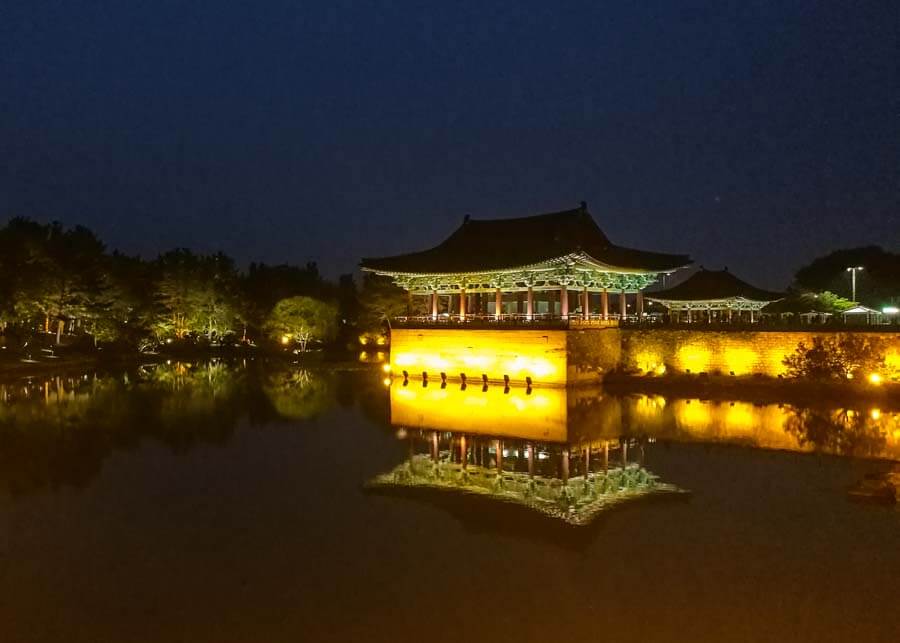 Day 7: Gyeongju (Depart for Seoul by 2 pm)
Today is going to be busy but you'll be on your way to Seoul by the end of it.
First, you have a bit of sightseeing to do in Gyeongju! Start early so that you leave Gyeongju before 2 pm.
The Bulguksa Temple: The Bulguksa Temple is a national treasure and one of Korea's most important temples. This working Buddhist temple is located on the outskirts of Gyeongju and is a UNESCO World Heritage Site. I was amazed by how beautiful the temple complex was with its wooden buildings hidden high up against the mountain. Surrounded by lush trees, the Bulguksa Temple has a calm and serene atmosphere and is a must-visit if you include Gyeongju in your itinerary for Korea.
Seokguram Grotto: Within the Bulguksa Temple complex lies the Seokguram Grotto which houses a monumental statue of the Buddha. The hike from Bulguksa Temple to Seokguram Grotto takes over an hour but the views are stunning. Alternatively, you can hop on a bus that leaves every hour.
After spending your morning visiting Bulguksa Temple, it's time to get to Seoul!
How to get to Seoul
The quickest way to get from Gyeongju to Seoul is via the KTX fast train which takes 2 hours. But it does have its downsides!
Firstly, this ticket is about double the price of the bus so if you're backpacking South Korea on a budget, you may opt for the cheaper 3.5-hour bus trip instead. Secondly, the train station is about 15 minutes' drive outside of Gyeongju which will be an additional cost for a taxi.
I took the bus from Gyeongju Bus Terminal to Seoul and it was quick, easy, and cheap!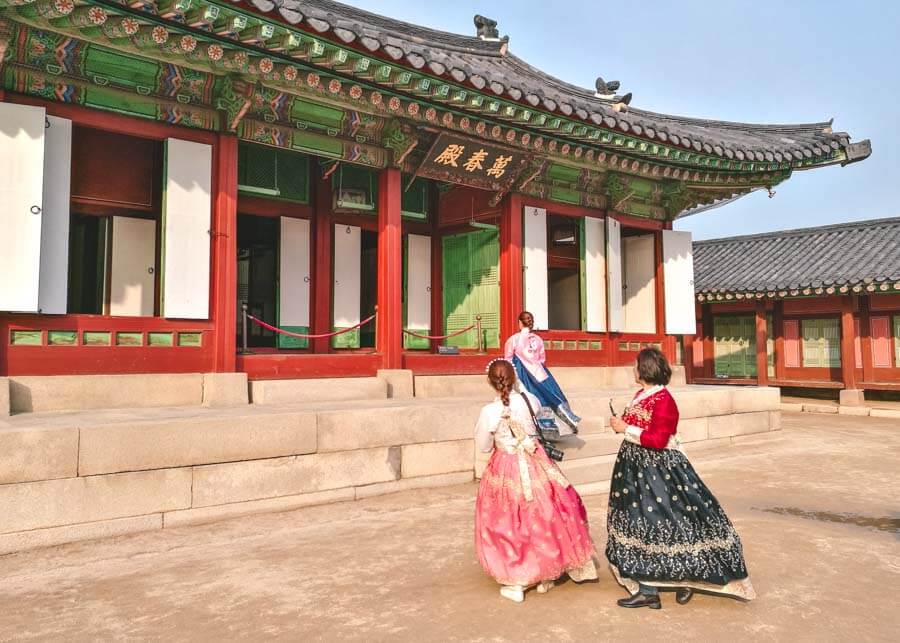 Day 7-12: Seoul (5 nights)
What better way to kick off your second week in South Korea than by hitting the big city, Seoul. You can't come on a vacation to South Korea and skip Seoul – it's unheard of!
After spending the past 7 days traveling between Jeju, Busan, and Gyeongju, all destinations that offer contrasting experiences, you'll find a good mix of everything in Seoul.
It effortlessly combines that old with the new, and you'll be blown away by the towering buildings, bright neon lights, and the latest (and greatest) tech.
But amongst the hustle and bustle, you can still find gorgeous temples and spectacular landscapes, making it the best city to visit in Korea!
How many days in Seoul
If you have 3 weeks in Korea, I recommend you spend 7 days in Seoul, which will include day trips to destinations nearby.
But, for a 2 week Korea itinerary, you may need to exclude certain attractions, or plan your days so that you can squeeze in all the sights.
So, according to this itinerary for Korea, you have 7 days left in Korea. Either you'll spend the last 7 days in Seoul, or you'll do 5 days in Seoul and head east to Sokcho for the other 2 days.
Pro tip: If you decide to skip Gyeongju, you'll still have 7 days in Seoul and 2 days in Sokcho!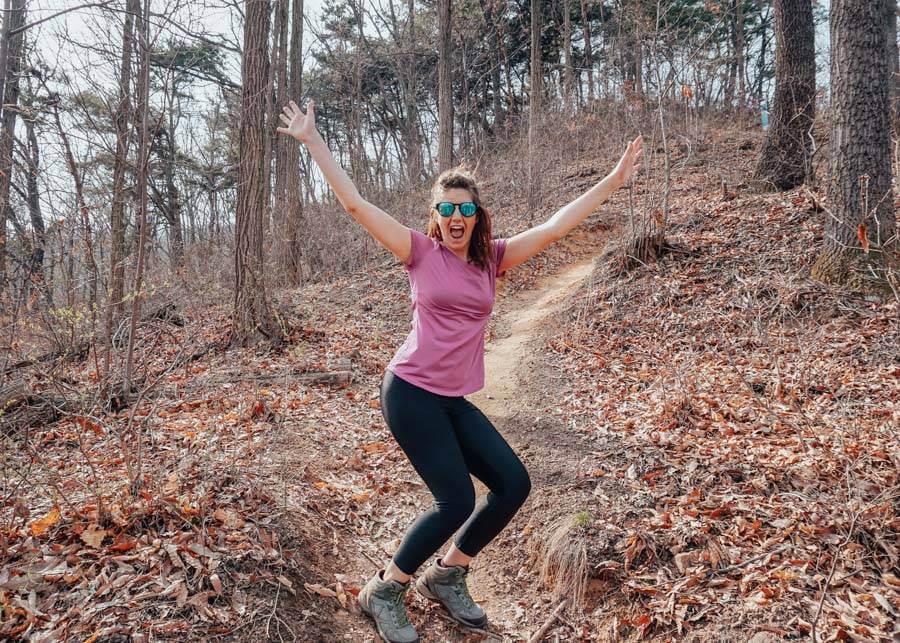 Where to stay in Seoul
Seoul has one of the best public transport systems in the world, making it easy to explore the city and navigate between the sights. This also means that you can stay in one area and use it as your base, instead of constantly moving around.
Myeongdong gets my vote as it is the most central area to stay in Seoul. It's close to many attractions and if you're planning on doing any tours, most have pick-up points at the Myeongdong station.
Backpackers in South Korea will love Myeongdong Rooftop Hostel. It's a brand new hostel situated slap-bang in the center of Myeongdong with an epic rooftop area offering great views of N Seoul Tower.
If you're looking for a quieter and more elegant option, Hotel 28 Myeongdong ticks all the right boxes. This luxurious boutique hotel is the center of Myeongdong, close to all the action. It's just the type of place you want to come home to after a long day of exploring, with a stunning interior, comfortable beds, and gorgeous views from the rooftop bar.
Things to do in Seoul
Here are the top things to do in Seoul which should be on every itinerary for Korea.
Day 7 in Seoul: Arrival in the evening
If you're following this South Korea itinerary and coming from Gyeongju, you'll likely arrive in Seoul late afternoon or early evening.
Explore Myeongdong: Myeongdong is the shopping district of Seoul and home to the best street food in the city. It's bright and vibrant, and the first place you'll visit in Seoul. Myeongdong is best to visit in the early evening. Walk the streets, do some shopping, eat tteokbokki and gimbap, and take in all that is Seoul!
Cooking Nanta Show: The Cooking Nanta Show is a live performance combining arts, dance music, and entertainment. This 90-minute food extravaganza takes place in Myeongdong so it's the perfect way to end your first day in Seoul.
Read More: Where To See Cherry Blossoms in Seoul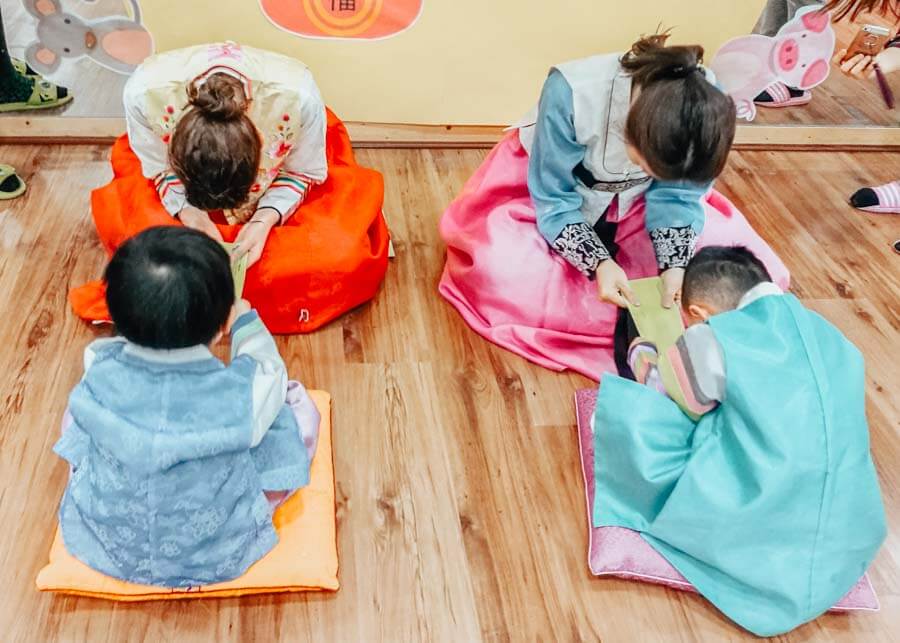 Day 8 in Seoul
Bukhansan National Park: Start early with a hike to Bukhansan National Park, one of the most beautiful natural attractions in Seoul. The hike to the highest point, Baegundae Peak, is a tough one but the views are spectacular. You'll need 3-5 hours for your morning's adventure and you can read more about hiking Bukhansan Mountain here.
Pro tip: If you've decided on the Sokcho addition to your South Korea itinerary, and you find that there's too much to do in Seoul, then you can skip the hike in Bukhansan Mountain as you will be hiking Seoraksan National Park a few days later.
Jimjilbang: What better way to reward yourself after a tiring morning of hiking, than by spending a few hours at a spa – sort of! A jimjilbang is a traditional Korean bathhouse consisting of baths and saunas. I recommend you go to Siloam Sauna near Seoul Station which has an impressive array of baths and saunas but be sure to read up on Korean jimjilbang etiquette before you go!
Itaewon: Itaewon is the party district of Seoul and I love the vibe here! It's also multicultural with scores of local and western restaurants. Grand Ole Opry is one of my favorite bars in the area! As with Myeongdong, it's best to plan your trip to Itaewon in the evening when the streets come alive.
If you're not one for hiking (or drinking in Itaewon), you can easily add Gangnam to today's itinerary. Gangnam was made famous by Psy's hit single, Gangnam Style, and the district is where the rich and famous hang out. It's also home to the Instaragammable Starfield Library and Coex Shopping Center as well as Bongeunsa Temple.
I enjoyed Gangnam, but I preferred hiking and partying in Itaewon, hence I've included it as an optional extra. You can also include Gangnam on your last day (which I've mentioned further along).
Day 9 in Seoul
Bukchon Hanok Village: This is one of the most iconic traditional villages in Korea. With its narrow streets and charming houses, called hanoks, Bukchon Hanok Village is a great place to explore on the 9th day of your South Korea itinerary.
Gyeongbokgung Palace: This palace complex was once home to royalty! The gorgeous temple grounds are fascinating and it's common to wear a traditional Korean dress, called the hanbok when exploring.
You then have three options of what to do after, depending on your time, and energy levels.
Han River: The Han River is yet another famous landmark in Seoul and alongside it, you'll find gorgeous parks, walking trails, and playgrounds. It's a hive of activity during the weekends and it's a great place to hang out after a busy morning exploring.
If you're running late, you may need to skip the Han River in favor of N Seoul Tower and Hongdae (below).
N Seoul Tower: N Seoul Tower, otherwise known as Namsan Tower, is the second-largest point in Seoul and offers sweeping views of the sprawling metropolis in the distance. I recommend that you take the cable car to the peak and walk back down through Namsan Park. N Seoul Tower is easily accessible from Myeongdong, so you can head home after and freshen up before hitting Hongdae.
Hongdae: Hongdae is a university neighborhood filled with live street performers, cool cafes, noraebangs (Karaoke rooms), and epic bars. The youthful and fun atmosphere attracts backpackers in Korea and it's a good spot to check out in the evening.
Read More: The Boryeong Mud Festival in South Korea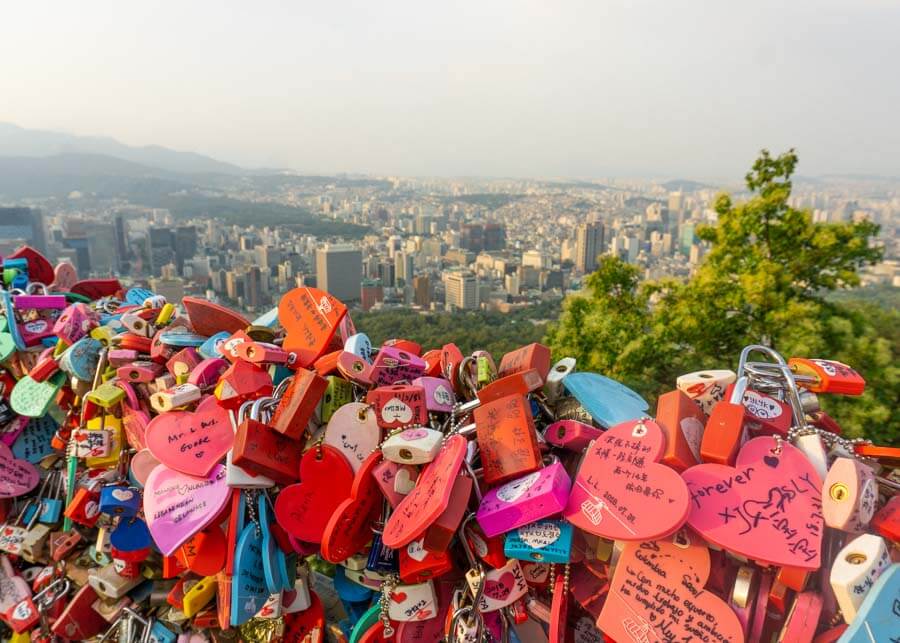 Day 10: Day Trip to Nami Island
Nami Island is only 50 km from Seoul and makes a great addition to your itinerary for Korea.
I spent a night here, but given your time limits with only two weeks in South Korea, I don't suggest you do the same. It's best to book a day trip from Seoul as there is so much to do and see in the Gapyeong region.
Nami Island: Nami Island is a half-moon shaped island located east of Seoul. Like Jeju Island, don't expect those tropical island vibes! It's popular for couples and families and has a quirky and cool vibe to it. With gorgeous tree-lined walkways and beautifully manicured paths, Nami Island is an awesome day adventure, allowing you to get a feel for what Korean love most.
Read More: The Perfect Nami Island Itinerary
Gangchon Rail Park: Just a stone's throw away from Nami Island lies two of the best rail bike parks in Korea: Gangchon and Gapyeong rail parks. These awesome parks allow you to peddle down unused tracks, through mountains and alongside rivers. It's a beautiful way to experience the Korean countryside, away from the hundreds (if not thousands) of people you'll see at Nami Island. Here's why I believe Gangchon Rail Park is better than Gapyeong Rail Park!
Eat Dakgalbi: Yep, this is getting its own shout out! Dakgabli (the most delicious marinated chicken and cheese dish you will ever have) is famous in Gapyeong, and you'll find many restaurants serving up the yummy dish. Make sure dakgalbi is part of your lunch plans!
More to do: I highly recommend you visit the above attractions in Gapyeong, but there's more to do in the area. Petite France and the Garden of Morning Calm are destinations included in most Korea itineraries. If you're traveling independently, then you may not be able to visit them due to time limitations. But if you book with a group tour like this one, private transport is provided which will allow you to see all the top sights around Nami Island.
Day 11: Day Trip to DMZ
It's no secret that there is tension between North Korea and South Korea! The DMZ is proof of this as it is one of the heaviest militarized borders in the world.
Visiting the DMZ is only possible with a tour group and it's easily accessible on a day trip from Seoul.
The Joint Security Area (JSA) is the only part of the DMZ where the north and south meet and is easily recognizable by its blue colored buildings. By visiting the Dora Observatory within the DMZ, you can look over North Korea in the distance, as well as the propaganda villages that have been built! The Third Tunnel of Aggression is another eerie destination to check out. This is a tunnel built by North Korea in their attempts to invade the south – how hectic is that!
Depending on what else you want to see in Seoul, you may want to take the half-day DMZ tour so that you can return earlier to check out other destinations you've missed (Such as Gangnam, Hongdae, or the Han River). You can find the best half-day tours here.
Unfortunately, these half-day tours don't include stops at the Joint Security Area (JSA) so if this is on your Korea bucket list, you'll need to opt for the full-day DMZ tour instead. This is what I did and I was absolutely knackered afterward so be wary of planning too many activities for the evening!
2020 Update: The JSA is currently closed to visitors but there are still tours going to other sections of the DMZ.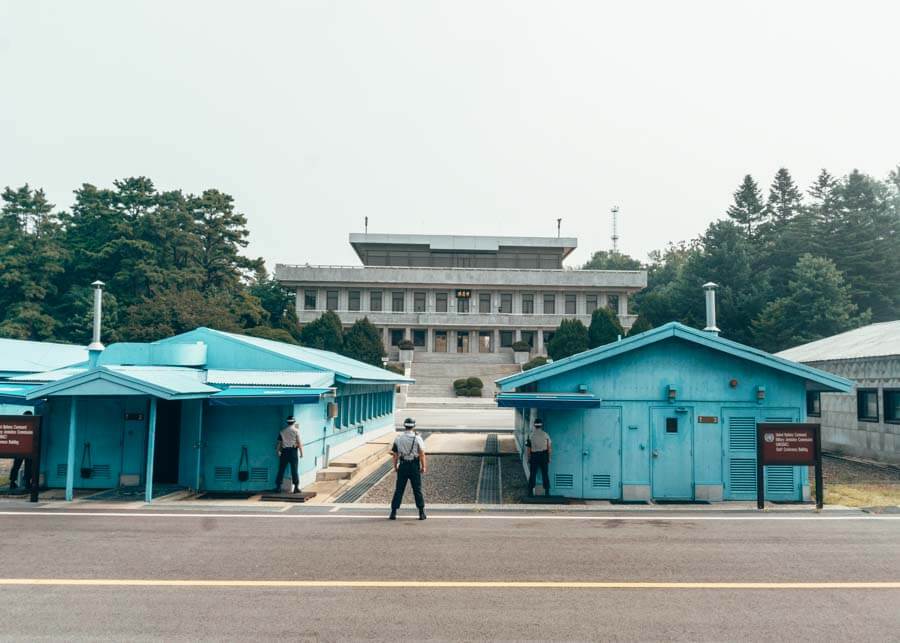 Day 12-14: Seoul or Sokcho
You've already spent 5 days in Seoul – and you're guaranteed to love it! Since you only have 3 days left on your South Korea itinerary, it's time to make a big decision.
Do you want to spend more time in Seoul? Or do you want to check out Sokcho?
Day 12-14 in Seoul
If you decide to stay in Seoul, there are plenty of attractions to keep you busy.
Go skiing: If you're planning this itinerary for Korea during winter, you must head to the mountains and go skiing. There are numerous awesome ski resorts near Seoul – many of which I visited myself.
Read More: The Top 11 Ski Resorts in Korea (Near Seoul)
Visit Everland: Everland is the Disney of Korea. If you're planning your South Korea itinerary with your family, you need to visit Everland. Lotte World is also a crowd favorite. Both Everland and Lotte World get extremely busy on weekends and public holidays so try to avoid visiting these days. To save time waiting in queues, purchase discounted tickets here.
Day 12-13: Sokcho (1 Night)
Nature enthusiasts will love Sokcho as it's home to Seoraksan National Park. It's on the east coast of Korea, a 3-hour drive from Seoul.
Many shorter Korea itineraries include Sokcho as a day trip recommendation, and yes, it's possible on a tour like this. But considering the time it takes to get there, it's best to spend the night.
How to get to Sokcho
The easiest way to get to Sokcho is to take a bus from Seoul's Express Bus Terminal to Sokcho. This trip will take under 3 hours (traffic dependent) and will set you back on 14 000 won ($11) for a one-way ticket.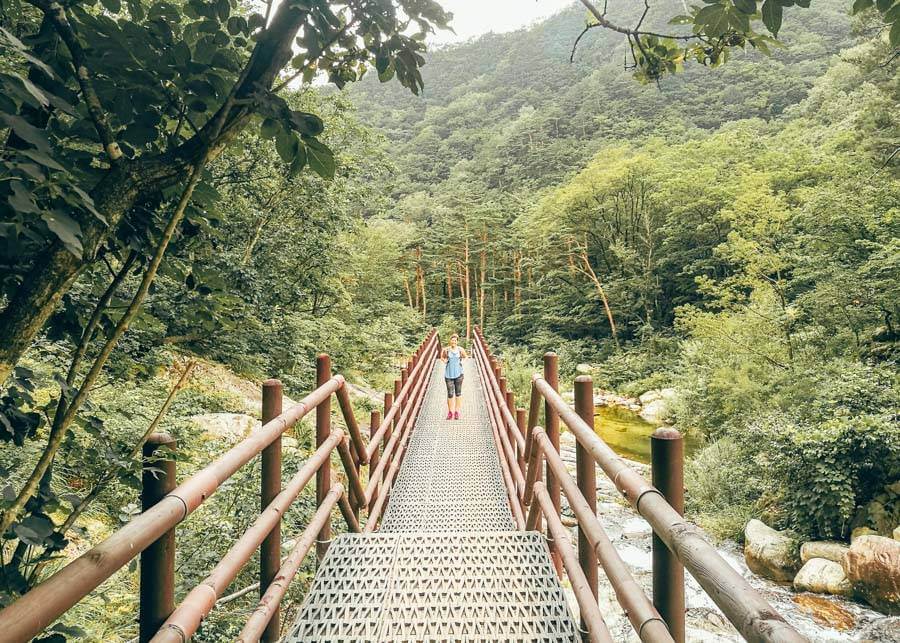 Where to stay in Sokcho
Sokcho is surprisingly small but there's a range of accommodation options to suit every budget and travel style. Try to stay near the beach so that you're within walking distance from everything.
Budget travelers will love Sokcho Hutte. What makes this place shine is the hospitality of the owner who will go out of his way to ensure you have a great trip. Situated near the bus terminal, the location couldn't be better.
If you're traveling on a mid-range budget, you may prefer to stay in The Mark Sokcho Residence which offers bigger rooms with their own kitchenette areas. The comfortable space also offers views of the beach and ocean.
Day 12: Arrive in Sokcho by 11 am
Hike Seoraksan National Park. This national park is breathtaking, and you can spend hours hiking through the forests and wandering the rugged paths. There are several trails you can choose from, each with varying levels of difficulty. I hiked to Ulsanbawi Rock which was quite tough but is known to have some of the best views in all of Korea. (Although I didn't get so lucky as it was overcast and cloudy on the day of my hike)
Day 13: Sokcho and Seoul
You'll be leaving Sokcho today, but there's still time to check out a few spots that you wouldn't have had time for yesterday.
Explore Sokcho: Sokcho is a small fishing village with an awesome beach so spend your morning exploring the town before hopping on a bus back to Seoul.
Naksansa Temple and Naksan Beach: Instead of the above, I recommend you hop on a bus and head to Naksan Beach which is a nearby town. It doesn't have much with the expectation of a laid back atmosphere, beautiful temple, and gorgeous beach. I spent my summer vacation in Naksan Beach and loved it, but you'll only have a few hours here. Explore the cliffside Naksansa Temple (which is well worth a visit over the temple in Busan), take a stroll along the beach, and then head back to Seoul by 3 pm to enjoy your last night in Korea!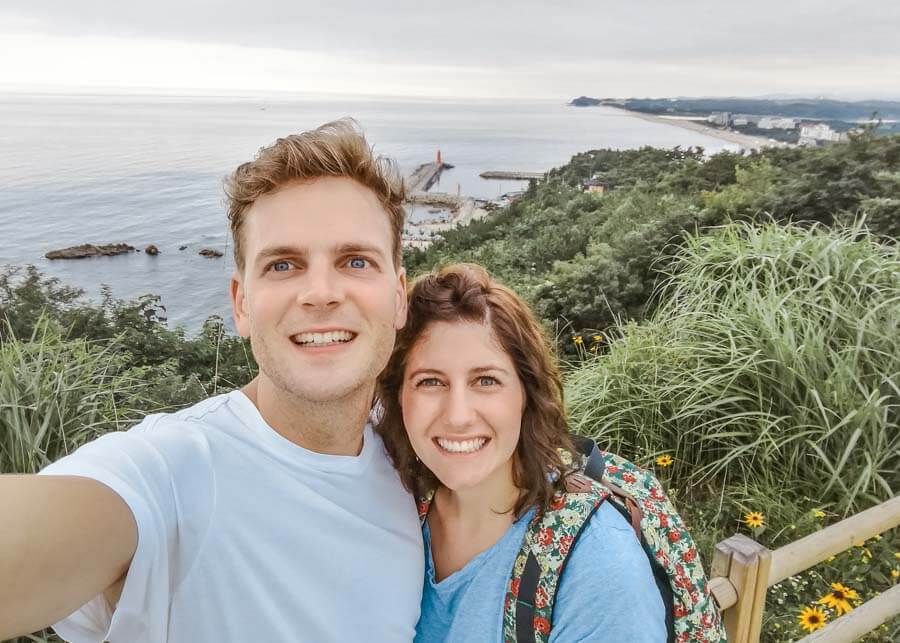 Day 14: The Last Day of Your South Korea Itinerary
Can you believe your two weeks in South Korea is over?
If you've followed this South Korea itinerary, you will have eaten your heart out, walked enough miles to justify another vacation, and experienced the best of Korea, from the people to the culture.
Depending on when your flight departs, you may have some time to squeeze in a few more activities in Seoul!
Visit another themed cafe and get one last Insta-worthy pic
Explore the Insadong neighborhood. It's an artsy traditional neighborhood in Seoul where you can make a few last-minute purchases
Take a stroll along the Cheonggyecheon Stream
Budget for 2 Weeks in Korea
Korea is more expensive than other countries in Asia but there's plenty to do and see, even if you're on a budget.
Here are my estimated daily costs for your South Korea itinerary.
Accommodation: $40 per night (Budget, private room for 2 people). $100 per night (mid-range, private room in a hotel for 2 people).
Food (lunch & dinner): $20 per day. This will include a mix of street food and local restaurant food for 1 person. If you're only eating at western restaurants, you'll need to fork out atleast $60 per person per day for food.
Organized day tours: $50-$110 per person per tour (I'd recommend only going on 2 organized tours during your time).
Public transport between cities: $10-$30 per person. The trains and buses in the cities are cheap!
Drinking: Soju and beer are the local favourite and they're cheap compared to wine and spirits.
If you're traveling on a budget, you can get by with $100 per day for 2 people ($50 per person per day). This excludes international flights.
There are many free things to do and if you follow my itinerary for Korea and travel mostly with public transport, $50 per person per day should be ok.
But if you want to hire a car, go on organized tours in every city, and eat at nicer restaurants (or go out drinking and parting), you could look at double the budget.
Final thoughts on your Korea Itinerary
South Korea surprised me in every way and the year I spent teaching English in the country taught me so much.
It wasn't just the travel aspect, but also what we learn through our travels – how we begin to understand different cultures and open our minds to a different way of life.
I feel that when I was traveling through Korea, I didn't appreciate how incredible it actually is. I'm already planning my next trip which will include numerous visits to Korean Jimjilbangs, an overload of Kimchi and Toekbokkie, and lots of K-pop!
If you've followed my South Korea itinerary, you're guaranteed to leave feeling the same way I do. With happiness in your heart, fond memories, and a full, satisfied stomach!
---
Have you traveled to Seoul, Jeju or Busan? What destinations would you recommend for the perfect itinerary for Korea? Let me know in the comments section below!
Looking for more Korea travel inspiration? Check out my other posts!
---
Pin This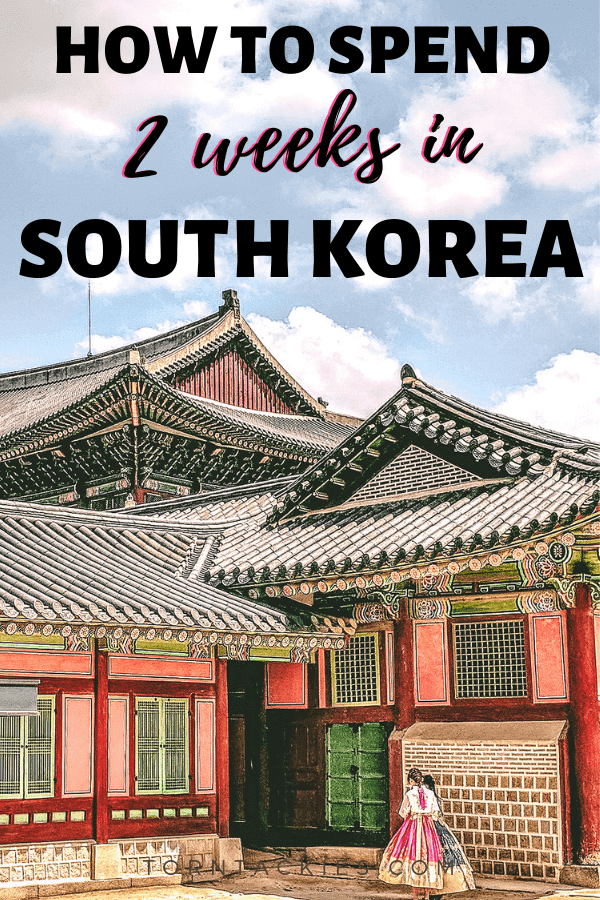 There is a really good chance that this post contains affiliate links. If you click one of them, I may receive a small commission at no extra cost to you. As always, views are my own!