Are you struggling to decide what to pack for Sri Lanka? Fear not; I've got you covered!
I spent a month backpacking through the country and loved every second of it. With so much to see and do, deciding what to add to your Sri Lanka packing list is just as important as planning your itinerary.
This guide includes what to take to Sri Lanka, with honest tips and advice so that you can have the best holiday, like I did.
Torn Tackies contains affiliate links. If you make a purchase using one of these links, I may receive compensation at no extra cost to you. See my disclosure for more information.
Things to Know About What to Pack for Sri Lanka
To pack or not to pack… The age-old question when packing for Sri Lanka.
You're probably wondering whether that extra maxi dress is necessary or if you'll need something fancy for a night out on the town.
Short answer – leave them at home!
Sri Lanka doesn't have the beach clubs or resorts you may find elsewhere. It's a lot more rural, off the beaten track, and untainted by tourism (well, most of it at least)!
So, when packing for Sri Lanka, keep this in mind and pack clothes that are comfortable and practical.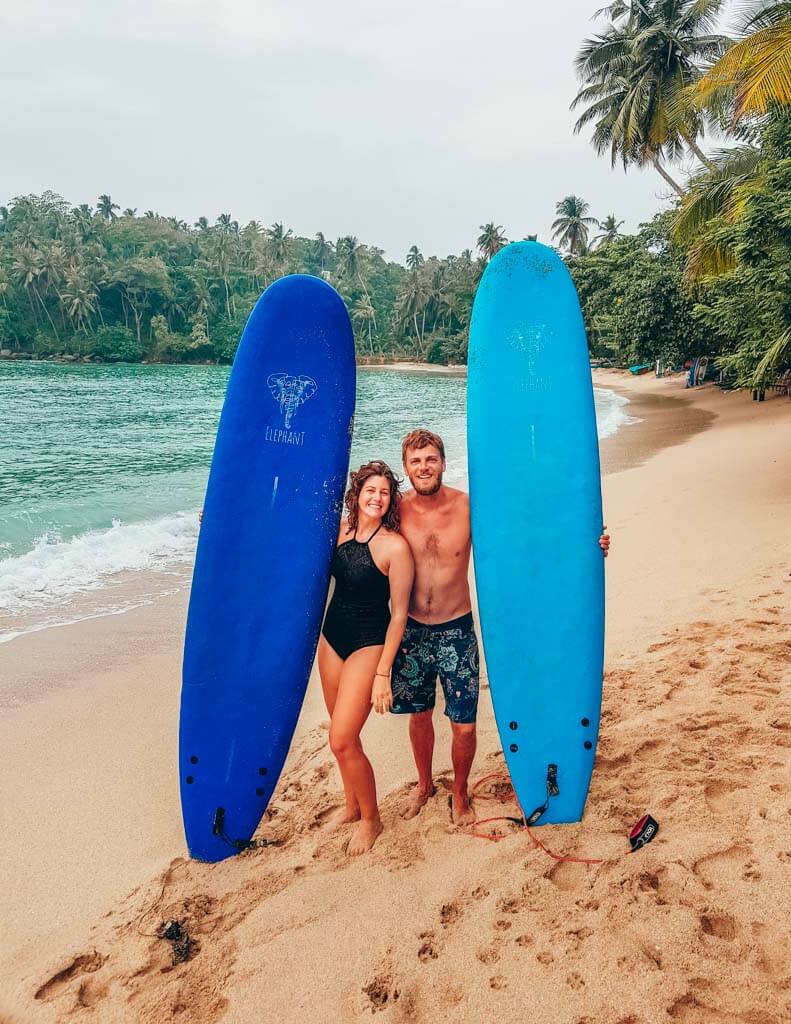 Sri Lanka Packing List: Your bags
Before you do anything, you'll first need to decide what you're going to pack everything into.
Large backpack
If you're a luxury traveler embarking on a 5* resort holiday with private transfers, then you'll get away with this hard-wheelie suitcase.
But for everyone else, use a backpack like this.
They're light, easy to carry, and won't get muddy or wet (as you won't have to drag it through the tea plantations or muddy roads).
"But backpacks are for backpackers," you might add.
Firstly, public transportation in Sri Lanka is really impressive, and traveling with a backpack is much more convenient for this.
If the Kandy to Ella train is on your Sri Lanka itinerary or if you'll be taking a tuk-tuk to your hotel, then backpacks are game-changers!
And with all the attractions in Sri Lanka, you're most likely going to be moving around quite a bit. If that's the case, a backpack is the way to go.
They're not only for backpackers – they're for everyone.
Day backpack
Having a good carry-on backpack is crucial to every Sri Lanka packing list.
This over-the-shoulder bag is needed for all your day trips, beach-hopping shenanigans, and tuk-tuk missions.
Store your water, snacks, phone, camera, sunscreen, and beach towel in here. You'll be all set and ready for the day.
Crossbody bag
A crossbody bag (or a bum bag) is a travel essential for Sri Lanka that can used when going for dinners or drinks.
It doesn't need to be big – just something that can fit your purse, phone, and keys. I have this one which comes in 12 different colors.
Packing cubes
Packing cubes should be on your packing list no matter where you're going.
They can be used to separate all your clothing items, from swimwear to underwear, dresses to shorts. These ones are affordable and come in sets of 3 or 4 varying sizes, so you'll get your money's worth.
And they're not only for clothes! Here's what else I use packing cubes for:
Laundry bag: Laundry in Sri Lanka is so cheap with hostels and homestays offering laundry services for under $6! Keep your dirty clothes aside and have them washed every few days. They'll be returned the next day, washed, dried, and neatly folded.
Toiletry bag: Who needs a toiletry bag when you have packing cubes.
Make-up bag: Ladies, don't judge me for this! Instead of spending money on a fancy makeup bag, use a packing cube instead.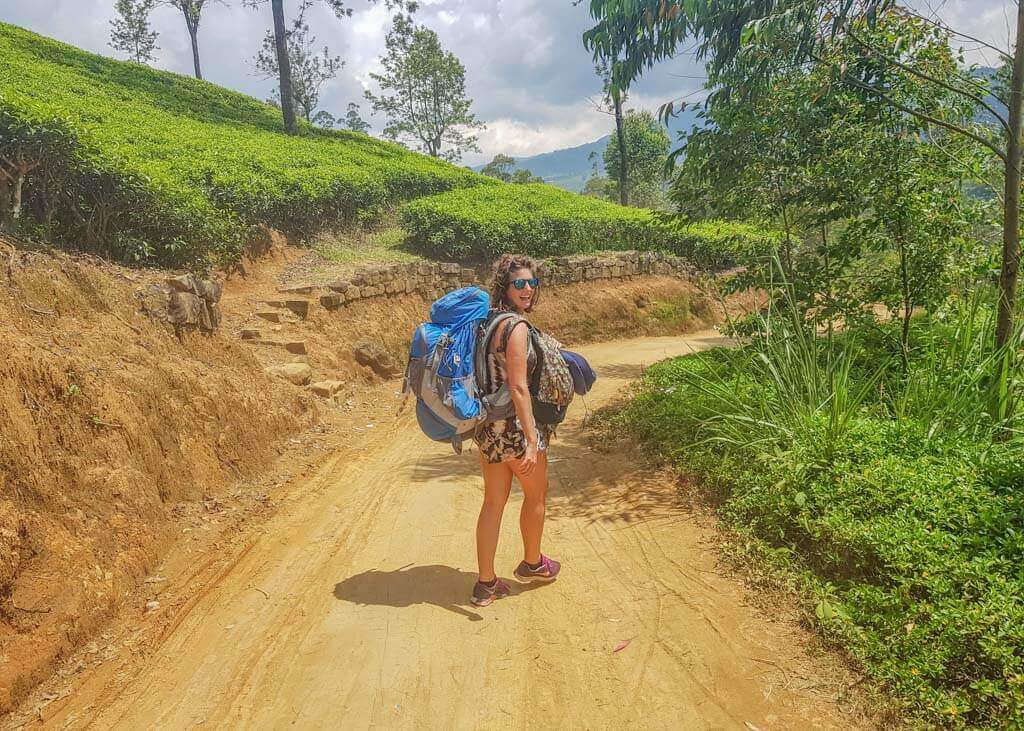 What to wear in Sri Lanka (Women)
Deciding what to pack for Sri Lanka is no easy task – especially for us ladies.
You want to be prepared for every occasion, but that often means overpacking. Don't do that!
When traveling to Sri Lanka, less is more.
While the Instagram pics may showcase a more dolled-up side to Sri Lanka, the country is super easygoing, and it's totally acceptable to wear the same shorts and tops day in and day out.
Here's what to pack for a trip to Sri Lanka (Women).
Trainers
With so much natural beauty, you'll certainly be doing a few hikes in Sri Lanka (Don't miss Little Adams Peak and Ella Rock). That's why it's important to pack a versatile shoe like this.
Flip flops (Havaianas)
Every Sri Lanka packing list should include a pair of these flip flops. I wore mine every single day – to the beach, shops, restaurants, and bars.
Sunglasses
I have these Ray Ban Wayfarers, and they're my go-to travel sunnies.
Hat
I prefer a baseball hat as they're easy to travel with. While the wide-brimmed sun hats look fab, they are a mission to pack.
3 Tank tops/vests
They're light, quick-drying, and don't take up much space. I love these tank tops.
2 T-shirts
Bring 2 tops like these that cover your chest and shoulders. These can be worn when visiting temples, hiking, or doing yoga.
1 exercise top
Breathable material and quick drying. You can also use your tan top instead.
3 pairs of shorts
I recommend a pair of denim shorts and 2 lightweight shorts that can be worn over your bathing suit.
1 sundress
I packed a jumpsuit instead (as long as it's comfortable).
1 pair of sweatpants/jeans
If you're heading to Nuwara Eliya, which is a lot colder, you may want to pack in a pair of long pants as it does get rather chilly.
1 pair of yoga pants
I always carry a pair of these yoga pants with me. You can use them when hiking and for your travel days.
1 jumper or hoody
Pack something comfy to wear during the evening in hill country (and if you're hiking Adams Peak).
2 bikinis/bathing suits
You might be tempted to bring more, but 2 is enough.
1 sarong or beach cover-up
I wore my sarong just about every day along the coast.
A light jacket
Although it will be hot, bring a lightweight jacket to wear in the mornings, on boat trips, and for your flight. I'm a fan of this jacket as it's waterproof and also looks good!
Avoid a denim jacket as it takes up a lot of space, and you may not even need it.
Summer PJ's
4 pairs of socks
And make your packing list for Sri Lanka includes a long pair of socks as well.
There are so many leeches, and if you're hiking, you'll probably find one on your leg!
6 underwear
Clothes to pack for Sri Lanka (Men)
It's so easy for guys to pack for Sri Lanka. Gary had half the amount of clothing that I did!
Trainers
Flip Flops
Sunglasses
Hat
3 Boardshorts
1 sweatpants
3 vests
2 tops
1 exercise top
Lightweight jacket
Jumper
3 socks: 1 longer pair to hike in
6 underpants
Other things to bring to Sri Lanka
Beach towel
While homestays and hotels will provide you with bath towels, you'll still need to pack a small, lightweight towel for the beach.
It should be small enough to fit in your day backpack, along with the other items, so don't bring a large, heavy towel. These turkish towels are the best, and they're easy to dry.
Reusable water bottle
The tap water in Sri Lanka is not safe to drink.
Your accommodation may offer complimentary water that you can decanter into this smaller reusable water bottle.
Combination locks
I never had a problem with theft in Sri Lanka.
But if you're traveling in public buses or trains, chances are your luggage won't be stored next to you.
Bring a lock to keep your items safe. Buy yours here.
Toiletries
Shampoo and conditioner (2 in 1): I'll let you in on a secret. When I'm traveling, I use the 2-in-1 shampoo and conditioner for my hair and body so no need to bring a separate body wash
Facewash
Moisturizer
Body cream: After hours in the sun, you're going to want to moisturize
Toothbrush and toothpaste
Razors
Deodorant
Sunscreen: bring a SPF 50 for your face and SPF 25 for your body
Hairbrush
Make-up: Don't pack too much makeup. All you need is a bit of foundation, mascara, and blush
Hair ties and clips
First Aid Kit
There's no need to go overboard with medical supplies, but I recommend you add these items to your packing list for Sri Lanka.
Paracetamol
Bandages/plasters
Antiseptic cream
Imodium
Mosquito spray
Electronics
GoPro
If you don't have one, buy one! You'll want to capture all your favorite memories (and they're also great for selfies).
Portable power bank
Your phone battery may not last an entire day and you're going to need a portable power bank (and make sure it's charged).
Here's a 20 000mAh option that provides enough power to charge your devices numerous times, and its slim design means it's easy to travel with.
Buy your power bank here.
Adapter
US plug ports don't work in Sri Lanka. The power plugs and sockets in Sri Lanka are of types D, G, and M and so your best choice is to buy a universal travel adapter.
Bluetooth speaker
A speaker will come in handy when you're chilling at your homestay with a Lion Beer in hand, playing an intense game of cards.
We used ours often but if you're planning on being on the go all the time, then it might not be necessary.
Essential Travel Items to Pack for Sri Lanka
Passport
Air ticket
Debit and credit card: bring both as you never know if one will give you issues
Driving License and International Driving License
Copy of Passport, travel insurance, drivers, accommodation booking
Passport wallet to hold your Passport and other important documents (all of the above). Don't get one that's too small. You want it to fit your passport, travel insurance details, and other travel documents.
Money purse: When going on day trips or tuk-tuk adventures, don't travel with a big wallet. Instead, keep your cards, drivers' licenses, and other documents in your travel wallet (above) and use a small money pouch to carry cash for the day's activities.
Non-Essential Things That You Might Want to Pack
Everyone will have a different opinion of what to pack for Sri Lanka. Here are a few extra items that you might want to include on your Sri Lanka packing list, although most are not necessary.
Surfboard: Gary and I both surfed quite a bit in Sri Lanka (Hiriketiya Beach is the best surf spot). All the beaches have board rental stores so unless you're big into your surfing, rather rent a board as it will be a mission to cart around.
A pair of sandals: If you're planning a nice dinner in Colombo or Hikkaduwa then you'll need a pair of sandals.
A dry bag: Planning on doing a bit of snorkeling or diving? Bring a dry bag to keep your things safe. But honestly, these dry bags do take up a bit of space so if you're only doing 1 or 2 boat trips, then it's not entirely necessary.
A beach bag: Some people may prefer to have a nice beach bag for their day out in the sun. A tote bag also works well and takes up little space. Or better yet, leave these at home and use your small backpack instead – that's what I did.
Money: We drew money at the airport and had no issues.
Rashguard or swim shirt: If you'll be surfing and expect to spend hours in the water, then you may want to consider adding a rash guard to your Sri Lanka packing list.
Rain poncho: Truth be told, we had included a poncho on our Sri Lanka packing list. But even though it rained, we never used it.
Playing cards: I always travel with a pack of cards!
What Not to Add to Your Sri Lanka Packing List
Snorkel and mask: Instead of carrying around bulky snorkeling gear, rather rent from vendors. But I must warn you, the snorkeling isn't much to write home about.
Expensive jewelry: Or any jewelry for that matter. It's not needed.
High heels: No one wears heels in Sri Lanka. Rather bring a nice pair of sandals if you're going to a luxury place.
Water shoes: I've seen a few Sri Lanka packing list blog posts that recommend bringing a pair of water shoes. They aren't necessary, and I never needed them during my time in the country.
Hiking boots: The only reason I packed hiking boots for my Sri Lanka trip was that I was headed to Everest Base Camp after. But, they're not needed in Sri Lanka and trainers will do just fine.
Headlamp: If you're hiking Adams Peak, the hike starts at 1 am (yes, you read that correctly!) But there's no need to bring a headlamp as your homestay owner will have one for you to use. Just be sure to ask them to keep one aside for you before you arrive. You can read all about my Adam's Peak adventure here!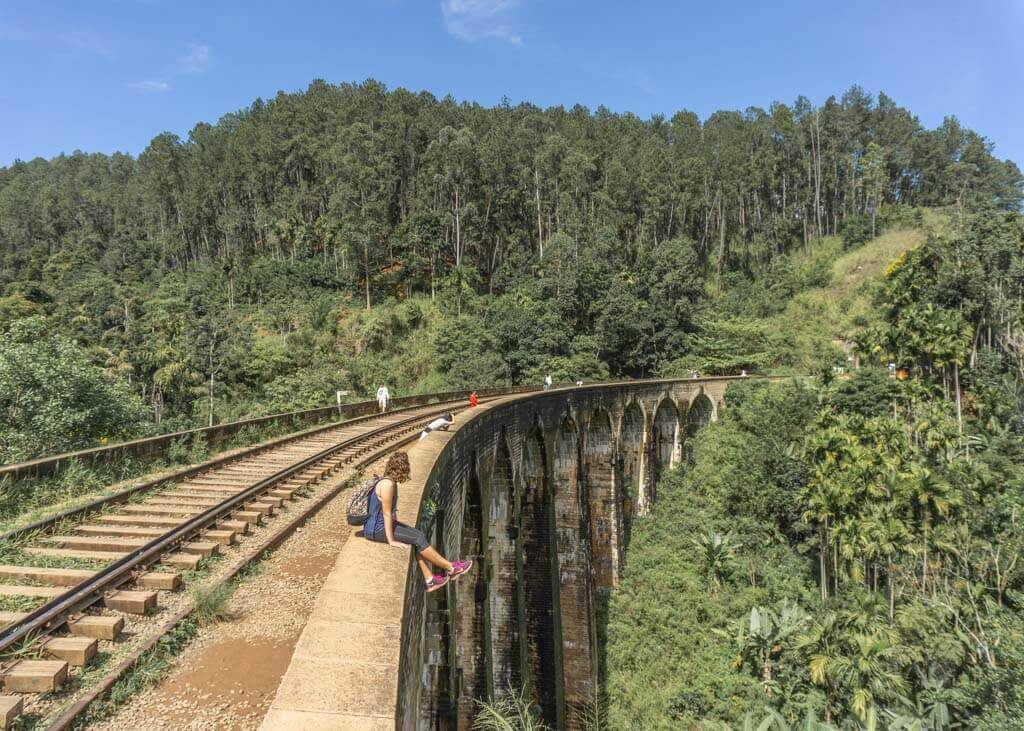 Packing for Sri Lanka's weather
If there's one thing that will throw you off with your travel planning, it's the weather!
You can spend hours researching the best time to visit, but the weather can still be unpredictable, and chances are there'll be a bit of rain every now and then.
Here's why:
Southwest monsoon: April to August is the southwest monsoon, so it's best to visit the north or east coast during this time.
Northeast monsoon: October to January is the northeast monsoon season, so it's best to visit the central and southwest coast.
October and November are synonymous with erratic weather, and it can rain anywhere at any time.
I visited Sri Lanka in October and had a great time. We had a few rain showers in the east (which is to be expected), but that didn't affect our holiday at all.
The geography
One day you're soaking up the sun; the next, you're freezing your ass off! True story – that was my actual experience.
If you're visiting the coastal areas and beaches, it's generally pretty hot.
But as you go inland to the hill country and, more specifically, Nuwara Eliya, the temperature drops dramatically.
Keep this in mind, as you'll need to add some warm clothes to your Sri Lanka packing list.
Appropriate clothing to wear in Sri Lanka
It's important to be respectful of the Sri Lankan culture.
When visiting temples, sacred places, or religious areas, dress appropriately and cover your shoulders, chest, and knees.
But when you're at the beach, anything goes!
Is it ok to wear shorts in sri lanka?
Yes, it is totally acceptable to wear shorts in Sri Lanka.
Sri Lanka Packing list: Travel Tips
Now that you know what to bring to Sri Lanka, all that's left is to get on the flight!
If this is your first time in Sri Lanka, here are some of the best things to do and travel tips for visiting.
---
Are you planning your trip? Have any questions about what to pack for Sri Lanka? Drop me a message in the comment section below!
Looking for more Sri Lanka travel inspiration? Check out my other posts!