On the fence about whether you should go surfing in Sumba? Indonesia is known for its famous breaks that attract scores of eager surfers. But with that comes the crowds, the busy beaches and the rush to get into the water before everyone else does!
So, I went on a mission to surf in Sumba, a remote island south of Bali. After spending 2 weeks on the Island, here's what I discovered about Sumba surf.
Disclaimer: I'm not a surfer – my boyfriend is! So, while he was on the hunt for barrels, I wanted the easy breaks that were perfect for beginners.
If you're traveling to Sumba, check out my full Sumba travel guide which includes other things to do, besides surfing!
Psst… Planning a trip to Indonesia? These posts might help!
Where to go surfing in Sumba
Sumba Island lies in the East Nusa Tenggara province of Indonesia and is twice the size of Bali! Navigating around the island is not easy and because of the lack of tourist infrastructure, many people avoid the island completely.
And this is why surfing in Sumba should be on your bucket list!
The best surf in Sumba is found in the southeast and southwest of the island. The coastline between these two sides is completely different, but great waves are found throughout.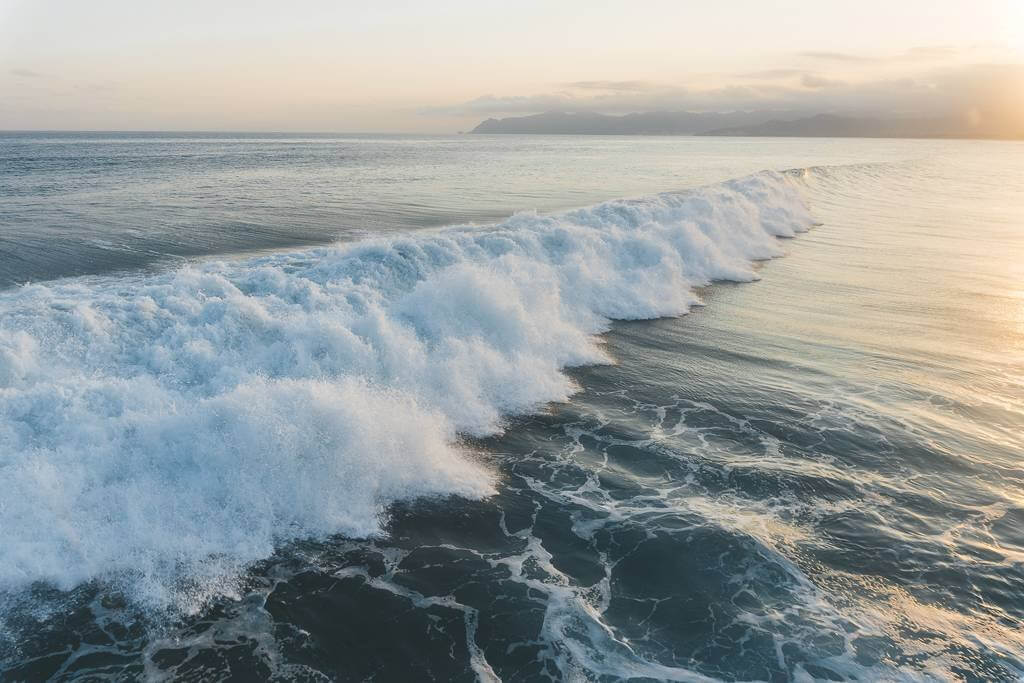 Sumba Surf: Surfing on the west of the island
The west is more populated than the east and attracts more tourists. Majority of surfers heading to Sumba will hang around the beaches along the southwest of the island. So, whilst the waves aren't empty, you'll most likely have a few other surfers in the water with you.
The southwest offers a range of rights and lefts. But Occy's Left steals the show!
Occys's: This break is right in front of the famous Nihiwatu Resort. Unless you're staying at the resort, you aren't allowed to surf this wave. You can try, but security might chase after you!
Pero: Pero is yet another popular break, with an awesome left and right.
Pantai Marosi: Marosi has a nice beach break. With the right swell, there are a few other point breaks.
Millers Right: Millers Right is in Tarimbang.
Sumba Surf: Surfing on the east of the island
On the east, you'll find a handful of lefts. During our time on the east of Sumba, there were one, maybe two other surfers in the water but unfortunately, the waves weren't great.
After chatting with a few people who'd lived in the area for years, it turns out the surf on the east of the island, most notably near Kalala beach, was affected by the large pier that was constructed and currently sits in the middle of the surf.
Below are the more popular waves on the east of Sumba Island, all needing the right swell and swell direction:
The office
Racetracks
Five-o
How to get to all the surf spots in Sumba
Overland travel is not easy on the island. It took us 7 hours to get from Kerewe on the west to Kalala on the east. The cost for the transfer – 1 900 000 IDR ($135)!
You can't just rent a scooter and quickly navigate your way to the best surf spots. Why?
Firstly, bikes for rent are generally in terrible condition and they aren't serviced regularly.
Another factor is the condition of the roads. The surf spots in Sumba may seem close on a map, but the roads are not tarred, and you have to drive very slowly. Make sure you get good directions as there are no signposts and the roads switch between gravel, grass, and sand!
If you're lucky, your surf camps in Sumba will have an off-road vehicle and you'll have a surf guide taking you to all the best spots near your camp.
The best way to plan your surf trip to Sumba is to stay at a surf camp
These surf camps in Sumba don't come cheap! This is due to the remoteness of their locations, the limited resources, and the fact that there is very little competition.
If you stay in the main hubs such as Tambolaka, Waikabubak, and Waingapu there are a few accommodation options available as well as local warungs to eat at. If you stay on the coast, near the surf spots, you won't find much.
Your surf camp will generally provide you with all meals, drinks, and accommodation, and you'll also rent your bike from them.
Surf camps in West Sumba
1) Sumba Sunset Surf Camp
Sumba Sunset Surf Camp is a homestay on the hill overlooking Kerewe Beach. It's run by a local surfer, Patu, who used to be a surf guide at the famous Nihiwatu Resort.
It's close to Pantai Marosi which is one of the best places to surf in Sumba. The homestay is made up of a few bamboo and thatch huts and meals are served in a communal style set-up, with the family often eating together with the guests.
We rented scooters from the camp and Patu was happy to show us the surf spots in the area. If you're looking to meet other surfers and have an authentic Sumba surf experience, I highly recommend you stay here.
But don't expect luxury! Sumba Sunset Surf has cold showers, bucket toilets, no power at night and repetition of tempeh, rice, and vegetables for lunch and dinner every day. But this gives you a true experience and you'll soon realize that you don't need much more than what's offered.
The view from Sumba Sunset Surf is hard to beat and overall, it was one of the best places I stayed at during my 4 months backpacking trip.
Costs: 400 000 IDR ($28) per person per night all inclusive.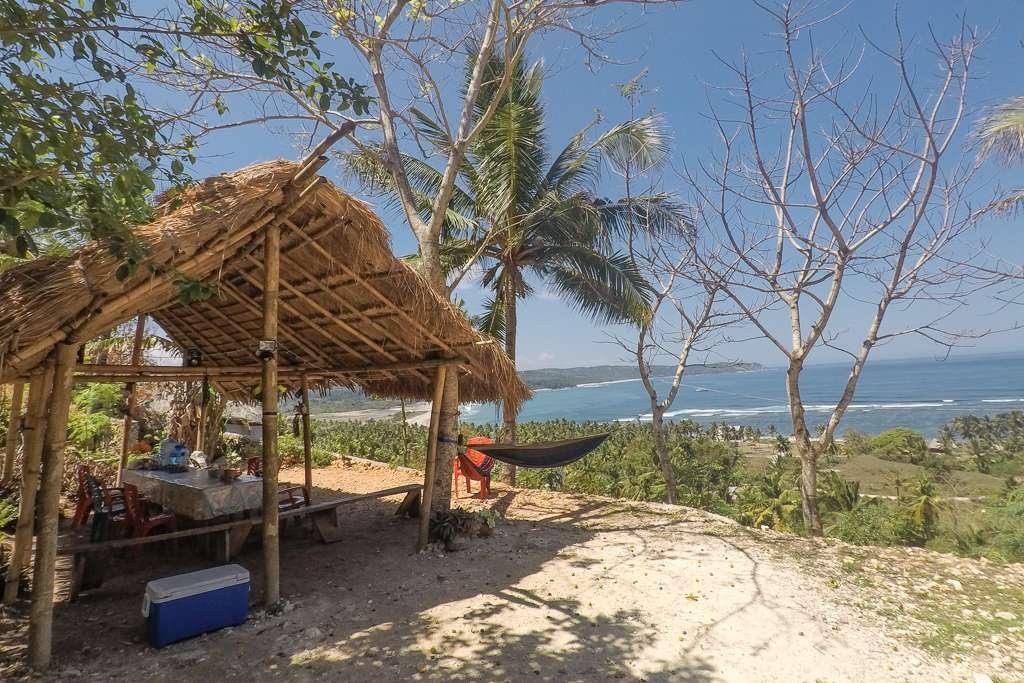 2) Sumba Surf Camp
Sumba Surf Camp is located near Sumba Sunset Surf. Whilst it's closer to the beach, it doesn't quite have the views that Sumba Sunset Surf Camp does.
I never stayed at Sumba Surf Camp, but from the outside, it looked like a more comfortable stay with hot showers and power. The surf guides also take you out on either a boat or 4 x 4 daily and there is wifi at the camp.
But all these luxuries come with a hefty price tag, and I was happy to save a few bucks in exchange for bucket toilets at Sumba Sunset Surf.
Costs: $85 per person per night all-inclusive.
How to get to Sumba Sunset Surf and Sumba Surf Camp
Both Sumba Sunset Surf and Sumba Surf Camp are on the southwest of the island.
To get here, you'll fly into Tambolaka Airport and catch a 2-3 hours private transfer to the camp. This transfer costs around 600 000 IDR ($42) for the car and driver. You could use public transport, but with surfboards, it is a mission and can take hours. Not worth it in my opinion!
Yes, it is expensive, but until you arrive in Sumba, you won't understand how remote it is.
Surf camps in East Sumba
1) Sumba Adventure Resort
Sumba Adventure Resort is located on the southeast of the Island. This resort was nothing like my stay at Sumba Sunset Surf Camp. It was far more remote, yet more luxurious and came with all the bells and whistles you will find at an adventure resort.
The delicious meals are served on your front porch. Sumba Adventure Resort is well-suited for couples, although I did miss the "family" atmosphere that I felt at Sumba Sunset Surf. But the luxury of running showers, proper toilets, coffee every morning and sun loungers was something I was grateful for!
Sumba Adventure Resort also have beach bikes, motorbikes, four-wheelers, stand-up paddleboards, and snorkeling gear so there are more activities to do than just surfing.
Costs: $60 for per person per night all-inclusive.
How to get to Sumba Adventure Resort
You will need to fly into Waingapu Airport and take a private vehicle to Sumba Adventure Resort which will cost 600 000 IDR ($42) for the 2-hour journey. There is a public bus running in this direction but the short trip will take over 5 hours by public transport.
READ MORE: The Perfect Itinerary For Bali
Sumba surf charters
Another way to explore the surf in Sumba is to book a surf charter which will take you to all the best breaks around the island.
Best time to go surfing in Sumba?
The best time to go surfing in Sumba is between March and October, which is the dry season in Indonesia. November to February is the rainy season and whilst you can still surf during this time, expect daily rain showers.
As with all surfing hotspots, you can't expect the perfect wave all the time. We were on the island in August, supposedly the best time to surf in Sumba.
But apparently we had just missed a good spell as the waves on both the east and west of the island were not all they were made up to be. Check the swell maps and plan your trip accordingly.
Surfing in Sumba for beginners
I spent two months in Indonesia and my goal was to learn how to surf. And what better place than on Sumba Island, where the beaches are deserted, and the surfers are few.
Unfortunately, if you're a complete novice (like I am), and your goal is to learn how to surf, then maybe give Sumba a skip.
Firstly, the waves were either too big or the currents too strong. There are a few sandy beach breaks with most of the surf spots being reef breaks. After surfing in Sri Lanka, I must admit that the waves there are far better suited for beginners.
So, surfing in Sumba wasn't for me, but hey, the beaches are out of this world and I was quite happy to spend my day, lazing in the sun, whilst Gary was in the water.
Getting to Sumba with your surfboard
Before you book your flights, decide whether you want to surf in the west of east of the island as there is an airport on either side.
There are daily flights with Garuda Indonesia, Nam Air, and Wings Air and the flying time is only 50 minutes from Bali. We flew Nam Air and there was no additional cost for a surfboard but apparently, this has changed so be sure to confirm when you make your booking.
If you're on a backpacker budget, you can also take a ferry from Flores Island to Waingapu in Sumba. We flew into Sumba from Bali and made our way back overland via ferry to Flores, Sumbawa, Lombok, and finally, Bali. Traveling overland through Indonesia with a surfboard and only using public transport was not the easiest!
If you don't have a surfboard, be sure to confirm that your surf camp has. Sumba Sunset Surf didn't have any foam boards that I could use, but Sumba Adventure Resort did.
READ MORE: THE ULTIMATE INDONESIA PACKING LIST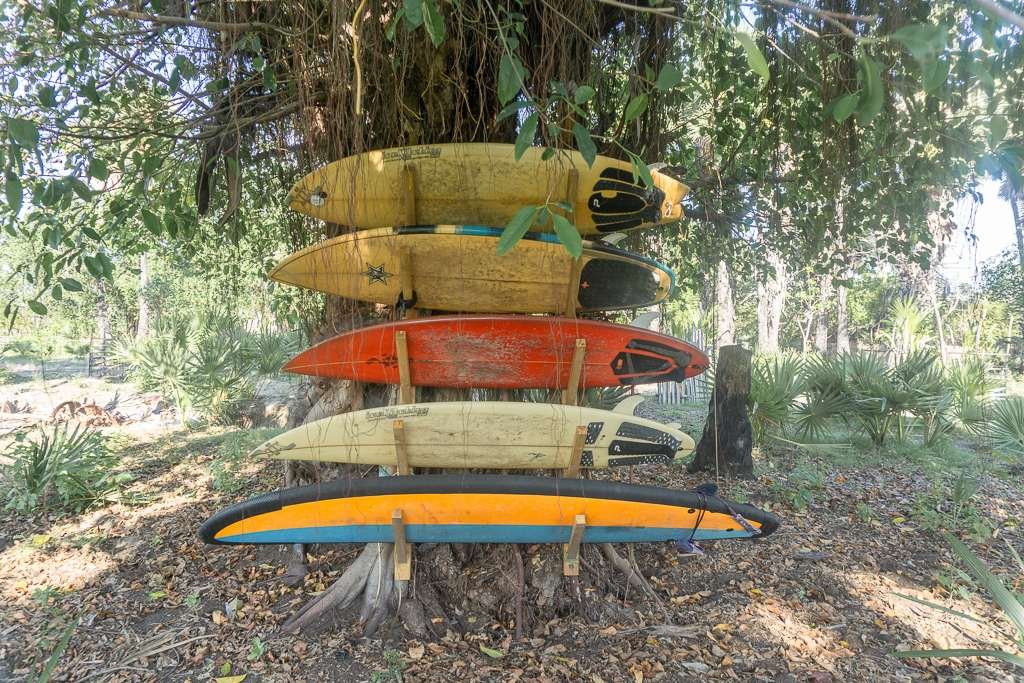 Overall thoughts on surfing in Sumba
I loved the coastline of Sumba. It's rugged and raw, and I felt completely disconnected from the outside world. Out of all the islands I visited during my 2-month backpacking trip through Indonesia, Sumba was the one that surprised me the most!
Whilst the surf in Sumba is not suited for complete beginners, Gary was eager to spend two weeks in the water. After reading a few other surf blogs and seeing images of Sumba surf, he had high expectations.
Unfortunately, the surf in Sumba didn't quite live up to these expectations We had a few good days of big swell but swell direction and winds make it a difficult place to get those perfect waves you dream of. Perhaps it just wasn't our time (but we were lucky enough to score some good waves later on in our trip)
But the experience of traveling to an island as remote as Sumba made it all worth it.
---
Looking for more Indonesia travel information? Check out my other posts!
[divider style="shadow" margin_top="30px" margin_bottom="30px"]
Pin this!
There is a really good chance that this post contains affiliate links. If you click one of them, I may receive a small commission at no extra cost to you. As always, views are my own!