Are you struggling to plan the perfect Ubud itinerary? With so much to do and see, I don't blame you!
Ubud is the cultural home of Bali and a spiritual haven for tourists from all over the globe. Unlike the popular areas along the coast, Ubud's main attraction lies in its lush surroundings that ooze tranquillity and peacefulness.
No trip to Bali is complete without spending a few days in Ubud but don't be fooled by the Instagram photos – Ubud isn't the hidden gem it once was!
If you're planning your Ubud itinerary, this post is all you need.
Looking to avoid the crowds? I've got you covered.
In search of waterfalls? I've included them all.
Rice fields? Keep reading to find out why I have a love-hate relationship with Tegalalang Rice Terrace.
This travel guide to 3 days in Ubud highlights the most popular attractions in the area and is jam-packed with the best things to include in your Ubud itinerary!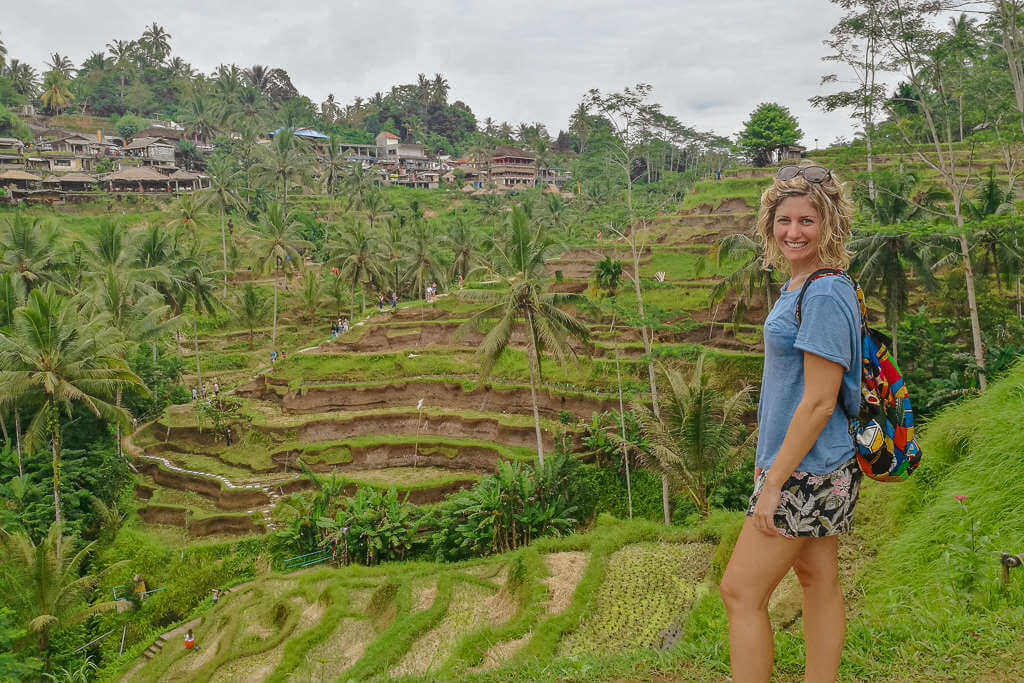 How Many Days to Include in Your Ubud Itinerary
This is a tough one! Ideally, you want to spend 3 days in Ubud. This will allow you to see the best of what the area has to offer without being too rushed.
But, unfortunately, many travelers don't have time on their side, and deciding what exactly to include in your itinerary for Bali is a challenge on its own!
Ubud is often used as a base because of its central location. From here, you can easily visit all corners of the island and go on multiple day trips which won't cost you an arm and a leg.
This Ubud itinerary includes those attractions that are closest to the village so that you don't spend hours traveling between each destination.
If you're looking for more iconic sights such as the Handara Golf Gates or Wanagiri Hidden Hills, which are both further away from Ubud, check out my guide where I've covered the best things to do in Munduk.
Day 1 Ubud itinerary
There is so much to do in Ubud, and you won't have the time to get to everything! I suggest that day 1 of your Ubud itinerary includes a stop at one or two waterfalls, a temple, as well as one of the stunning rice terraces.
To get to these sights, you'll need to hire a private car and driver for the day.
Private drivers can be found all over the main streets and cost as little as 500 000 IDR ($35) which includes fuel.
If you're short on time, it's best to pre-book a driver and car. You can even request a Chinese or English speaking driver who will not only act as a driver but also a tour guide and a photographer! You can book your driver here.
Because it's not a set tour, you can arrange your own Ubud itinerary and the driver will recommend the best route.
Alternatively, you can rent a scooter and explore the nearby Ubud attractions by bike. This is the cheapest and quickest way to get around Ubud, but traffic is crazy and you need to be experienced with renting a scooter in Bali.
The highlights of your first day in Ubud include:
Tegenungan Waterfall
Pura Tirta Empul Temple
Goa Gajah
Tegalalang Rice Terrace
Satria Coffee Plantation | Sunset Cafe
Tegenungan Waterfall
Tegenungan Waterfall is easily one of the most popular waterfalls in the area and a trip to Ubud wouldn't be complete without visiting this famous spot.
Whilst it's one of the many bucket list attractions on your Ubud itinerary, it's also one of the most touristy.
For this reason, Tegenungan Waterfall was the first attraction I visited on day 1 in Ubud as I wanted to avoid the crowds that would flock there later.
I arrived around 8 am and the waterfall was empty, and I truly loved it. The swim was extremely refreshing and the water clean.
But, make sure you arrive before 9 am or else your experience of Tegenungan Waterfall will be very different.
Entrance fee for Tegenungan Waterfall: 20 000 IDR ($2) to enter and another 20 000 IDR ($2) to visit the other side to take that Insta snap.
Alternative waterfalls to include in your Ubud itinerary
When I first visited Ubud, Tegenungan Waterfall was relatively unknown but it's since become a crowd favorite. It's no secret that all the waterfalls near Ubud are popular and you'll certainly run into lots of tourists, no matter which one you visit!
Below are a few other waterfalls near Ubud that you may want to check out instead of Tegenungan Waterfall.
Tibumana Waterfall
Kanto Lampo Falls
Sumampan Waterfall
Pro tip: If you want to see all the best waterfalls near Ubud, this full-day waterfall tour will take you to 3 incredible falls and includes all transfers and a delicious lunch.
Pura Tirta Empul Temple
Pura Tirta Empul Temple stands for "Holy Spring Water Temple".
As the name suggests, it's a place for spiritual cleansing. People wade through these pools and crowd around the water fountains to seek spiritual purification and prosperity.
There were long queues of people waiting for their chance to experience the powers of these water baths and so I didn't partake.
But seeing how this ritual was performed intrigued me and was special to watch.
Entrance fee for Pura Tirta Empul Temple: 15 000 IDR ($1)
Goa Gajah (The Elephant Cave)
Goa Gajah is one of the closest temples to Ubud and so many travelers include it in their Ubud itinerary.
What makes Goa Gajah a big attraction is the impressive elephant visage carved into the rock face of the cave temple.
The cave itself is tiny and filled with different stone carvings and shrines.
Goa Gajah is smaller than Pura Tirta Empul Temple which I'd visited earlier that day.
If I had to pick one of the two temples to visit during my 3 days in Ubud, it would be Tirta Empul Temple. However, they are both very different and you only need about 30 minutes to wander around Goa Gajah.
Entrance fee to Goa Gajah: 15 000 IDR ($1)
Tegalalang Rice Terrace (Highlight of any Ubud Itinerary)
If you want to see the best of Ubud in 3 days, you need to include one of the many rice fields to your itinerary.
Enter Tegalalang Rice Terrace – the most famous of all rice fields in Bali, if not the whole of Indonesia!
The Tegalalang Rice Terrace lies to the north of Ubud and is the source of those iconic photos you see all over social media.
And yes, it is as beautiful as it looks!
But my experience was somehow hampered by the effects of over-tourism in the area.
When I visited, there is no entrance fee to access the beautiful Tegalalang Rice Terrace (it's now 15 000 IDR to enter), and huts are scattered all over the fields where you can make a donation to the local workers.
I have no issue with paying this donation and helping the community out. I was enjoying their land, their country and they should be the ones to profit off of it.
Why I didn't enjoy Tegalalang Rice Terrace
Throughout my hour walk around Tegalalang Rice Terrace, I came across numerous donation huts and was told that I had to pay at every single one of these points.
The Tegalalang Rice Terrace isn't big which meant a "donation" is required after every 10 meters or so. I eventually ran out of cash and after being yelled at by all the locals, I was forced to turn around.
On my return to the entry/exit point, I approached the same people I'd given money to before, and they demanded that I pay them, again!
This experience left a sour taste in my mouth. I'd become so fond of the local Balinese people and their behavior towards me and my friends ruined my experience of the Tegalalang Rice Terrace.
So yes, it's extremely touristy and it's best to avoid a visit to Tegalalang Rice Terrace in the middle of the day.
But with only 3 days in this beautiful part of Bali, I wanted to fit as many activities into my Ubud itinerary as possible.
Because of this, I couldn't visit Tegenungan Waterfall and Tegalalang Rice Terrace on separate days – which I recommend you do if you have time.
Unfortunately, crowds are an ever-increasing issue in Bali but luckily I've discovered these Bali hidden gems that offer a breath of fresh air if you're looking to escape the hustle and bustle of popular destinations around Ubud.
Entrance fee to Tegalalang Rice Terrace: 15 000 IDR
Satria Coffee Plantation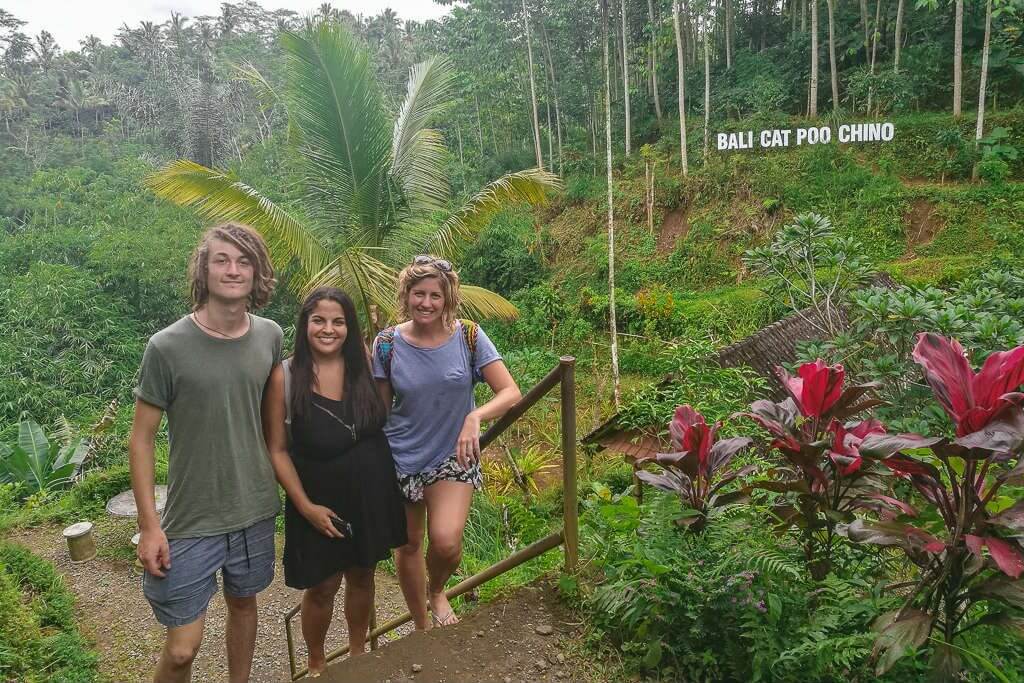 Ubud is home to many coffee plantations specializing in the famous Kopi Luwak. These plantations are set in scenic locations with spectacular views and Instagrammable spots.
What makes Kopi Luwak so unique is the way that it's made – This Civet cat eats berries which it then defecates, and this poop is used to make the specialty coffee.
Satria Coffee Plantation wasn't initially on my Ubud itinerary, but we had extra time to kill so my driver recommended we pay it a visit.
We began with a tour of how coffee is made and were finally led to a tasting area overlooking gorgeous trees within a lush jungle setting.
10 varieties of local Balinese teas and coffees were brought to taste and we could later purchase these. I didn't try the Kopi Luwak as I was extremely put off from drinking something that was made from cat poop!
Since my visit, Satria Coffee Plantation has created nests and swings where you can take gorgeous photos with the lush greenery in the background. But, if you're looking for the Bali swing, you're going to have to head to Uma Pakel Bali Swing which is nearby or better yet, book a tour like this which takes you to the best swings near Ubud and you'll even have a photographer to take those snaps.
Should a Coffee Plantation be on your Ubud itinerary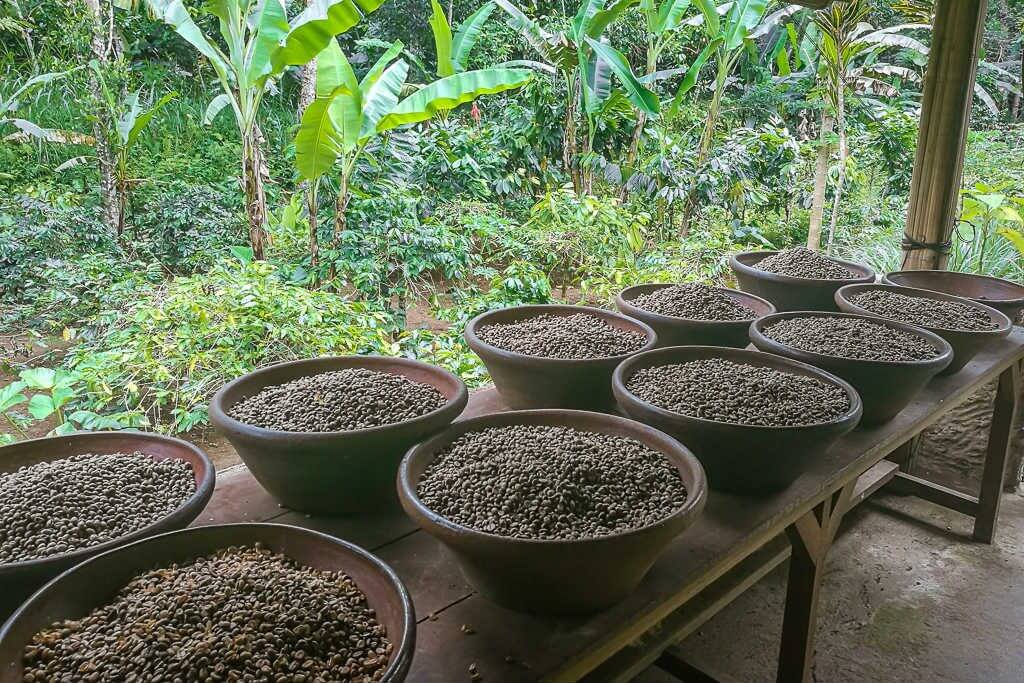 Since visiting Satria Coffee Plantation I've read a few horror stories about how these Civet cats are caged, force-fed and abused. After all, Kopi Luwak is the most expensive coffee in the world.
Many coffee plantations have jumped on the bandwagon in order to profit off these animals.
As I travel, I learn. And this is just one of those experiences that have opened my eyes to animal cruelty for human pleasure.
Unfortunately, this is the case with the Civet cat. When these cats produce coffee beans in their natural habitat, they are not harmed and so Kopi Luwak that is "wild-sourced" is perfectly ok to drink.
But due to its demand, and high value, some coffee plantations in Indonesia use unethical means in order to produce the sought-after drink. These cats may seem healthy, happy and well cared for, but little do we know what actually happens behind closed doors.
Enjoy this coffee plantation for the delicious teas and the beautiful scenery, but don't pay any attention to the Kopi Luwak on sale.
Would I visit Satria Coffee Plantation again knowing what I do now? Definitely not!
Entrance fee: Free tastings
Recommend tour for day 1 of your Ubud itinerary: Central Bali All You Can See Tour
Alternative: Late lunch on the rice fields
During my first trip to Ubud, I was keen to check out all the top attractions which included rice terraces, waterfalls, temples and coffee plantations, hence day 1 of my Ubud itinerary is packed with all the touristy sites.
I've since been back several times and have exploreed more of Ubud. If I had to do it again, I would skip the coffee plantation and head to Sunset Cafe instead, where you can enjoy a late lunch and a Bintang with views of the rolling hills in the distance.
This spot is not to be missed! It's found deep in the rice paddies, and whilst it's close to the busy streets of Ubud, it has that remote and isolate atmosphere. Order the vegetarian curry – it's the best curry I've had in Bali!
Sunset Cafe is found on the road parallel to the iconic Campuhan Ridge walk. To get here, ask your driver to drop you off on the main road near the Pura Dalem Temple. You can then take a 20 minute scenic walk through the rice fields before reaching Sunset Cafe.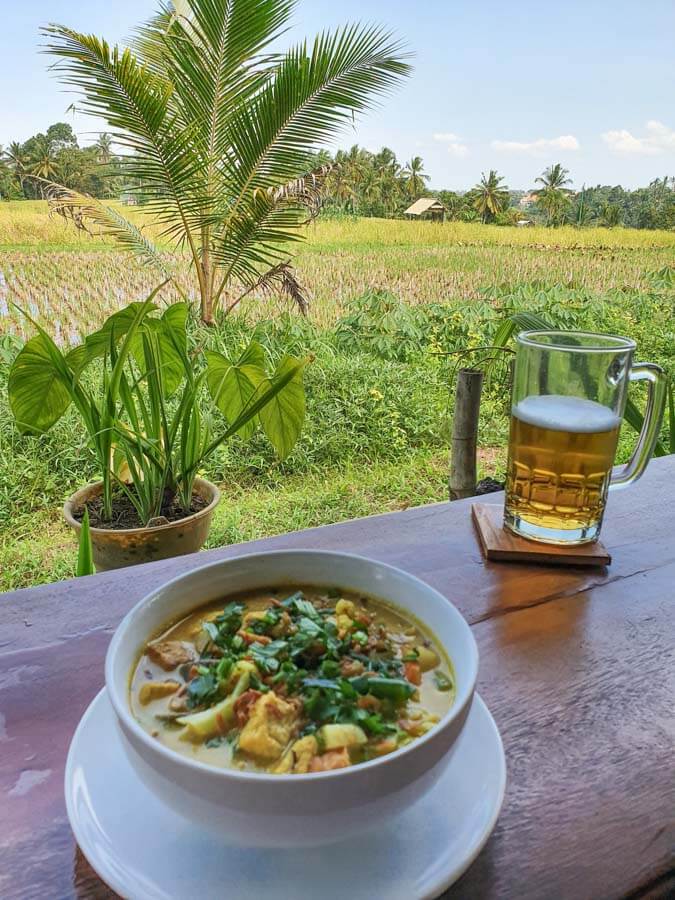 Day 2 Ubud itinerary
Your second day in Ubud is guaranteed to be as busy, and exciting, as the first!
The highlights include:
Hike Mount Batur
Sacred Monkey Forest
Enjoy a full body massage
Kecak Fire and Trance Dance performance
Hike Mount Batur: The highlight of my 3 Days in Ubud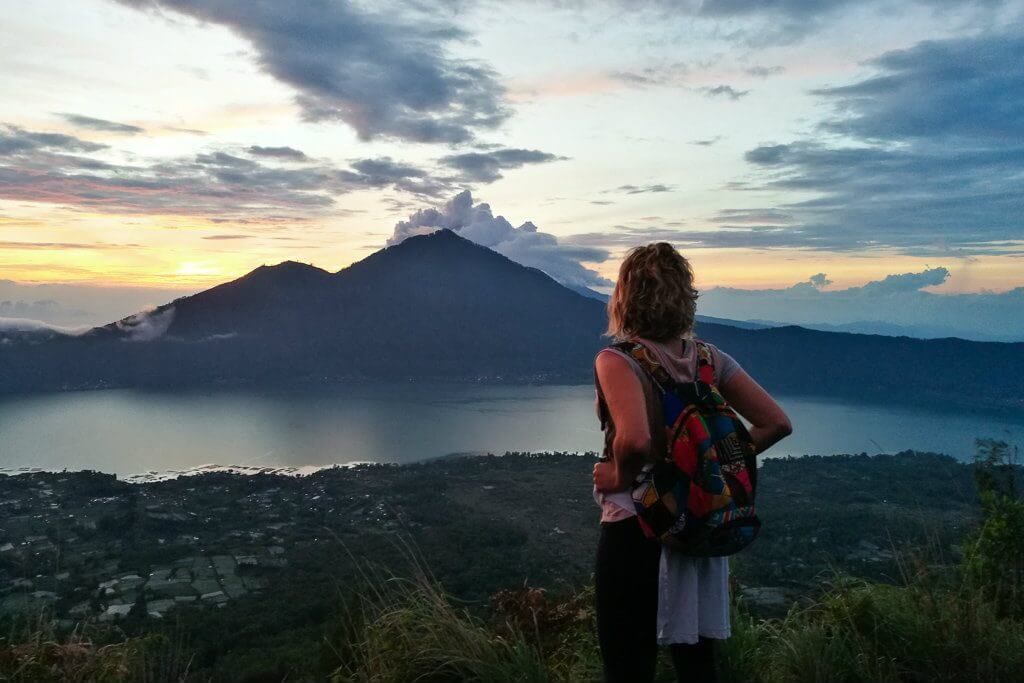 Just over an hour north of Ubud lies Mount Batur.
If you're feeling adventurous, then a hike to the peak of this active volcano is not to be missed.
Yes, it's strenuous and yes, it's an early morning wake up call. But you'll be rewarded with a stunning sunrise and beautiful views of Lake Batur and Mount Agung.
Hiking Mount Batur was one of the best things I did in Ubud, but its certainly not a walk in the park and you need to be prepared for a tough climb.
Despite what you read, don't try to climb Mount Batur without a guide. The locals will get angry if they see you trying to navigate your way through the fields without supporting their services so it's best you book a tour like this which includes your transport, headlamps, and breakfast.
Cost: 400 000-500 000 IDR ($25-$35)
Sacred Monkey Forest
Slap bang in the center of Ubud lies Sacred Monkey Forest, another highlight on your Ubud itinerary.
This beautiful forest is home to over 600 mischievous monkeys who aren't shy to get up close and personal or steal your belongings.
With over 120 different species of trees and several temples, the experience is about more than just monkeys.
Entrance fee for Sacred Monkey Forest: 80 000 IDR ($6)
Enjoy a full body massage
There are plenty of spas scattered all around Ubud and a relaxing treatment will be well-deserved after your morning hike up Mount Batur.
You can book an hour massage from one of the many local spots and their prices are hard to beat elsewhere. I went to Goutama Spa and had an incredible Balinese massage.
Cost: 150 000 IDR ($10)
Kecak Fire and Trance Dance performance
For an evening filled with cultural appreciation, I highly recommend the Kecak Fire and Trance Dance.
It is one of the most famous Balinese dances and will have you captivated throughout the unique performance.
Read more: 19 Things I Discovered From Backpacking Indonesia
The Kecak Fire and Trance Dance revolves around a group of about 50 men who go into a trance-like state and rhythmically move their bodies in sync with one another.
Wearing bright colored makeup and extravagant costumes, these men chant the sounds of the hypnotic and captivating "Chak-a-chak".
Where to watch the Kecak Fire and Trance Dance in Ubud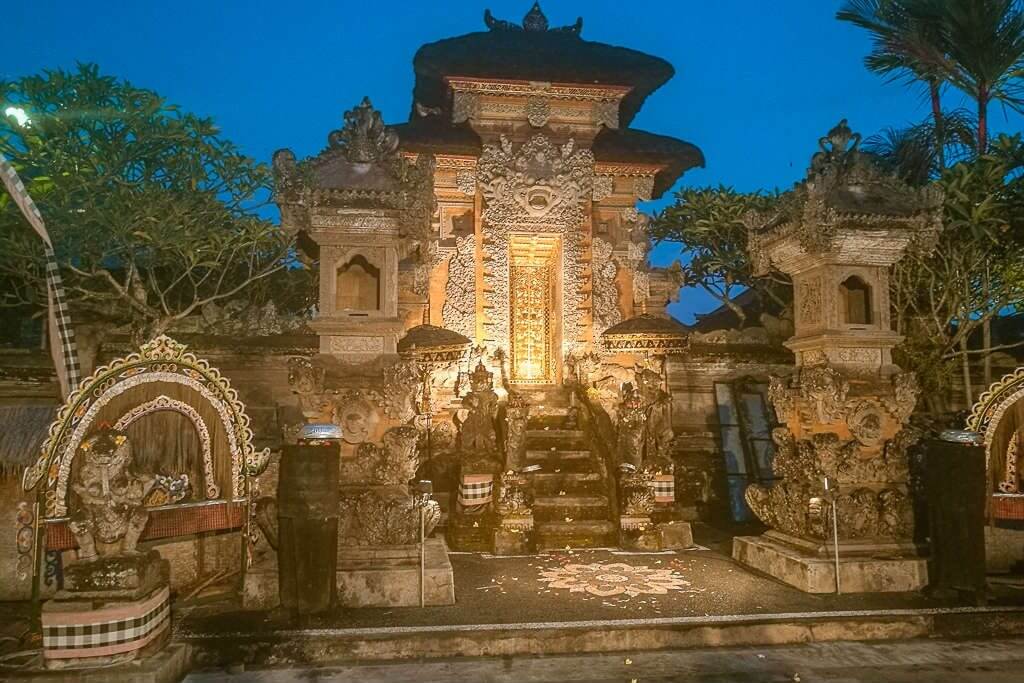 There are various temples in Ubud where this performance can be seen, but I recommend the Pura Dalem Kecak dance.
The show starts at 7:30 pm and tickets can be purchased from one of the locals selling around the main streets.
Entrance fee for Kecak Fire and Trance Dance: 80 000 IDR ($6)
Day 3 Ubud Itinerary
Day 3 was the highlight of my Ubud itinerary! It's a lot more relaxing than the first two days and includes the below activities.
Campuhan Ridge Walk
Yoga in Ubud
Explore the markets of Ubud
Campuhan Ridge Walk
Campuhan Ridge Walk starts in the heart of Ubud and passes through rice fields and villages, before ending at Karsa Cafe where you can enjoy your morning coffee.
It's a leisurely nature walk that takes about 2 hours to complete and covers a distance of 9 km in total.
This walk is best done first thing in the morning to avoid both the heat and the crowds.
How to get to the Campuhan Ridge Walk
The starting point to the Campuhan Ridge Walk is in the center of Ubud, to the left of the Warwick Ibah Luxury Villas and Spa entrance.
Keep going straight down this road and you'll pass the Pura Gunung Lebah Temple.
The path then opens to magnificent views of the lush greenery in the Balinese countryside.
Yoga: A Must-do Activity on Your Ubud Itinerary
Ubud is Bali's spiritual hub with yoga studios on every street corner.
Like most travelers, Yoga was on my Ubud bucket list and I was looking for a quiet, serene yoga experience.
After doing some research, I soon realized that the "hip" yoga studios in Ubud were NOT for me!
The Yoga Barn
The Yoga Barn is one of the most popular studios in Ubud offering numerous classes daily.
Their large-scale studios are built to fill the masses and have gorgeous mountain views.
The Yoga Barn attracts a big audience and I was put off by the popularity of it. So, I gave it a skip and went in search of something a lower key and more relaxed.
Taksu Yoga
It's hard to believe that Taksu Yoga is in the center of Ubud.
It has a dense tropical jungle setting with quiet, calm surroundings and offers a change from the busier yoga houses in Ubud. The studio is small and intimate and opens onto a stream.
I took one class at Taksu Yoga and was one of 2 people in the class. It was exactly what I was looking for and if I had more time in Ubud, I would have joined for more classes at Taksu Yoga.
Ubud Bodyworks with Ketut Arsana
Ubud Bodyworks was founded by spiritual teacher and yoga instructor Master Ketut Arsana.
It is located in a traditional Balinese family compound which I found by chance on my walk home one afternoon.
Ubud Bodyworks was everything I'd envisioned yoga to be like in Bali.
The instructor couldn't speak English and he was so caught up in his art with copious amounts of energy filling the room. This was by far one of my best experiences in Ubud.
I took the Tantra yoga class at Ubud Bodyworks and was joined by another woman who had signed up for a retreat in search of her own personal healing.
This is a place to seek spiritual comfort and really disconnect from the external world.
Cost for yoga in Ubud: 130 000 IDR ($10) – price varies between yoga studios
Explore the markets of Ubud
Colorful handmade crafts, souvenirs, traditional clothing, straw bags, accessories, sarongs – you name it, the markets in Ubud will have it!
I suggest you end 3 days in Ubud at these market to stock up on some last-minute shopping and gifts.
Other Activities to add to Your Ubud Itinerary
Maybe you don't want to follow the standard Ubud travel route? Perhaps there's something a bit more adventurous that you'd like to add to your Ubud itinerary.
White water rafting in Bali
Why not go white water rafting if you have more than 3 days in Ubud. The Ayung River and Telaga Waja River are two of the best places to go white rafting in Bali and both are accessible on a day trip from Ubud.
But, Ayung River is closer to Ubud so if you want to squeeze more activities into your Ubud itinerary, perhaps it's better if you go with that river rafting option.
Pro tip: After rafting down the Telaga Waja River, I can honestly say that this is the best way to see the nature and beauty of Bali away from the crowds. and whilst there are plenty of tours from Ubud, it's best to stay on the east of the island, in the remote village of Sidemen.
Balinese cooking class
I love Indonesian food – yes, I can easily eat Nasi Goreng for breakfast, lunch, and dinner! And what better way to learn more about the local cuisine than by joining a cooking class in Ubud.
You begin the class by exploring a local market where all the fresh produce is purchased. From there, you head to the kitchen where you'll learn first hand how to make the delicious sambal and other spice mixes. In the end, you'll get the chance to feast on the mouth-watering dishes you've made.
But if you'd prefer not to do the cooking yourself, this authentic food tour involves a half-day excursion where you'll get a taste of the local foods and make your way around Ubud, eating your heart out!
Explore Ubud by Scooter
What better way to see Ubud then going on a scooter mission, and exploring places that are not often visited by tourists.
Many people head to Tegallalang Rice Fields and then leave, but if you're renting a scooter, continue on toward the right, in the direction of Kedisan Palace and follow the paths that wind through the rice fields in the area.
Make sure to read my guide to renting a scooter in Bali and consider whether it's worth the risk if you have never driven one before.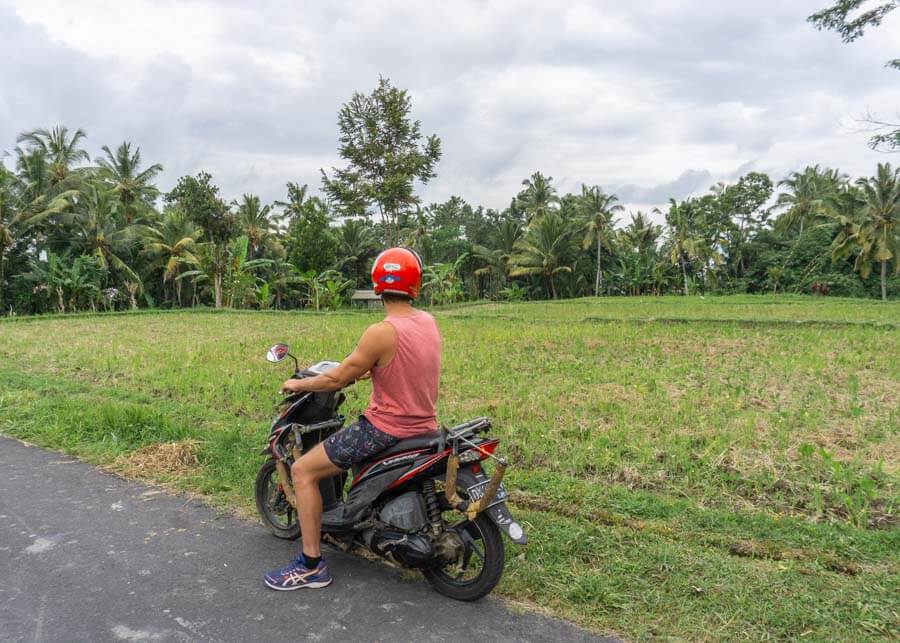 Where To Stay for 3 Days in Ubud
When it comes to accommodation in Ubud, there is something to fit everyone's budget.
If you're pressed for time, I suggest you stay in central Ubud, near Monkey Forest Road. Ubud is a small village bustling with tourists and everything is within walking distance or a quick taxi ride away.
If you're looking for a more relaxed stay in Ubud, perhaps the quiet countryside is the place for you. You can't go wrong with picking a spot near Campuhan Ridge Walk or Sunset Cafe, all of which offer quaint bungalows with views of the rice paddies.
The neighboring villages of Penestanan and Nyuh Kuning are also a popular choice for people looking to escape the hustle and bustle.
Waking up with views of the stunning landscapes and rice fields are perks of staying outside Ubud. But you'd then need to hire a scooter or get a taxi into town daily.
Where I stayed In Ubud: The Peacock Inn
During my first trip to Ubud, I didn't feel comfortable riding a scooter and so I wanted to be within walking distance from the city centre.
The Peacock Inn Ubud is a budget accommodation option in the middle of Ubud and includes the luxuries of the pricier alternatives.
The large double room includes a private bathroom, aircon, breakfast on the porch with views of the swimming pool.
It's a short walking distance to the market and the staff were very helpful in booking both my Mount Batur hike and ferry to Gili Trawangan.
Cost: 400 000 IDR ($30) per room which includes breakfast. Check latest prices here.
Where I stayed in Ubud: Secluded Jungle Villa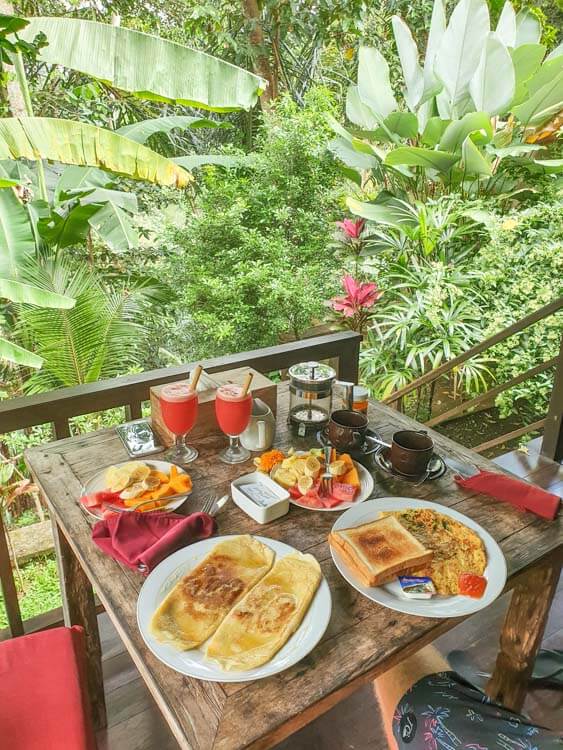 During my second trip to Ubud, I was looking for something a bit more secluded and private. I wanted those jungle vibes, and I sure found it at Secluded Jungle Villa.
Imagine waking up to the sounds of the river and birds chirping, followed by a delicious breakfast overlooking lush trees. That's what I got here and all for a great price!
The owner and his wife were so kind and generous and I loved supporting such an incredible family.
You'll need to rent a scooter if you stay here as it's a bit far to walk everywhere, but it's totally worth it. If I had to spend another 3 days in Ubud, it would be here!
Cost: 600 000 IDR ($40) per room which includes breakfast. Check the latest prices here.
Here are a few other places to stay in Ubud
You can certainly be picky about where you stay during your 3 day Ubud itinerary. Here are a few more options that you'll love!
Budget Accommodation
Backpackers: Kuna Bali Hostel is the best backpackers in Ubud and a great place to meet people. Just take a look at the incredible outdoor space with the pool and bar – yep, this is the place to stay if you're keen for a party!
Budget (Ubud Center): Surya Bagus Homestay is ideally located near the center of Ubud and is all you need if you're traveling on a budget. The private room comes with a complimentary breakfast and the friendly owners will ensure you have a memorable stay in Ubud.
Budget (Rice Fields): If you're looking for an affordable place to stay amongst the rice fields, Kubu Rama offers an incredible experience in nature and a price that's hard to beat!
Mid Range (Ubud Center): Nikuna homestay is found in the middle of Ubud, just a stone's throw away from several popular restaurants and yoga studios. It's a great base for your 3 days in Ubud and they serve up a delicious breakfast that will keep you energized for the entire day!
Mid Range (Rice Fields): Byasa Ubud is surrounded by rice paddies and is the perfect place to spend your 3 days in Ubud. Situated in a quieter neighborhood, you're guaranteed a remote escape if you stay here.
Luxury Accommodation
Luxury (Ubud Center): If price isn't a concern, you'll be spoiled for choice when it comes to luxury accommodation in Ubud! And if you're looking for the best villas, this bohemian villa is just a short drive from the center of Ubud. Fitted with only the best, it comes with all the bells and whistles including a stunning bath overlooking the rice fields as well as a private plunge pool and outdoor swings.
Luxury (Rice Fields): Permata Ayung Private Estate is a luxurious adults-only resort in Ubud. The exquisite rooms overlook the Ayung River and terraced rice fields. This is luxury at it's best and if you're looking for a romantic place to stay, you will find your answer here.
Where To Eat in Ubud
Ubud certainly doesn't lack great cuisine. The food is too die for and the best I had during the 6 months I lived in Bali.
Common Indonesian food includes Nasi Goreng (fried rice) and Mie Goreng (fried noodles), but my favorite meal is the Indonesian curry and chicken satay!
I mostly ate at local warungs which are small, family-owned restaurants serving affordable, mouth-watering dishes.
I HIGHLY recommend you include these restaurants in your Ubud itinerary if you're looking for an amazing, budget-friendly meal.
Yuga Organic Warung on the rice fields. These guys serve up a mean chicken satay!
Sunset Cafe is my favorite restaurant in Ubud. Try their vegetarian curry.
Fair Warung Bale was the first warung I visited in Ubud and their food is tasty and affordable
Warung Biah Biah is the perfect place to grab a quick local lunch.
Ibu Rai Restaurant is a great place for dinner.
Warung Citta Ovest for delicious pizza and pasta.
Lacasita Fonda Mexicana is the best Mexican Restaurant in Ubud. It's on the pricier side of things, but their food is good and the vibe is awesome.
Seniman Coffee Studio if you're looking for the best coffee in Ubud.
The Laughing Buddha Bar serves up delicious pub food and often have live music to go along with it.
How To Get To Ubud
Ubud is in the center of the island and is over an hour's drive from Denpasar Airport.
Whilst it's only 35 km's from other popular places to stay in Bali (like Seminyak, Kuta, and Canggu), the drive can take over an hour due to heavy traffic leaving these areas.
Rent a scooter: The best way to explore Bali is by bike. But, traffic is hectic and only those who are experienced should drive a scooter on the island.
Grab/GoJek/Bluebird to Ubud: Grab and GoJek taxis are ride-share apps, similar to Uber (which isn't available in Bali). These are far cheaper than the local taxis, costing only 150 000 IDR ($11) for the hour drive to Ubud. You will need to download the app, order from there, and pay in cash.
Taxi to Ubud: Metered and private taxi's are more expensive that Grab and GoJek and you won't have a problem finding a taxi to Ubud. Expect to pay around 250 000 ($25) for the trip.
READ MORE: WHERE TO STAY IN ULUWATU, BALI
Should You Spend 3 Days in Ubud
There are so many places to visit in Bali and deciding between all of them is a difficult choice if you have limited time.
Here is my honest opinion as to whether you should visit Ubud or not.
Visit Ubud if you…
Want to eat delicious Indonesian cuisine – seriously, the best I had during my trip to the island.
Are intrigued to see what all the hype is about.
Enjoy traveling to new places and exploring foreign towns.
Are willing to make peace with the fact that you will run into large crowds.
You're looking for Insta-worthy locations. If that's the case, this tour is made for you!
Do not visit Ubud if you…
Want an escape, but you don't have the time or budget to stay at a villa in the countryside.
Are chasing those Instagram pictures you see and are expecting a quiet, serene experience chasing waterfalls and exploring untouched rice fields.
Did I love Ubud? Yes! It's a unique village and a culturally rich paradise with plenty of things to do.
READ MORE: THE PERFECT 3 WEEK INDONESIA ITINERARY
Final Thoughts
When compared to Seminyak, Ubud is far more laid back and I loved the break from the crazy nightlife and busy beaches.
In contrast, Munduk offers a more relaxed atmosphere than Ubud with fewer people roaming the streets.
Each part of Bali offers something special but if you give yourself 3 days in Ubud, you'll experience a unique part of the island that you won't regret.
After your trip to Ubud, head to the Bukit Peninsula and explore these awesome beaches in Uluwatu. They're the best in Bali and you're going to want to have some fun in the sun after your days of exploring Ubud!
---
What activities would you include in your Ubud itinerary? Are you there for the Insta photos or would you prefer to escape the crowds? Let me know in the comments section below!
Looking for more Indonesia travel information? Check out my other posts!
---
Pin this!
There is a really good chance that this post contains affiliate links. If you click one of them, I may receive a small commission at no extra cost to you. As always, views are my own!