Cairns is the gateway to the world's largest reef system – the Great Barrier Reef. It's one of the 7 Natural Wonders of the World and an underwater mecca for divers and snorkelers.
And while exploring the reef is one of the best things to do in Cairns, there are many other spectacular activities and attractions nearby. This includes the Daintree Rainforest, which is the oldest rainforest in the world. Yes – it's older than the Amazon!
In this post, I'll share the best 5 day Cairns itinerary and give insider tips for planning the perfect trip.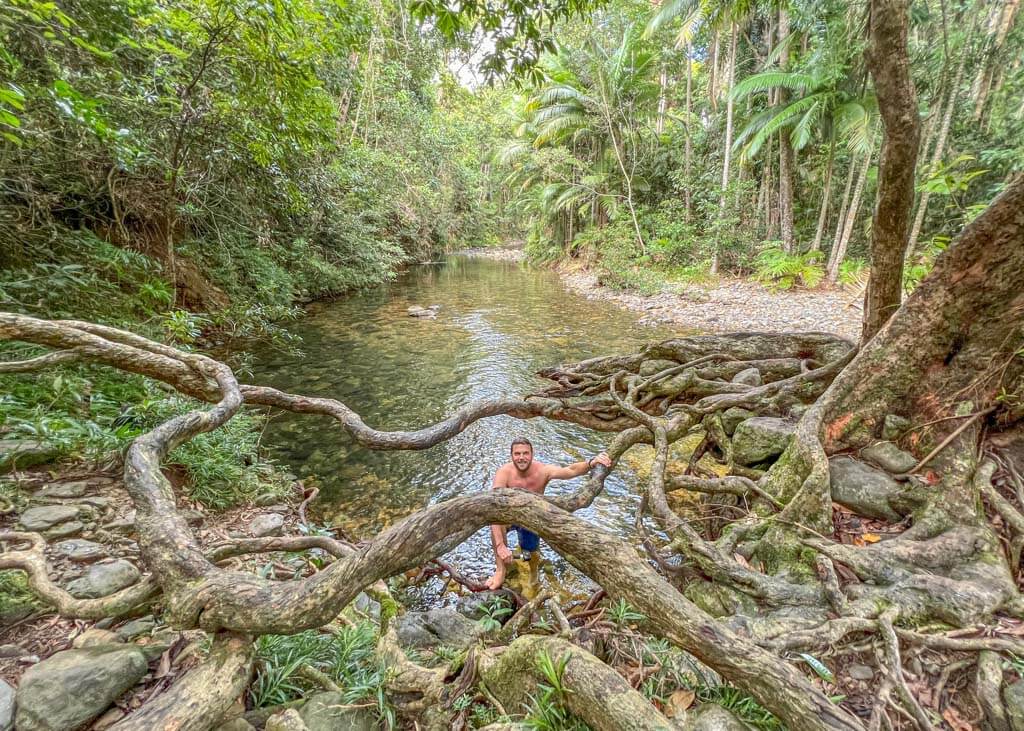 Is Cairns worth visiting
Cairns is the gateway to Tropical North Queensland, but the town isn't much to write home about. It's much bigger than I thought it would be and doesn't ooze tropical island vibes (as I was expecting).
Bottom line: You don't need to spend much time in Cairns itself.
Instead, use it as a launching point for visiting the Great Barrier Reef. Once that's done, get out of there and explore the nearby destinations, such as Port Douglas, Mossman Gorge, and Cape Tribulation.
I've included all of those attractions in this itinerary and highlighted other things to do in Cairns if you have a few extra days to explore.
How to plan your Cairns self-drive itinerary
You won't need a car for your time in Cairns as most of the attractions are within walking distance from each other.
But, from day 3 of this itinerary for Cairns, you'll venture further north to Port Douglas and the Daintree Rainforest. It's best to have your own set of wheels for this. Due to the demand, you'll need to book your car a few weeks (or even months) in advance.
On the flip side, car rentals can be costly.
I found that booking a campervan through Jucy, Travellers Autobarn, or Cruisin Campervans was actually a cheaper option. So you might want to consider this instead – and then you'll also save on accommodation.
Cairns 5 day Itinerary: Overview
Day 1 Arrive in Cairns: Explore the esplanade, lagoon, markets, and more.
Day 2 Day trip to the Great Barrier Reef: Sea, sun, and snorkeling
Day 3 Drive from Cairns to Cape Tribulation: Stop at Palm Cove, Port Douglas, and Daintree River for a crocodile tour
Day 4 Explore the Daintree Rainforest: Emmagen Creek, Dubuji Boardwalk, Madja Boardwalk, Thornton Beach
Day 5 Return to Cairns: Daintree Discovery Centre, Jindalba Boardwalk, and Mossman Gorge
Day 1 Cairns Itinerary: Cairns
Cairns airport is a 15-minute drive from the town center. After landing, I tried to book a cab and found Uber to be more expensive than the local metered taxis. Expect to pay AUD 30 for a one-way trip from the airport to Cairns.
I stayed at Travellers Oasis, which is a budget-friendly accommodation about 15 minutes walk from Cairns esplanade.
If you're looking for something more central, you can't go wrong with Crystalbrook Riley. This luxury property boasts stylish suites with oceanfront views. Check availability here.
After checking in to your accommodation, it's time to explore Cairns.
Swim in the Cairns lagoon
I hate to break it to you, but Cairns does not have a beautiful, tropical beach.
Instead, you'll find a muddy marsh! And even if there were a beach, you wouldn't be allowed to swim because of the freshwater crocs. Oh, and the stingers!
Luckily, the Cairns esplanade boasts a massive artificial swimming pool that offers a great place to soak up the sun, swim, and get festive.
It's a second prize to an actual beach, but there is sand, and the entire area is pretty impressive.
Walk the Esplanade
From the waterfront pools, veer rights along the paved path and take a stroll along the esplanade. You'll find plenty of restaurant options and cocktail bars along the way.
Have a seafood lunch at Prawn Star
Prawn Star is made up of a few simple boats that have been turned into a seafood restaurant.
Indulging in prawns and oysters at Prawn Star was my favorite thing to do in Cairns. You're not going to find fresher seafood than this, and it's all reasonably priced.
Hang out at Hemingways Brewery
As you continue following the esplanade toward the end of Cairns Wharf, you'll find Hemingways Brewery.
It's one of the best bars in Cairns, perched on the riverside. There's a festive vibe with live entertainment. It's family-friendly too.
Visit the Cairns night markets
After a few beers at Hemingways Brewery, head to the markets in the center of Cairns.
Here you can grab something to eat or buy memorabilia. You'll also find clothing, jewelry, electronics, and more.
Day 2 Cairns itinerary: Great Barrier Reef
You saw most of what the town offers during your first day in Cairns. Now it's time to explore the Great Barrier Reef.
You can either do this on a day trip from Cairns or join a liveaboard tour where you'll spend a few nights out at the reef.
Great Barrier Reef day trips from Cairns
You can easily book a snorkeling or diving day trip from Cairns. This will take you to the outer reef, a 2-hour boat ride away. Here's a tour that I recommend and it's suitable for both snorkelers and divers.
Alternatively, you can take a snorkeling day trip to Fitzroy Island or Green Island. This is a better option for travelers who aren't scuba certified and gives you the chance to swim and snorkel while also exploring the island.
See more Great Barrier Reef day trips here.
Liveaboard trips from Cairns
If you have time on your side, I highly recommend doing a liveaboard from Cairns.
Coral Sea Dreaming offers a 1 night liveaboard, but if you'd prefer more time on the reef, Pro Dive has a 2-night liveaboard option.
Day 3 in Cairns: Daintree Rainforest
Where to stay: Daintree Rainforest
After spending time on the reef, it's time to head to the Daintree Rainforest. It's a UNESCO World Heritage Site and offers an abundance of ancient greenery and pal-fringed beaches.
The Daintree is a 2.5 hour drive from Cairns. While many people do it as a day trip, it's better to spend a night or two here as there is so much to see.
You'll need to rent a car or opt for a camper van instead. This is the most exciting (and affordable) way to explore Tropical North Queensland.
I stayed at Cape Tribulation Camping, and it was fabulous! It's right on the beach and has a chilled vibe to it. If you'd prefer not to camp, Noah Creek Eco Huts offers self-contained accommodation in the most charming setting. Check availability here.
Breakfast at Palm Cove
The drive from Cairns to Daintree Rainforest follows the Captain Cook Highway. There are several beautiful stops along the way, and this Cairns itinerary includes all of them!
The first is Palm Cove. I loved it here!
Situated about 30 minutes north of Cairns, it's a quaint beachside town. The pathways are lined with palm trees, hence the name Palm Cove.
Take a stroll along the beach and grab a quick breakfast before continuing north.
Check out Trinity Bay Lookout at Port Douglas
Port Douglas is a resort destination near Cairns. Many people choose to stay here, and you might want to do the same if you have a few extra days.
But with only 5 days in Cairns, it's better to make a quick stop instead.
After arriving in Port Douglas, drive up to the Trinity Bay Lookout. This viewpoint offers panoramic views of 4 Mile Beach. There are also short coastal walking tracks that you follow.
While in Port Douglas, pop into Coles or Woolies and buy groceries (if you're doing the van life, as I did.)
Go on a Daintree Crocodile Tour
After leaving Port Douglas, you'll head further north to the Daintree Rainforest. In order to access this part of your itinerary, you'll need to cross the Daintree River.
Right before the ferry terminal, you'll notice a small tourist stop on your left. This is where you can book various Daintree River tours, the most popular being the Crocodile tour.
We booked through Solar Whisper but there are a few tour operators to choose from who all offer a similar experience.
The tours are roughly 45 minutes, and there's a high chance you'll see crocs – we saw 5! It's a quick and easy addition to your itinerary for Cairns, so I highly recommend it.
Take the ferry to the Daintree Forest
Next, you'll head to the ferry. Depending on the time of year of your trip, you could wait a while to get on the ferry.
Once you're on, it's a 5-minute ride to the other side. The return trip costs $45.
After crossing the Daintree River, you're officially in the Daintree Rainforest. With its lush greenery and towering trees, it's a spectacular site.
When you arrive at the Daintree, it will probably be late afternoon, so head to your accommodation and enjoy the peaceful setting.
Day 4 Cairns itinerary: Cape Tribulation
Where to stay: Daintree Rainforest
Today, I highly recommend exploring the section closest to Cape Tribulation in the Daintree. This wild stretch of beach is where the reef and rainforest meet.
Do the Dubuji Boardwalk
There are several awesome walking trails in the Daintree. The Dubuji Boardwalk is a 1.2km elevated boardwalk that takes you through mangroves and rainforests lined with towering trees.
Near the end of your walk, there's a beach access point. This takes you to Myall Beach before heading back inland to where you started.
Pro tip: There is a fantastic day rest area here, so pack some snacks and have a breakfast picnic under the trees.
Swim at Emmagen Creek
The Emmagen Creek swimming hole is a highlight in my Cairns itinerary.
It's one of the best-kept secrets in the area and is located about 15 minutes north of Dubuji Boardwalk.
The creek is surrounded by gorgeous scenery, and there's an awesome swimming hole and swing. It's located in a beautiful setting and is a great place to take a dip on a hot day.
The parking area at Emmagen Creek is the furthest north you can go if you're traveling in an AWD or 2WD. From there, you need a 4WD to make the river crossing and head further north into the Daintree. But don't worry, you won't be going any further than this.
Madja Boardwalk
After Emmagen Creek, you'll head south to Madja Boardwalk, which has some of the most incredible mangroves I've seen. It's a 1.5km loop walk surrounded by beautiful basket ferns nestled high amongst the trees.
The walkways of all these short walks are lined with interpretive panels that provide information about the history and ecology of this unique environment. Whether you're a nature lover or just looking for a new place to explore, Madja Boardwalk is definitely worth a visit.
Spot a Cassowary
The cassowary is a large, flightless bird only found in the Daintree Rainforest and New Guinea. They're descendants of the dinosaur and are an endangered species due to habitat loss and hunting.
If you're spending time in the Daintree, there's a good chance you will see one. They're distinctive for their bright blue heads, neck, and red wattles.
Lunch on Thornton Beach
Thornton Beach is one of the best lunch stops in the Daintree. But there's no restaurant here!
Bring a packed lunch or snacks to make something on the beach.
There are enough trees for shade, and you can't beat the stunning views.
Indulge in Ice Cream
After lunch, head to the Daintree Ice Cream Company. This is where you'll find the best ice cream…ever!
Made from exotic fruits grown on the property, it's the perfect way to end day four of your Cairns itinerary.
Day 5 in Cairns
It's the last day of your Cairns itinerary. If you have the option, I recommend booking an evening flight so that you can spend the day exploring the last of the Cairns attractions.
Daintree Discovery Center
Before leaving the Daintree Rainforest, pop into The Daintree Discovery Centre. It offers an interactive experience that allows visitors to learn about the rainforest ecosystem and the plants and animals.
Several canopy walkways and trails wind through the rainforest, and it's an excellent activity for kids.
Explore the Jindalba Boardwalk
Tucked away in the corner of the rainforest, close to the Daintree Discover Centre, the Jindalba Boardwalk is a short but sweet walking track.
If you're running out of time, you can give both the discovery center and the boardwalk a skip, as you would have experienced similar attractions the day before.
Check out Mount Alexandra Lookout
The Mount Alexandra Lookout offers stunning views of the rainforest and surrounding coastline. It's a quick stop off the main road, and you don't need to spend much time here.
Lunch at Goodies Cafe in Mossman
After Mount Alexandra Lookout, it's time to say farewell to the Daintree and head south to Mossman. You'll need to cross the Daintree River again.
When you get to Mossman, have a late breakfast at Goodies Cafe. Everything here is absolutely delicious, from the wraps to the burgers, the pies, and baked goods.
Explore Mossman Gorge National park
Visiting Mossman Gorge is arguably the most popular thing to do near Cairns. Expect crowds of people, but it is spectacular non the less.
The Mossman River flows through the gorge and is surrounded by lush forest. There are a number of easy walking tracks that wind their way through the rainforest.
After arriving at the visitors center, you'll need to purchase your tickets and get on the bus to Mossman Gorge. This is a quick 10-minute drive to the entrance.
Give yourself at least 2 hours to explore Mossman Gorge. You should be done by lunch time and then you can make your way back to Cairns, which is an hour drive away.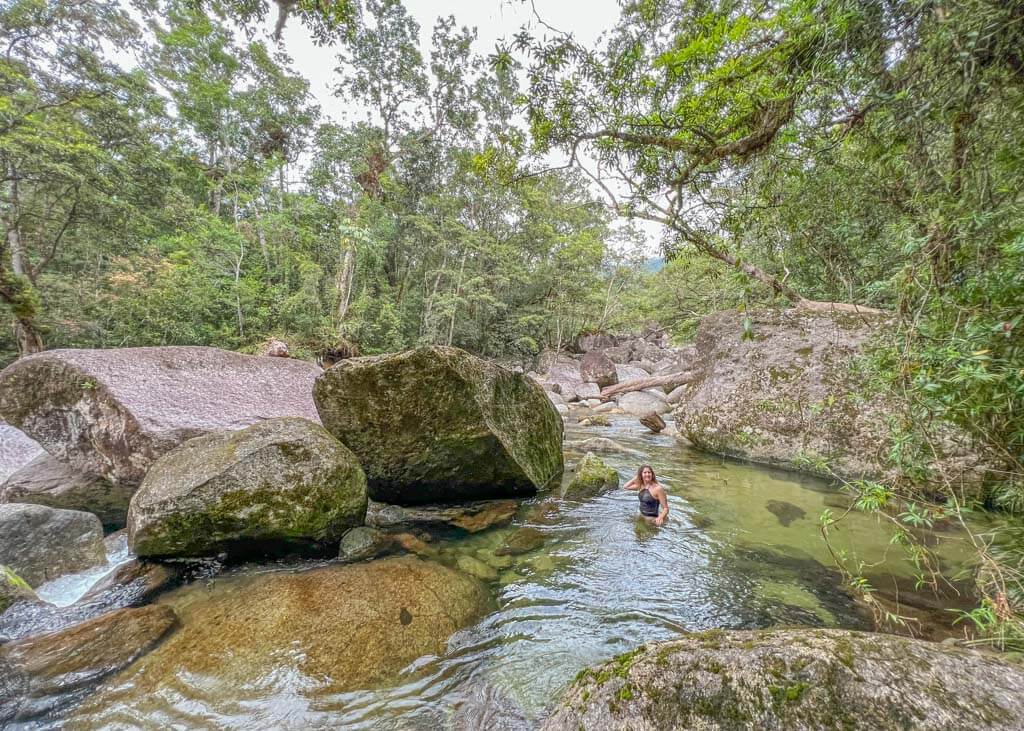 Other things to do in Cairns
This 5 day Cairns itinerary is perfect for travelers who prefer to explore at a slower pace. But, you can squeeze in more activities if you're ok with longer and busier days!
Here are a few other exciting this to do in Cairns.
Atherton tablelands
If you're looking for the best waterfalls in Cairns, you can easily reach them on a day trip to the Atherton Tablelands.
Located 90 minutes inland from Cairns, the area boasts a stunning waterfalls circuit that takes you to Millaa Millaa Falls, Elinjaa Falls, Zillie Falls, and more.
Visit Kuranda Village
The small town of Kuranda is a Cairns attraction that you'll find on most travel itineraries. It's a village rich with Australian history and has a stunning setting amongst the rainforest.
The journey to get from Cairns to Kuranda is an activity in itself. Rather than driving directly to Kuranda, most people take either the Kuranda scenic railway or Skyrail rainforest cableway to and from the village.
You can purchase your railway and cableway tickets in advance here.
Take a dip at Cascade Falls
20 minutes west of Cairns lies Cascade Falls. This swimming hole is nestled deep in the rainforest, with numerous short trails that lead to the falls.
Visit Mackay Reef
If you have an extra day in the Daintree Rainforest, you may want to take a day trip from Cape Tribulation to Mackay Reef.
While I didn't do this myself, we met a family who booked this tour and said it was one of their highlights, and the kids loved it. You'll see scores of reef fish and turtles, and the island is a great place to hang out for the day.
Take a scenic flight
The Great Barrier Reef is truly a magnificent sight from above. You can either opt for a 30-minute helicopter ride or, better yet, book a flight and reef experience combo like this one.
The chopper will drop you off at the reef, where you can spend a few hours snorkeling. This day trip from Cairns is a splurge!
Go white water rafting
The Tulley River near Cairns is home to some of Australia's best white water rafting. The epic grade 3-4 rapids make for an exhilarating activity for all adventure travelers.
READ MORE: COMPREHENSIVE GUIDE TO SCUBA DIVING BYRON BAY
Best time of year to visit Cairns
Cairns is found in the Tropical North of Queensland. As the name suggests, the area experiences tropical weather all year round.
The best time to visit Cairns is between April and November. This covers the winter months but don't worry; it's much warmer here than down south. You'll be treated with optimal snorkeling, hiking, and exploring conditions.
I planned my Cairns itinerary for August. While the nights were cold, the days were beautiful, and I was relieved that we were able to enjoy the outdoors without the extreme humidity that is common during summer.
If you're planning your trip between November and March (summer in Australia), it can get hot and muggy. This is also the wet season so expect rain showers.
November to March is also known as the stinger season, and you cannot swim in the ocean without a stinger suit.
How many days in Cairns
At a minimum, you'll need at least 3 days in Cairns. But this is dependent on your activities and how slow you want to travel.
I spent 8 days in Tropical North Queensland, which wasn't enough time to see it all.
Considering that most people are short on time, I've created this 5 day Cairns itinerary which highlights the places you shouldn't miss, no matter how much time you have.
---
Are you looking for the best things to do Cairns? Do you have any questions about your trip? Drop me a message in the comments section below.
Looking for more Australia travel inspiration? Check out my other posts!
There is a really good chance that this post contains affiliate links. If you click one of them, I may receive a small commission at no extra cost to you. As always, views are my own!