Looking for the best things to do in Cradle Mountain? You've come to the right place!
This gorgeous region north of Tasmania has something for everyone. From thrilling peak climbing for avid adventurers to kid-friendly trails surrounded by enchanted forests.
You'll find cozy cabins with roaring fireplaces and spa sanctuaries surrounded by King Billy Pines – it doesn't get much better than this!
I spent 2 days in Cradle Mountain and was blown away by the natural beauty and wildlife in the area. In this guide, I'll detail everything you need to know for planning your trip. It includes the best time to visit, how to plan your itinerary and all the best things to do in Cradle Mountain!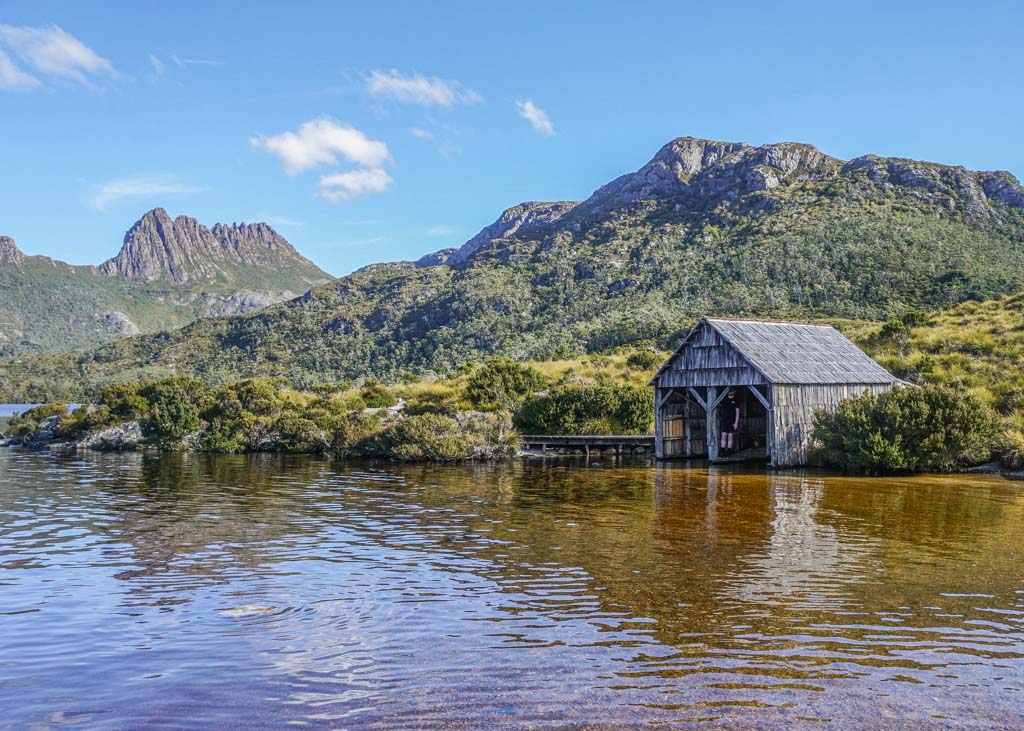 How to get to Cradle Mountain National Park
Cradle Mountain is found at the northern end of the Cradle Mountain-Lake St Clair National Park. Launceston is only 2 hours away and Hobart is a 4-hour drive.
I recommend that you spend 2 nights in Cradle Mountain as this will allow you to explore all the attractions in the area.
Best time to plan your Cradle Mountain itinerary
Let's put it this way – you're lucky if you have perfect conditions as the weather in Cradle Mountain is notorious for being err… temperamental!
During the winter months (May to September), it can be freezing cold and even snowing. Cradle Mountain turns into a winter wonderland during this time and it's a spectacular sight.
The summer months from November to April are more likely to bring with them optimal conditions for hiking. March is the driest month so if you plan your trip for then, you'll have the highest chance of clear skies.
But, expect the unexpected!
I visited Cradle Mountain over the Easter weekend in April and the weather was incredible! The week after, however, was a different story. Temperatures were nearing zero degrees and it started snowing.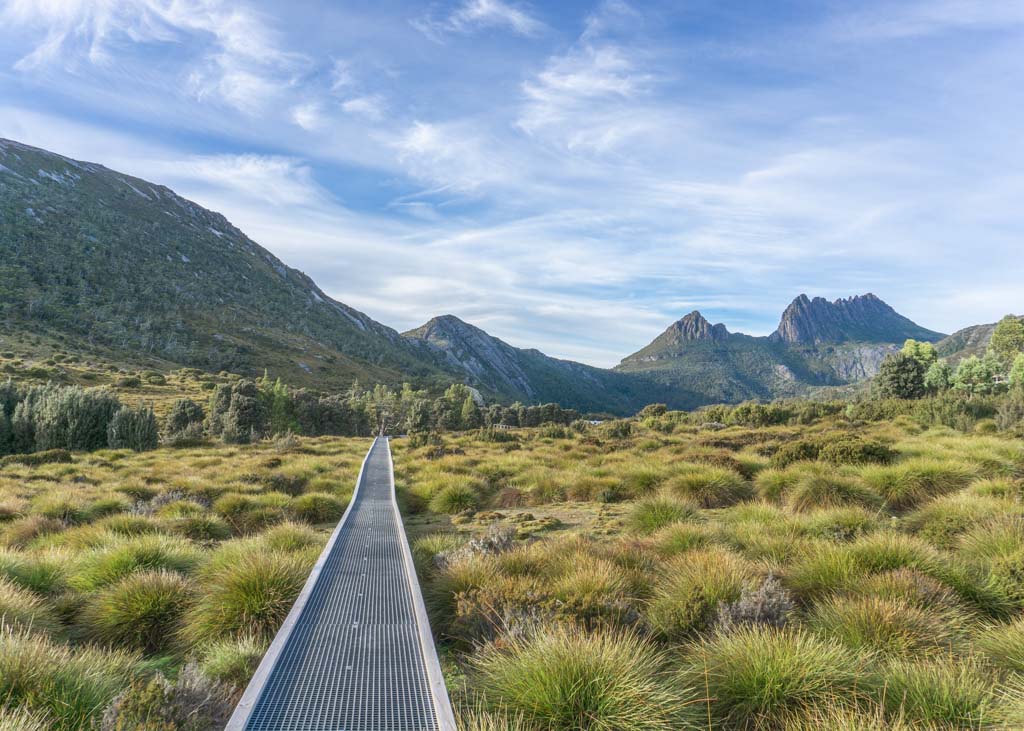 Where to stay in Cradle Mountain
When deciding where to stay during your 2 days in Cradle Mountain, you'll be spoiled for choice. There are several places within walking distance from the Visitors Centre which is the gateway for all the best Cradle Mountain attractions.
But for a more secluded escape, you may want to consider something that's a short drive away.
Keep in mind that accommodation in the area gets booked out far in advance so you'll need to reserve your place as soon as you can.
I stayed at Wombat Cabin and couldn't fault this place! If you're traveling as a couple or with kids and you don't want to break the bank, I'm sure you'll love it as much as I did. The charming cabin is a short drive from Cradle Mountain and boasts an indoor fireplace to keep you warm on those chilly nights.
Cradle Mountain Highlanders is another favorite if you're looking for a self-catering option closer to the Visitors Centre.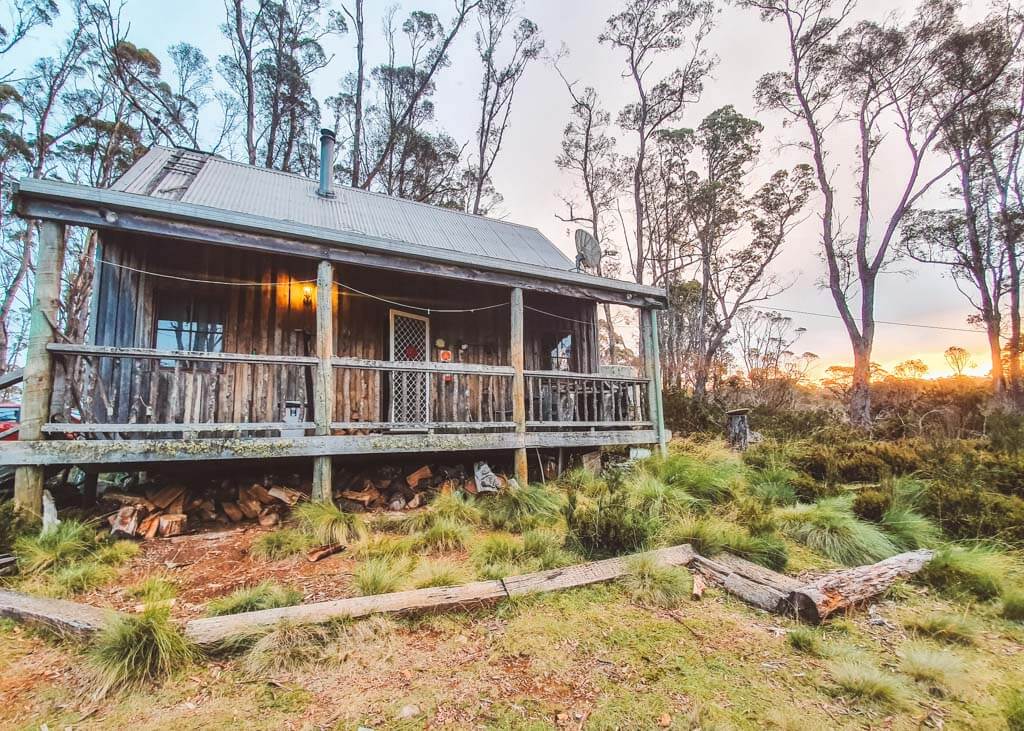 12 Best Things to do in Cradle Mountain
Here are the best things to do in Cradle Mountain. These attractions are within close proximity of each other so it's totally doable to get to all of them in only 2 days.
Visit Dove Lake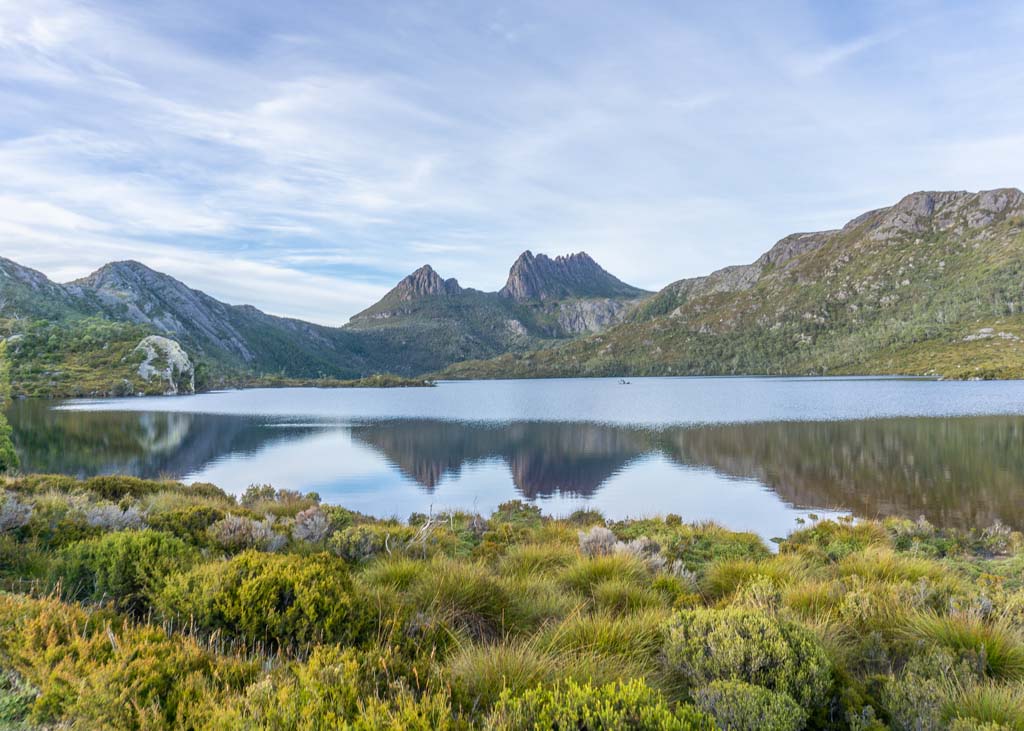 Famous for its rustic boatshed nestled alongside the water's edge, Dove Lake is the most sought-after attraction in Cradle Mountain National Park.
The small patch of sand is often lined with tourists snapping away at the iconic boatshed with Cradle Mountain as the backdrop. You can even take a refreshing dip in the freezing cold water.
Dove Lake is easily accessible, and I encourage you to do one of the numerous hiking trails that merge at the boatshed. The most popular is the Dove Lake Circuit which is a 6km loop offering beautiful scenery with vibrant wildflowers, striking viewpoints, and bushy shrubs.
Getting to Dove Lake: From the Cradle Mountain Visitors Centre, hop on the shuttle bus to Dove Lake Car Park. You'll then walk 500m along a boardwalk track to the boatshed. You'll retrace your steps for the route back or alternatively, you can follow the trail and complete the Dove Lake Circuit.
Hike the Cradle Mountain Summit: One of my favorite things to in Cradle Mountain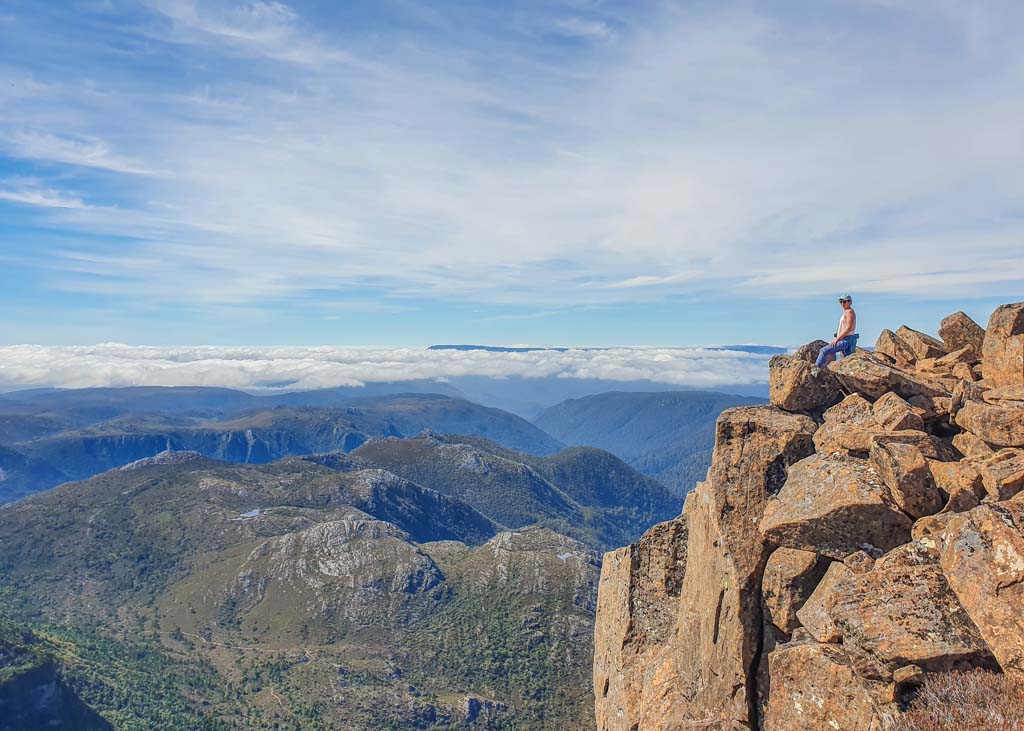 If you're up for the challenge, the Cradle Mountain summit should be top of your Tasmania bucket list. The 11km circuit trail takes you to some of the most iconic locations in Cradle Mountain including Hansons Peak, Marions Lookout, and the Dove Lake Boatshed.
The tough climb is only recommended for adventure junkies as the trails are rough and steep, and the uphill sections will take their toll on your knees, especially when you're on your feet for over 8 hours.
But the views of the rolling hills and craggy peaks in the distance make it all worth it!
While this summit climb is one of the best things to do in Cradle Mountain, the weather can make or break your experience so don't attempt it if the conditions are not great.
Top tip: You'll need a full day to hike to the summit of Cradle Mountain so try to get an early start.
Getting to Cradle Mountain summit: The trail begins at Dove Lake Car Park. Take an early morning shuttle from the Visitors Centre to the car park and follow the trail to the left of Dove Lake.
Indulge in pizza and wine in front of the fire at Tavern Bar and Bistro
After a full day of exploring, there's nothing better than devouring a pizza and enjoying a glass of wine in front of the fire. If you agree, then you'll love the Tavern Bar at Peppers Cradle Mountain Lodge.
What makes this place truly shine is the warm and welcoming atmosphere. The casual and rustic tavern has a great vibe to it and is where most travelers converge after walking the trails in Cradle Mountain.
If you prefer a more refined dining experience, the Highlands Restaurants upstairs might be better suited for you.
Find wombats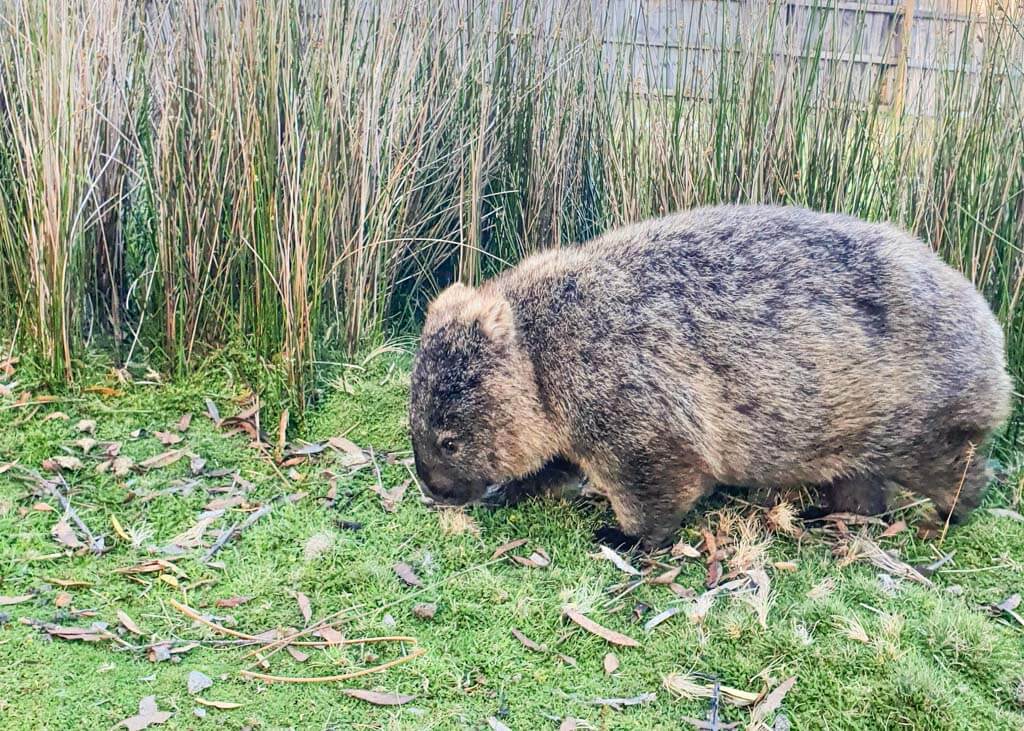 Tasmania is one of the best places to see wombats in the wild, and Cradle Mountain is home to a large concentration of them.
Only found in Australia, wombats are the Koala's closest living relatives. They're easiest to see at dusk or dawn and can be spotted in the open grasslands near Cradle Mountain.
But I'm not going to lie, I was expecting to see wombats left, right, and center – especially considering that I had completed most of the Cradle Mountain walking trails.
However, these elusive creatures were harder to spot than I expected! Luckily, I eventually saw one burrowing away on the final day of my Cradle Mountain itinerary.
Stay in a cozy cabin
Rustic cabin surrounded by nature.
Indoor fireplace crackling in the background.
Friendly wallabies on your doorstep.
If this sounds like a dream to you (because it does to me), then you need to stay at one of the cabins near Cradle Mountain.
Wombat Cabin gets my vote and it's where I spent my 2 days in Cradle Mountain. The charming cabin is nestled on a large property only 15 minutes from the national park.
With no other guest cottages insight, you can enjoy the peaceful environment without any disturbances. A place as remote and private as this is hard to find so be sure to book your stay here asap.
But if you're looking for something a bit more luxurious – I'm talking outdoor hot tubs and all – then you may prefer King Billy Suite at Peppers Cradle Mountain Lodge. This spacious and private suite is their signature room and is hard to beat if you're looking for luxury accommodation with fine finishes.
Visit Devils @ Cradle
Tasmania devils were once abundant in Australia but were forced into extinction on the mainland after dingos were introduced. They are now only found in Tasmania and the few that live here are threatened because of Devil Facial Tumor Disease (DFTD).
But it's not only the Tasmania Devil that's endangered – three of Tasmania's unique carnivorous marsupials are threatened; the Tasmanian devil, the Spotted-tail quoll, and Eastern quoll.
Devils @ Cradle is a breeding and conservation facility for these animals. This world-class facility is located at the entrance to Cradle Mountain National Park and offers guests a chance to get up close to the animals.
Getting to Devils @ Cradle: Devils @ Cradle is located between the Visitors Centre and Peppers Cradle Mountain Lodge. You can either walk 1km from either of these places or drive as parking is available.
Take a shorter walk: The best thing to do in Cradle Mountain for families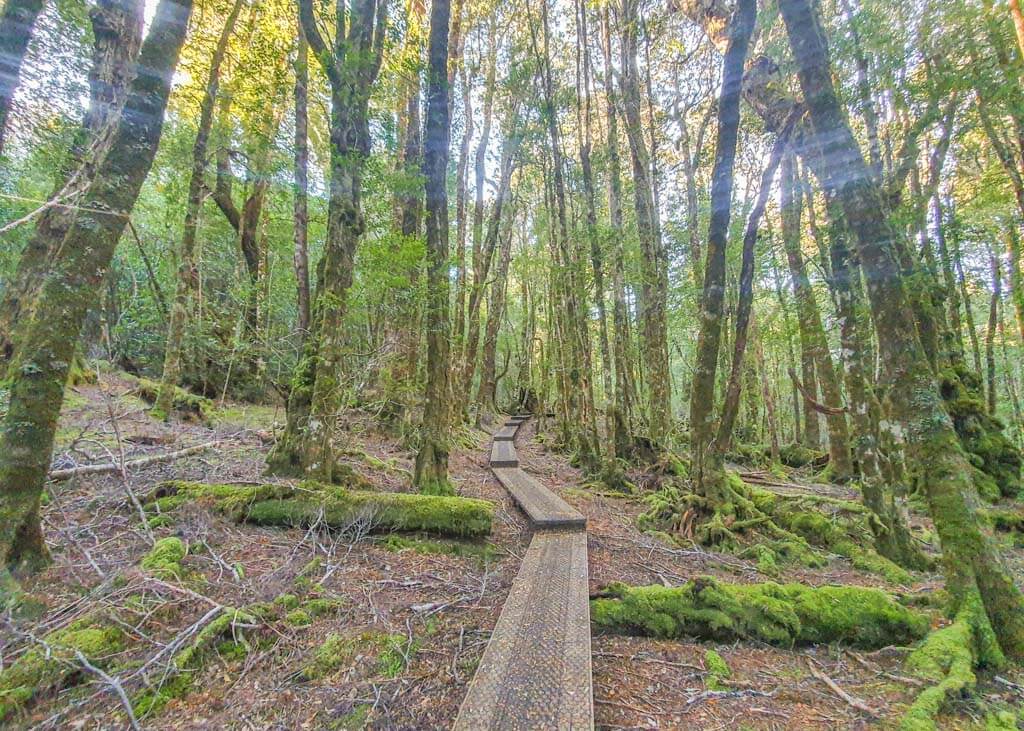 Not keen on a long strenuous hike? Traveling with kids? Or simply exhausted from all the Cradle Mountain walks you've already done?
Then you'll love the shorter walking trails located near Peppers Cradle Mountain Lodge.
My favorite is the King Billy Track. It's a 1.9km trail that meanders deep into a forest lined with beautiful wildflowers, towering canopies, and majestic King Billy trees which are said to be nearly 1 500 years old.
Nearby, you'll find the Enchanted Walk. This 1.1km track is one of the most popular things to do in Cradle Mountain with kids and resembles a secret garden with grass moorlands, wombats, and wallabies.
Getting to these shorter walks: You can either take the shuttle from the Visitors Centre to Peppers Cradle Mountain Lodge. Or you can drive there yourself as parking is available at the lodge.
Treat yourself to a spa day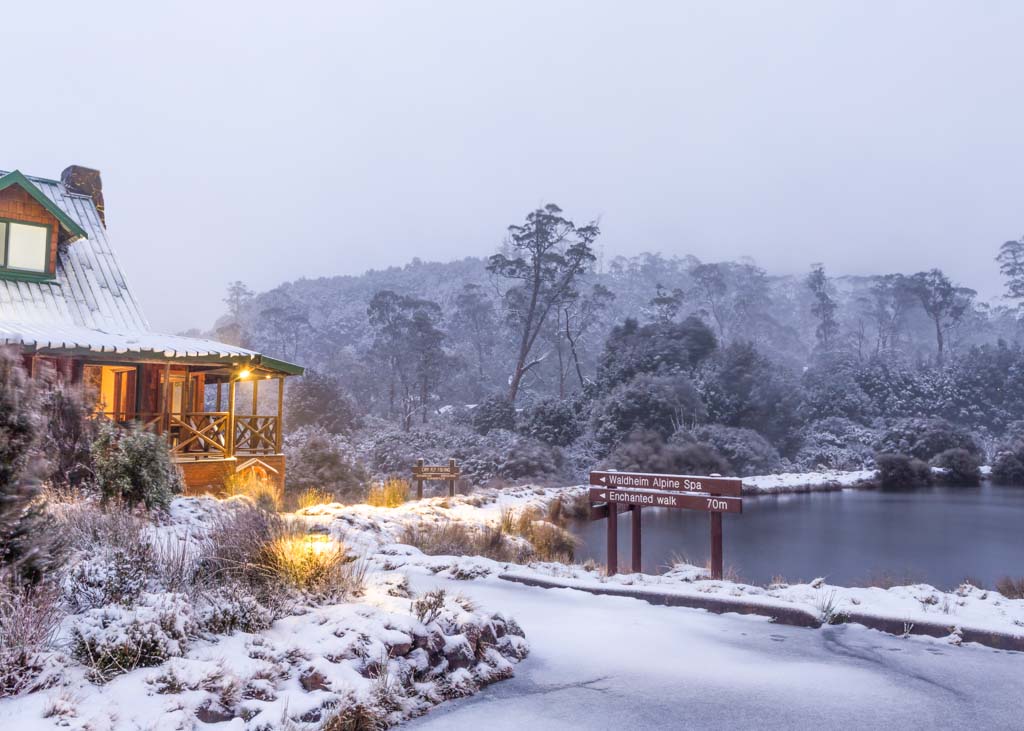 The Waldheim Alpine Spa is a peaceful sanctuary that reflects the natural beauty of the Tasmanian wilderness.
Here you can enjoy a range of treatments from spa therapies to power-boosting facials. Their spa packages are perfect for couples and the therapeutic area includes a steam room, sauna, large hot tub, and plunge pool. Guests can also take in views of the Pencil Pine River and the King Billy trees from the relaxing lounge.
While the experience is not cheap, it's certainly one of the best things to do in Cradle Mountain, especially when the weather is cold and gloomy.
Getting to Waldheim Alpine Spa: The spa is found just a stone's throw away from Peppers Cradle Mountain Lodge.
Cradle Mountain Canyons
If you have more than 2 days in Cradle Mountain and you're looking for a real adrenalin rush, why not join one of the canyoning tours. You'll launch yourself off waterfalls, abseil down massive cliffs and get to experience nature's waterslides.
The Dove Canyon Tour is a full-day canyoning tour while the Lost World Canyon is half-day and better suited for families.
Getting to Cradle Mountain Canyon Tours: All canyon tours depart from the Cradle Mountain Visitors Centre. You can find out more here.
Take on the Overland Track
The Overland Track is a 6-day hike that traverses through the heart of the Cradle Mountain-Lake St Clair National Park. The 65km track requires a good level of fitness and preparation but hikers are rewarded with spectacular scenery along the way.
Starting at Ronnys Creek near Dove Lake, the Overland Track ends on the south side of the national park, at Lake St Clair. The track is well maintained and there's the option of camping or staying in huts along the trail.
Best things to do near Cradle Mountain
So, you've just been through my list of the best things to do in Cradle Mountain. But there are a few things that you should check out on your way to (or from) the area.
Visit Mole Creek Caves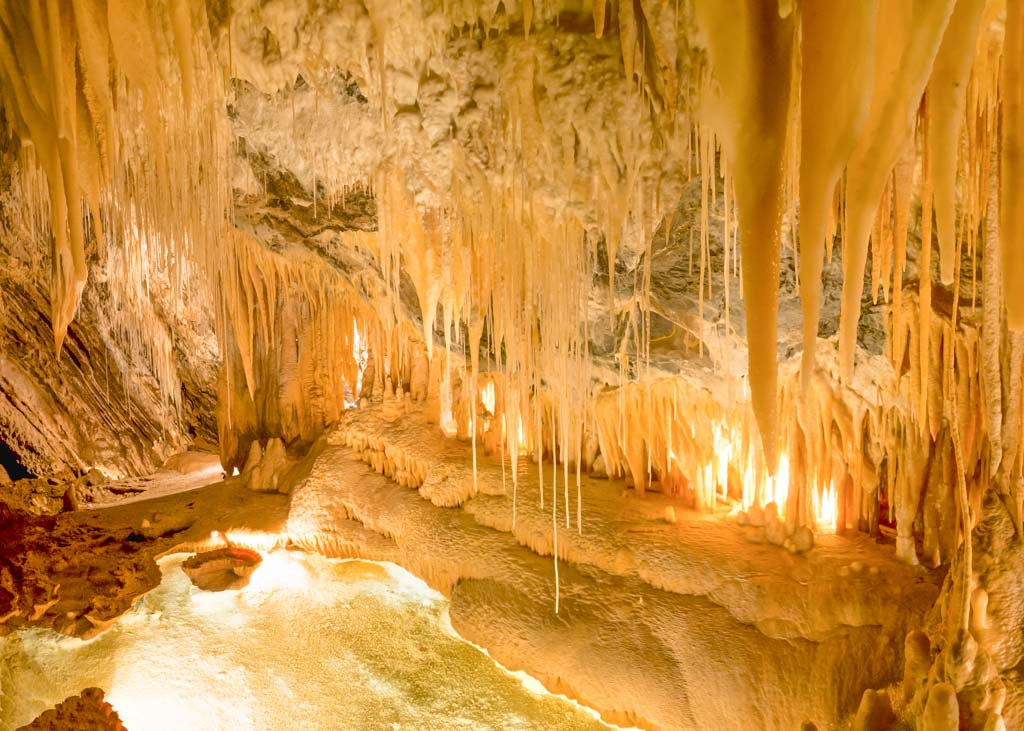 Situated between Sheffield and Cradle Mountain lies Mole Creek Caves. This fascinating cave system boasts underground rivers, massive caverns, and stunning glow worms.
It's only accessible by a private tour and bookings need to be made weeks in advance as it's one of the most popular things to do near Cradle Mountain.
Explore Tassie's highest waterfall: Montezuma Falls
If you're driving from Cradle Mountain to Strahan on the west coast, be sure to stop at Montezuma Falls which can be found northeast of Zeehan.
The 11km walk through the lush forest to the 104m high waterfall is one of the most impressive trails I've ever explored.
2 Day Cradle Mountain Itinerary
Below, I've outlined my suggested itinerary for Cradle Mountain and how you can check out all the highlights if you only have 2 days in the area.
Day 1
Cradle Mountain is a 4-hour drive from Hobart at 2 hours from Launceston. Plan your itinerary so that you arrive by lunchtime. Also, be sure to stock up on snacks and groceries along the way as there is only a small convenience store in Cradle Mountain and options are limited.
If you're driving from the east, stop at Mole Creek Caves which is on the way. After checking into your accommodation in Cradle Mountain, do either the Enchanted Walk or King Billy Walk (or both). These won't take more than 30 minutes each and provide good opportunities for seeing wombats and wallabies.
Depending on how you're doing for time, you can also do a Devils @ Cradle tour. The "Joey Encounter Tour" is scheduled for 4 pm while the "Feeding Tour" starts at 5:30 pm.
Afterward, head back to your accommodation and cozy up by the fire.
Day 2: Explore Cradle Mountain
On day 2, you'll experience some of the best things to do in Cradle Mountain.
You can either get an early start to the day and climb the Cradle Mountain summit (which will take all day). After that, head to Peppers Cradle Mountain Lodge for a pizza and wine by the fire at their Tavern Bar.
If full-day hiking isn't your thing, skip the summit climb. You can choose between the Dove Lake Circuit or the more scenic hikes to Marions Lookout or Hansons Peak which offer incredible views of Dove Lake.
After that, treat yourself to a massage at Waldheim Alpine Spa before ending your day at the Tavern Bar and Bistro.
Day 3
On day 3, you can get to those Cradle Mountain activities that you weren't able to do – whether that's a spa treatment, canyoning down cliffs, or searching the grassy landscapes for wombats.
If you're heading east to Strahan, stop at Montezuma Falls on the way. You'll most likely be exhausted from all the hiking, but this walk is stunning so try to pluck up the energy to check it out.
READ MORE: 17+ BEST THINGS TO DO ON FRASER ISLAND
Visiting Cradle Mountain National Park
Now that you know what to do in Cradle Mountain, you may be wondering about the logistics of it all.
The national park is pretty big and if you're planning your trip, you want to head to the north entrance, near the Cradle Mountain summit.
This is where you'll find the Visitors Centre and all the best things to do in Cradle Mountain.
Entrance Fees
To enter the Cradle Mountain National Park, you'll need to purchase a National Park pass from the Visitors Centre. This also gives you access to the free shuttle operated by the park.
The entrance fee to Cradle Mountain is $25 per person for a 24-hour pass.
There is also the option to purchase a 2-month pass which is $80 per vehicle. If you plan on spending more time in Cradle Mountain or visiting other national parks within Tasmania, it's better to go for the 2-month pass.
Free Shuttle Service
Departing from the Cradle Mountain Visitor Centre to Dove Lake, the shuttle also stops at the Rangers Station (close to Peppers Cradle Mountain Lodge) and Ronny's Creek (start of the Overland Track).
The 15-minute bus ride is often busy in the mornings but there are several shuttles, so they do accommodate everyone.
The times for the shuttle vary but generally, they operate from 08:00 am – 6:00 pm in summer (1 October to 31 March) and 09:00 am – 5:00 pm in winter (1 April – 31 September).
If you miss the last bus, you will need to walk 15km back to the Visitor Centre.
Driving into the park
There is the option to drive your car into the national park, but you can only do so outside of the shuttle operating hours. Bear in mind that when you return, you'll need to follow one of the shuttle buses back to the Visitors Centre.
Currently (April 2022) you cannot park at Dove Lake Car Park as it's under construction.
Therefore, if you want to access the park before 8 am, you'll need to stop at Ronny Creek Car Park and walk 2km to Dove Lake.
Tips for planning your Cradle Mountain itinerary
You only need 2 days in Cradle Mountain (2 nights). This is enough time to get to all the main attractions and enjoy the peaceful surroundings.
Pack for all seasons as the weather is often cold and unpredictable.
You'll notice lots of roadkill in the area. Be cautious as wallabies and wombats can be hard to see.
Final thoughts of the best things to do in Cradle Mountain
Cradle Mountain is part of the Tasmania Wilderness World Heritage Area and is one of the most exciting places to visit in all of Australia. I had the best time here and I know you will too!
The highlight for me was hiking to the summit of Cradle Mountain and staying in a cozy cabin with a fireplace! It's hard to find experiences like these elsewhere so take it all in and enjoy every moment.
---
Are you planning what to do in Cradle Mountain? Do you have any questions about visiting Tasmania? Let me know in the comment section below!
Looking for your next adventure? Check out my other posts!
Did you find this post helpful? Save it for later on Pinterest!
There is a really good chance that this post contains affiliate links. If you click one of them, I may receive a small commission at no extra cost to you. As always, views are my own!