Mosi-oa-Tunya, or Vic Falls, is a World Heritage Site and one of the seven Natural Wonders of the World.
Visiting Victoria Falls National Park was at the top of my list of things to do in Zimbabwe and Zambia, and it's the main attraction that brings thousands of tourists to these countries every year.
So how exactly do you prepare for your Victoria Falls visit?
Below I've covered all the most important information, including the best time to visit Victoria Falls and the Victoria Falls National Park entrance fee.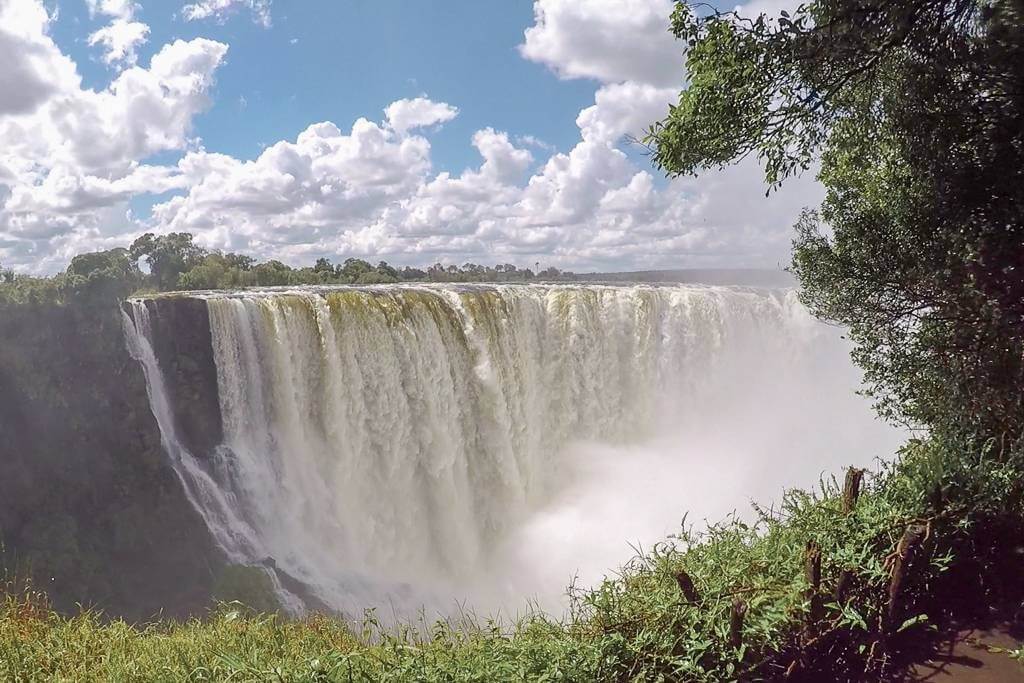 Torn Tackies contains affiliate links. If you make a purchase using one of these links, I may receive compensation at no extra cost to you. See my disclosure for more information.
Where is Victoria Falls National Park
Victoria Falls National Park is located on the Zambezi River, which forms a natural border between Zimbabwe and Zambia in Africa.
The falls can be seen from either Livingstone in Zambia or Victoria Falls town in Zimbabwe.
There are international airports in both Livingstone and Victoria Falls. The easiest way to get here is via a 2-hour flight from Johannesburg in South Africa.
SA Airlink and Safair offer flights to both destinations.
How to get to Victoria Falls National Park
Victoria Falls is best seen from the Zimbabwe side, as you can view 75% of the falls from here.
The national park entrance is a 10-minute walk from Victoria Falls town in Zimbabwe. It's located opposite the crafts market, where you can buy many memorabilia.
If you're staying in Livingstone on the Zambian side, I suggest taking a taxi to the Victoria Falls National Park entrance, as it's a bit too far to walk.
There are many taxis in both Livingstone and Vic Falls, so getting around won't be a problem. Crossing the Victoria Falls bridge from Zambia to Zimbabwe is also easy enough.
I recommend taking a walk to this bridge for additional views of the falls.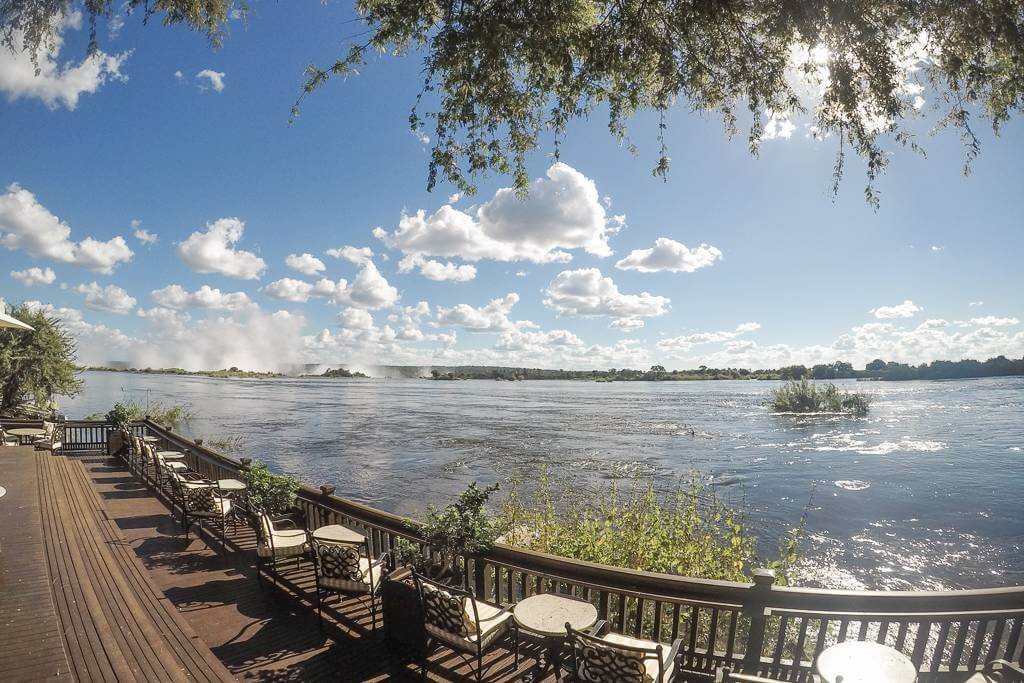 Victoria Falls Entrance Fee
The Victoria Falls entrance fee has recently increased to $50 for all international tourists on the Zimbabwe side. This is more than double the price of the Zambia side, which is $20 for international tourists.
Keep in mind that this is for a single-entry ticket. If you exit and would like to return later in the day, you will need to pay the entry fee again.
SADC passport holders pay a reduced rate of $30 on the Zimbabwe side and $20 on the Zambia side. Just make sure you take your passport, ID, or driver's license to qualify for the discount.
Victoria Falls Park: Operating Hours
Summer (1 September to 30 April): 6 am – 6 pm
Winter (1st May to 31st August): 6:30 am – 6 pm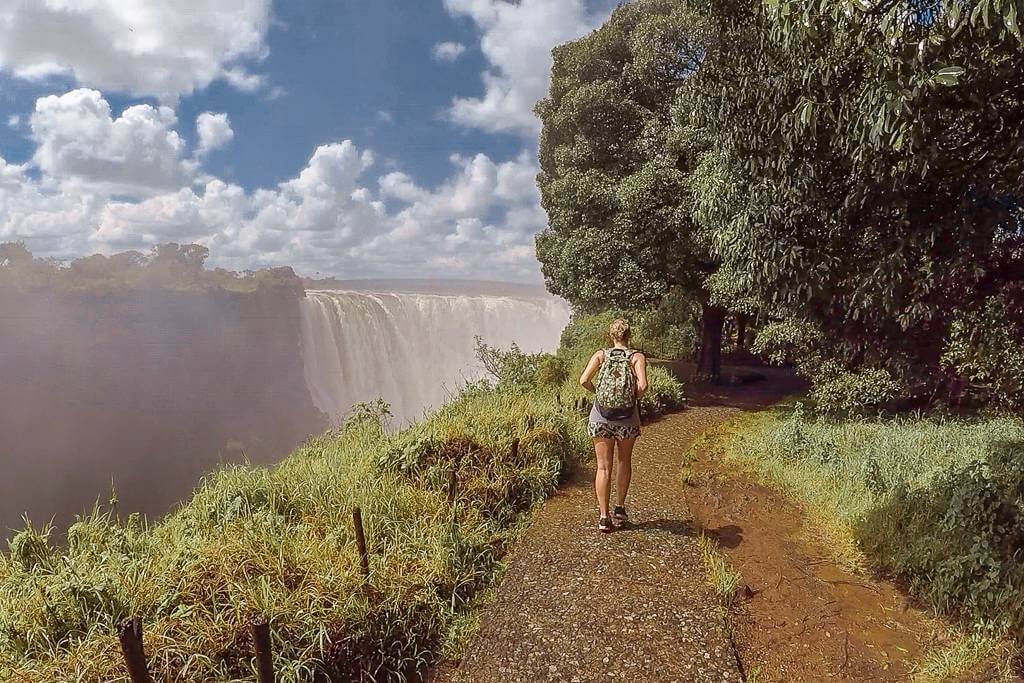 Best Time to Visit Victoria Falls National Park
Victoria Falls can be seen throughout the year, but the different seasons bring with them completely different experiences.
July to December (Dry Season)
July to December is the dry season in Victoria Falls. As a result, the falls gradually empty out from July and are at their lowest in October/November.
Although you may not view the falls in all their might at this time, you can do some of the activities that are closed during the wet season. These include visiting Devil's Pool and white water rafting.
January to June (Wet Season)
The wet season is one of the best times to see Victoria Falls. From January, the falls begin to fill up, and by May, they're at their fullest.
During April and May, there's a lot of thick mist from the falls, and this may hamper your views. However, you can feel the power of this beautiful part of nature, and it's incredible.
I visited Vic Falls in May, and it was a spectacular sight. But beware, you will get soaking wet during this time!
Unfortunately, I was unable to do the rafting or visit Devil's Pool due to the high water levels, which made these activities more dangerous.
If you visit Victoria Falls during these months, you can still do a sunset cruise along the Zambezi River.
Which is The Best Side to See Victoria Falls? Zimbabwe vs Zambia.
The most popular side to see Victoria Falls is from the Zimbabwe side. Here's what you need to know before making your decision.
Vic Falls from the Zimbabwe side
It's no doubt that Zimbabwe has the lion's share of viewpoints, with 75% of the total area being in the county.
The breathtaking walk along the cliffs lead to many of these viewpoints, which boast some of the best photo opportunities in Victoria Falls National Park.
Many people agree that the best side to see Victoria Falls is Zimbabwe. But Zambia offers a completely different and unique experience.
Vic Falls from the Zambia side
The Zambian side of Victoria Falls may not have as many viewpoints as its neighbor, but the hiking routes offer breathtaking scenery.
Unlike the Zimbabwe side, these aren't "full views" of the falls. But you're a lot closer to the falls on the Zambia side.
The Zambia side is also home to the Royal Livingstone Hotel. It's an iconic hotel located on the banks of the Zambezi River, with plenty of wildlife roaming around the lush gardens.
Where to Stay Near Victoria Falls National Park
Before you start looking for a place to stay, you need to consider where you want to base yourself: Livingstone (Zambia side) or Victoria Falls (Zimbabwe side).
Travel between the two towns is relatively quick and easy. This means you can visit Victoria Falls National Park regardless of which country you stay in.
I spent a few days in both Zambia and Zimbabwe.
Overall, I preferred the vibe of Vic Falls town in Zimbabwe. However, Livingstone does have more luxurious waterfront hotels available.
Where to stay in Victoria Falls (Zimbabwe Side)
I stayed at Shoestrings Backpackers Lodge on the Zimbabwe side. If you're looking for a cheap, basic stay with a relaxed atmosphere and social vibe, then I highly recommend you stay here. Here's my blog post on the place!
Budget: Pennywise Cottages is conveniently located a short walk from Victoria Falls National Pack. Traveling couples or families looking for a budget place to stay will love this place!
Backpackers: Victoria Falls Backpackers Lodge is a great alternative to Shoestrings Backpackers. It's an awesome place to meet other travelers and this hostel is fitted with both private rooms and shared dorms.
Mid-Range: The White House of Victoria Falls offers a quiet and comfortable stay in Zimbabwe.
Luxury: Victoria Falls River Lodge is the ultimate place to stay if your budget allows for it. Just a stone's throw away from the Zambezi River, this river lodge is incredible! The pictures speak for themselves.
Where to stay in Victoria Falls (Zambia Side)
Backpackers: Fawlty Towers Backpackers is another budget option for solo travelers and tourists looking to stay in a friendly, social environment. They even offer a free shuttle to Victoria Falls National Park.
Mid-Range: Ngoma Zanga Lodge offers unique, spacious rooms that are ideal for a comfortable stay in Livingstone.
Luxury: The Royal Livingstone Hotel is arguably one of the most popular spots near Victoria Falls and is situated just outside of Livingstone, right on the Zambezi River. The rooms are elegant, and the service is out of this world.
Victoria Falls Visa
SADC Passport holders
Finally, the "Green Mamba" (South African passport) came in handy!
South Africa is part of the SADC, and so if you're from one of these countries, you do not need a visa to enter either Zimbabwe or Zambia.
Other international tourists
Most tourists from outside the SADC are able to get a visa upon arrival after landing at either Livingstone or Victoria Falls airport.
If you want to travel between Zambia and Zimbabwe, you will need to get a multiple-entry visa (KASA UniVisa) when you arrive.
This KASA UniVisa costs $55 and is valid for 30 days. With this, you can cross the border as many times as you like, given that you stay within Zambia and Zimbabwe.
The visa details are subject to change, so do your research before your visit. These Zimbabwe and Zambia travel sites offer more information.
Victoria Falls Malaria and Other Vaccinations
Below are some frequently asked questions regarding health precautions for visiting Victoria Falls National Park.
Do I need to take any Malaria tablets for Victoria Falls?
Mosquitoes are more prevalent during the rainy season (December to April). Although Malaria tablets aren't required, they are recommended.
However, I traveled to Victoria Falls in May (the beginning of winter) and didn't take any medication.
Remember to pack a good mosquito repellent. There may not be malaria-carrying mosquitoes, but there are hundreds of mosquitoes in the area.
Do I need to have a yellow fever vaccination?
Zimbabwe and Zambia don't fall under the yellow fever zone, and so it is not necessary to have the injection. I read a lot of mixed advice online, as it was previously a requirement. However, this was lifted in 2015.
So no, you do not need a yellow fever vaccination when entering Zambia or Zimbabwe.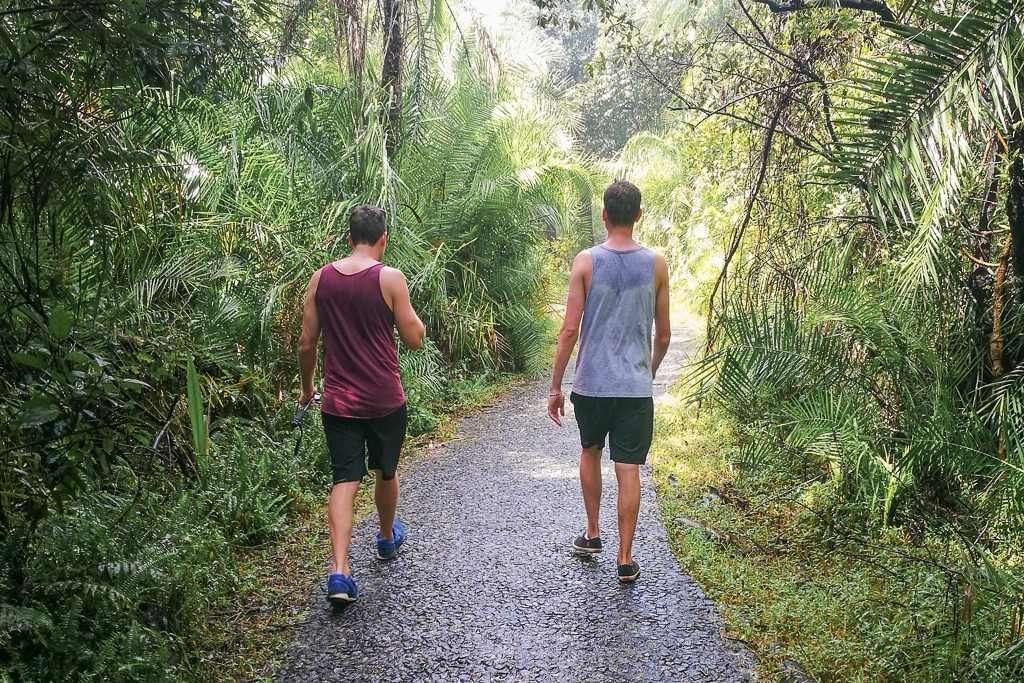 How Many Days in Victoria Falls
You need at least 3 days to appreciate the beauty of Victoria Falls.
There are many activities on offer (besides only seeing Vic Falls). But, these can be quite costly. Check out my post on all the things to do in Victoria Falls that won't break the bank.
I stayed on both the Zimbabwe and Zambia sides, and it was really easy to get between the two countries.
I recommend staying 4 nights in Victoria Falls on the Zimbabwe side. This is enough time to see everything yet still have enough downtime. Any longer will leave you broke (and slightly bored).
If you'd like to see both the Zimbabwe and Zambia side, I would recommend 3 nights in Victoria Falls and 2 nights in Livingstone.
TIPS For Visiting Victoria Falls National Park
Don't miss the best photo spot. As you enter Victoria Falls National Park, keep going straight and walk toward the David Livingstone statue. (I nearly missed it as I took a right after entering and headed straight toward the center of the falls).
You will get wet if you visit the falls in May or June. You can bring a raincoat or umbrella, but it probably won't help! It's so much fun running through the spray, so just relax and enjoy the moment.
Protect your phone and electronic equipment. A waterproof pouch is the best option. Do not put it in a plastic bag as it will get damaged. Trust me, it happened to us!
Have a copy of your passport or ID. You'll need this if you want to qualify for the discount (SADC countries only).
The paths are easy to follow. You don't need a guide unless you want a personal photographer or are looking for more in-depth information on Victoria Falls National Park.
Victoria Falls Currency: Cash vs Card
The Zambian Kwacha is the currency used in Livingstone, Zambia, but the US Dollar is also accepted.
The Zim Dollar is the currency used in Victoria Falls, Zimbabwe. But it's difficult to get your hands on this currency. US Dollars, along with the Zambian Kwacha and SA Rand, are accepted in Victoria Falls town.
Ensure you have local currency or US Dollars on you before you visit Victoria Falls. Zimbabwe is experiencing a financial crisis, and the banks have put restrictions on withdrawals from ATMs. I was unable to withdraw cash from any banks in Victoria Falls and had a few issues in Livingstone as well.
Credit or debit cards are accepted at tourist lodges and restaurants. But don't expect to use them at local shops or bars as none of their card facilities work.
I discovered this the hard way, and it nearly ruined my holiday as I had no local currency on hand.
Things to do near Victoria Falls National Park
Victoria Falls is the adventure capital of Africa! Seeing Victoria Falls is a bucket list experience, but so are these other activities.
Go white water rafting
The Zambezi River has made a name for itself as one of the most exciting places to go water rafting in the world. The rafting season only runs from August to mid-January, as the water levels are lower during these times.
There are many rafting tours like this that depart from Victoria Falls.
Swim in Devils Fool
Devils Pool is a naturally formed rock pool located near the edge of Victoria Falls. You need to book a tour like this through a registered tour operator as there are dangers involved.
This infinity pool is one of the many thrilling Vic Falls activities and can only be accessed from the Zambia side of the Zambezi River.
During the wet season from January to July, the Zambezi overflows, making a trip to Devil's Pool impossible due to the risks involved.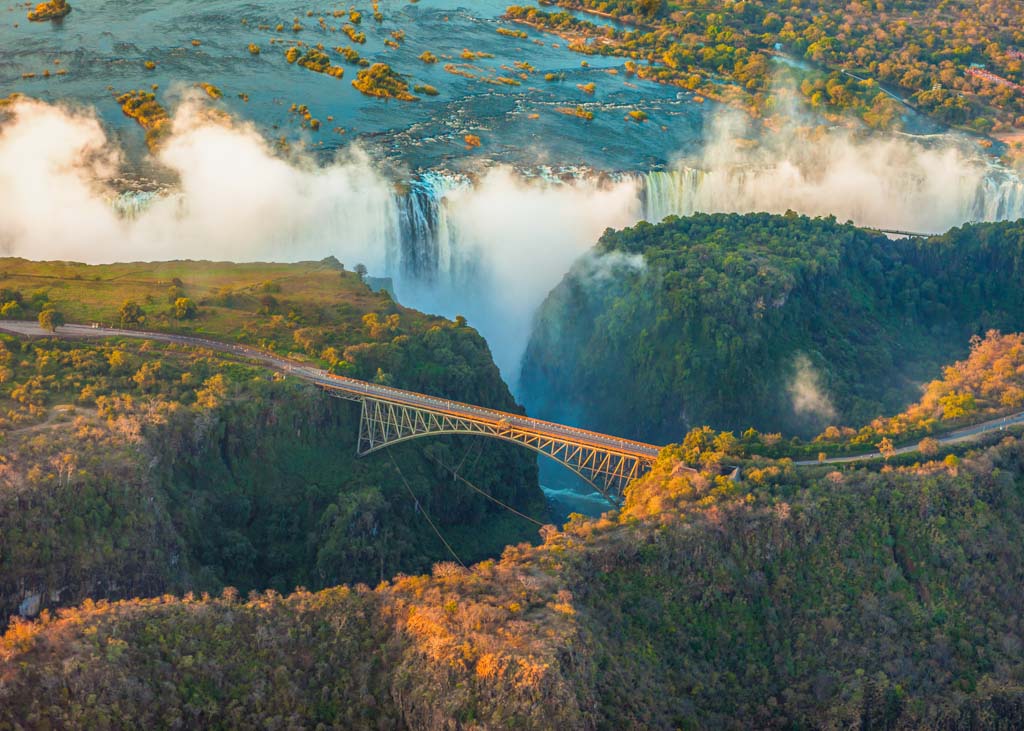 Faq's about visiting Victoria Falls National Park
How much does it cost to visit Victoria Falls?
The Victoria Falls Park fees are $50 per person for international travelers.
Where is Victoria Falls Located?
Victoria Falls is located on the border of Zambia and Zimbabwe in Africa.
What is the best time to see Victoria Falls?
The best time to see Victoria Falls is during April and May, when the falls are at their fullest.
TIA: This is Africa
Africa is beautiful, the sights are incredible, the locals are friendly, and the beer is good.
However, everything and everyone operates at a slightly slower pace than you may be used to. And so should you.
This is a great opportunity to unwind and switch off from the stresses and routine of your life back home.
When planning your trip to Victoria Falls National Park, don't jam-pack your itinerary with activities. This will leave you with little time to relax and really embrace the beauty Victoria Falls has to offer.
Practical Information for Victoria Falls National Park
Victoria Falls entry fee: International tourists $50; SADC passport holders $30
Victoria Falls opening hours: 6 am – 6 pm
What to expect: 2 hours of exploring Victoria Falls National Park with a few other tourists
Bring: Mosquito spray and cash
---
Looking for more Victoria Falls travel information? Check out my other posts!
---
Pin this