No trip to Africa would be complete without visiting the local communities and getting a real feel for their way of life.
These visits to the Victoria Falls townships can be organized through tour agencies or you can choose the more authentic route and have a local show you around. The latter is, of course, more affordable and the option we were lucky enough to come across.
How did I end up in a tavern in the middle of Victoria Falls?
After spending a few hours sipping on delicious drinks whilst on the Zambezi sunset cruise, the night was far from over. Together with our "new" friends from Korea and England, we took up an offer by a Zimbabwean gentleman whom we had met on the cruise. He offered to take us to a few local taverns and shebeens which we eagerly accepted. This man, like most Zimbabweans, was proud of his town and the people who live there. He wanted to show off what Africa had to offer.
As a true South African, I've never shied away from any local experiences, so I've been to many taverns and Chisinyamas. For me, this was nothing new, just a fun night out. However, David (The Korean working in Zimbabwe) was more reluctant. He had to first consult his local tour guide (who I thought was more like a personal bodyguard!) as to whether he could join and more importantly if it would be safe.
Given the fact that he was not a backpacker and didn't seem to be a "free-spirited" traveler, I knew that what he would see tonight would open his eyes up to the real Zimbabwe he was living in. His personal tour guide gave him the nod for the township tour. However, he first had to go back to his hotel, have dinner and change out of his suit into something a bit more casual. We had also recruited another South African couple who were staying at our backpackers. They were from Soweto and had chosen to visit Zimbabwe on their honeymoon.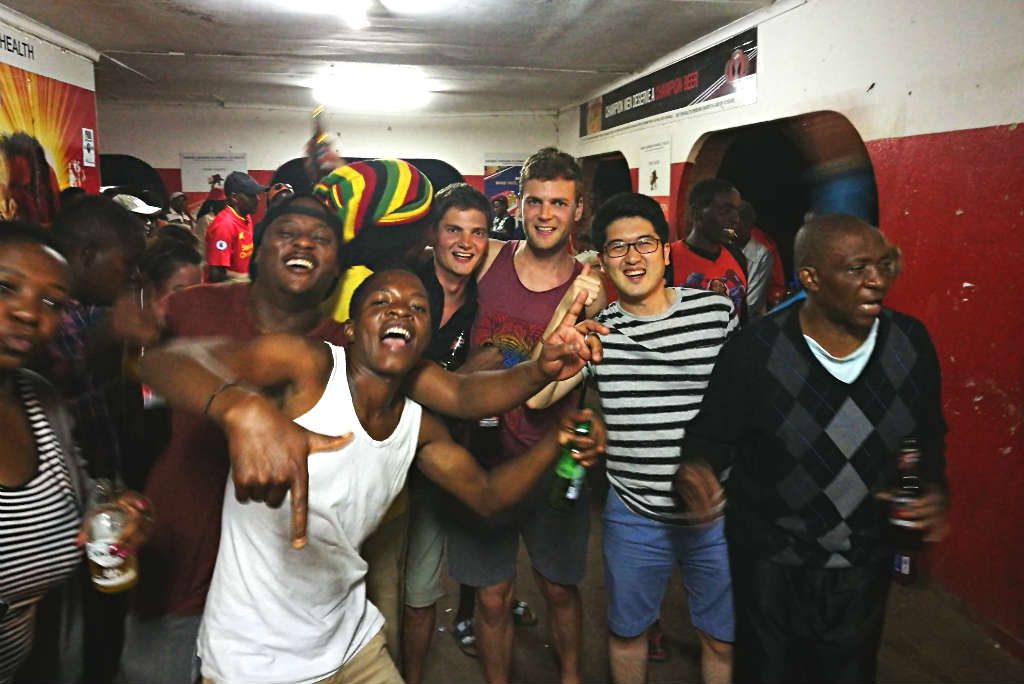 Local experience in Victoria Falls
At 8 pm we arrived at Chilombo Tavern. As we entered, we were met with a few stares, but as soon as the locals saw that we had just come for a good time, they were eager to get us involved and teach us some dance moves!
The drinks here were half the price than anywhere else in Victoria Falls. Their selection ranged from the local Zambezi beer, Black Label to Chibuku, which is yeast based beer and is extremely cheap. It is most definitely an acquired taste but very popular among the locals.
The first thing that caught my eye was a man dancing in the middle of the tavern. He was surrounded by people throwing beer on him. Turns out it was his birthday and this is a common tradition when one is celebrating their special day. We added to the celebrations by emptying a Black Label over him. The man was smiling from ear to ear and I could see he was having a great time, despite being drenched in beer!
Next, we went to Mukali Sports Bar & Night Club. This was different to the first tavern as the locals here weren't dancing and singing. They all had their eyes glued to the screens as there was a soccer game on TV. All of them were passionate fans and I'm sure they spend many hours at this bar watching their teams face off against each other.
We watched the game, played some pool and then headed home at around 12 pm after a fun and exciting night out.
But is it safe?
As with most places in Africa, crime does exist. You need to be street smart and have your wits about you. However, don't let this deter you from visiting the locals areas. The Zimbabwean people are very friendly and appreciate the business that tourism brings in. It's the norm to keep your handbags close and not leave your phone or camera lying around. Transport was prearranged and we were advised to leave the tavern before 12 pm. We were in a larger group and no one strayed away from the crowd so I never felt uneasy.
Africa – I love you!
The British couple absolutely loved the experience but David was nervous and anxious as to what he was seeing. He was a trooper and tried very hard to hide his uneasiness. The local ladies were loving him and he smiled and danced with them in his own Korean way!
Having now lived in Korea for over 4 months, I can understand David's uneasiness. This stems from the Korean culture and what their "normal" is. The local Zimbabweans we met, like most people from Africa, were happy, friendly, welcoming and just wanted to show us a good time. This is very, very different to the Korean people and their culture. Many Koreans I've met keep to themselves, they don't engage in conversation if they are not familiar with the person and they most certainly wouldn't grab you to dance with them!
I'm so happy that David got to experience a proper African night out. It's truly a unique experience and still one of the highlights of my trip thus far. If anything, I miss the energy and friendliness of the people back home. You don't find that type of community everywhere.
---
Looking for more Vic Falls travel information? Check out my other posts!