When spring hits Korea, all the talk is about cherry blossoms. Where to see them, when to see them and for those Instagram lovers, where can you get the best photos with the beloved cherry blossom trees – especially in a busy city like Seoul.
Here's a guide on where to see cherry blossoms in Seoul and my experience at Seoul Children's Grand Park.
Cherry Blossoms in South Korea
The seasons in Korea are quite dramatic! Having experienced the freezing cold winter months, and the unbearably hot summer days, spring is arguably the best time to explore South Korea.
As the warmer weather approaches, there's a sense of excitement in the air, with everyone planning weekend getaways to make the most of the spring season.
Cherry Blossoms in Korea: 2022 Forecast
Here are the dates that the cherry blossoms are expected to bloom in Korea in 2022.
Jeju Island: 24 March 2022
Busan: 26 March 2022
Seoul: 4 April 2022
When to see cherry blossoms in Seoul
Korea's capital city, Seoul, is busy enough as it is but come springtime, you have even more people venturing outdoors.
If you're planning your South Korea itinerary to coordinate with the blooming of the cherry blossoms, you'll need to get your timing just right. There's only a small window of opportunity to see cherry blossoms in Seoul so you need to be prepared for when they do start to bloom.
You'll wake up one morning to gorgeous pink and white buds blossoming outside your window, and before you know it, the cherry blossom trees are bare.
The time of blooming varies every year but the best time to see cherry blossoms is towards the end of March, the beginning of April.
The cherry blossoms appear as the weather heats up, and so you're likely to see them first in Jeju Island, followed by Busan and lastly Seoul.
Where to see cherry blossoms in Seoul
During the blooming time, you'll find cherry blossoms everywhere – but only for a week or so.
You don't need to search far and wide for the best places to see cherry blossoms in Seoul. Just take a walk outside and you may come across a hidden gem, away from the tourists' path.
With the cherry blossoms coming to life, it's a good excuse to explore a bit more of Seoul and visit parks that you may not have been to otherwise. If you've got the time (and energy) to hike Bukhansan Mountain, the cherry blossoms at this national park are exquisite!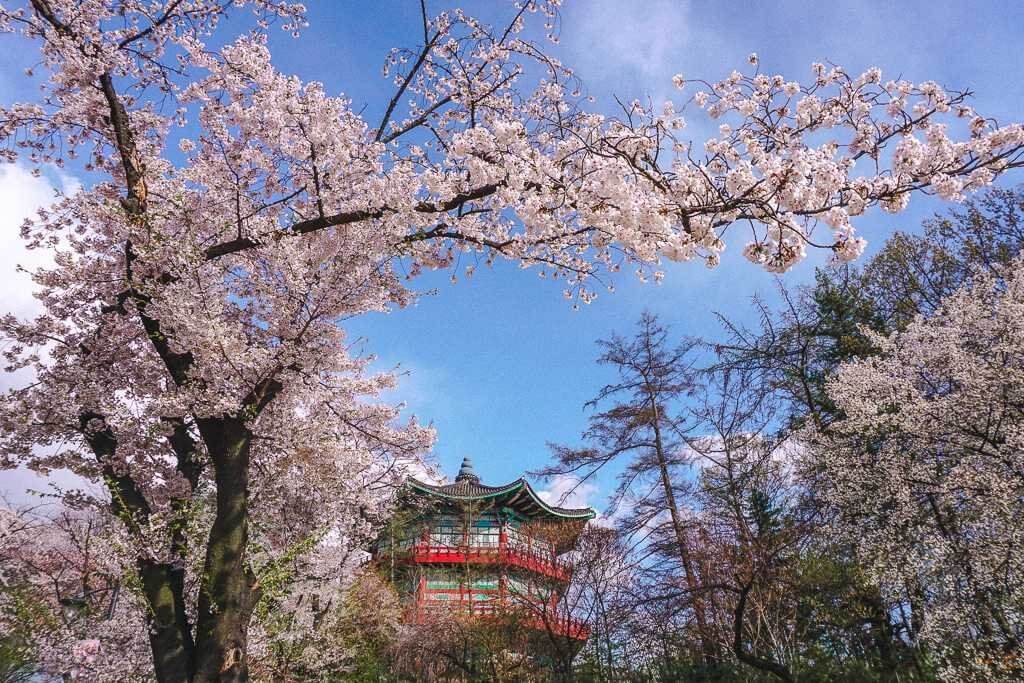 Cherry blossoms at Seoul Children's Grand Park
I spent hours researching where to see cherry blossoms in Seoul. The same few locations appeared in every search I did – and those were the ones I wanted to avoid as I knew they would be incredibly crowded.
And then I discovered Seoul Grand Park!
Why you should see cherry blossoms here
Seoul Children's Grand Park is more than just a park in the center of Seoul.
It has so much to offer, including an amusement park, children's museum, music fountain, and lots of space for a picnic or slow stroll. It's one of the best places to visit in Seoul, especially during spring.
Although the park was busy on the Saturday afternoon I visited, it's still big enough not to feel completely overcrowded. However, try to get here during the week as the weekends are busier.
Why you shouldn't see cherry blossoms here
Seoul Children's Grand Park has a mini zoo, which is a big attraction for many people.
If you read my article on things I don't like about Korea, you'll know that I don't approve of zoos and the abuse of animals subjected to these confined spaces.
Personally, I couldn't bear to see the tigers in cages and it's the only negative thing I would say about seeing cherry blossoms at Seoul Children's Grand Park.
How to get to Seoul Children's Grand Park
Seoul Childrens Grand Park is located at 216, Neungdong-ro, Gwangjin-gu, Seoul 서울특별시 광진구 능동로 216 (능동)
To get to Seoul Children's Park, you can take one of the below subway routes:
Children's Grand Park Station (Seoul Subway Line 7), Exit 1
Achasan Station (Seoul Subway Line 5), Exit 3, 4, or 5
Seoul Children's Grand Park operating hours and entrance fee
The park is open from 05:00-22:00 daily. There is no entrance fee to explore the park, but entering the amusement park does come at a small cost.
Read More: 9 Awesome Day Trips From Seoul
Other places to see cherry blossoms in Seoul
There are numerous spots to see Seoul cherry blossoms, some busier than others. Here are a few alternative places to visit.
Namsan Park and Seoul Tower: Namsan Park is one of my favorite place to visit in Seoul, not only during the cherry blossoms season.
Kyung-Hee University.
Seokchon Lake in Songpa District: This is one of the most popular place to see cherry blossoms in Seoul so expect large crowds.
Seoul Forest: I love Seoul Forest. It's less crowded and you can hire a bicycle to explore the forest.
Seoul Palaces: The 5 palaces also offer a spectacular setting to see cherry blossoms in Seoul. These include Changdeokgung Palace, Deoksugung Palace, Unhyeongung Palace, Changgyeonggung Palace, and Gyeongbokgung Palace.
Nami Island – Worth the trip here if you have time, but make sure you arrive when the cherry blossoms are blooming.
Cherry blossom festivals in Seoul
Seoul Yeouido Spring Flower Festival: This is one of the most famous places to see cherry blossoms in Seoul. Yeouido Spring Flower Festival attracts everyone and anyone in Seoul. Situated next to the Han River, you can expect this location to be super busy
Seokchon Lake Cherry Blossom Festival: Seokchon Lake is a beautiful lake surrounded by cherry blossoms and is conveniently located next to Lotte World
Where to stay in Seoul during cherry blossom season 2022
The transportation network in Seoul is efficient and reliable and so it's best to stay in a hotel or hostel near the subway. The tourist areas of Myeongdong or Itaewon are great for foreigners and are my favorite areas in Seoul!
Here are a few accommodation options to suit any budget.
Another reason why I love Korea
Living in Korea for 14 months gave me the chance to fully entrench myself in the culture, eat the delicious food, explore the country, ski in winter and finally, see cherry blossoms for the first time.
If you're on the fence about visiting Korea, do it!
---
Psst… Planning your trip to Korea? Check out my other posts of things to do!
---
Pin this!