Are you planning your South Korea travels and wondering where to stay in Busan? You've come to the right place!
After living in the country for over a year and visiting Busan on numerous occasions, I sussed out the best areas and have shared the inside scoop in this Busan accommodation guide which includes the best neighborhoods and top hotels in the city.
Busan is a holiday hotspot for families, couples, backpackers, and adventurers looking to catch a glimpse of Korean life. From culture to cuisine, beach hopping to coastal hiking, Busan has a bit of something for everyone.
But the city is big and before you figure out where to stay in Busan, you need to decide what you want to do.
In this guide, I've broken down the 4 main areas and highlighted the best places to stay as well as the top attractions in each of them.
Tips for planning where to stay in Busan
You'll often come across the word pension when researching where to stay in Busan. A pension is a typical Korean-style house, run by locals. It's similar to that of a guest house or bed & breakfast.
You should know what to expect when looking for accommodation, especially if you're on a tight budget. The rooms in Korea are generally very small, the beds are extremely hard, and the bathrooms are wet rooms. This is the norm, so unless you're spending big bucks on your Busan accommodation, be prepared for something you may not be used to.
You need at least 3 days to explore Busan. This is enough time to see the best beaches and coastline, visit the markets, and learn more about Busan's history.
There is no best time to visit Busan. Each season brings with it its own experience! But remember, the seasons in Korea are distinctively different. Summer (June-August) can be unbearably hot and humid, and this is also the busiest time in Busan as locals flock to the beaches.
Most accommodation in Busan features air conditioning and heating. This is standard in Korea due to the extreme weather. You'll also find free Wi-Fi almost everywhere.
Busan is an outdoor paradise and travel insurance is a must. I always use World Nomads when traveling as they cover everything from stolen luggage, missed flights, natural disasters as well as adrenaline activities such as surfing and scuba diving. For long-term travelers, I recommend Safety Wing, but their coverage focuses more on medical insurance as opposed to lost or stolen items.
Best areas to stay in Busan
Busan can be divided into 4 main districts. On the east, you have the beach destinations of Haeundae and Gwangalli Beach. And in the middle of the city, you have Seomyeon and Nampo.
All districts are connected via trains and public buses so getting between them won't be a problem, although the travel time can be quite lengthy.
Haeundae Beach: The seaside district of Haeundae is my favorite place to stay in Busan. Located in the far east of the city, it's one of the best beaches in South Korea. The area offers a range of accommodation, from backpacker hostels to lavish penthouse suits with sea views.
Seomyeon: Seomyeon is Busan's answer to Hongdae in Seoul. It's very much at the beating heart of Korea's second city with great transport connections making it easy to get around. If you like to be in the thick of things, then this is the best area to stay in Busan.
Nampo-dong: Nampo is home to the iconic Busan Tower, Jagalchi Fish Market, and BIFF Square. This historic part of downtown Busan is popular with students and has a welcoming and local feel. The shopping is also out of this world!
Gwangalli Beach: Gwangalli Beach lies to the west of Haeundae Beach and offers impressive views of Gwangan Bridge over the water. It's a popular place to stay in Busan for families and offers more affordable accommodation options when compared to Haeundae Beach.
Haeundae Beach: Where to stay in Busan for beach life
Haeundae Beach is my number one best area to stay in Busan. I spent 3 days here and absolutely loved the location.
Surrounded by glittering skyscrapers that give way to the tree-clad cliffs in the distance, Haeundae Beach is one of South Korea's best-loved beaches. It boasts a clean sweep of soft, golden sands lapped by calm waters that provide ideal conditions for swimmers.
You'll find some of the best accommodation options here and it's popular with all travelers, from backpackers to solo adventurers, couples, families, locals, and ex-pats.
The highlight of staying in Haeundae is the festive yet easy-going atmosphere. There's nothing better than coming home after a busy day of exploring and grabbing a beer at a local pub or watching the sunset from the beach.
But Haeundae is also a leading tourist destination so expect large crowds, especially during the summer holidays.
The highlights of staying in Haeundae Beach
Take a dip in the calm waters
Visit Haedong Yonggungsa Temple
Enjoy the fireworks and festivals that bring the beach to life
Go shopping, drinking, and dining
The biggest drawbacks
Haeundae can get crowded during the peak summer season
It's a bit further from the center of Busan
Luxury accommodation in Haeundae Beach: Park Hyatt Busan
What I love: Breathtaking views over the ocean and Gwangan Bridge
Best for: Couples and families looking for a luxe hotel in Busan
Park Hyatt Busan occupies a towering structure with 30 floors, offering unmatched views over the South Korean coastline from the Sky Lobby and guest suites. This five-star property has a wide range of room types for you to choose from, some with ocean or marina views.
Luxury touches make this a stylish place to stay – think solid French oak flooring, granite bathrooms with bathtubs and rainfall showers, full-length windows, a range of restaurants, a swimming pool, and a spa.
This gorgeous hotel is close to vibrant Haeundae Beach and offers luxury accommodation, superb service, and top-notch facilities.
See the latest prices and reviews.
Mid-range place to stay in Haeundae Beach: Shilla Stay Haeundae
What I love: Ideal location close to the beach
Best for: Solo travelers and couples seeking comfortable accommodation
Shilla Stay Haeundae's location is incredible: it's just a minute's walk from Haeundae Beach. This mid-range property has a four-star rating, and you'll love the soundproofed, comfortable rooms.
On-site amenities include private parking, a gym, an outdoor pool, a restaurant, and a bar. All rooms have flatscreen TVs and en-suite bathrooms equipped with robes, slippers, hairdryer, and deluxe toiletries.
The minimalistic rooms offer glorious city or ocean views and can accommodate up to three or four guests.
Read reviews and check prices.
What I love: Friendly staff
Best for: Solo travelers, couples, and families searching for great value accommodation
If you're looking for a sociable stay in the Haeundae Beach district, MAMA Guesthouse is perfect for you. Situated only a short walk from Haeundae Beach, with a bus stop on its doorstep, the location is hard to beat.
MAMA Guesthouse is ideal for you if you're seeking self-catering facilities and the chance to mingle with other travelers during your stay. The range of accommodation options includes family rooms, and the property boasts private bathrooms, a shared lounge, and a kitchen area.
It's great value for money and offers some impressive amenities to ensure a comfortable stay.
Read reviews and check prices here.
Seomyeon: The best place to stay in Busan for backpackers and nightlife
Seomyeon is the place to stay in Busan if you're backpacking Korea and like to immerse yourself in big-city life. There's no chance of getting bored here as there's always something going on.
As the commercial hub of the city, Seomyeon also boasts Busan's best transport links.
An abundance of entertainment options, eateries, and world-class shopping makes Seomyeon the go-to area for many people visiting Busan. The Seomyeon Underground Shopping Center is located beneath the Lotte Department Store, and those who love retail therapy can happily spend many hours here.
To witness a more authentic side of Korean life, head to the Bujeong Market, which sells the catches of the day from the ocean. Here you can barter with locals to secure the freshest of seafood feasts, or buy other items like homeware, clothing, fruit, and vegetables.
By night Seomyeon thrums with life, from the pojangmacha street food restaurants housed inside tiny tents to the bars and clubs of the neighborhood. Going out here can be a real eye-opener, where more is most definitely more: I'm talking about large stage sets and lively crowds dancing to the latest electro tracks.
What To Pack For Korea: The Ultimate Packing List For Every Season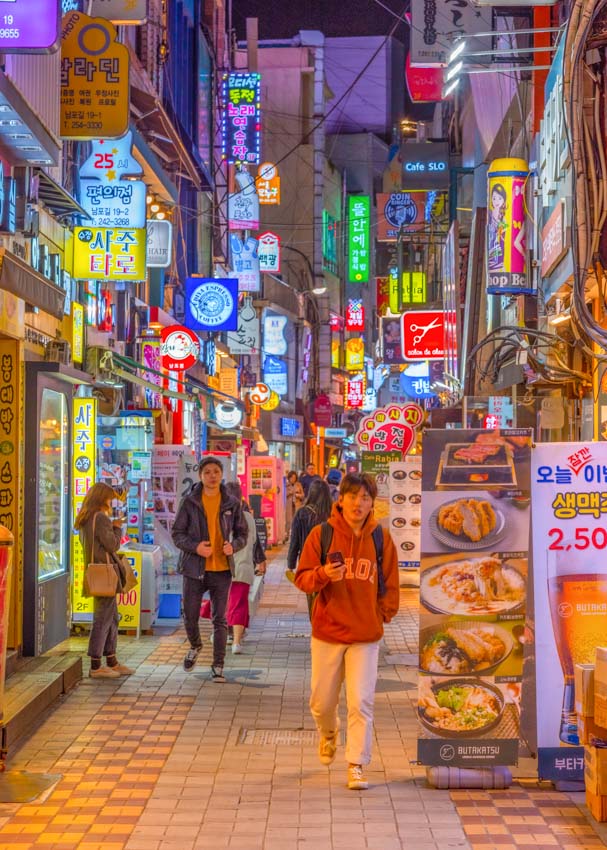 The highlights of staying in Seomyeon
You'll be in the center of all the action
The Seomyeon district is a shopper's paradise
A lively nightlife scene attracts a young, festive crowd
Great public transport network
The biggest drawbacks
It's not a place for those who prefer peace and quiet
Far from the beaches on the east of the city
What I love: Direct access to Seomyeon Subway Station
Best for: Couples or small families wanting generously sized accommodation
Lotte Hotel is the best place to stay in Busan if you want to explore this lively part of town from dawn till dusk.
But with all the incredible amenities on offer, you may not way to leave! I'm talking a movie theater, a fitness center, a sauna, and both indoor and outdoor pools. There is also an elegant lounge bar, plus restaurants specializing in Chinese, Japanese and Korean cuisine.
The grand rooms are generously sized and come equipped with luxury toiletries, and the softest, coziest blankets made from genuine goose down.
Read reviews and check prices here.
Mid-range place to stay in Seomyeon: Hotel Kyungsung
What I love: Sleek, spacious accommodation with a Korean feel
Best for: Couples and families who want to explore Seomyeon
From the smart frontage to the sleek, white-tiled bathrooms within, I adore the fact that Hotel Kyungsung has more of a local feel to it than other Seomyeon hotels.
And the location couldn't be better – it's just a short walk to the train station, shopping area, and street markets.
The accommodation at this three-star property is minimalist and chic with most guests commenting on how squeaky clean it is.
Some rooms have bathtubs, terraces, or balconies, and many have larger-than-average double beds (which is uncommon in Korea). All have a furnished seating area, giving guests a little more space in which to stretch out and unwind.
Hotel Kyungsung offers a 24-hour reception and a buffet breakfast that's available during weekends. For this price, it's great value for money for all travelers!
What I love: The prime location
Best for: Solo travelers, backpackers, and couples seeking affordable, convenient accommodation
Seri Inn Guesthouse is one of the best places to stay in Busan if you're traveling on a backpacker's budget. You can book a bed in a shared dorm or opt for a private en-suite room if you prefer your own space.
The location is superb: it's within striking distance of bustling Bujeon Market and well-connected Seomyeon Station, making it super simple to get around the city.
Amenities like air conditioning, heating, and soundproofing ensure a good night's sleep all year round, while the shared kitchen and lounge give you the chance to meet other travelers.
Your stay at Seri Inn guesthouse can be as sociable or private as you'd like it to be, and a complimentary breakfast is included to make life on the road easier.
Read reviews and check prices here.
Nampo-dong: Best area to stay in Busan for the fashion or food obsessed
Nampo-Dong is popular with students and young people, and this historic part of downtown Busan has a welcoming and local feel.
Ideally situated in southern Busan, Nampo-Dong is a must-visit destination thanks to all the attractions within the area. I chose to visit on a day trip rather than stay here but if you're a foodie, you may prefer this as your base.
Things to do in Nampo-Dong include sampling street food, shopping for fashion items or souvenirs, and snapping Insta-worthy selfies at BIFF Square. Various museums are also close at hand, including those showcasing movies and modern history.
Nampo Station gives anyone staying in Nampo-Dong easy access to other parts of Busan, while the multi-cultural vibe of this area sees students and locals contentedly rubbing shoulders with tourists.
Whether you want to shop till you drop for affordable fashion or savor a variety of local culinary delights, Nampo-Dong is one of the best places to stay in Busan.
Read more: 18 Things I Love About Korea
The highlights of staying in Nampo-dong
Visit BIFF's Square
Indulge in street food at Gukje Market or Jalalchi Fish Market
Take in the best views of Busan from Busan Tower or Lotte Department Store
Explore Gamcheon Culture Village which is nearby
The biggest drawbacks
Not as central as Seomyeon
The area doesn't offer beaches
What I love: Great outdoor spaces make this a lovely spot to stay in Busan
Best for: Solo travelers, couples, and families looking for clean, bright rooms
The three-star Nampo Hound Hotel Premier makes the perfect base for guests from all over the globe. Featuring a restaurant and bar with an outdoor terrace, it's an excellent place to end a busy day of exploring.
But what makes this place shine is the friendly staff who will go out of their way to ensure you have a comfortable stay. They'll arrange everything from car rental, local tours, and even onward travel.
Each air-conditioned room sleeps between two and four people and comes with a workspace and private bathroom. When booking your room, don't miss out on the double room with a balcony which offers unspoiled views of the city.
Read reviews and check prices here.
What I love: Location, location, location
Best for: Couples and families looking for larger rooms
Hotel Foret Premier Nampo is a conveniently located place to stay in Busan when you want to be based in Nampo-Dong. It's a three-star hotel that boasts a restaurant leading onto an outdoor terrace with views of the Busan skyline.
The rooms come with spacious en-suite shower rooms, coffee machines, and flatscreen TVs. Some even have a dedicated seating area with a cozy sofa, giving you more space to relax.
With the airport bus stop right on your doorstep and Jagalchi Fish Market just a short walk away, you can easily spend hours exploring the area. And if you're looking to pamper yourself, you can head to the in-house spa for a luxurious treatment.
Read reviews and check prices here.
Budget place to stay in Nampo-dong: K 79 Guesthouse
What I love: The quirky decor creates a playful, stylish feel
Best for: Backpackers and solo travelers looking for safe and central Busan accommodation
If you're searching for where to stay in Busan on a budget, K 79 Guesthouse is for you. And if you're a young solo traveler, even better as it offers beds in single-sex dorm rooms.
With plenty of light, airy spaces, and shared communal rooms including a kitchen, laundry, and lounge, it's the perfect accommodation for backpackers in Busan. Plus, the price also includes a simple yet delicious breakfast to get your day started the right way.
Guests will appreciate the Korean feel of the property, which has delightful, quirky touches like hanging egg chairs or seats shaped like dice, textured wood-effect flooring and faux foliage or flowers draped across the ceilings.
The local market is right beside the K 79 Hotel and the station is also nearby.
Read reviews and check prices here.
Gwangalli Beach: Where to stay in Busan for sunsets
If you want to stay close to the beaches in Busan, you'll most likely choose between Haeundae or Gwangalli Beach.
While Haeundae is more popular, Gwangalli Beach offers equally impressive views and an electric atmosphere.
It's over a kilometer long and like its neighbor, Gwangalli Beach boasts an attractive curve of fine golden sand. It's a great summer holiday destination and tourists from all over the city flock here to catch a glimpse of the spectacular sunset.
You'll also find live performances and movies screenings on the sandy shores. The unspoiled views of Gwangan Bridge, otherwise known as Diamond Bridge, which is completely lit up at night is yet another main attraction of Gwangalli Beach.
Read More: 11 Best Ski Resorts in Korea
The highlights of staying in Gwangalli Beach
Enjoy the festive atmosphere
Capture the best views of Gwangan Bridge
Treat yourself at Spa Land
Hike the Igadae Coastal Walk
The biggest drawbacks
Luxury travelers will prefer the accommodation options in Haeundae
What I love: Beachfront property with partial and full sea view rooms
Best for: Couples and young travelers in search of epic views
The views alone are the reason why H Avenue Gwangalli is one of the best places to stay in Busan. This affordable hotel is a stone's throw away from the fine, sandy Gwangalli beach, and if you can bag yourself one of the partial or full sea view rooms, so much the better.
Room types range from comfortable doubles to executive suites, and some even have private balconies for kicking back while soaking up those stunning ocean vistas. Vast floor-to-ceiling windows in selected rooms also ramp up the wow factor.
Hotel facilities include a 24-hour front desk and a restaurant with an outdoor terrace. Given its beachfront location and comfortable rooms, this property is a steal. And they even serve a delicious breakfast to set guests up for the day.
Read reviews and check prices here.
Budget place to stay in Gwangalli Beach: Wood House Hotel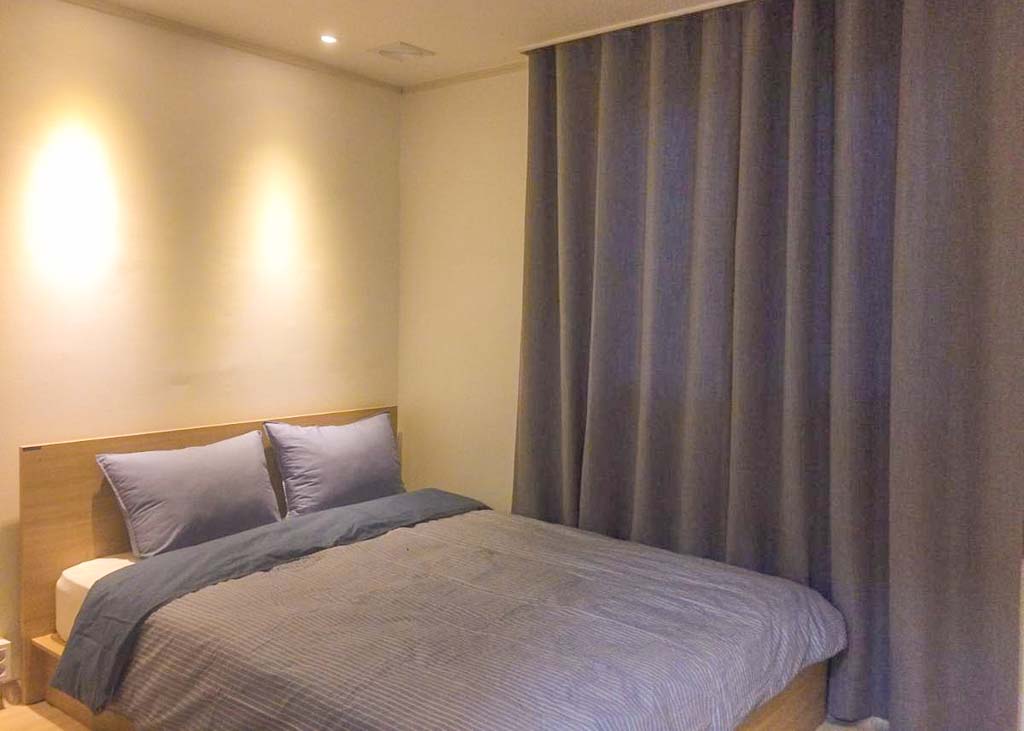 What I love: Kind, friendly owner (and the complimentary breakfast)
Best for: Solo travelers or couples seeking budget private accommodation
Wood House Hotel is located around 800m from Gwangalli Beach and within easy walking distance to restaurants, shops, and bars. The property is also convenient for exploring other Busan districts, galleries, and museums.
The service is outstanding and if you're looking for an authentic experience in Busan, you'll love it here! A sociable space is provided in the form of the Wood Lounge which is a light-filled space with sleek, contemporary furnishings and a welcoming vibe.
The rooms are equally as impressive and include double beds with private bathrooms. The Wood House Hotel is perfect for couples or solo travelers on a budget and includes a tasty American breakfast.
Read reviews and check prices here.
How long to stay in Busan?
Now that you know where to stay in Busan, you need to decide how long you want to visit.
The port city is the second-largest city in South Korea and doesn't shy away from those fun and quirky attractions that make the country so unique – from themed cafes to BBQ restaurants, karaoke rooms, and more, Busan has it all!
From my experience, 3 days is enough time to see all the top attractions, explore the beaches, and indulge in delicious street food. Korea is a fascinating place and there is so much to see in the country after 3 days in Busan, you'll be ready for your next adventure – be sure to visit my favorite city, Seoul!
Final thoughts on where to stay in Busan
There are so many awesome places to stay in Busan – from beachside getaways to sociable guest houses in the heart of the city.
Whether you plan to spend your time dancing the night away, bartering for must-have goods at the local markets, or soaking up the sun on one of the sandy beaches, where to stay in Busan is down to what you want to do and how much cash you'd like to splash.
If you're willing to splurge on luxe accommodation, the five-star Park Hyatt Busan at Haeundae Beach is one of the best! But if you're on a tighter budget and looking to meet backpackers in Busan, then Seri Inn Guesthouse in Seomyeon or MAMA's in Haeundae are better options.
Wherever you decide to stay, I'm certain you'll enjoy every moment of exploring this appealing seaside city as much as I always do.
---
Are you looking for accommodation in Busan? Drop me a message in the comments section below and I'll give you as much info as I have.
Looking for more Korea travel inspiration? Check out my other posts!
Did you find this post helpful? Save it for later on Pinterest!
There is a really good chance that this post contains affiliate links. If you click one of them, I may receive a small commission at no extra cost to you. As always, views are my own!