Last updated on January 5th, 2021
Wondering where to stay in Jeju? I spent a week exploring the island, visiting the north, south, and east coast of the so-called "Hawaii of Korea". I sussed out the best areas and have shared the inside scoop in this Jeju accommodation guide which includes the best neighborhoods and top hotels on the island.
If this is your first time in Korea, you're in for a treat! Jeju Island is a holiday hotspot for families, couples, backpackers, and adventurers looking to catch a glimpse of authentic Korean life. From beach hopping to volcano hiking, waterfall chasing to cave exploring, Jeju has a bit of something for everyone.
But the island is massive and before you figure out where to stay in Jeju, you need to decide what you want to do. In this guide, I've broken down the 5 main areas and highlighted all the top attractions in each of them. Let's jump right in!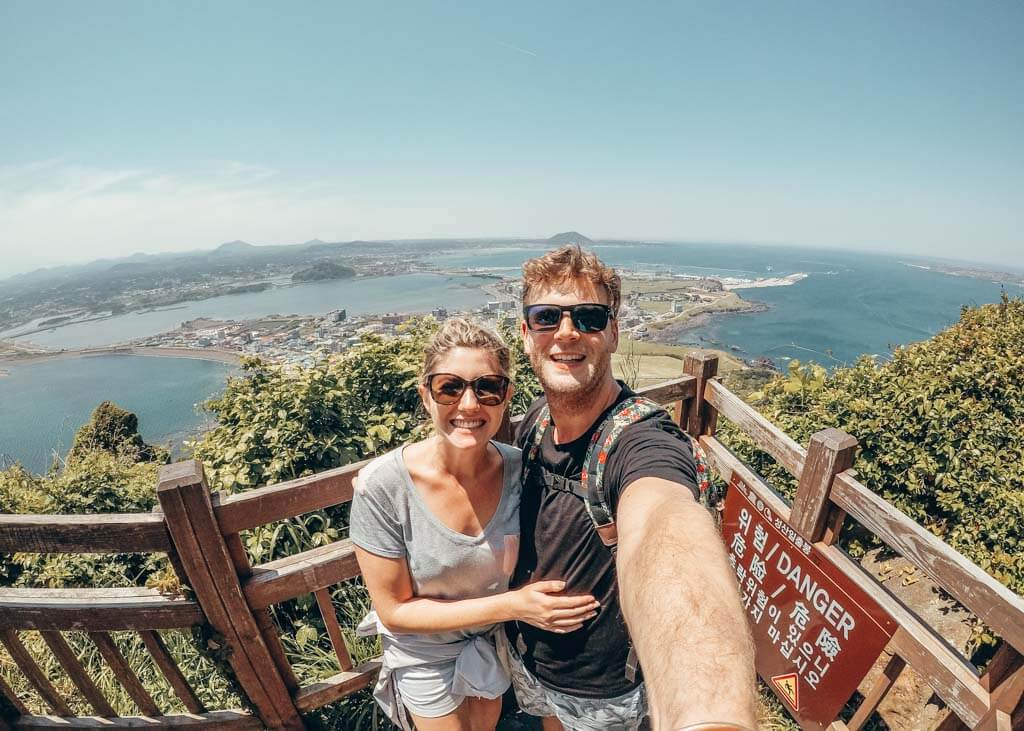 Tips for Planning Where to Stay in Jeju
You'll often come across the word pension when researching where to stay in Jeju Island. A pension is a typical Korean-style house, run by locals. It's similar to that of a guest house or bed & breakfast.
Know what to expect when looking for accommodation. The rooms in Korea are generally very small, the beds are extremely hard, and the bathrooms are wet rooms – check out my Korea apartment here. This is the norm, so unless you're spending big bucks on your Jeju accommodation, be prepared for something you may not be used to.
Jeju's top attractions lie in the island's natural beauty. After all, it was voted as one of the New 7 Wonders of Nature! No matter where you stay in Jeju, make sure you get out of the city to set your sights on these magnificent outdoor attractions.
There is no best time to visit Jeju. Each season brings with it its own experience! But remember, the seasons in Korea are distinctively different. Summer (June-August) can be unbearably hot and humid, while you can expect snow during Winter (December-February).
If you're spending more than 3 days in Jeju, it's best to stay in two different areas. Each city has its own unique vibe and it's worth visiting more than one if you have the time. Better yet, why not do a Jeju road trip and check out the entire island.
Jeju is an outdoor paradise and travel insurance is a must. I always use World Nomads when traveling as they cover everything from stolen luggage, missed flights, natural disasters as well as adrenaline activities such as snowboarding and scuba diving. For long term travelers, I recommend Safety Wing, but their coverage focuses more on medical insurance as opposed to lost or stolen items.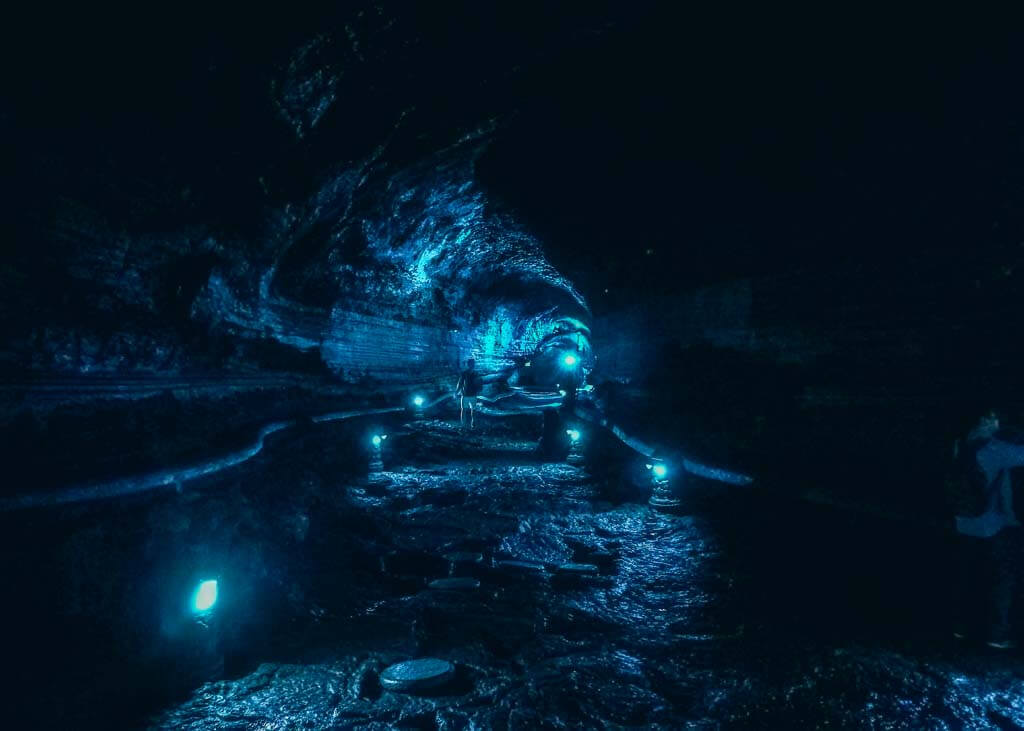 Getting Around Jeju Island
There's a reason why everyone recommends hiring a car for Jeju – because the island is huge and public transport is not nearly as efficient as that of the mainland.
Driving around the perimeter will take you over 5 hours (and even longer with public transport). Keep this in mind when deciding where to stay in Jeju Island as you don't want to spend your time in a stuffy car when you could be outside exploring.
But before you decide how to get around, you first need to choose what you want to see during your trip. You also need to take your time and budget into account.
Here are the pros and cons of the different transport options in Jeju.
Public Transport
I explored most of the island using public transport. This was my only option as I was on a tight backpacker's budget but I had more than 5 days in Jeju, which meant that time was on my side.
If you're in a similar boat as I was, you can still explore the entire island using only public transport. However, you need to choose your Jeju accommodation carefully to ensure you don't have to walk too far from the bus line.
Rent A Car
If you're traveling in a group or you only have a few days to explore, then you should consider renting a car in Jeju. The roads aren't overly buzy, and you'll save so much time if you have your own wheels to get around.
Renting a car also gives you more flexibility and freedom when planning your itinerary. Bear in mind that rental cars are in high demand and you need to book yours at least a week before arriving in Jeju.
Check out Klook as they offer great deals for foreigners and the collection/delivery process is super quick and easy. Find out more here.
Tours
If you don't want to rent a car but you also don't have the time (or patience) for public transport, joining a day tour will be your best option.
Whether you're looking for culture, nature, or a bit of both, there's a tour that fits your wishlist! Here are a few popular options that allow you to explore the caves and volcanoes on the eastern part of Jeju or the beaches and waterfalls on the southern side of the island.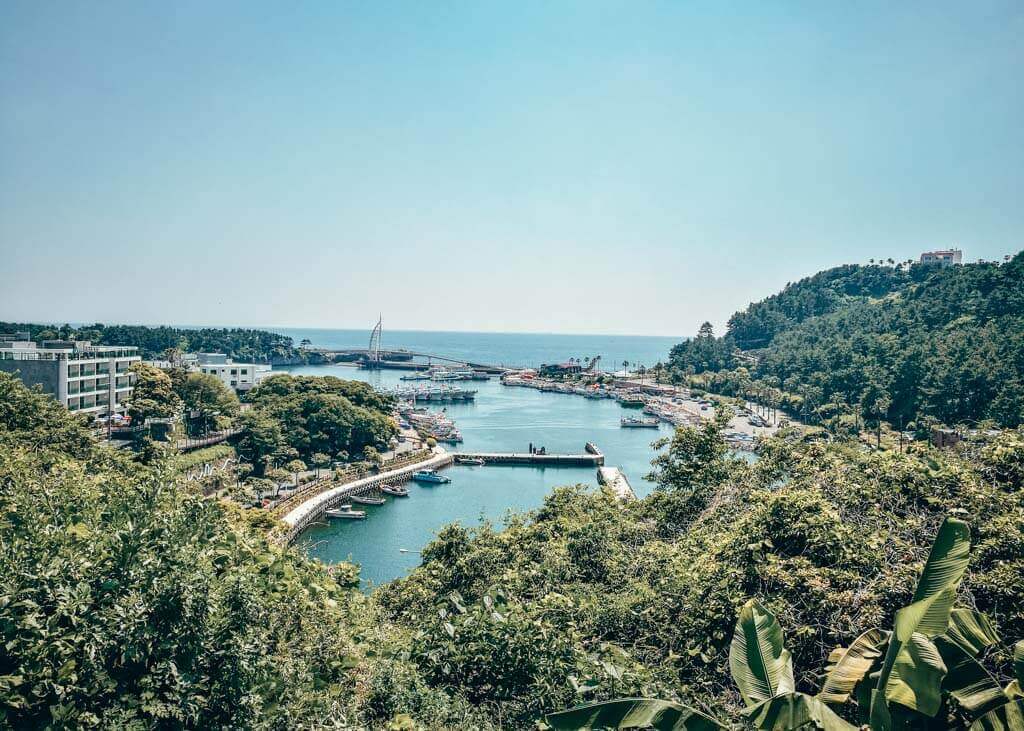 Where to Stay in Jeju
Jeju Island can be divided into 5 main districts: Jeju City (north), Seogwipo (south), Seongsan (east), Jungmun (southwest), and Aewol (northwest).
All districts are connected via public bus so getting between them won't be a problem, although the travel time can be quite lengthy.
Jeju City: North of Jeju Island lies Jeju City, one of the most popular places to stay in Jeju. It's just a stone's throw away from the Jeju International Airport and has a city feel with lots of buildings and shops.
Seogwipo: Situated on the southernmost tip of Jeju, you'll find the vibrant and friendly city of Seogwipo. This is the best place to stay in Jeju. It has a wide variety of shops and restaurants yet still maintains a small city vibe.
Seongsan: To the east of Jeju Island lies Seongsan. It's just a hop, skip and jump from several UNESCO World Heritage sites and attracts travelers looking to stay in the countryside.
Jungmun: The Jungmun Tourist District is in the southwest of the island and offers a relaxing vacation vibe for families and couples.
Aewol (Northwest Jeju): If you're looking for a quiet escape or a beach holiday, Northwest Jeju is for you. It's a bit further from the other areas, giving you more space away from the crowds.
Read More: The Ultimate 3 Week Korea Itinerary
Below, I've detailed the best places to stay in Jeju with accommodation options to fit any style and budget.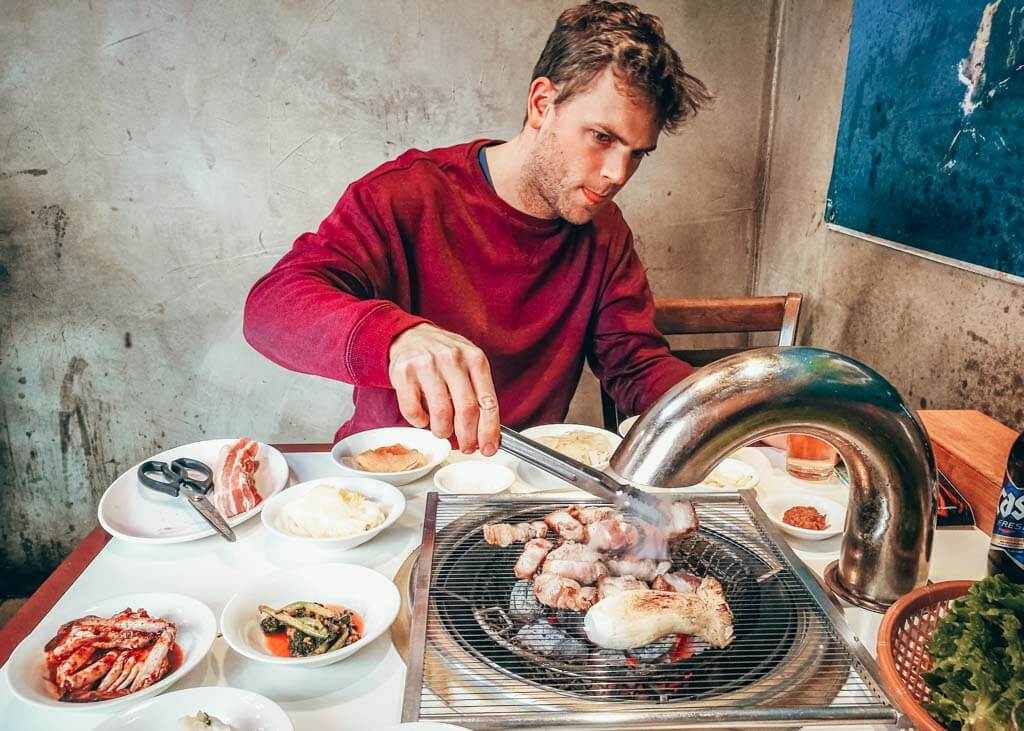 Jeju City: Where to Stay For A Quick Visit
Jeju City is the largest of all the places to stay in Jeju. This means you'll be spoiled for choice when it comes to accommodation and restaurant options, but it's also busier and more developed when compared to the south of the island.
If you're looking for an island escape, you won't find it here. The atmosphere is similar to that of mainland Korea and the city is known for its shopping and entertainment.
On the plus side, Jeju City is a transportation hub as it's home to the airport and harbor. All buses travel to and from here and it's the departure point for many day tours.
Recommended for: Travelers who only have 2 days on the island and those arriving late at night.
Things to do in Jeju City
Watch the Jeju Nanta show. A live cooking and musical production, suitable for the whole family.
Visit Jeju Loveland. A Instagrammable hotspot, otherwise known as the penis park!
Hike Mount Hallasan. The highest mountain in Korea, and a bucket list activity for many.
Explore Jeolmul Natural Recreation Forest. This stunning forest is perfect for an afternoon stroll or picnic lunch.
Luxury accommodation in Jeju City: Ramada Plaza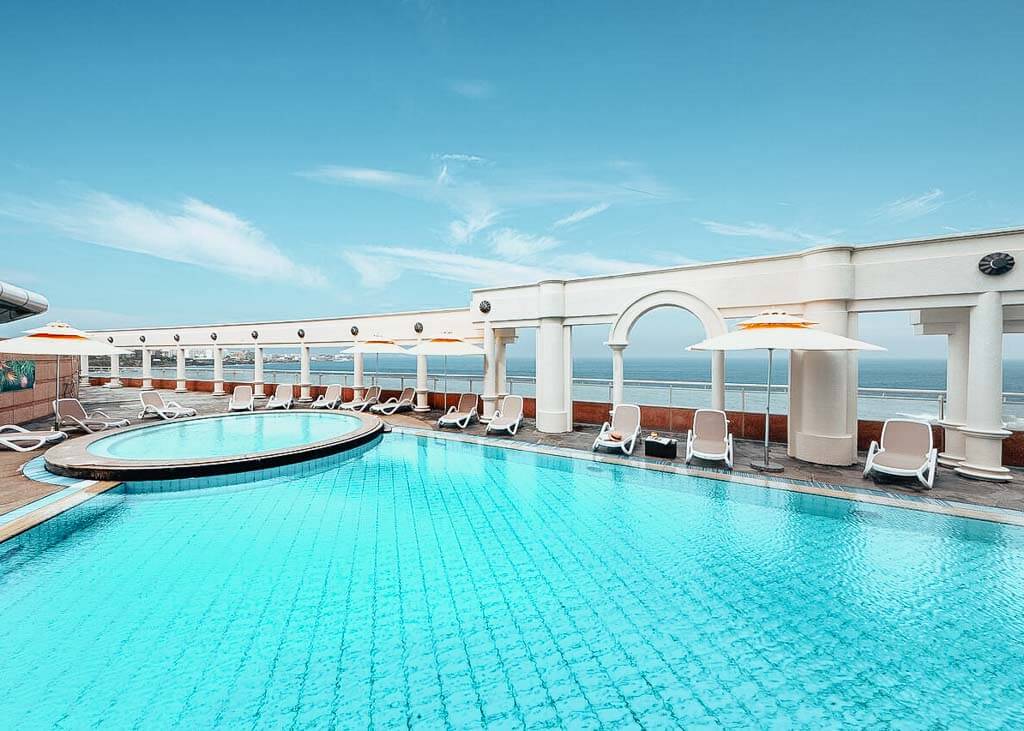 Oceanfront views – need more convincing as to why Ramada Plaza is the best place to stay in Jeju City? Well, to start with, you'll wake up to the sound of crashing waves every day!
This 5* hotel boasts a large rooftop terrace with a swimming pool, the perfect place to relax after a long day of exploring Jeju. The rooms are equally as impressive with floor to ceiling windows ensuring plenty of natural light.
Situated just 2.5km from the airport, Ramada Plaza is a great base for exploring Jeju City if you're looking for a luxurious stay near the ocean.
Mid-range place to stay in Jeju City: Lotte City Hotel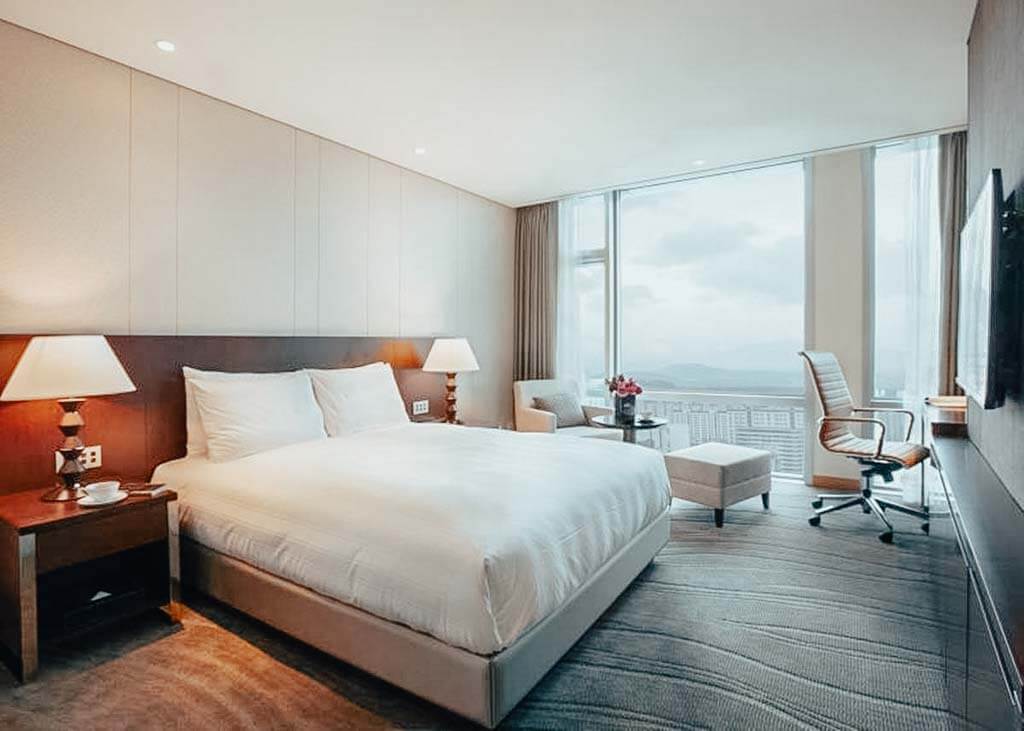 For a luxurious yet affordable stay in Jeju City, Lotte City Hotel is just what you're looking for! The large rooms paired with its modern style make Lotte City Hotel one of the best places to stay in Jeju City (well, that, and its perfect location).
This popular hotel is situated in the city center, so you'll be in the hustle and bustle, surrounded by restaurants, shops, and top attractions.
It's the ideal place to stay in Jeju City for families and couples thanks to its gorgeous rooftop pool, relaxing atmosphere, and sprawling city views.
You get a lot of bang for your buck when it comes to accommodation in Jeju and this budget hotel is a prime example of this!
Jeju December Hotel boasts spacious rooms that are decorated with simple, wooden furnishings and come with a private bathroom. The highlight is the friendly staff who will go out of their way to ensure you have a memorable time in Jeju.
Staying here means you'll be close to all the action as there are cafes and shops nearby and it's just a 2-minute walk to the bus stop. The airport is also just 15 minutes away.
---
Seogwipo: Where to Stay in Jeju On A Budget
South of Jeju Island and two hours' drive from Jeju City, lies the coastal village of Seogwipo. If you're struggling to decide where to stay in Jeju, look no further than this spot!
It's the second biggest city in Jeju and a tourist hub with lots to see and do in the area. Because of its central location, you can stay in Seogwipo and easily visit the east and west of Jeju Island as it's well-connected via public bus.
Seogwipo City is a favorite amongst backpackers thanks to the chilled vibe and welcoming atmosphere and the city offers plenty of budget accommodation options.
Stay in Seogwipo if… you're using public transport and you don't want to be too far from all the action.
Things to do in Seogwipo
Venture to Cheonjiyeong and Jeongbang Waterfall. These two magnificent waterfalls are a short walk from Seogwipo.
Visit the Seogwipo Olle Market. Even if you're not in a shopping mood, visiting this traditional market is quite the experience.
Indulge in a Jeju Black Pork BBQ at Tam Gung Restaurant. The Best Korean BBQ I've ever had, and it's only found on Jeju Island!
Take a day trip to the east of the island. And visit Seongsan Ilchulbong and Manjanggul Caves.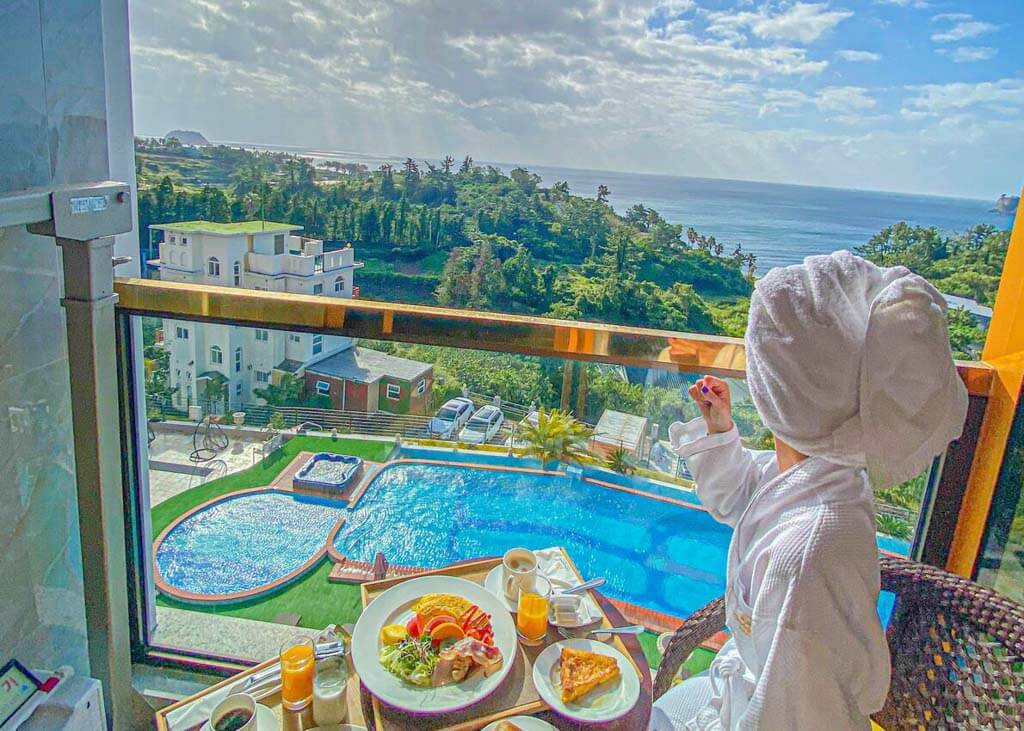 Enjoy magnificent, lush greenery and ocean views from the outdoor swimming pool at GoldOne Hotel in Seogwipo. It's perfect for travelers looking for a comfortable and relaxing stay in Jeju Island.
With a range of different room types, you can select yours based on your preferences – I'm talking spa baths, outdoor balconies, and sea views. All rooms come with air conditioning and you'll be spoilt with a buffet breakfast in the mornings.
This fabulous hotel is just a short walk from the Jeju World Cup stadium and features a fitness center and restaurant.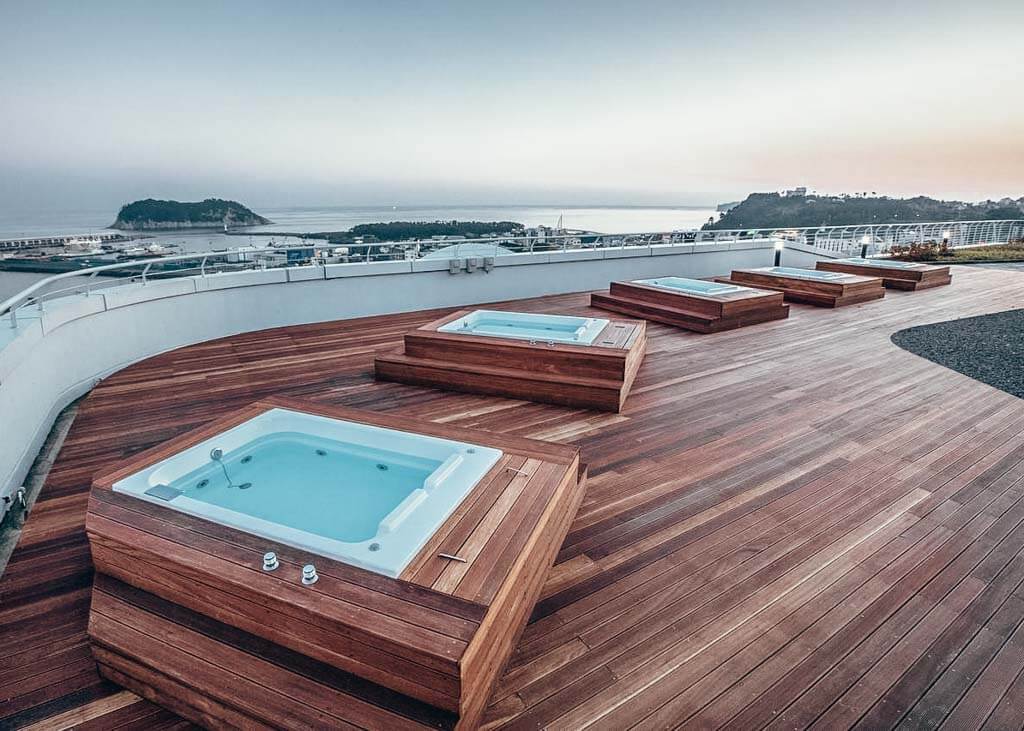 Artstay Seogwipo Harbor is one of the best places to stay in Seogwipo! The rooms are tastefully decorated with comfortable beds and are much bigger than most others in Korea.
There is also a rooftop terrace with spa baths that overlook the harbor. The location of this hotel is perfect for couples and travelers who want to stay within walking distance from the city of Seogwipo whilst having an oasis to escape to after a day out and about.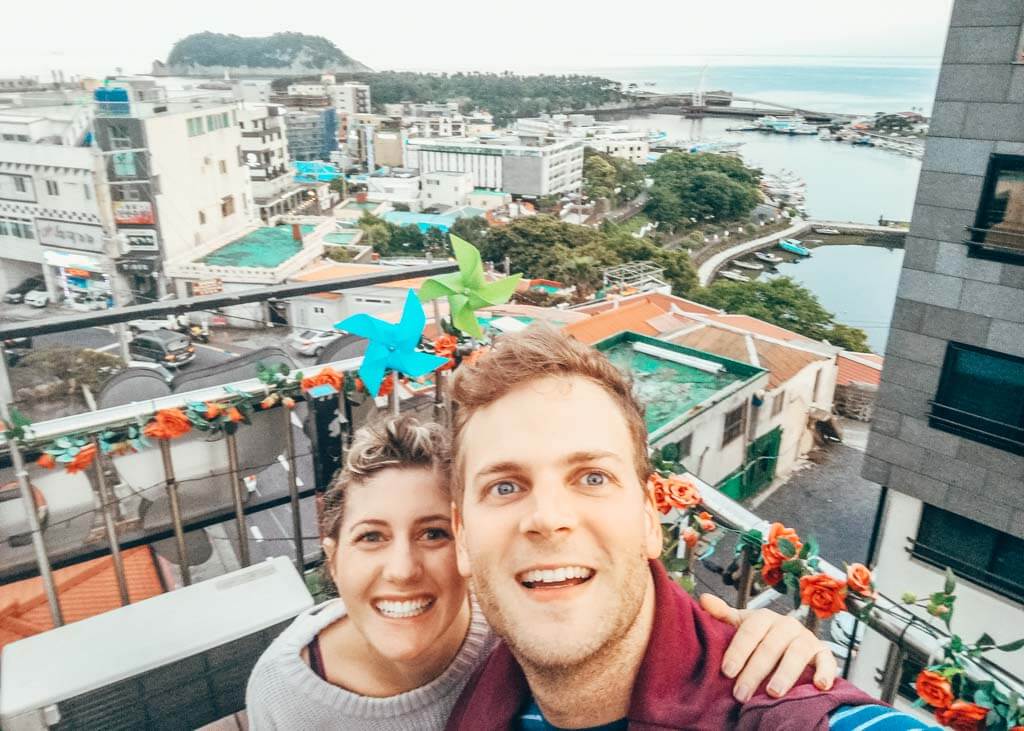 If you're traveling on a budget, the best place to stay in Seogwipo (and where I stayed) is Gudeok Guesthouse. It's slap bang in the center of Seogwipo and has a great communal rooftop area with views of the port.
The owners are also so lovely and they'll give you insider tips on the best restaurants and places to visit nearby. A small breakfast is also included in the price.
If you're traveling alone, this is the best place to stay as you're bound to meet other tourists.
---
Seongsan: The Best Place For A Local Experience
The east of Jeju Island is a striking contrast to the north. It's rustic and rural and off the beaten path. Considered to be the countryside, the east is made up of several areas including Pyoseon, and Seongsan.
Seongsan is home to two of the biggest attractions that should be on your Jeju bucket list including Seongsan Ilchulbong and Manjanggul Caves. It's also a great place to stay in Jeju if you're wanting to visit Udo Island.
The accommodation here is more spread out and includes local pensions. If you're in search of an authentic experience in the countryside, I recommend you spend a night or two here.
Stay in Seongsan if… you're taking a trip to Udo Island and want to be close to Seongsan Ilchulbong.
Top tip: When I was planning where to stay in Jeju, I decided to spend 2 nights in Seongsan. While I enjoyed it, I should have been more practical with my accommodation choice. A lot of places are off the beaten track so considering I was using public transport, I had a very far to walk!
Things to do in Seogwipo
Climb Seongsan Ilchulbong (Sunrise Peak). This extinct volcano is a UNESCO World Heritage Site.
Explore Manjanggul Cave. It's one of the longest cave tunnels in the world with magnificent natural formations.
Do a day trip to Udo Island. Just a short boat trip from Jeju, Udo Island is a tiny island best explored by bike.
Visit Jeju Folk Village. Take a step back in time and learn more about how locals once lived.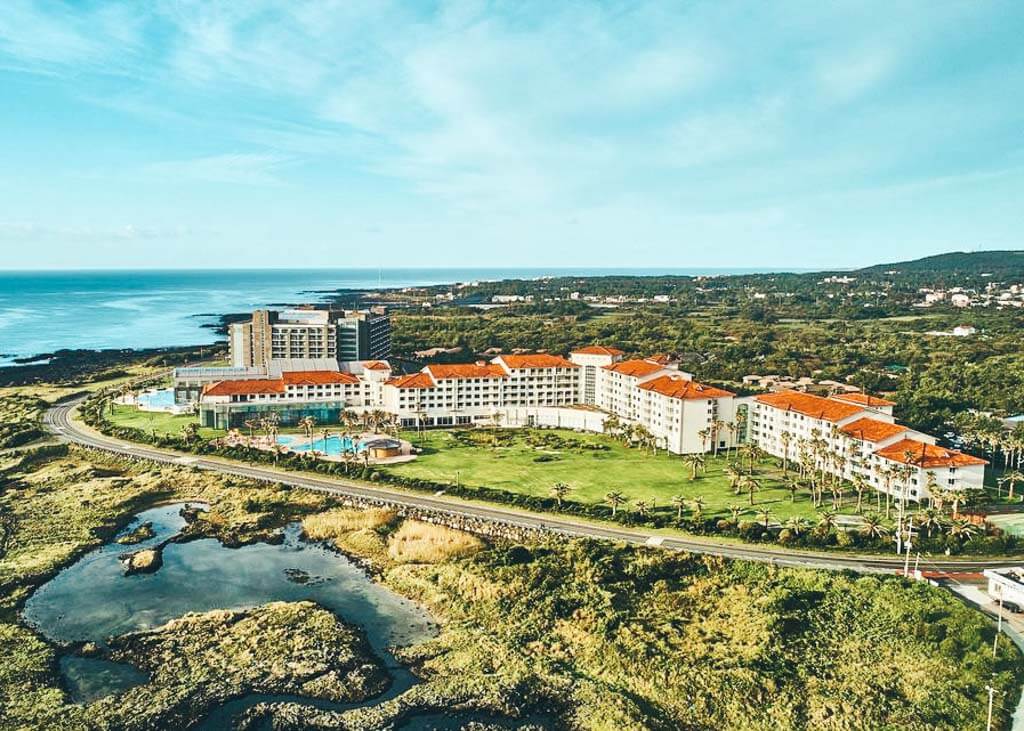 Did someone say retreat? Well, if you stay at Haevichi Hotel & Resort, you can treat yourself to relaxing saunas and spa baths or choose to spend your days lazing by the swimming pool, overlooking the ocean.
Located in Pyoseon, Haevichi Hotel is nestled next to the Jeju Folk Village and Pyoseon Beach. The beauty of staying here lies in the experience – you'll be far away from the crowds on the quieter southeast coast of Jeju Island.
If you're traveling with your partner, this is definitely the best place to stay in Jeju for a romantic getaway.
Read More: How to spend 7 days in Seoul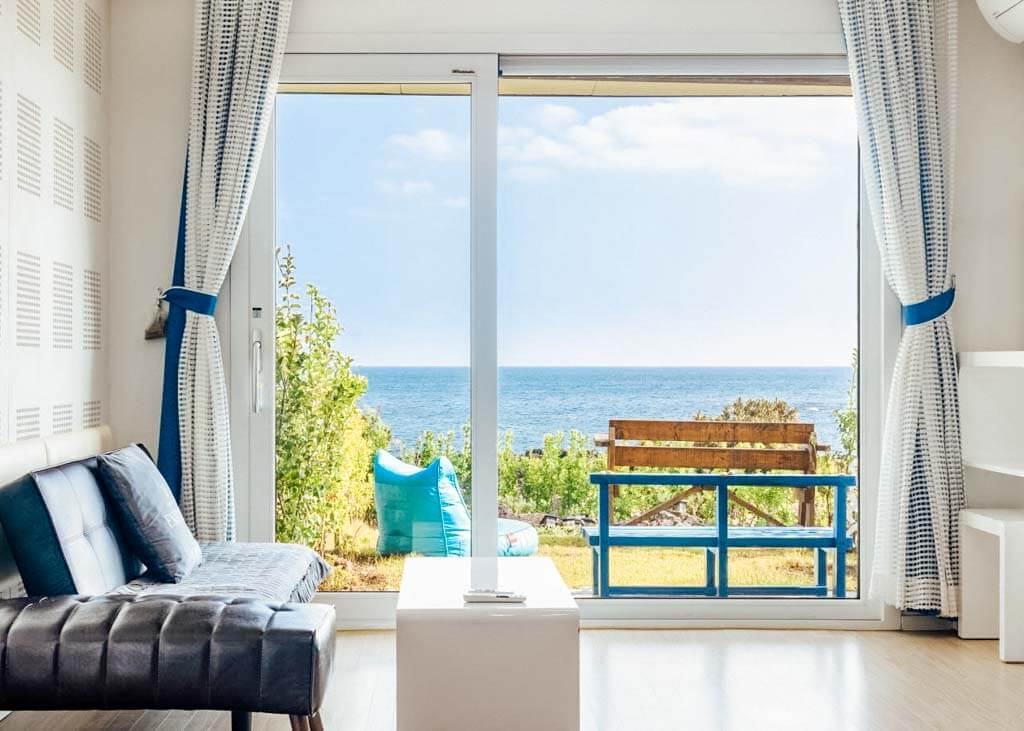 If you're looking for a quiet stay along the coast, look no further than Jeju Turning Point Pension. This quaint accommodation option, just 10km west of Seongsan Ilchulbong, features a spacious room with a kitchenette.
Wake up to a beautiful terrace and enjoy your breakfast in your own private garden overlooking the ocean. Location wise, it doesn't get much better than this! The hospitality of the owner is hard to beat and you'll be welcomed with open arms.
Those in search of a time-out away from tourists will love Turning Point Pension.
Budget Place to Stay in Seongsan: Preun Pension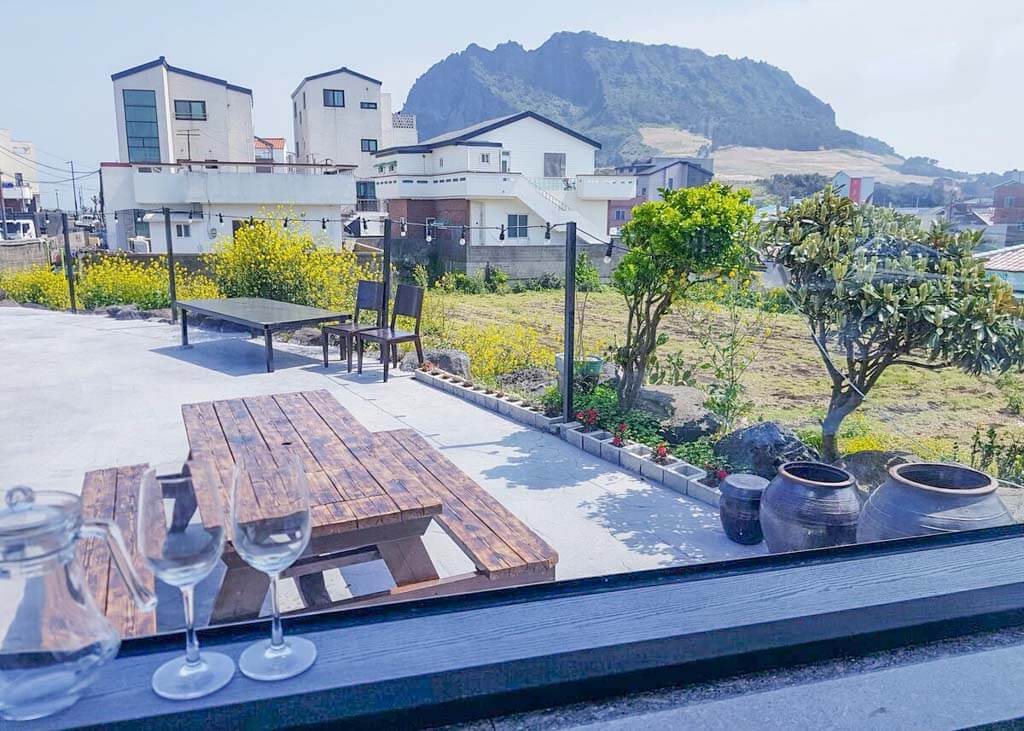 Seongsan Ilchulbong is an iconic landmark in Jeju and many people choose to stay on the east of the island just to be within walking distance to the magnificent natural formation.
If you stay at Preun Pension, you'll not only be a 5-minute walk to Seongsan Ilchulbong, but you'll also be able to see it from your bedroom window! This is the perfect place to stay in Jeju if you're traveling on a budget or using public transport as it's close to the bus line, shops, and restaurants.
And while this is one of the most affordable places to stay, you get a lot of value for your money as the large rooms are sparkling clean and come fitted with an air conditioner and a private bathroom.
---
Jungmun: The Best Place to Stay in Jeju For Families
Southwest of the island lies the Jungmun, otherwise known as the Jungmun Tourist Complex. It's yet another popular place to stay in Jeju and has been developed into a resort area.
Jungmun Tourist Area boasts a range of luxury hotels perfect for a relaxing and leisurely getaway along the south coast of Jeju Island.
Here, you'll find something for everyone, from botanical gardens to pristine beaches, natural formations to quirky museums. Whilst it's close enough to visit Jungmun on a day trip from Seogwipo, you may prefer the charming atmosphere that this area is known for.
Stay in Jungmun if… you want a relaxing resort-type vacation.
Read more: The Ultimate Guide to Teaching English in Korea
Things to do in Jungmun
Visit Daepo Jusangjeolli Cliff. A UNESCO site with incredible steep cliffs and stunning scenery.
Walk along the Yongmeori Coast. This rocky coastline, referred to as Dragons Head Cliff, offers unique rock formations and picturesque views.
Go back in time at Sanbang-gulsa Temple. This grotto houses a Buddhist statue at the end of a steep flight of stairs overlooking the ocean.
Hit the beach. Jungmun Saekdal Beach is one of the best beaches on the south coast of Jeju Island and the perfect place to spend a summer's day.
Luxury accommodation in Jungmun: The Shilla
Jungmun is fast becoming the resort destination on Jeju. With accommodation options like The Shilla, there's very little reason to go anywhere else if you're looking for a relaxing family vacation by the sea.
Everything about this place oozes luxury. From the elegant rooms, and comfortable beds, to the incredible pools and spa baths.
Jungmun Beach is just a short walk away, but we won't blame you for not wanting to leave the hotel as there are several pools and day beds onsite which make for the perfect place to rest and recuperate.
Mid-Range Accommodation in Jungmun: Minitel Soul
Couples will love Minitel Soul. Hidden in a hillside location with sea views, the rooms here feature a gorgeous terrace offering the perfect escape after a busy day.
The hospitality of the owners really makes this hidden gem shine! They'll provide you with a delicious breakfast every morning and will help assist with any trip planning you may need.
Minitel Soul is situated close to all the attractions in Southwest Jeju including Cheonjeyeon Waterfall and Jungmun Beach. Whilst the public bus is nearby, this place is recommended for those with their own form of transportation.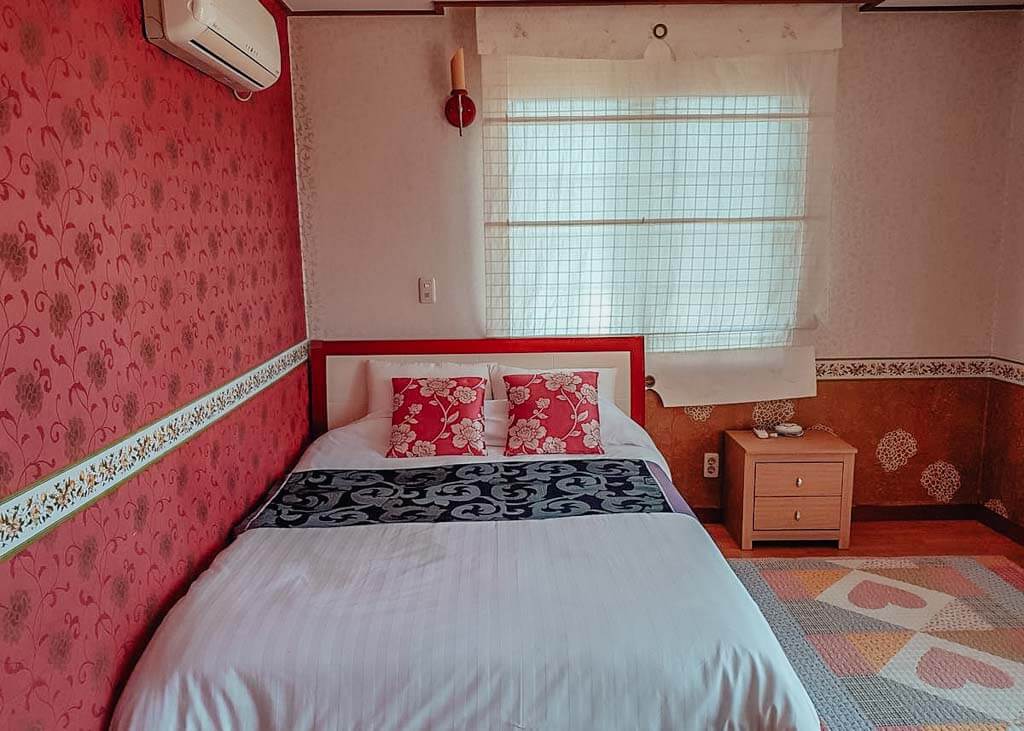 This is a great place to stay in Jeju if you're looking to stretch your money a bit further. With awesome views, friendly staff, a large room, and a private bathroom, Hera Castle Pension is arguably the best spot in Jungmun for budget travelers.
If you stay here, you'll also have access to free wifi and free parking (but this is generally found no matter where you stay in Jeju).
Hera Castle is cozy and quiet and the location is also prime as it's surrounded by fruit farms and is just a short walk to waterfalls, museums, and the Olle Trails.
---
Aewol (Northwest Jeju): Where to Stay For A Beach Holiday
Nestled on the Northwest of Jeju Island, you'll find the areas of Aewol, Hallim, Hangyeong, Chagwi-do, and Biyang-do. With scores of hidden gems and pristine beaches, this is a great place to stay in Jeju during the summer.
Aewol is just an hour's drive from Jeju City and has a small-town vibe with loads of accommodation options to suit couples, families, or friends traveling together.
Stay in Aewol if… you're planning a summer beach getaway.
Things to do in Aewol
Go beach hopping. Hyeopjae Beach, Gwakji Beach, Geumneung Beach are three of the best beaches in Jeju.
Visit Suwolbong Peak. One of the top attractions in western Jeju, this ocean-facing natural formation offers gorgeous views.
Explore Hallim Park. This beautiful park is home to a variety of trees, flowers, and botanical gardens and is the place to go to see cherry blossoms in Korea.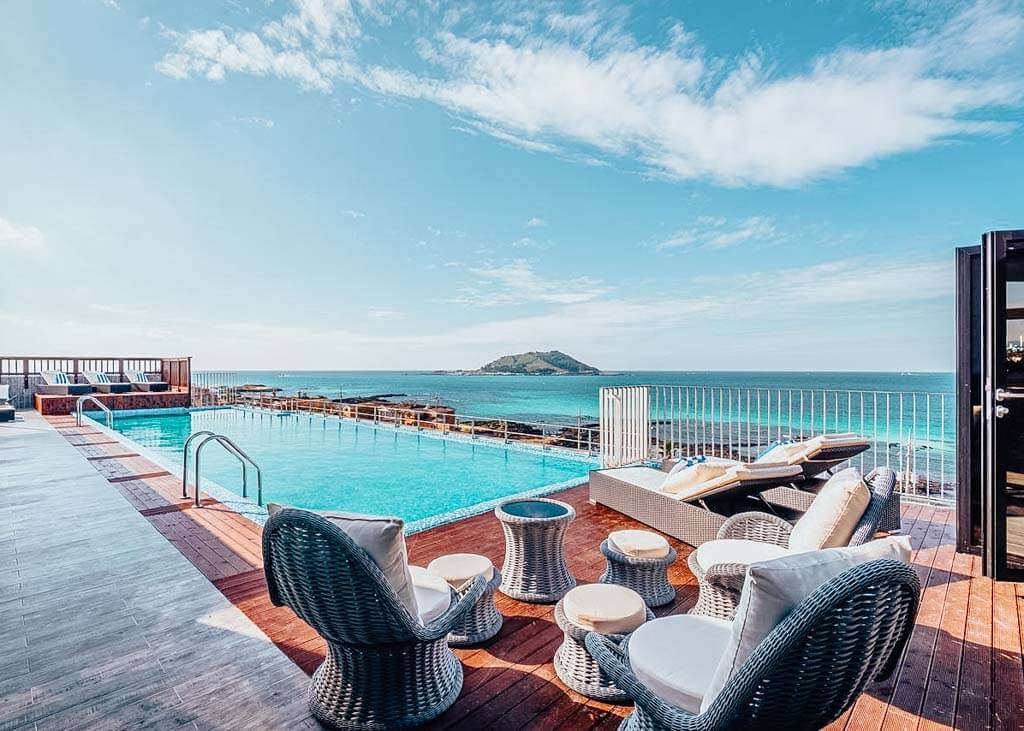 Situated close to Hyeopjae Beach on the northwest coast of Jeju Island, Aguila Hotel offers incredible views from its infinity pool that overlooks the ocean. Make sure you catch the sunset from the outdoor terrace!
The rooms are spacious and feature top-quality amenities as well as floor to ceiling windows. It's a favorite for couples looking for a hassle-free and comfortable getaway.
Mid-Range Accommodation in Aewol: Jeju Resort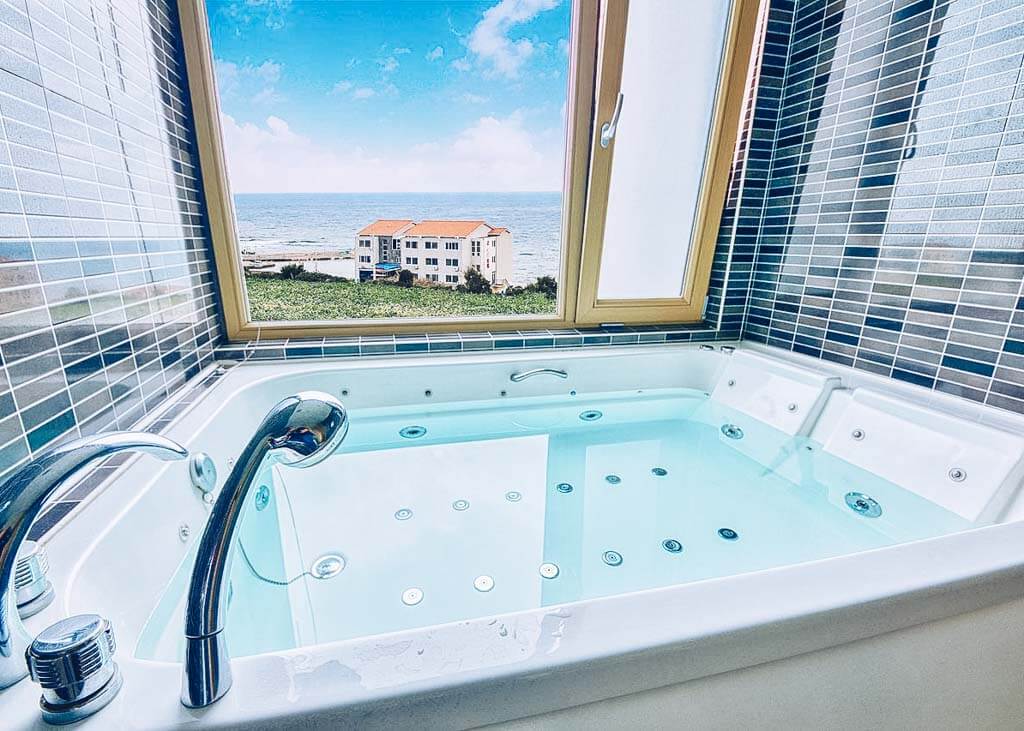 Just 40 minutes from Jeju City, with an incredible location and countryside views, Jeju Resort is a great place to stay if you're looking for a friendly, local experience and a relaxed atmosphere.
The large apartments boast a dining area as well as a living room. This is a great option if you're traveling in a group or with your family as there is ample space. Book the room with the hot tub, you won't regret it!
It's recommended that you rent a car if you're staying here but you'll be a short drive away from the beaches and nearby attractions.
Eutteum-won Pension boasts beautiful sea views and is such great value for money! You won't need to walk very far to reach BBQ restaurants, shops, and cafes and the beautiful Geumneung and Hyeopjae Beaches are just a short drive away.
Guests can enjoy a big room with a double bed and a balcony. Whilst the furnishings are basic, you'll have everything you need for a comfortable stay in Jeju.
Read More: 24 Strange Things About Life in Korea
---
Final Thoughts on Where to Stay in Jeju Island
If you're only visiting Jeju Island for 2 nights, stay at Lotte City Hotel in Jeju City and do day trips to the east and south of the island.
If you have 3 nights in Jeju and you're traveling on a budget, I recommend Gudeok Guesthouse in Seogwipo as it's close to the harbor and waterfalls.
If you have 4 to 5 nights in Jeju, spend your first 2 nights at Artstay Seogwipo Harbor in Seogwipo. From there, move to either Jeju Turning Point Pension on the east or Minitel Seoul in Jungmun on the west.
So there you have it, the best places to stay in Jeju! If you're planning your trip, be sure to read my 5 day Jeju itinerary for the best things to do and see on the island.
---
Are you looking for accommodation in Jeju? Drop me a message in the comments section below and I'll give you as much info as I have.
Looking for more Korea travel inspiration? Check out my other posts!
Pin This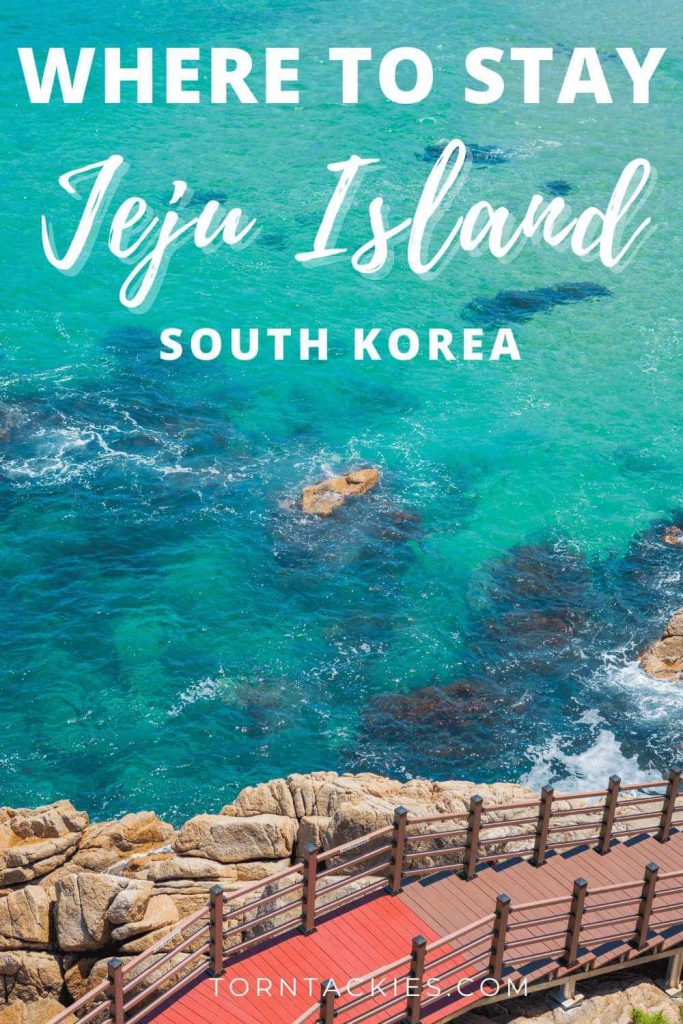 There is a really good chance that this post contains affiliate links. If you click one of them, I may receive a small commission at no extra cost to you. As always, views are my own!