I'm all for adventure – you know, those heart-racing, adrenaline-pumping kind of activities!
And while Bali has the tranquil yoga hub of Ubud, the trendy beach clubs of Seminyak, and the surfing hot spots of Uluwatu, it also has incredible rivers lined with lush green forests.
And these rivers make for the perfect adventure activity: White water rafting in Bali!
There's nothing better than escaping the crowds and spending a few hours in nature surrounded by cascading waterfalls, rice fields, and endless coconut trees.
If you feel the same way as I do, then head straight to the Telaga Waja River east of the island. I spent a few days exploring this region and river rafting was one of my highlights!
So, in an effort to answer all the questions I had, I compiled this guide to white water rafting in Bali including which river to choose (Telaga Waja or Ayung River), what to expect and other practical information for planning your Bali rafting adventure!
Where to go White Water rafting in Bali
There are three main rivers where you can go rafting in Bali.
The most popular are the Telaga Waja River (Close to Sidemen) and the Ayung River (Close to Ubud).
Both are easily accessible from Ubud and require a half-day tour to complete.
You can also go rafting along the Melangit River but this isn't as popular as the other two.
After hours of research, I decided to book my rafting tour to the Telaga Waja River and spent my weekend exploring the nearby village of Sidemen.
In all honesty, I didn't expect my Bali river rafting tour to be as epic as it was! Pictures speak a thousand words and I'm sure after reading this post, you'll be adding white water rafting in Bali to your bucket list as well!
Telaga Waja or Ayung River: Which is the Best Rafting in Bali
So, after hours of Googling, weighing up the pros and cons of each, I finally decided to go with the Telaga Waja River instead of Ayung rafting – here's why.
Telaga Waja River rafting in Bali
Telaga Waja River has the longest course for white water rafting in Bali allowing you to raft over 16km in 2.5 hours. It's located towards the east of Bali, close to the picturesque village of Sidemen.
Getting to the Telaga Waja River starting point is easy – it's about a 3-minute walk through gorgeous rice fields and the exit point is also a short distance from the river.
The rapids along the Telaga Waja River are a class II-IV. They aren't too hectic but there's a thrilling 4m drop near the end of the course.
Overall it's seen as the more "adventurous" of the two rivers to go rafting in Bali.
Ayung River Rafting, Bali
Ayung River is closer to Ubud, being just a short 20-minute drive away.
If you have limited time on your Bali itinerary and you're staying in Ubud, this may be the better option for you.
Whilst the Ayung River is the longest river in Bali, the rafting course is only 10km in length. Your time on the water is just over 1h30min and the rapids are also calmer than Telaga Waja, being an easy class II-III.
On the downside, to get to the Ayung River rafting starting point, you need to scale down 500 stairs.
Whilst I didn't complete the Ayung River rafting course myself, I did read that it is not as thrilling as Telaga Waja River and that's why I chose Telaga Waja over Ayung River in Bali.
Rafting in Bali: 7 Things You Need To Know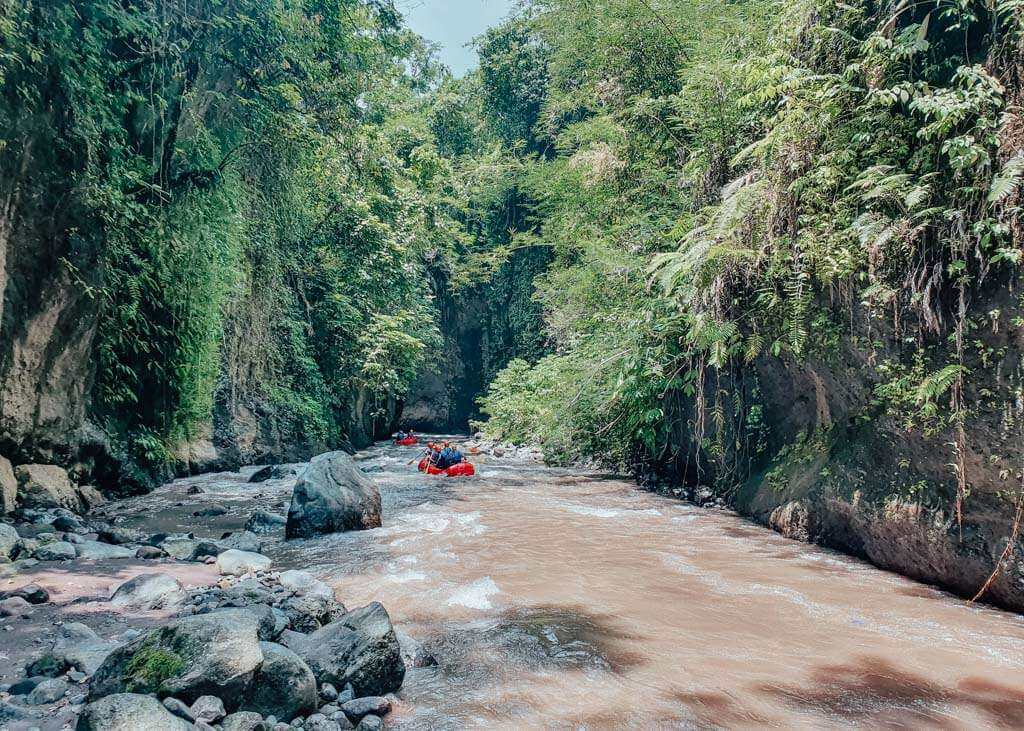 1. Where is the Telaga Waja River and how to get there
The Telaga Waja River is located east of Bali island. It's about 40km northeast of Ubud and 10km north of Sidemen.
The starting point of the Telaga Waja River is close to the incredibly scenic village of Sidemen. I spent two days here and it's one of the most beautiful places I've been to in Bali (probably on par with Munduk – which I loved – so that's saying a lot!)
You can either book a Bali rafting tour that includes transportation (as most tours do) or if you've rented a scooter in Bali, it's best to just book a standalone tour with no transportation, as I did.
This way, you can make your way to the starting point on your own which allows you to explore a bit more of the region before or after your rafting trip.
But what do you do with your scooter or car afterwards?
If you choose the latter and go to Telaga Waja independently, you'll need to get your car or scooter to the endpoint, which is 16km away.
Most rafting operators provide a drop-off service and will drive your scooter to the finish point for a small fee (25 000 IDR).
2. What to Expect from Rafting in Bali
The scenery
Breathtaking. This is one of the best things about rafting in Bali – not the rafting per se, but the natural beauty and scenery along the Telaga Waja River.
Starting from the short walk through the rice paddies, to the towering cliffs alongside the river. We passed countless waterfalls, palm trees, and lush green forests. So much greenery and endless beauty.
If you want to go off the beaten track in Bali, make sure you go white water rafting in Sidemen!
Throughout the course, you won't see one resort and no high-end restaurants. Just a few local huts and that's it.
About halfway there's a rest stop where you can purchase refreshments, coconuts or beers from a local vendor. This also gives you the chance to explore a bit or take some snaps at one of the many waterfalls.
The rapids
The rapids on the Telaga Waja River are a class II-IV but don't let that scare you. They are super chilled and mostly class II!
The first section is the perfect introduction for all rafting newbies as it's calm and relaxed but as you make your way further along the river, the water gets rougher and flows faster.
You'll smash into massive boulders and get sprayed by waterfalls all whilst dodging the low-hanging trees. There are a few parts where you'll need to hop off your raft as it's too shallow but you'll welcome this chance to stretch your legs for a bit.
As you near the end of your river rafting, there's a big 4m drop. It appears scary but it's not as hectic as it looks, and certainly not dangerous (if you're with an experienced guide).
Overall the rapids are calm and gentle, and nothing overly exciting. Also, we didn't do much paddling – just in case you're wondering how strenuous it is!
3. How dangerous is white water rafting in Bali
Don't worry – rafting in Bali is not dangerous at all.
Not once during my Telaga Waja rafting tour did I feel unsafe or that we were at risk of tipping out of the raft.
The rapids are not that bad and I was actually hoping for something a bit more challenging and thrilling!
But, my view could also be a result of having an incredible guide, Wayan, who was in total control the entire time. He led from the back, paddled, steered and warned us when to duck, hold on or lean to the side.
Perhaps if you go with an inexperienced guide or rafting company, your experience will be very different.
4. How much is it to go white water rafting in Bali and which company to use
I booked my Telaga Waja rafting tour with BTR – Bali Tubing & Rafting
.
For 600 000 IDR ($40), they provide you with return transportation, all your rafting equipment (life jacket, helmet, paddle) and a delicious Indonesian buffet lunch.
The same rafting tour in Bali without transport costs 400 000 IDR ($30).
I highly recommend BTR and chose them after reading so many positive reviews about the company, their guides, and their safety standards.
You can check out other Telaga Waja River rafting tours here
and Ayung rafting tours here
.
5. What to wear rafting in Bali
You will be getting soaked while white water rafting in Bali so come dressed in your bathing suit, a pair of shorts, and a shirt.
No need for shoes – I had a pair of flip flops which I wore when walking to the starting point but when I got into the raft, they immediately came off and I was barefoot the rest of the time.
Here are a few other things to pack for your Bali trip.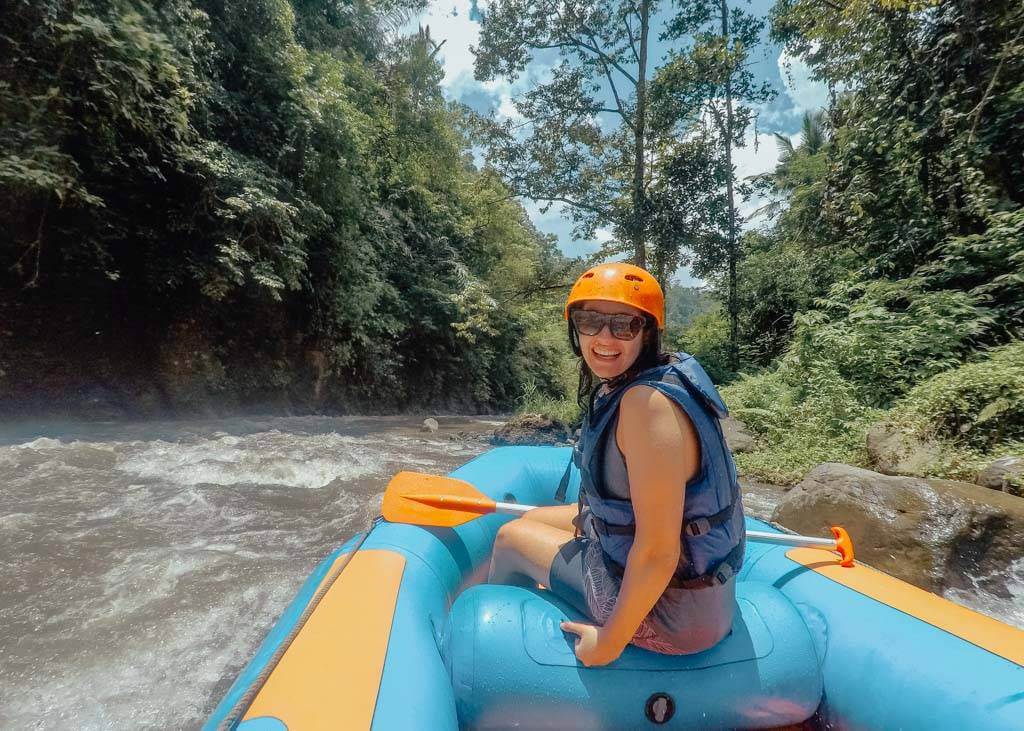 6. What to bring with on your Bali rafting tour
There are no lockers available so whatever you bring with you to the starting point, will either go into the raft with you or must be left in your taxi or scooter.
Most Bali rafting tours will provide you with a wet bag to keep your valuables inside. I suggest you pack a small bag with a change of clothes and some cash and put this inside the waterproof bag that you'll be given.
Don't forget these:
Waterproof camera
Wet bag (if you have)
Change of clothes (there are showers at the finish point)
Towel (BTR provide towels and body wash to shower after)
Sunscreen
Money for refreshments at the halfway stop
Bottle of water
Where to stay near the Telaga Waja River
Many travelers choose to base themselves in Ubud as it's close to many attractions. But the east of Bali is breathtakingly beautiful and I highly recommend that you spend a night or two in Sidemen, which is only a 15-minute drive from the Telaga Waya River.
Budget: If you're traveling on a tight budget, Kanda Homestay is the most affordable place to stay in Sidemen. It's centrally located in the heart of the village and includes a hearty breakfast.
Mid-range: Gladak di Ume is located just outside of Sidemen, and offers private cottages in the middle of the rice fields. If you're looking for peace and serenity, you'll find it here.
Luxury: It doesn't get better than Wapa di Ume Sidemen. Seriously though, everything about this resort is outstanding. From the breathtaking views, to the tastefully decorated rooms, and the sparkling infinity pools. If you're looking to for a luxurious escape in the mountains, this is the place for you!
READ MORE: WHERE TO STAY IN ULUWATU, BALI
Final thoughts on Bali River Rafting
The highlight of white river rafting in Bali was definitely the scenery! This is the best way to see the natural beauty of Bali, away from the tourists and crowds.
If you're looking for nail-biting kind of rafting, this isn't for you. But overall it's a great activity and one of the best things I've done since arriving in Bali.
---
Psst… Planning your trip to Indonesia? Check out my other posts!
Pin this!