Who wouldn't want to end their day in Victoria Falls with a Zambezi River sunset cruise – A stunning experience along the fourth-longest river in Africa.
Great company, an open bar, the most beautiful sights, and a breathtaking African sunset, now this is living!
After spending the afternoon getting drenched at Vic Falls, a sunset cruise on the Zambezi River was right up my alley: affordable and fun!
Below I've detailed everything you need to know when planning your cruise along the Zambezi River.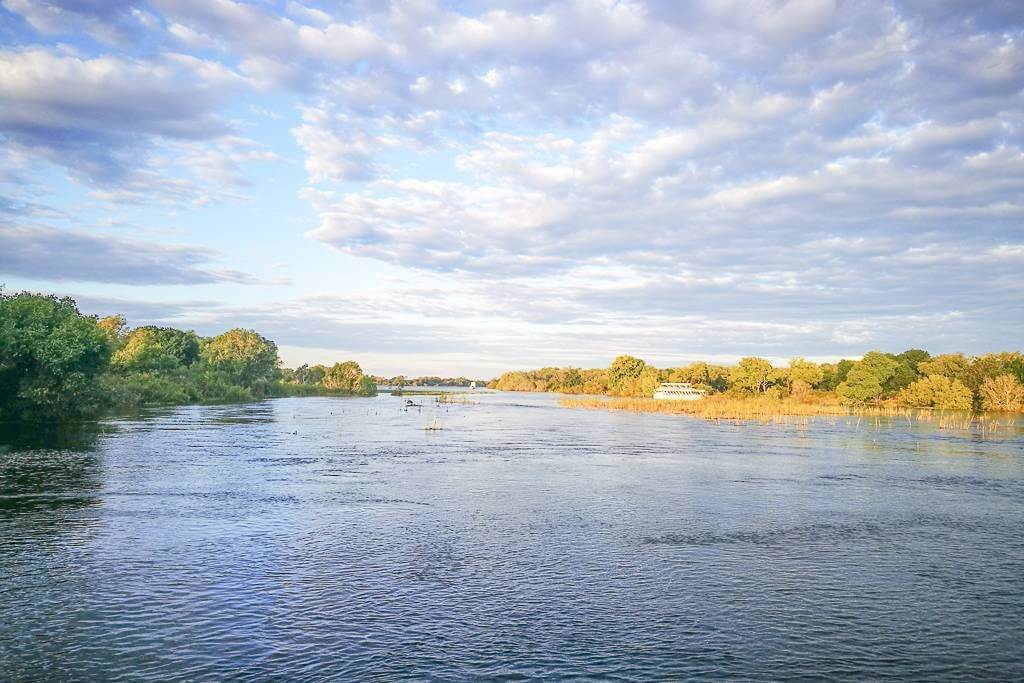 Victoria Falls Cruise
Of all the things to do in Vic Falls, this one should definitely be on your bucket list!
I booked my Zambezi River cruise through my accommodation and it included snacks as well as an open bar. So yes, it was more of a Zambezi booze cruise than anything else!
There are numerous tour operators who you can book your Zambezi boat cruise including Batoka Safaris, Wild Horizons, and Shearwater. These tour operators are dotted all over Vic Falls town (Zimbabwe) and Livingstone (Zambia), and you only need to book one day in advance.
Zambezi River Sunset Cruise: What to Expect
The sunset cruise takes place from 4 pm to 6 pm. There is also the option of a dinner cruise or more lavish boats, but I thoroughly enjoyed the relaxed vibes of Batoka Safari, which I highly recommend.
Their team fetched us from our backpackers in Victoria Falls at 15:30, along with the other guests who would be joining.
The drive to the dock on the Zambezi River was 20 minutes from the town. We were welcomed onto the boat with traditional dancing and drumming performance by the Batoka Safaris team.
The captain kicked off the sunset cruise with a quick introduction and safety information before introducing us to our soon-to-be best friend, Bob the barman!
Zambezi Cruise Safari: Something For Everyone
There were about 20 people on our boat cruise on the Zambezi River and their ages ranged from 5 to 65 years old.
We met a Korean man who was very much in awe of his surroundings, taking selfies whenever the opportunity arose. He introduced himself as David, but this was, of course, his English name. He was working in Zimbabwe and by his dress code, you could tell that he was not on the same backpacker itinerary as we were. Considering he was the first Korean I'd met, and I'd soon be living in their country, I was eager to chat with him.
We also met an English couple in their early 30's who'd been traveling for 8 months. Every 4 years or so they'd quit their jobs and take a year off to travel. Their lives sounded exciting and adventurous, which left me feeling slightly envious of their escapades. I quickly learned that their love for Gin and Tonics quite possibly matched mine.
Considering we had an open bar waiting for us, we tucked into the booze to ensure we got our money's worth, as it was a Zambezi sunset booze cruise after all! With a wide selection of beers, spirits, and soft drinks available, we didn't have the stress of running short of the good stuff.
Sunset and sightings on our Zambezi River safari
The calm, tranquil waters of the Zambezi River were a drastic contrast to the thunderous noise of Victoria Falls which was only a few miles away.
Throughout the 2.5-hour trip, we were treated to picturesque views of the wildlife and nature on our Zambezi River safari.
Crocodiles and hippos were out in full force and we were lucky enough to see many of these animals, as well as herons and other beautiful birds along the way. It was just like a wildlife safari but along the Zambezi River!
After witnessing the most beautiful sunset on our Vic Falls booze cruise, we headed back to the dock. Along with our new friends, we went out in search of a party in the townships…
Practical information for your Zambezi River cruise safari
Zambezi cruise costs: $40-$80 per person
Best time to go: Before sunset
What to expect: 2 hours cruising along the Zambezi River, with lots of hippo sightings
Bring: a warm top
---
Looking for more Victoria Falls travel information? Check out my other posts:
---
Pin this!