A sunset cruise in Victoria Falls is one of the best things to do after exploring the national park.
Not only will you enjoy a magical African sunset, but you'll set your sights on hippos and crocodiles who live in the waters of the Zambezi River.
I spent the afternoon exploring Victoria Falls National Park, and a sunset cruise was the perfect way to end my day!
Below I've detailed everything you need to know when planning your Victoria Falls sunset cruise, including costs and the best tour operators (that I actually booked with).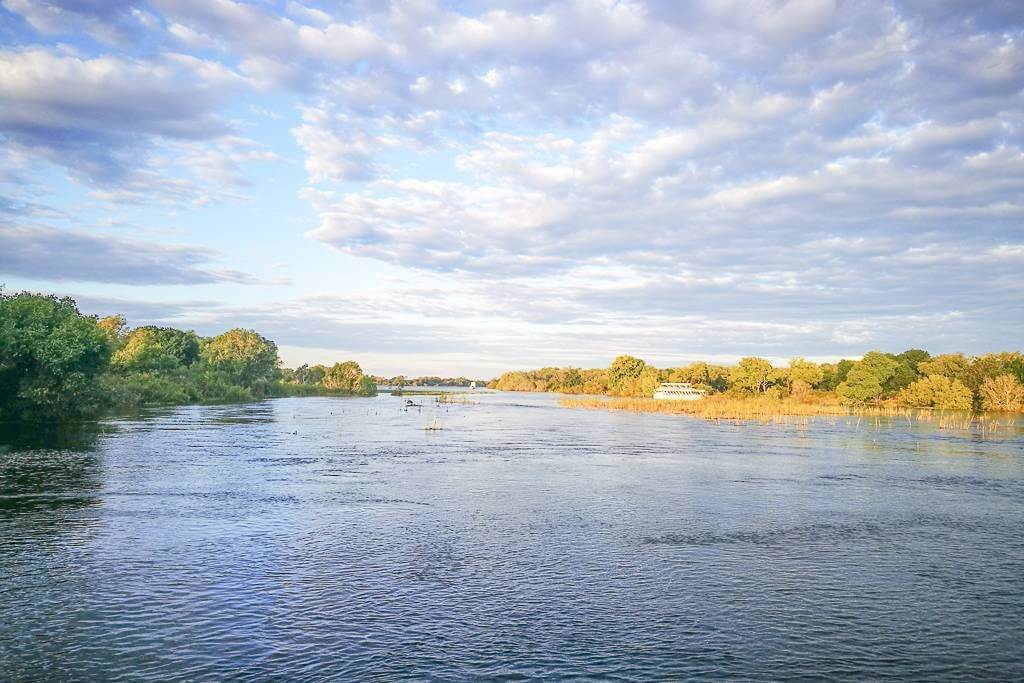 Torn Tackies contains affiliate links. If you make a purchase using one of these links, I may receive compensation at no extra cost to you. See my disclosure for more information.
Victoria Falls sunset cruise tours
Most sunset cruises depart from the Zimbabwe side of Victoria Falls.
There's free pick-up included from Victoria Falls town, as the cruise departure point is nearby. However, if you're staying in Livingstone, you may need to pay an additional fee for pick-up and drop-off.
I booked this Zambezi River cruise and absolutely loved it.
It's one of the most affordable cruises in Victoria Falls, and you get a lot of bank for your buck.
Snacks are included in the price, and there's even an open bar. Yes, you read that correctly!
You can check the latest prices and availability here.
This Victoria Falls cruise includes a four-course dining experience on the Zambezi River.
A sunset cruise with dinner is the more expensive option, but it's totally worth it if you're looking for a meal with a spectacular setting.
It starts at 5 pm so you'll get to enjoy the sunset as well as a delicious meal. All beverages, including alcoholic drinks, are included.
What to expect on a Zambezi River sunset cruise
Most Vic Falls sunset cruises take place from 4 pm to 6 pm.
I was fetched from my hostel in Victoria Falls at 15:30, along with the other guests who would be joining.
The drive to the dock on the Zambezi River was 20 minutes from the town. We were welcomed onto the boat with traditional dancing and drumming performance by the Batoka Safaris team.
The captain kicked off the Vic Falls sunset cruise with a quick introduction and safety information before introducing us to our soon-to-be best friend, Bob the barman!
Zambezi Cruise Safari: Something For Everyone
There were about 20 people on our boat cruise on the Zambezi River, and their ages ranged from 5 to 65 years old.
Considering we had an open bar waiting for us, we tucked into the booze to ensure we got our money's worth.
With a wide selection of beers, spirits, and soft drinks available, we didn't have the stress of running short of the good stuff.
Sundowners and sightings on our Zambezi River cruise
The calm, tranquil waters of the Zambezi River were a drastic contrast to the thunderous noise of Victoria Falls, which was only a few miles away.
Throughout the 2.5-hour trip, we were treated to picturesque views of wildlife and nature on our sunset cruise.
Crocodiles and hippos were out in full force. We were lucky enough to see many animals, as well as herons and other beautiful birds, along the way.
It was just like a wildlife safari but along the Zambezi River!
After witnessing the most beautiful sunset on our Vic Falls sunste cruise, we headed back to the dock.
Along with our new friends, we went out in search of a party in the townships…
Practical information for your Victoria Falls river cruise
Zambezi cruise costs: $70-$150 per person
Best time to go: Before sunset
What to expect: 2 hours cruising along the Zambezi River, with lots of hippo sightings
Bring: a warm top
Of all the things to do in Vic Falls, this one should definitely be on your bucket list!
---
Looking for more Victoria Falls travel information? Check out my other posts:
---
Pin this!